Use this easy gluten-free tart shell as a strong, reliable, and solid base for all your tart needs. This oat flour vegan pâte sucrée is very delicious and versatile.
You can use this tart dough recipe to make cream-filled, chocolate ganache, or even baked filling tarts.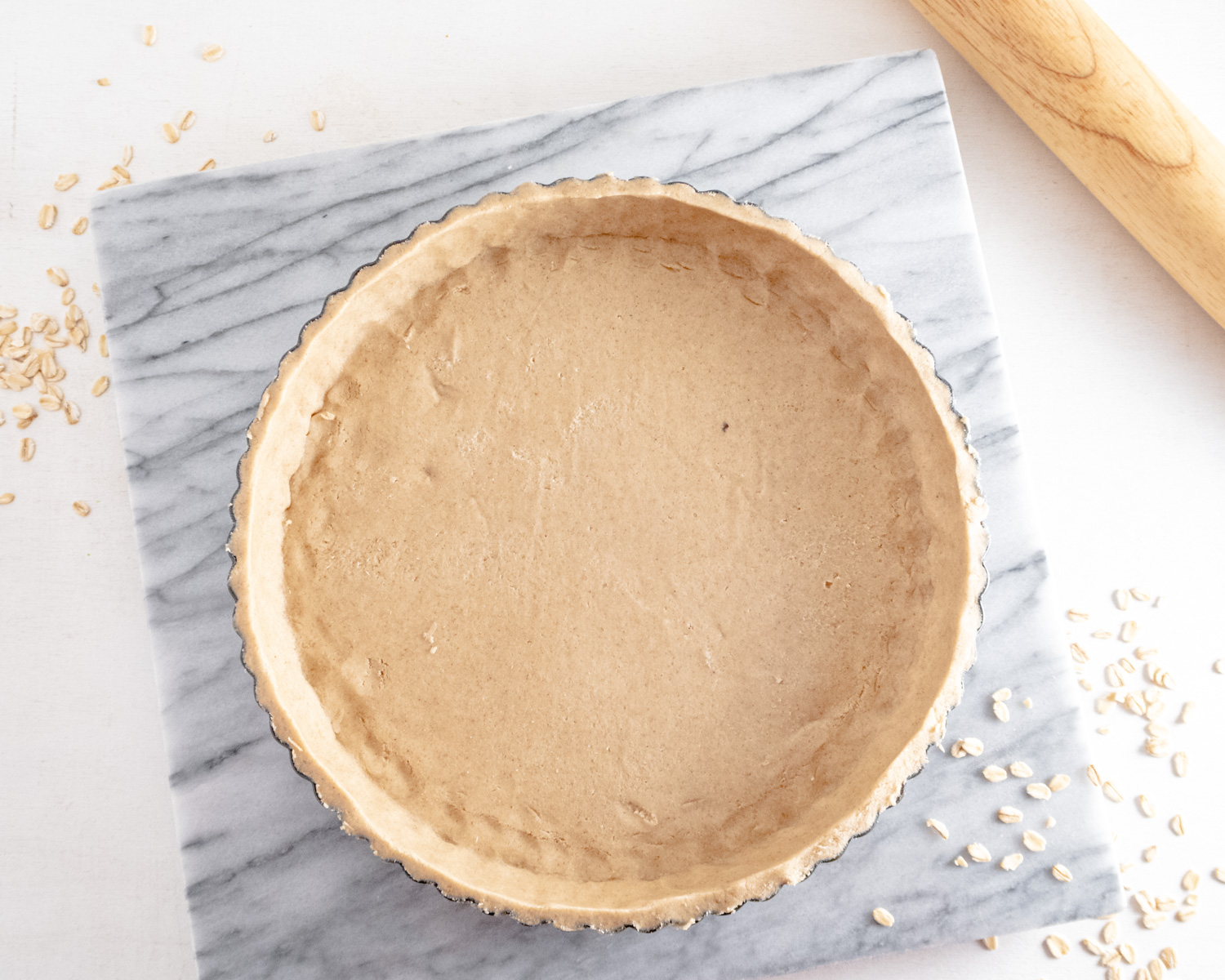 This tart shell is made of pâte sucrée, but you might also know it as shortcrust, sweet short pastry, sweet tart crust, or simply tart dough. I love this recipe because there is:
No need to chill before rolling out
No weird ingredients
Makes crunchy tart shells that are sturdy
Is nut-free and has a nice toasted flavor
To be honest, I was surprised to find this gluten-free tart shell recipe easier and quicker to make than my classic gluten-filled vegan pâte sucrée.
It is perfect for blind baking and filling with light creams for quick summer tarts, like my fresh strawberry and pistachio diplomate cream tart or fresh fruits and orange blossom custard tartlets or my showstopping geometric rhubarb tart.
Jump to: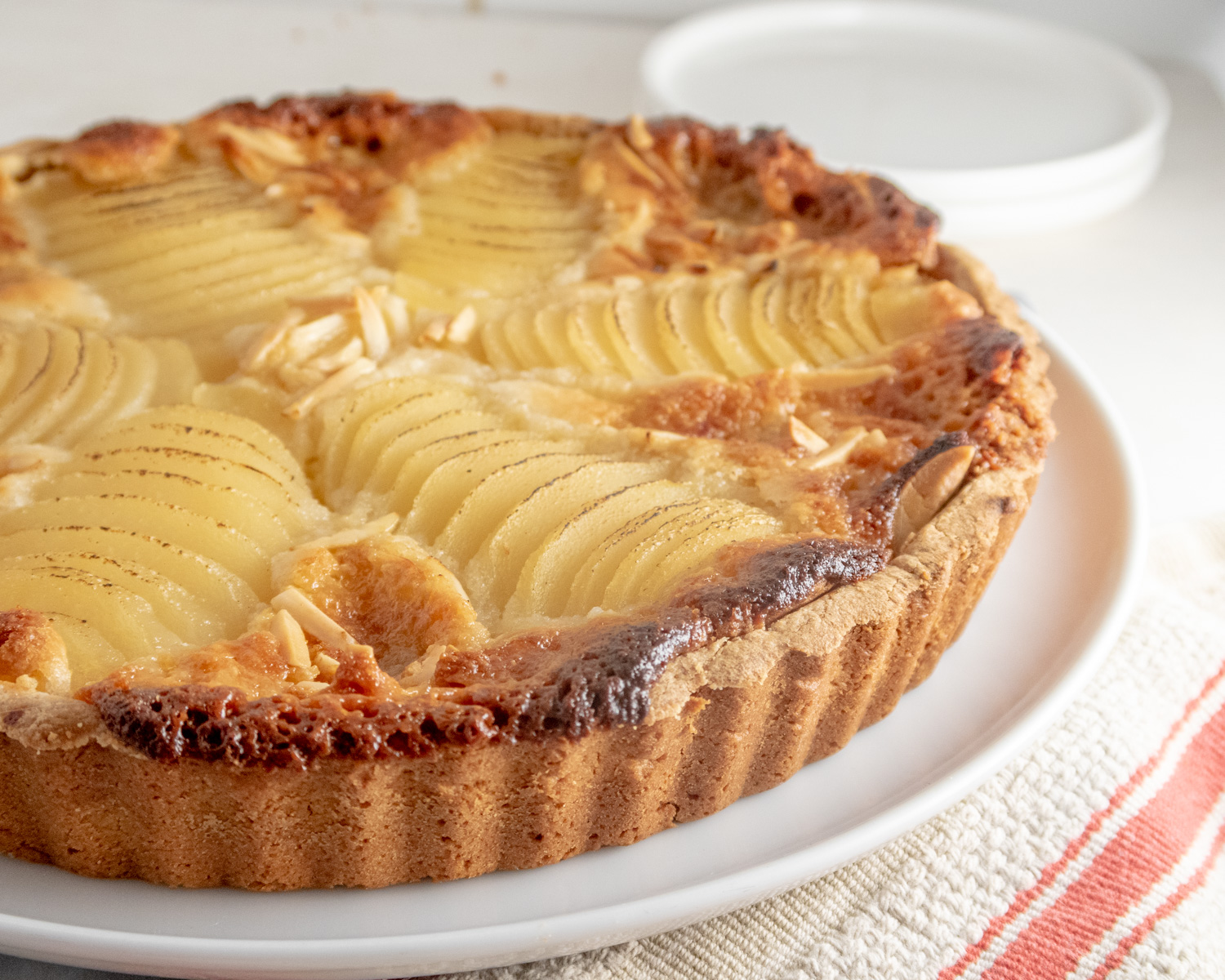 🥧 Pâte sucrée
First of all, what exactly is pâte sucrée?
Pâte sucrée, or "sweet dough" when translated into English, is a French type of tart dough usually made of butter, powdered sugar, eggs, flour, and sometimes almond flour. This dough is used to make sturdy tart shells that can be removed from the tart tin without breaking and as a base for some entremets.
People often compare the texture of pâte sucrée with shortbread or sugar cookies because of the powdered sugar content, which makes it sweet, sturdy and crumbly instead of flaky like a pâte brisée or an American-style pie dough. Pâte sucrée also uses a different technique than your classic pie dough recipe.
PRO TIP: If you are planning on filling this tart shell with a humid filling like pastry cream, whipped cream, or diplomate cream, brush some melted cocoa butter on the inside of the blind-baked tart shell to prevent it from getting soggy.
📋 Ingredients + substitutions
Firm vegan butter - I recomend using Becel, Flora, Narturli' or Miyoko's creamery vegan butter for their firmness, since soft margarine form a tub won't work with this recipe. If you can only find salted options, remove the salt from the recipe.
Yogurt - I used coconut yogurt but soy or almond yogurts would also work. In this recipe, the yogurt replaces the eggs traditionally found in pâte sucrée. 

Substitution: Blended soft silken tofu

Oat Flour - Make sure you pick a gluten-free certified oat flour since not all oat flours are celiac friendly. I personally use  Bob's Red Mill's Gluten-free oats flour.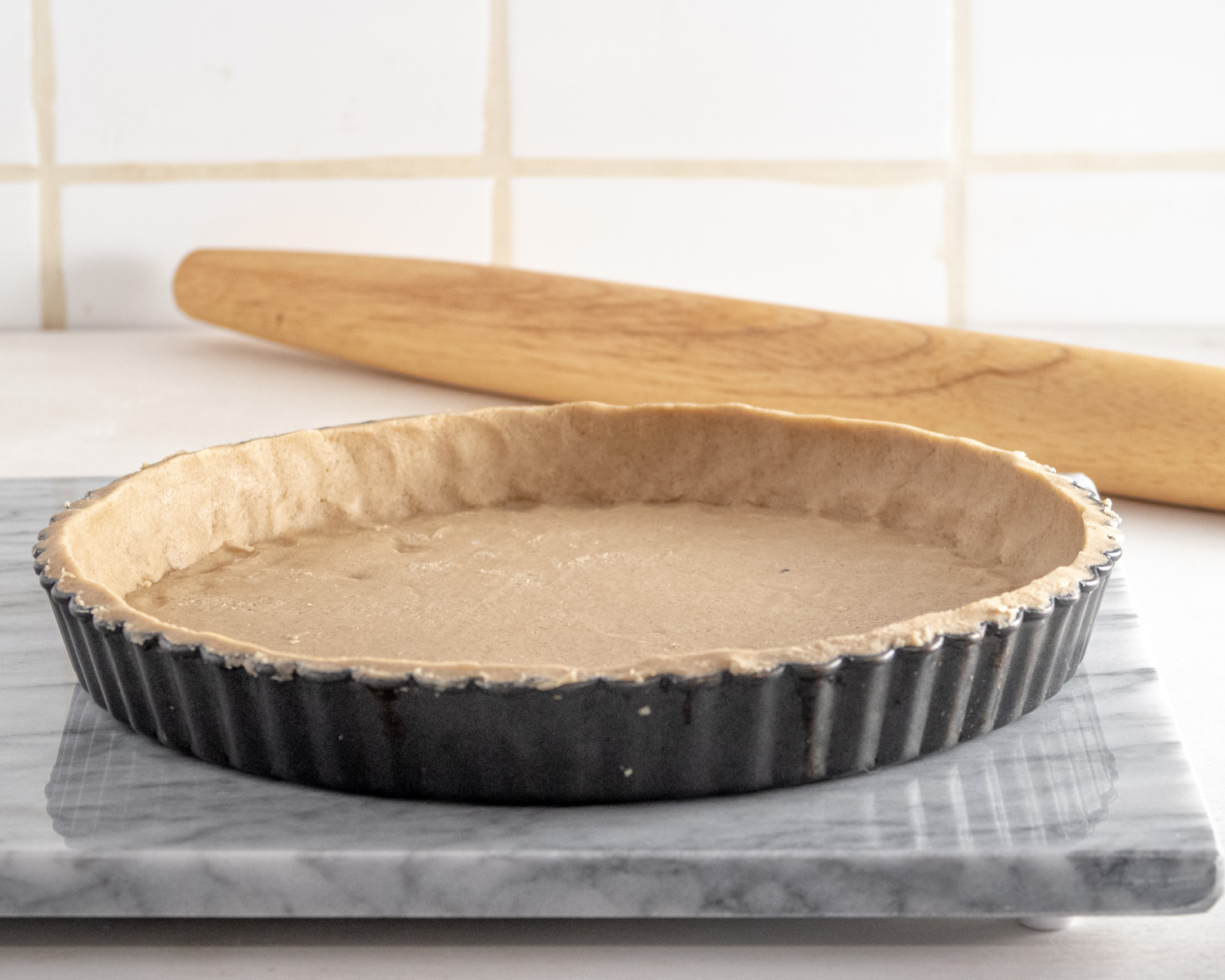 🥣 Instructions
Here are some additional technical information, techniques, and things to look out for when making this gluten-free recipe.
Emulsion
Emulsifying the yogurt into butter is the first step in making pâte sucrée when using the creaming method, which is my favorite.
We start by mixing the cold vegan butter with powdered sugar. In this case, we are not creaming the butter and sugar for a long period of time since we do not want to incorporate too much air into our preparation.
By Hand: You can use a sturdy wooden spoon to mix the butter and sugar together and a silicone spatula to scrape the bowl, or you can use a metallic bench scraper and "squish" the butter and sugar against your clean work surface until homogenous.  You will need a lot of arm strength so I recommend using an electric mixer.
Stand mixer: If you have a stand mixer you can use the paddle attachment and mix on low for about 1 minute, scraping down the paddle and bowl  2 to 3 times to dislodge raw butter pieces.
Then we add the yogurt slowly while mixing vigorously to emulsify the yogurt into the fat. The emulsion might break but the recipe will still work if that happens.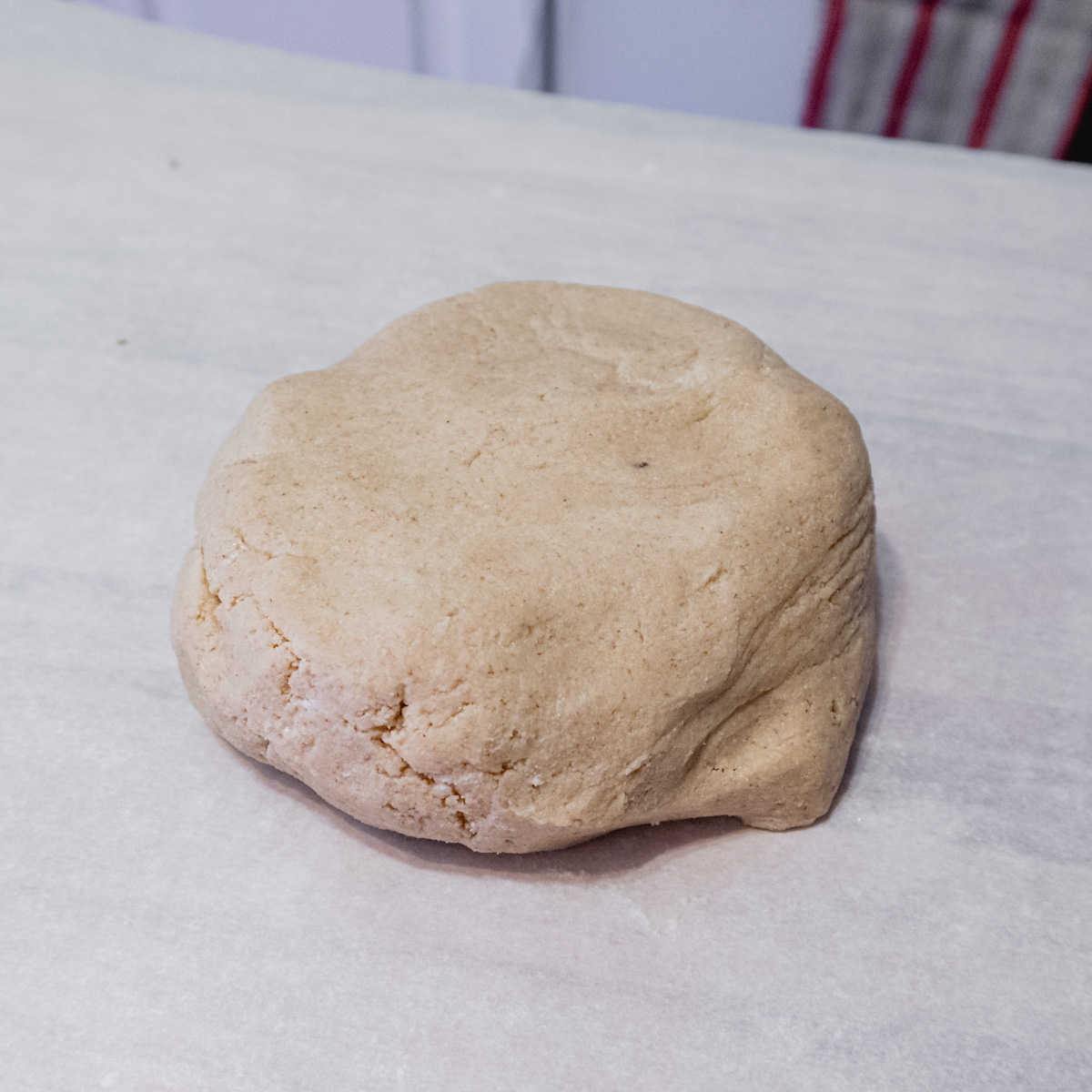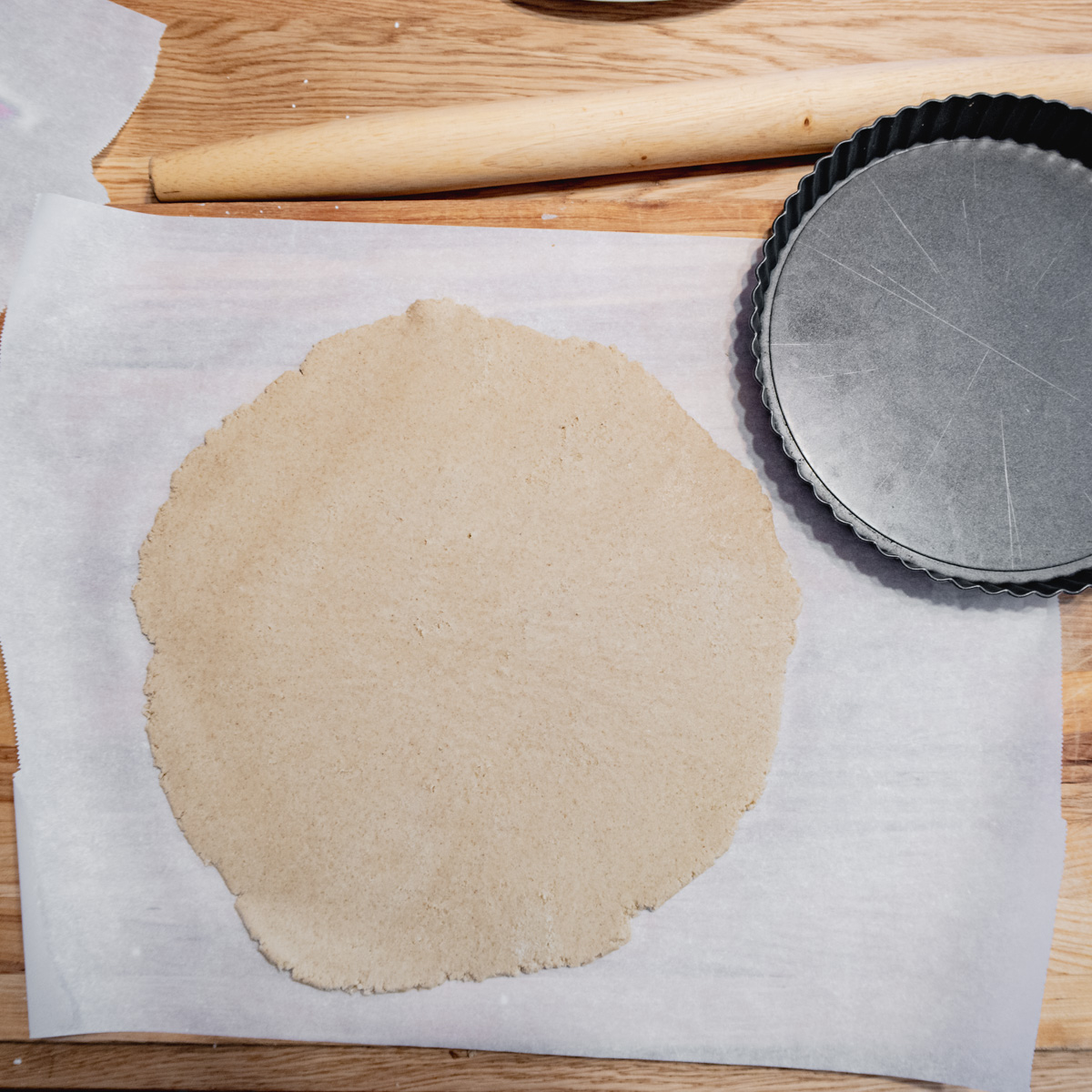 Fraiser
We are going to use a technique called "Fraiser" to make sure the butter is well distributed and to mix in any leftover flour. This helps mix in the flour without overworking the dough and to make sure it is homogenous. This is not kneading, but a separate technique.
Unfortunately, it is a technique that is not very known other than people trained in French pastry, and all the great resources about this technique are in French. I'm currently working on a guide but it's not ready yet. Here is some info to get you started with learning how to "fraiser" in the meantime.
The classic way to do this is to firmly press the dough between the palm of your hand and your work surface and to push forward until the dough "smears", before bringing the dough back together. You repeat the process 3 to 5 times. 
Another way to do the "fraisage" that I learned in pastry school is to smear the dough directly against the side of your bowl using a plastic bowl scraper that can bend slightly.
After this step, you should have a smooth ball of dough that is uniform in color and texture.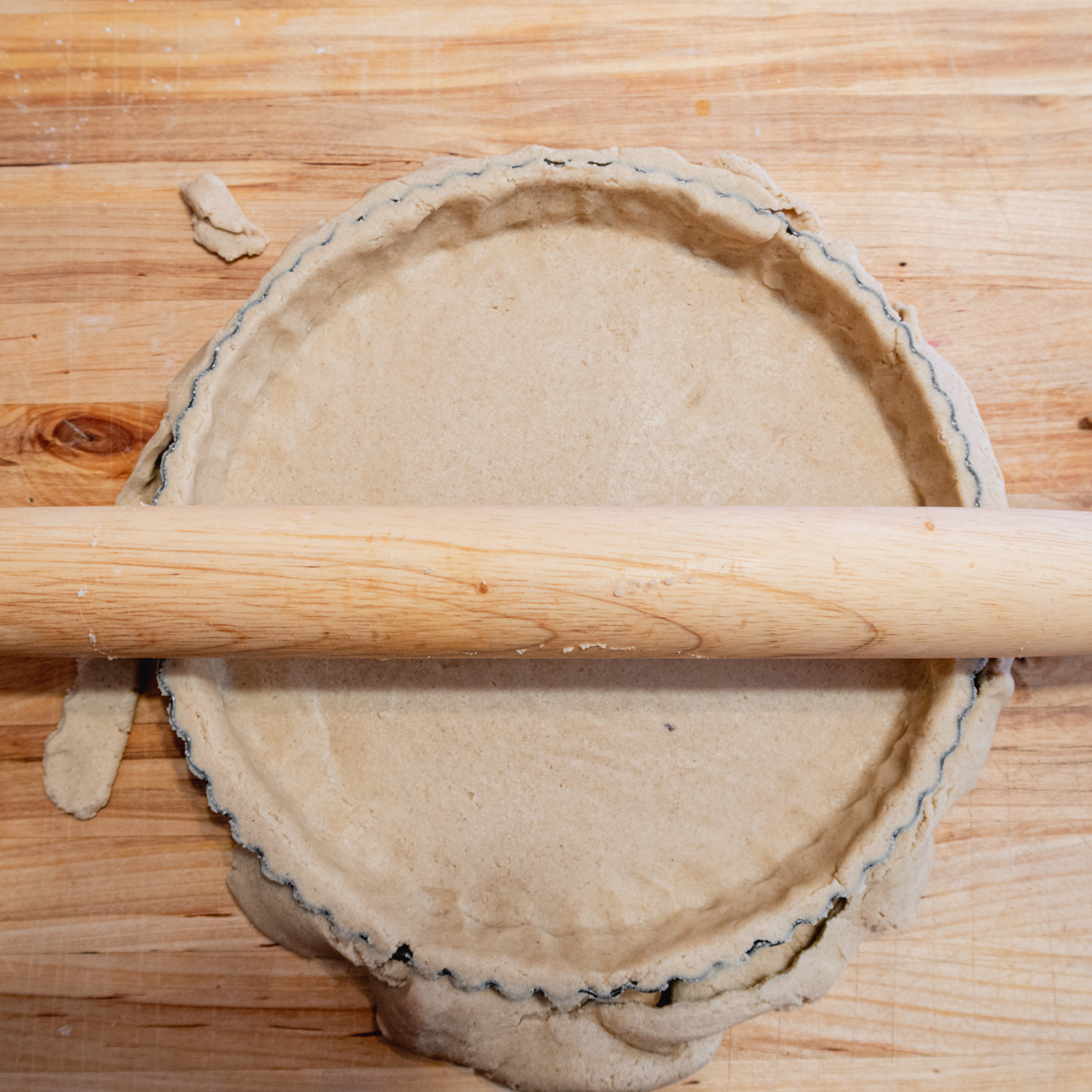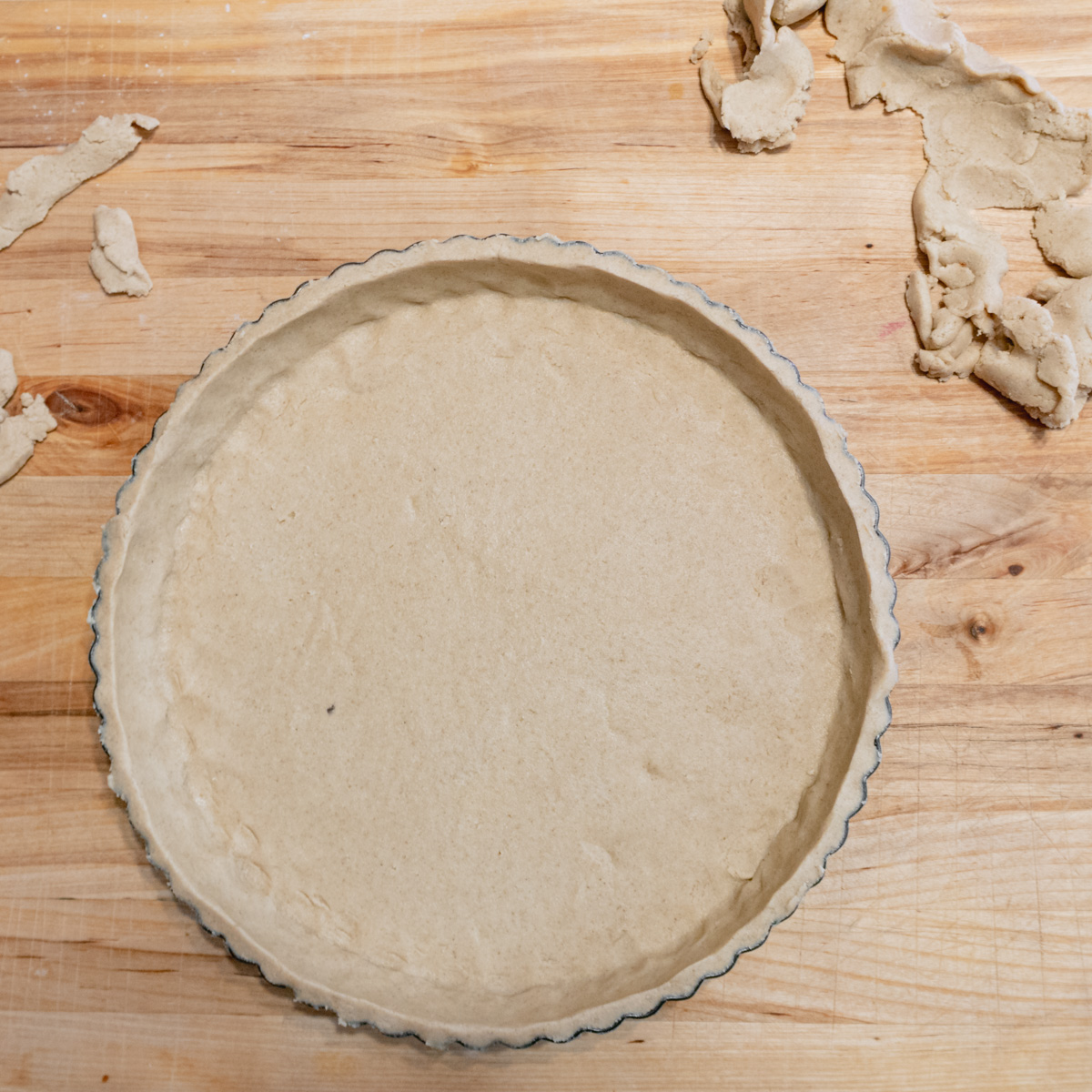 Foncer
Foncer is the french term for lining a tart tin with dough. Lucky for us, this recipe doesn't need refrigeration before we can start rolling the dough.
This dough can be slightly sticky so the best way to roll it out is between 2 pieces of parchment paper.
Alternative: If you are not a fan of rolling out dough, you can press it into the side and bottom of the tart tin. Make sure it is even in thickness or parts of the shell might burn
Once the tart tin is lined with the dough, refrigerate it until very cold and firm or the tart shell might collapse on the side.
PRO TIP: To get a nice clean tart edge, place one thumb sideways against the side of the tart shell and your second thumb on top of the tart edge to create a 90-degree angle. Press the top of the tart shell all around with both thumbs until you get crisp edges.
Baking
If your tart shell was cold enough, you should not need pie weights during the cooking process. However, you can still use them if you want some peace of mind. 
Check the tart shell in the first 5 minutes of baking. If you see any large air bubbles forming between the dough and tart tin, poke them with a sharp knife to release the trapped air.
When removed from the tin, the outside of the shell should be lightly golden brown, even on the bottom.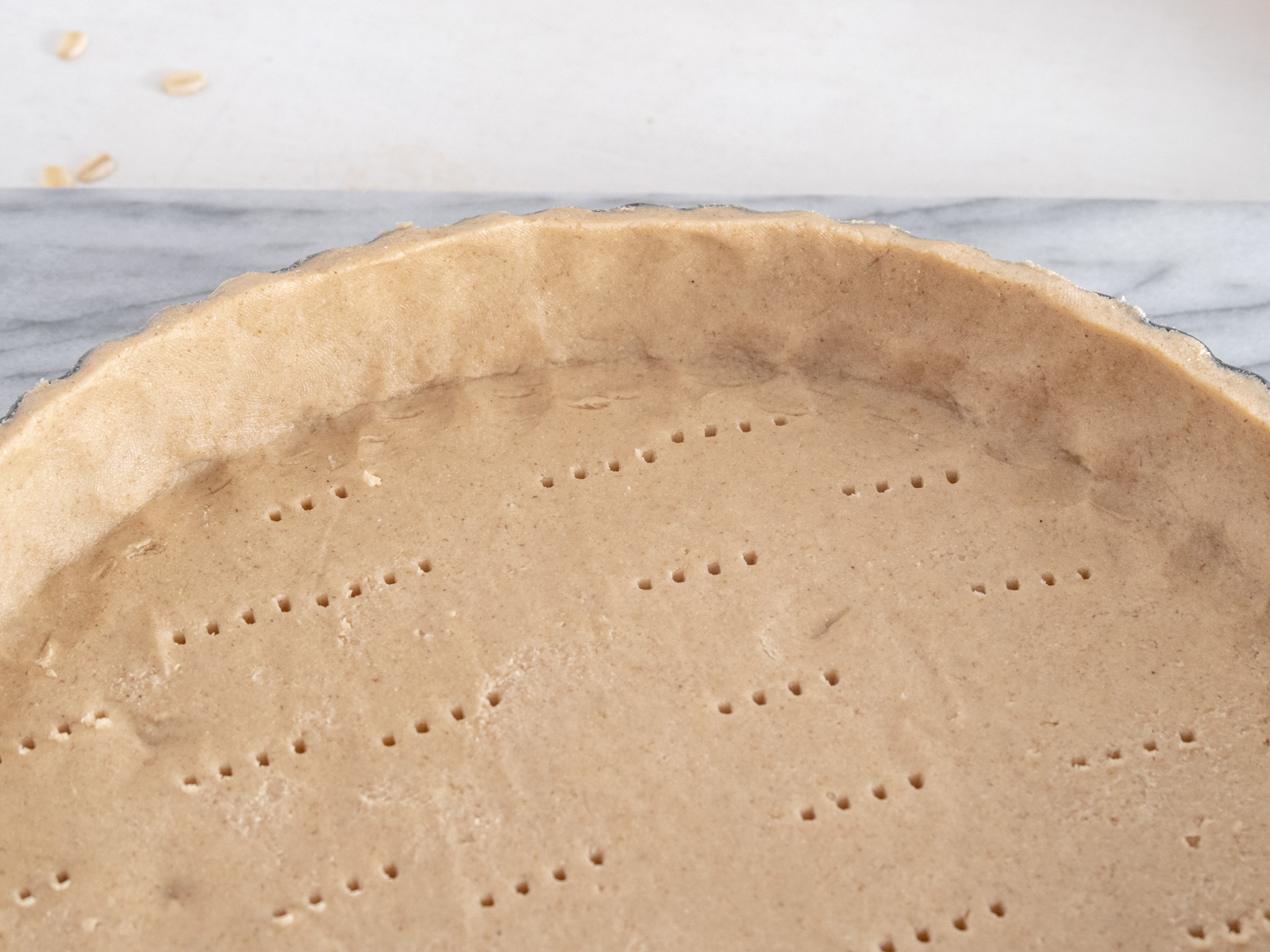 🌡️ Storage
Dough
Refrigerator: Up to 3 days, completely wrapped in plastic film
Freezer: Up to 3 months, completely wrapped in plastic film. Thaw in the refrigerator overnight
Tart Shell
Unbaked shell in the tin: Exactly like the dough storage instructions. It can be placed in a large Ziploc bag instead of wrapping it.
Baked shell: Store at room temperature for up to 2 days in an airtight bag or container. Add a food-grade desiccant packet to the container if available. If it softens up, you can re-crisp it in the oven by baking it at 350°F (180°C) for 3 to 5 minutes.
I highly recommend you use a digital scale and weight measurements when following my recipes as it is more accurate. The only exception is with very small quantities where I recommend using teaspoons.
Recipe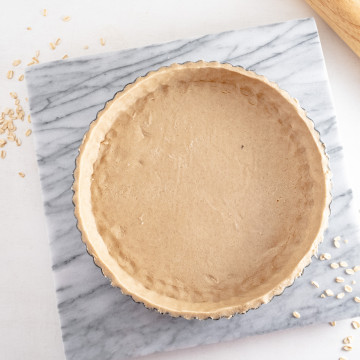 Print
Vegan & Gluten-Free Pâte Sucrée - Easy Tart Shell
Use this easy gluten-free tart shell as a strong, reliable, and solid base for all your tart needs.
Servings
1
9-inch tart shell
Ingredients
120

g

firm unsalted vegan butter

,cold (½ cup)

100

g

powdered sugar

(¾ cup)

30

g

plain vegan yogurt

(2 tablespoons)

4

g

vanilla extract

(½ tsp)

250

g

gluten-free oat flour

(2 cups)

¼

teaspoon

fine sea salt

(1 g or 1 ml)
Instructions
In a large bowl, mix together the still cold vegan butter and powdered sugar until homogenous and smooth.

Slowly mix in the vegan yogurt and vanilla until homogenous.

Add the gluten-free oat flour and salt all at once into the butter mixture and work it in. Do not over mix.  By hand: Start by mixing the flour into the dough with a wooden spoon until mostly incorporated. Using a flexible bowl scraper, spread thinly the butter mixture and flour together against the side of the bowl before bringing the dough back together, repeating the movement 3 to 5 times, or until the dough is homogenous. Stand mixer: Using the paddle attachment, mix the dough on low for 30 seconds, or until you don't see any raw flour but the dough is still in large clumps. Using your hands, press together the large chunks of dough into a smooth ball.

Place the dough between 2 pieces of parchment paper and roll it out to a ¼-inch (5 milimmeter) thickness. Remove the top parchment paper. Lift the rolled dough with the leftover parchment paper and flip it over your tart tin or ring. Drape it so that the dough reaches the bottom of your tin and remove the parchment paper.

Pull the dough slightly inward to make sure it reaches all the way to the bottom corners of the tart tin. Quickly go around the tart bottom and sides, pressing the dough in so that the dough sticks to the side. Remove the extra dough with a sharp paring knife, or by rolling your rolling pin on top of the sharp tart tin edge.

Using the excess dough, patch any holes or thin parts in the tart shell. Do a final round of pressing the dough against the sides and corner edge of the tart tin until the shell sticks perfectly to the side of the tart tin and is a perfectly even thickness all around.

Place the tart shell in the refrigerator for 1 hour, or in the freezer for 30 minutes. The shell should be very firm and cold. Prick the bottom of the shell using a fork and either blind bake , or fill and bake according to your recipe. Enjoy!

If blind baking: Preheat your oven to 350°F (180°C). Place the tart shell in the middle rack and bake for 20 to 25 minutes, or until golden brown on the edge and the bottom looks dry. Leave to cool completely before removing from the tart tin.
Did you try this gluten-free tart shell recipe?
Don't be shy and let me know how it went! Leave me a comment below, add in a star rating, and share a picture on Instagram!