Looking for a delicious and indulgent dessert that's also vegan? Look no further than this vegan strawberry and white chocolate mousse jar recipe!
Best of all, it's easy to make ahead for a dinner party and looks beautiful served in individual jars.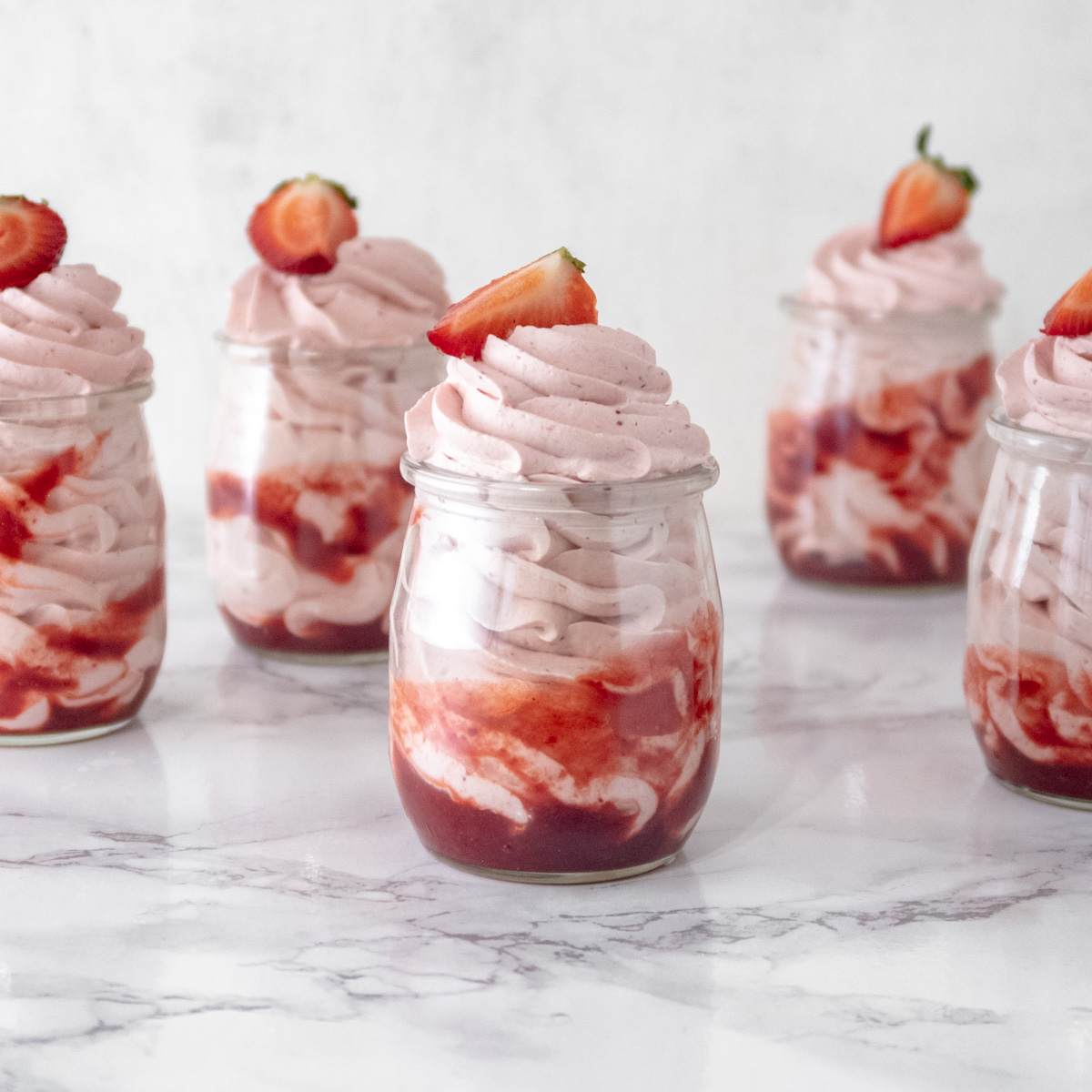 This recipe for strawberry and white chocolate mousse jars is a perfect balance of creamy and fruity flavours, made with vegan-friendly ingredients. Whether you're looking to impress guests or treat yourself to a fancy dessert, these jars are sure to satisfy your cravings.
Jump to: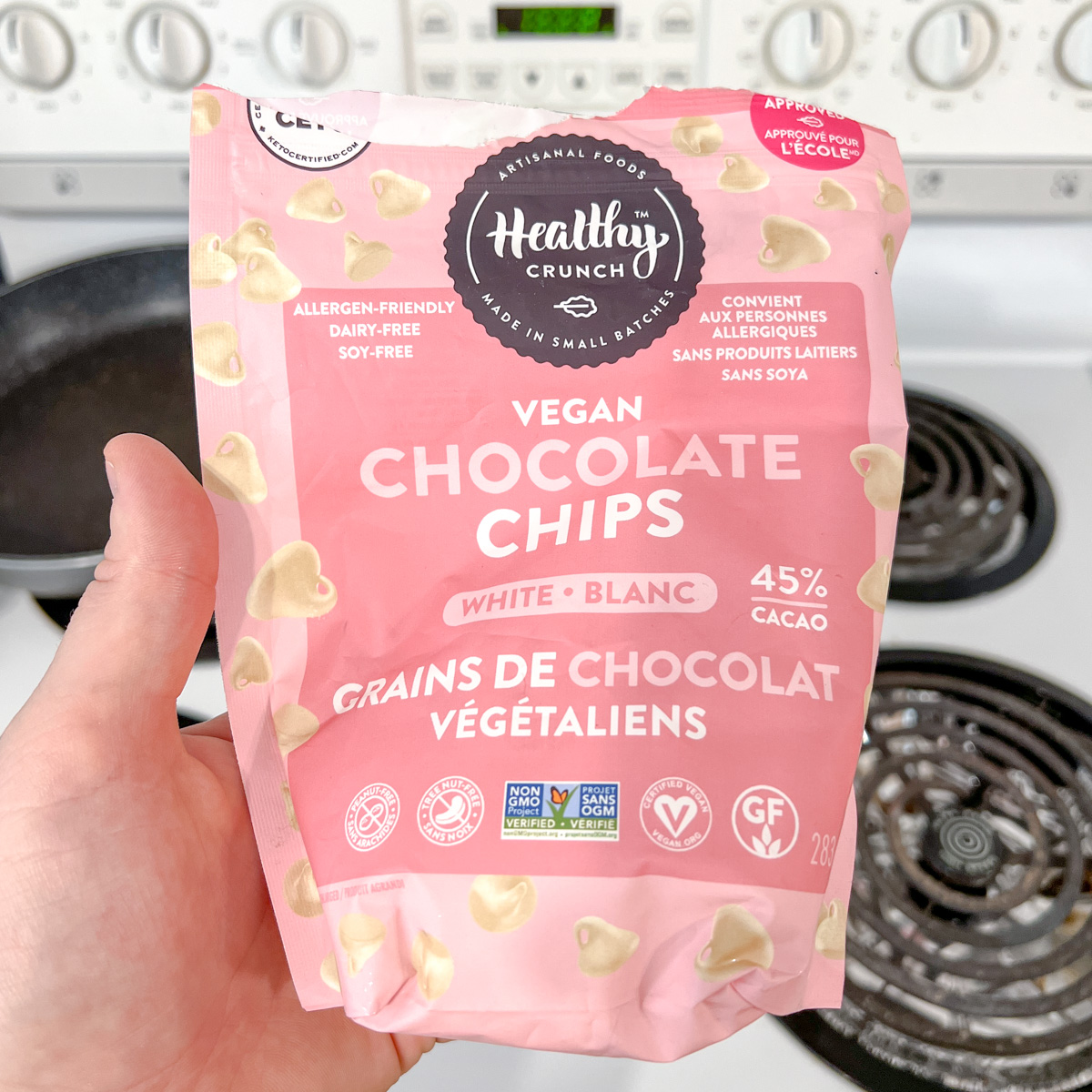 📋 Ingredients
White granulated sugar - You can use other types of sugar like raw sugar. Make sure your sugar is bone-char-free.
Vegan white chocolate - I used the Healthy Crunch white chocolate chips because it has a strong chocolate flavour and is not too sweet. You can also use my homemade vegan white chocolate recipe or omit it from the recipe if you are not a white chocolate fan.
Vegan whipped cream - Ambiante by Puratos is the whipped cream I use in this recipe. I can't guarantee that this recipe will work with another non-dairy topping. If you do test it out with unsweetened cream, I recommend adding ¼ cup or 50 g of granulated sugar to sweeten it.
If you do try out another vegan whipping cream, let me know which one in the comment so I can keep other readers informed. 
🥣 Instructions
Here is an illustrated guide on how to make vegan strawberry and white chocolate mousse.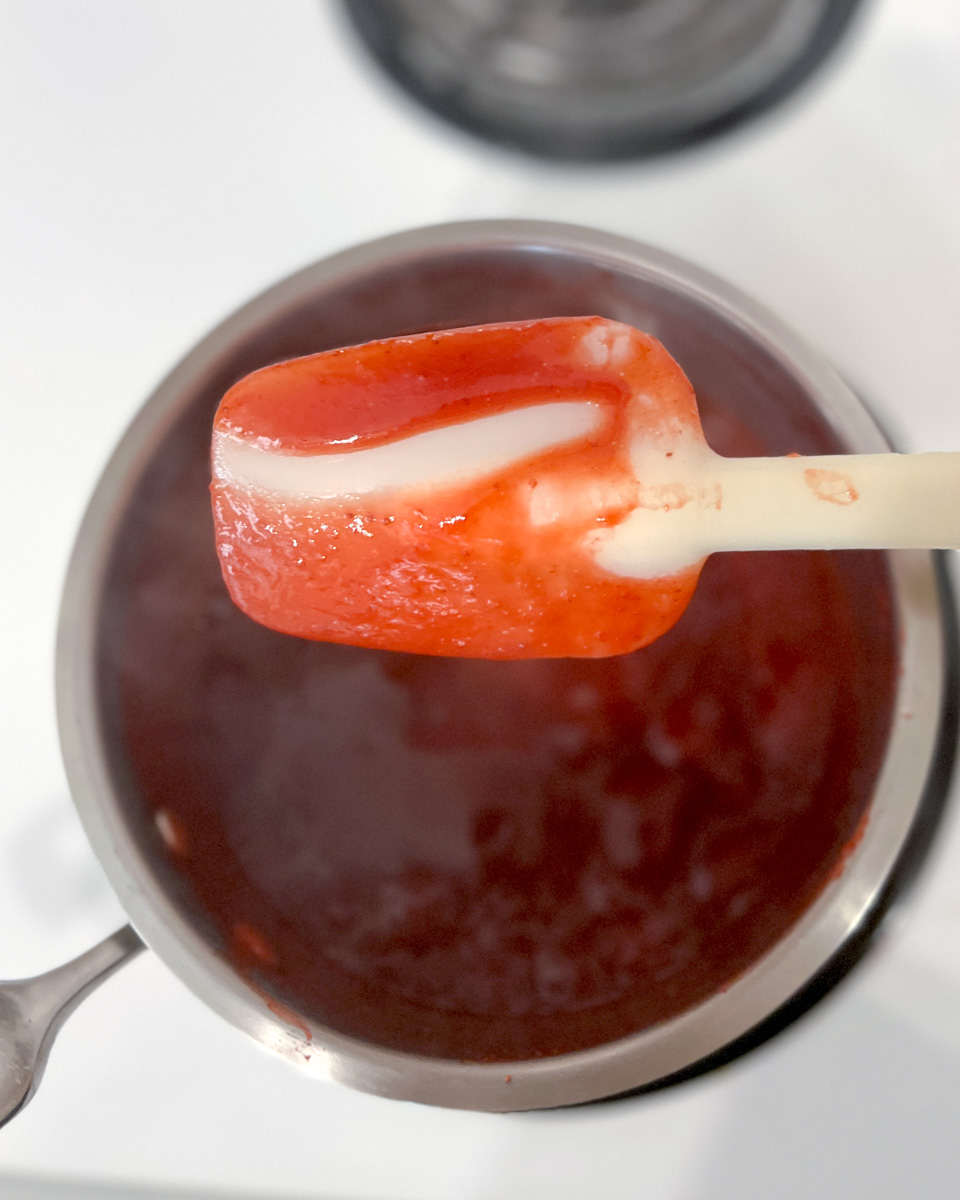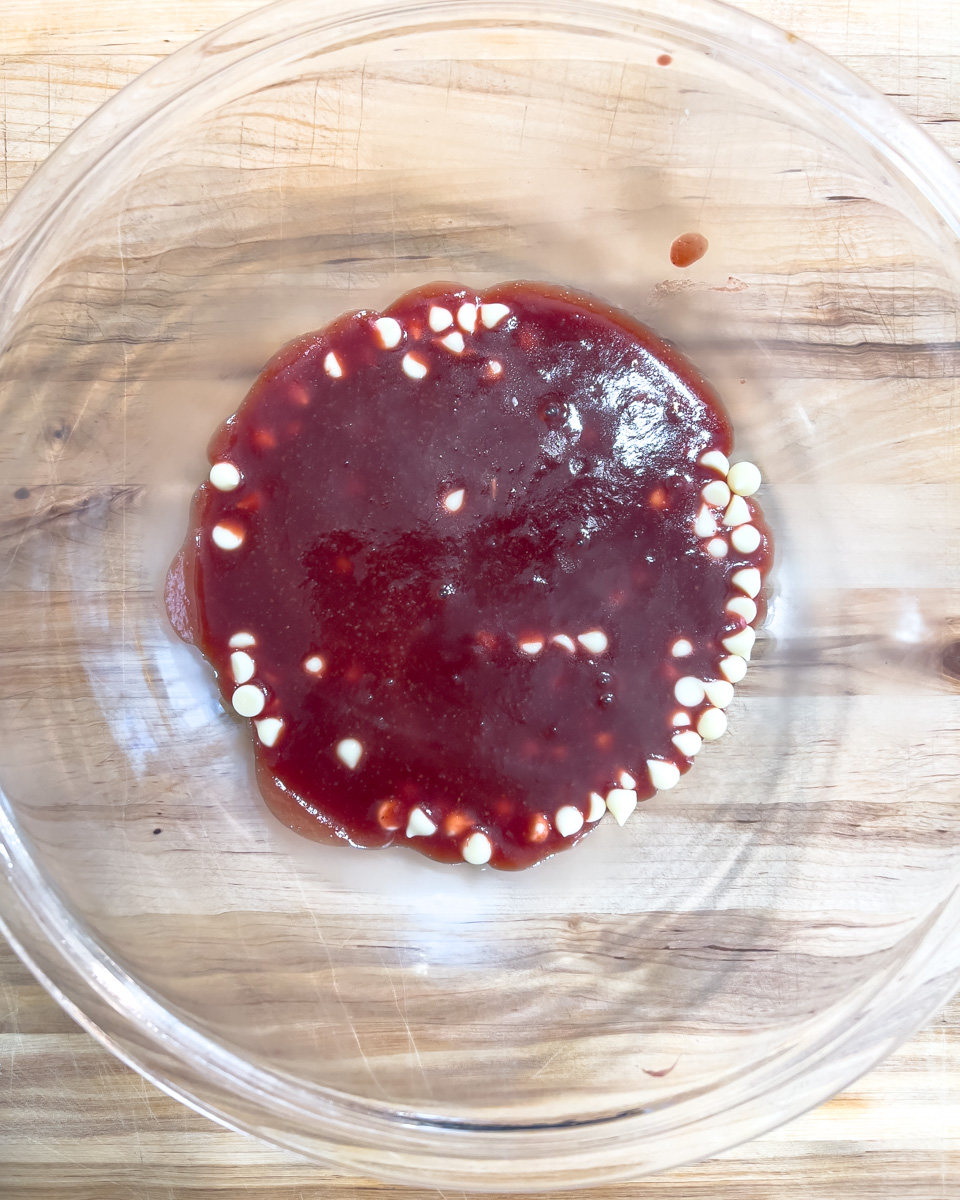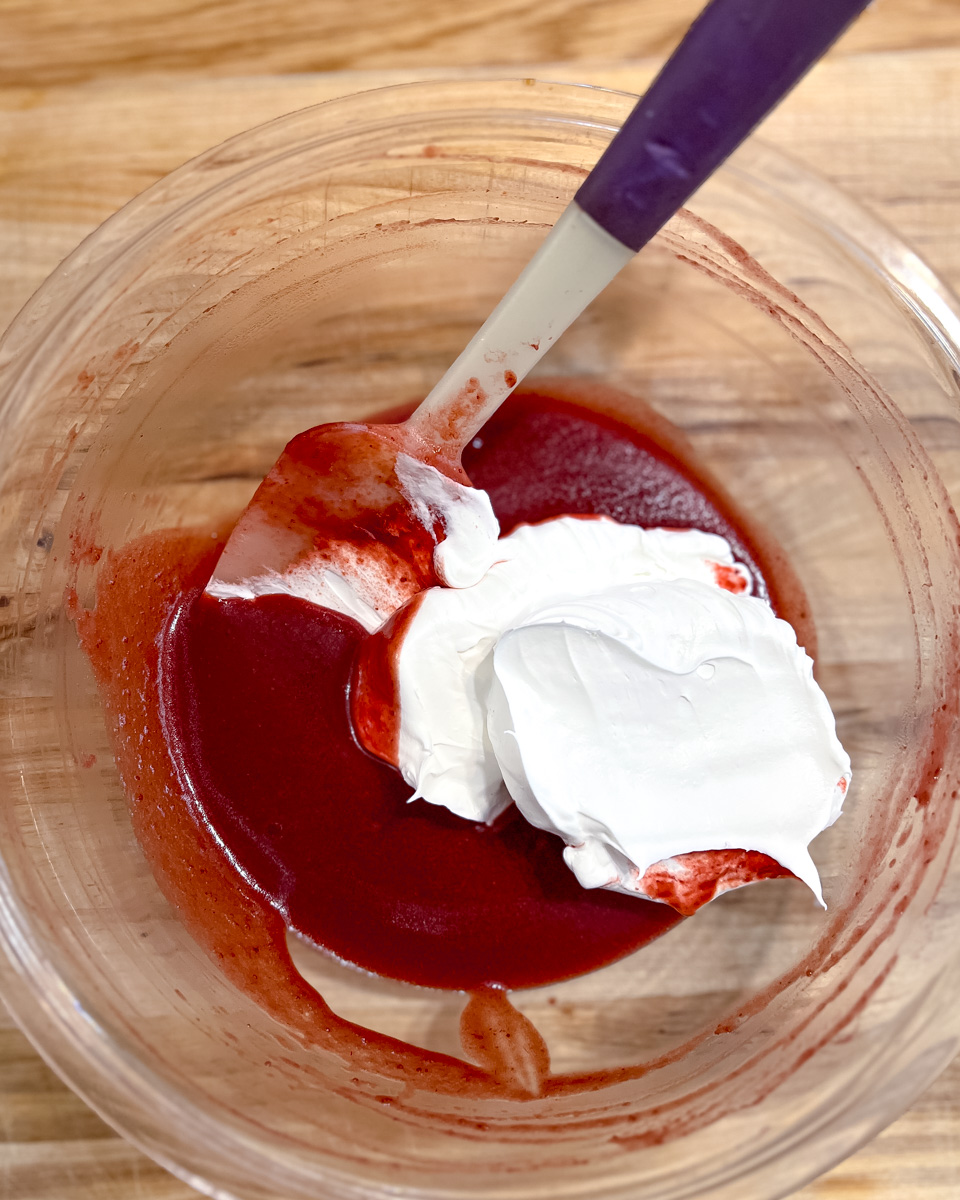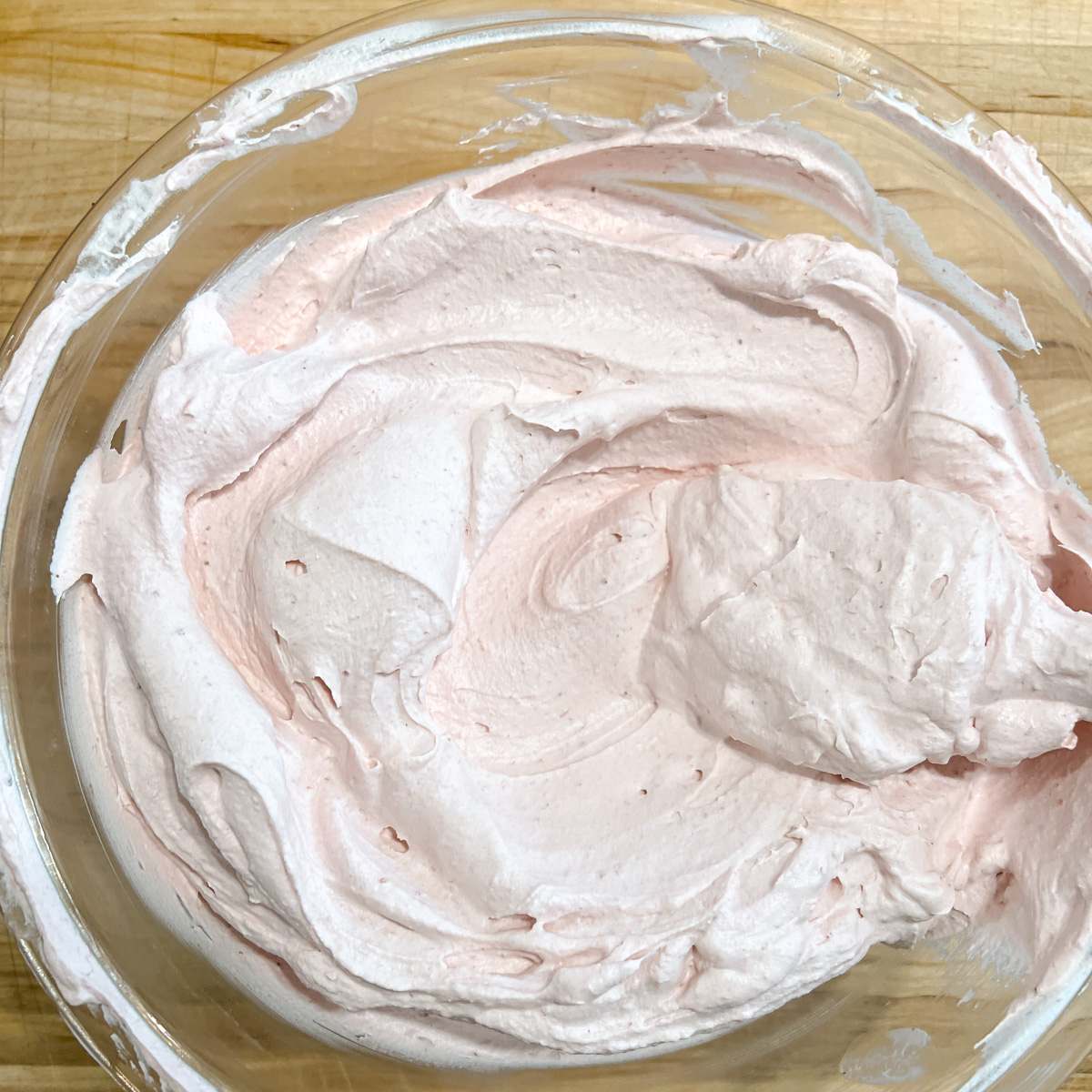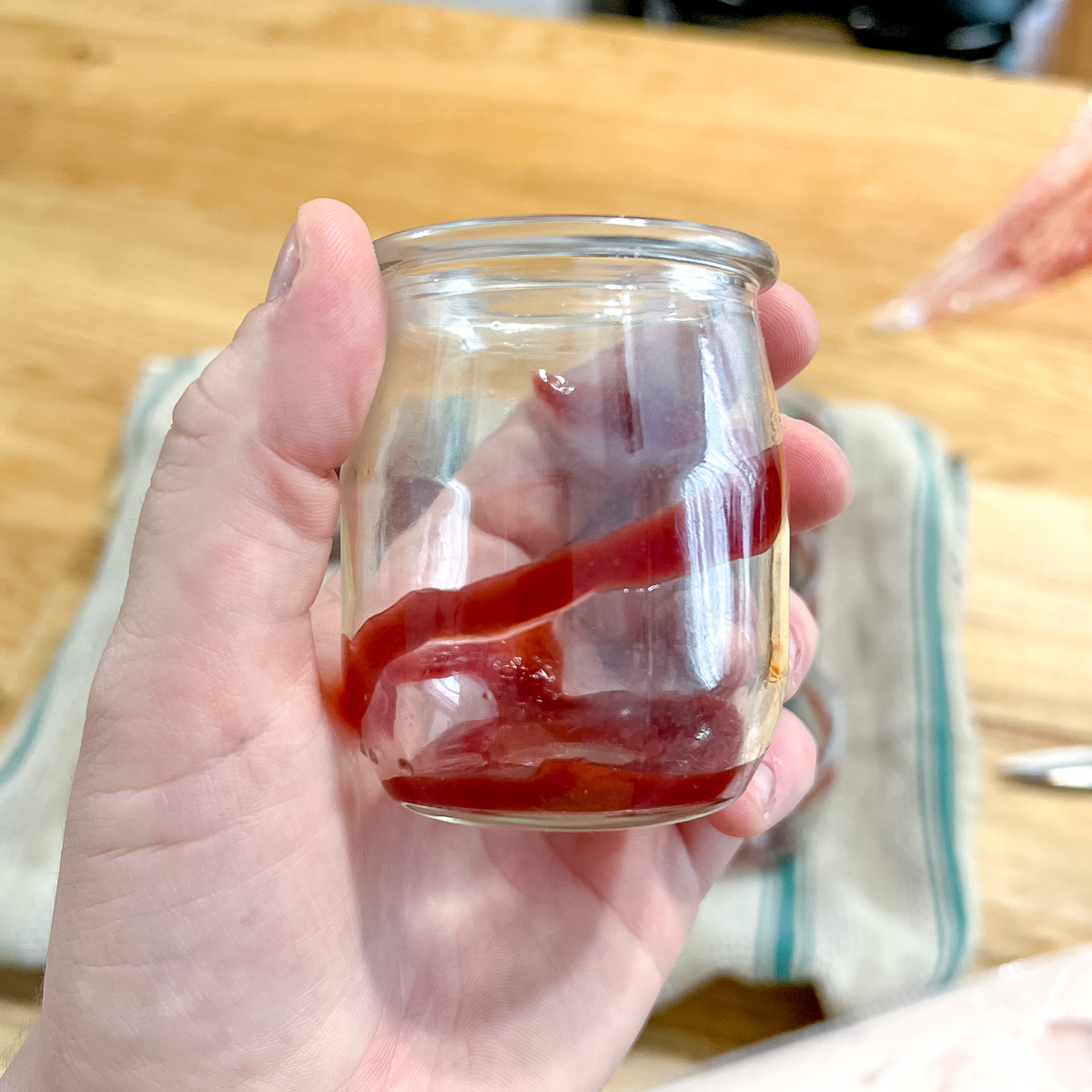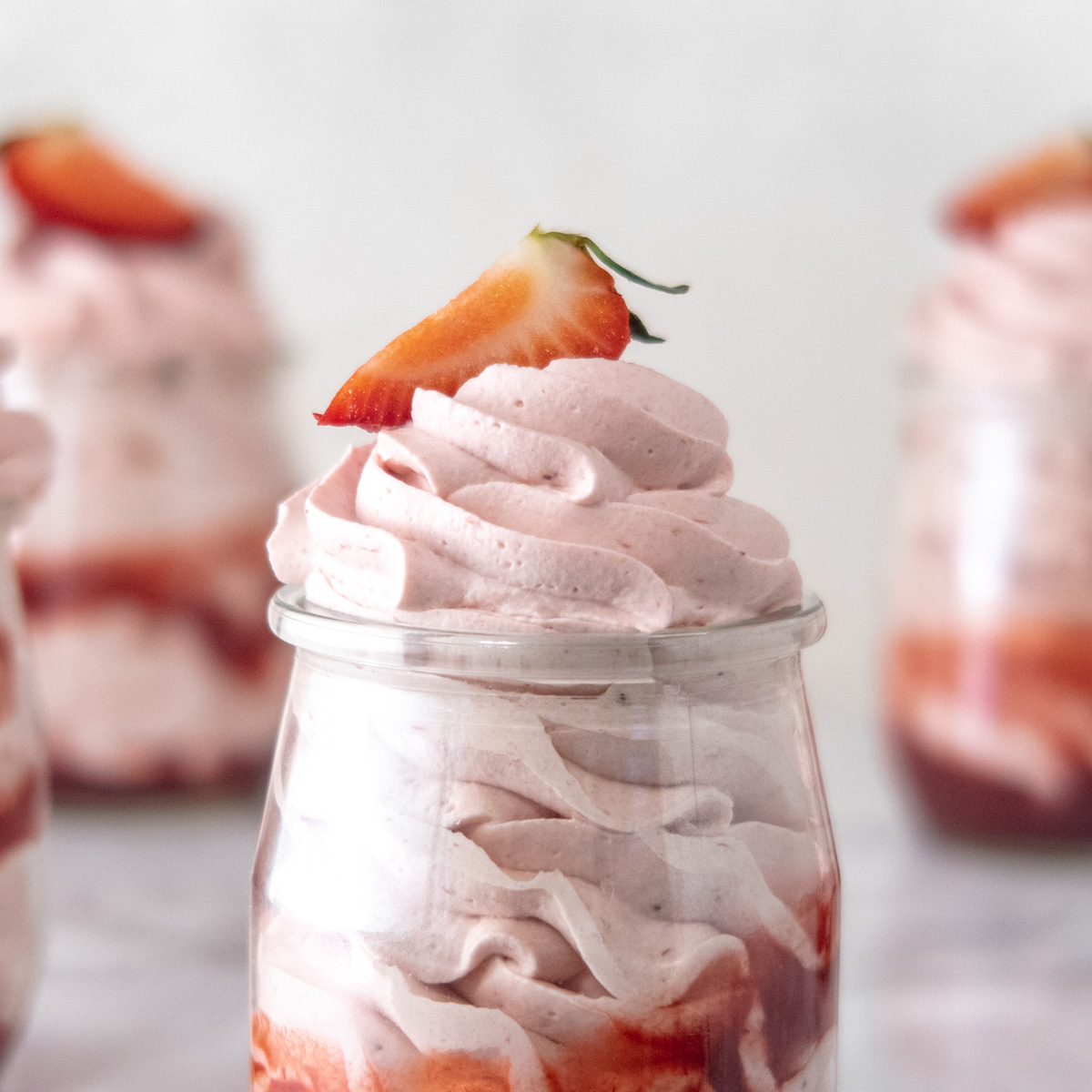 📖 Variations
I wanted to make this recipe a good strong base for you to customize as you wish. Here are some ideas for you to play with
Replace the strawberries with raspberries.
Add crumbled cookies and cubbed strawberries to the bottom of the jar before filling it with mousse. It adds a nice crunch!
Layer this strawberry mouse with other mousse flavours like my Baileys chocolate mousse.
Pipe it directly on a plate or make a  quenelle of mousse and decorate it with sauces, crumbles, cake cubes and micro greens for a high-end dessert experience.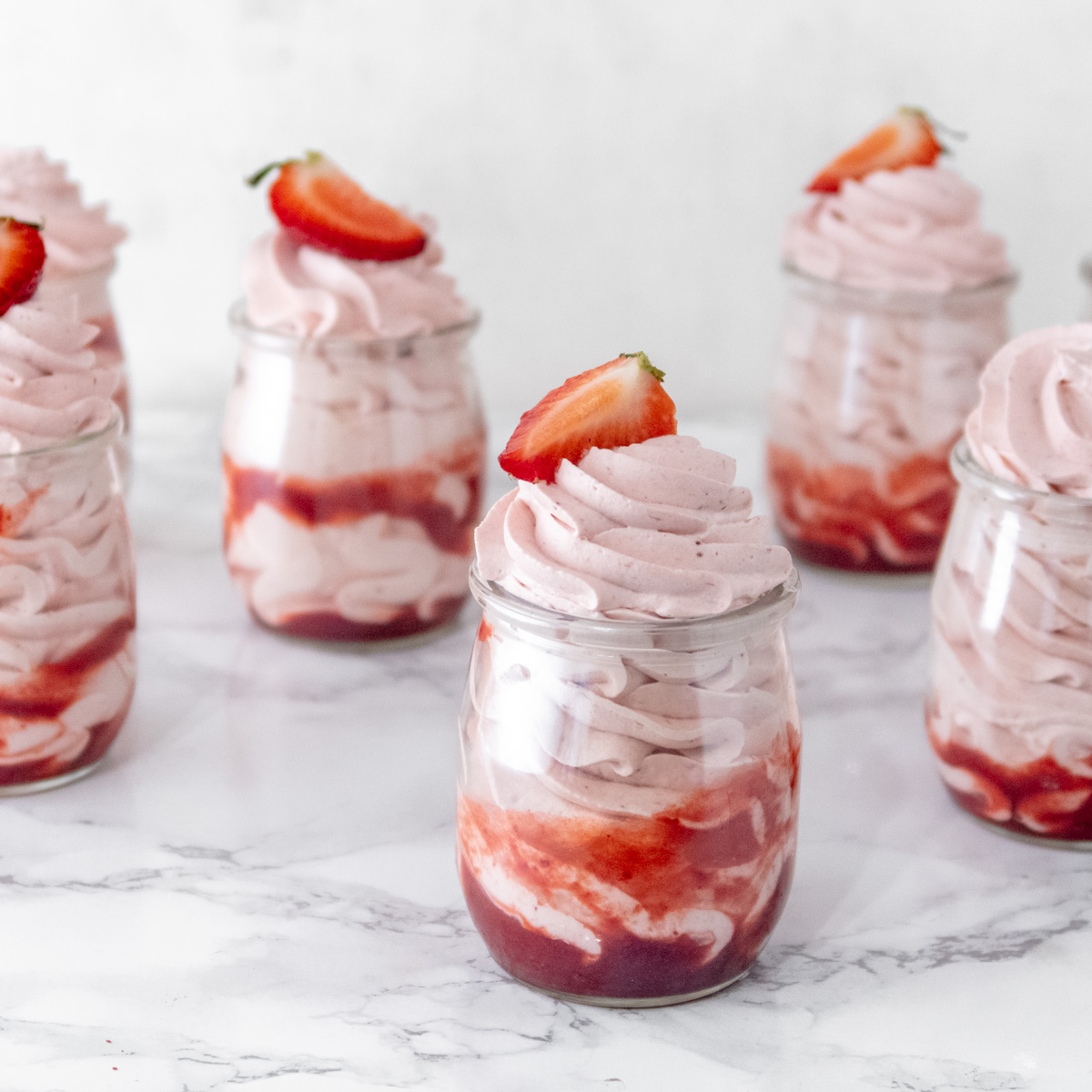 👩🏻‍🍳 Top tip
I wrote this recipe so that people could taste both the strawberries and the white chocolate without one overwhelming the other. But if you want this to be more strawberry-forward, you can double the amount of strawberry sauce in the recipe.
Place the leftover strawberry sauce in a small pastry bag or a freezer plastic bag with a corner snipped off to make the perfect mess-free drizzle inside the jars.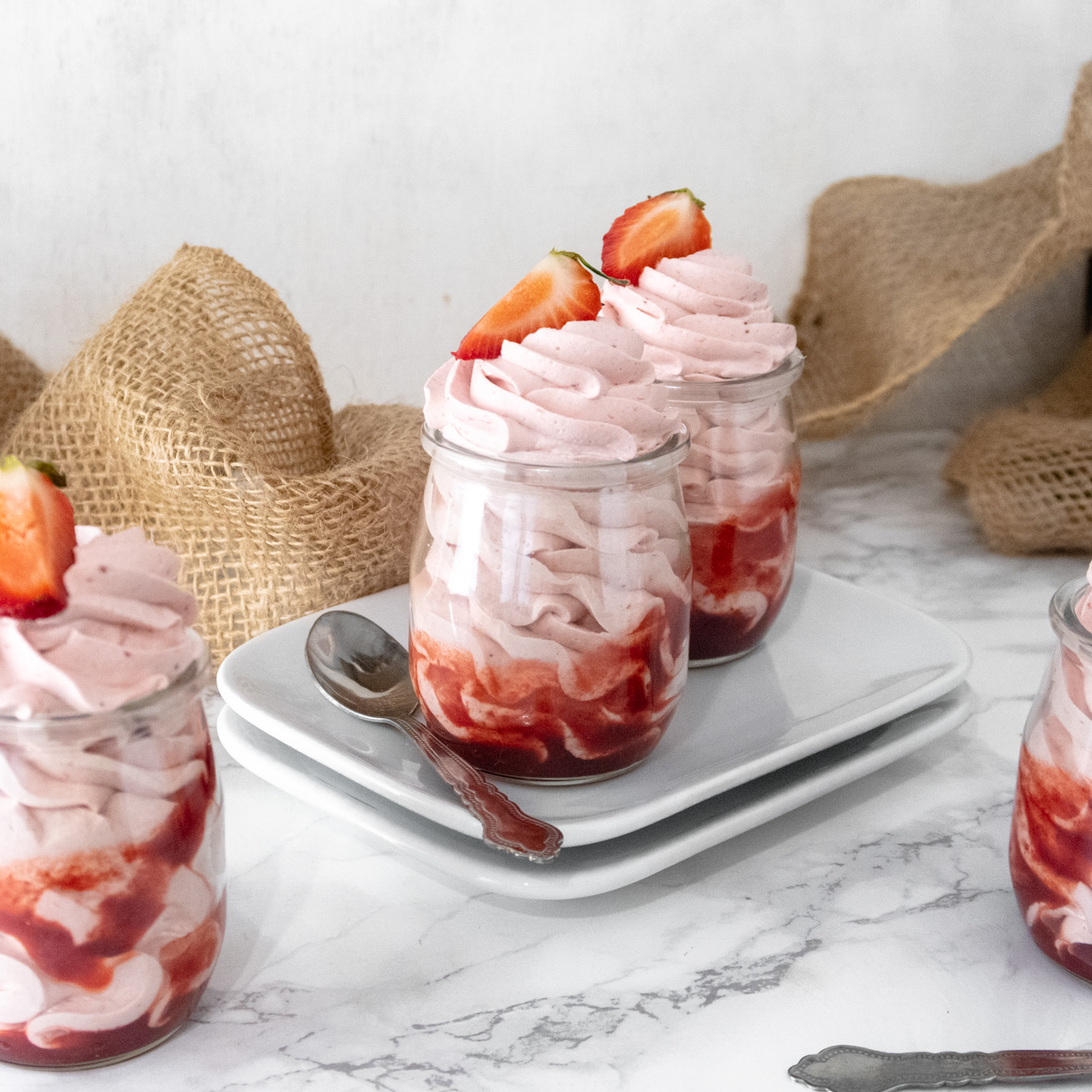 If your strawberry sauce is not hot enough when you add it to the chocolate, you could end up with pieces of unmelted chocolate.
Here are potential solutions to this problem:
Heat the strawberry mixture in the microwave in 30 seconds intervals, stirring the mixture in between, until the chocolate is all melted.
Add 1 inch of water to a saucepan and place the bowl with the strawberry mixture on top to make a double boiler. Heat over medium heat while stirring constantly until the chocolate is all melted.
Are you a strawberry lover? You should absolutely try out my other strawberry desserts like my strawberry and pistachio tart or my strawberry and rhubarb tartlets.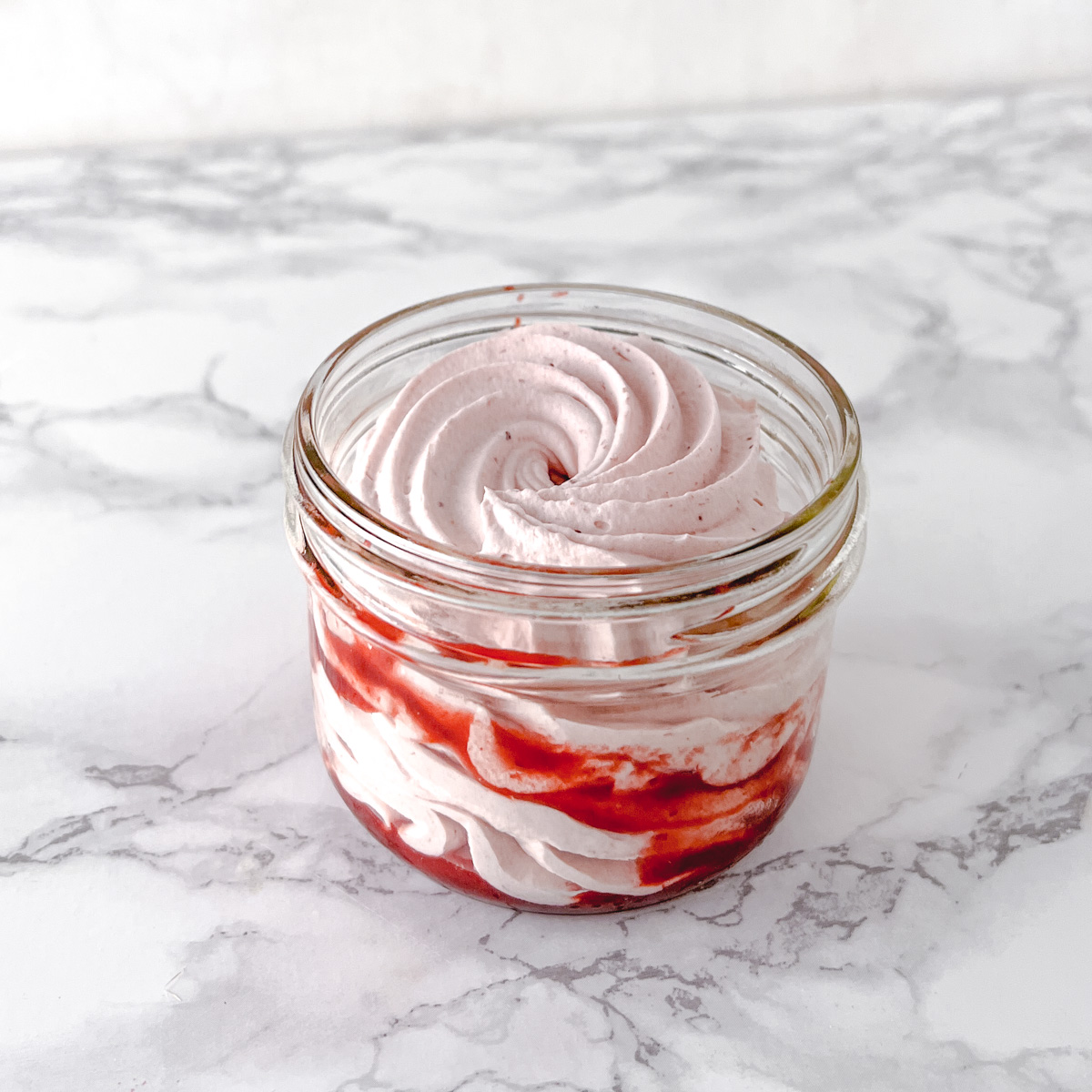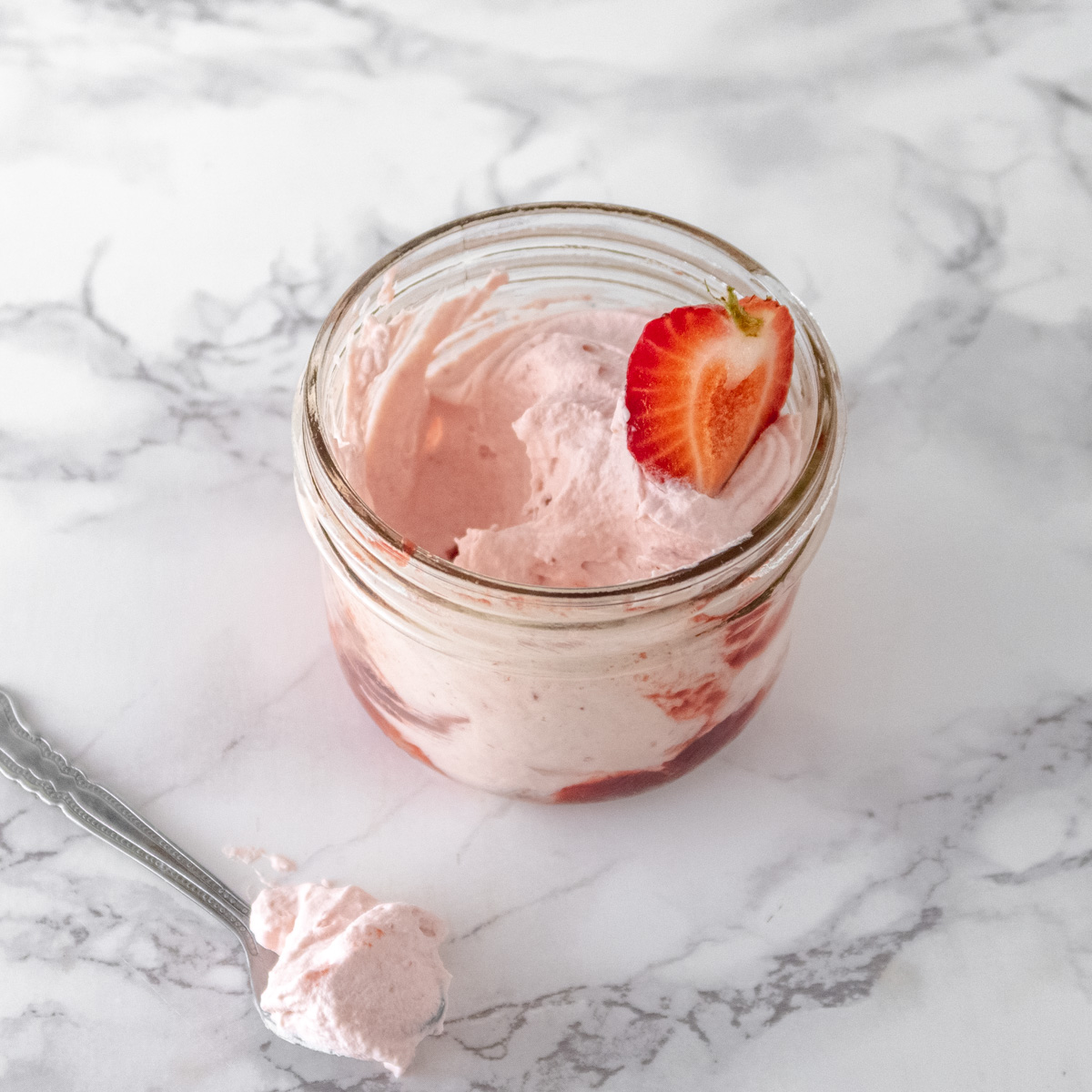 🔪 Equipment
You will need the following equipment to make this strawberry white chocolate vegan mousse
Electric mixer, to whip the cream but it can be done by hand
Large pastry bag and star-shaped pastry tip. I used an Ateco845
Saucepan
Blender
Heatproof silicone spatula
Sieve
12 small jars or 8 larger ones. I find glass yogurt containers and mason jars to be perfect for this
I highly recommend you use a digital scale and weight measurements when following my recipes as it is more accurate. The only exception is with very small quantities where I recommend using teaspoons.
🌡️ Storage
Store in an airtight container in the refrigerator. Do not freeze.
These vegan mousse jars are best eaten in 48 hours since the surface of the mousse tends to dry out. If the mousse is placed in jars with a lid, like a mason jar, you can store them for up to 4 days.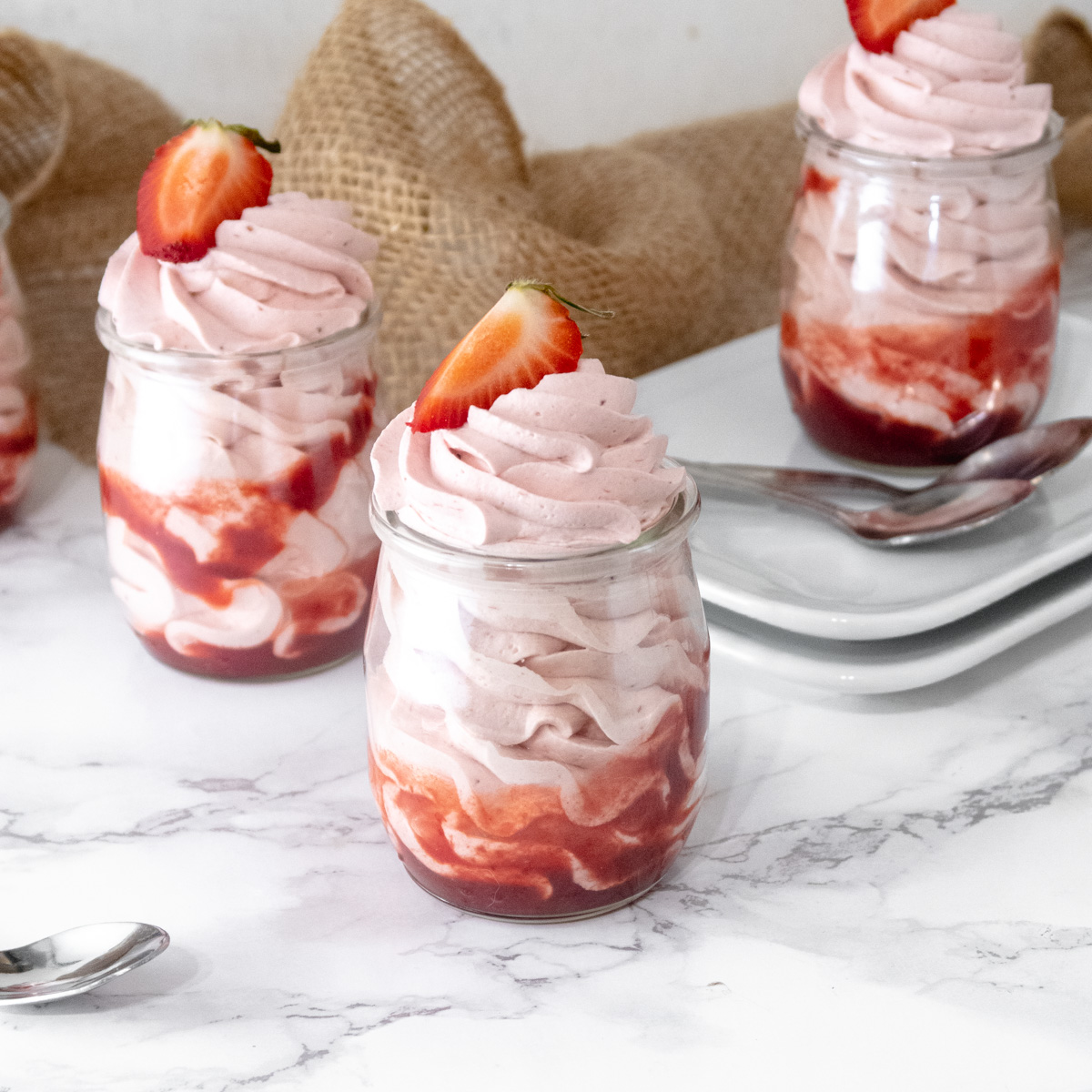 Recipe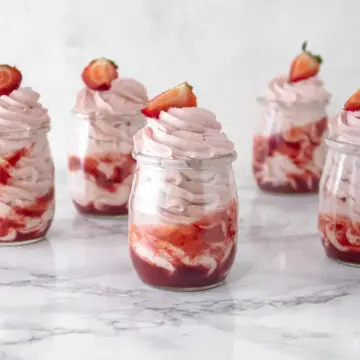 Print
Vegan Strawberry and White Chocolate Mousse Jars
If you are looking for an easy, delicious, and indulgent vegan dessert, you must make these strawberries and white chocolate mousse jars!
Ingredients
Mousse
450

g

frozen strawberries

(approximately 3 ½ cups of whole strawberries)

65

g

white granulated sugar

(⅓ cup)

15

g

lemon juice

(1 tablespoon)

55

g

vegan white chocolate chips

, or finely chopped chocolate (⅓ cup)

500

g

Ambiante by Puratos

, or another sweetened non-dairy whipping cream (2 cups)
Garnish
3

whole fresh strawberries
Instructions
Place the frozen strawberries, sugar and lemon juice in a saucepan and cook over medium heat until the strawberries are completely soft and defrosted.

Blend the strawberry mixture until smooth and strain it back into the saucepan.

Cook down the strawberry sauce over medium-low heat while stirring constantly with a heatproof silicone spatula until it is thick enough to coat the back of a spoon, or for approximately 10 minutes.

Place the vegan white chocolate in a large bowl. Pour 260g or 1 cup of the hot strawberry sauce on top of the white chocolate and stir until the chocolate is melted and incorporated. Set aside the rest of the strawberry sauce for later.

Leave the strawberry and chocolate mixture at room temperature until it doesn't feel warm to the touch anymore.

Whip the non-dairy whipped cream until you get stiff peaks

Stir in a quarter of the whipped cream into the strawberry mixture until completely incorporated. Fold gently the rest of the whipped cream into the cooled strawberry mixture using a silicone spatula until you don't see any streaks of puree anymore.

Transfer the mousse to a piping bag with a large star pastry tip, like an Ateco 845 pastry tip.

Drizzle the leftover puree on the inside of the glass using a piping bag or spoon.

Pipe mousse into each jars and garnish with a quartered strawberry. Enjoy!
Notes
This recipe makes 12 small mousses or 8 large ones
If you have more questions, feel free to ask them in the comment sections and I'll do my best to answer them.
Did you try this vegan strawberry mousse recipe?
Don't be shy and let me know how it went! Leave me a comment below and share a picture on Instagram! And most importantly, leave a rating to help me and let other people know how much you like this recipe!