These strawberry and rhubarb confit tartlets topped with fresh strawberries and whipped cream taste just like summer in dessert form. Don't miss peak rhubarb season! These french-inspired tartlets will have everyone go for seconds.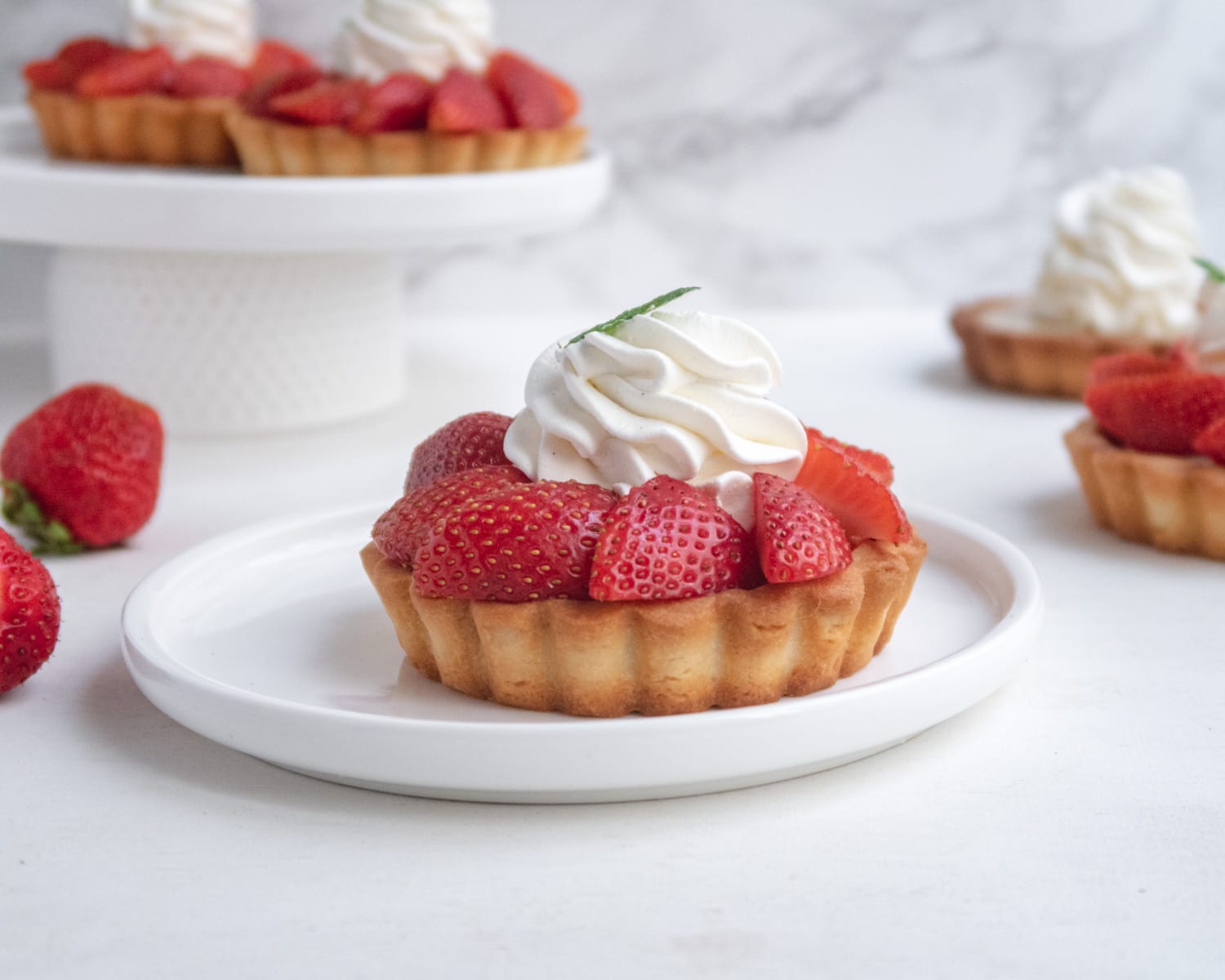 Feel free to skip straight ahead to the recipe if you want to (but I swear there is no personal life blah-blah, only useful information in this blog post).
---
Vegan  strawberry and rhubarb tartlets components
These delightful seasonal vegan tartlets have multiple components but don't let it scare you. I will give you plenty of tips, tricks and alternatives for you to make this recipe as easy or challenging as you want.
These tartlets are made of:
Buttery pâte sucrée tartlet shells
Juicy strawberry and rhubarb confit
Tonka bean crémeux, optional
Topped with vegan whipped cream and fresh strawberries
As you can see there are 4 components to these vegan tartlets but if you want to speed up the process, feel free to skip the tonka bean crémeux. The crémeux adds a nice complementary creaminess that counterbalances the tartness of the confit. But since we also have the whipped cream that has a similar effect and the cremeux has a very subtle flavour profile, feel free to skip the crémeux if you are short on time.
RELATED: If you are a big fan of rhubarb, you need try my Geometric rhubarb pie with almond cream.
Timeline
I actually made these strawberry and rhubarb tartlets in 1 day but if you want, you can easily spread the process over 2 days to make this dessert more manageable. Here is a timeline to guide you if you want to do so.
Day 1
Make the pâte sucrée.
Rest the dough for 1 to 2 hours in the refrigerator.
Foncer the tartlet shells. Foncer is just a fancy french word to say rolling out the dough and lining the tartlets tins with the dough.
Refrigerate the dough-lined tartlet tins for 30 minutes, or overnight. 
Bake the tartlet shells and let them cool down overnight. Alternative: You can bake the shells the morning of when you want to serve the tartlets.
Day 2
Optional, infuse the milk with the tonka bean for the tonka crémeux.
Make the strawberry and rhubarb confit and divide into the tartlet shells. 
Optional, while the confit is cooling down, make the tonka crémeux and pour over the firm confit.
Leave the tartlets to cool completely
When ready to serve, whip up the cream, pipe the rosette and garnish with strawberries
Ingredients
This strawberry and rhubarb tartlets recipe does use some pretty specialized ingredients that you might not have heard of before. So let me explain what they are, where to get them and some alternatives.
Non-dairy whipped topping
My favourite vegan whipped cream is Puratos Ambiante. It is vegan and can be tricky to find. I get it at my restaurant supply store, which is open to the public, but if you don't have one of those close, you might find this product online since it is kept at room temperature and it has a long shelf life.
Alternative: Homemade whipped cream,  Schlagflix, Elmea double plant cream 
Try not to use anything in spray, can or in a frozen tub as these types of cream will deflate very quickly.
Tonka bean:
Tonka is a little bean that you can grate int preparation that will give it a subtle nutmeg and vanilla flavor. However, since it contains naturally occurring coumarin, it has been banned by the FDA in the USA.
Alternative: Real vanilla bean or vanilla bean paste
Pectines
This recipe contains 2 types of specialized pectins, Pectin NH and Pectin X58.  This is because we are working with preparations that are low in acidity or in sugar, which means that the pectin you find in grocery stores might just not do the job . In this recipe, pectin is the gelling agent that replaces gelatin. You will be able to get these pectines repackaged in speciality pastry stores, or online.
Alternative: There is no true alternative to these pectines. You could try to replace it with some apple pectin or agar agar, but you will have fillings with a slightly different texture.
Frequently Asked Questions
Can I make a big tart instead of tartlets?
Yes you can use this recipe to make a large tart or 2 small to medium sized tarts. The process is pretty much the same, but you will have to spread the filling with a small offset spatula. You might also need more strawberries to garnish the top.

For garnishing a large tart, I recommend starting with a row of quartered strawberries all around the tart. Then making multiple small rosettes of cream in the middle of the tart to cover the confit,  and then placing the leftover quartered strawberries randomly in between the rosettes.

Can I freeze the tartlet shells?

Yes you can freeze  unbaked tartlet shells for multiple weeks in an airtight bag or container

I don't recommend freezing baked tartlet shells, as they would become soggy. Keep those at room temperature in an airtight container for up to a week. If you can, place a desiccant in the container. And if the shells are a bit soft when you want to use them, recrisp them in the over for a couple of minutes before using them.

Can I use frozen strawberries?
You can use frozen strawberries in the confit but not for the garnish as they would seep too much liquid as they thaw.
Tools
You will need the following tools to make these vegan strawberry and rhubarb tartlets so make sure you have everything close before starting.
12 fluted tartlet tins, preferably with a removable bottom 
Rolling pin
Kitchen aid, or hand mixer
Medium saucepan
Small ice cream scoop
Whisk
Microplane, or fine grater
1 large and 1 small mixing bowls
Piping bag and an Ateco 844 pastry tip. Alternative: Wilton 2D tip
Cutting board and a paring knife
Recipe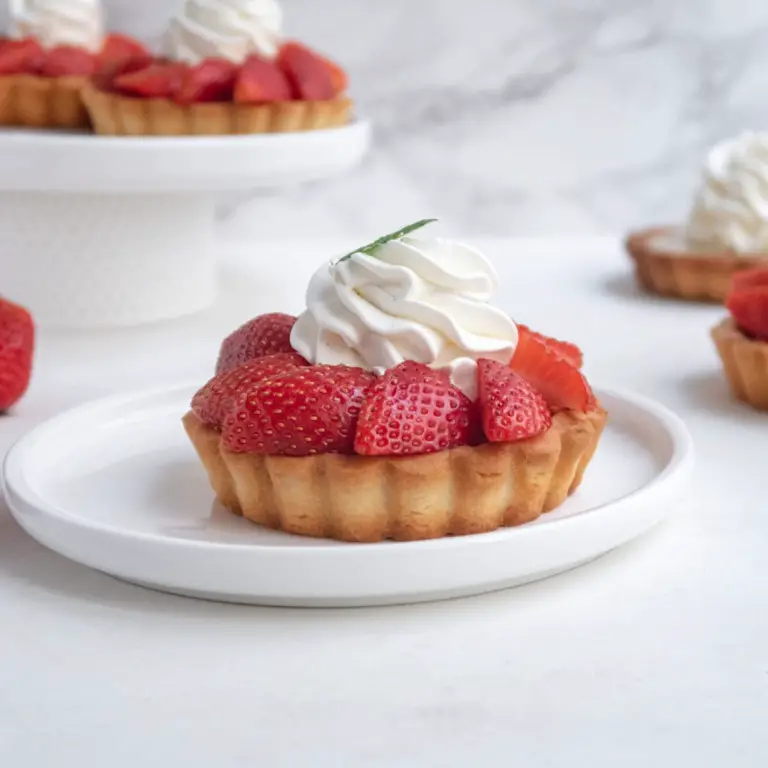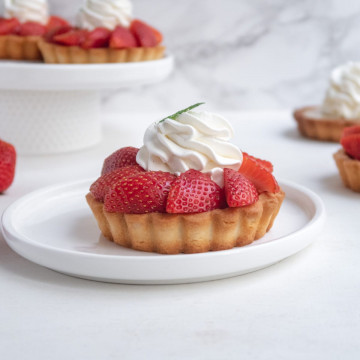 Print
Vegan fresh strawberry and rhubarb tartlets
Strawberry and rhubarb confit tartlet with fresh strawberries and whipped cream taste just like summer in dessert form.
Ingredients
1

whole

recipe of vegan pâte sucrée 

, or your favourite sturdy vegan shortcrust recipe
Strawberry - Rhubarb confit
5 g

(1 tsp)

pectin NH

50 g

(¼ cup)

vegan white granulated sugar

300 g

(2 ½ cup)

peeled and macedoine-diced rhubarb

150 g

(1 cup)

cleaned and sliced strawberries

50 g

(¼ cup)

light brown sugar
Tonka Crémeux (Optional)
190 g

(¾ cup)

unflavoured soy milk or your favourite plant-based milk

, it needs to be fortified with calcium

½

finely grated tonka bean

, or 1 teaspoon vanilla bean paste

25 g

(2 tbsp)

light brown sugar

3.5 g

(¾ tsp)

pectin X58

7 g

(1 tbsp)

cornstarch

, also known as cornflour (UK)

30 g

( 2 tbsp)

vegan soft margarine
Garnish
500 g

(2 cup)

Puratos Ambiante

, or your favourite non-dairy topping

Vanilla bean paste to taste

36

small to medium sized fresh strawberries

cleaned
Instructions
Tartlet shells
Make a batch of pâte sucrée, or enough of your favourite sweet shortcrust pastry dough to line 12 tartlets tins.

Roll out the sweet pastry dough to a 4mm (⅛-inch) thickness. Cut the dough into 12 manageable pieces.

Place each dough piece in a tartlet tin and press down on the dough so that it is pressed flush against the sides of the tin. Cut the dough overhang flush and prick the bottom of each tartlet with a fork. Refrigerate for 30 minutes, or until the dough is firm.

Preheat your oven at 375°F ( or 190°C)

Cook for 10 to 15 minutes, or until cooked through and golden brown.

Let the tartlet shells cool down at room temperature. Once the shells are not warm to the touch anymore, remove the shells from the tins.
Strawberry - Rhubarb Confit
In a saucepan, place the rhubarb and brown sugar and cook on low for 15 minutes, or until the rhubarb is soft and falling apart.

Add the strawberries to the saucepan and cook for an additional 5 minutes. Slightly mash the strawberries with a fork.

In a small bowl, dry whisk together the white sugar and pectin.

While whisking, sprinkle the pectin and sugar mixture on top of the rhubarb confit.

Bring to a boil and cook for an additional 1 minute.

Divide the still warm confit in the bottom of each tartlet shell. 1 ½ small ice cream scoop is the perfect amount of confit per shell. Refrigerate until completely cooled.
Tonka Crémeux (Optional)
Bring to a boil the soy milk and finely grated tonka tonka bean. Turn off the stove and leave to infuse for 30 minutes.

Dry whisk together the sugar, cornstarch and pectin, and then sprinkle over the infused soy milk. Bring to a full boil while stirring with a silicone spatula and then remove the preparation from the heat. Try not to incorporate too many air bubbles.

Stir the margarine into the still hot cremeux.

Pour on top of the rhubarb confit ( about 1½ tablespoon per tartlets) and tilt the tartlets to spread the cremeux. Refrigerate until the tartlets are cold.
Final assembly
Whip the the non-dairy whipped topping until medium-firm. Add vanilla bean paste to taste and sweeten to taste.

With a pastry bag and an Ateco 844 pastry tip, pipe a 3-layer rosette of cream in the middle of each tartlet, leaving about ¾ inch (2 cm) of free space all around.

Destem and quarter the strawberries and place all around the cream. Refrigerate the tartlets until ready to eat. Enjoy!
Notes
Best eaten the same day the tartlets are assembled
Refrigerate for up to 2 days in an airtight container.
Optional: glaze the strawberry in neutral jelly to give them a shiny look and stop them from drying out.
Did you try these oh-so-cute strawberry tartlets ?
Don't be shy and let me know how it went! Leave me a comment below and share a picture on Instagram !