This gluten-free Bourdaloue tart is filled to the brim with frangipane cream and juicy pears in a crunchy and buttery oat-flour pâte sucrée crust. Everyone will be impressed with the complex flavors of this French classic.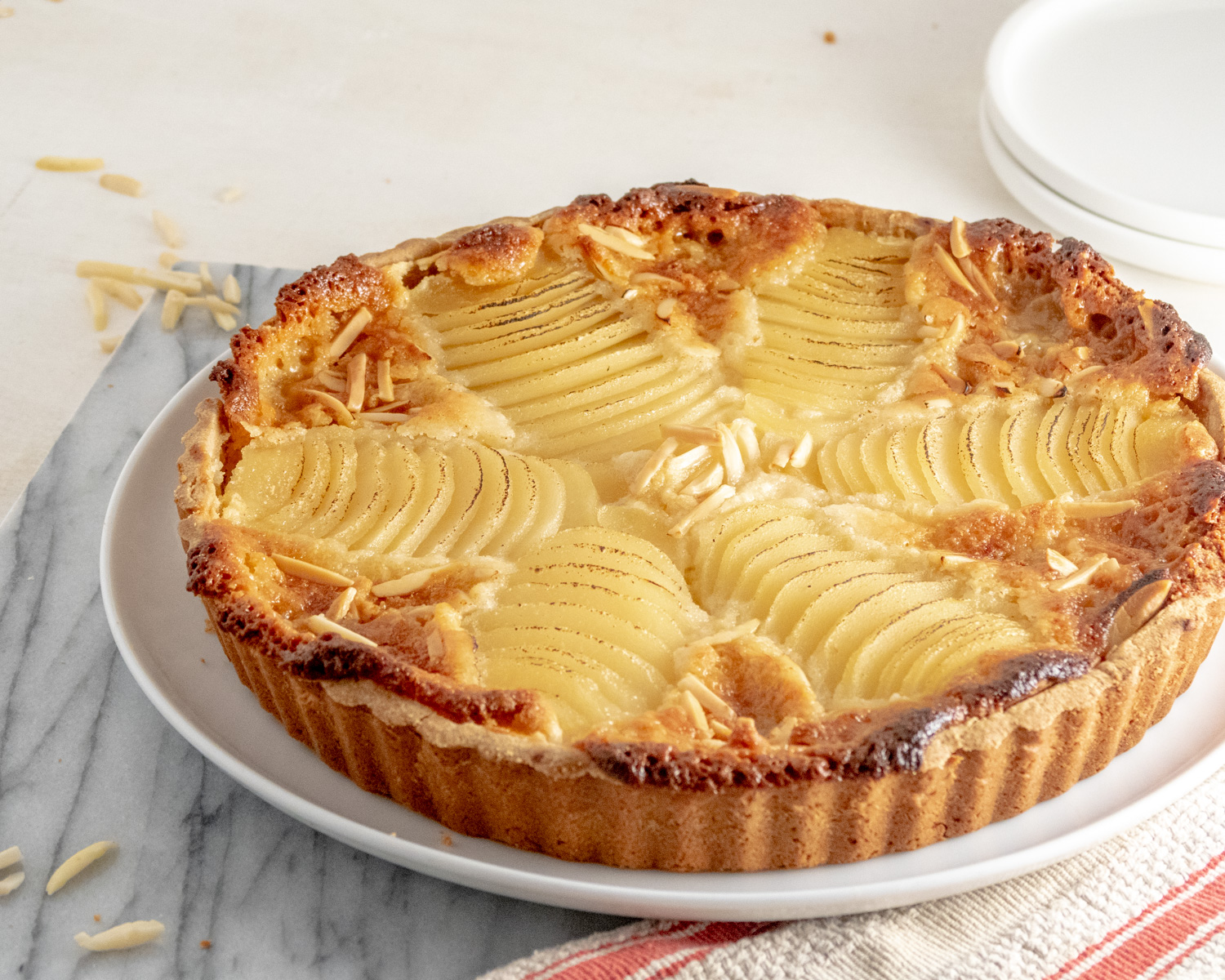 Tarte Bourdaloue, also sometimes known as Tarte Amandine is a French classic that might seem complicated, but in reality, it only has 3 very simple elements:
Pâte sucrée - A sturdy pastry dough perfect for free-standing tarts. It has a sugar cookie-like texture and in this case a nice nutty flavor because of the oat flour.
Almond cream- Also known as Frangipane, this cream only needs a handful of ingredients and can be mixed by hand in a bowl.
Poached pears- in this case, we take the easy way out and use canned pears.
Jump to: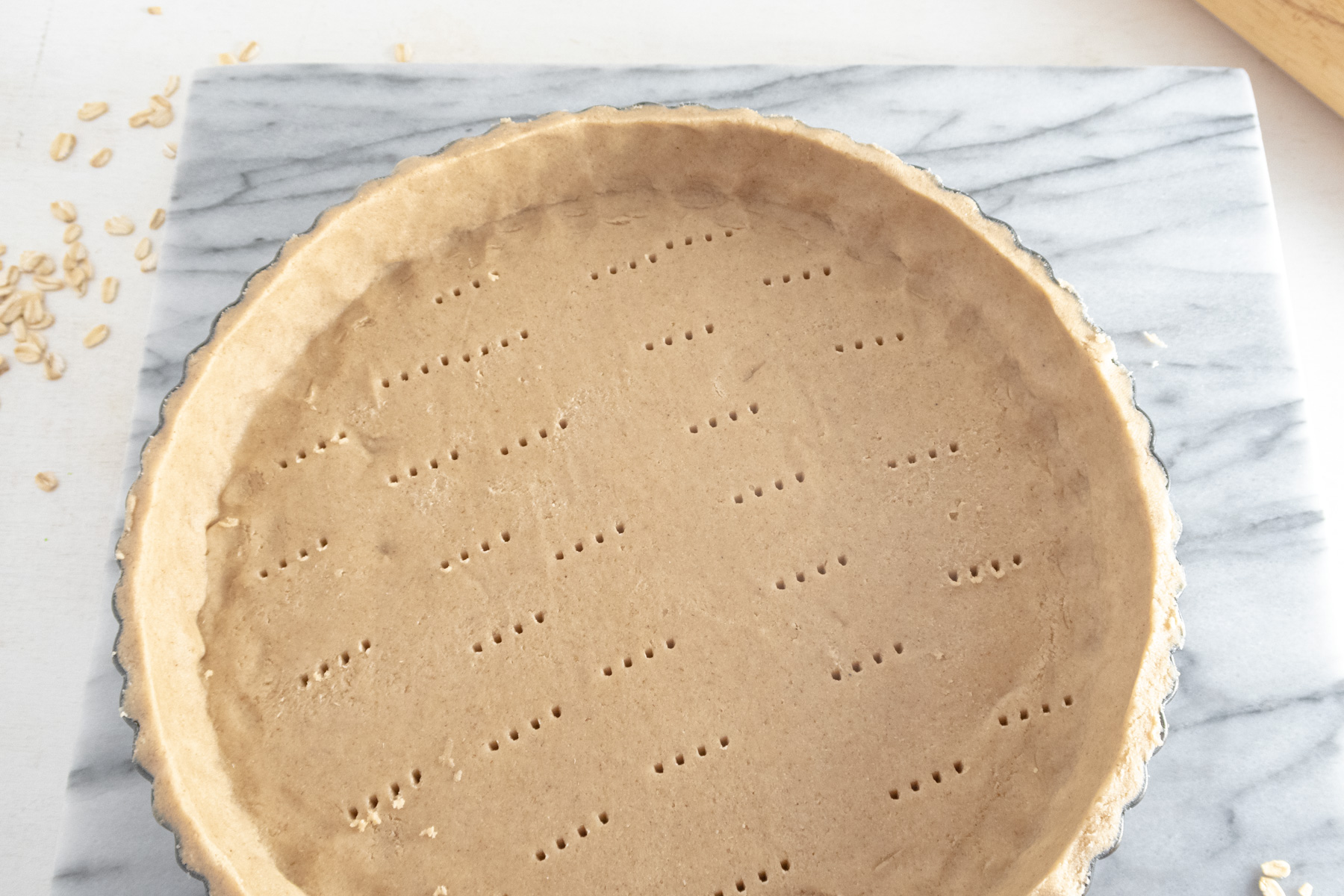 📋 Ingredients
Here is some additional information on the ingredients needed for this recipe to guide you while grocery shopping.
Gluten-free tart crust. Made with gluten-free oat flour and no weird ingredients. This recipe is even easier to make than my classic pâte sucrée recipe.

Can be replaced with your favorite sturdy pastry dough.

Pears. When grocery shopping, pick up a large can of pears in a light syrup so that you can be picky when choosing the best-looking pears.
Margarine. I use salted soft margarine from a tub for this recipe. It makes mixing the almond cream by hand easier.
Almond flour, the finer the better. I love the Kirkland Signature one I get at Costco. If you buy large quantities of almond flour, remember to store it in the freezer.
Cornstarch is also named cornflour in the UK and Australia
See the recipe card for quantities.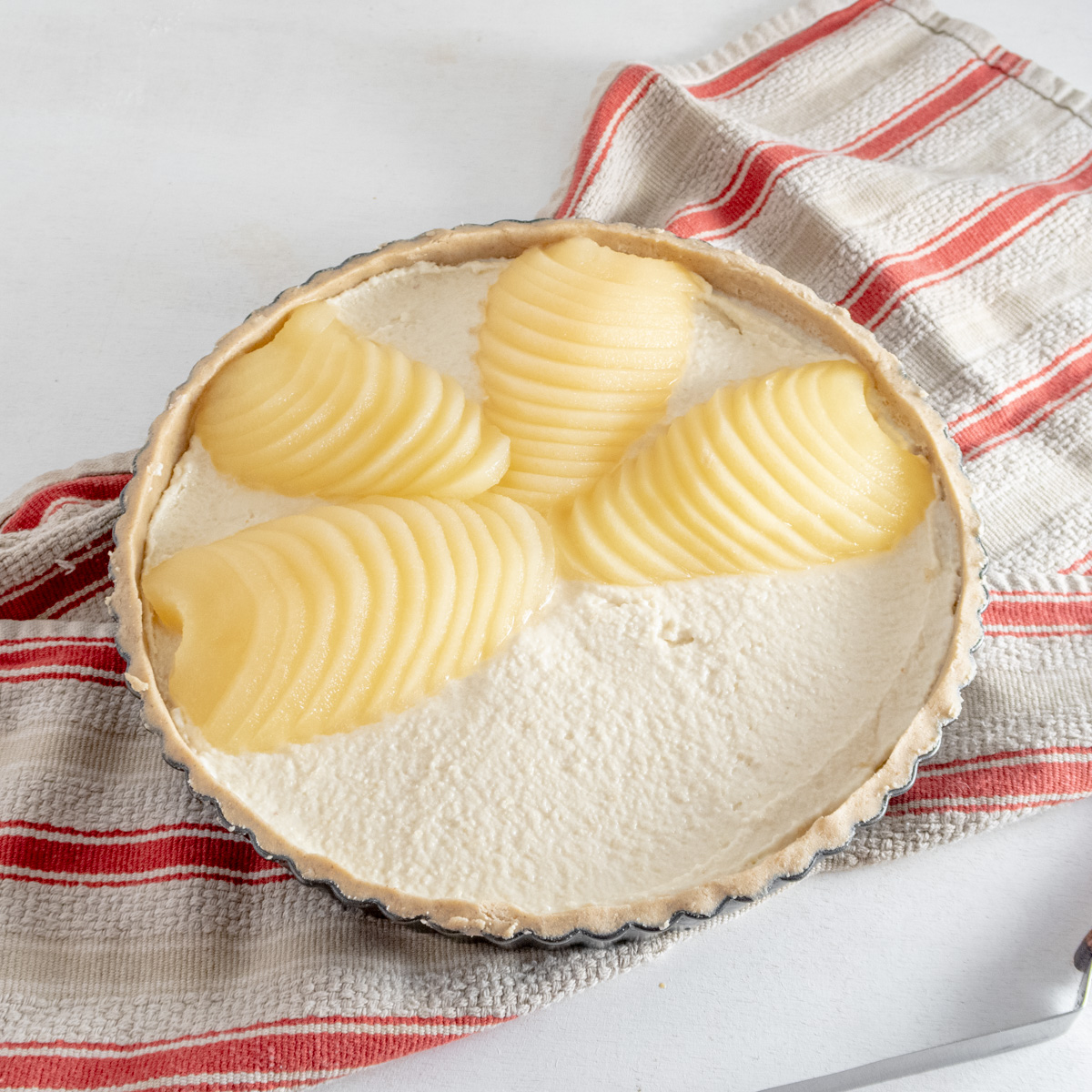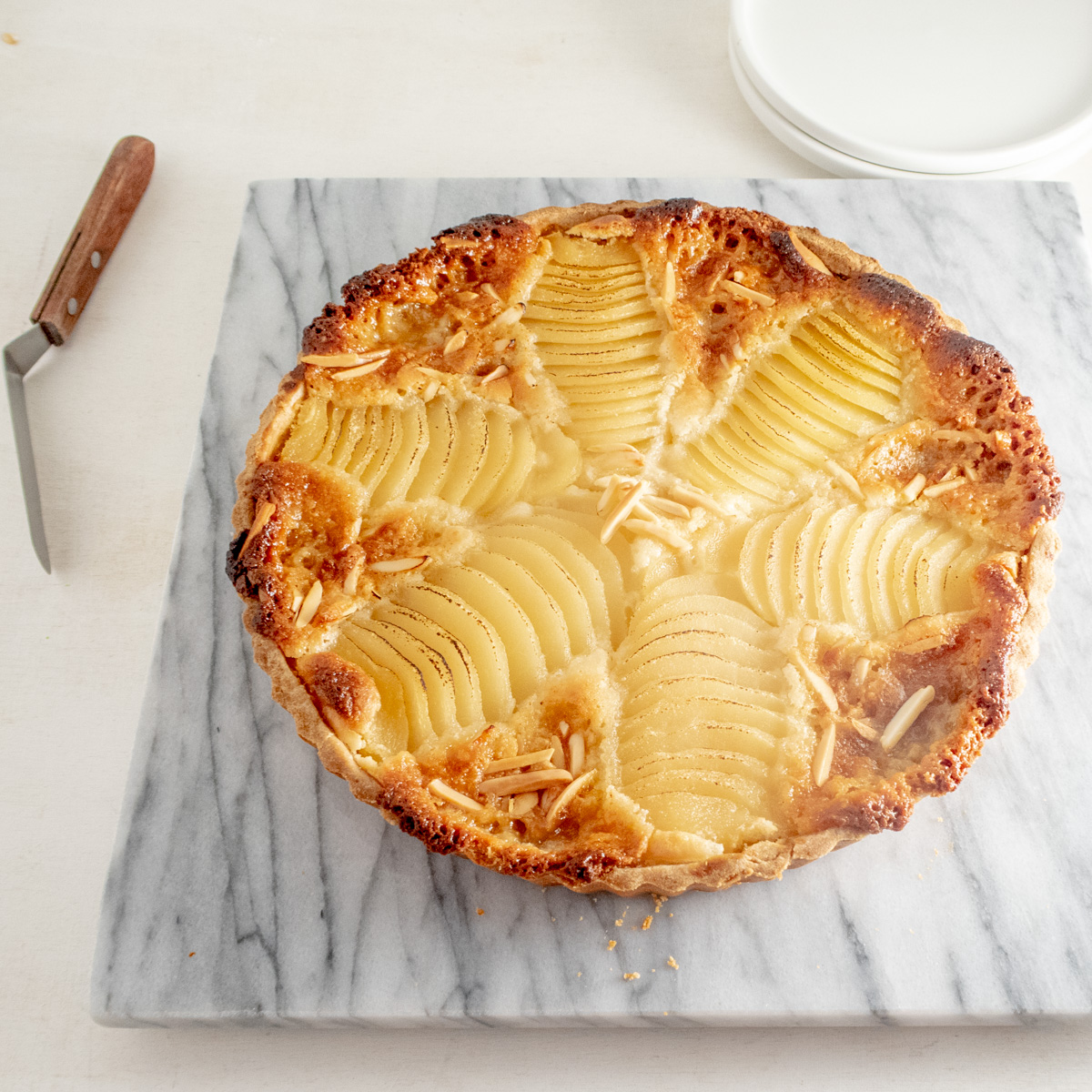 👩🏻‍🍳 Pro Tips
Tip 1 - Do not overfill the tart with frangipane. Yes, you might end up with leftover cream but it's better than ending up with a mess at the bottom of your oven. In case of leftover cream, eat with a spoon. 😉
Tip 2 - To easily fill the tart with cream, use a pastry bag with a large round pastry tip, or even go tip-less. A large freezer Ziploc bag with a corner snipped off can also work in a pinch.
Tip 3 - If you don't feel like rolling out the dough, you can also press the pâte sucrée dough into the tart tin but make sure it is even all over.
Tip 4 - To get nice charred pear edges like on my tart, you can swipe a blow torch on each pear for a couple of seconds. It adds a nice visual touch and some dimension to the tart.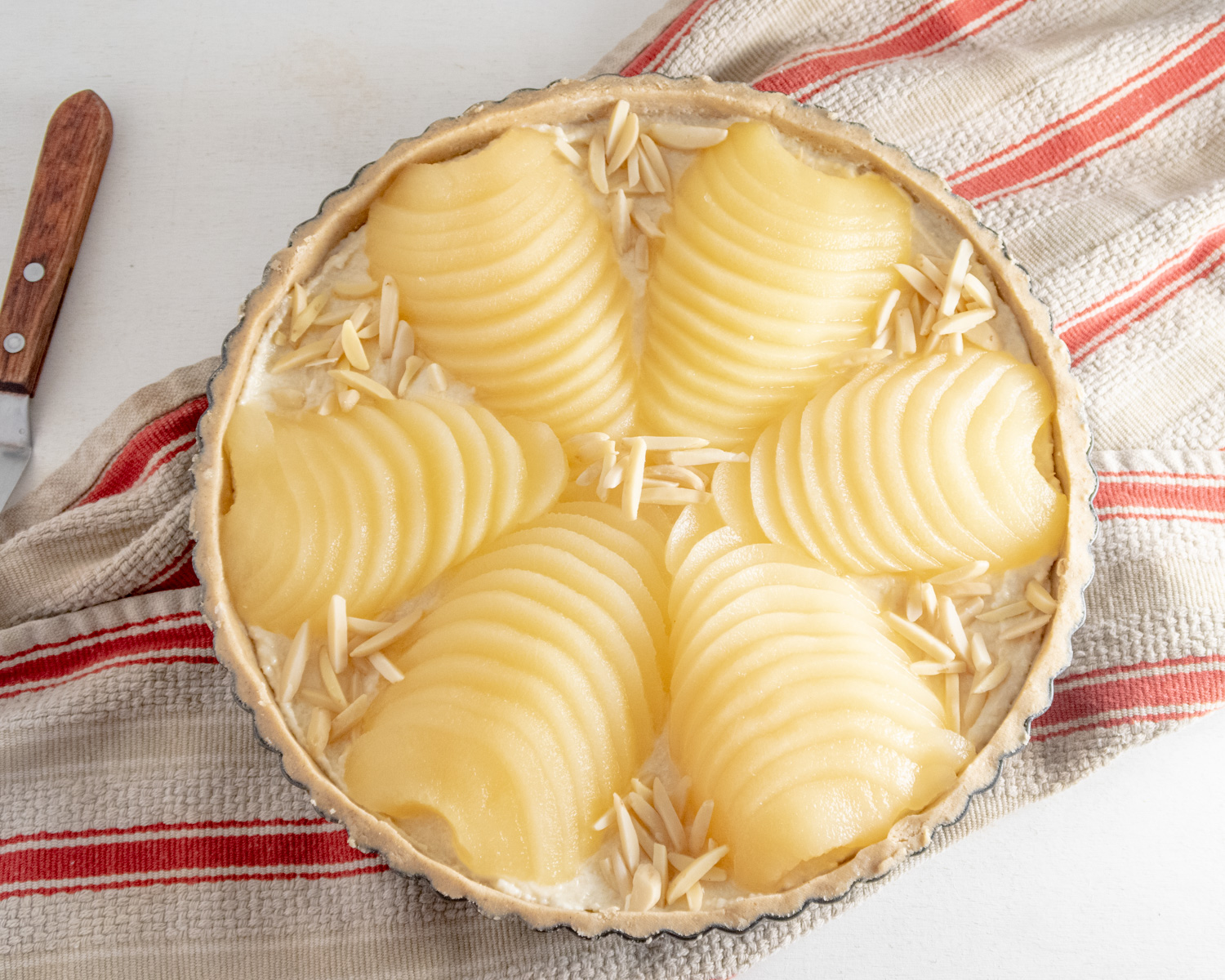 📖 Variations
Use this recipe as a base to make other almond-cream tarts like:
Make my stunning geometric strawberry and rhubarb tart by adding a thin layer of strawberry jam to the bottom of the tart, adding the almond cream, and then topping it with small rhubarb diamonds.
Bakewell Tart - Add a layer of raspberry jam before filling with almond cream and top off with sliced almonds.
Apple - Replace the pears in this recipe with fresh, unpeeled, thinly sliced, and fanned apples.
Stone fruits - Stone fruits pairs super well with almond flavor. Cut in half smaller stone fruit like apricots or plums and place cut side up on top of the almond cream. For larger stone fruits like nectarines, feel free to cut them into quarters or even smaller.
🔪 Equipment
You'll need a small number of tools for this gluten-free Bourdaloue tart recipe. Luckily, you don't even need an electric mixer! This recipe can all be made by hand.
Metallic tart tin with removable bottom. I used a 9-inch fluted tart tin but smooth or other shapes are also fine. It's important that you don't use ceramic as they retain heat differently.
Rolling pin. My favorite is a french-style rolling pin with tapered ends.
Bowl, whisk, and silicone spatula
I highly recommend you use a digital scale and weight measurements when following my recipes as it is more accurate.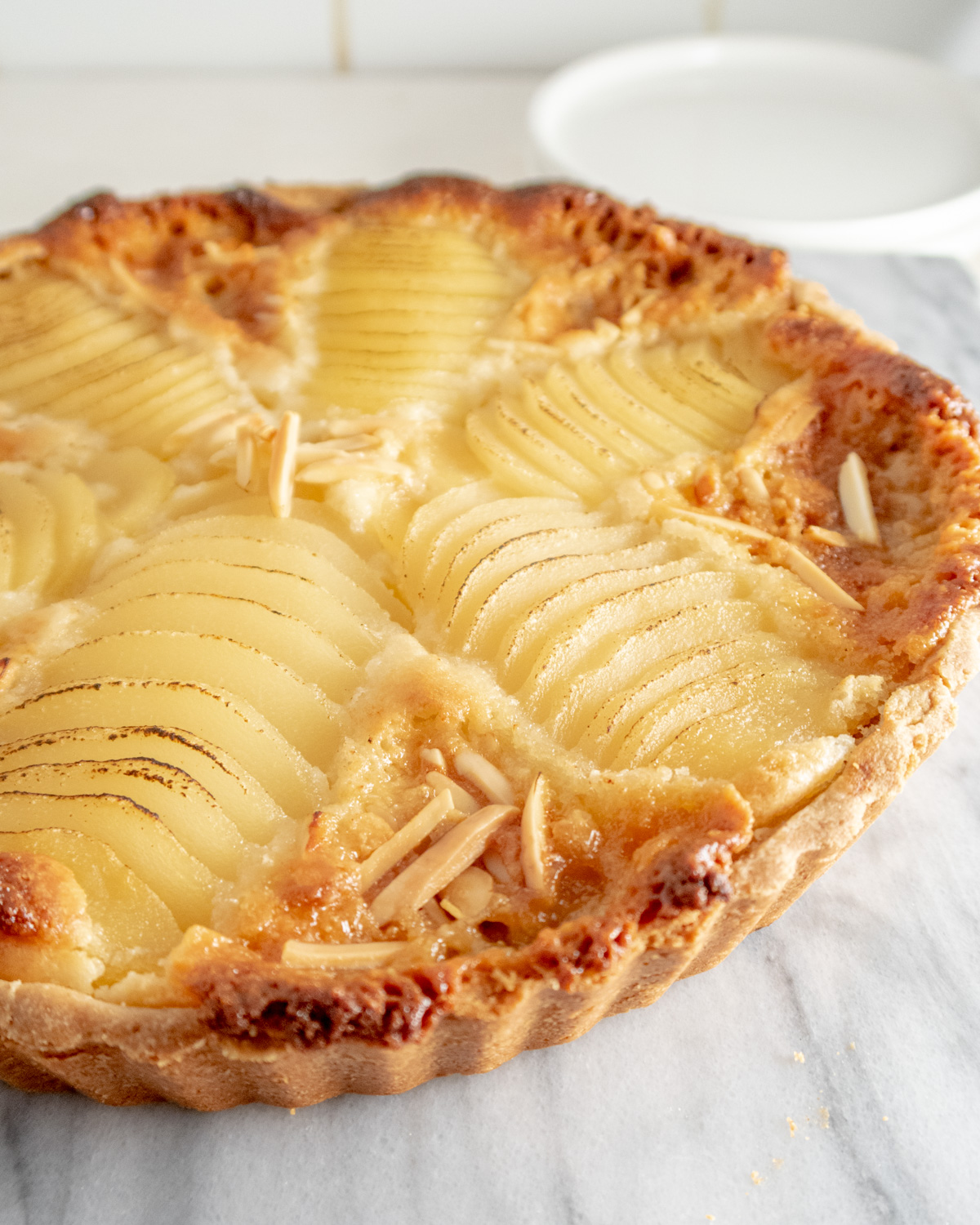 🌡️ Storage
The following storage instructions are for a completely cooked Bourdaloue tart.
Frozen: Freeze for up to 2 months, tightly wrapped in plastic wrap.
Refrigerator: Keep in an airtight container for up to 4 days if glazed, 2 days if unglazed.
Room temperature: Keep at room temperature for up to 2 days in an airtight container if glazed.
Glazing the whole surface of the tart all the way to the edges with neutral glaze or jam stops it from drying out too quickly and gives a nice shiny appearance to the pears.
Recipe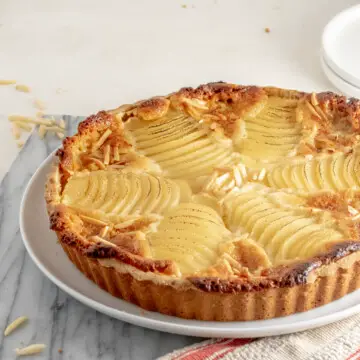 Print
Vegan + Gluten-Free Bourdaloue Tart
This gluten-free Bourdaloue tart is filled to the brim with frangipane cream and juicy pears in a crunchy and buttery oat-flour pâte sucrée crust.
Ingredients
Almond Cream
90

g

vegan margarine

(6 tablespoons)

132

g

powdered or icing sugar

(1 cup)

100

g

fine almond flour

(1 cup)

16

g

cornstarch

(2 tablespoons)

⅛

teaspoon

fine sea salt

45

g

unsweetened applesauce

( 3 tablespoons)

10

g

brown rum

, optional (2 teaspoons)

4

g

almond extract

, adjust to taste (1 teaspoon)
Garnish
5 to 6

canned half pears in light syrup

sliced or slivered almonds

neutral glaze or apricot jam mixed with a bit of water
Instructions
Make 1 recipe of gluten-free pâte sucrée tart shell and line a 9-inch tart tin with the dough. Prick the bottom with a fork and refrigerate for 30 minutes, or until the dough is cold and firm
Almond Cream
In a large bowl, mix together the margarine, powdered sugar, almond flour,cornstarch and salt until homogenous. Add the applesauce, vanilla and rum if using and whisk it in.
Assembly
Preheat your oven to 350°F (180°C).

Fill the raw tart shell with almond cream until it is ⅓ inch (8 millimeter) to the top of the tart edge.

Open a large can of half pears and drain the syrup. Place the pears cut side down on a cutting board and thinly slice crosswise. Place your palm on the sliced pear and slightly push backward to fan them out.

Using an offset spatula or large knife, pick up the fanned pears without disturbing the slices and place on top of the almond cream, stem side towards the middle of the tart. Push the pear fans slightly into the cream. Sprinkle any visible almond cream with sliced almonds.

Bake the tart on the middle rack in the preheated oven for 45 minutes, or until the middle looks set and the edges are a dark golden brown. Optional: Place a baking sheet on the lower rack of your oven to catch any overflowing cream.

In the first 5 to 10 minutes of baking, check the tart and poke any air bubbles in the almond cream. Leave to cool completely before removing the tart from the tin.

Optional: Dilute neutral glaze or strained apricot jam with water or simple syrup and heat until it is thinner and slightly warm to the touch but not hot. Brush on the top of the tart from edge to edge, making sure to completely cover the pear slices. Enjoy!
Did you try this gluten-free tart recipe?
Don't be shy and let me know how it went! Leave me a comment below and share a picture on Instagram!