Bite into a slice of creamy vegan passionfruit meringue tart. Enjoy the perfect combination of creamy, sweet, and tartness with delicious tropical flavors (+ with a gluten-free option!)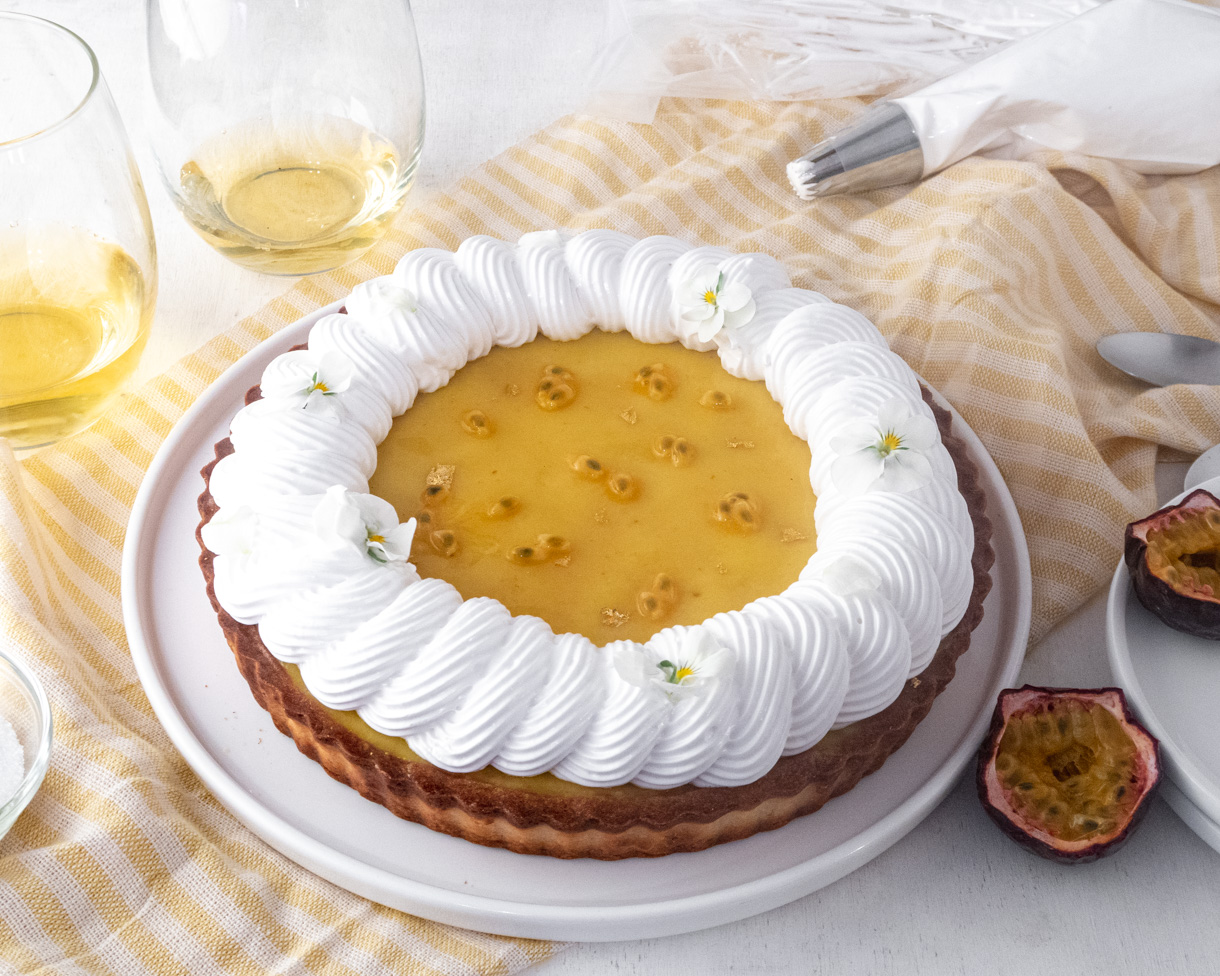 This vegan dessert is inspired by classic french lemon meringue tarts and is perfect for summer gatherings and formal parties.
This vegan tropical passionfruit tart is made out of 3 simple elements:
Pâte sucrée, also known as sweet shortcrust pasty. If you are celiac, you can also use my gluten-free pâte sucrée which does not require a resting period before you can roll it out.
Passionfruit and coconut curd. The perfect balance of creamy, sweet, and not too tart flavors and textures.
Swiss meringue for a cloudlike crown. Swiss meringue is perfect for this recipe since it is easy to whip up. It is also more stable compared to French meringue but you could also use an Italian meringue.
This is a pretty thorough blog post so feel free to jump straight to the section that you need, or skip straight to the recipe.
Jump to: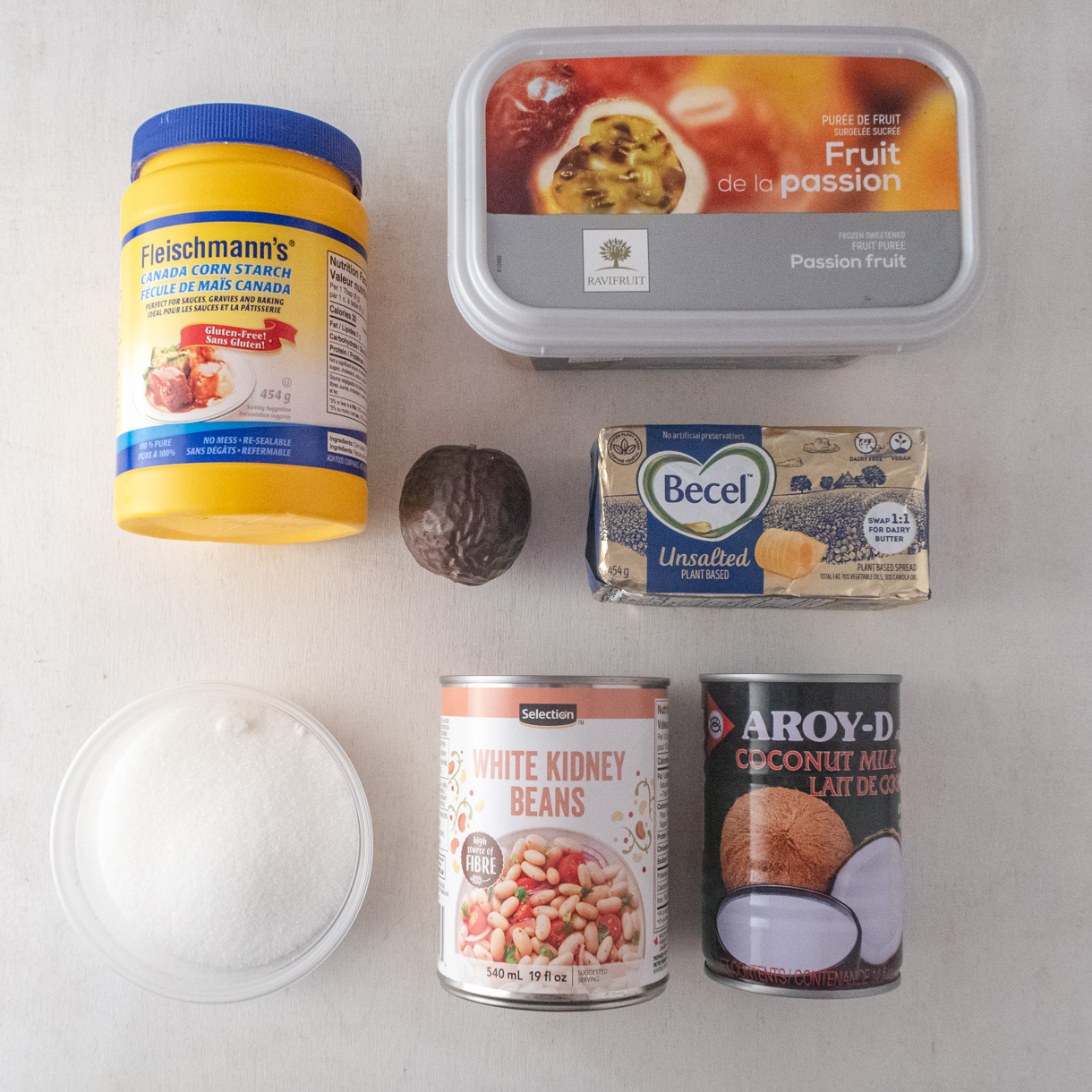 📋 Ingredients + Substitutions
All-purpose flour, or unbleached flour
Powdered sugar, also known as confectioners sugar or icing sugar
Fine sea salt - or kosher salt. If you are using salted butter, omit the salt from the recipe
​​Firm unsalted vegan butter like Flora or Becel plant-based bricks. Soft margarine from a tub will work in a punch but the dough will be much softer and stickier.
Plain vegan yogurt - Soy, coconut, oats, or almond yogurts all work. I use Activia vanilla plant-based yogurt because of how convenient having a single portion is.

Substitution: Blended silken tofu

Vanilla extract
White granulated sugar. Caster sugar will also work. In doubt about bone char? Look for organic sugar  which is usually vegan
Cornstarch, also known as cornflour in the UK and Australia
Coconut milk - You want the full-fat one that comes from a can and not the thin one used for coffee.
Seedless passionfruit pulp - I use frozen pulp from Ravifruits or Boiron, which I find in restaurant wholesalers stores.

Substitution: You can make your own pulp by straining the seeds from the passionfruit fruit itself. However, this can expensive since you will need 8 to 10 fruits.

Aquafaba is the liquid found in cans of beans like white kidney beans or chickpea. This replaces the egg whites in the meringue recipe. Try to use salt-free cans if you can. If the aquafaba seems thin, you will need to reduce it by cooking it down over low heat until it feels a bit slimy. 

Substitution:  Versawhip 600K is a molecular gastronomy powder that is amazing to replace aquafaba with. This is actually what I use most of the time since it is so much more stable and doesn't release as much liquid. The powder is mixed with some water. See quantities in the recipe's notes.

Xanthan gum is a stabilizer used to help the meringue not deflate. I highly recommend using it if you want to serve the tart more than 1 hour after the meringue is piped on it.

Substitution: The same amount of cream of tartar
See recipe card for quantities.
🥣 Instructions
Pâte sucrée
Pâte sucré is a cookie-like classic French tart crust. It is crisp and crumbly with a light sweet taste. I made a full recipe post on how to make pâte sucrée with a bunch of important information so if it's your first time making this type of tart dough go check it out. For gluten-free peeps, you'll want to switch out the sweet shortcrust with my gluten-free version made out of oat flour.
There are multiple ways to make pâte sucré. I added the instructions for my 2 favorite ways in the recipe card: the rubbing method and the creaming method, both using different tools. However, this crust can also be made 100% by hand.
The most important thing to know about pâte sucrée is that it is very different from a classic American flaky pie dough. You do not want to have pieces of butter in your dough. So if you use the food processor method, you want to pulse until you have a coarse sand-like texture and you can't see any pieces of raw butter. 
Pieces of raw butter in your dough would mean that your tart crust would be flaky yes but also weaker and might break when you release it from the tart pan.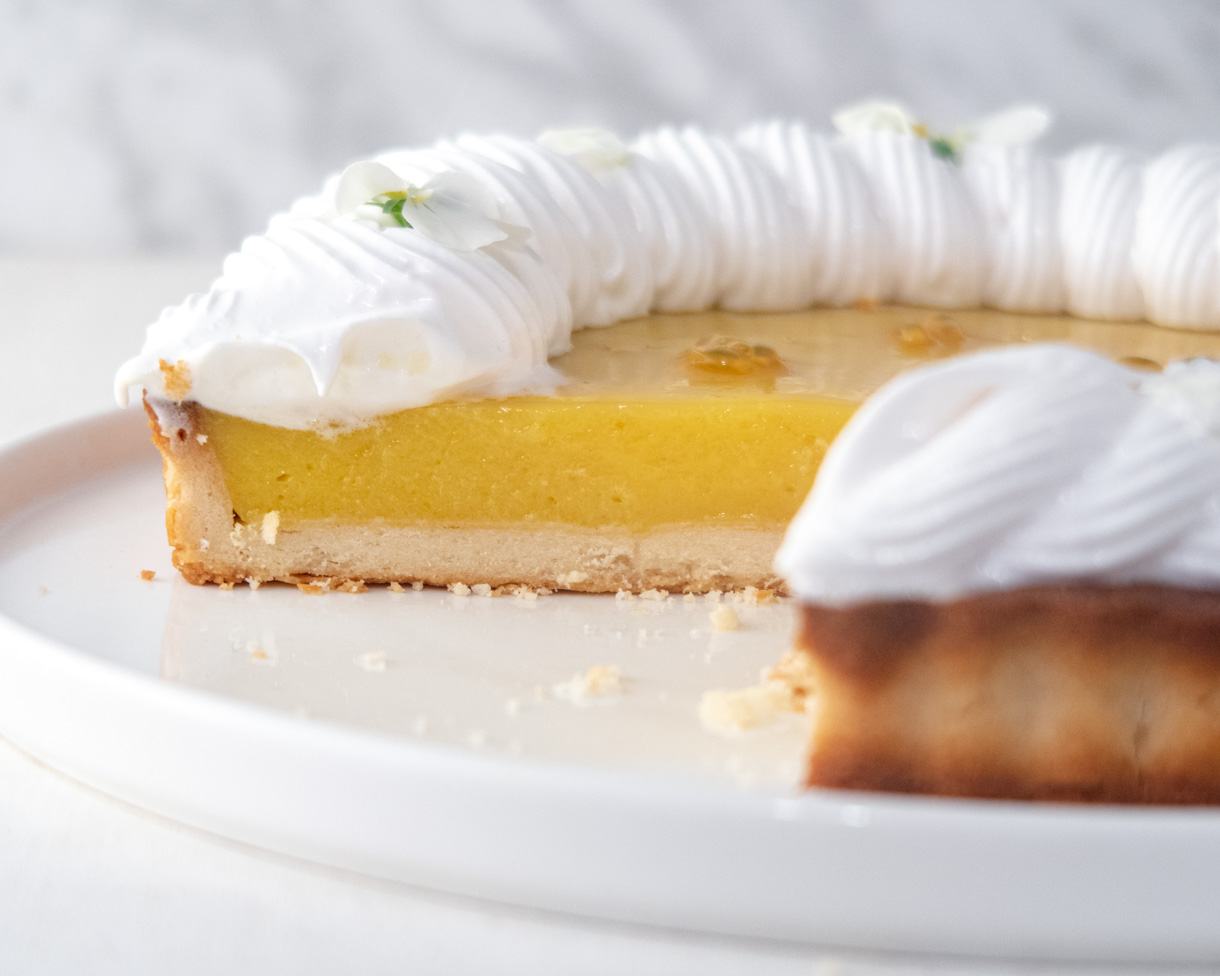 Lining the tart pan
The steps I use to perfectly line a tart pan are as follows:
Beat the dough with a rolling pan until it is malleable but still cold.
Roll to an even thickness on a floured surface or in between 2 pieces of parchment paper.
Lay the dough on top of the tart pan. Going all around the tart, lift the edges of the dough, and let the dough drop all the way to the bottom of the tart pan and into the corners.
Lightly press with your fingertips into the bottom inner corner of the tart tin to make sure the dough reaches all the way down and is not stretched out. Press the dough all around the vertical sides using the inside of your fingers. As needed, patch any holes or tears with extra dough, keeping the thickness even.
Roll the rolling pin on the top of the tart pan to cut the excess dough.
Making a 90-degree angle with your fingers, press one thumb pad against the dough on the vertical sides and the second one horizontally on top of the tart edge and press all around to get an even tart shell top edge.
Prick the bottom all over and refrigerate or freeze until ready to blind baker. This prevents the creation of air bubbles between the dough and the tart pan during the cooking process.
Blind baking
Blind baking is pre-baking a tart shell either partially or completely. We place a piece of parchment paper on top of the tart shell and then fill it with pie weights to prevent the dough from slumping down or puffing up. The tart shell is then baked to the desired doneness. If you don't have pie weight, you can use rice or even dry beans instead.
If you have a bit more experience with sweet shortcrust, you can refrigerate or freeze the tart shell for 45 minutes, or until it is very cold and firm, and bake without the pie weight. You will need to check during the first 5 to 10 minutes of the baking process and prick any air bubbles with a fork and press down the dough as needed. 
It should not slump down if you lined the tart shell properly without stretching the dough. Don't believe me? The tart shell in these pictures was actually baked without pie weights. But I will note that it was slightly overcooked.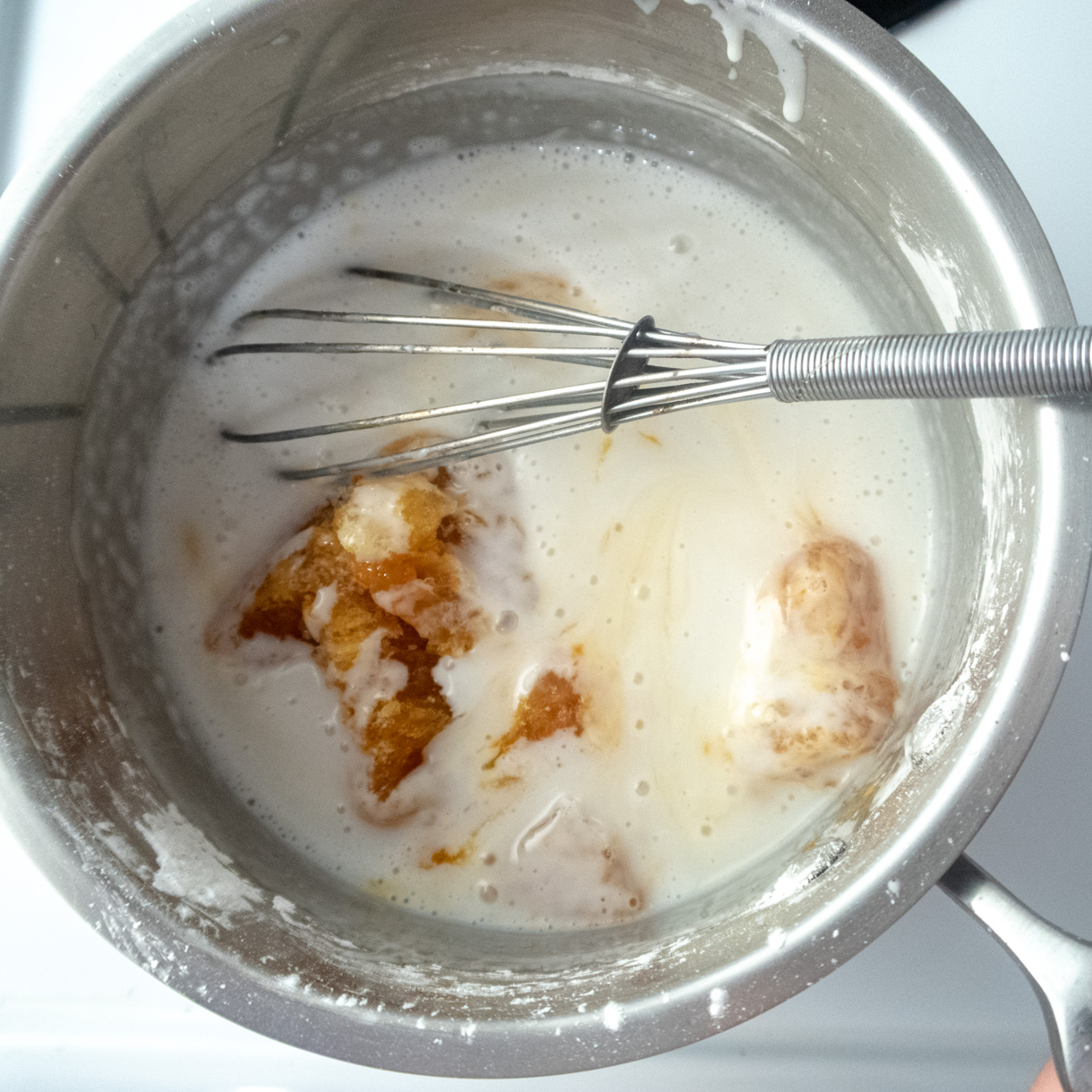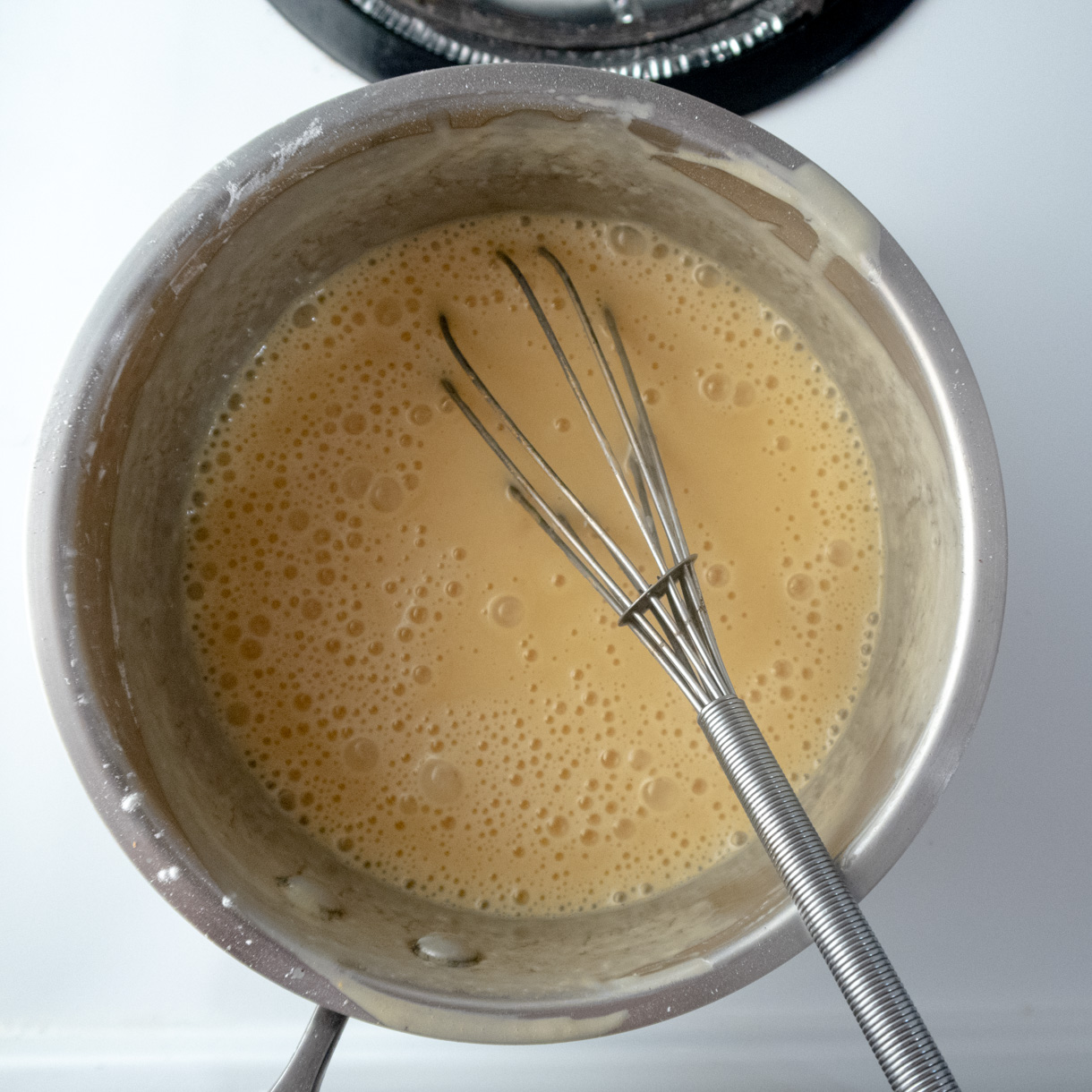 Passionfruit curd
If you have made pastry cream in the past, then this passionfruit curd will be very easy. It starts by dry whisking the sugar and cornstarch, which helps prevent lumps. Then we are slowly adding the liquids while whisking. You do not want to add them all at once because you could end up with cornstarch blobs floating around that won't want to mix in. 
Then we cook it on medium heat while we whisk constantly. if you cook it on high, you are risking scorching the curd but if you make it on low, then there is a higher chance of getting lumps, so go for a hammy medium.  You want to see large bubbles and not just a simmer before you remove it from the heat. The butter then goes in and will melt with the residual heat from the curd as we mix it in.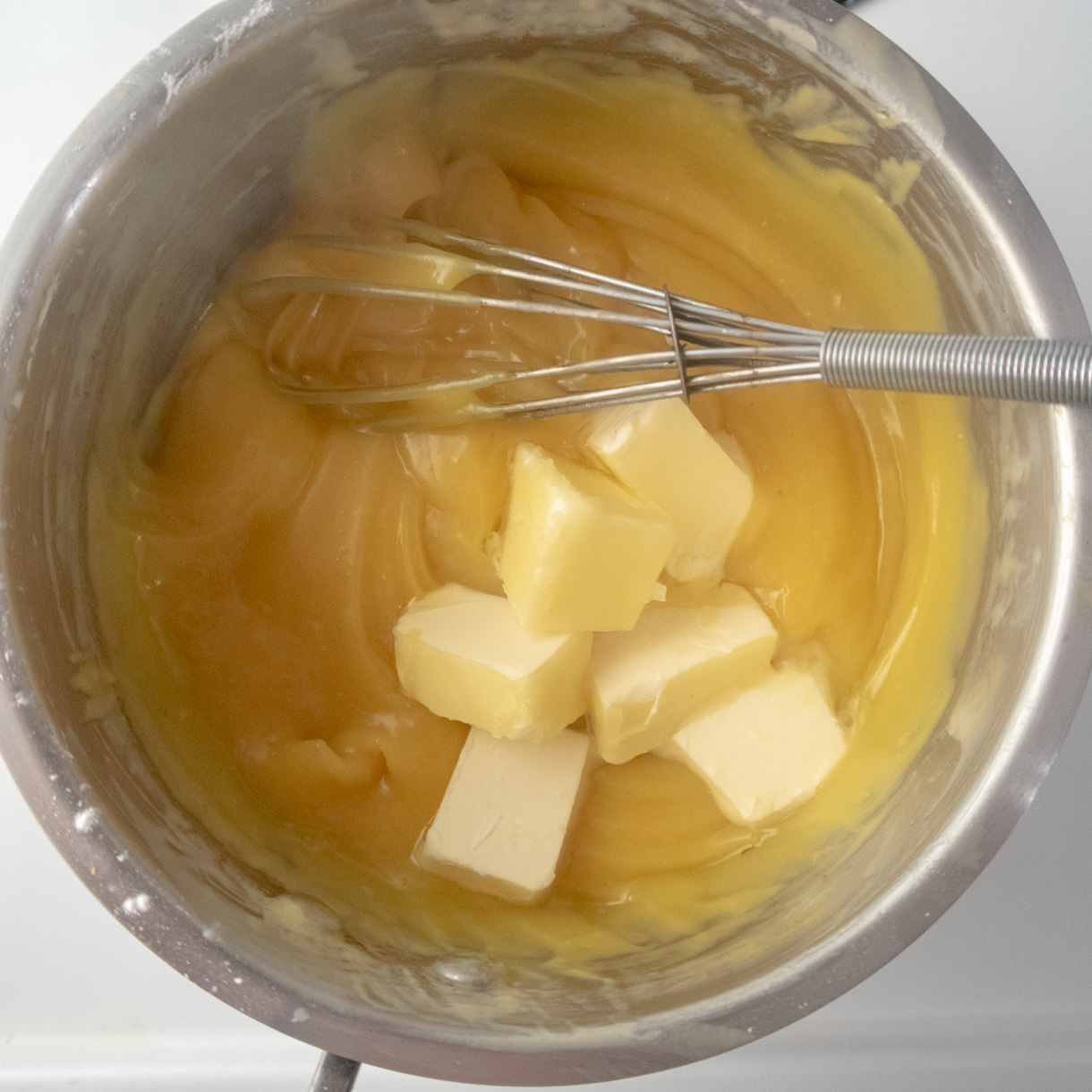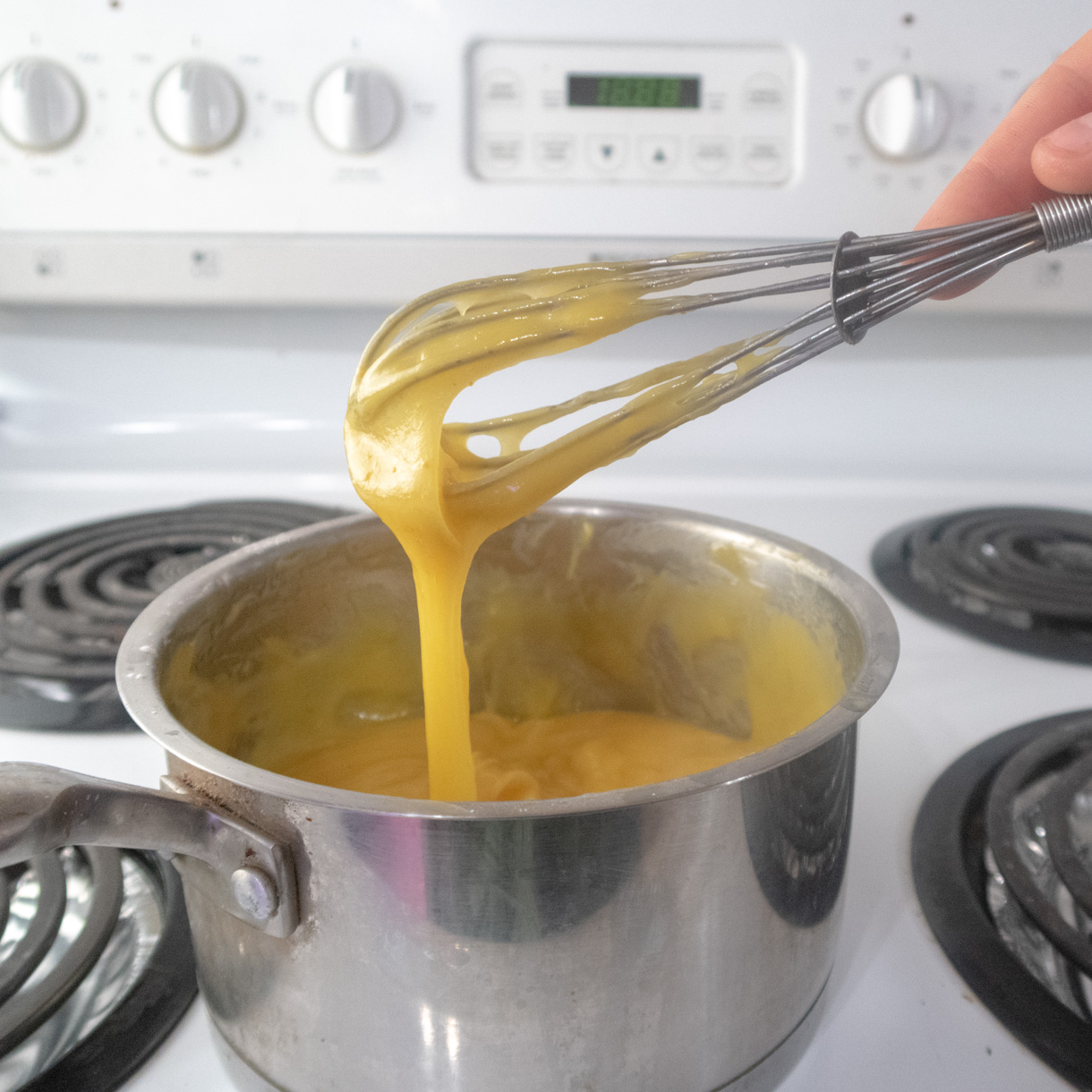 Creamy consistency
Now, this is where this recipe diverges from the traditional lemon curd. Since vegan curds are often thickened with cornstarch and/or agar-agar, I always find that they get too thick, almost grainy, and brittle instead of creamy.
After being disappointed way too many times, I realized how similar pastry cream and curd were in terms of ingredients but that pastry cream was way creamier. I then compared how they are made and realized that curd is usually poured straight into the tart shell while pastry cream is whisked until it gets creamy again before being used. So by letting my curd cool down before whisking it, I finally found the same creaminess I was missing compared to egg-based curds.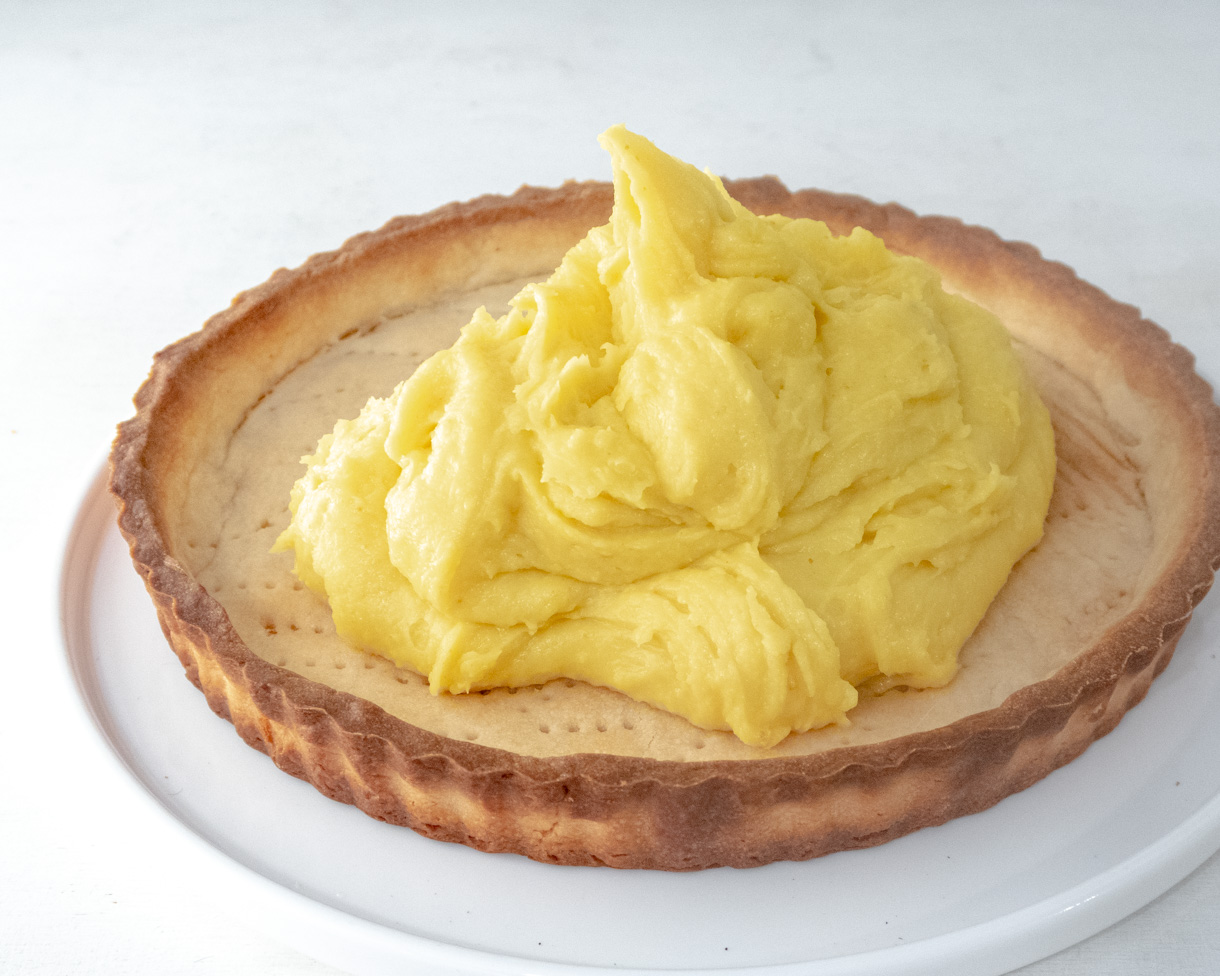 Swiss meringue
Swiss meringue is 1 of 3 types of meringues. While French meringue is the easiest meringue to make, it is not very stable and often seeps liquids after 1 hour of being piped on a tart so I don't recommend it. Swiss meringue is a much more stable meringue while still being easy to make. Italian meringue is the most stable of all 3 but is significantly harder to make. 
Sugar and aquafaba are mixed and heated until the sugar is dissolved. With egg-based Swiss meringue, we can risk coagulating the egg whites but with the vegan version, there is no chance of that happening. So vegan Swiss meringue is easier than non-vegan meringue.
Weeping
Then we are adding xanthan gum to help our meringue stay thicker and stiffer longer. It also helps with weeping. However, xanthan gum can't do miracles. If your meringue is under whipped or has been piped on the tart for more than 12 hours, it will still probably look flat.  
This is why I love using Versawhip instead of aquafaba. I find that Versawhip meringue lasts much longer which is why I always use it if the meringue is used as a tart or pie topping.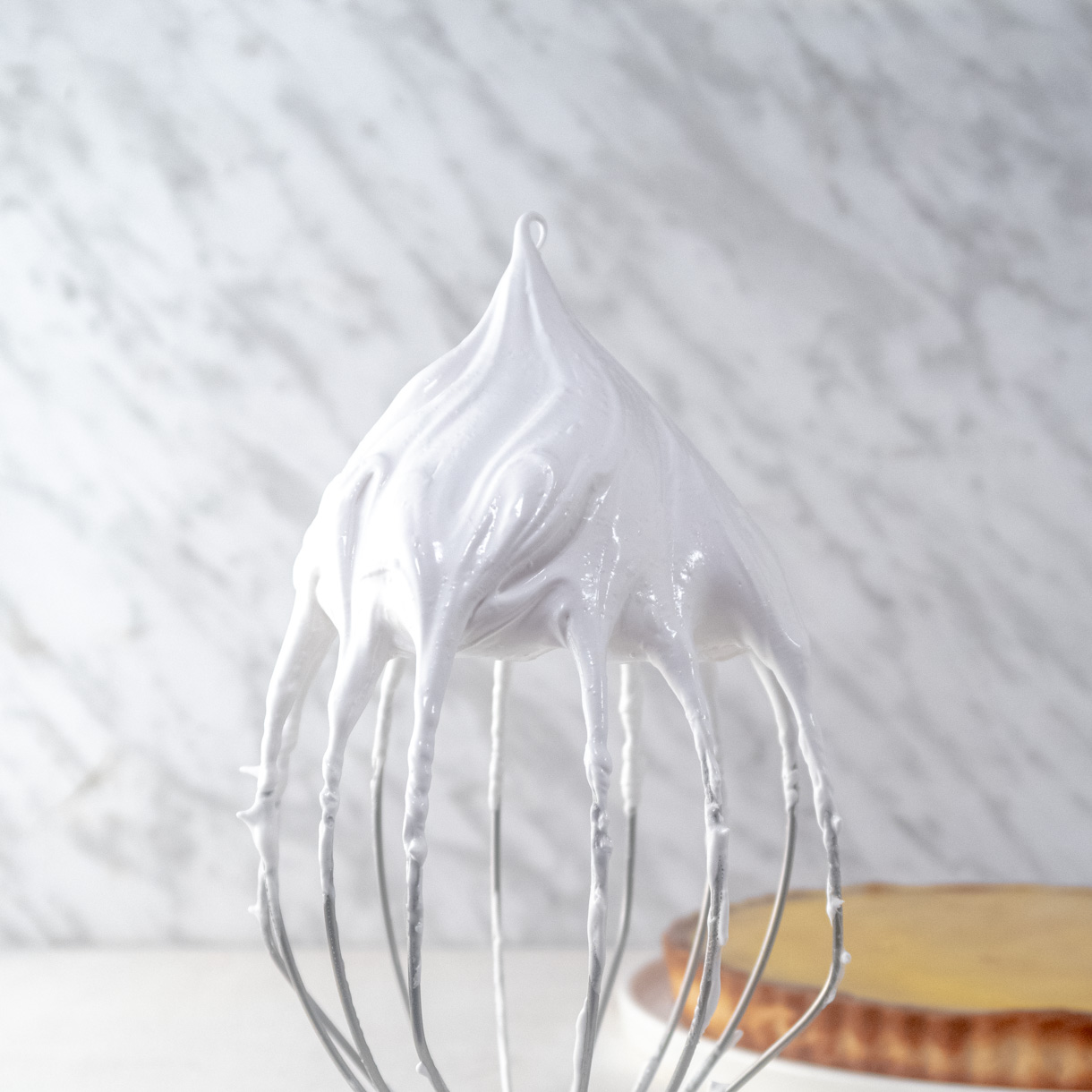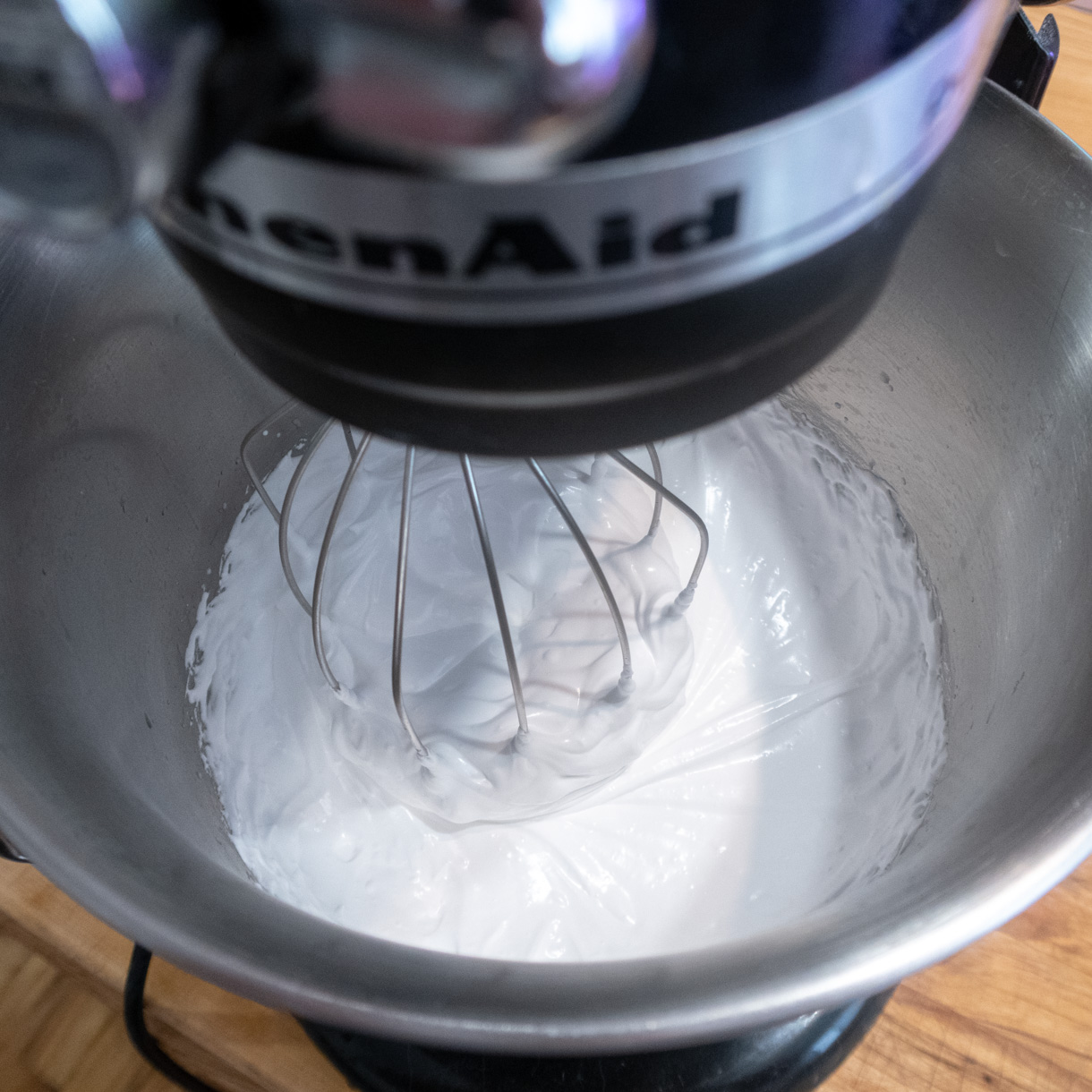 Whipping
Then we whip the still warm aquafaba and sugar mixture until it is very stiff and the meringue wants to pull from the side of the bowl and start to ball up and try to climb up the whisk. In doubt, whip more.  
This can take up to 20 minutes depending on the strength of your electric mixer. Do not try it by hand. I doN't care how much you go to the gym and how big your triceps are, you will probably cry if you attempt it by hand.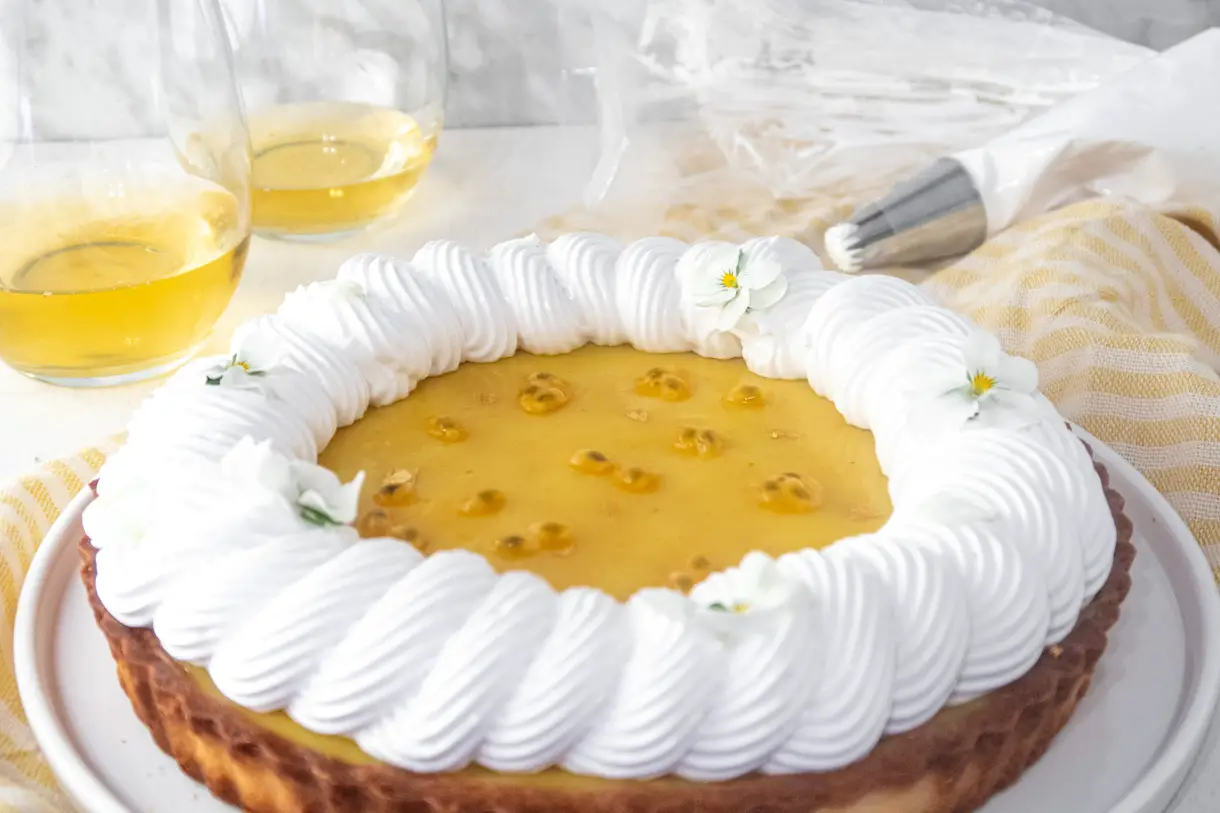 Assembly
Assembly for this passionfruit tart is pretty straightforward. We fill the tart shell with the curd, smooth it out, and then pipe meringue on it. If you are not comfortable with pipping, you can just pile up the meringue in the center of the tart making little swoops with a silicone spatula. You could even burn the meringue slightly with a blow torch right before serving it.
I had brushed the top of the curd with a bit of neutral glaze to prevent it from drying out and to give it a bit of gloss, but it is optional
👩🏻‍🍳 Top tip
To get an even round rope border, lightly press a tart ring, or another circular object like a bowl, into the surface of the curd leaving a circular imprint that you can use as a guide while piping in the round.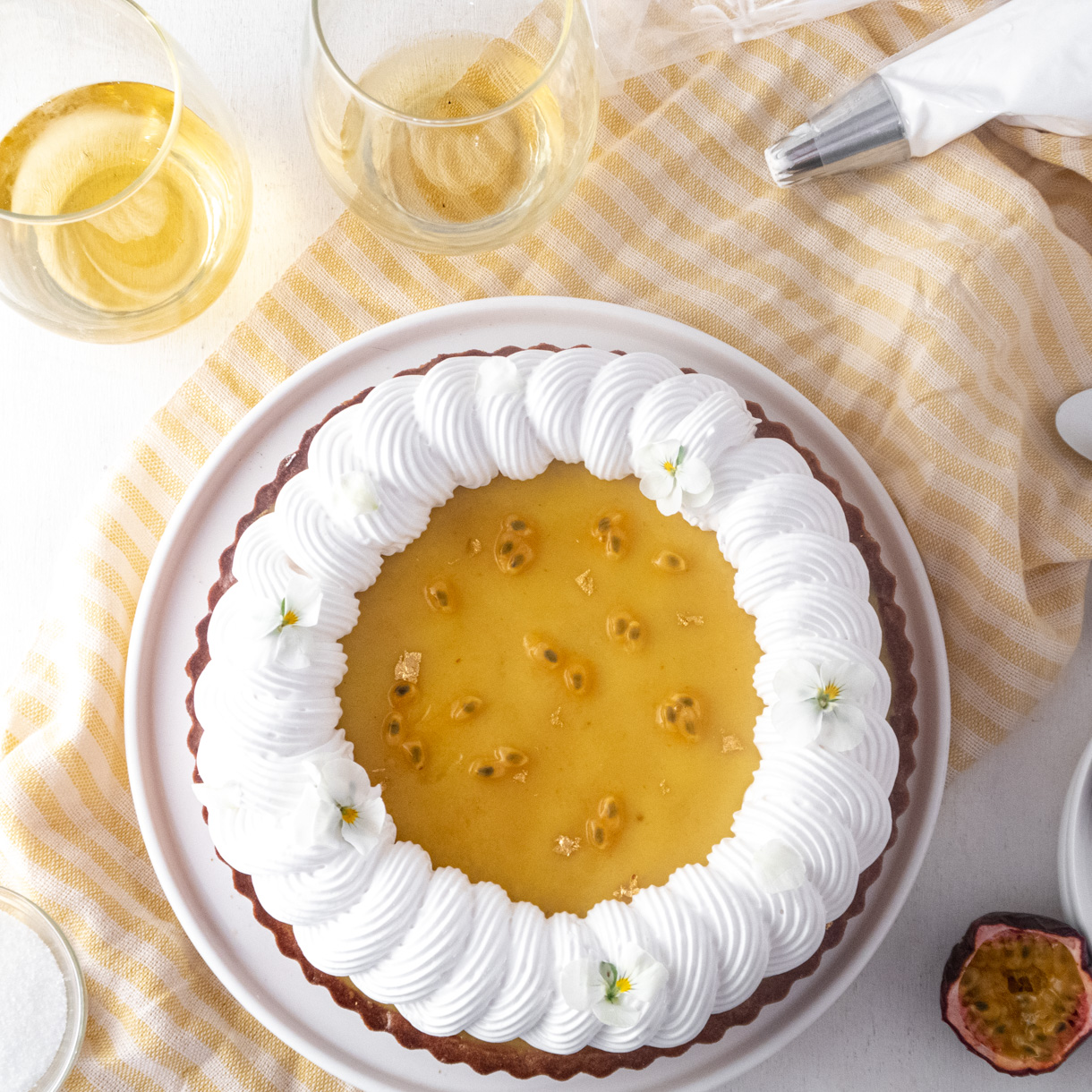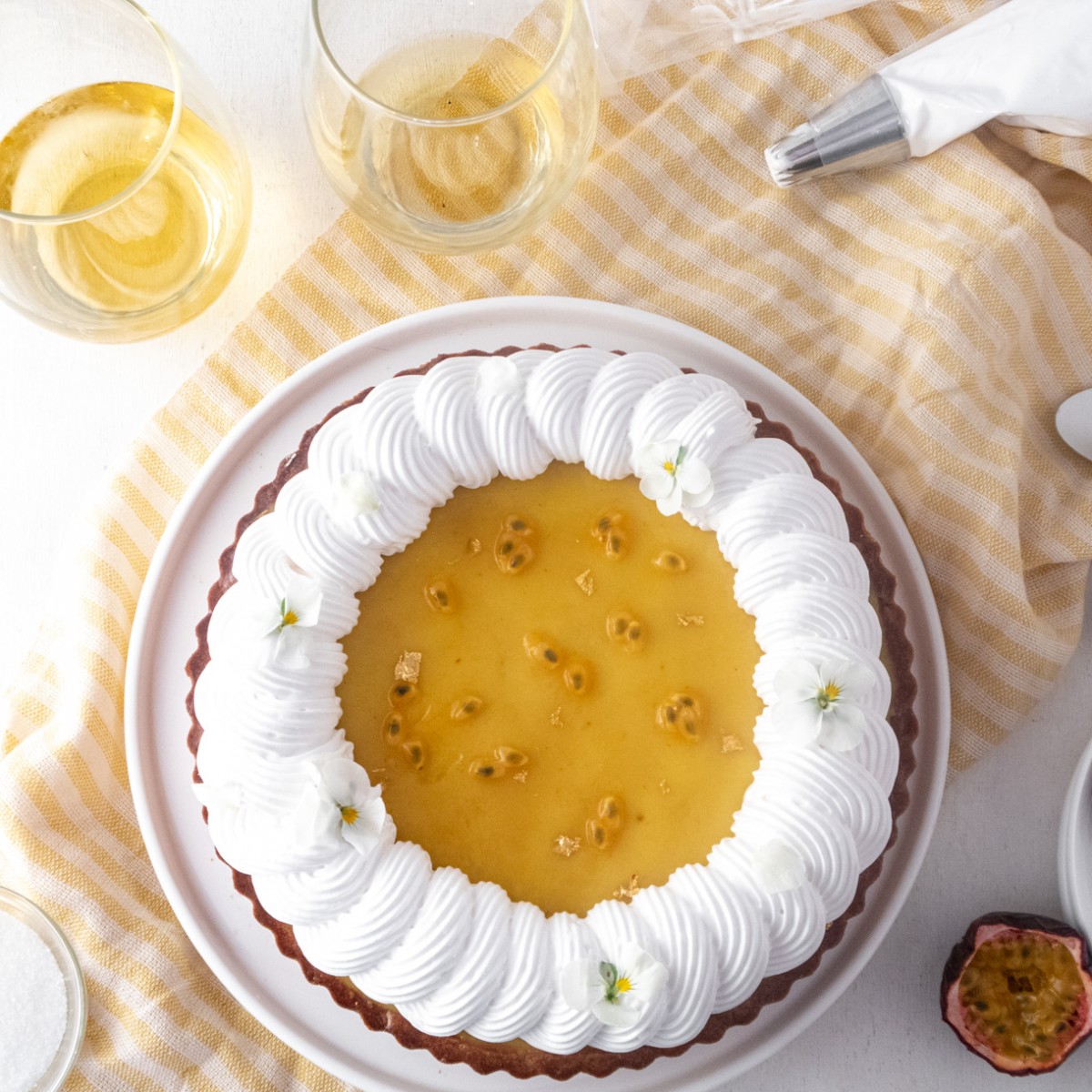 🔪 Equipment
9-inch fluted tart pan. I prefer using a metallic tart pan with a removable bottom but if you use ceramic, you will need to adjust the baking time. You can also use a tart ring but you'll need to put less filling depending on the height of the ring
Rolling pin. My favorite kind is French rolling pins, which means they are made of only 1 piece of wood that is tapered at the ends.
Electric mixer, either a stand mixer or hand-held.
Food processor, but can be replaced with an electric mixer
Large and medium bowls.
Small or medium saucepan
Wooden spoon, whisk, offset spatula, and soft silicone spatula
Pastry bag with a large French pastry tip. I used a Wilton 6B
I highly recommend you use a digital scale and weight measurements when following my recipes as it is more accurate. The only exception is with very small quantities where I recommend using teaspoons.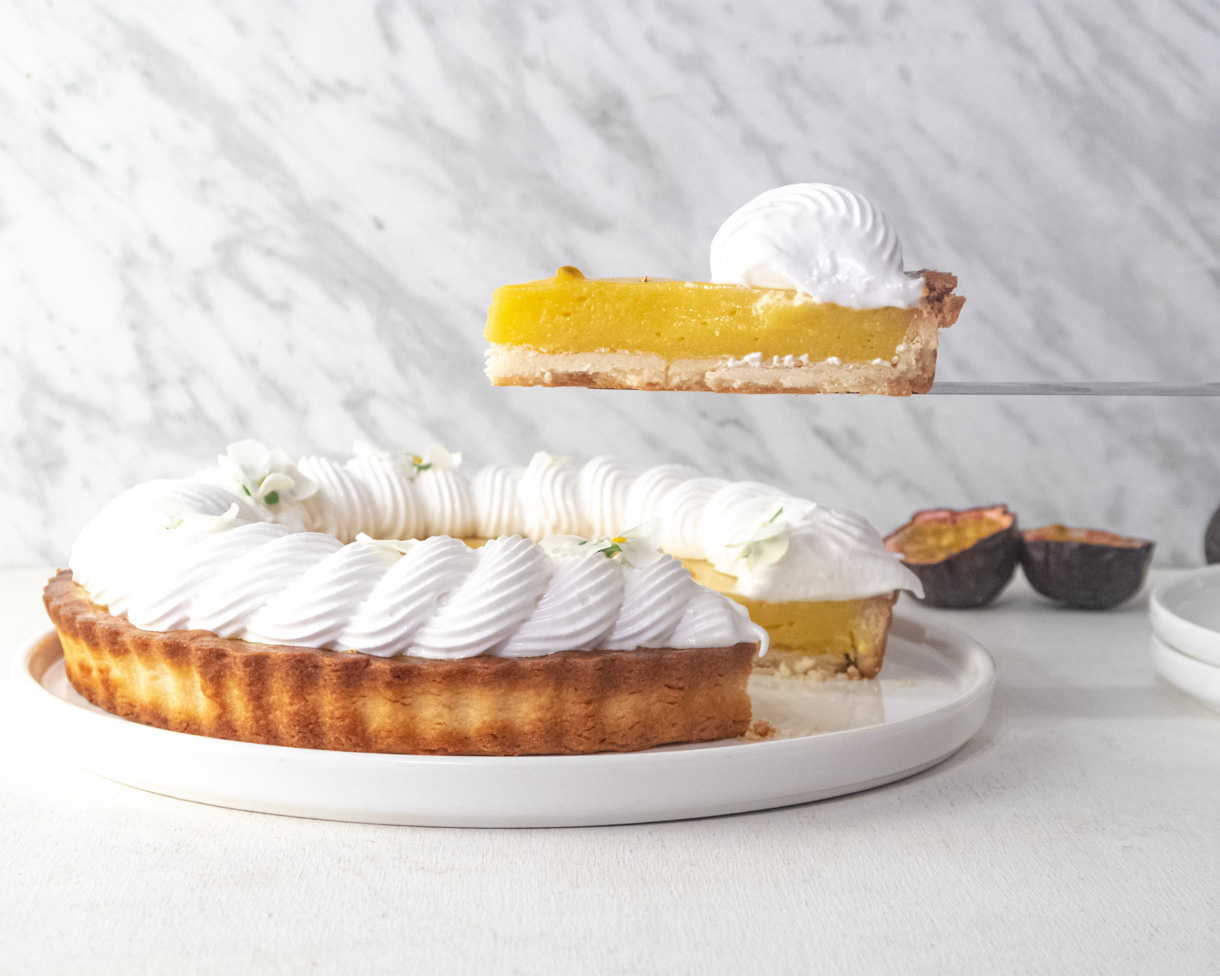 🌡️ Storage
Refrigerate: Refrigerate the passionfruit tart in an airtight container. 
Aquafaba: If you used Aquafaba for the meringue, eat it within 6 hours
Versawhip: If you used versawhip for the meringue, you can refrigerate this tart for 24 hours without the meringue losing too much of its volume.
Longer storage: You can make this tart ahead and store it without meringue in the refrigerator for up to 2 days. The crust will be softer instead of crispy. You'll want to cover the surface of the curd with some plastic wrap or coat the top of the tart with some neutral glaze. When ready to serve, make the meringue and decorate.
Recipe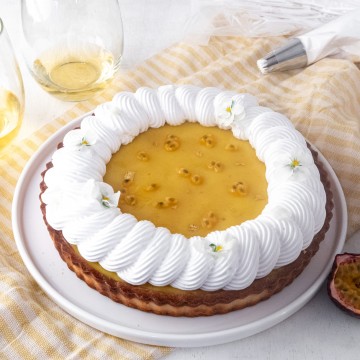 Print
Vegan Passionfruit Meringue Tart
Bite into a slice of creamy vegan passion fruit meringue tart. Enjoy the perfect combination of creamy, sweet, and tartness with delicious tropical flavors.
Ingredients
Pâte sucrée (Sweet shortcrust)
250

g

all-purpose flour

(2 cups)

100

g

powdered sugar

(¾ cup)

¼

teaspoon

fine sea salt

(1 g)

​​120 g firm unsalted vegan butter

, cold (½ cup)

30

g

plain vegan yogurt

(2 tablespoons)

4

g

vanilla extract

(½ tsp)
Passionfruit curd
150

g

white granulated sugar

(¾ cup)

60

g

cornstarch

(½ cup)

240

g

full-fat canned coconut milk

(1 cup)

190

g

passionfruit pulp

(¾ cup)

75

g

unsalted vegan butter

(⅓ cup)

turmeric

, optional
Swiss meringue
200

g

white granulated sugar

(1 cup)

90

g

aquafaba*

, previously reduced as needed (⅓ cup),

⅛

teaspoon

xanthan gum

, optional but very recommended
Instructions
Pâte sucrée (Sweet shortcrust)
Rubbing method (food processor) instructions: Add the flour, sugar, and salt to the bowl of a food processor and pulse to mix. Roughly cube the butter and add to the food processor. Pulse until you get a sand-like texture and see no more raw pieces of butter. Add the yogurt and vanilla and pulse until you get a rough dough. Creaming method (electric mixer) instructions: Bring the butter to room temperature and mix with an electric mixer until creamy. Add the yogurt and vanilla and mix until homogeneous. Sift together the dry ingredients and add them all to the butter mixture. Mix on the lowest setting until you get a rough dough

Transfer the dough onto your work surface, fraser the dough by smearing it between your palm and your work surface 5 to 7 times to make sure there are no more butter pieces (optional), and shape it into a smooth disk without overworking it. Cover the dough in plastic wrap and refrigerate until very cold and firm, or a minimum of 1 hour.

Roll out the dough to a ⅛ inch (3 to 4 millimeter) thickness and line a 9-inch fluted pastry tart pan. Prick the bottom of the tart and freeze until very hard, 30 to 45 minutes.

Preheat your oven to 350°F (180°C). Place a piece of parchment paper with some pie weights on top of the tart shell. Place the tart shell on the middle rack and bake for 20 to 25 minutes, or until golden brown on the edges and the bottom looks dry. Leave to cool completely before removing from the tart tin.
Passionfruit curd
In a saucepan, dry whisk together the sugar and cornstarch. Slowly whisk in a quarter of the coconut milk until you get a thick slurry. Whisk in the rest of the coconut milk and the passionfruit pulp. Optional: adjust the color of the curd by adding a pinch of turmeric.

Cook over medium heat while whisking constantly until it thickens and starts to boil. Remove from the heat and mix in the cubbed butter until it is completely melted and homogeneous.

Transfer the curd into another container and cover the whole surface of the curd with some plastic wrap to prevent it from developing a thick skin. Refrigerate until cold.
Swiss meringue buttercream
Mix together the sugar and aquafaba and bring to a simmer. Feel the mixture between your fingers to make sure that the sugar is completely melted. Stir in the xanthan gum if using.

Using either a stand mixer or a handheld mixer, Whip on high for 10 to 20 minutes, or until you get a very stiff meringue that is starting to pull from the bowl and climb up the whisk.

Transfer the meringue to a pastry bag with a large French star pastry tip, like a Wilton 6B.
Assembly
Using a sturdy wooden spoon, mix the curd until it breaks apart and is slightly softer. Then switch to a wire whisk and mix until smooth. Adjust the curd to your desired consistency by adding 1 to 3 tablespoons of water.

Transfer the curd to the tart shell and smooth out using a large offset spatula. Pipe a large rope border of meringue on the outside edge of the tart. Decorate the tart with gold leaf, edible flours, or passionfruit seeds. Refrigerate until ready to eat and bring to room temperature for 20 minutes before serving. Enjoy!
Notes
Aquafaba:
If your aquafaba looks very thin, reduce it by a third to a half over low heat, or until the aquafaba feels a bit slimy.
Aquafaba substitution:
you can replace the aquafaba with 90g (⅓ cup + 1 teaspoon) of water mixed with 1.8g  (1 teaspoon)  of Versawhip 600K. Dry whisk the Versahwip into the sugar and then slowly mix in the water before bringing it to a simmer and following the rest of the instructions.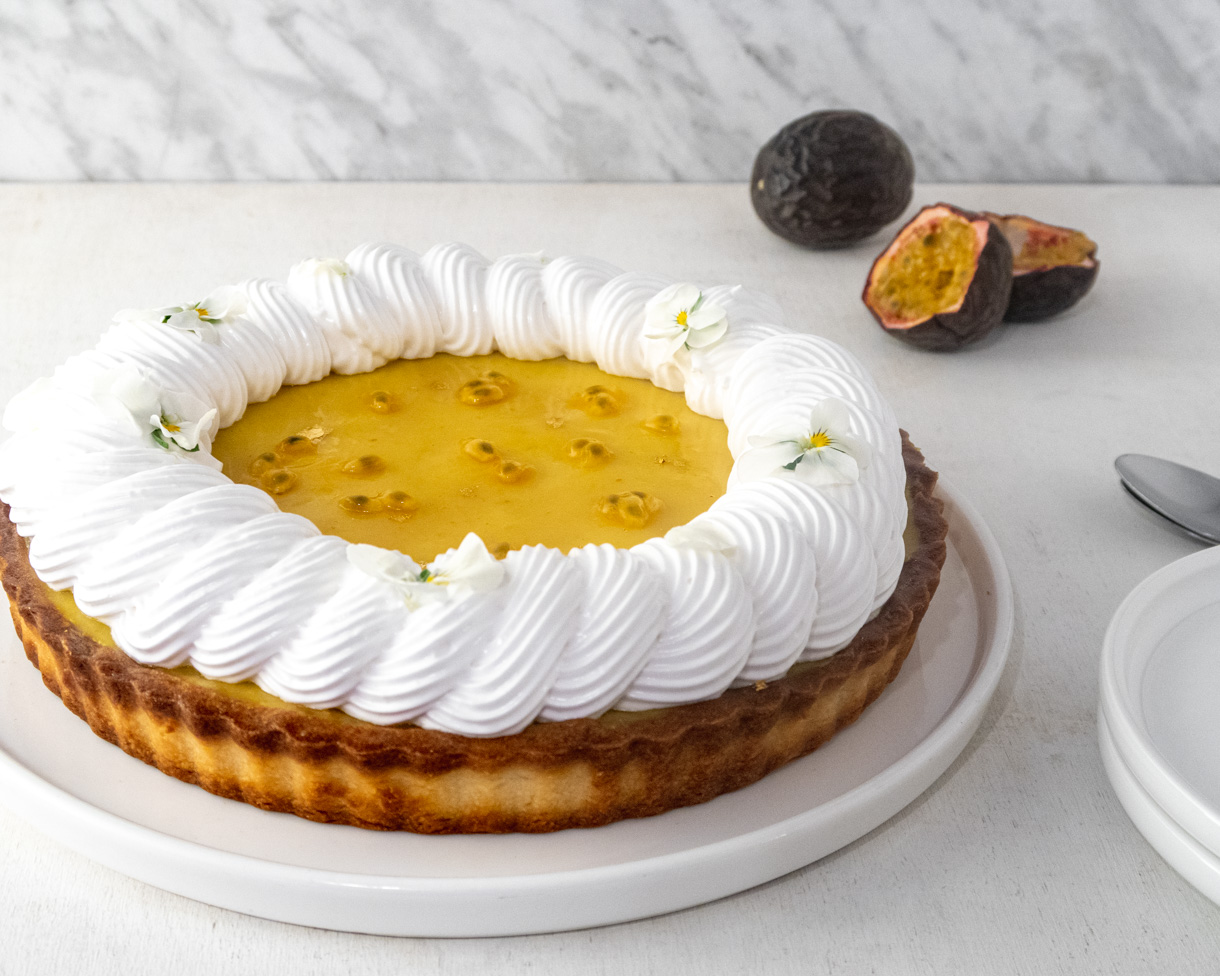 Did you try this passionfruit tart recipe?
Don't be shy and let me know how it went! Leave me a comment below and share a picture on Instagram!