This sturdy classic french pastry dough is perfect for all your tart needs. Now made vegan, this recipe opens up a whole new world of vegan tart possibilities!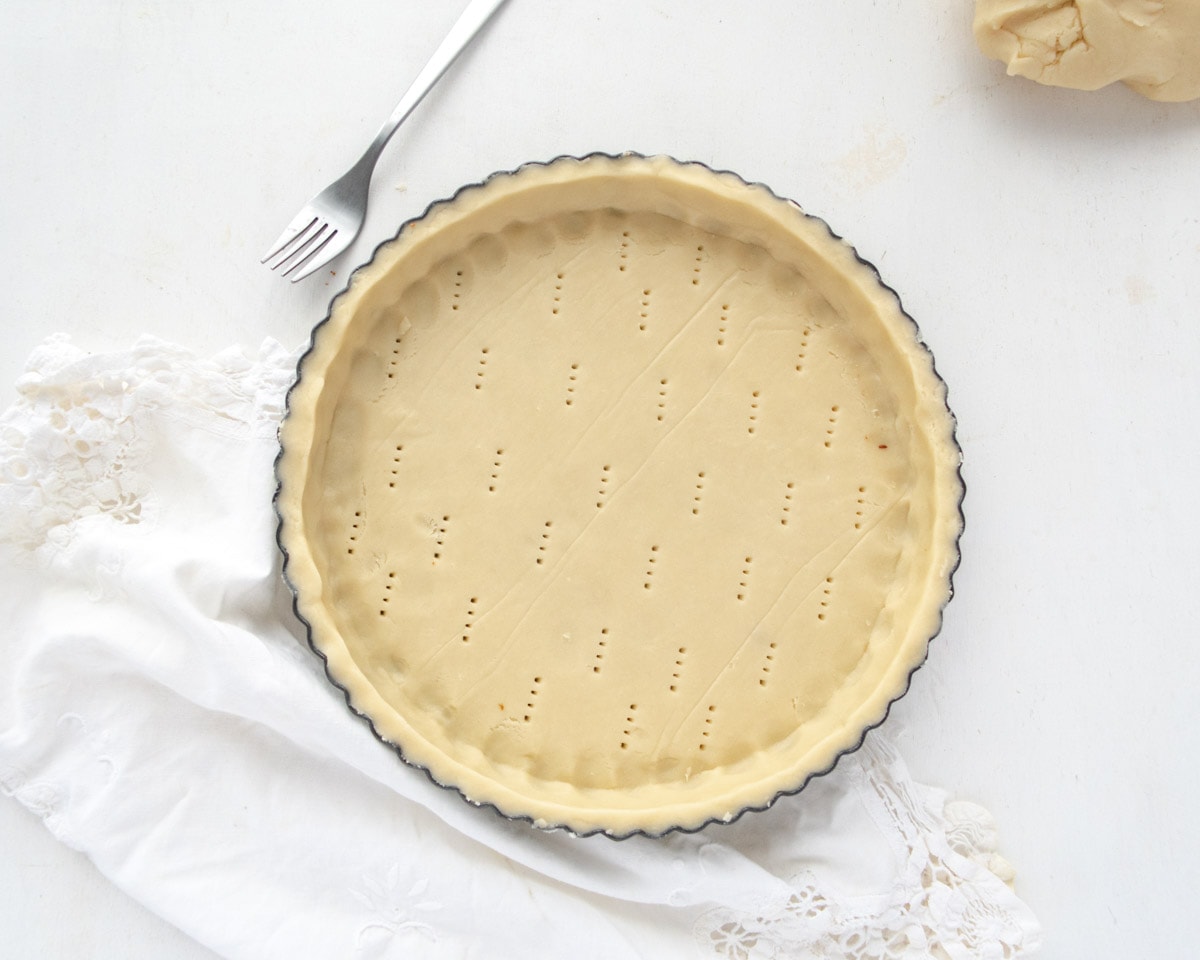 If this is not your first time making pate sucrée, feel free to skip straight to the recipe with the following button. However, if this is your first time, I highly recommend reading the rest of this post, as it contains a whole lot of useful information, necessary techniques, and other tips and tricks to tackle this recipe.
---
What is pate sucrée AKA sweet pastry dough
Pâte sucrée, which is literally translated to "sweet dough", is a sweet pastry dough often used as a crust in classic french pies like fresh fruit tarts, tarte Bourdaloue, or tarte au chocolat. 
Pâte sucrée is a sturdy crust that holds its own weight well without having to stay in a pie tin. It is stronger, sturdier, and denser than a classic shortcrust dough or puff pastry. It is very similar to the texture of a cookie. 
In terms of ingredients, this tart dough as a significant amount of icing sugar in it and is traditionally made with eggs and/or egg yolks. This dough , compared to a classic pie dough ,or a pâte brisée, is also made without a drop of water.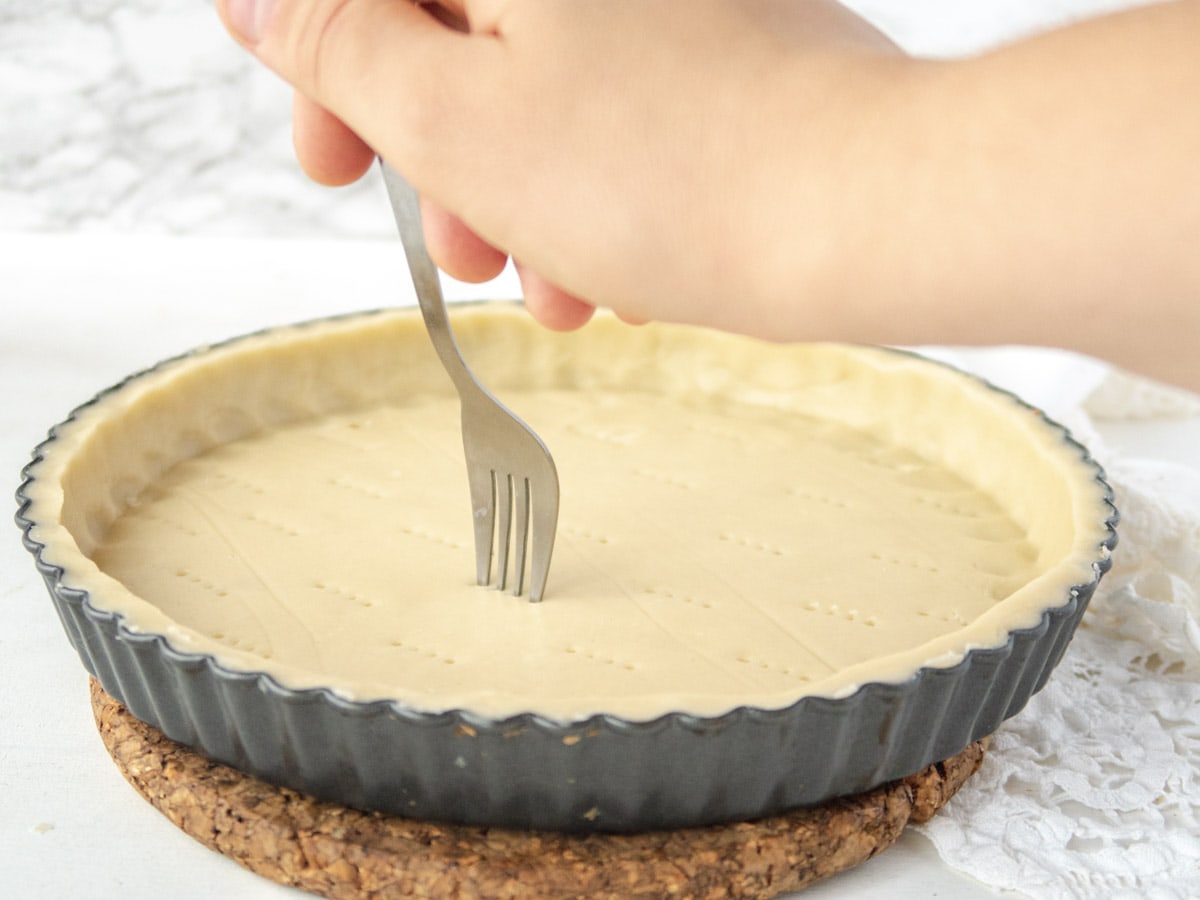 Classic pie dough and pâte sucrée differences
The flakiness that is usually associated with American style pies comes from the little peas of butter left in the dough makes it not as strong. The best example of this would be taking an apple pie out of its tin. It would slope back towards the crimp and might even break at places when you cut into it. 
This is because the method for making pâte sucrée is different. While leaving little pieces of butter is preferred while making classic pie crust to create flakiness, this means that the pastry will be more fragile and will absorb more liquid when in contact with high humidity creams of fruits.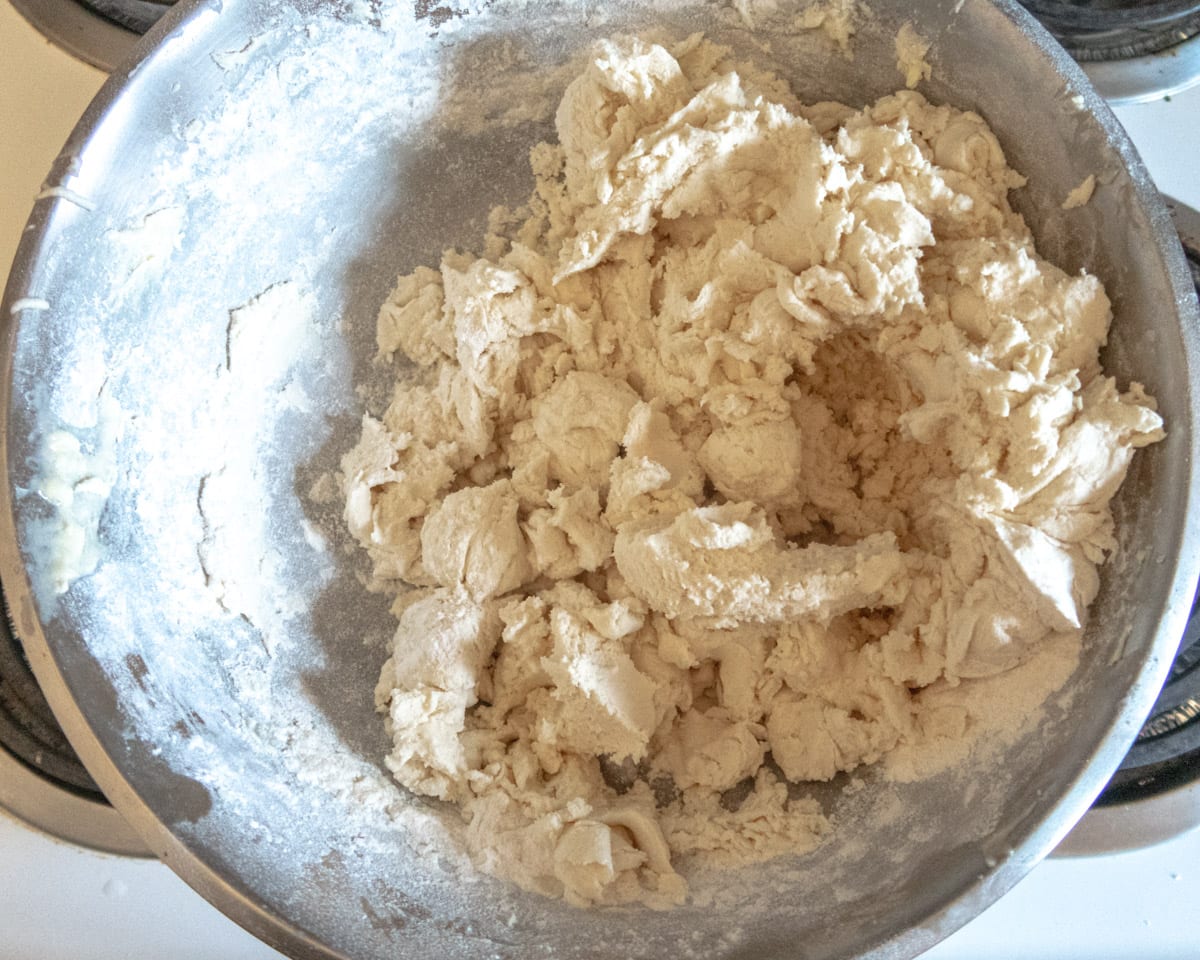 Sturdy dough
But pate sucrée is stronger than your regular pie crust because there are no little peas of raw butter left behind. Instead, the butter is creamed with some sugar to give the dough a more crumbly texture. 
This gives the dough a finished product that won't puff up too much and will be sturdy and crumbly when bitten into. But a crumbly dough also means that the dough is a bit harder to work with, but it is worth the (very small) trouble.
It is also why, where you see french tarts in a fluted shape, or with very straight edges not in a tin (baked in a tart ring), they probably used a pâte sucrée base altho sometimes a pâse sablé is used.
RELATED : Use this recipe with this jaw-dropping fresh nectarine rose tart!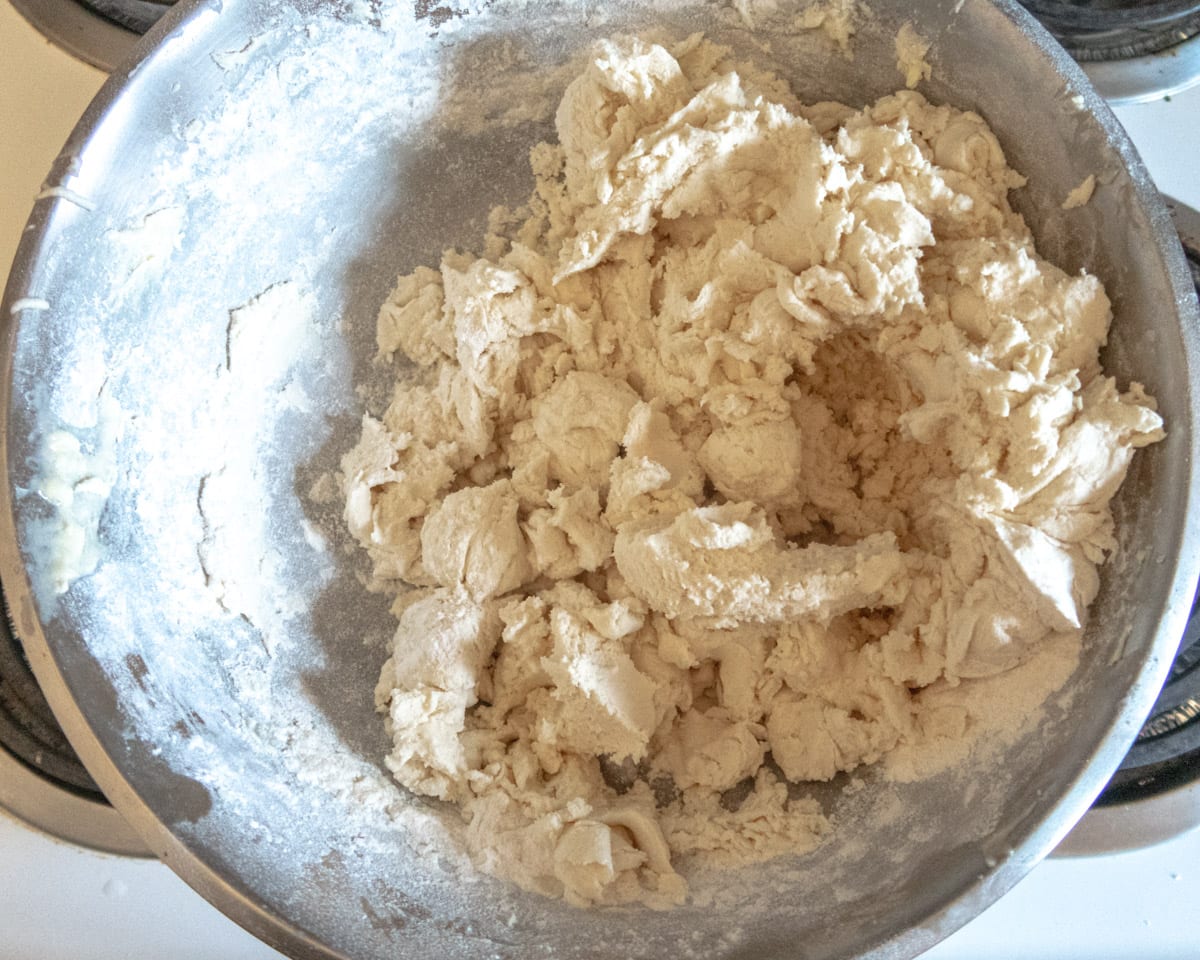 Fraiser: an essential technique
While most of this dough can be made with a stand mixer or hand mixer, there is one part that is better done by hand and it requires you to know a critical technique, fraiser. 
Unfortunately, I haven't found an English translation for this technique, but if you know it, let me know in the comments and I will add it here for the other readers.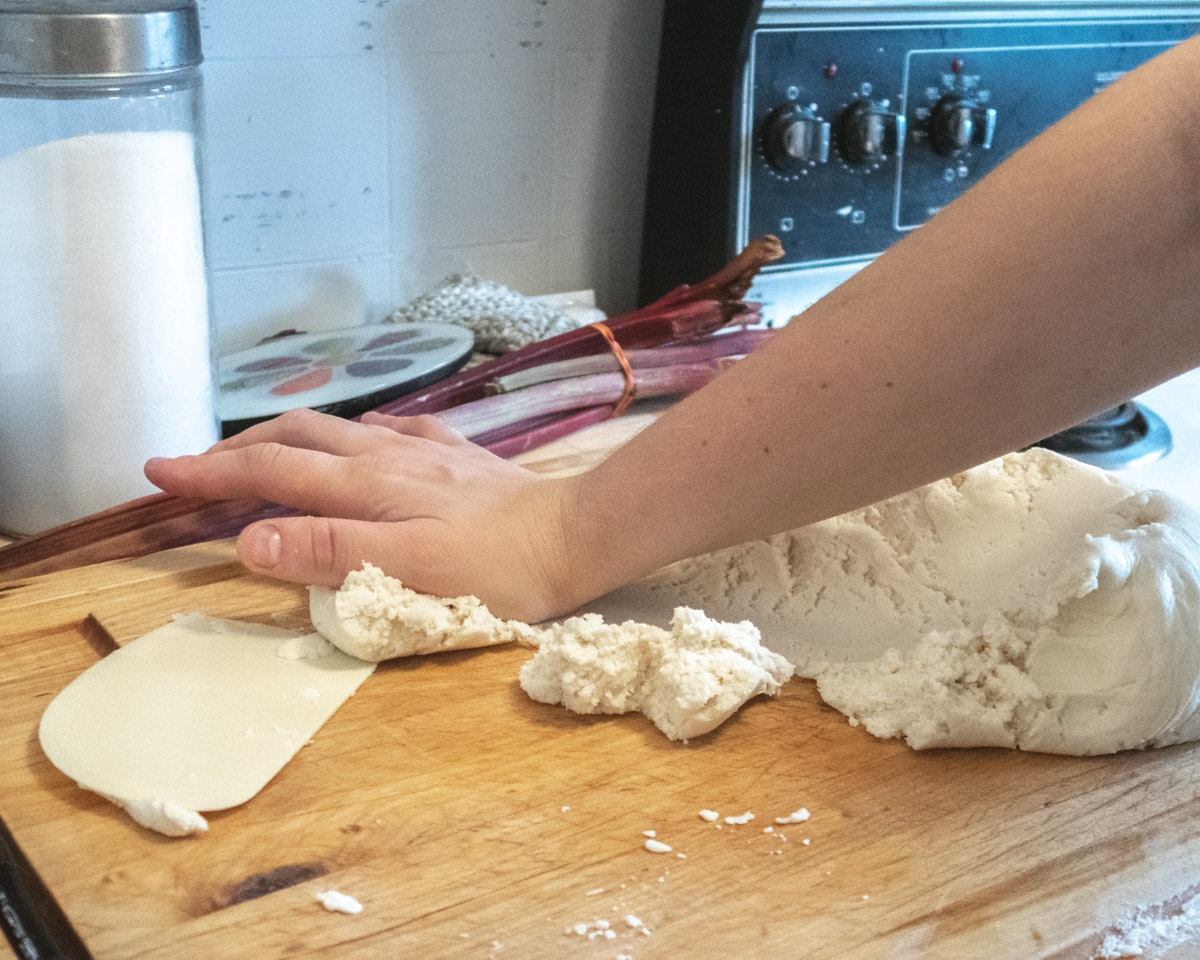 By hand
Fraiser is the technique of pushing a dough between the palm of your hand and your work surface. Often the dough will "spread" behind the hand motion. This is to make sure that all the ingredients are well incorporated. This also keeps the dough crumbly instead of elastic, which is what would happen if you kneaded the dough, which is NOT what we want.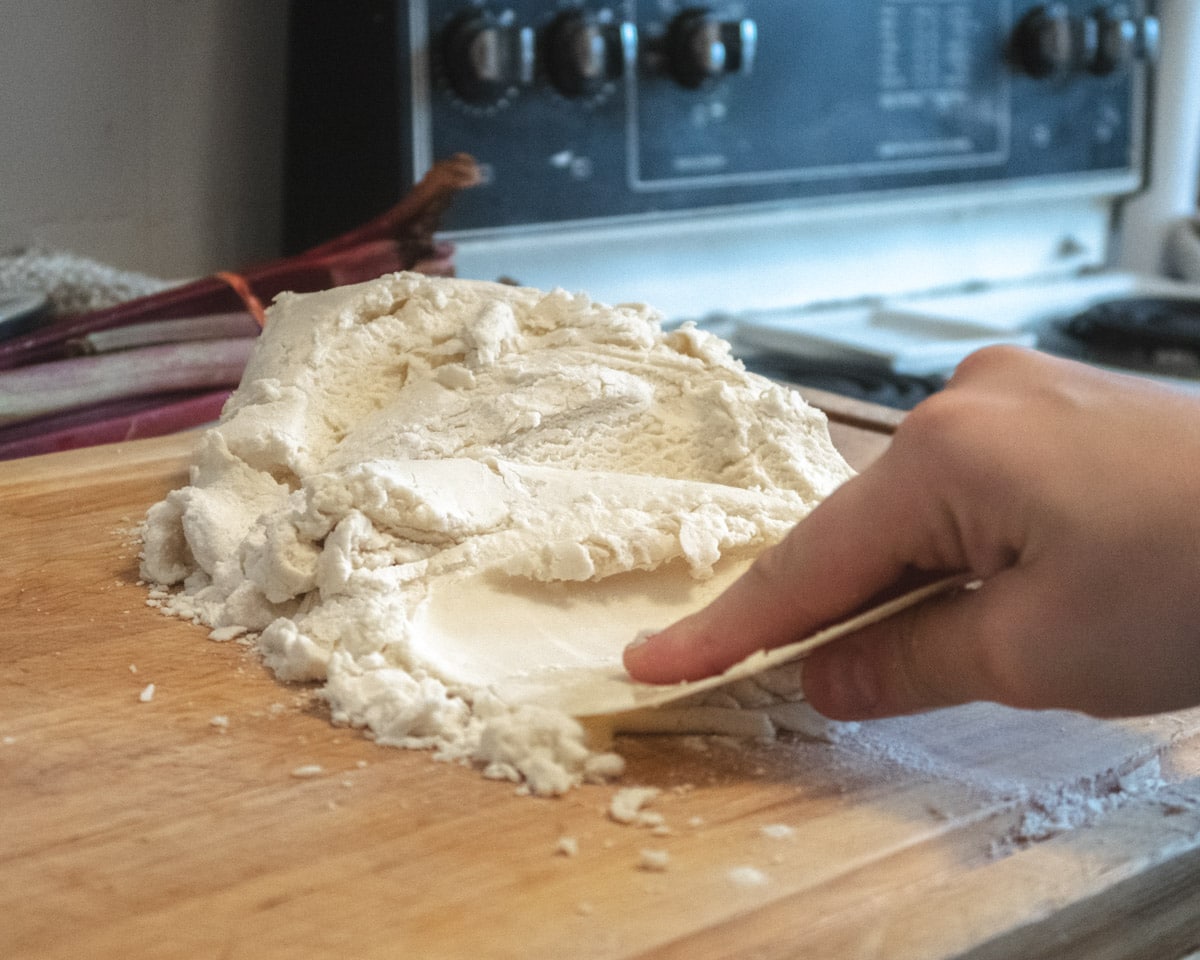 Bench scraper
You can also perform this technique by using a sturdy bench scraper, holding it almost parallel to your work surface, and "squishing" the dough between the metal plate and the work surface while dragging it toward you multiple times.
You can then bring the dough back together before wrapping it up and refrigerating it in preparation for rolling it out.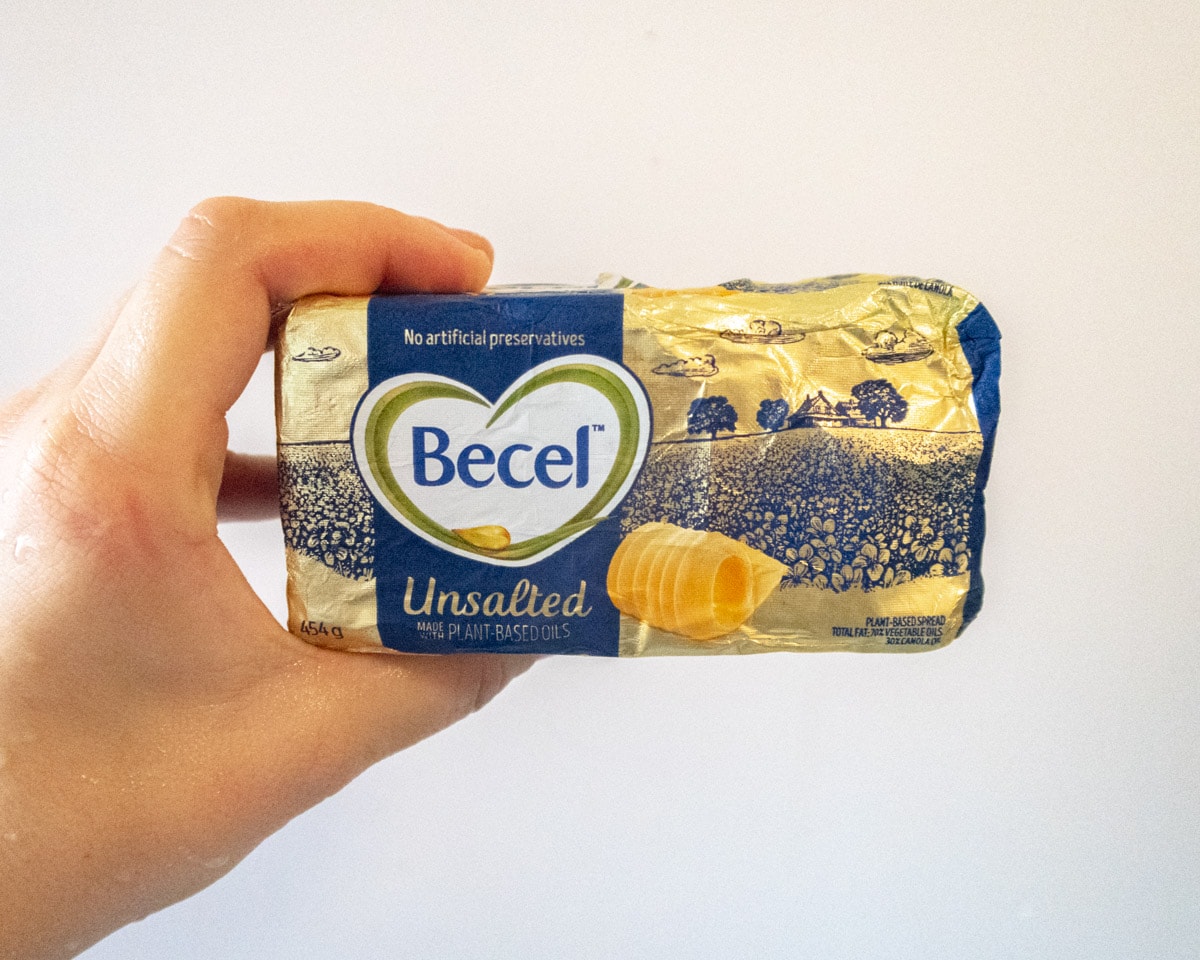 Tips + Tricks
Rolling the dough
Always work with very cold sweet pastry dough. To make the dough more malleable before rolling it, smack it multiple times with your rolling pin as hard as you can. Yes, your neighbours will think you are a weirdo for making this much noise, but it will make it easier to roll out.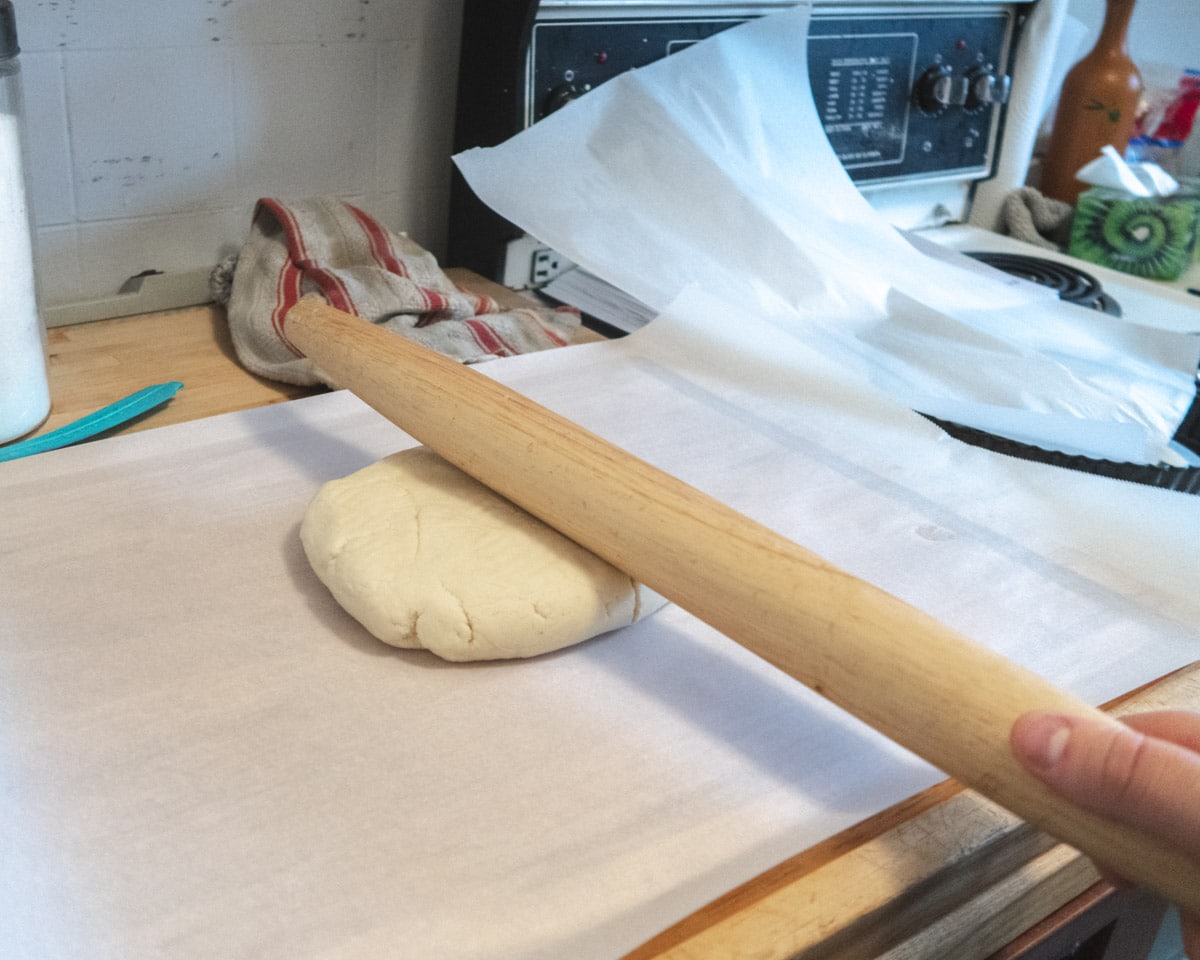 This dough will stick if it is not cold, so I recommend rolling it between 2 pieces of parchment papers. This also gives you the opportunity to easily put it back in your fridge or freezer if your dough ends up too warm mid-roll.
This is also how you will transfer the dough to your tart tin, since rolling it around your rolling pin to transfer it will end up in a thousand-piece mess. Instead, remove the top parchment paper and flip the rolled dough upside down onto your tart while holding it with the leftover parchment paper.
Fixing holes
This dough does have a tendency to crack and rip. While my pastry teachers would have a fit if they heard me telling you this, it is perfectly fine to patch up cracks and holes that appeared while lining the tart tin. Simply make sure the patch job is the same thickness to the rest of the tart, if not you will end up with pieces of your tart shell that burnt and others that are undercooked.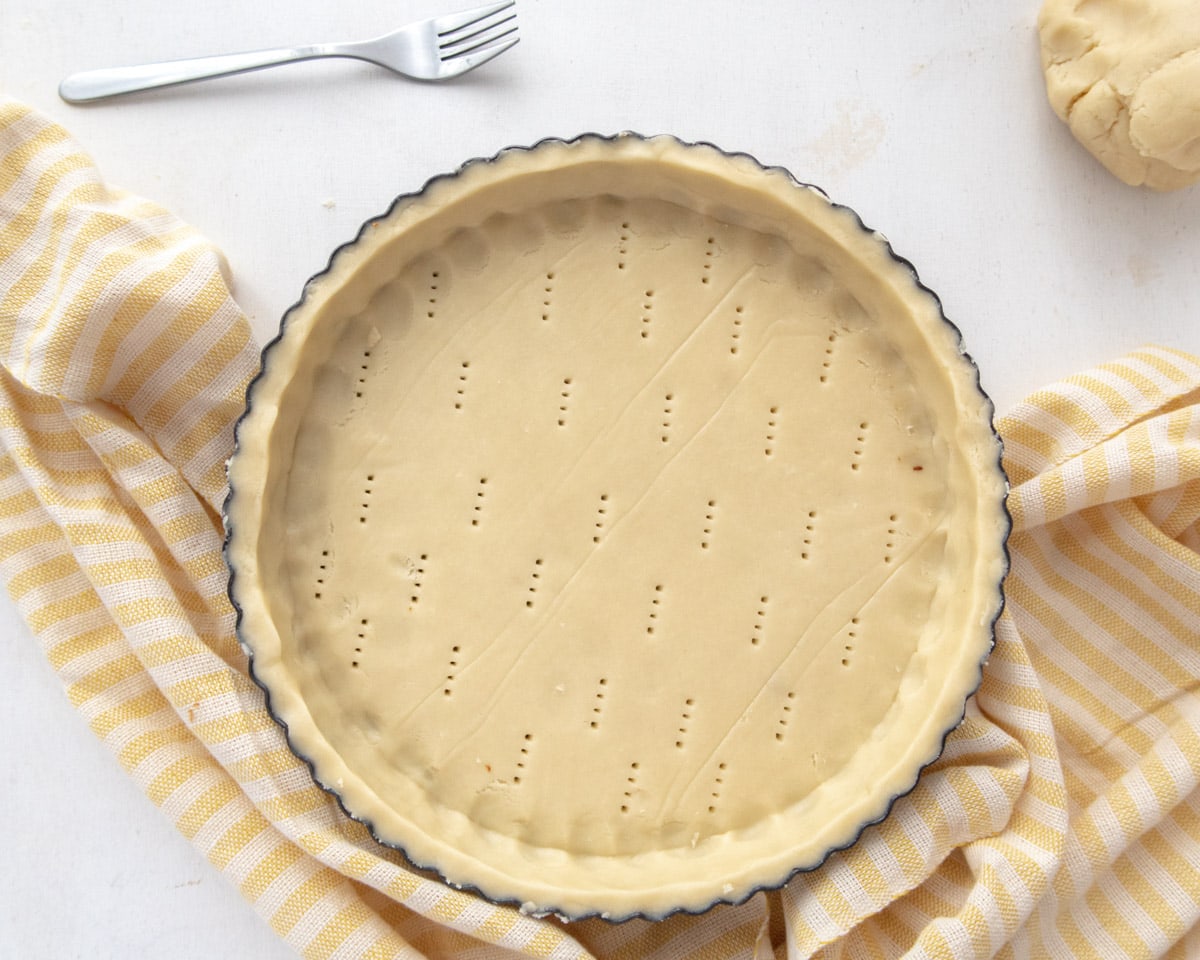 Reducing "shrinkage"
I highly recommend refrigerating or freezing your tart tin that has been lined with dough ( this is called foncer) for 20 to 30 minutes before cooking. The dough will firm up and it will reduce shrinkage, especially if you decide to blind bake it.
I love to use homemade aqua-flaxa in this recipe because I find that it gives me a better "bind" and it doesn't leave little specks of flaxseeds behind but you could also replace it with a traditional flax egg ( see in the recipe's notes)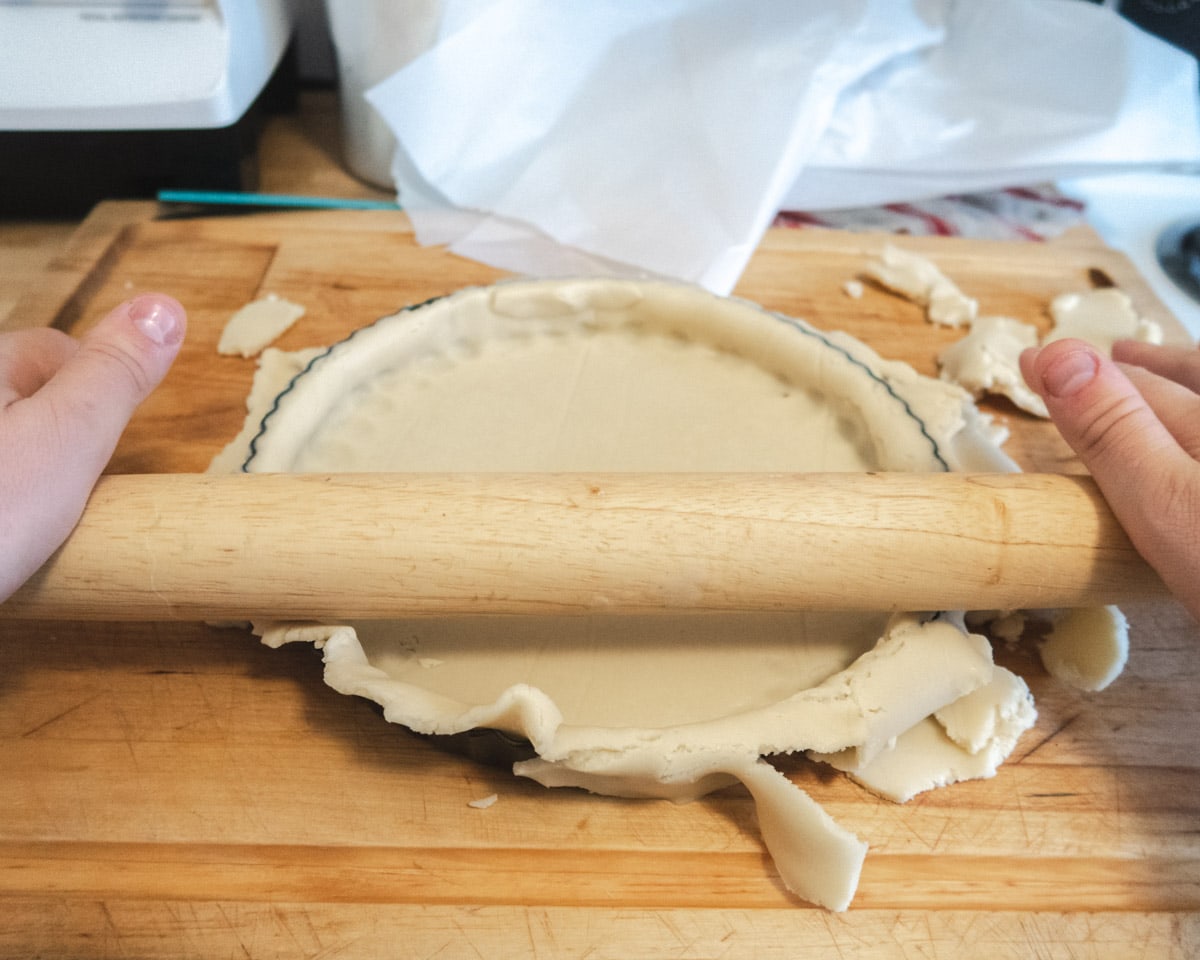 Foncer: What does it mean?
I also mention the term "foncer" in this blog post and in the recipe section. 
Foncer ( as in foncer une tarte) is a french term that means to line a tart tin or pie dish which rolled out dough in preparation for cooking it. This term also does not have an English translation that I know of.
Tools
You will need the following tools to make this vegan sweet pastry dough recipe:
1 stand mixer, or 1 large bowl and a hand mixer
1 rolling pin
1 bench scraper (optional)
fluted tart dish, smooth tart ring, or tartlets tins, depending on your recipe
Recipe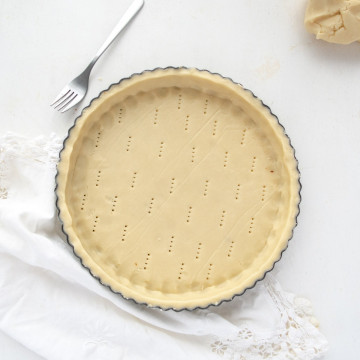 Print
Classic Vegan Sweet Pastry Dough (Pâte sucrée)
This sturdy classic french pastry dough made vegan is perfect for all your tart needs.
Servings
1
kg of dough, or enough for 2 9-inch tarts
Ingredients
250 g

(1 cup)

firm unsalted vegan butter

,I use Becel plant-based sticks

200 g

(1 ½ cup)

powdered sugar

50 g

(3 tbsp)

aqua-flaxa egg replacer 

, or 1 flax egg

5ml

(1 tsp)

vanilla extract

500 g

(4 cups)

all-purpose flour

3g

(½ teaspoon)

fine sea salt
Instructions
Dough
In a stand mixer, or with a hand mixer, cream together the sugar and cold diced butter.

Slowly add the aquaflaxa ( or flax egg) and vanilla while mixing. Cuntinu mixinguntil well incorporated.

Sift the flour and add all at once to the butter mixture and mix until there is no more visible butter. Do not overmix. The dough will be crumbly, it's normal.

Turn the dough onto your work surface and fraiser the dough (push the dough onto your work surface with the palm of your hand) for 1 to 2 minutes, or until the dough is uniform in texture and coming together.

Push the dough into 2 same-sized balls and wrap in plastic wrap. Refrigerate for a minimum of 1 hour, but overnight is best. At this point, you can also freeze the dough for a later time
Foncer
Take the dough from the refrigerator, remove it from the plastic wrap and place it between 2 large pieces of parchment paper. Whack it a couple of times with a rolling pin to make it more malleable.

Roll the dough to a uniform 3mm (⅛-inch) thickness, or what is required in your recipe.

Remove the top parchment paper. Lift the rolled dough with the leftover parchment paper and flip it over your tart tin or ring. Drape it so that the dough reaches the bottom of your tin and remove the parchment paper.

Patch any holes you have, press the dough into the bottom edges and the walls of your tart tin, and remove the overhand of dough with a sharp paring knife or by rolling your rolling pin on top of the sharp tart tin edge.

Do any last adjustment to the dough like last dough placement, patched or straightening the top edge of the dough. Refrigerate the dough and tin for 20 to 30 minutes, or until the dough is cold and feel solid.

Prick the bottom of the tart tin all over with a fork and either blind bake or fill according to your recipe. Enjoy!
Notes
1 flax egg = 1 tablespoon ground flaxseeds + 3 tablespoon water mixed together. Let it rest for 5 minutes before using.
Did you try this vegan sweet pastry dough recipe?
Don't be shy and let me know how it went! Leave me a comment below and share a picture on Instagram !