This fresh vegan summer tart has a delicate nectarine and passion fruit filling and is garnished with a show-stopping fresh nectarine rose.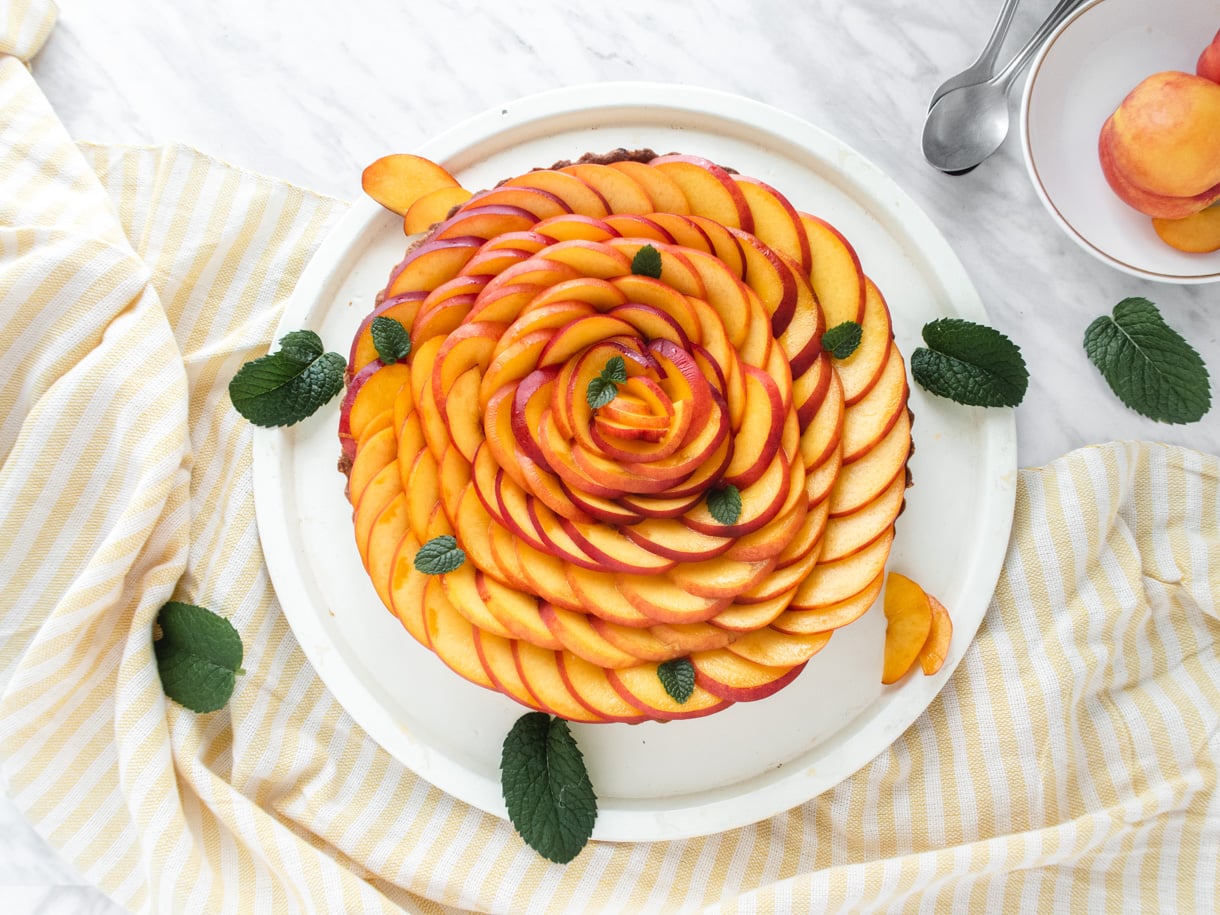 ---
Fresh produce for the win!
Nectarines have shined all summer long this year. They have been very juicy and I haven't been able to stop myself from getting a container or 2 whenever I do a pit-stop at my favorite market in the city,  Jean-talon Market, for fresh fruit and veggies.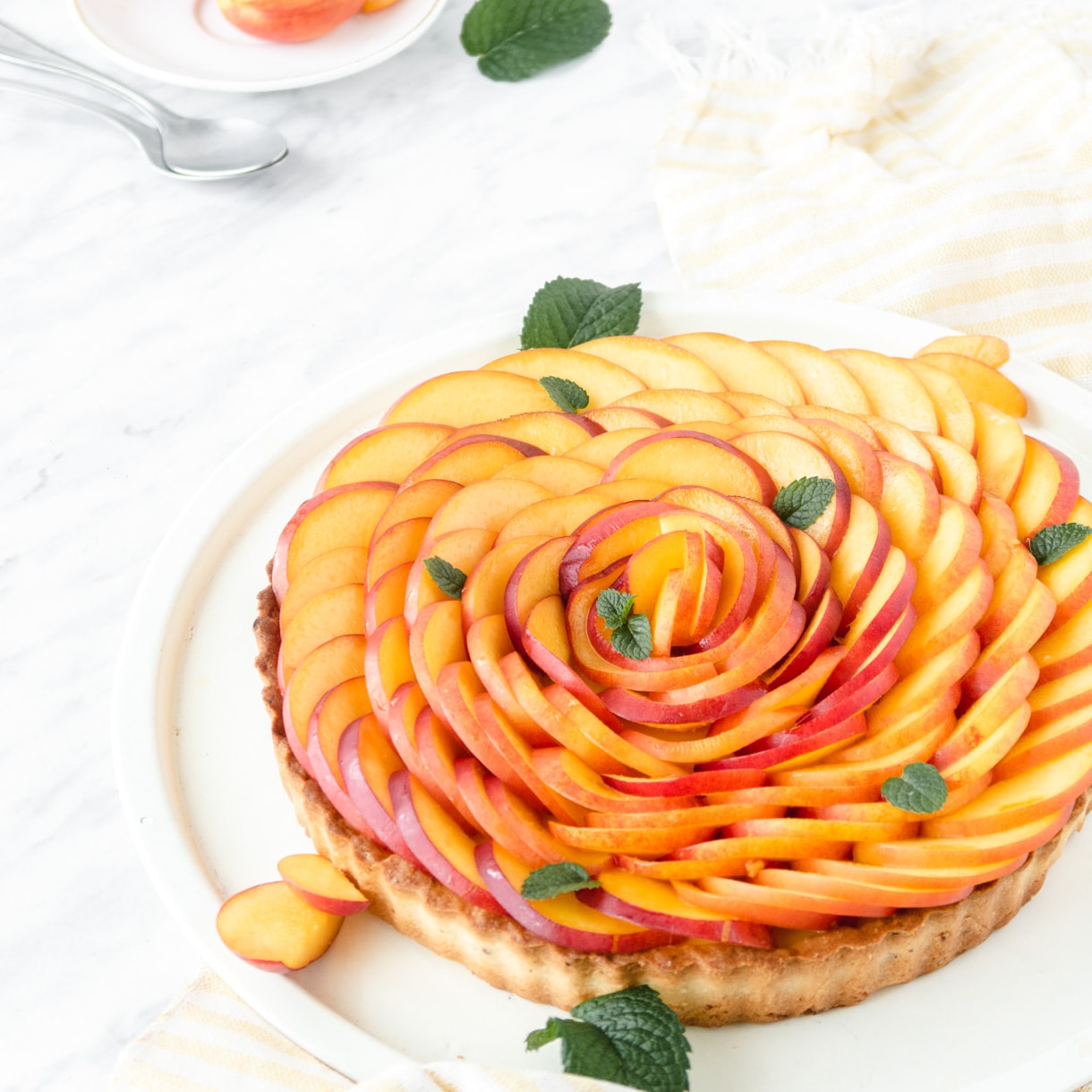 But even I can't go through 12 nectarines at once, which is what I had to do when all 12 of my newly purchased -hard as golf balls- nectarines all became ripe at the same time one day after their purchase.
But, luckily for me,  my Dungeon and Dragon night saved the day! I decided to make a gorgeous vegan nectarine tart with a nectarine and passionfruit filling to share with my fellow nerds.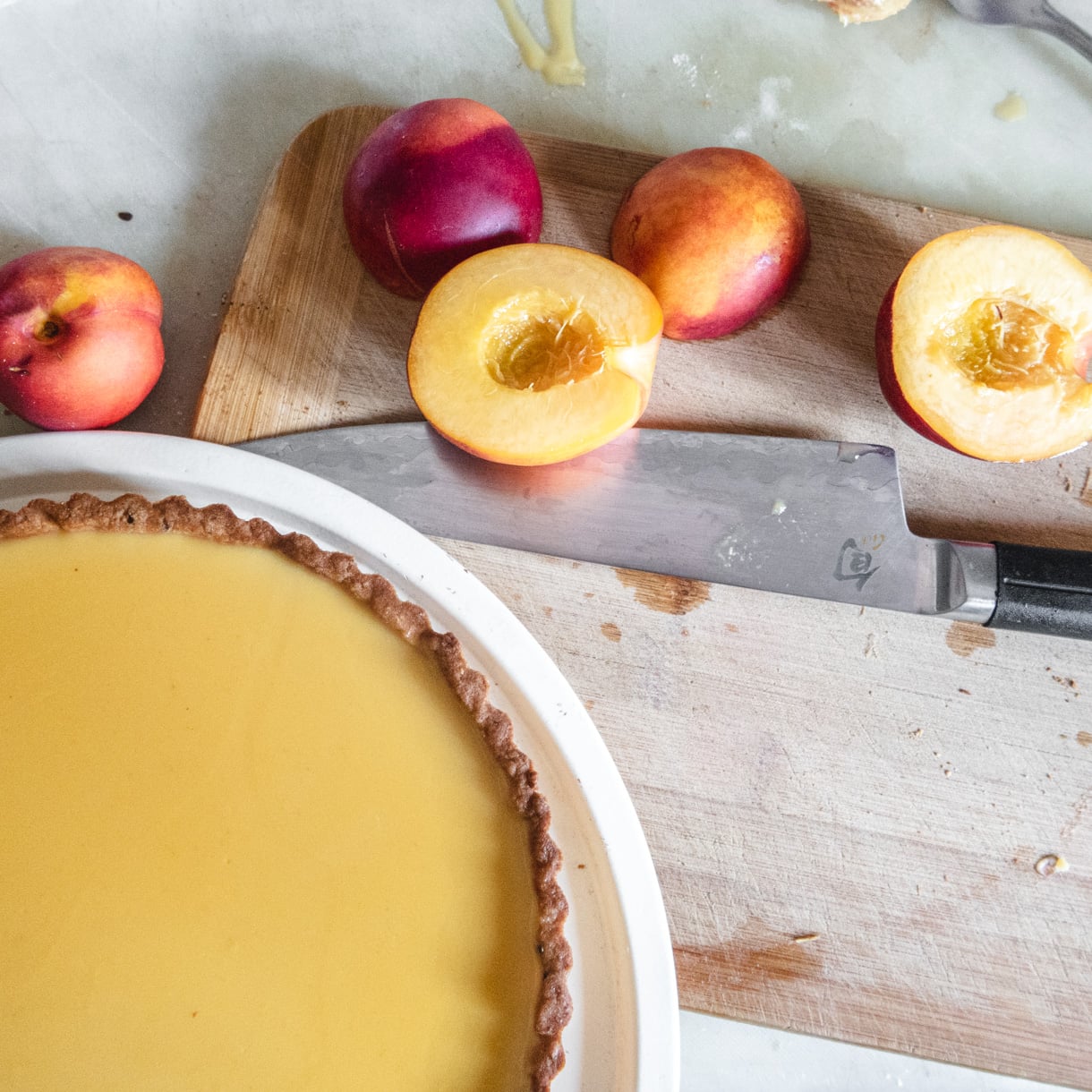 Ingredients
Here are some of the ingredients I used to make this stone fruit tart. 
Most of my specialty items like my coconut cream, agar-agar, and passion fruit juice were purchased at my local Asian grocery store, but health food stores and online market places are also great placed to look when trying to find quirky ingredients.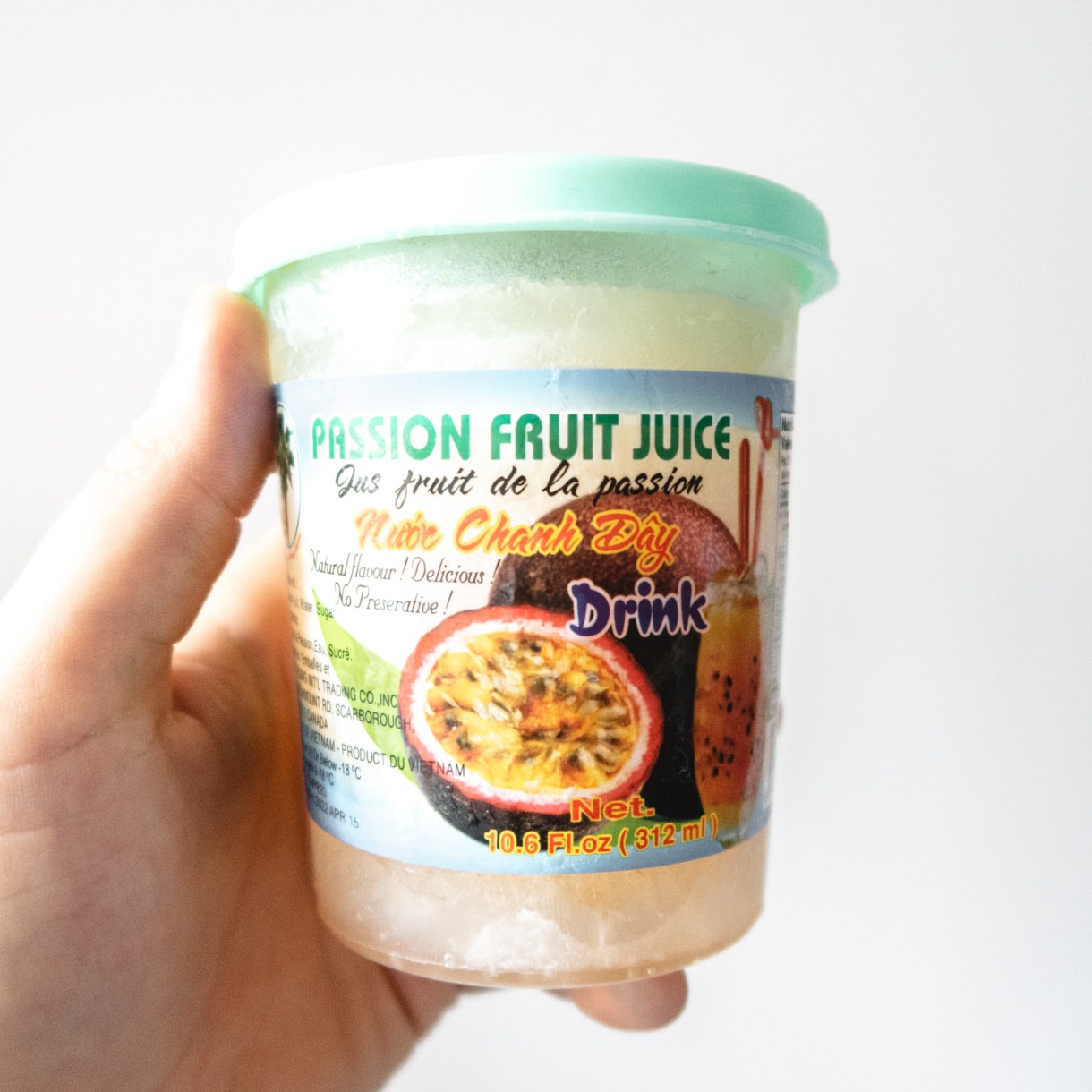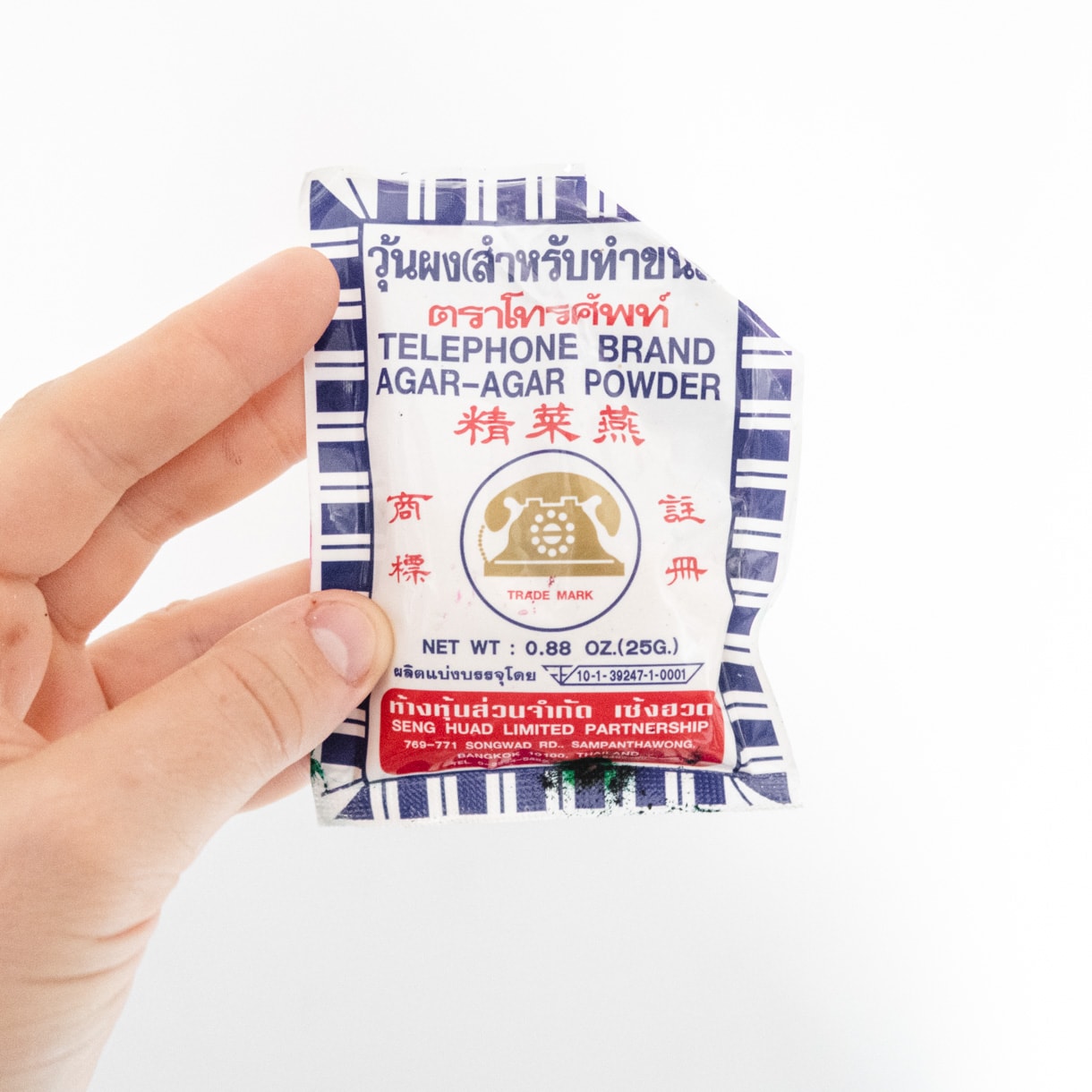 Passion Fruit
I love to use passion fruit in desserts but these little buggers can become expensive really quickly. This is why I always keep this frozen passion fruit juice in my freezer. It's convenient and for 3$ you can't really beat the price. 

However, it's not as tart as actual passion fruits so you might want to add 1 extra tablespoon of lemon juice to this recipe if you decide to use this convenient alternative. Fresh is always best but sometimes the wallet wins.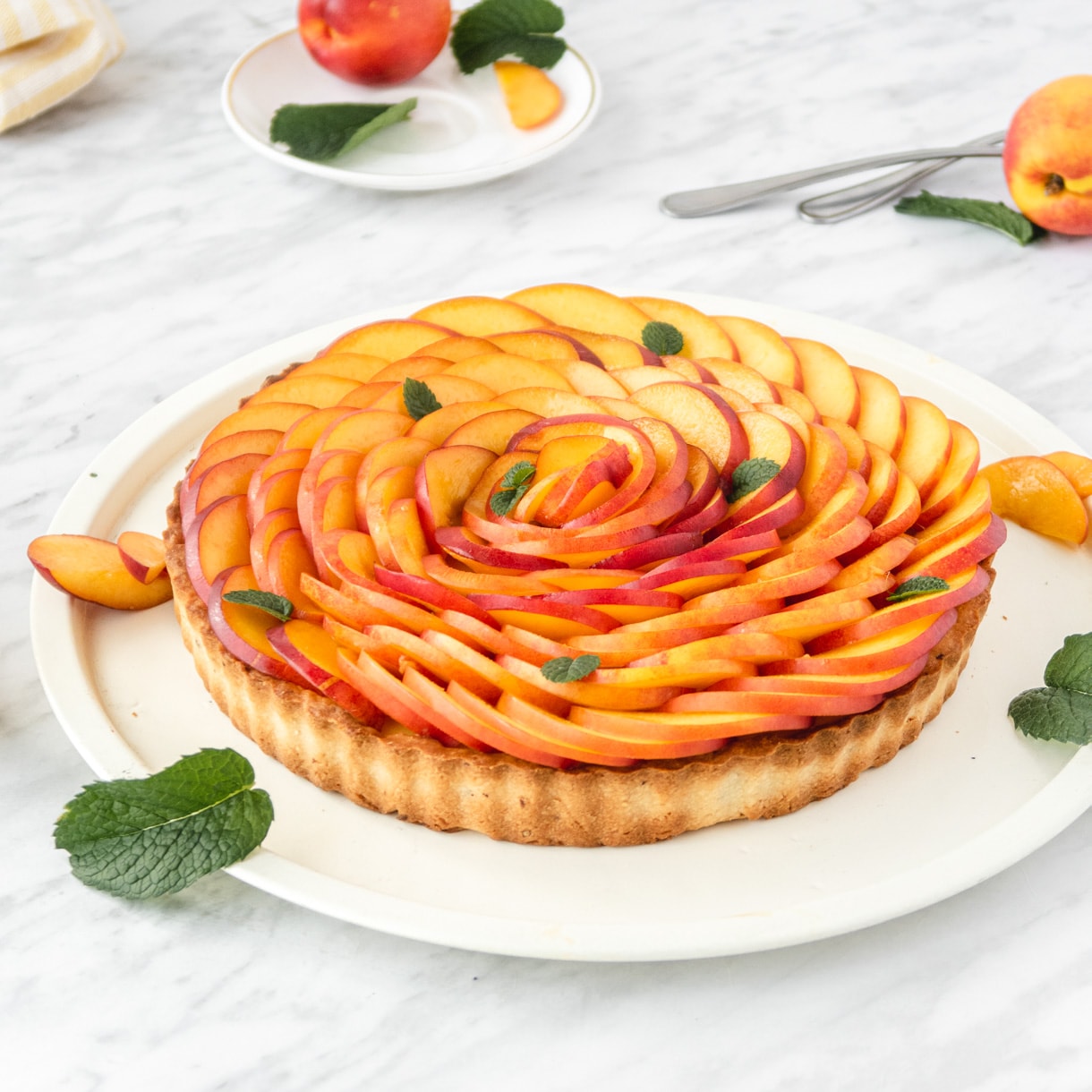 I like to use the Savoy brand coconut cream for this recipe because it is extra creamy and dreamy. It is also the exact amount of coconut milk I need for this recipe, which is the main reason why I get it.
This recipe uses cornstarch as a thickener but you might know it under the name cornflour if you are in the UK or in Australia!
Agar-agar
Agar-agar is the closest vegan equivalent to gelatine that can be easily found in grocery stores and Asian markets. These small packets are great because they are cheap - under 2 dollars - and convenient. I also love the end result. I like to always keep one of these packets as back up in case of a dessert emergency.
The only thing with agar-agar is that its final texture is not as smooth as gelatin. It can have a grainy texture and the finished gel is often firmer but also breakable. With this ingredient, better to put less than more.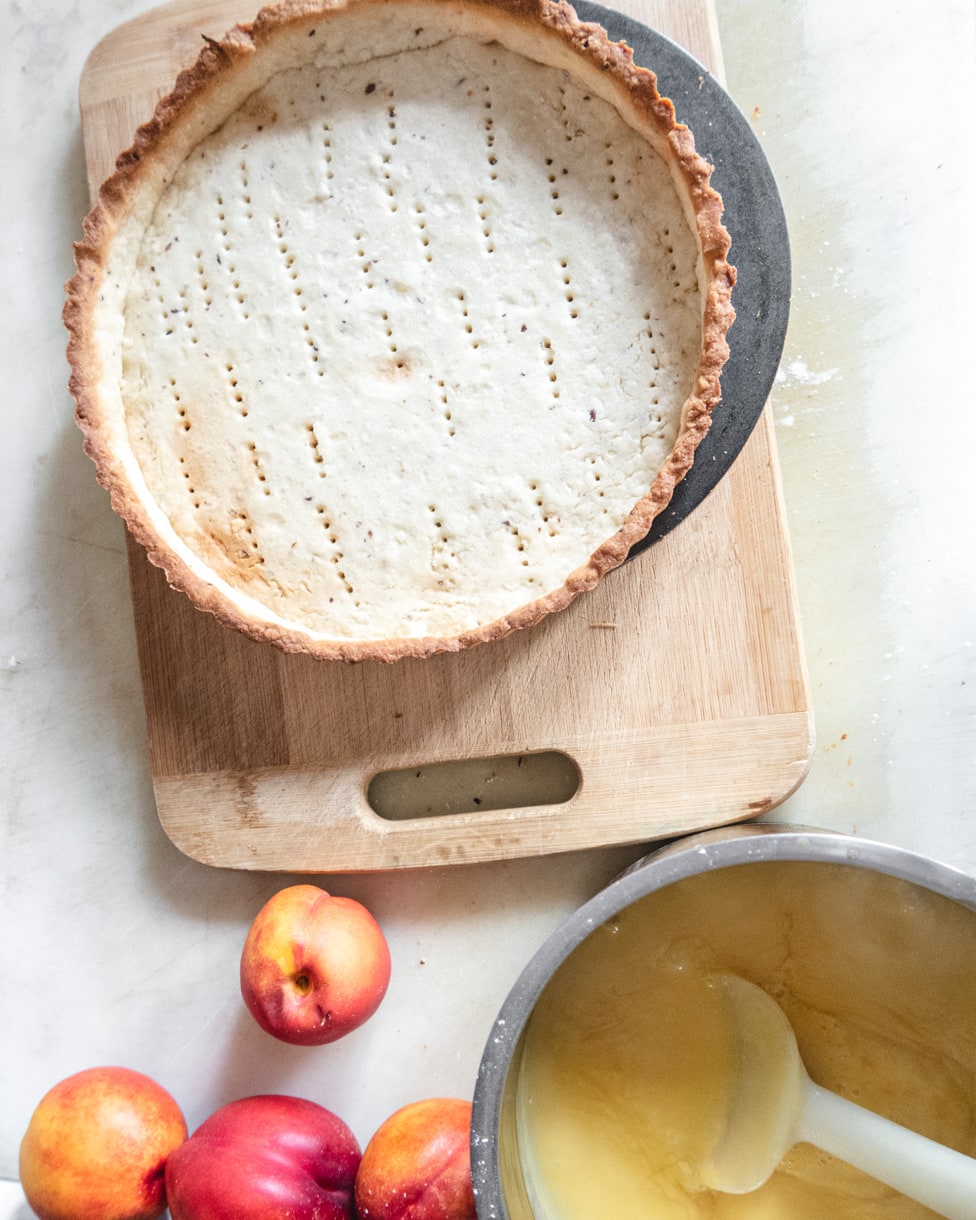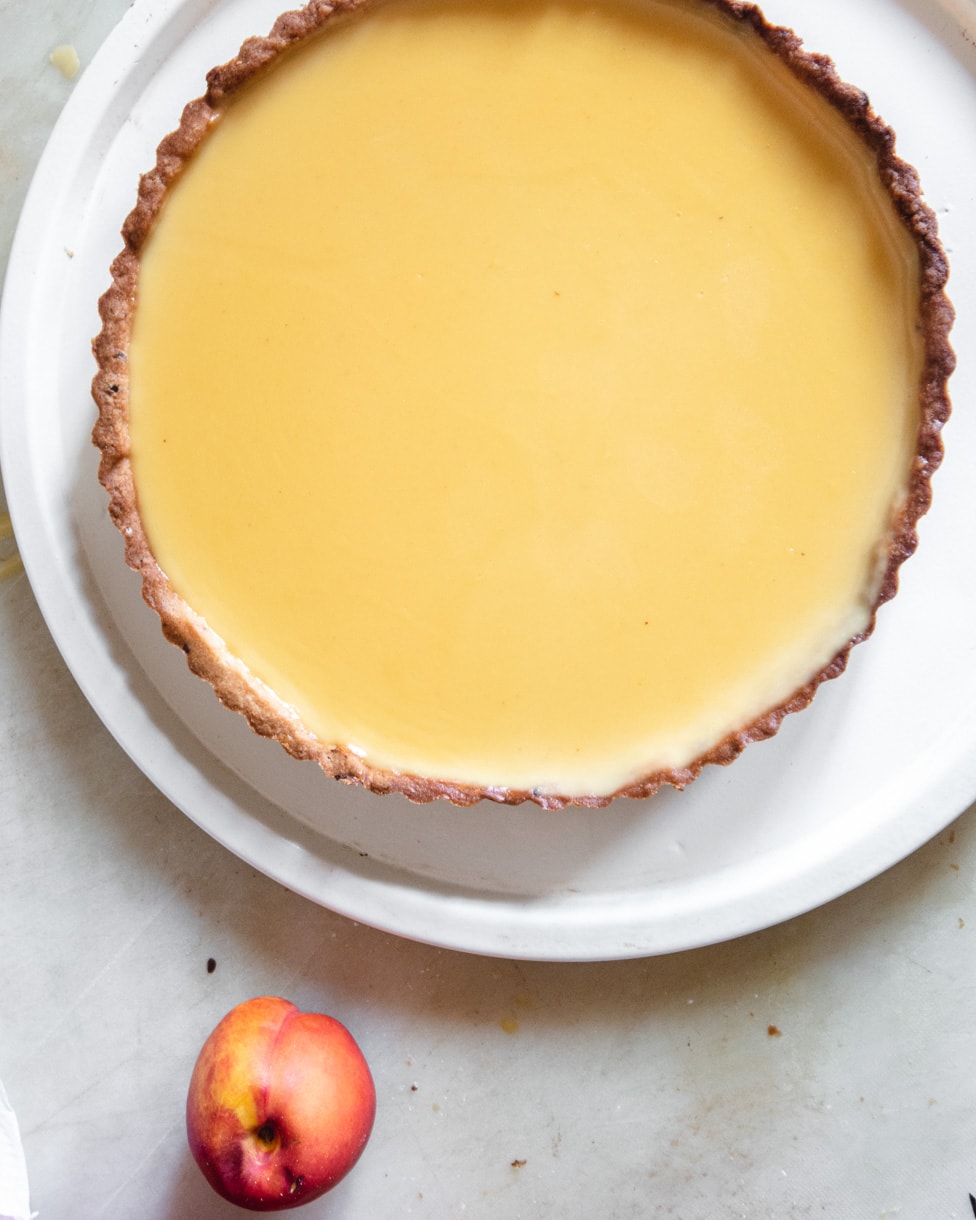 When I made this recipe I actually thought it was a bit too firm and was planning on reducing the amount of agar-agar to 1 ½ tsp. However, my lovely friends convinced me to leave it as is since they loved it so much. 
( I even got told that one of the player dreamed about my tart days after having 2 slices of it)
Either way, it's really up to your own preference. 2 teaspoon of agar-agar works  beautifully in this recipe but if you want a more jiggly filling, do not hesitate to use only 1 ½ teaspoon of this vegan gelling agent.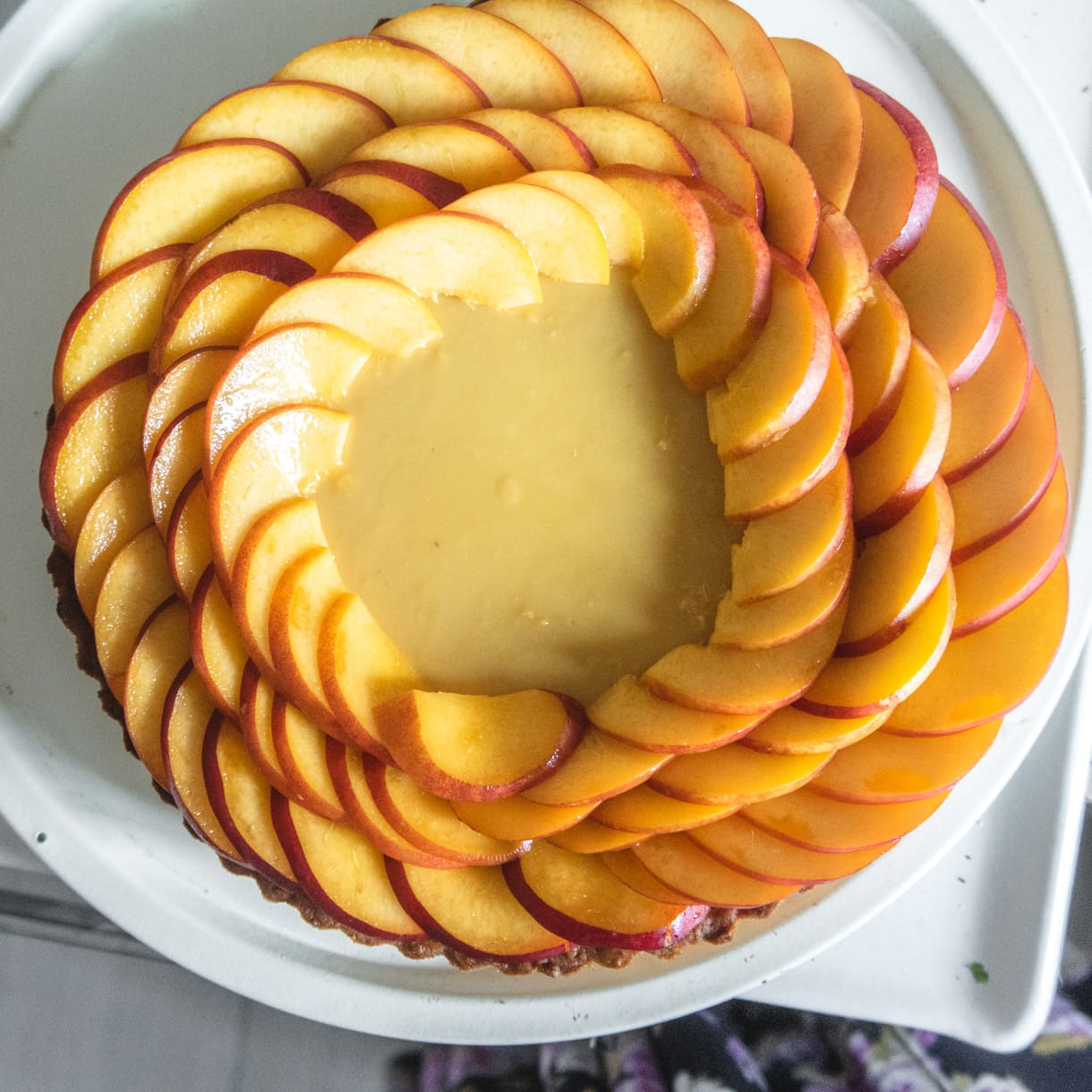 Tips and Tricks
Use a heat resistant silicone spatula (or Maryse) to stir the filling while it cooks. This is because whisking the mixture would add unwanted air bubbles.
If you do get air bubbles to the surface of the tart, tap the tart a couple of times on the counter to release them before placing the tart in the fridge.
If you are making the filled tart the day before, cover the top of the firm filling with a neutral jelly or some strained apple or apricot jam that has been diluted with some simple syrup. This will stop the filling from drying out in the fridge.
Here are some ingredient add-ons that you might enjoy in the nectarine and passion fruit filling: saffron, orange blossom water, turmeric, fresh diced nectarines or other types of stone fruits.
Usually, this type of rose-patterned dessert can be hard to cut but this one was actually a breeze to cut into. Simply use a sharp knife and make sure your pie crust is well cooked and that your nectarines are perfectly ripe.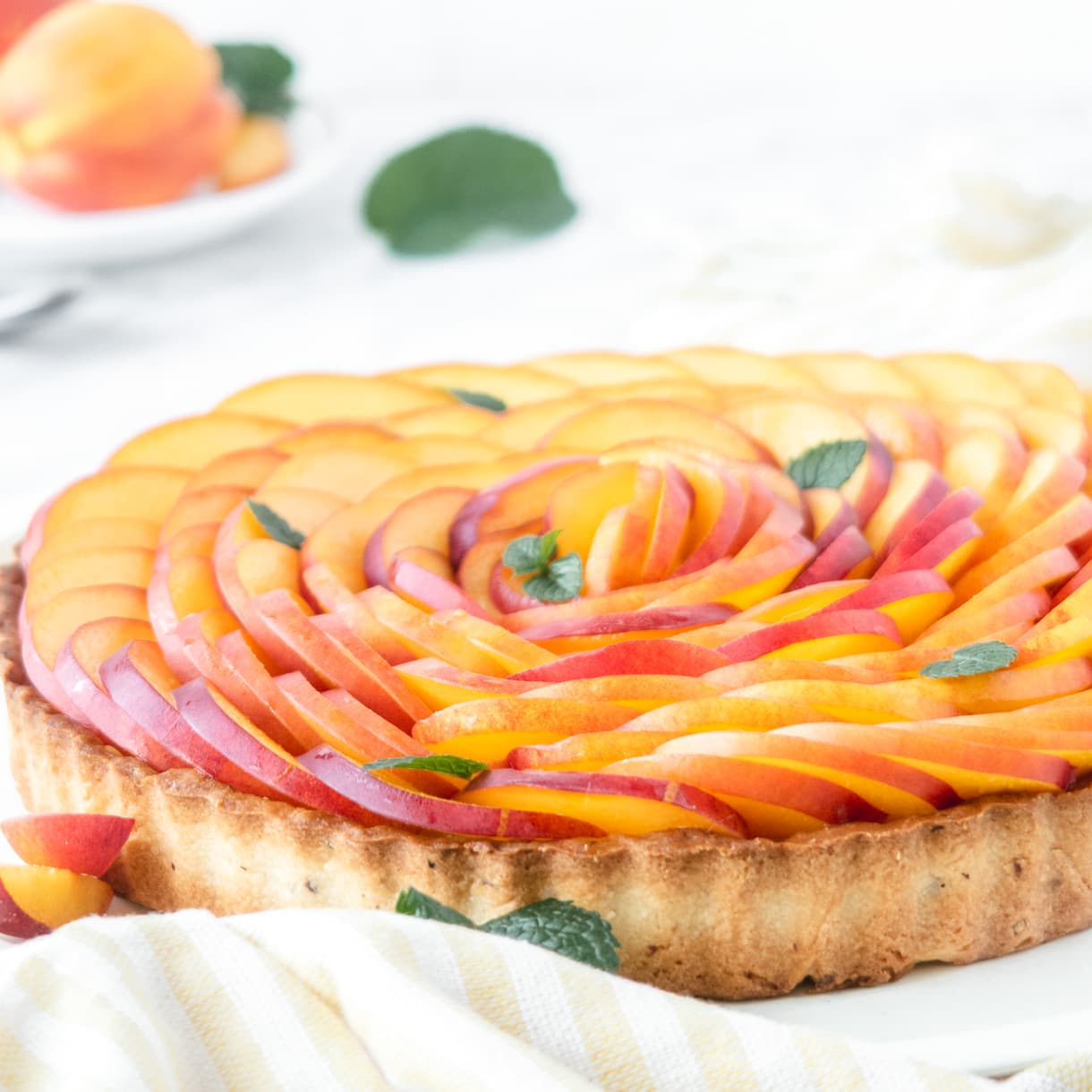 Gluten-Free?!??!
This tart can be easily made gluten-free by replacing the sweet dough, or pâte sucrée, with store-bought gluten-free dough. 
A "press on" crust is also a great alternative. Take your favorite gluten-free cookies, crush them up, add some melted vegan butter or coconut oil, and press onto the side of the tart tin. Refrigerate until firm and voila! You have a gluten-free pie dough that took less than 5 minutes to do.
RELATED : Try these gluten-free chocolate meringue kisses!
Decorations
Here are some decoration ideas that works well with this rose nectarine pattern.
Pistachios, whole or chopped sprinkles around the edge of the tart
Fresh herbs like mint, basil and thym placed between nectarine petals
Gold paper or gold accents painted on edges of nectarine petals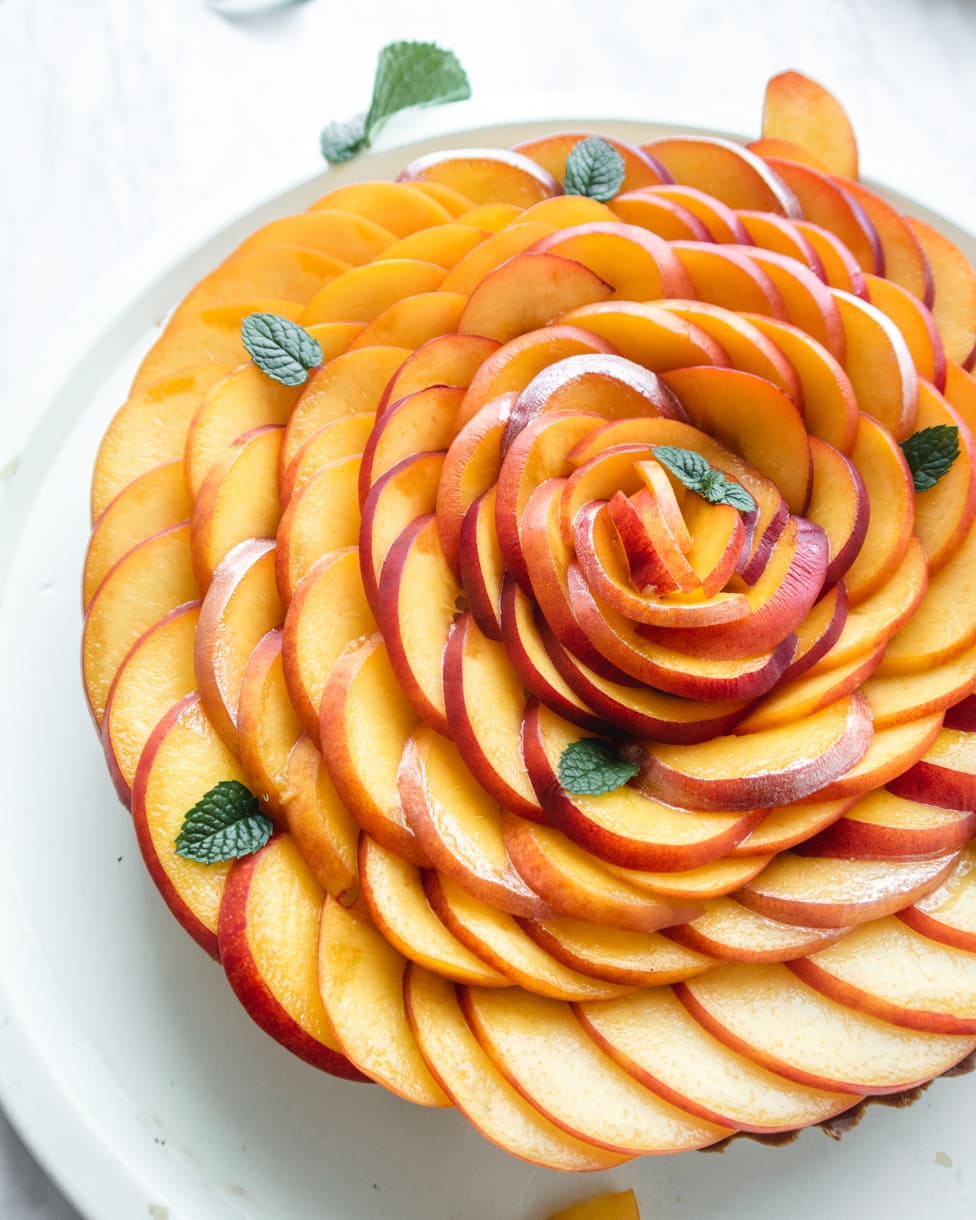 Tools & Equipment
To make this vegan nectarine tart you will need:
1 9-inch fluted tart tin
1 rolling pin
pie weights or dried beans
1 small or medium saucepan
1 heat resistant silicone spatula
1 whisk
1 sieve
1 can opener
A blender
1 pairing knife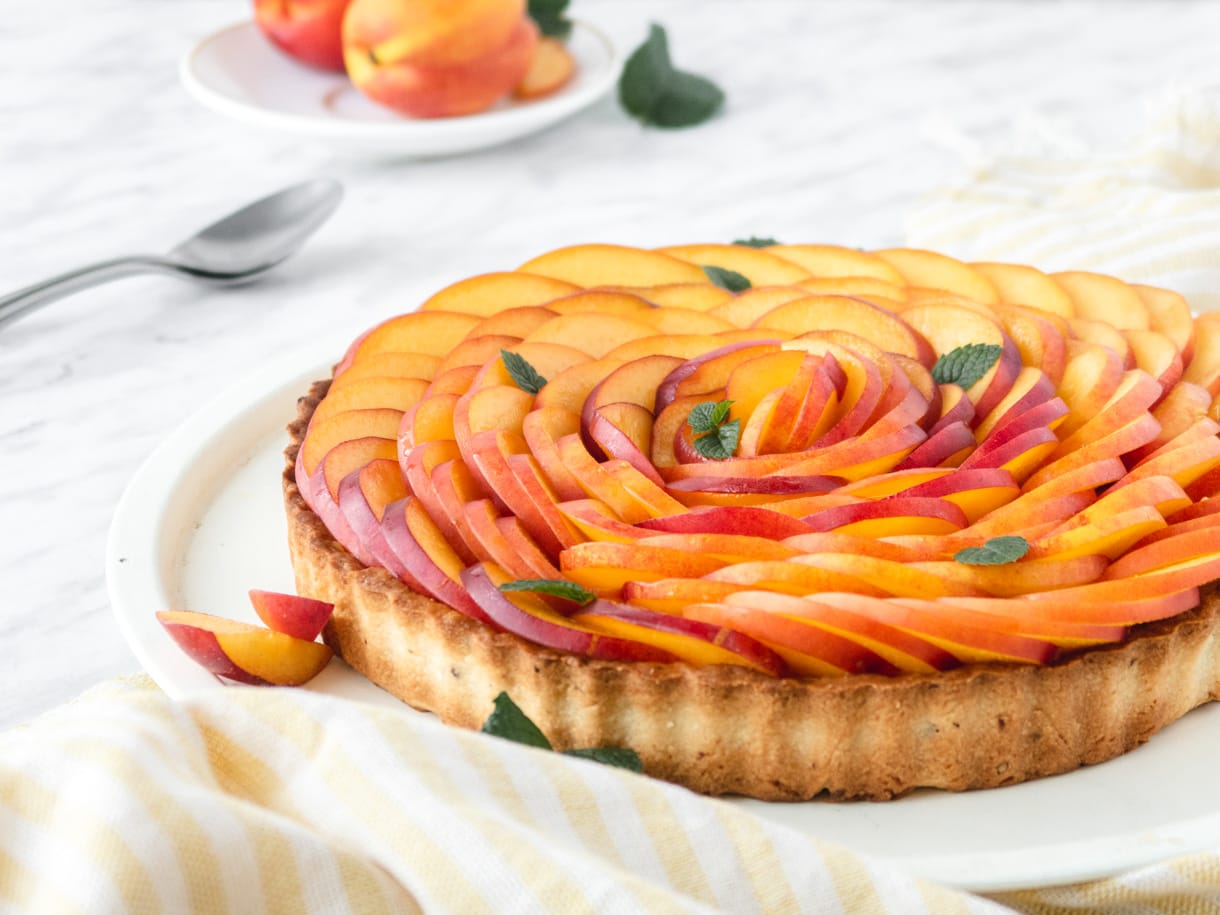 Recipe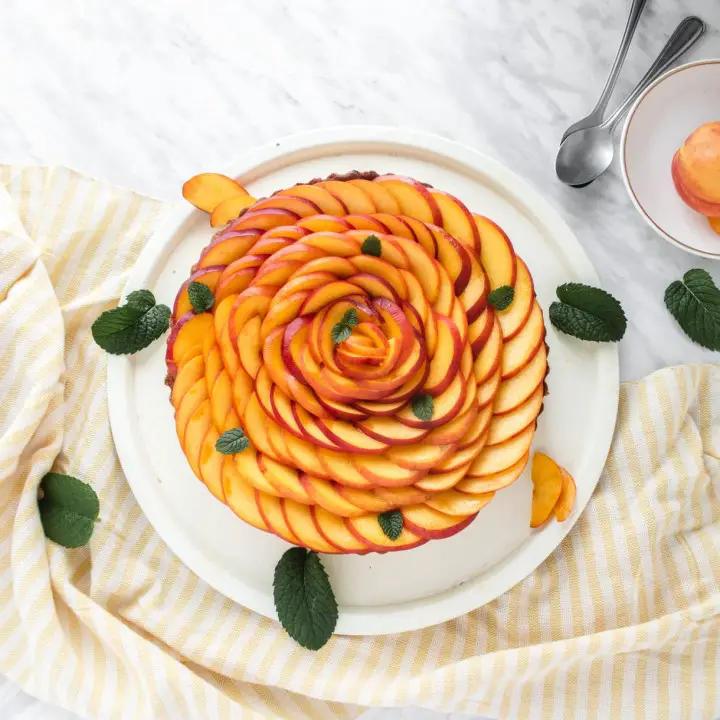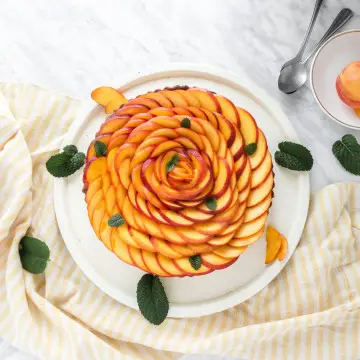 Print
Amazingly Fresh Vegan Nactarine Tart
This fresh vegan summer tart has a delicate nectarine and passion fruit filling and is garnished with a show-stopping fresh nectarine rose.
Ingredients
Nectarine and passion fruit filling
3

nectarines

386g

(400ml)

canned coconut cream

, or full-fat coconut milk

78g

(¼ cup)

fresh passion fruit juice

, strained

35g

(2 tbsp)

lemon juice

8g

(1 tbsp)

cornstarch

2 tsp

agar-agar powder

67g

(⅓ cup)

white granulated sugar
Garnish
6 or 7

nectarines

Mint leaves
Instructions
Roll out the sweet dough to a 2mm thickness and line a 9-inch fluted tart tin with the dough. Press all around for the dough to fill each crevice and for it to stick to the edges of the tin. Cut off the excess dough.

Fill with pie weight or dry beans over a parchment paper and blind bake at 350°F (180°C) until golden brown and thoroughly cooked, about 30 minutes. Let the tart shell cool in its tin.
Filling
While the tart shell is cooling prepare the filling by blending the nectarines, coconut cream, passion fruit juice, and lemon juice until smooth.

In a small or medium saucepan, whisk together the cornstarch, agar-agar, and white sugar.

Strain half of the liquids over the saucepan. Whisk the dry and strained liquids until smooth and well incorporated. Strain the rest of the liquids and whisk until smooth.

Over medium heat, bring to a boil while stirring with a heat resistant silicone spatula. Boil for 2 to 3 minutes and then pour while still hot into the tart shell.

Place the filled tart into a refrigerator to set ( about 30 minutes).
Garnish
When ready to eat, slice the nectarines in half, twist to separate the halves, and then remove the stone, being careful not to damage the half nectarines. Place cut-side down on a cutting board and thinly slice the nectarines, removing the end pieces.

Using a knife or spatula, bring one nectarine half to the tart at a time and fan out each section into the shape of a rose.

Garnish with mint leaves and enjoy!
Notes
Best eaten the same day it is made
Do not freeze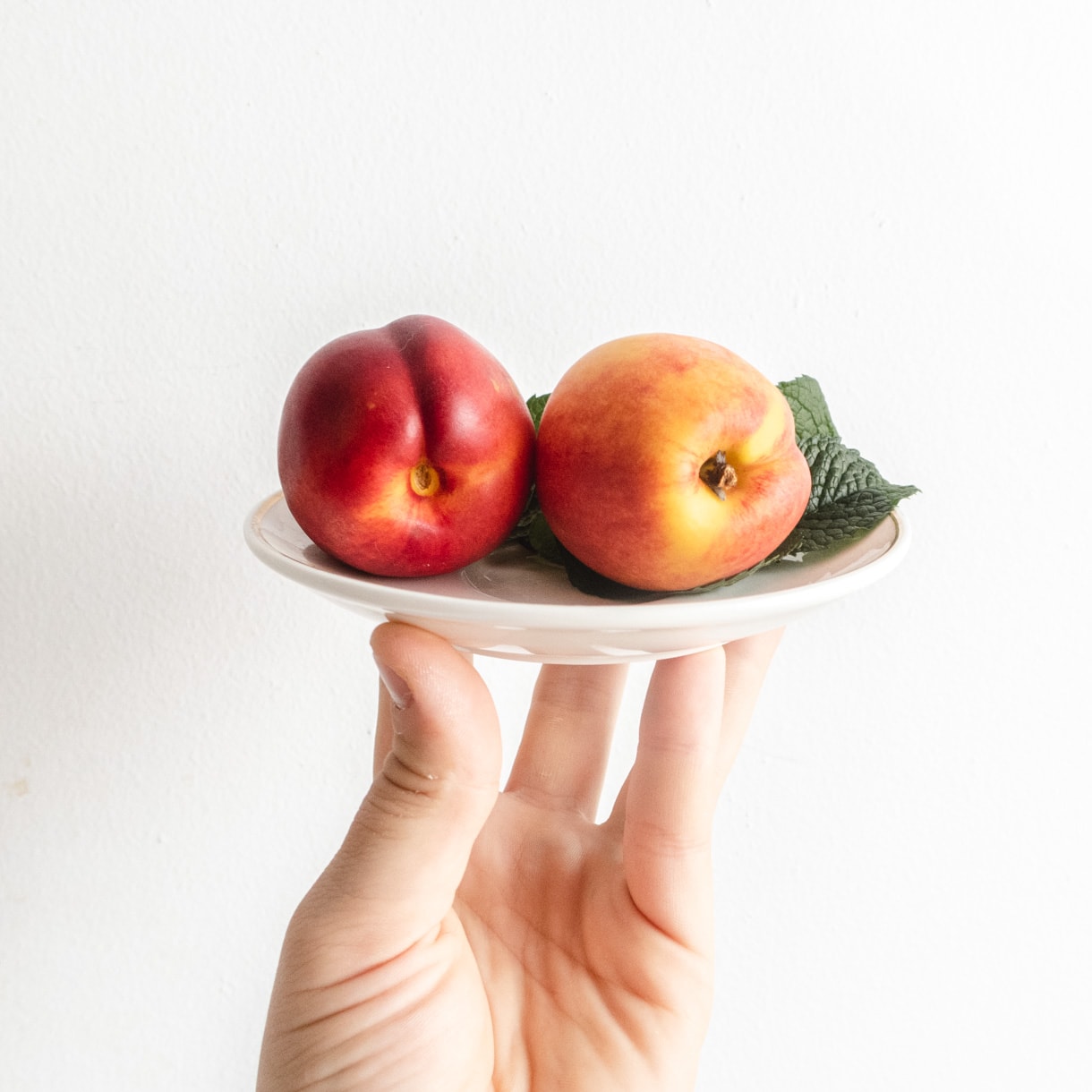 Did you try this nectarine recipe?
Don't be shy and let me know how it went! Leave me a comment below and share a picture on Instagram !