Chocolate meringue kisses are the perfect vegan homemade treat to give to friends for special occasions, or to fill a sweet crunchy craving!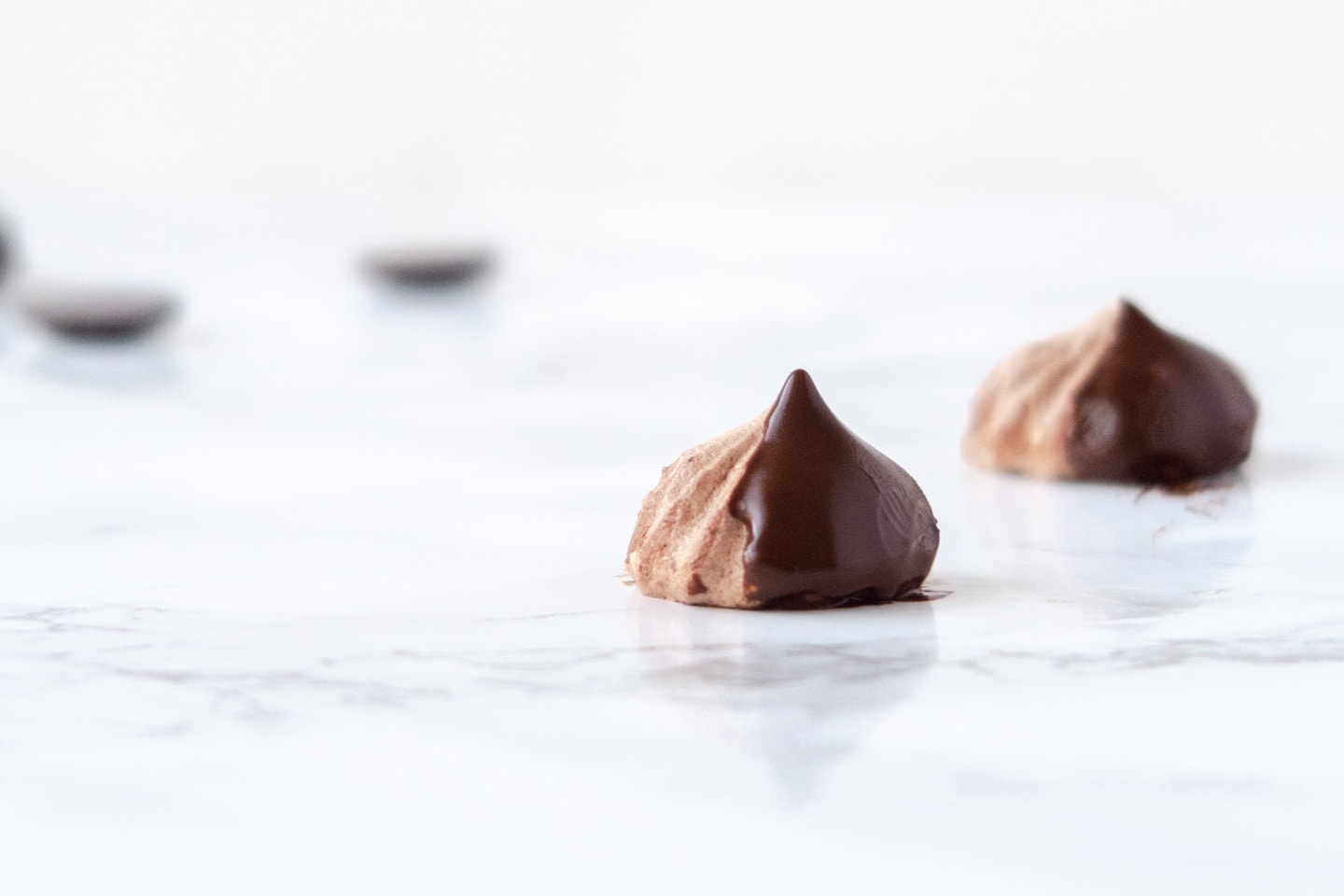 If you have made vegan meringue plenty of time before, feel free to skip to the recipe right here!.... or you could learn a bunch of great ways to decorate these vegan chocolate meringue kisses
---
Vegan crunchy chocolate meringues
I love meringue kisses because they are very versatile, tasty, gift friendly, and extremely cute! 
They are also accidentally gluten-free, for that special person in your life that deserves a homemade gift for once.
Vegan French meringue
These vegan meringue kisses are made using the French meringue technique, which is the easiest. This means that the sugar is added one spoonful at a time while the aquafaba is being whipped up. So no need to cook the sugar with the aquafaba or to make a syrup,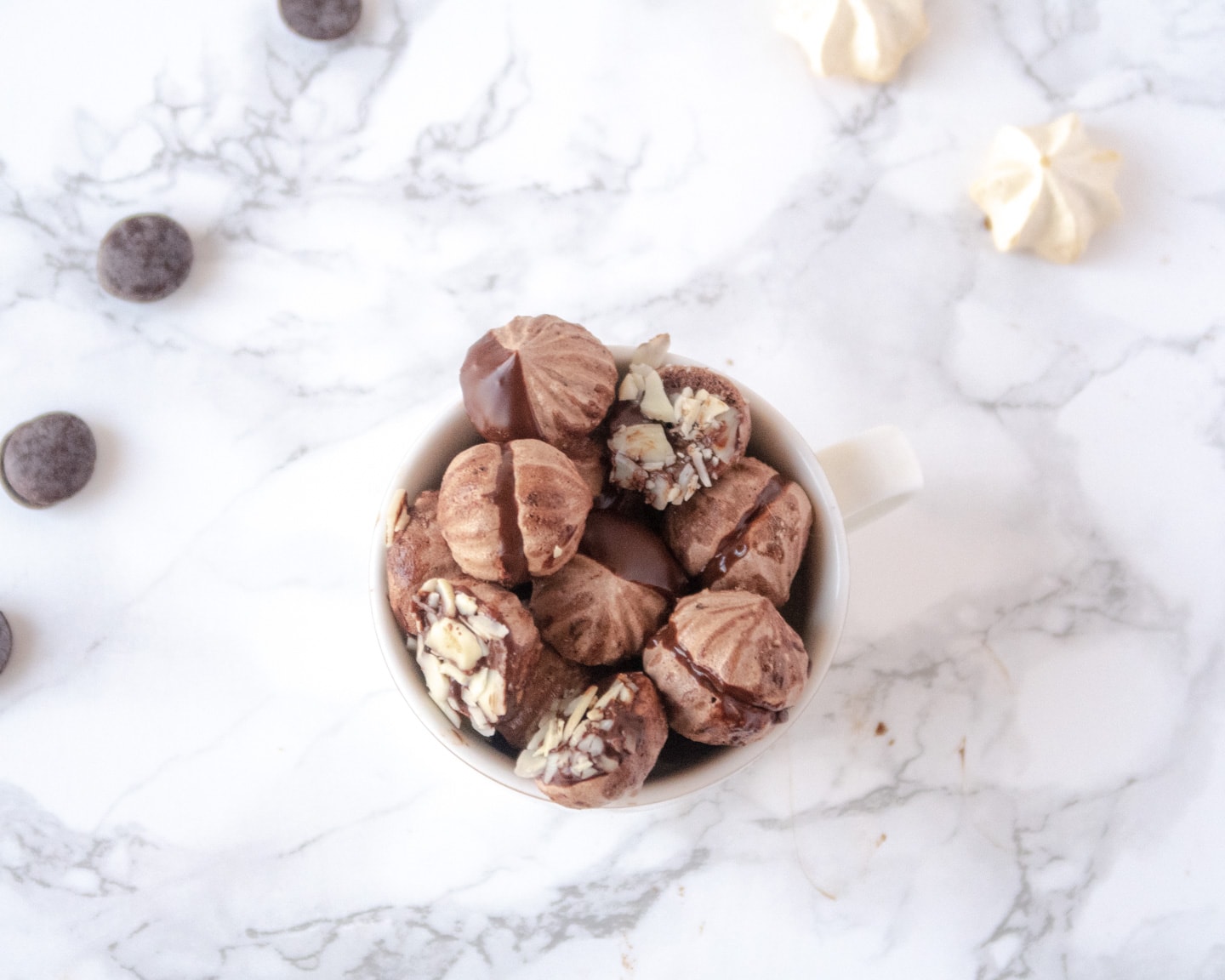 Aquafaba: the magical bean water
Instead of using the traditional egg white to make these sweet treats, this recipe uses aquafaba, which is the liquid found in a can of chickpea ( or other light tasting and light-colored legume like white kidney beans). This also means that depending on the brand of your chickpeas, you might end up with an aquafaba that is very thin or very thick (almost jelly-like).
I recommend reducing the aquafaba until it coats completely the back of a spoon. To check if your aquafaba is reduced enough, trace a finger over the backside of a spoon that was dipped in the reduced aquafaba, it should leave a clean finger trace that doesn't drip.
Before using your aquafaba, you will need to refrigerate until it becomes cold again. I like to use salt-free canned chickpea when I know I'm going to use the aquafaba for meringue.
For more info, tips and tricks, and even meringue troubleshooting, go check out my vegan meringue guide!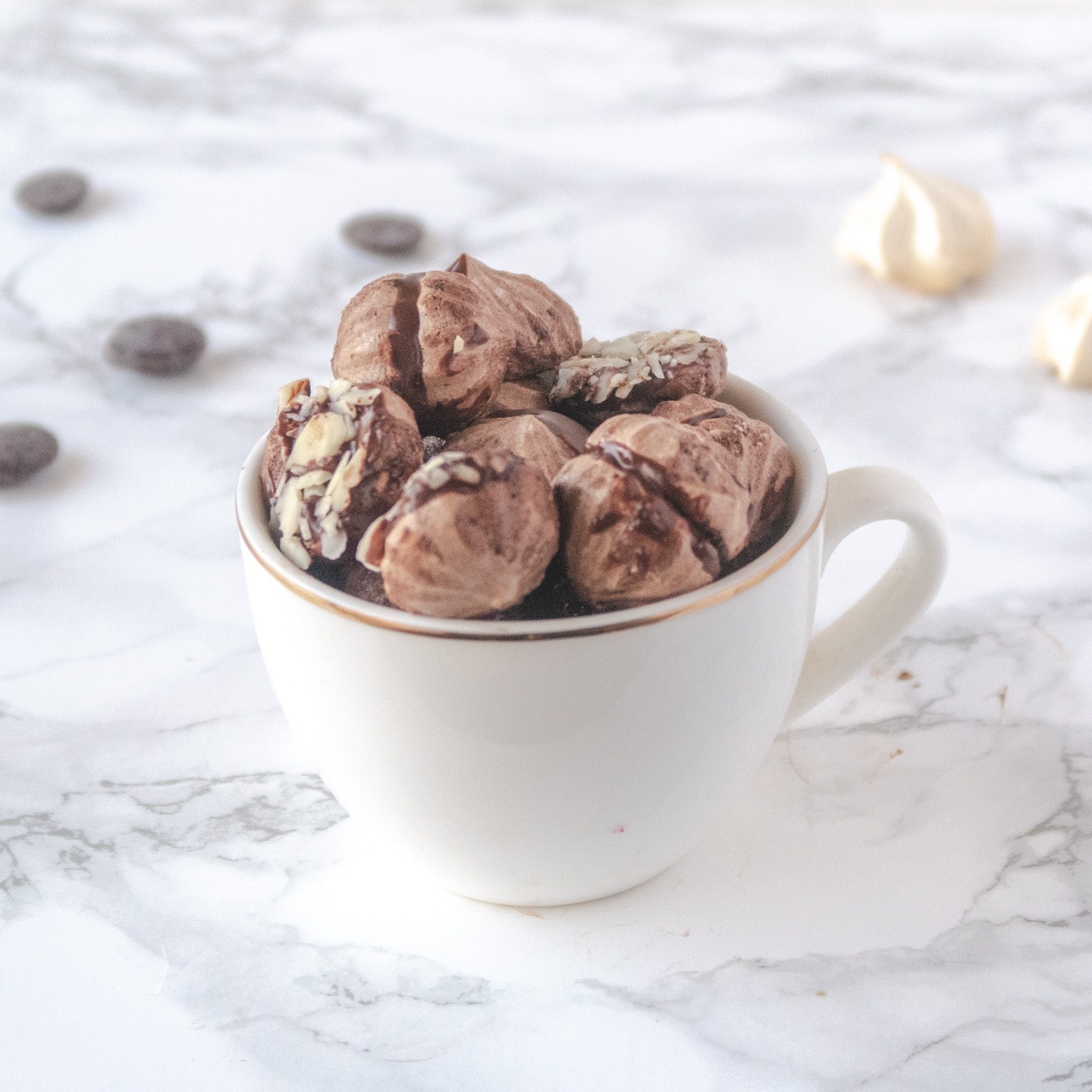 Cooking vegan meringue
The only downside to vegan meringue is that it can be tricky to cook. To be honest, too often I opened an oven full of tiny meringue to fin a baking tray full of soup. Vegan meringue thas a tendency to melts in the oven or to end up being completely hollow.
The trick for cooking perfect vegan meringues is to dehydrate them.
Whipped aquafaba can melt under too high temperature, even with all the stabilizers in the world. So stick your tray in the oven and be ready to leave it there for a couple of hours.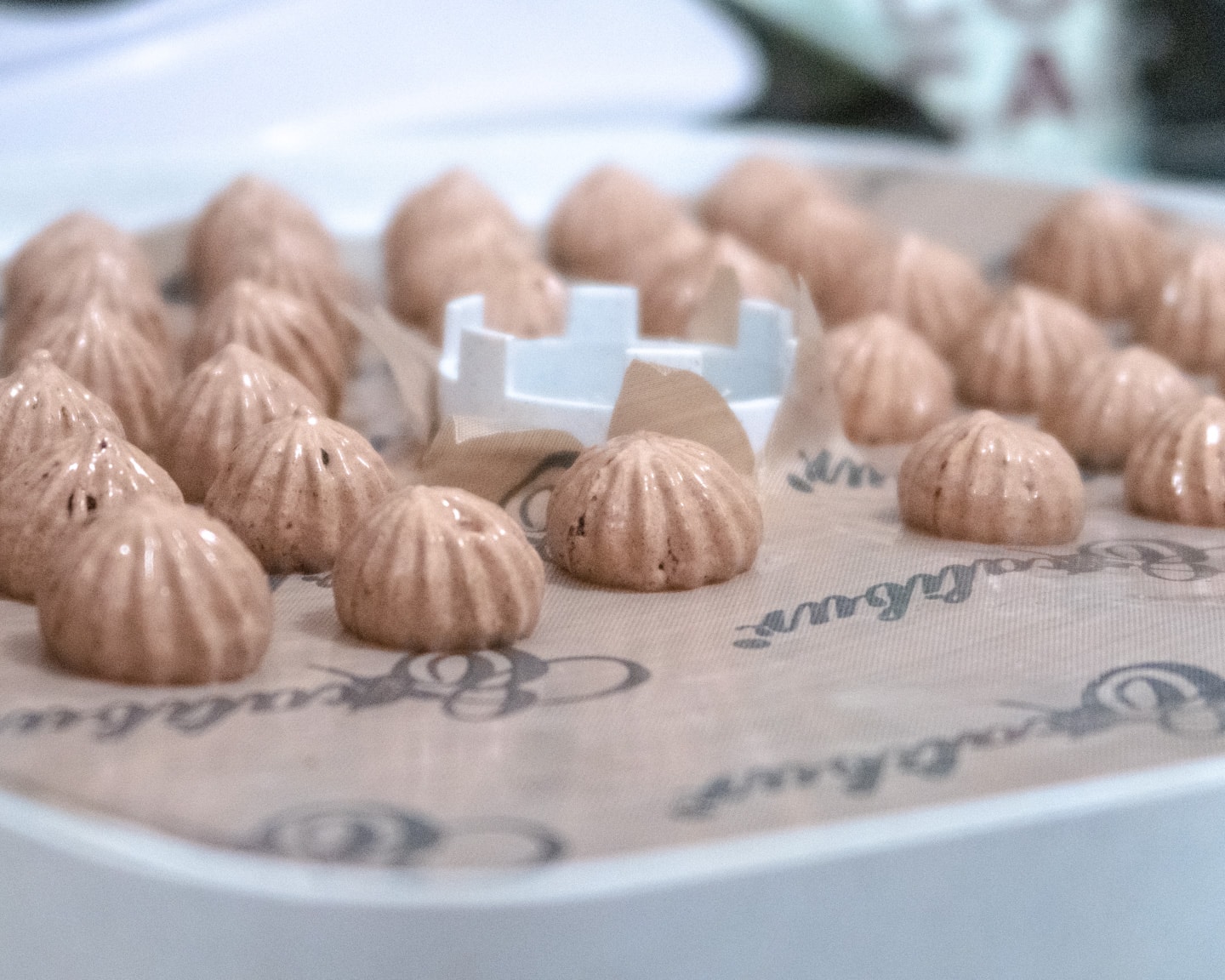 You could also do like me and use a dehydrator to cook your tiny eggless meringue. A dehydrator is great because its only job is to remove extra moisture from ingredients – hello crunchy meringue–, and is made to keep going for hours and hours, instead of starting up your oven in the middle of summer for hours...
I also found that the meringues made in the dehydrated kept their shape better but you do get a height restriction depending on your brand of dehydrator.
However, if you don't have a dehydrator hidden somewhere in your cupboards, it's ok. Yes, you can use your oven for this, but it might just take a bit more time and energy.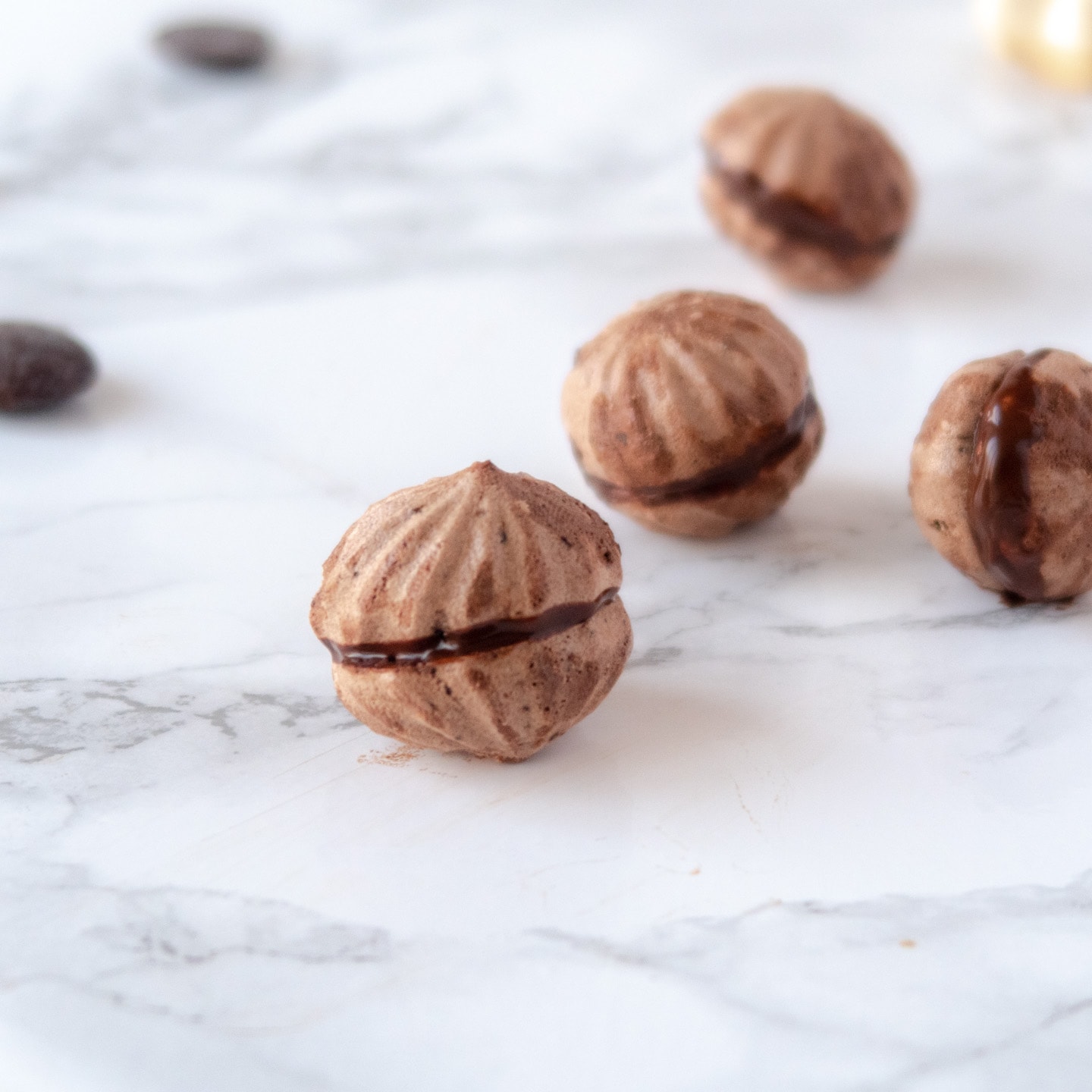 Chocolate and Meringue : secret frenemies
Even though meringue and chocolate taste amazing together, meringue is not a big fan of chocolate. This is because chocolate naturally has a lot of fat, and meringue hates being in contact with fat. 
This is why it is best to use defatted cocoa powder. But if you don't have any at home, or can't find it in stores, simply gently fold in the cocoa powder and quickly set it up in the oven to start cooking and setting. 
Meringue with cacao powder will spread and lose its pipped shape more than a basic unflavored vegan meringue, so if you want large patterns to your kisses, use a piping tip with large teeths like the Wilton 1M.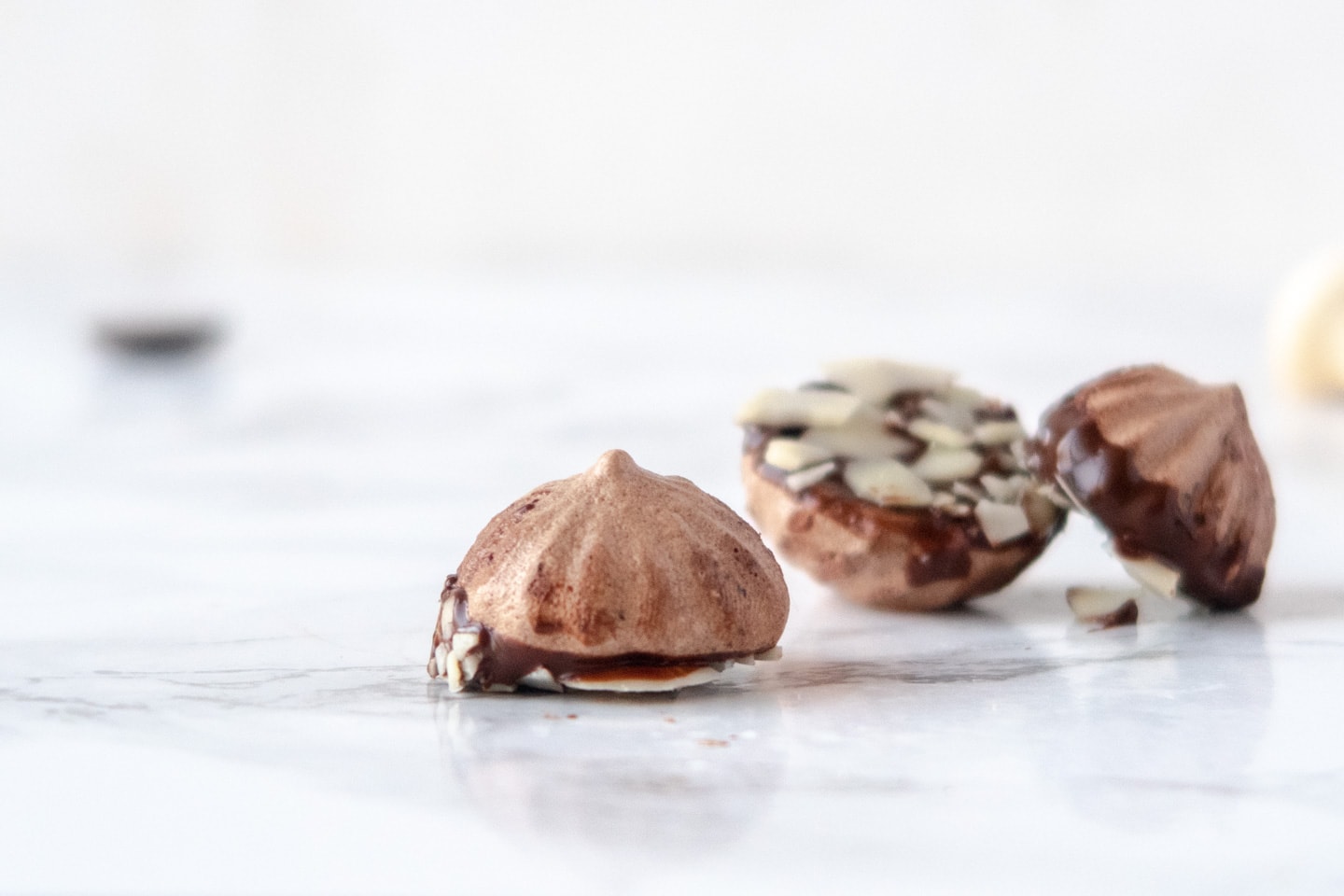 Decorating mini meringues
Traditionally, meringue kisses were made by dipping the bottom of 2 small meringues in melted chocolate and then sticking them together, but here are some other great ways to decorate vegan meringue kisses!
Sprinkle with a light dusting of cacao powder before baking
Dip half the meringue length-wise into the chocolate
Dip the bottom of the meringue and place it on a bed of topping while the chocolate dries. You could try chopped nuts, crushed candy canes, dried flowers, sprinkles, powdered freeze-dried fruit, etc.
Drizzle fine lines of chocolate over the kisses
Swirl some melted chocolate into the meringue before piping.
Also, try various shapes and sizes! Mine where tiny but feel free to go big (or go home)
Storage
 Keep theses chocolate meringue away from moisture, if not they become soggy, chewy and sticky under your teeth. 
Keep in an airtight container in a cool, dry and, dark place preferably. For small quantities, Mason jars are great container options. If you live in a very humid place, add a silica packet or some dry rice to the container before closing. 
If your chocolate less meringue becomes soggy and sticky at one point, you can stick them back into the oven to re-crunch them up, but try not to do that too often.
Can be kept for up to 1 month. Do not refrigerate ou freeze, as they will become soggy.
Tools
You will need the following tools to make this chocolate eggless meringue recipe:
Stand mixer recommended, but a hand mixer will work in a pinch ( don't even try to whisk your vegan meringue by hand)
1 large bowl for the meringue
1 small to medium bowl for the melted chocolate
1 saucepan
1 to 2 baking trays lined with parchment paper
1 flexible silicone spatula, or maryse
Dehydrator with liners ( optional but recommended)
1 pastry bag and your favorite pastry tip. My favorites for this job are the Ateco 866, Wilton 1M, or a smooth round pastry tip for different effects. If you do not have a pastry bag, you can use a large freeze zip log bag with one of its corners snipped off.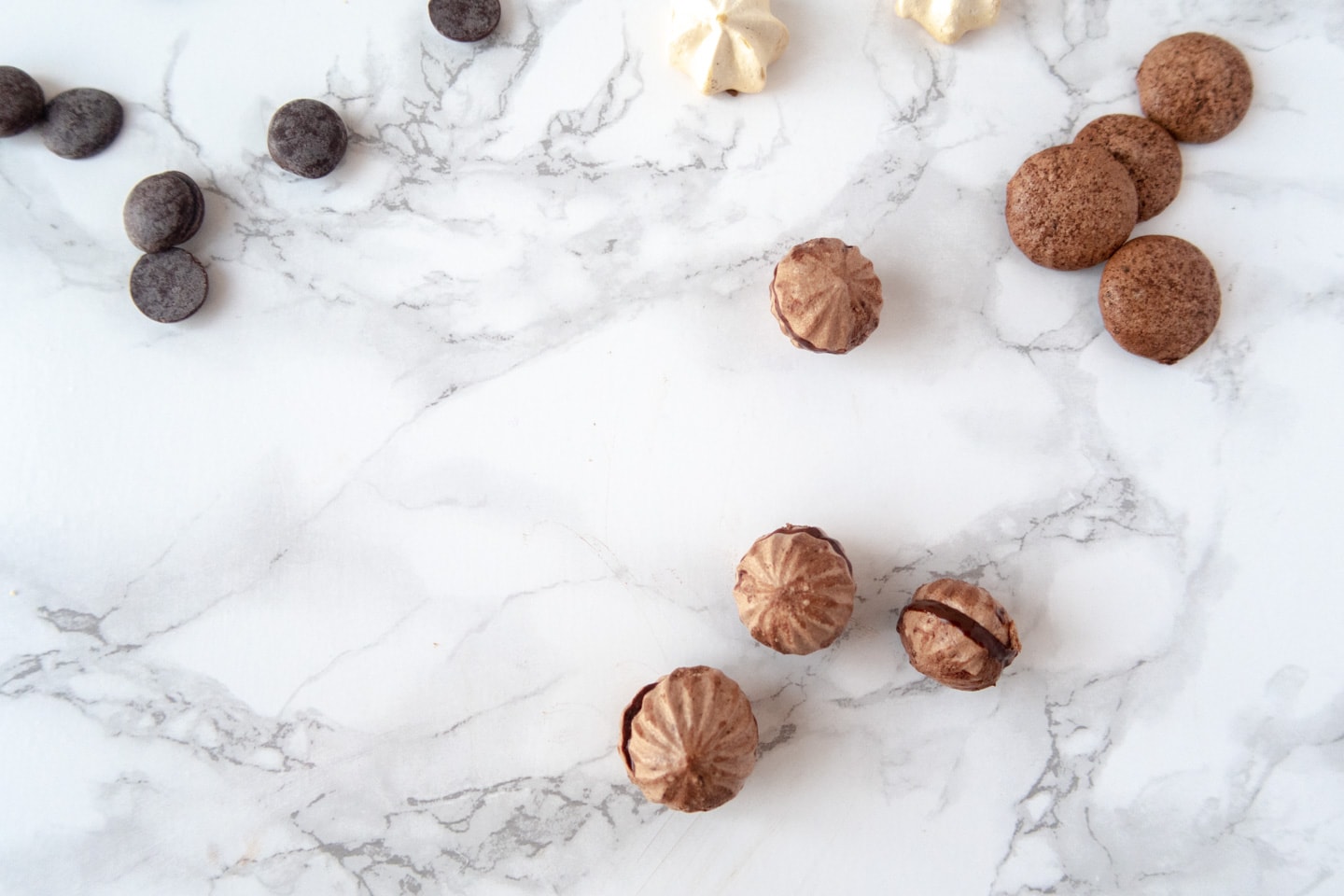 Recipe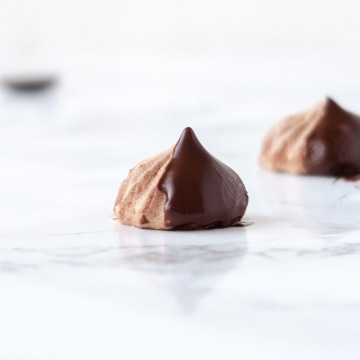 Print
Vegan Chocolate Meringue kisses Cookies
Theses curnchy eggless chocolate meringue cookies are the perfect gift for all occasions!
Servings
80
mini meringues (or 40 traditional kisses)
Ingredients
135g

(½ cup)

aquafaba

,reduced

¼ tsp

cream of tartar

150g

(¾ cup)

sugar

21g

(¼ cup)

unsweetened cocoa powder

, sifted

90g

(½ cup)

of melted chocolate

, preferably tempered

Garnishes of your choice
Instructions
Preheat your oven to 200F (100C) if using, and line 1 large baking trays with parchment paper.

In a stand mixer with the whisk attachment, or a large bowl with a handheld mixer, whip the cool reduced aqufaba and cream of tartar until it reaches medium to stiff peaks.

Slowly add the sugar one spoonful at a time to the meringue while continuing to whisk until the meringue is thick and glossy and had reached stiff peaks.

Quickly but gently fold in the sifted cacao powder into the meringue without over mixing.

Transfer the meringue into a piping bag with your favorite pastry tip like the Wilton 1M.

Pipe onto the prepared baking tray, keeping 2 cm between each meringue cookies. To make small meringues, try to pipe them at 3 cm high to 2 cm diameteré

If using a dehydrator, cook at 160F ( 71C) for 4h. If using an oven, cook at 200F (100C) for 1h30 to 2h if using the oven, adjusting the cook time to how dry your meringues are when you test them.

Once cooked, turn off your oven and let the meringues continue to dry until they are room temperature or overnight.

Dip parts of each meringues into the chocolate and decorate. according to your preference. Leave to cool on a piece of parchment paper

Store in an airtight container and enjoy!
Notes
Can be kept for up to one month in an airtight container stored in a dry, dark and cool place.
Do not refrigerate or freeze.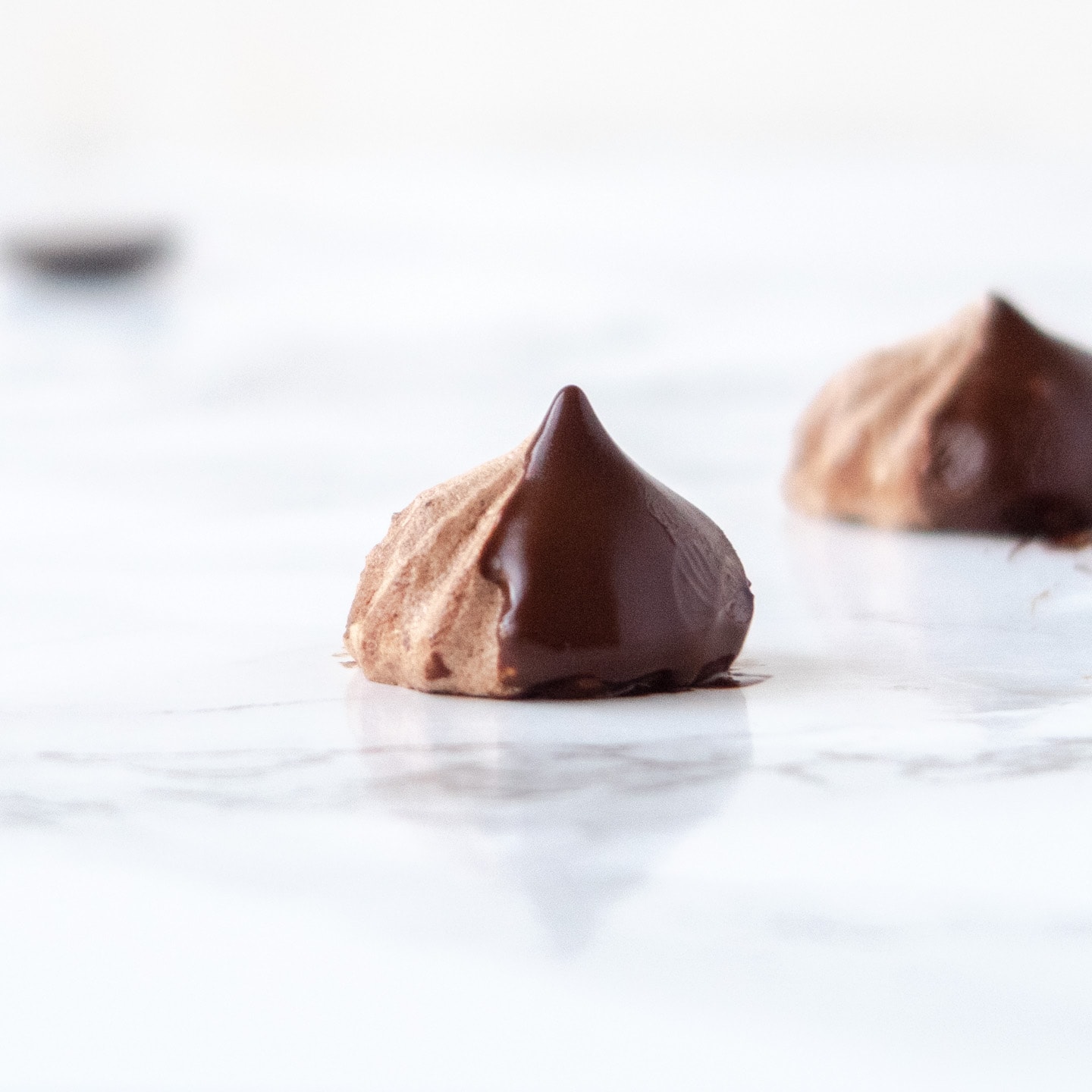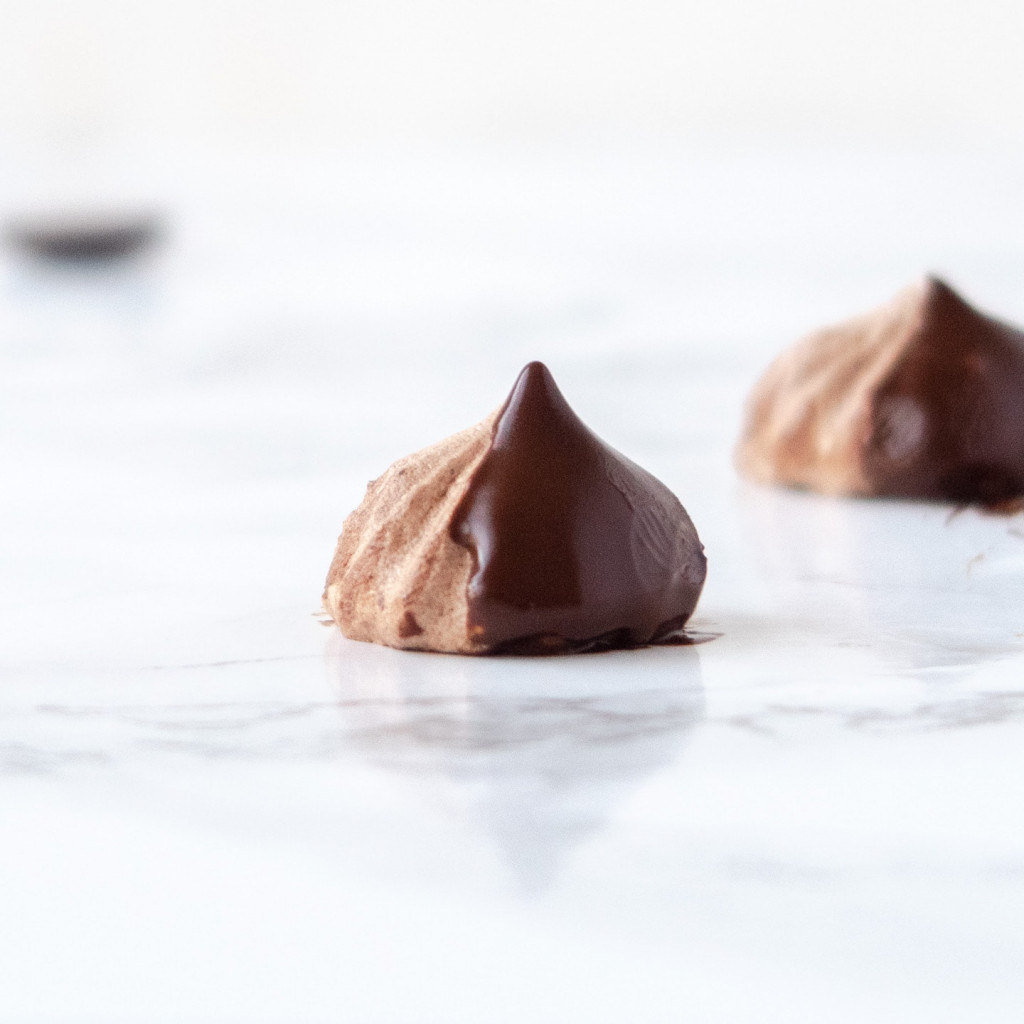 Did you try these eggless meringue cookies?
Don't be shy and let me know how it went! Leave me a comment below and share a picture on Instagram !