If you ever made vegan meringue you have been in my spot before - you start to make an incredible aquafaba meringue topping and halfway trough, after countless minutes of beating, your vegan meringue suddenly collapses and become liquid again, or worse! It starts melting and weeping AFTER you place it on top of your lemon meringue pie, and now all you have leftover is lemon pie bathing in a soupy mess!
Oh no! What happened?!?
Well no need to wait anymore, today I'm troubleshooting aquafaba meringue and explaining meringue meltdowns and collapses.
Your vegan meringue might collapse, weep or melt if your aquafaba was either not thick enough, under whipped, over whipped,  not stabilized properly, or if the sugar was added too quickly.
Let's talk more about great ways to stabilize aquafaba soft meringue and other meringue tips and tricks to reach meringue perfection.

How to stabilize aquafaba meringue
The biggest reason for weeping meringue is unproperly stabilized aquafaba. Here are some ingredients that are usefull in stabilizing aquafaba meringue:
Sugar
Cream of tartar
Xanthan gum
Agar-agar
Sugar
If you've ever asked yourself why there was so much sugar in meringue, well it's not because of the taste. Yes, sugar makes meringue delicious but it also stabilizes meringue, since sugar is hygroscopic which means that it absorbs moisture. So if you wanted to make your meringue more healthy and it fell flat, its probably because of the reduced sugar.

Sugar also needs to be incorporated in a specific way. You can't just add it all at the beginning or you risk a vegan meringue collapse. For a french meringue, you need to wait until your meringue reaches soft peaks before adding the sugar in your recipe one tablespoon at a time and waiting between each addition.

Cream of tartar and alternatives
Cream of tartar is an ingredient that is used in egg-based and vegan meringue to stabilize it. It is an acid that you can find in powdered form in the spice section of your grocery store. The acid in cream of tartar basically denatures the protein in aquafaba to make a protein that is stronger and creates a foam that retains more moisture and better trap air bubbles.

Other types of acid like apple cider vinegar, white vinegar, and lemon juice can be used if you can't find cream of tartar in your cabinets (even though you swear you had some in there). But, cream of tartar still gives a better result since it has less moisture in it.

Xanthan gum and agar-agar
Unfortunately, vegan meringue is not as strong as egg-based meringue, this is why it needs a small boost, especially to stay whipped for a longer amount of time. This is why, if you are making vegan meringue in advance for a cake or pie that will only be eaten later, adding xanthan gum is a great idea. 

Xanthan gum is a thickener and stabilizer that is often used in storebought dressing and found in gluten-free cuisines. The only downside to xanthan gum is that it can have an unpleasant mouthfeel if you add too much so don't add more than 1-2 teaspoon per 3-4 cup of aquafaba. With xanthan, I was able to keep a vegan meringue whipped for 3 days.

When making Italian meringue which needs a hot sugar syrup, adding agar-agar is a great idea. Agar-agar is a seaweed-based gelling agent, but it needs cooking to be activated. Here is the Plantified vegan lemon meringue which uses a similar technique.

My vegan meringue collapsed and is liquid now, can I re-whip it?
If you have already added sugar to your recipe, unfortunately, you can't re-whip it. If you only had creme of tartar or xanthan gum and your meringue deflated before you reached soft peaks, your aquafaba was probably not thick enough to start with. 

Here are some instructions and tips and tricks to ace your next aquafaba meringue.

Tools
Making aquafaba meringue is all about using the right tools. I highly recommend using a stand mixer with the whisk attachment to make the meringue.
If you don't have one, a handheld mixer will do the trick, but get ready for a sore arm because making meringue can take anywhere from 5 minutes to 15 minutes. You might also not get a meringue that is as whipped, so there is a risk that your meringue will deflate.
Don't even try it by hand. I've done it and didn't even reach the soft peaks stage after 30 minutes of constant beating. I ended up with a sore arm and a slightly opaque soupy mess.

How to whip vegan meringue properly
Aquafaba texture


 Before you can start whipping your aquafaba, you need to make sure it is thick enough. This is because not all aquafaba has the same thickness and concentration, it really depends on the brand of chickpea you use. Some brands will give you an aquafaba that is almost a gelly while others will give you something closer to water.

If your bean liquid is closer to water, you will need to reduce it to concentrate the amount of protein. This is done by boiling the bean water in a saucepan. You will want to reduce the aquafaba until, when warm, it feels like slimy when rubbed between 2 fingers. You can also dip a spoon in the reduced aquafaba and see if it coats the spoon. You will need to cool down the aquafaba before using it unless you are making a swiss meringue.

You can also add some powdered aquafaba to your aquafaba from a can to make a more concentrated aquafaba.

Trace stage


In a large bowl, add the aquafaba, cream of tartar, and xanthan gum and mix on medium-high until the mixture becomes opaque and your mixer's whisk is starting to leave traces in the aquafaba. You will see small bubbles in your aquafaba. You should be able to scoop out bits of the meringue with your finger.


Adding the sugar



You can slowly start adding the sugar to the meringue one spoonful at a time. Waiting between 10 and 20 seconds in between each addition. The meringue will start to become thicker and glossier.

Soft peak stage



Now that your sugar is all incorporated, you should have reached soft peaks. When you lift your mixer's whisk from the meringue and flip it over, it should have a crown of meringue with a peak that is leaning slightly. This is what we call soft peak or " bec d'oiseau" which means bird's beak. At this stage, you might still be seeing a couple of bubbles in your meringue but not much.

Reaching hard peak stage


Now its time to increase the speed of your mixer to the max. Continue whipping until the meringue becomes thicker, glossier and there are no more visible bubbles. The meringue will want to "climb up" your whisk while beating which means that there will be more meringue in the center of your bowl where your whisk is than on the sides. 


If you lift the mixer's whisk from the meringue and flip it over, you should have more meringue on your whisk and the peak should point straight to the ceiling. You can also do the ultimate test, by flipping the bowl of meringue over your head. At this stage, stop whipping. This is because it is possible to overwhip vegan meringue which could cause it to collapse and become liquid again.
Congratulation! You have made a stable vegan aquafaba meringue.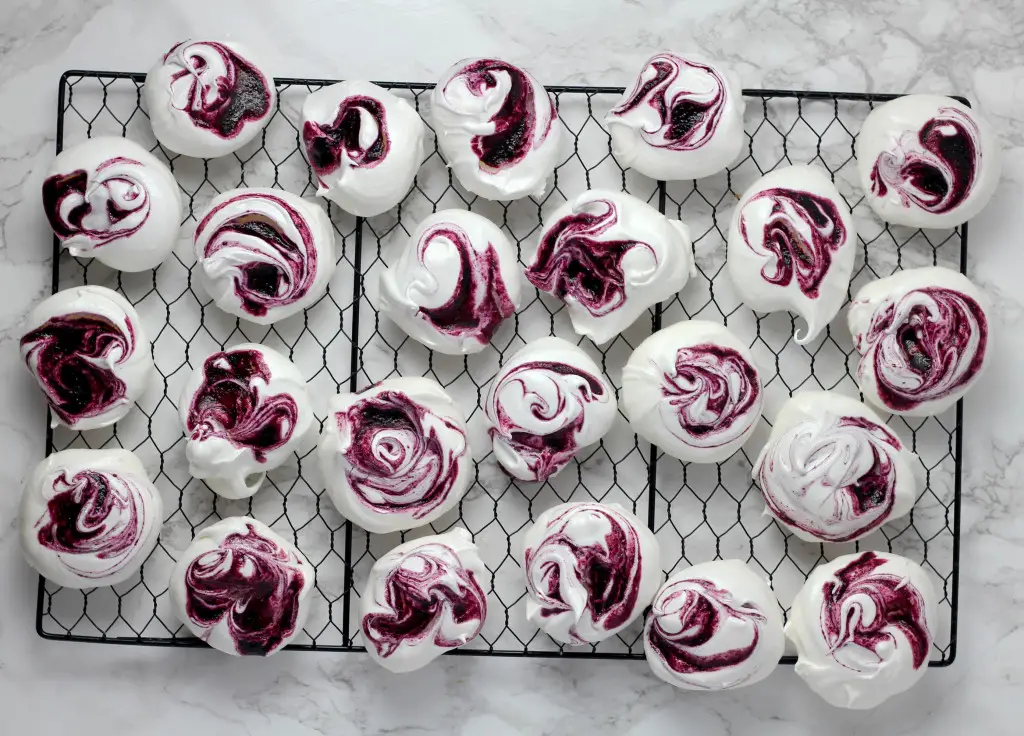 Flavoring and Coloring  meringue
Here are great ways of flavoring and coloring meringue for a dessert that stands up!

Matcha powder
Espresso powder
Cacao powder
Turmeric for a nice yellow color
Raspberry or strawberry powder
Beets juice or powder
Fruit purée swirled right before cooking
Vegan meringue alternative
This meringue troubleshooting article is based on aquafaba but if you are out of it, you can try these other vegan meringue alternatives.
Flax gell is also my favorite egg replacer in baked goods. I use it in 80% of my baking since it works well and doesn't leave flecks of flax behind in my pastries.
Did I miss something?
Now that we have finished our deep dive into vegan aquafaba meringue, let me know if you have any additional questions that I might answer for you or information that I could make clearer.