Bite into delicious squares of vegan sucre à la crème, or Quebec's version of brown sugar fudge.
You won't even need to use a thermometer or electric mixer for this hella-easy microwavable vegan fudge recipe.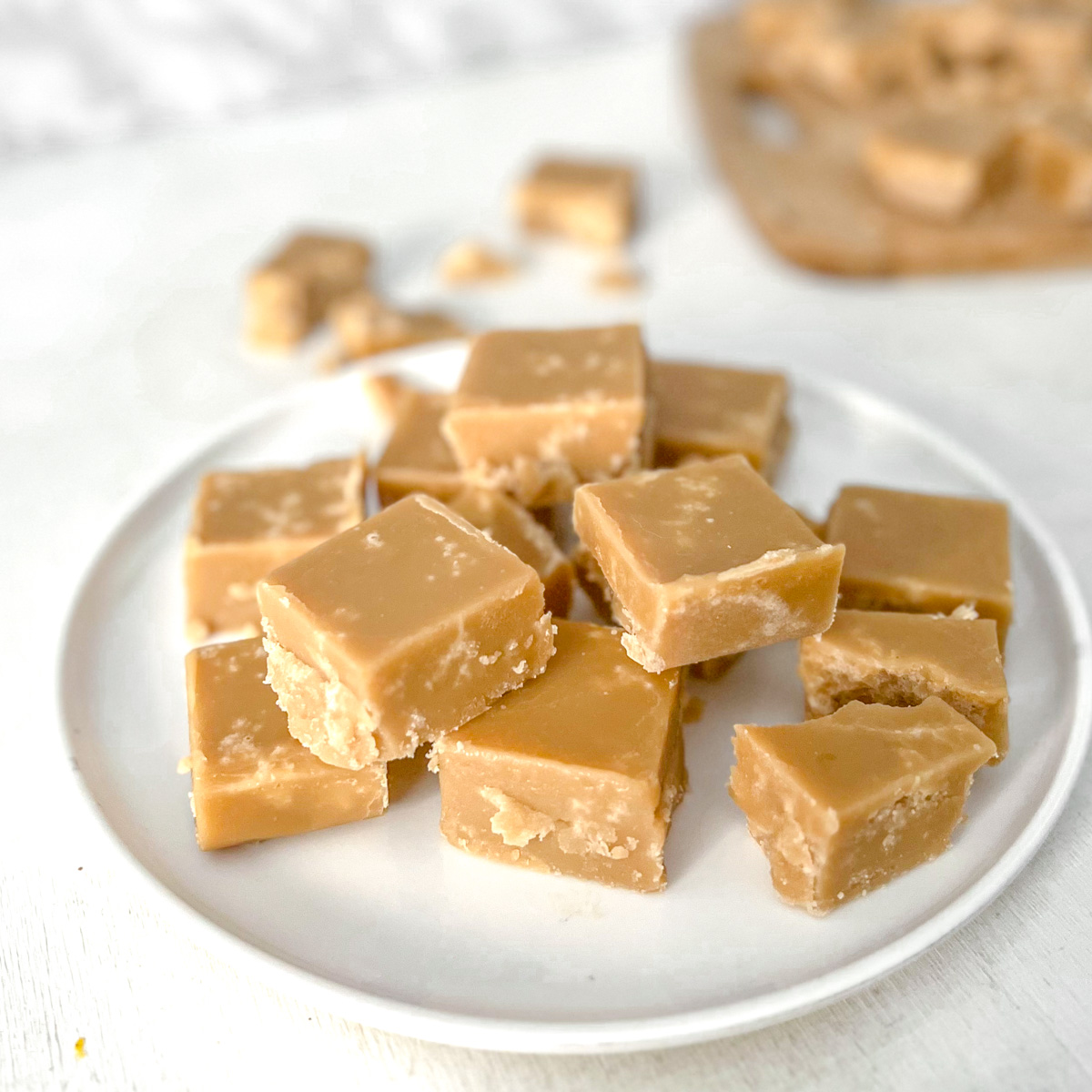 Jump to:
As a Quebecer, eating Sucre à la crème on Christmas and receiving it as a gift is part of my most cherished memories. 
What I don't like about sucre à la crème is how finicky it is to make. I've lost count of how many batches I've made that ended up soupy or as a big lump of gritty and tooth-breaking hard fudge. 
Once I became vegan, most of the recipes I tested turned out fine but not amazing, and they often taste way too much like coconut milk. This recipe is none of these things.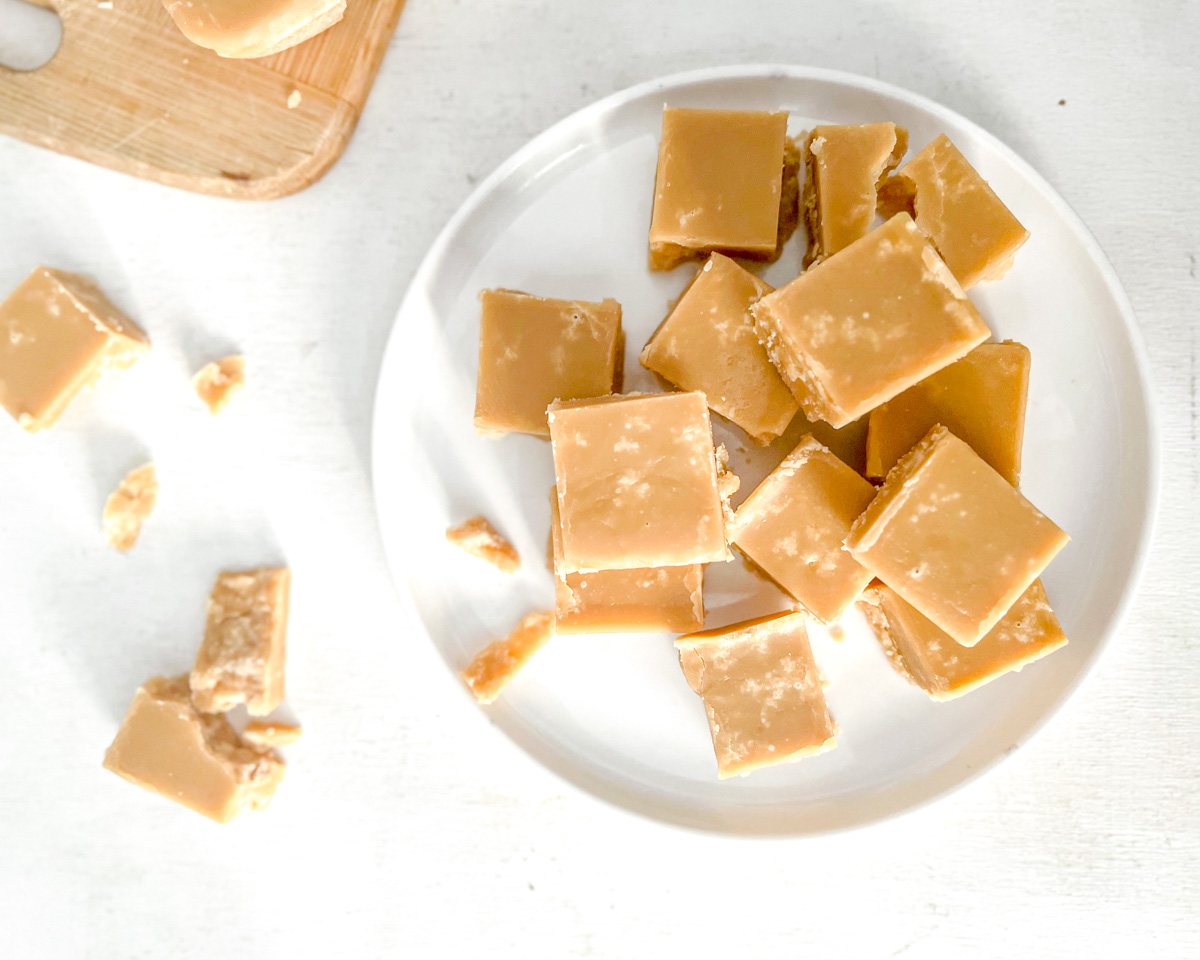 It has all you could ever want. It is the perfect mix of:
Mess-free
Thermometer-free
Extremely easy
Very quick! Only  15 minutes of active cooking time
I figured out a way to adapt one of my grandma's old recipes into an incredible vegan sucre à la crème that even converted omnis into vegan fudge lovers.
Looking for more bite-sized sweet treats? Try my vegan chewy salted caramels!
📋 Ingredients
You will need the following ingredients to make this easy microwavable vegan fudge recipe
Sweetened condensed coconut milk - This recipe has been made to use exactly 1 can of  Nature's Charm sweetened condensed coconut milk which you can find here on Natura Market. I have not tried this recipe with a homemade alternative or other brands. The end result will not taste strongly like coconut.
Vegan butter - I used Becel unsalted plant-based brick which is a firm vegan butter. I have not tried this recipe with soft margarine from a tub but I think it should work. If you do try it out, let me know how it went!
Light brown sugar- Dark brown sugar will also work. Double-check that the one you pick is bone-char free
Vanilla or maple extract - I use vanilla in my recipe but you can also use maple extract
Powdered sugar, also known as confectioner sugar or icing sugar
See recipe card for quantities.
Some Quebecers also like to stir some chopped walnuts or pecans into their sucre à la crème before pouring it into the pan.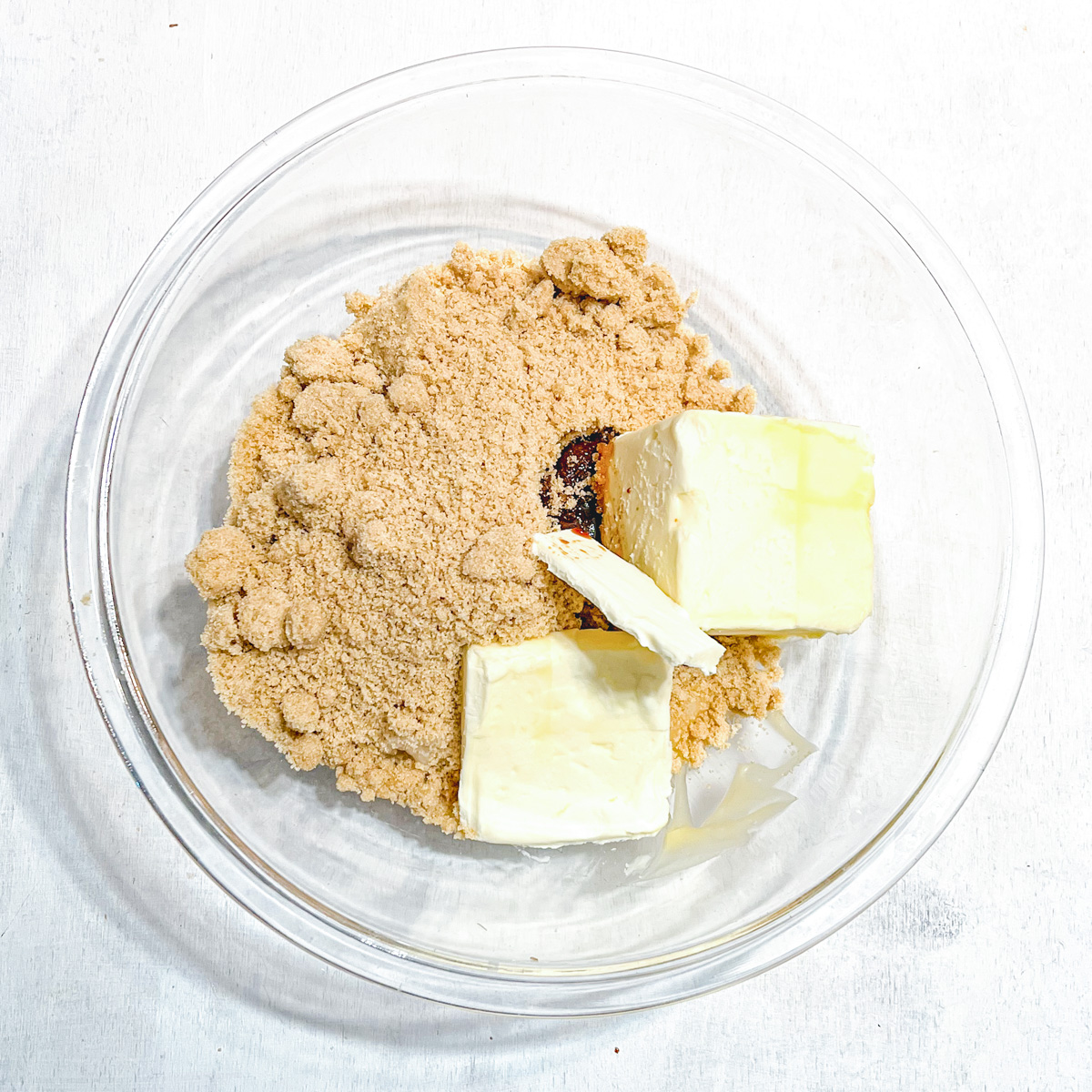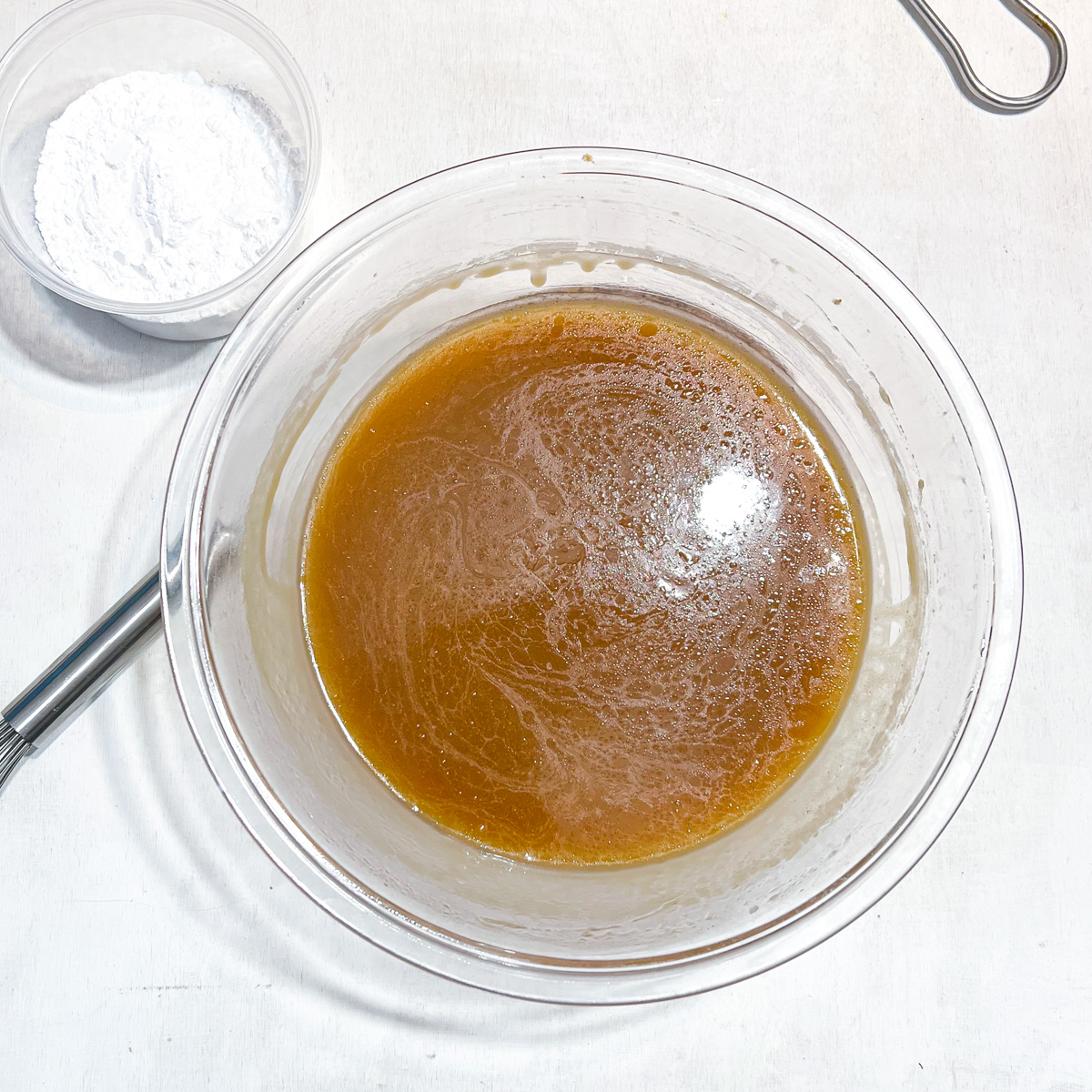 🥣 Tips
First of all, Be very careful with the mixture, it will be extremely hot! This recipe will also be more liquid than your usual sucre à la crème when you pour it into the pan but it will firm up beautifully, don't worry.
We do not need to beat the mixture excessively compared to your usual fudge recipe. This is because the powdered sugar we add at the end of the recipe will create the slightly crystalized texture found in sucre à la crème.
I let it firm up in the refrigerator to easily release it from the pan but I find that cutting it while the slab is at room temps makes nicer cuts that don't crumble as much.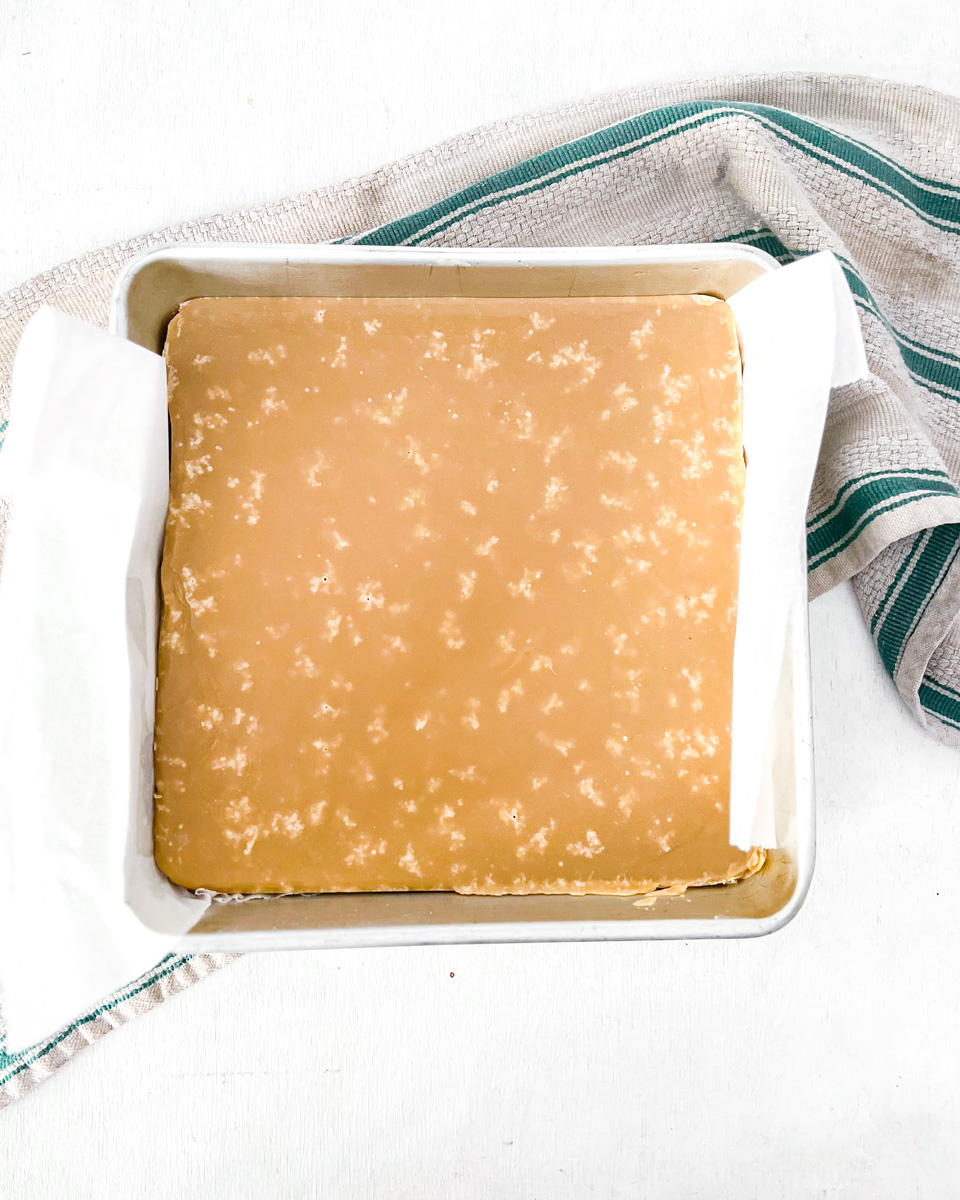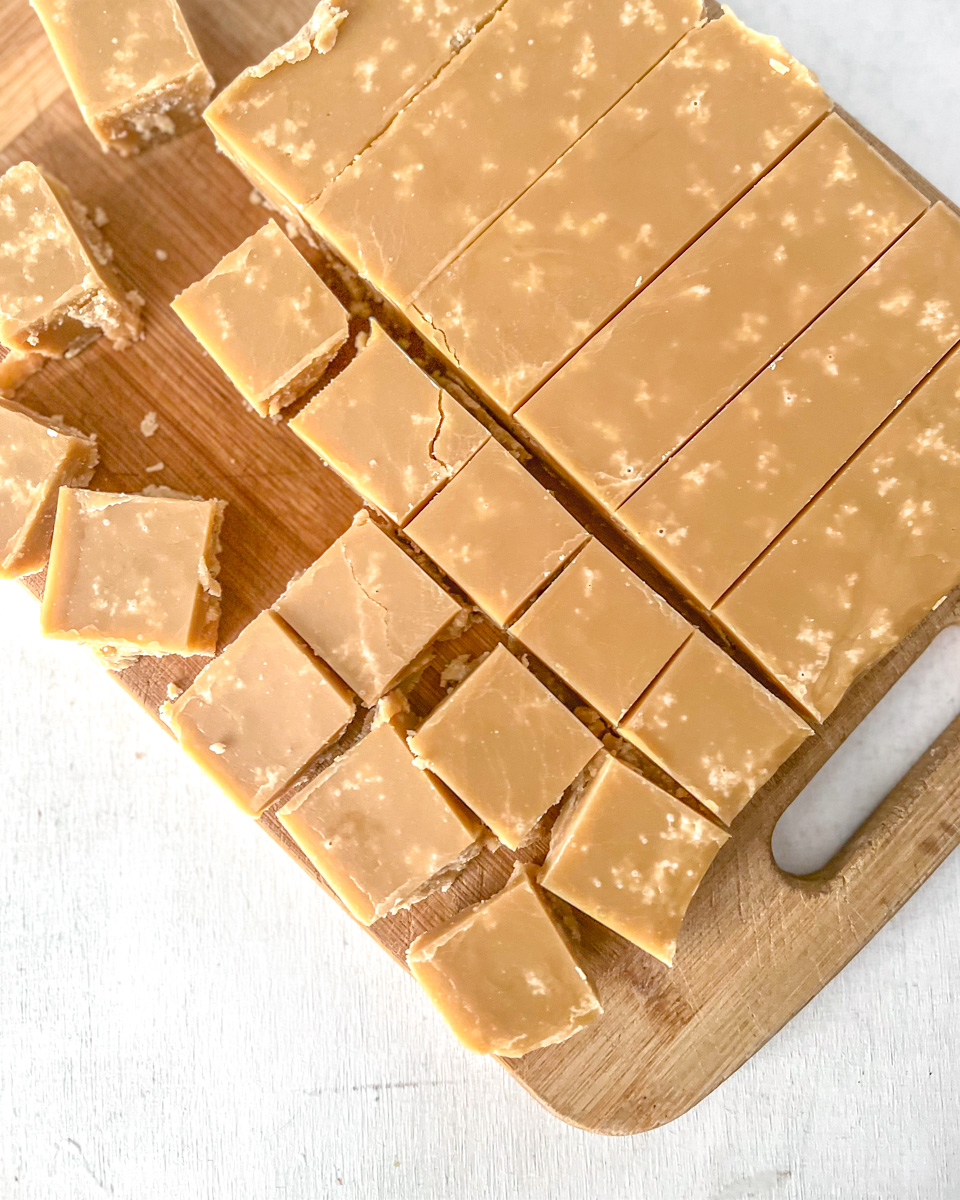 I was impatient and cut the sucre à la crème in the picture while it was still cold which crumbled the edges. Do as I say and not as I do :P. 
🔪 Equipment
Lucky for us we get to skip the candy thermometer and electric mixer for this easy vegan sucre à la crème recipe.
You will need the following equipment to make this easy recipe:
Microwave
Large microwavable bowl
8 by 8-inch square baking pan - I use a metallic pan. If you are using silicone, place it on a sturdy surface like a small baking pan.
Wisk and heat-proof silicone spatula
Sieve
I use a digital scale for most of my baking since it is more precise than using cups. It's also easier than having to compress brown sugar and cleaning up cups after measuring sweetened condensed milk or butter.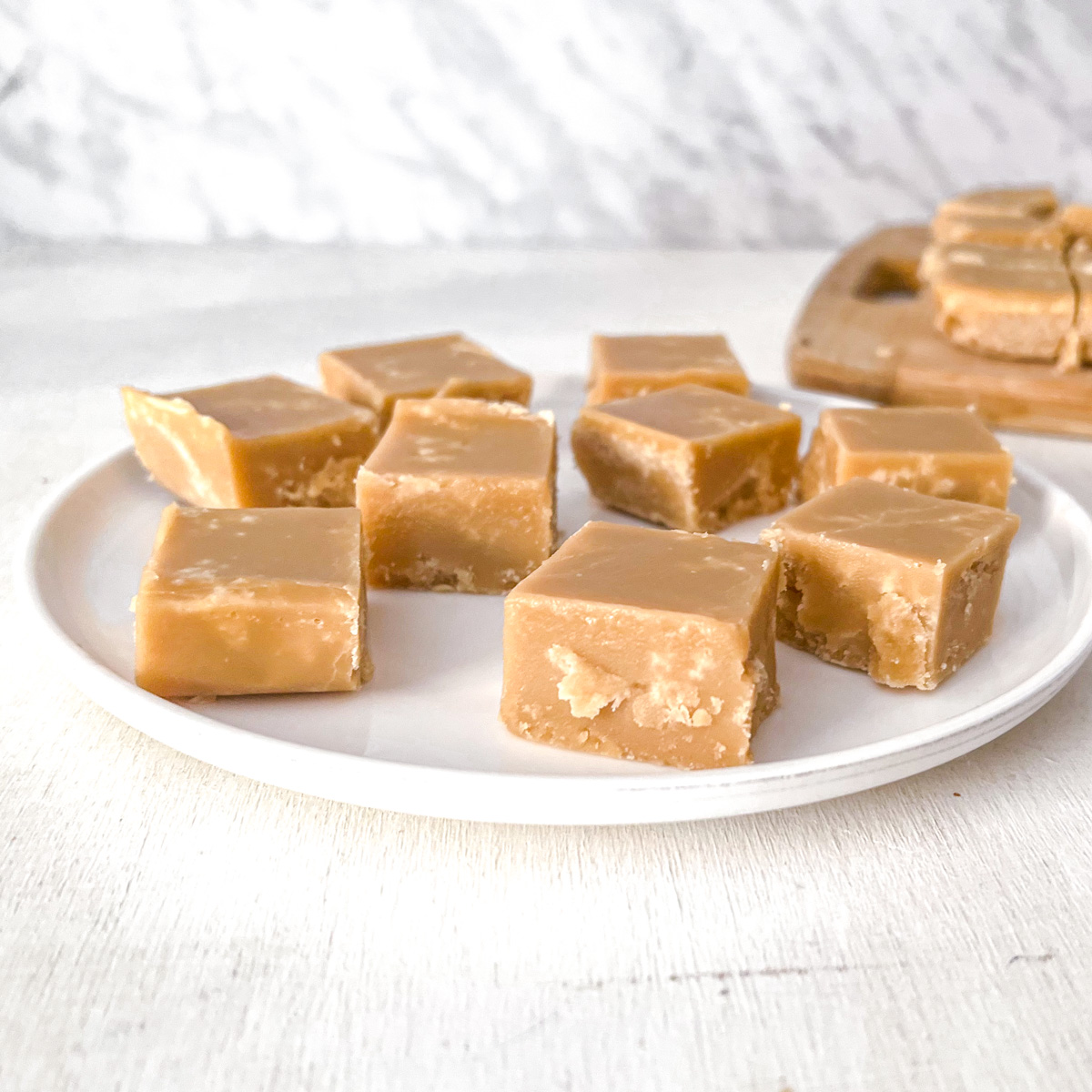 🌡️ Storage
Store in an air-tight container with parchment in between each layer.
Since it is mostly sugar, this recipe can be stored for a long time, usually 1 month if not more. Expect these little squares of goodness to disappear quickly.
I like to store mine in the refrigerator so they keep their nice square shape. You can keep them at room temperature if you want a fudge that is soft and almost spreadable.
I do not recommend freezing them.
Recipe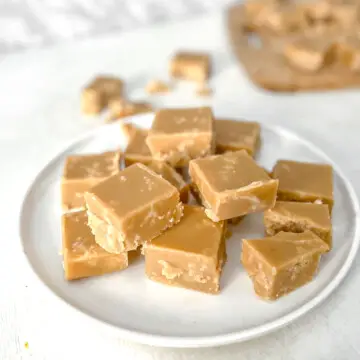 Print
Easy Vegan Microwave Sucre à la Crème
Make delicious squared of super easy vegan sucre à la crème using your microwave!
Ingredients
1

can

Nature's Charm sweetened condensed coconut milk

(1 cup or 250 ml)

230

g

vegan butter

(1 cup)

420

g

light brown sugar

(2 cups, lightly packed)

1

teaspoon

vanilla extract

130

g

powdered sugar

, sifted (1 cup)
Instructions
Lightly oil or line with parchment paper an 8 by 8 inch (20 by 20 centimetre) baking pan.

In a large microwavable bowl, place the condensed coconut milk, vegan butter, brown sugar and vanilla extract.

Microwave the mixture on the highest setting for 10 minutes, stirring every 2 minutes. Be careful, the mixture will be very hot and will bubble up.

Right away, whisk in vigorously the sifted powdered sugar into the mixture for 1 minute, or until homogenous.

Pour the mixture into the prepared pan, spread evenly, and refrigerate for 2 hours or until completely firm.

Release the fudge from the pan and bring it back to room temperature before slicing it into squares. Enjoy!
If you have questions, feel free to ask them in the comment sections and I'll do my best to answer them.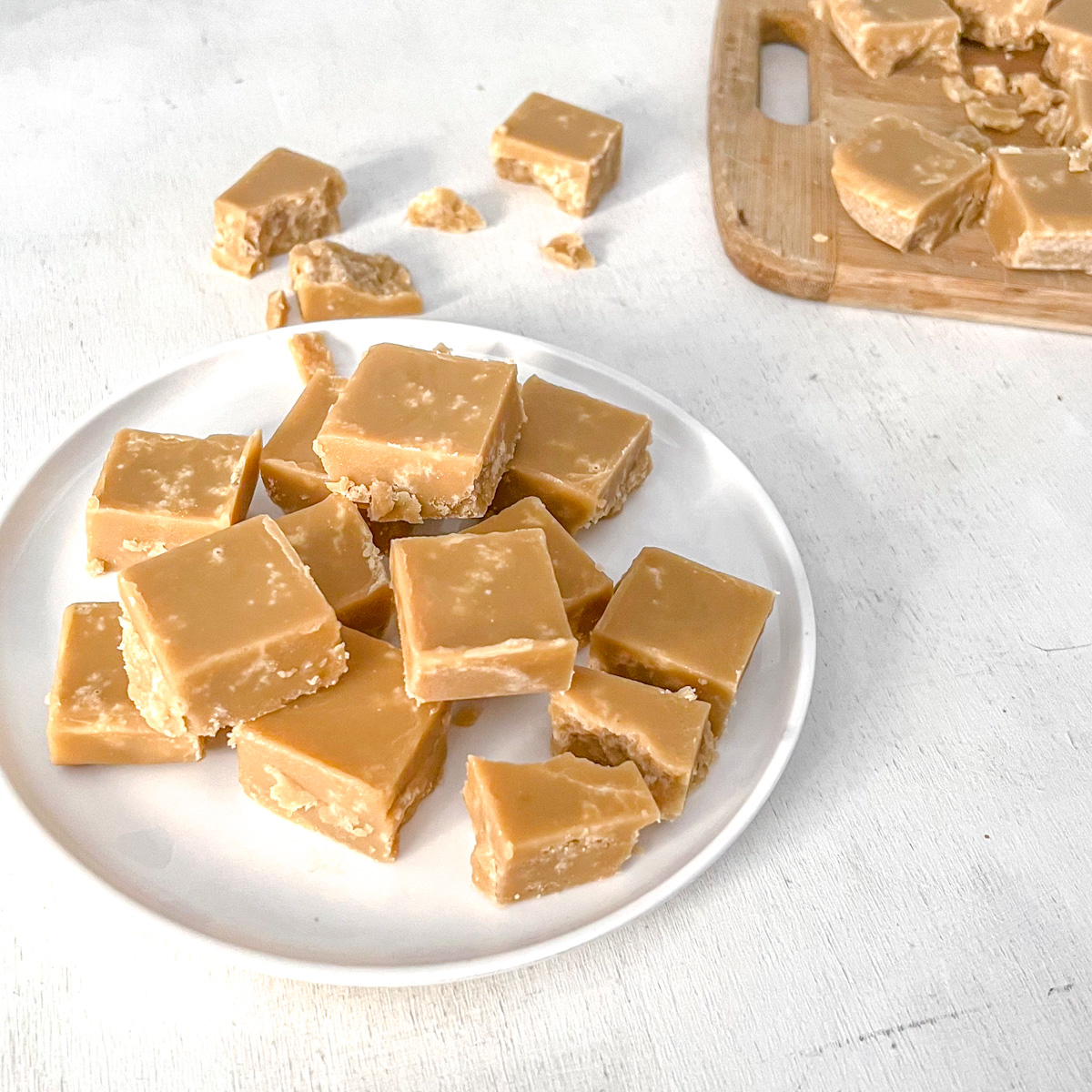 Did you try this sucre à la crème recipe?
Don't be shy and let me know how it went! Leave me a comment below and share a picture on Instagram! And most importantly, leave a rating to help me and let other people know how much you like this recipe!