Bite into these pillowy vegan red velvet cinnamon rolls topped with a dollop of cream cheese icing.
Pull out this recipe from your collection for any red-themed holidays like Christmas morning or Valentine's day dinner.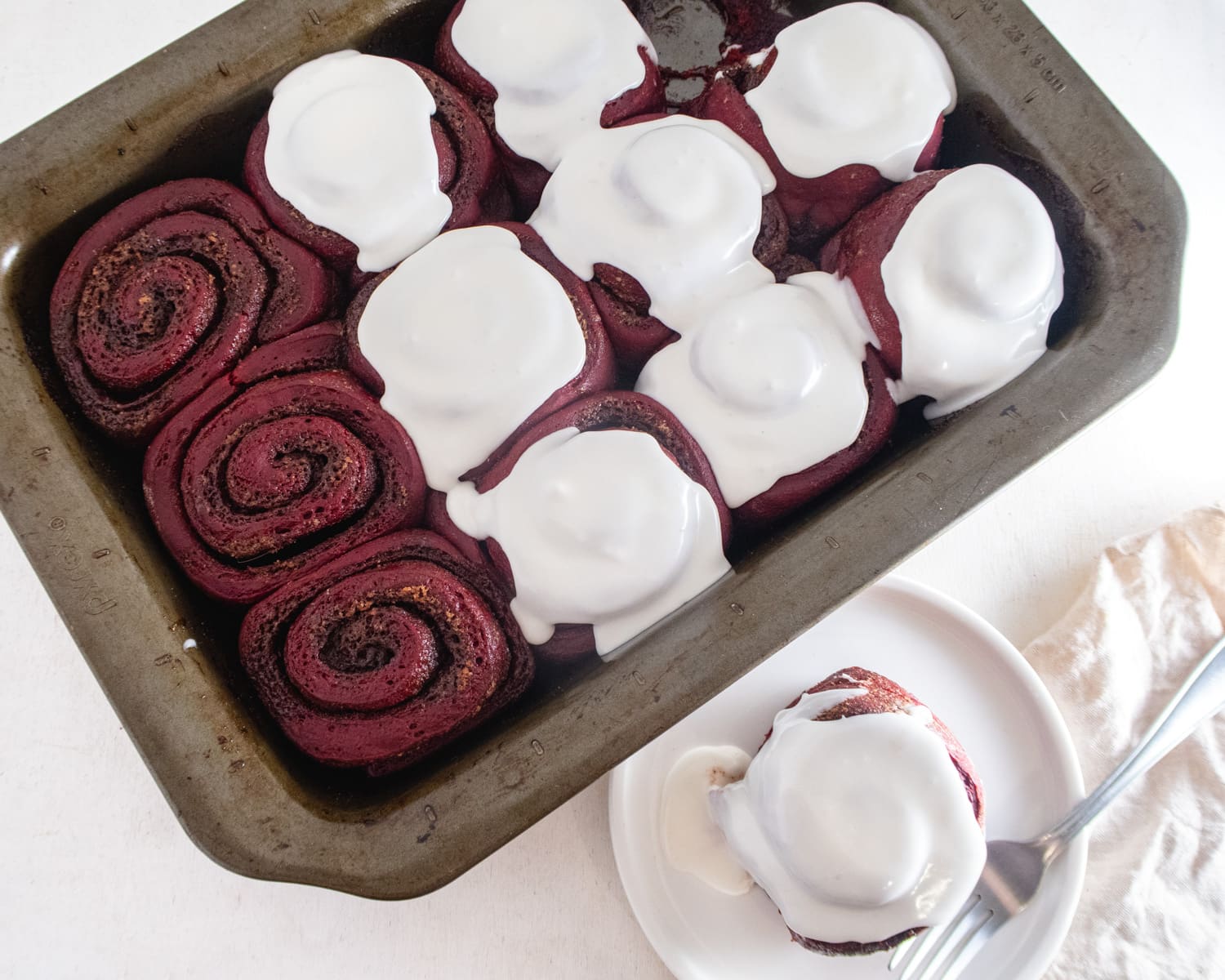 Feel free to skip straight ahead to the recipe if you have made cinnamon rolls in the past since this recipe is pretty straightforward. See you there!
---
Fluffy red velvet rolls
Try a big bite and fall in love with these red velvet cinnamon rolls smothered in tangy cream cheese icing.
If you even made cinnamon rolls before then this should be a piece of cake. No funky ingredients to go hunt for. And while cinnamon rolls usually take a long time, these rolls shave off an hour of preparation by using instant yeast. 
Message for red velvet lovers: For more red velvet flavored baked goods, check out my red velvet Lofthouse-style sugar cookie recipe.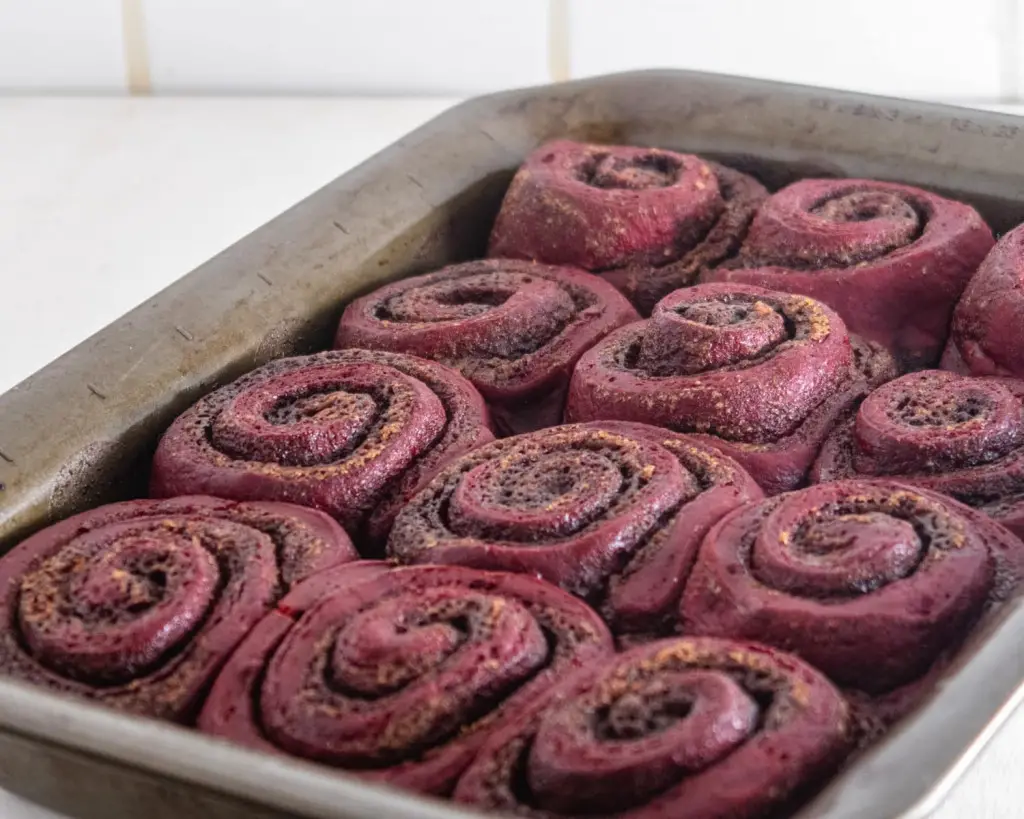 Tips + Tricks for perfect vegan cinnamon rolls
Can you make cinnamon rolls ahead?
Yes, you can make vegan red velvet cinnamon rolls ahead. You can prep the cinnamon rolls and icing the night before you want to serve them and let them slowly proof overnight in the refrigerator covered with plastic wrap to prevent them from drying. They should be ready to bake when you get up in the morning.
Another option would be to fully bake the rolls and freeze them without icing for up to 2 months.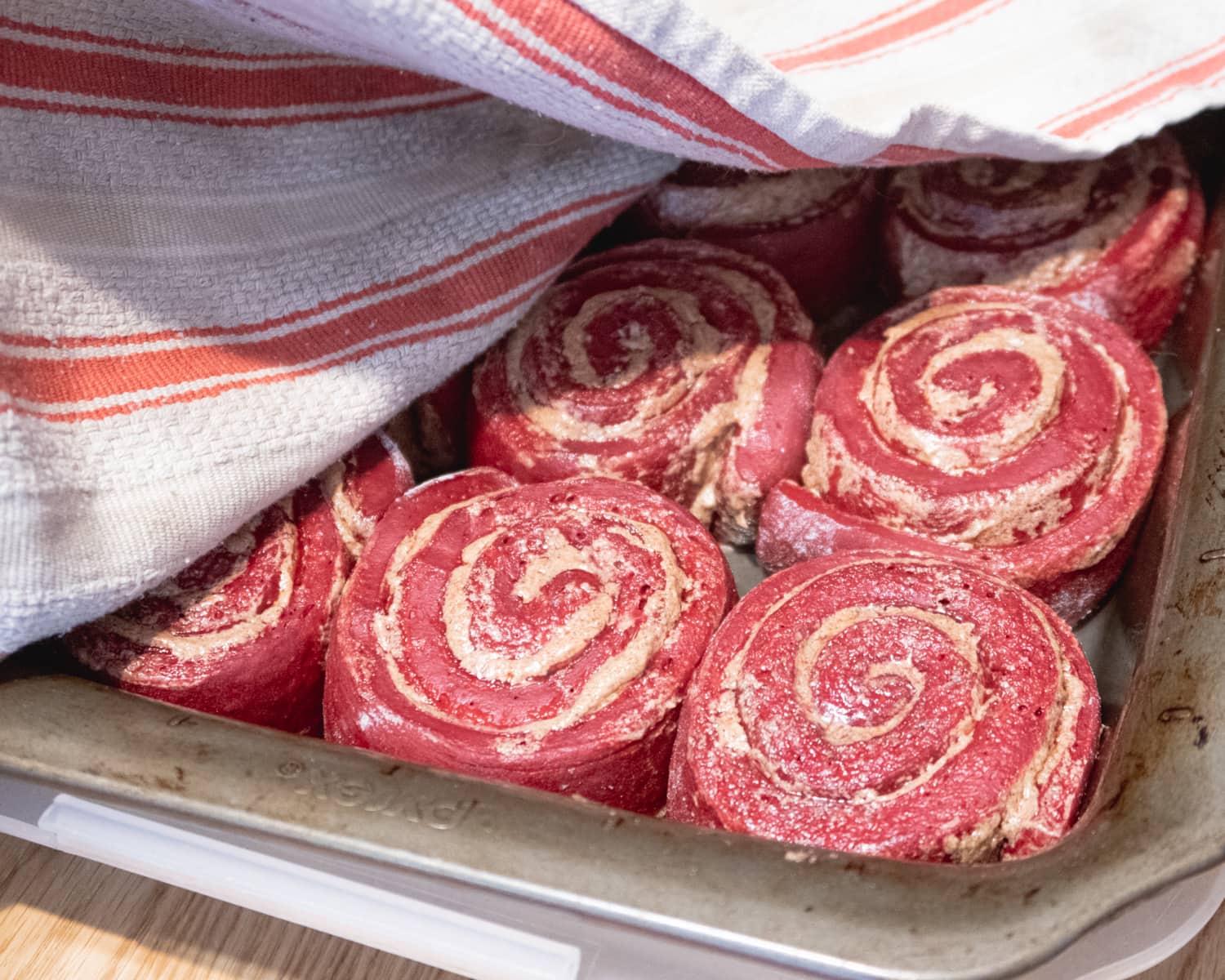 Crowd them slightly
When baking cinnamon rolls, arrange them in a  dish that is slightly higher than the cinnamon roll's height and crowd them slightly so that they touch once they are done proofing. This will give you cinnamon rolls that stay moist longer and don't have dry edges on the outside of the rolls.
Cutting even cinnamon rolls
You can get perfectly even cinnamon rolls by leaving light score marks with your knife where you will place your cuts. Then divide the dough into quarters and then divide each quarter into 3 pieces. If you mess up the cuts have not been made so it's salvageable. Make sure you have a tight roll before you attempt any cuts, and use a sharp serrated knife.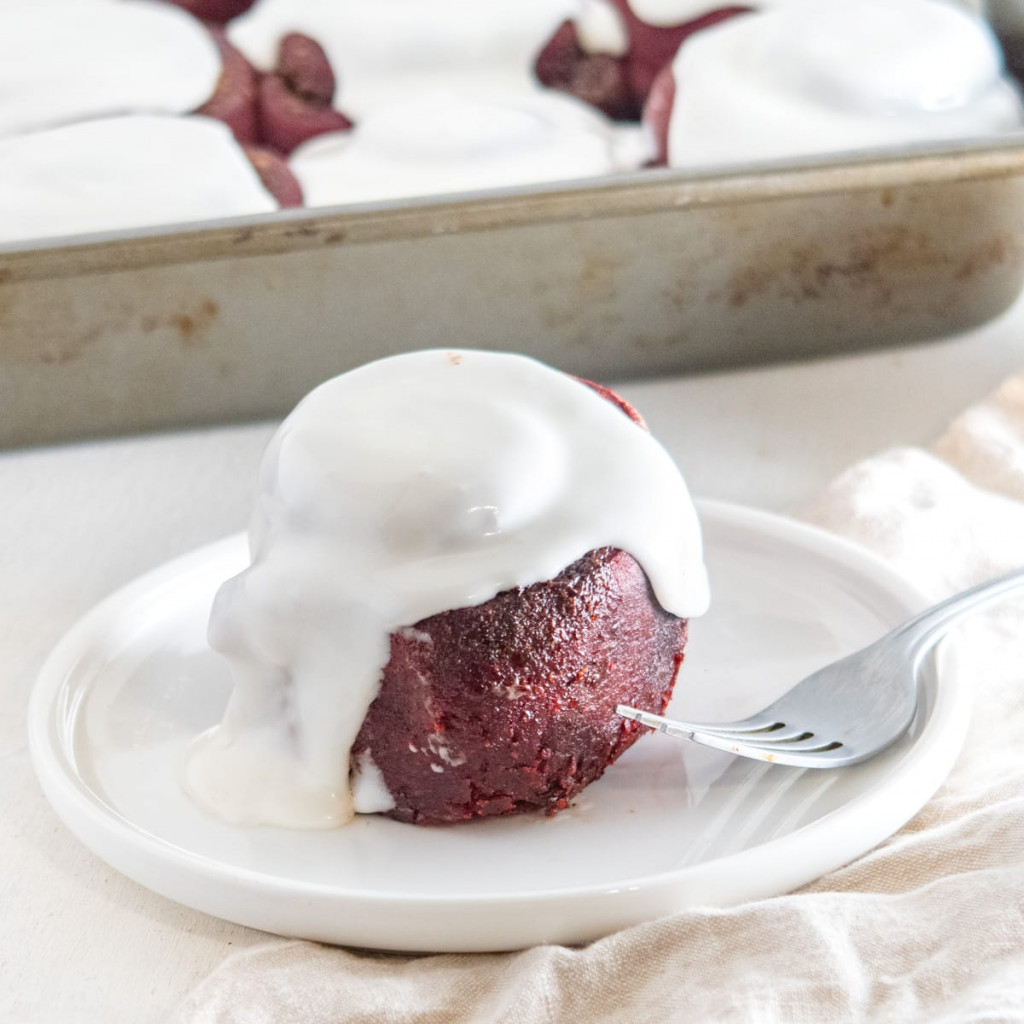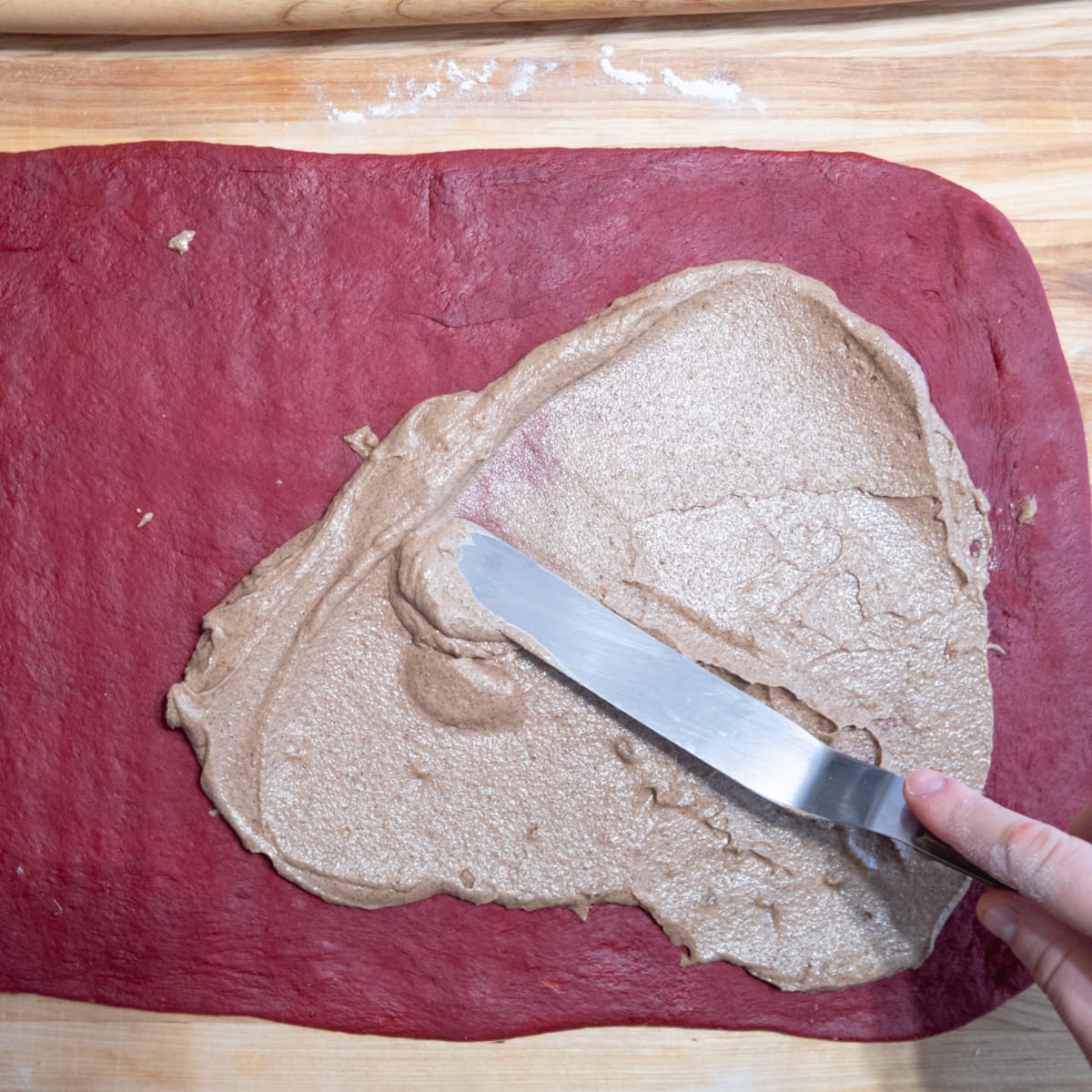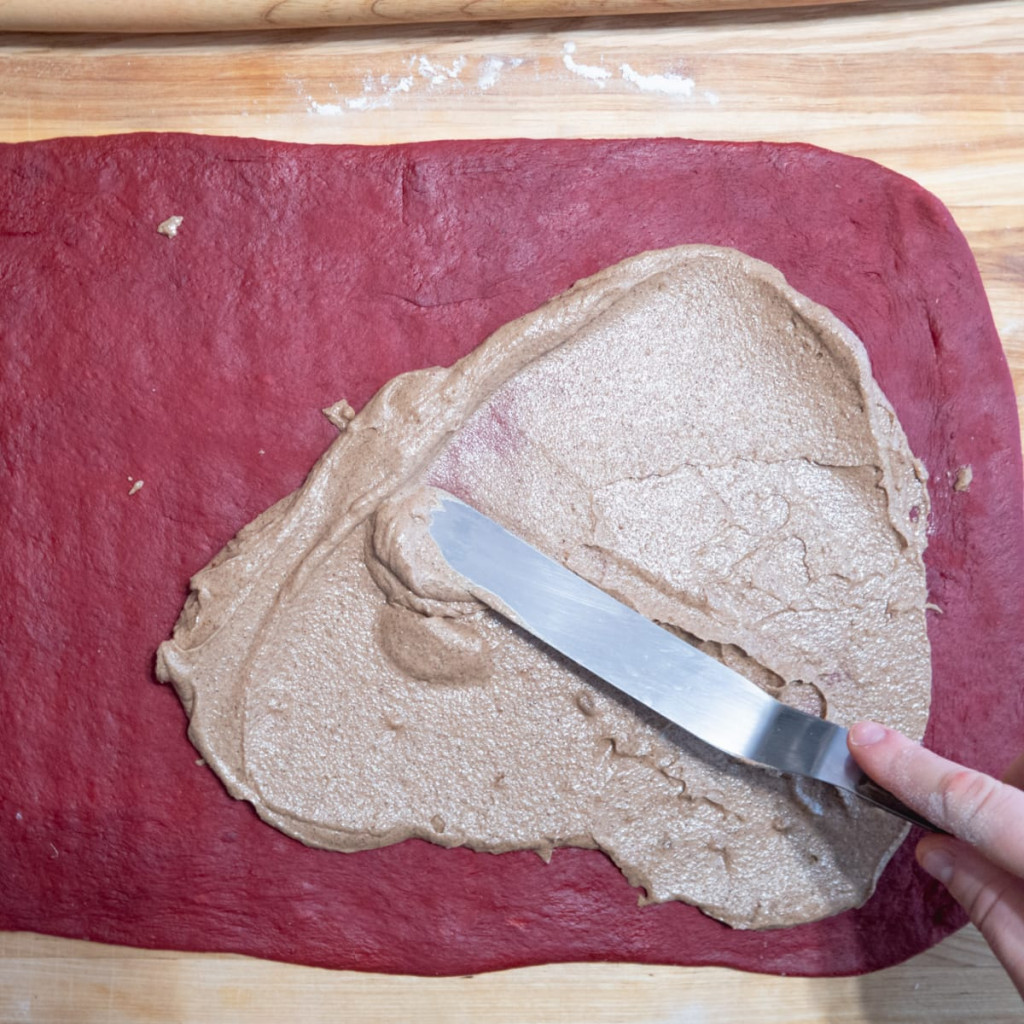 Using active dry yeast
If you only have active dry yeast at home, you can still make this recipe. Use the same amount of yeast,  activate it in the melted margarine, warm milk, and one tablespoon of the sugar for 5 minutes, and then add the rest of the wet ingredients. 
Instead of a 15 minutes dough rest, leave the dough to proof for 1 hour instead, or until the doubt is doubled in size. Then punch down the dough and continue on with the recipe as is. 
You will also need to adjust the final proof time before baking by adding 15 minutes to the final proofing time. Always double-check where your dough is at since final proofing time can vary depending on your environment and how young or old your yeast is.
RELATED: If you are not a big fan of cream cheese, go steal the (18+) icing recipe from my classic cinnamon roll recipe on my older blog The Loud Bowl.
I highly recommend you use a digital scale and weight measurements when following my recipes as it is more accurate.
Recipe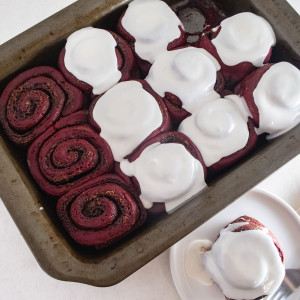 Print
Vegan Red Velvet Cinnamon Rolls
Bite into those pillowy vegan red velvet cinnamon rolls topped with a dollop of cream cheese icing.
Ingredients
Dry ingredients
480

g

all-purpose flour

(4 cups)

30

g

unsweetened cacao powder

(¼ cup)

50

g

sugar

(¼ cup)

9

g

fine sea salt

(1 ½ teaspoon)

9.5

g

quick-rise instant yeast

(3 teaspoons)
Wet ingredients
60

g

vegan margarine

(¼ cup)

310

g

plant-based milk

, I use soy milk (1 ¼ cup)

12

g

white vinegar

(1 tablespoon)

2

teaspoon

red gel food coloring

, adjust to preferred shade
Filling
120

g

vegan margarine

(½ cup)

160

g

light brown sugar

(¾ cup, packed)

17

g

ground cinnamon

(2 tablespoons)

¼

teaspoon

ground nutmeg

8

tg

vanilla extract

(2 teaspoon)
Icing
330

g

powdered sugar

(2 ½ cup)

60

g

vegan cream cheese

, I use "President's Choice" (2 oz or ¼ cup )

15

g

melted salted margarine

4

g

clear vanilla extract

, optional (1 teaspoon)

15

g

plant-based milk

, adjust the quantity to your preferred consistency (1 tablespoon)
Instructions
Dough
In a large bowl, mix together all the dry ingredients together. Make a hole or well in the middle of the dry ingredients.

In a saucepan, melt the margarine. Add the rest of the wet ingredients and bring the mixture's temperature between 122°F and 131°F (50°C and 55°C) ,or the temperature recommended by your yeast manufacturer.

Add the wet ingredients in the middle of the dry ingredients where you did a well. Slowly incorporate the dry ingredients into the wet ingredients with the tips of your fingers or a sturdy wooden spoon to make a shaggy dough.

Transfer the dough to a clean work surface and knead for 5 to 10 minutes, or until the ball of dough becomes uniform, smooth, and slightly elastic.

Place the ball of dough in the previous bowl and cover with a clean dishtowel. Let the dough rest for 10 minutes.
Filling
While the dough is resting, make the filling by adding all the ingredients to a medium-sized bowl and mixing them all together with a silicone spatula.

Line a large rectangular 13 by 9 inches (33 by 23 cm) baking dish with a light coat of oil or parchment paper.
Assembling
Roll out the dough to a 12 by 18 inches (30 by 45 cm) rectangle, spread the filling mixture from edge to edge using a large offset spatula, and roll the dough on itself tightly until you have an 18 inches (45 cm) log of dough.

With a serrated knife, cut 12 equal slices of the cinnamon roll log. Each roll should be approximately 1 ½ inche thick.

Place the cinnamon rolls, cut side down, in the prepared baking dish. Cover the rolls with a clean dish towel and leave them to proof for 45 minutes to 1 hour in a warm place.

Preheat the oven to 350°F or 180°C. Cook the rolls uncovered for approximately 20 minutes, or until golden brown and springy to the touch. Leave at room temperature until barely warm to the touch.
Icing
Cream together the cream cheese and powdered sugar. Slowly add in the melted margarine and plant-based milk while mixing. Adjust the consistency of the icing by adding more milk as needed.

Divide the icing equally by scooping one heaping small ice cream spoon of icing on top of each cinnamon roll. Spread the icing with the back of a spoon as needed. Serve and enjoy!
Did you try this cinnamon roll recipe?
Don't be shy and let me know how it went! Leave me a comment below and share a picture on Instagram !