Serve these light vegan blueberry financiers flavoured with lime and coconut at your next afternoon tea, or as a dessert or snack for kids.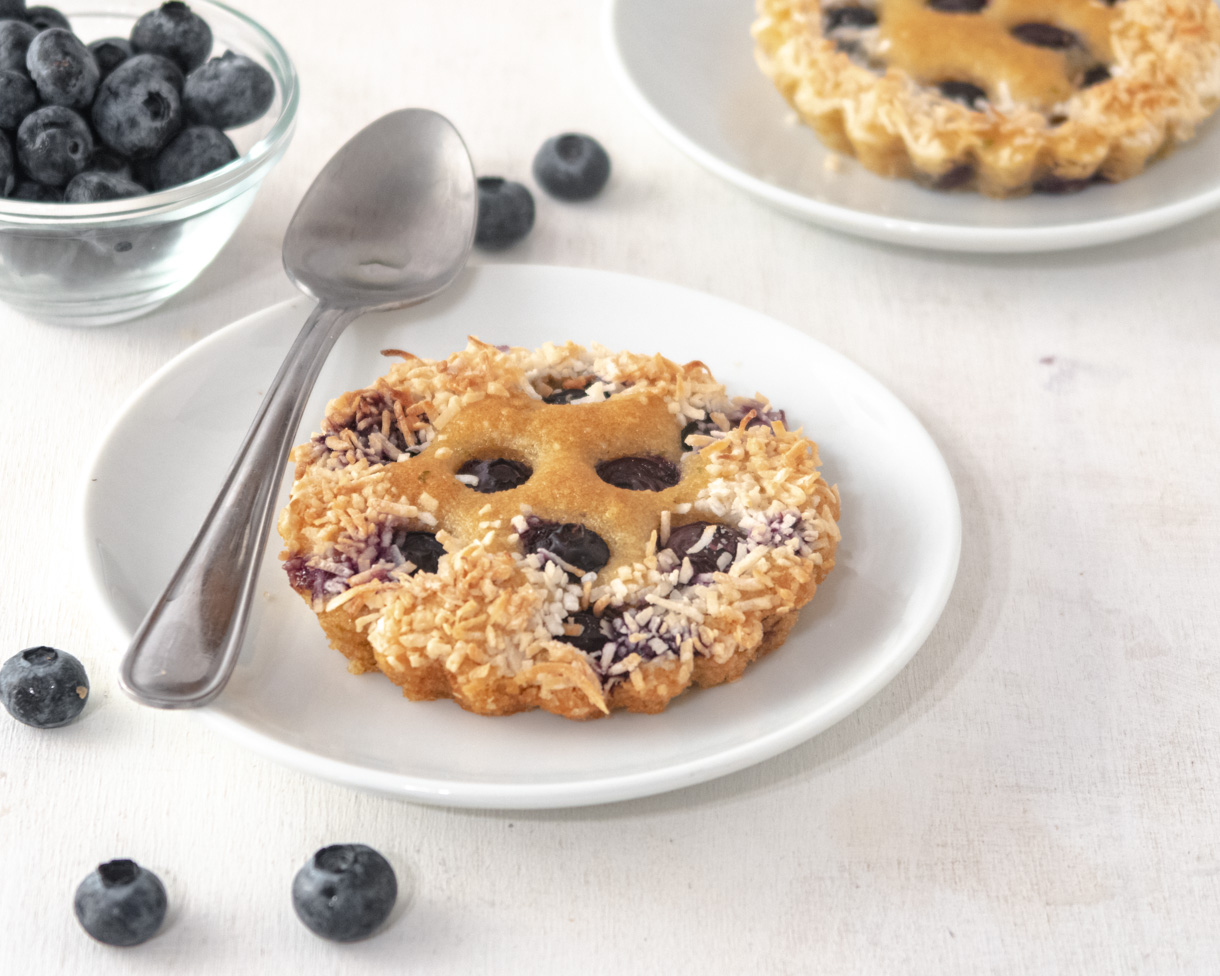 Financiers are tender cakes that are made with almond flour. They are traditionally baked in a small rectangular mould to make them look like gold bars, as you can see in my classic almond financier recipe. First created to use up leftover egg whites, this recipe is 100% vegan, and 100% delicious!
Jump to:
📋 Ingredients
Other than almond flour, the ingredients to make vegan blueberry financiers are pretty common and should be available at your regular grocery store. I added some additional information and substitutions just in case.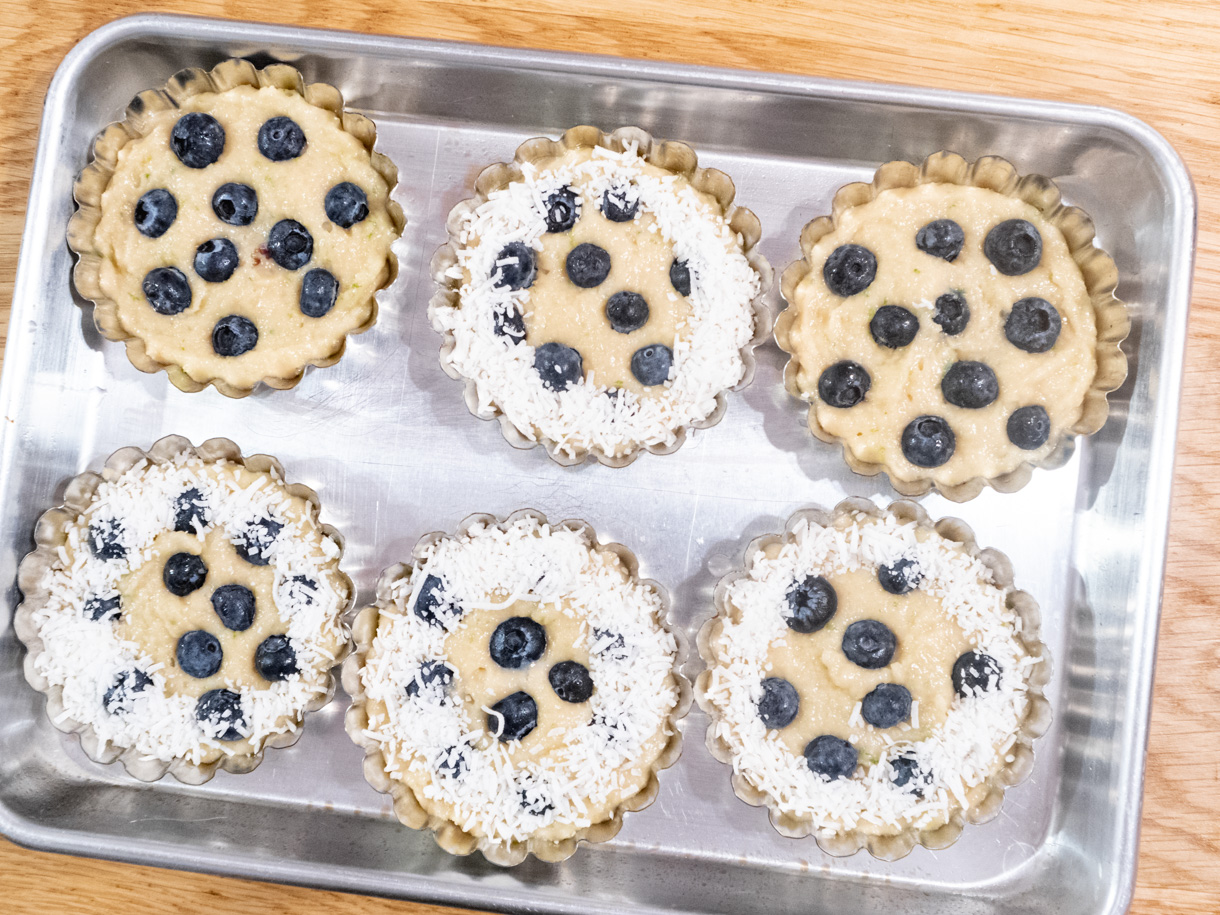 silken soft tofu, or plain vegan soy or coconut yogurt
powdered sugar, can also be known as confectioner's sugar or icing sugar. Don't forget to use a bone-char-free brand
all-purpose flour
almond flour, or finely ground almonds. Try to find a product that used blanched almonds, but it will also work if the almond skins are still there. I use the Kirkland brand blanched almond flour.
fine sea salt, or table salt
baking powder and baking soda, make sure it's fresh!
Vegan margarine, I use the soft kind that comes from a tub and is usually salted. I use the Crystal brand margarine. 

Substitution: Neutral vegetable oil (canola, peanut,  corn, etc) will work but won't be as flavorful. Do not use coconut oil.

Vanilla extract. Almond extract and coconut extract would also be super tasty in this recipe
Medium-sized limes. lemons will also work
Shredded coconut, sweetened or not.
See recipe card for quantities.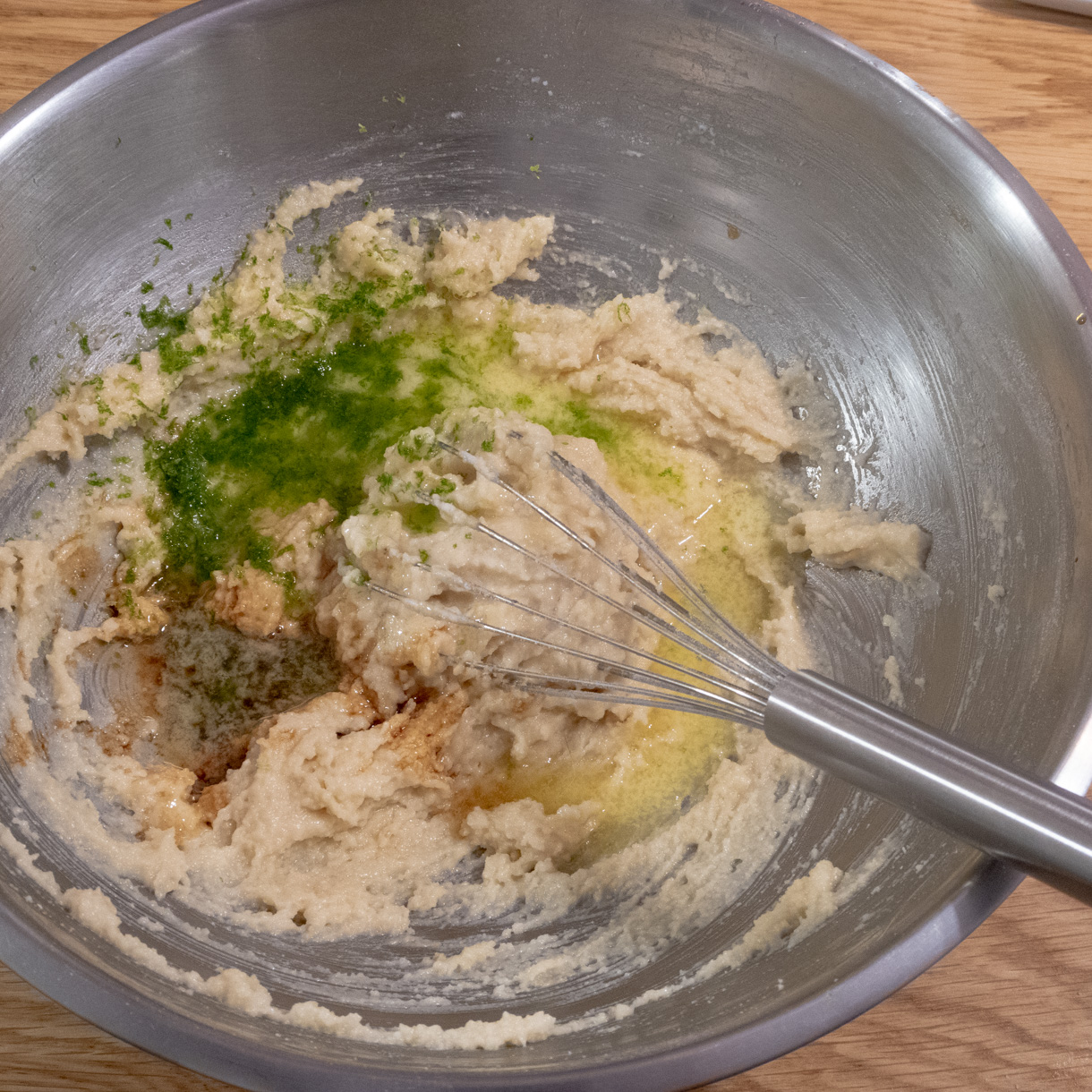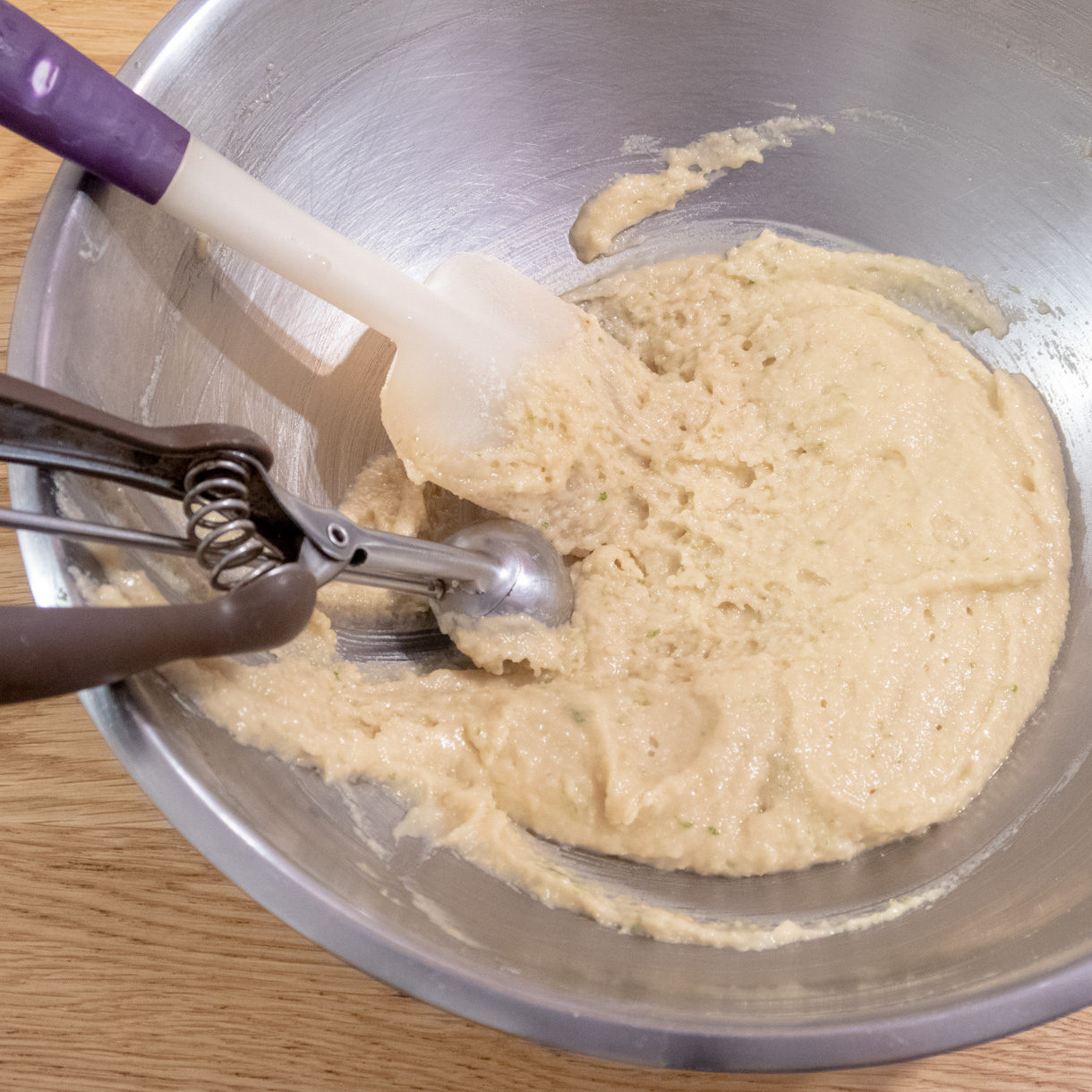 🥣 Instructions
This vegan blueberry financier recipe is very straightforward and everything is done by hand. You can have financiers ready to go in the over in about 10 minutes. 
You can find a more in-depth explication of how to make the financier batter in my almond financier blog post if you are not sure about one of the steps. Feel free to also ask me any questions you might have in the comments.
Sifting
The one main thing I want to point out is that the sifting of the dry ingredients is to break apart any lumps of dry ingredients, particularly almond flour. It is not to remove bigger particles.
So if your sieve has a very small mesh and the almond flour doesn't want to go through it's ok. Simply flatten the lumps with a silicone spatula before adding the almond flour back into the batter. An alternative is to blitz the dry ingredients in a food processor.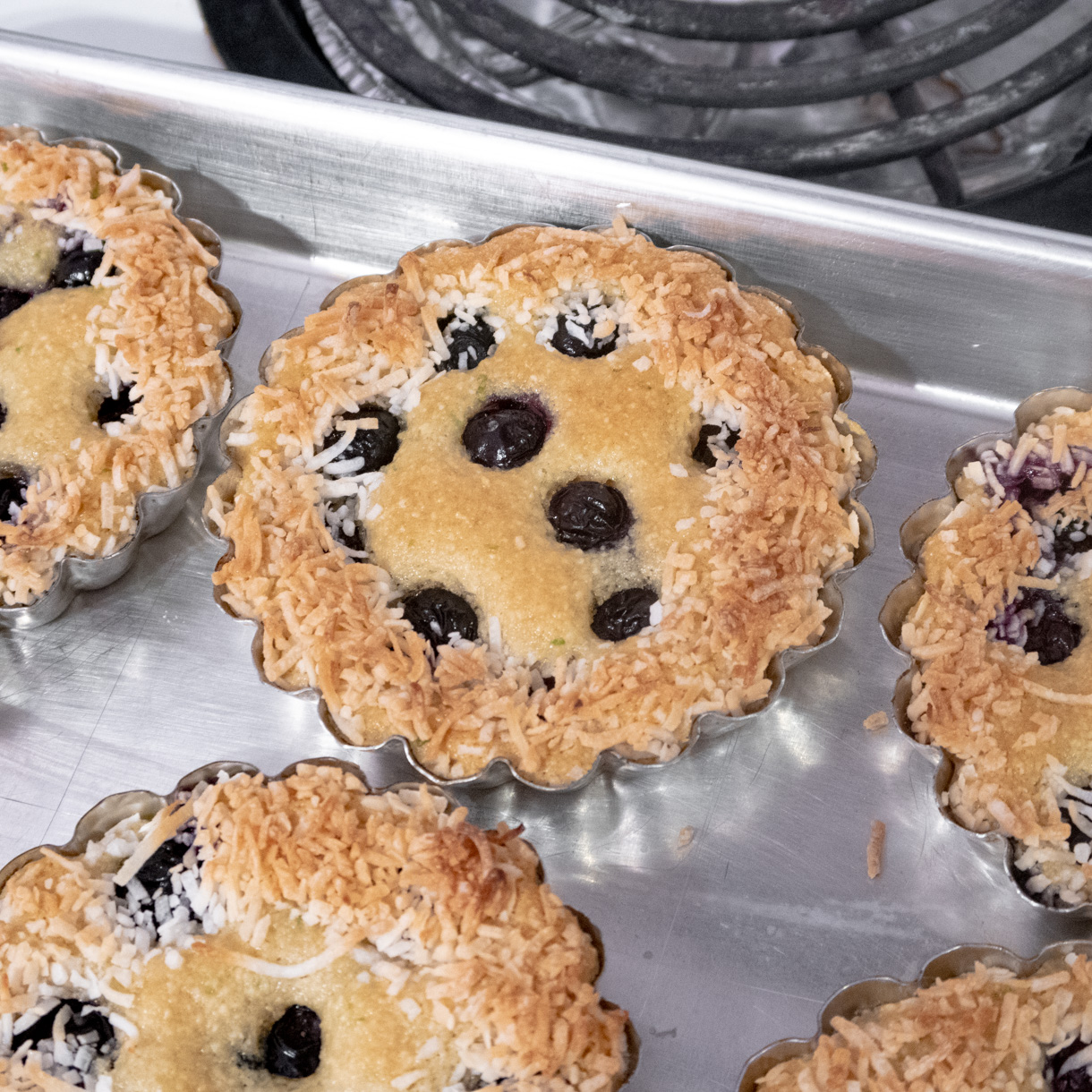 Baking pan alternative
Fluted tartlet pans are the only more niche kitchen equipment you might need. If you don't have them on hand, you can use a regular-sized metallic muffin pan with 12 cavities. Fill each cavity halfway through and bake for 20 to 25 minutes instead.
Releasing
Financiers are delicate almond cakes that can break if they are handled too roughly. This is why I recommend using tartlet pans with a removable bottom.
To release the financier, gently push on the bottom plate of the pan going all around until you see that the side of the financier is starting to release before pushing straight up. Then you can use a sharp knife to release the bottom plate from the blueberry lime financier.
👩🏻‍🍳 Top tip
Freeze your almond flour to keep it fresh for longer and stop it from going rancid.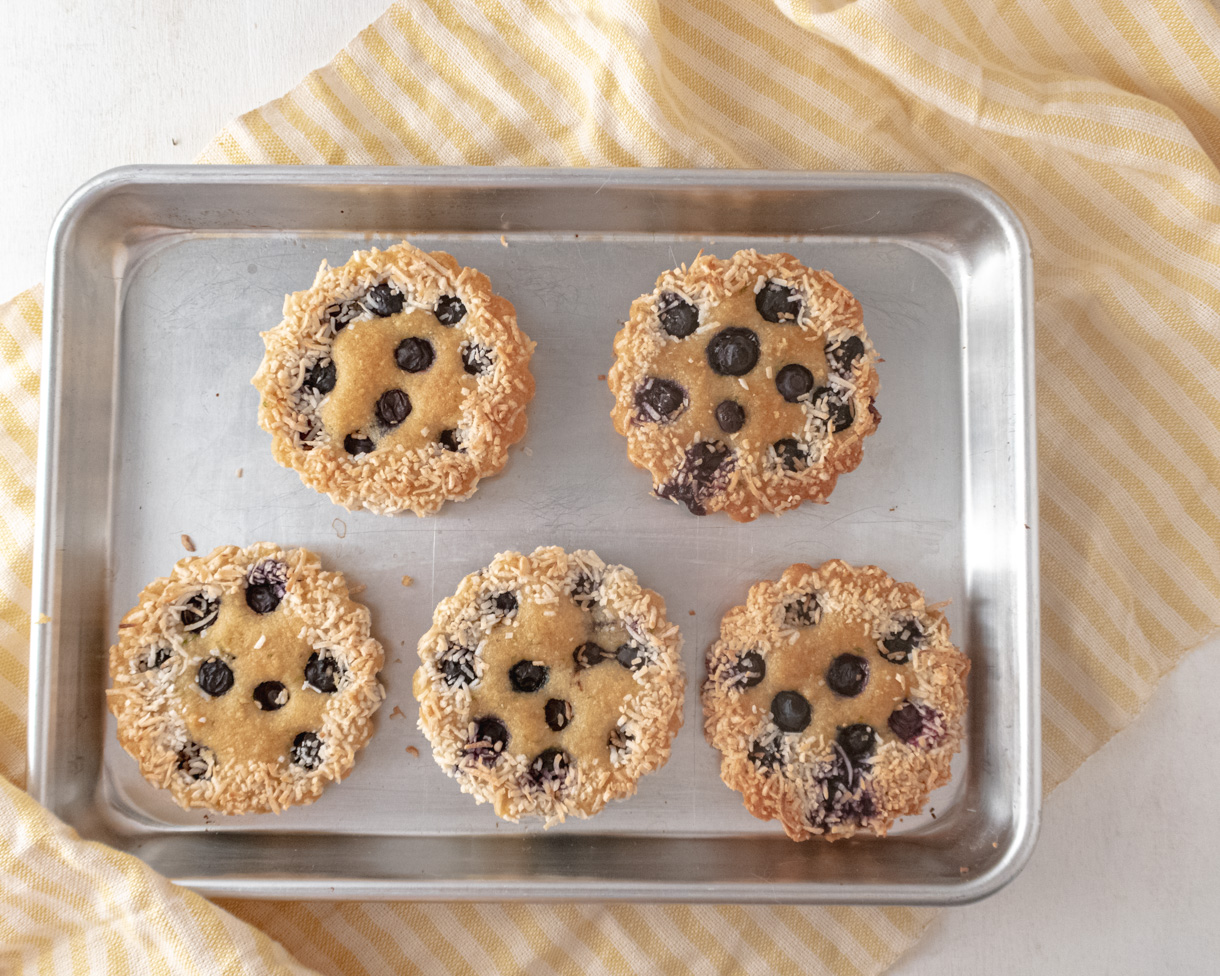 🔪 Equipment
Medium or large mixing bowl
Whisk
Silicone spatula
Large mesh sieve, or food processor to remove lumps
Microplane, or fine box grater. My microplane is one of my favourite tool in the kitchen and makes it extra easy to zest any citrus.
10 metallic fluted tartlet pans, with removable bottoms preferably and a baking sheet
Baking sheet, to put the tartle pans on.
Small offset spatula, or the back of a spoon, to level the batter
Small ice cream scoop, or 2 spoons
If your baking pans are not made of metal (silicone, ceramic) you will need to adjust the bakign time. Bake until they look golde brown and a toothpic inserted in the middle comes out clean.
I highly recommend you use a digital scale and weight measurements when following my recipes as it is more accurate. The only exception is with very small quantities where I recommend using teaspoons.
🌡️ Storage
Store the financiers in an airtight container for up to:
2 days at room temperature,
5 days in the refrigerator
1 months in the freezer
You can also make the financier batter ahead, cover it with plastic film and press until it's in direct contact with the batter, and refrigerate for up to 3 days before baking it.
My almond financier recipe has a longer shelf life at room temperature since it does not contain fresh fruit.
Recipe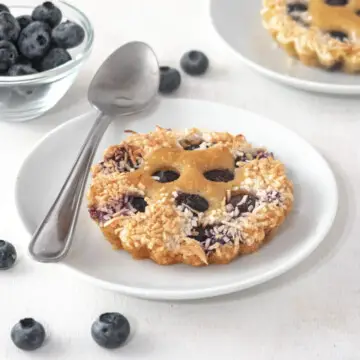 Print
Vegan Blueberry & Lime Financiers
Tender lime and blueberry vegan financiers with coconut makes the perfect dessert or snack to pair with your afternoon tea.
Ingredients
Wet ingredients
150

g

soft silken tofu

(½ cup + 1 tablespoon)

130

g

powdered sugar

(1 cup)

45

g

melted margarine

(3 tablespoons) + extra for buttering the pan

1

teaspoon

vanilla extract

(4g)

1

tablespoon

lime juice

(15g)

Zest of 2 medium-sized limes
Dry ingredients
80

g

all-purpose flour

(⅔ cup)

100

g

almond flour

(1 cup)

⅛

teaspoon

fine sea salt

½

teaspoon

baking powder

¼

teaspoon

baking soda
Other
150

g

fresh blueberries

(1 cup)

50

g

shredded coconut

, sweetened (½ cup)
Instructions
In a large bowl, whisk the tofu and powdered sugar until smooth.

Sift together the dry ingredients to remove any lumps. Add the sifted ingredient all at once into the bowl and mix until smooth.

Stir the melted margarine, vanilla, lime juice and zest into the batter.

Place 10 metallic fluted tartlet pans with removable bottoms on a baking sheet, lightly butter the inside of the pans and preheat your oven to 350°F (180°C).

Divide the batter equally into the tartlet tins (about 2 flush small ice cream scoops of batter per pan) and level the batter using a small offset spatulaé Garnish the top of each financier with blueberries and some shredded coconut.

Bake for 22 to 26 minutes, or until golden brown. Leave the financier in the tartlet pans until they don't feel warm to the touch before releasing them. Enjoy!
Did you try this lime and blueberry financier recipe?
Don't be shy and let me know how it went! Leave me a comment below and share a picture on Instagram!