Layers of paper-thin French crêpes, bananas, diplomat cream, and a crunchy caramel top come together to make the perfect vegan banana crème brûlée mille crêpe cake.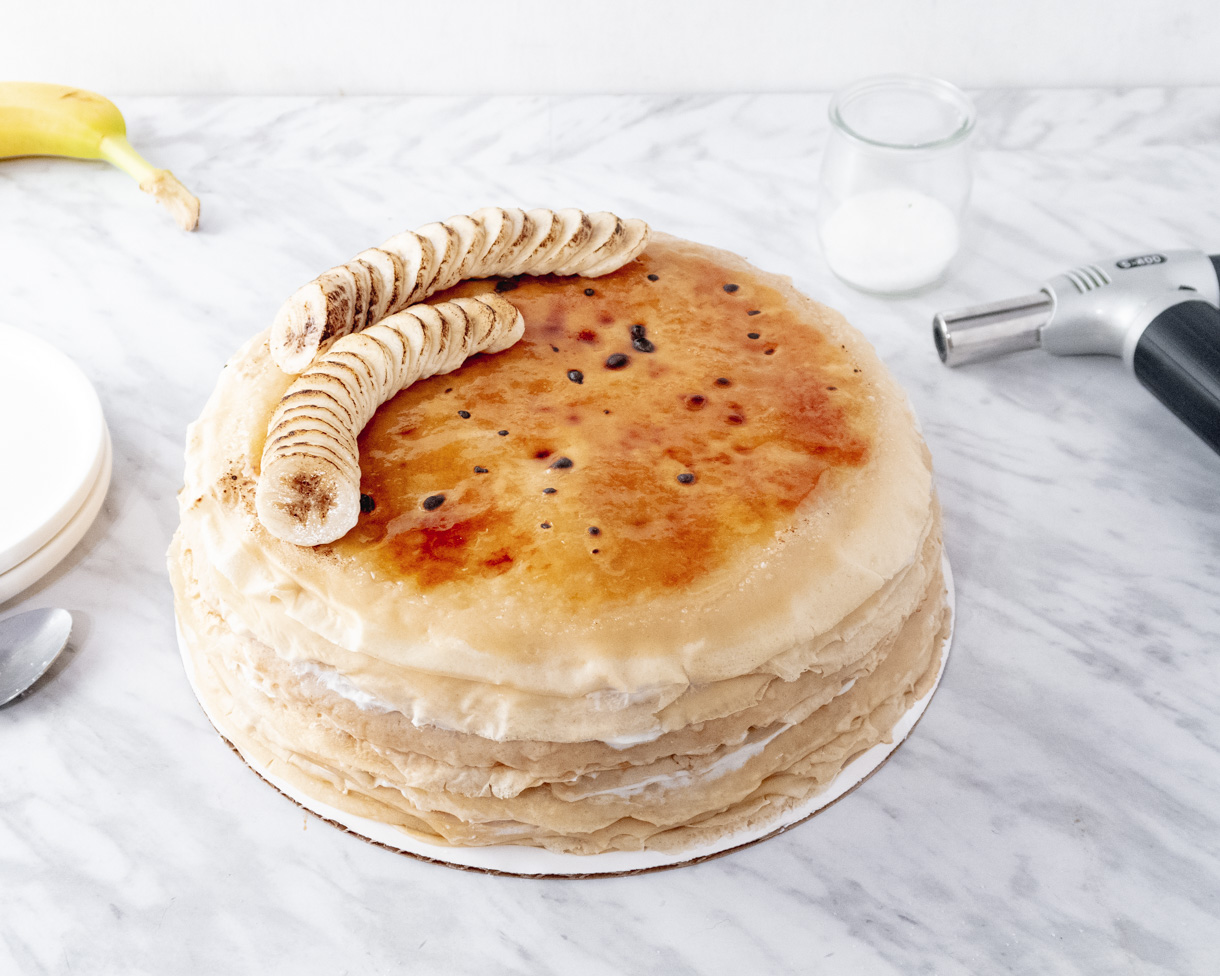 This elegent cake will impress anyone and everyone and does not even require you to turn your oven on. If you make this exquisit cake, you will get to bite into layers and layers of :
Paper-thin French crèpes
Vanilla bean flavoured diplomate cream
Crunchy caramelized top
Fresh and bruléed bananas
This is a more advanced recipe but fear not. I have filled this blog post with information and advanced instructions to help you along the way. Yes this blog post is long, so feel free to skip directly to the part that interest you by using the following menu.
Jump to:
📖 Diplomate cream
If you are not familiar with diplomat cream, it is a classic french cream made of 1 part whipped cream folded into 1 part crème pâtissière (pastry cream) and is often stabilized with gelatine and flavoured with alcohol like Grand Marnier. 
In this case, we will be skipping the gelatine and alcohol and keeping it simple (but oh so delicious). Diplomat cream is light and creamy but I tweaked the ratios a bit to bring out the richness and flavours that you usually get in a nice crème brûlée.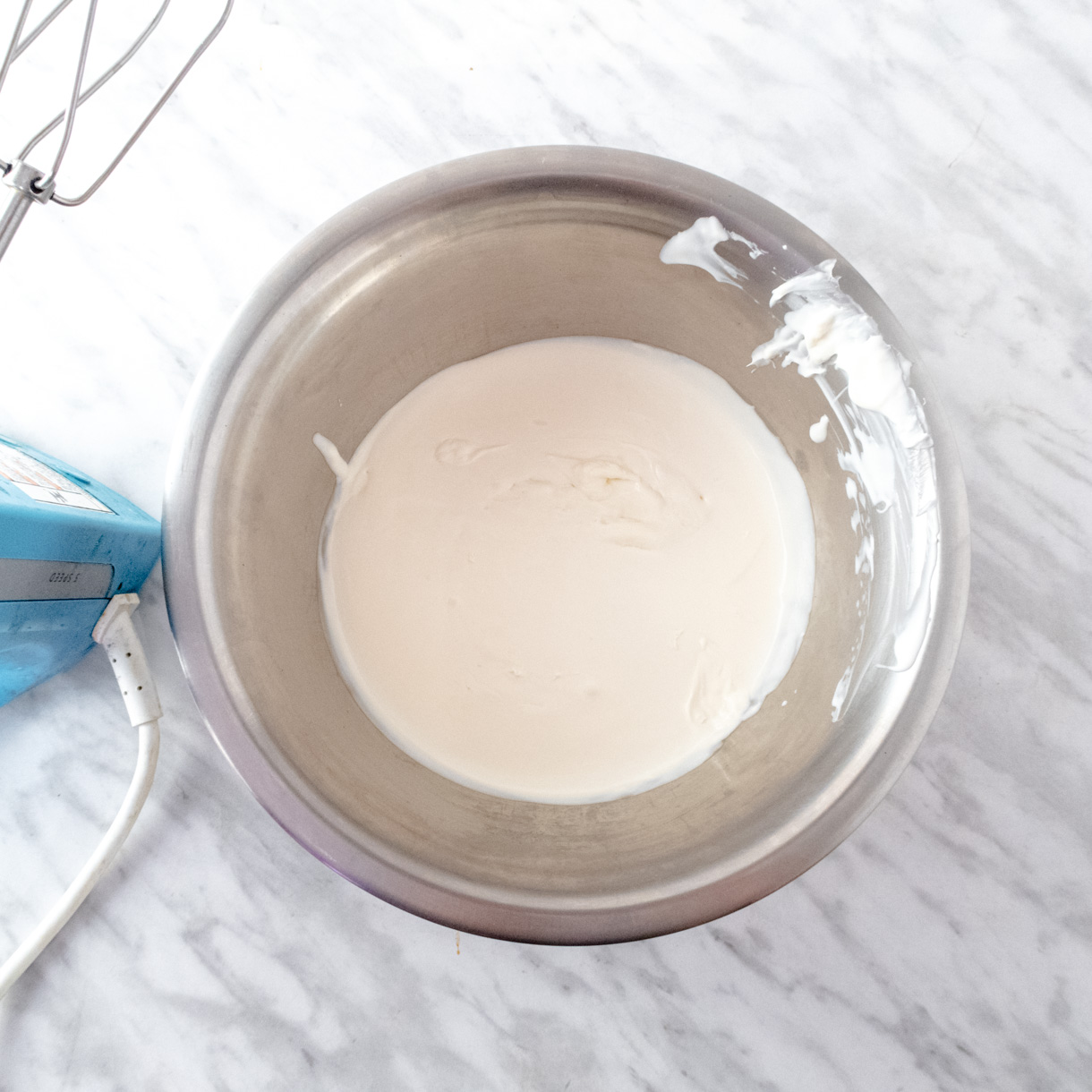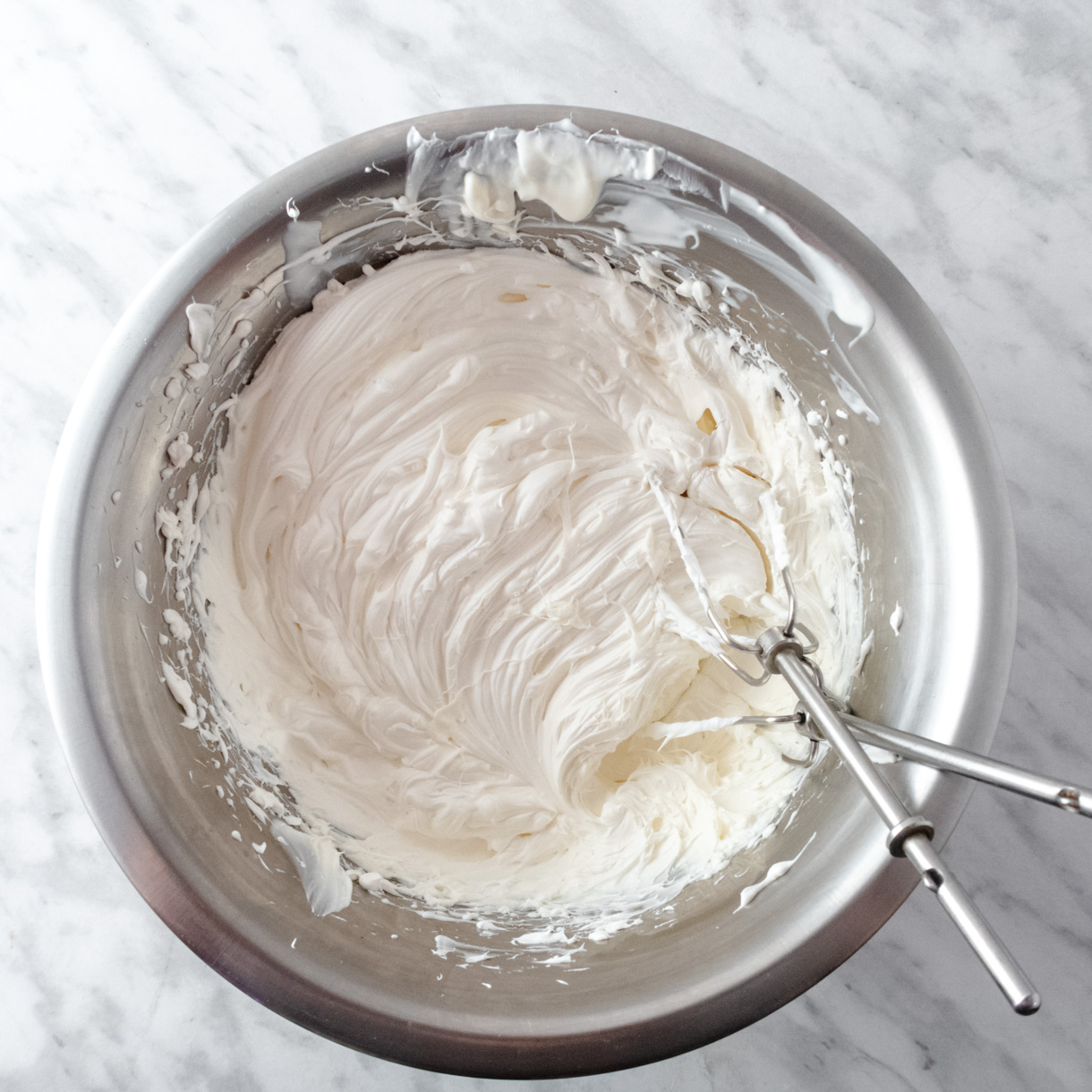 📋 Ingredients
Here is a little recap of all the ingredients you will need to make this vegan banana crème brûlée mille crepe cake.
Unbleached all-purpose flour, bleached, is also fine. It might work with 1:1 gluten-free flour blends but I haven't tried it myself. Let me know if you do!
White granulated sugar. beet sugar and organic-certified sugar are bone-char-free and vegan.
Fine sea salt - table salt is also fine
Plant-based milk, I use soy milk because of its creaminess, and higher fat and protein content but other thick vegan milk like oats or nut milk will also work.
Vanilla extract and vanilla bean paste. You can replace the vanilla bean paste with the same amount of vanilla extract.
Oil spray - or oil to prevent sticking
Cornstarch is also known as cornflour in the UK and Australia. It is used to thicken the pastry cream.
Margarine. The soft salted kind from a tub is what I use but double-check that it doesn't contain dairy. If you use a firm vegan butter block let it come up to room temperature before using.
Vegan whipping cream, the kind you whip yourself. I use Ambiante by Puratos which comes pre-sweetened and whips up firm. Flora, Elmlea and Country Crock are the other brands that I recommend. 
Bananas, but could be switched out for other fruits like strawberries or even omitted to make a plain crème brulée mille-crêpes cake.
See recipe card for quantities.
🥣 Instructions
Crêpes
Crèpe-wise, I've already made a comprehensive blog post on how to make the most delicious and delicate crèpes. The most important things to do when making crèpes is to:
Adjust the thickness of the batter if needed. A thinner batter is better than thicker when making mille crepe cakes
Straining the batter to prevent lumps 
Preheating the skillet so that each crèpe can cook evenly (and to prevent sticking issues).  
Not overcooking the crèpes, or the edges might break off
TIP: Mix the crêpe batter with a stick blender on low if you have one. Keep it completely submerged to prevent air bubbles from making their way into the batter.
Diplomat cream
For all the info on how to make pastry cream, check out one of my most popular blog posts on how to make the perfect vegan pastry cream. Making sure it doesn't burn on the bottom during the cooking process will be your priority while making the pastry cream. 
To make sure it doesn't develop a thick skin while it cools down, you will want to press some plastic wrap directly against the surface of the cream from edge to edge while it's still hot. The pastry cream will be stiff, bouncy, and brittle when cold. This is normal. Once you mix it up and smooth it a bit it will become creamy again. 
When it's time to fold in the whipped cream into the pastry cream, take your time, be careful but firm, and add the cream in 3 additions instead of all at once.
Assembly
Making the crêpes and the cream is actually very easy. I can not say the same about assembling a mille crêpe cake.
Be wary of uneven cream layers and not spreading the cream to (almost) the edges,  which could mean having a lopsided, crooked, or even domed cake. It's very easy to overfill the very center of the crepe with too much cream leaving nothing for the outside. A cake turntable will make the process easier if you have one.
You will want to assemble the cake directly on your serving plate or board because transferring whole mille-crêpes cakes is no small feat. 
Crunchy Brûlée top
Brulée is the French word for burnt. For this vegan mille crepe cake, we are copying the distinctive crunchy sugar top that is found on crèmes brulées. Lucky for you, I have torched countless crèmes brulés in my time working in restaurants so I got all the tricks. 
You will need a specialized kitchen torch or blow torch for this step. Check out my top tip for an alternative if you don't have one. You can also keep it simple and decorate this cake with a light dusting of powdered sugar.
Having an even layer of sugar that is not too thick is very important when torching. If the sugar layer is too thick, the top layer will caramelize but you will find a hidden layer made of raw sugar underneath it, leaving a grainy texture behind. 
The trick to get a thick layer of evenly amber caramel is to start with a first thin layer of lightly caramelized sugar, spreading another thin layer of sugar on top, and then doing a final torching of that sugar to your desired caramel preference.
You also want to keep the torch in constant movement using sweeping motions. If there is a stubborn sugar spot that doesn't want to melt, come back to it a couple of times instead of staying on it and risking making a black and too burnt spot. 
My own preference is to start torching the outside and then slowly making my way toward the center and then back out again to make sure the whole surface gets some heat.
👩🏻‍🍳 Top tip
If you do not have a kitchen torch or blow torch, you can make a dry caramel in a saucepan and drizzle it very carefully on top of the top crèpe to get the same crunchy top.
🔪 Equipment
Get all the following tools ready before starting to make a vegan crème brûlée mille crêpe cake:
9-inch non-stick skillet, or crêpière
Large and medium  mixing bowls
Whisk and flexible heat-proof spatula
Sieve or strainer with large mesh
Small saucepan
A large metallic offset spatula
Electric mixer, for whipping the cream but can be done by hand.
Large Ice cream scooper, optional. For scooping the cream.
Kitchen torch. I have this one from Sondiko.
Cutting board and chef's knife
I highly recommend you use a digital scale and weight measurements when following my recipes as it is more accurate. The only exception is with very small quantities where I recommend using teaspoons.
🌡️ Storage
Vegan banana crème brulée mille crêpe cake can be refrigerated in an airtight container for up to 3 days. It cannot be frozen.  
It is best to do the brulé top an hour or less before serving. The caramel will get liquidy and soft after 1 hour. You can also individually brulée slices of cake right before serving them.
Recipe
Print
Banana Crème Brûlée Mille Crêpe Cake
Layers of paper-thin French crêpes, bananas, diplomat cream, and a crunchy caramel top come together to make the perfect vegan banana crème brûlée mille crêpe cake.
Servings
9
inch mille crepe cake
Ingredients
French crêpes
540

g

unbleached all-purpose flour

(4 ½ cups)

150

g

white granulated sugar

(¾ cup)

¼

teaspoon

fine sea salt

1750

g

plant-based milk

(7 cups)

2

teaspoon

vanilla extract

(8g)

Oil spray
Diplomat cream
100

g

white granulated sugar

(½ cup)

60

g

cornstarch

(½ cup)

500

g

plant-based milk

(2 cups)

2

teaspoon

vanilla bean paste

60

g

(¼ cup) vegan margarine

500

g

vegan whipping cream*

, like Ambiante by Puratos (2 cups)
Garnish
5

medium bananas

, for layers

2

medium bananas

, for garnish

50

g

white granulated sugar

, for the bruléed top (¼ cup)
Instructions
French crêpes
In a large mixing bowl, whisk together the flour, sugar and salt. Make a well with the dry ingredients and place the milk and vanilla in the center. Slowly whisk in the dry ingredients into the wet ingredients until well incorporated. Scrape the sides and bottom of the bowl with a spatula to dislodge any dry ingredients and then strain through a medium sieve to remove any lumps in the batter.

Over medium-high heat, preheat a 9-inch non-stick skillet. Lightly oil the skillet and whip off any excess fat. Using a large container with a spout, pour approximately ⅓ cup of batter (adjust according to your skillet) into the preheated skillet. Immediately swirl the pan to coat the bottom of the skillet evenly with the batter and pour out any excess batter if needed.

Cook each crèpes for 1 to 2 minutes, or until the crepe looks set all over and the edges start to curl up and release from the pan. Flip the crepe and cook for an additional 30 seconds to 1 minute and then set it aside to cool. Continue cooking the crepes until you have no more batter. If the crêpes start to stick, re-oil your pan. Let the crepe cool completely while you make the filling.
Diplomat Cream
In a small saucepan, dry whisk the sugar and cornstarch together. Slowly whisk in the milk and vanilla into the sugar mixture. Bring the cream to a full boil over medium heat while whisking constantly to prevent sticking.

Remove the saucepan from the heat and stir in the margarine.Transfer the cream into a medium-sized bowl, place a saran wrap directly in contact with the surface of the cream and refrigerate until completely cold.

Whip the vegan whipping cream by hand or with an electric mixer on medium speed until you reach medium to firm peaks.

Once the pastry cream is cold, mix it with a whisk or sturdy silicone spatula until it becomes creamy again. Fold in the whipped cream in three additions into the pastry cream using a silicone spatula.
Assembly
Select the 15 to18 best looking and most even crepes and trim off any too crispy edges as needed. Thinly slice the 5 bananas to ⅛ inch thickness (2 to 4 millimeters).

Stick a crèpe to a large plate or cake board using a bit of cream.Put some diploma cream in the middle of the crepe and spread evenly to a ⅛ inch (3 millimeters) thickness, leaving the outside edge without cream. I use a heaped large ice cream scoop or between ¼ cup and ⅓ cup of cream for each layer. I suggest using a long metallic offset and a cake turntable for leveling each layer.

Place a crèpe on top of the cream and repeat the process of stacking crèpes and spreading cream. Every third layer of cream, gently press in the thinly sliced bananas onto the cream. Repeat the layering process until there are no more crèpes.
Garnish
Right before serving the cake, evenly spread half the sugar on top of the mille-crèpe. Using a blow torch in sweeping motions, burn the sugar until it starts to melt and turn a light yellow. Spread the rest of the sugar on top of the first layer and repeat the process, this time torching the sugar until you get a nice and deep amber.

Thinly slice the 2 bananas, press lightly on top of the banana with the palm of a hand using a sliding motion to fan the slices. Pick up the fanned bananas with a small offset spatula, place on top of the cake, and char the edges of the bananas with a kitchen torch. Serve and enjoy!
Notes
Whipping cream:
 If your whipping cream is unsweetened, add 65 g (½ cup) powdered sugar halfway through the whipping of the cream.
If you have any questions about how to make this cake, let me know in the comments and I'll do my best to answer them.
Did you try this vegan mille crêpe cake recipe?
Don't be shy and let me know how it went! Leave me a comment below and share a picture on Instagram!