This vegan pastry cream or crème pâtissière is used in a multitude of classic french desserts. Traditionally made with eggs, milk, and butter, this vegan version is tasty, creamy, and silky smooth.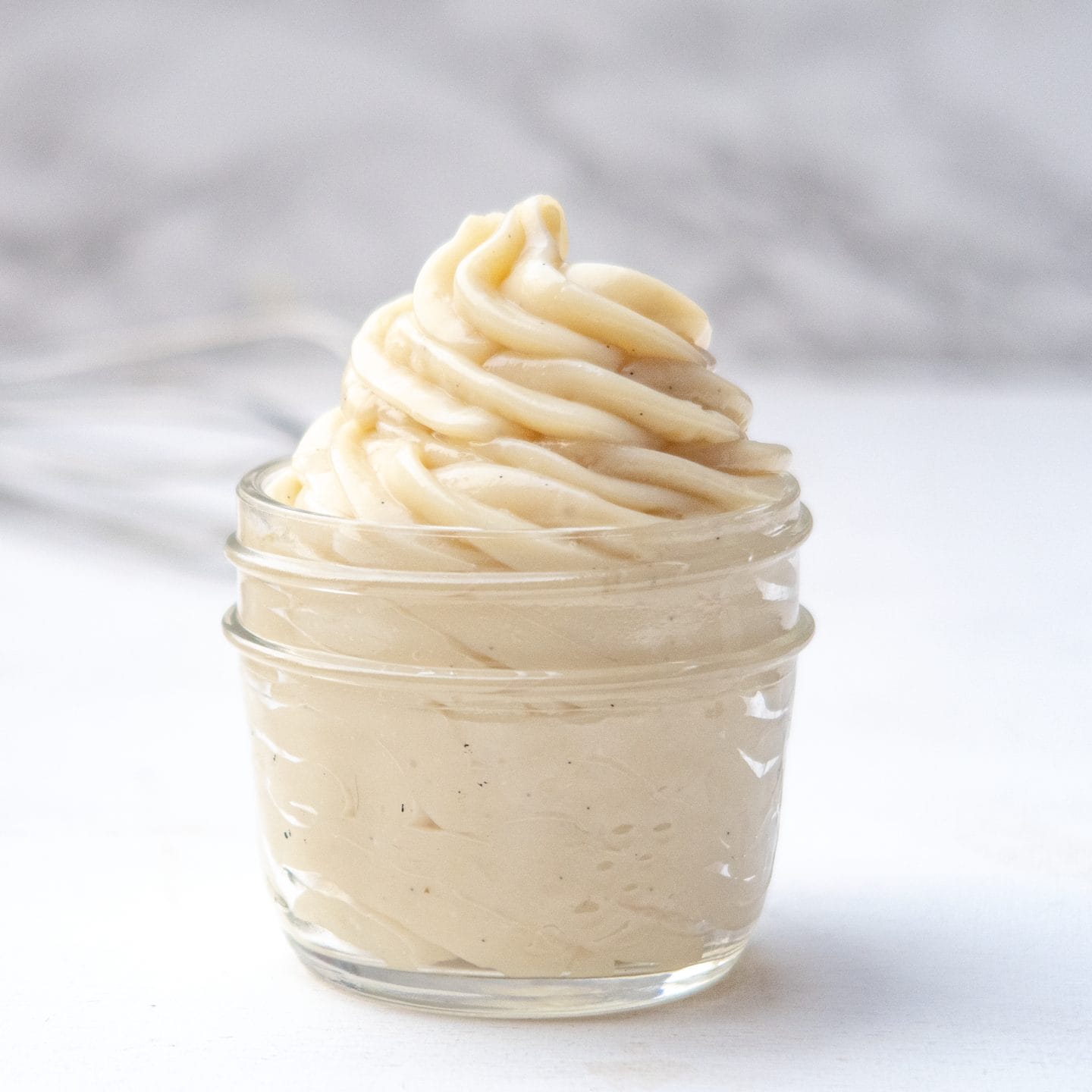 This post contains a lot of useful information, which will help you make a perfect pastry cream, but if you a pro and want to skip ahead to the recipe, it is right here:
---
What is crème pâtissière?
Crème pâtissière, also known as pastry cream, is one of the pillars of french pastry. It is a thick milk-based custard that is traditionally thickened with egg yolks or whole eggs and corn starch and flavored with vanilla. It is thick enough to be piped and often used as a filling or in pies and tarts.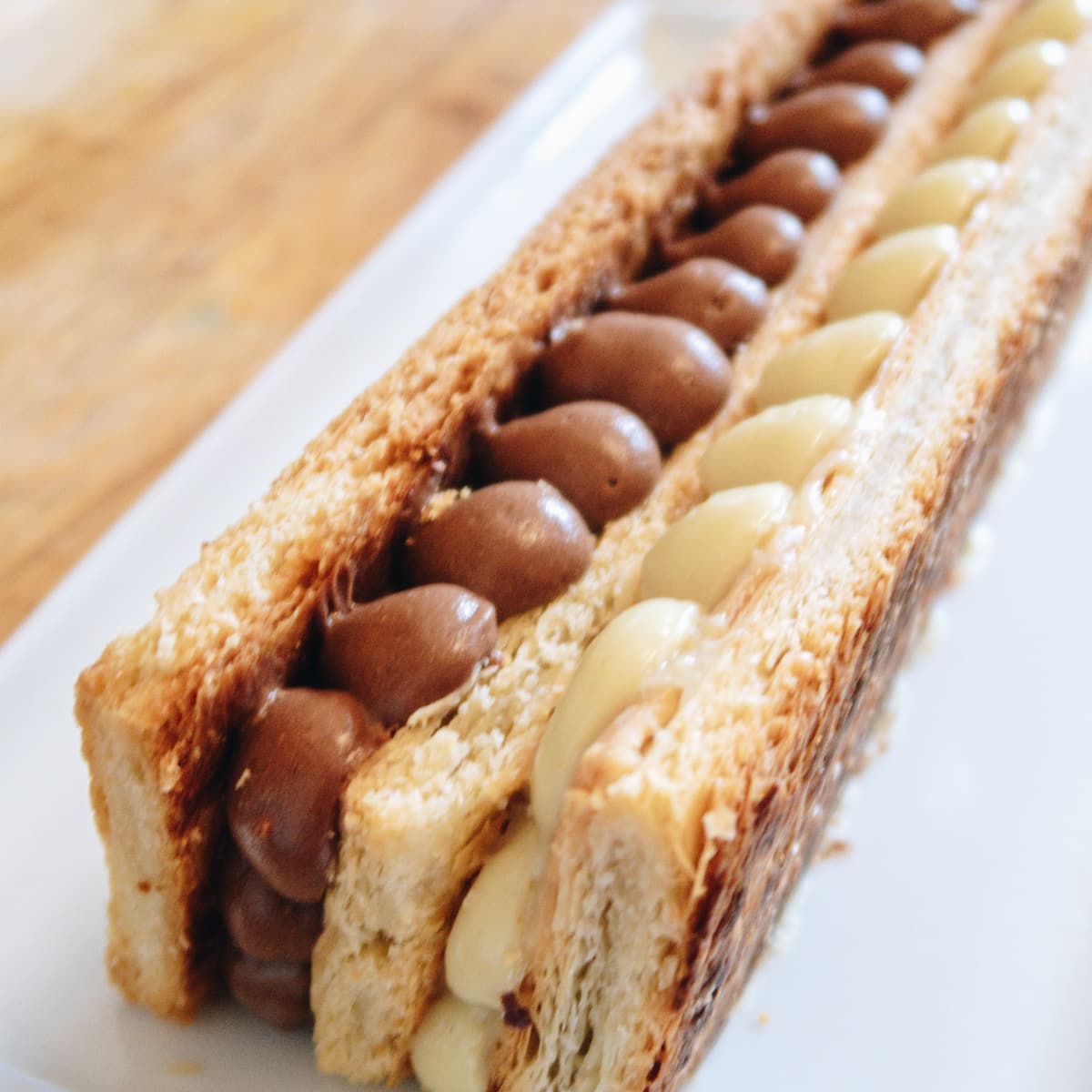 Mastering the basics of french pastry
Crème pâtissière is a preparation that is often used as is a filling, or use as an ingredient in a more complicated recipe. This custard is used in multiple classic french desserts like:
Entremets like fraisier or Saint-honoré
Filling for cream puffs
Crème Mousseline
Crème Diplomate
Vegan Pastry cream is also great during breakfast or brunch as a topping for crèpes or waffles with strawberries. You could also serve a dollop of it with a piece of cake or pie.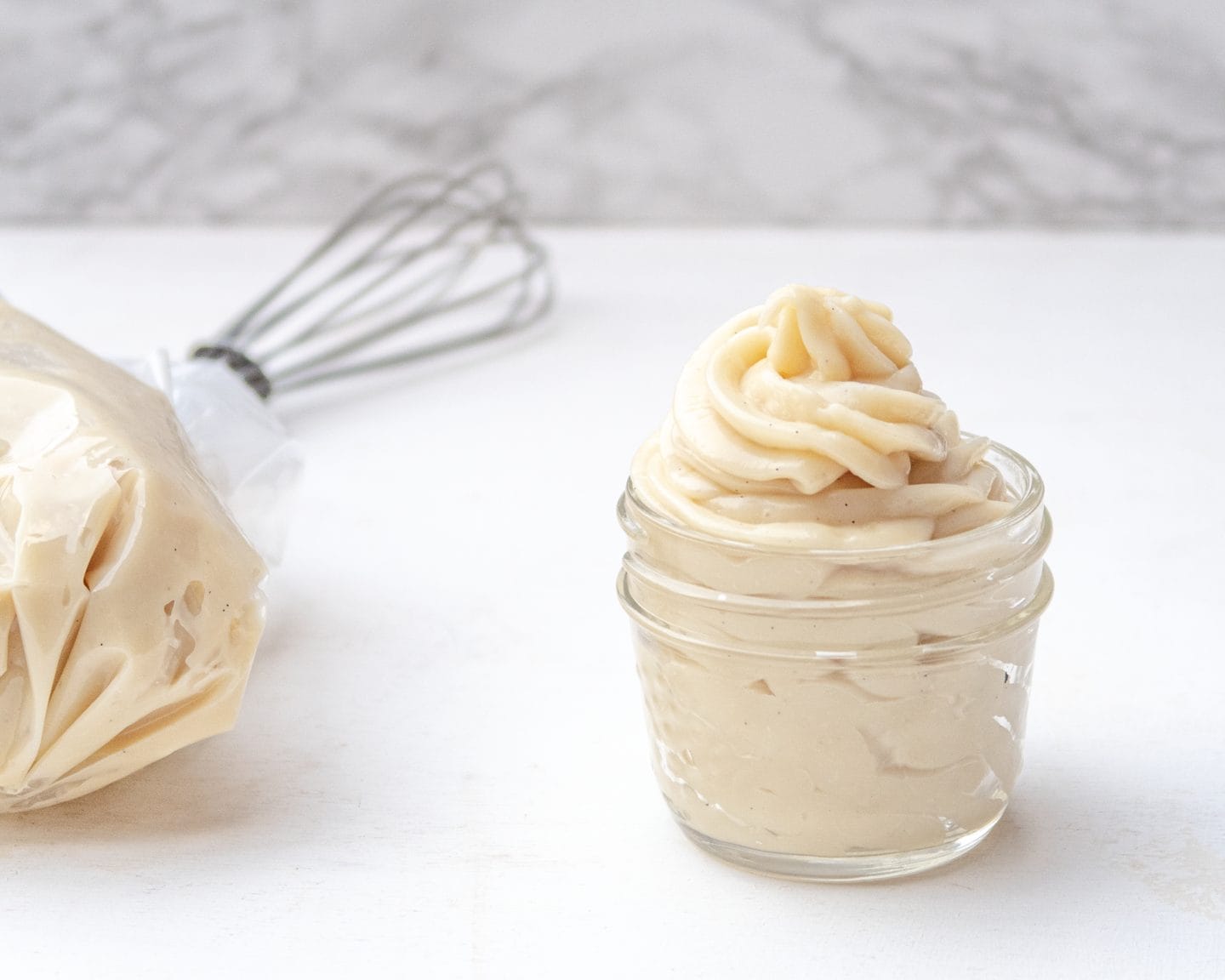 Tips and tricks for an incredible vegan pastry cream
How to make a lump-free pastry cream?

Cornstarch is the thickening agent in this recipe, but it has the tendency of creating lumps if not well mixed.
Dry whisk together the sugar and cornstarch before adding any liquid so that there is less risk of lumps. 
You will also need to whisk constantly once you add the cornstarch and don't miss any corners. This is where the mixture could develop lumps or even worst, it could scorch, due to the high amount of sugar in the preparation.
You can use a flexible silicone spatula or "maryse" to get these hard to reach corners.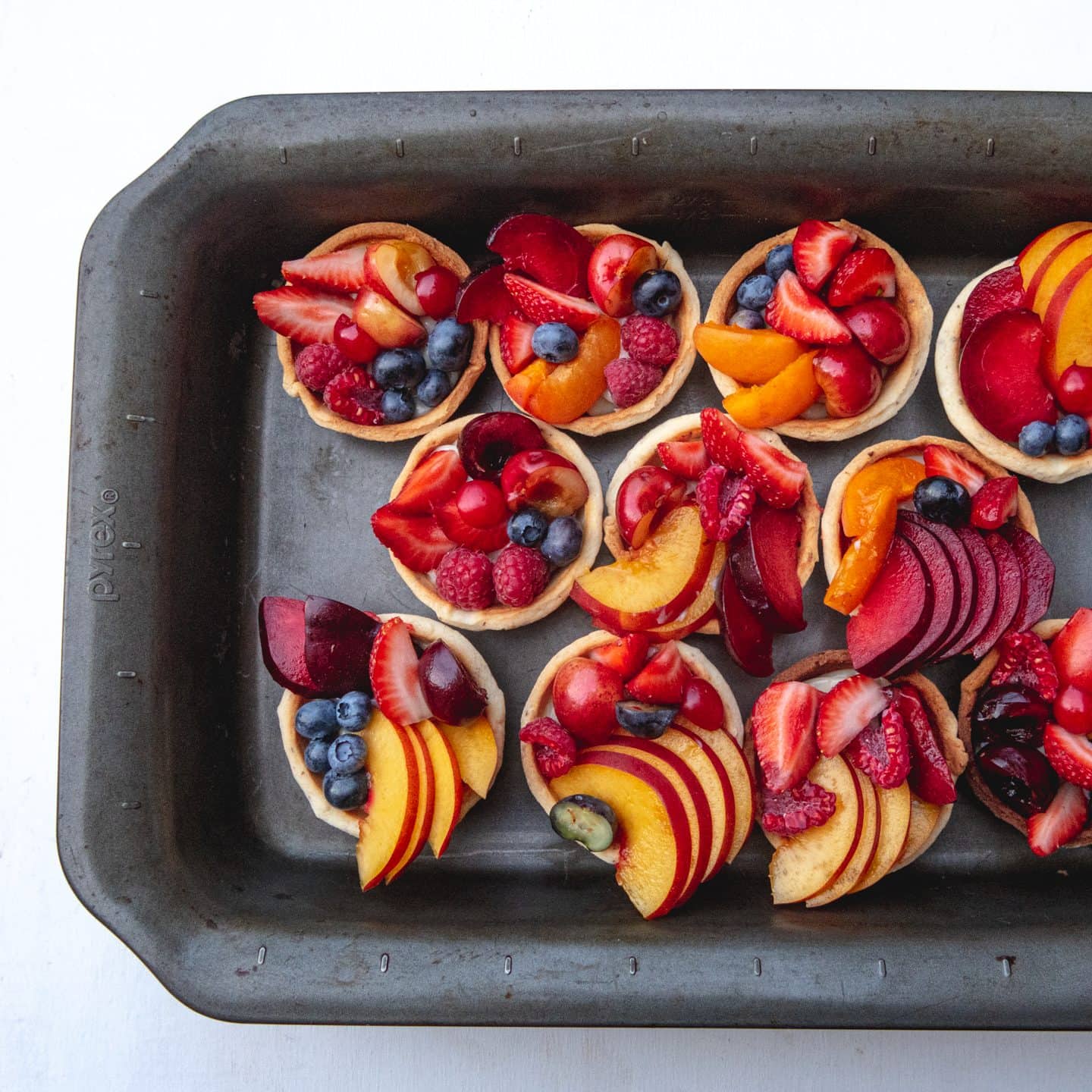 How to flavor crème pâtissière?
You can flavor crème pâtissière by replacing part of the liquids with another liquid like fruit purée, coffee or alcohol. You can also infuse the milk with spices like star anise or tonka bean. The ratio of flavoring ingredients will depend on the strength of the flavor you are aiming for.
Here are great pastry cream flavor ideas:
Pistachio: pistachio paste + a bit of almond extract
Coffee: adding espresso and Kahlua liquor
Chocolate: adding melted chocolate to the hot milk or cacao powder to the dry ingredients
Praliné paste
Raspberry and rose water
Orange blossom water is great with fresh fruits like in these mini fresh fruits tartelettes ( or mini-tarts)!
RELATED : Vegan Meringue Troubleshooting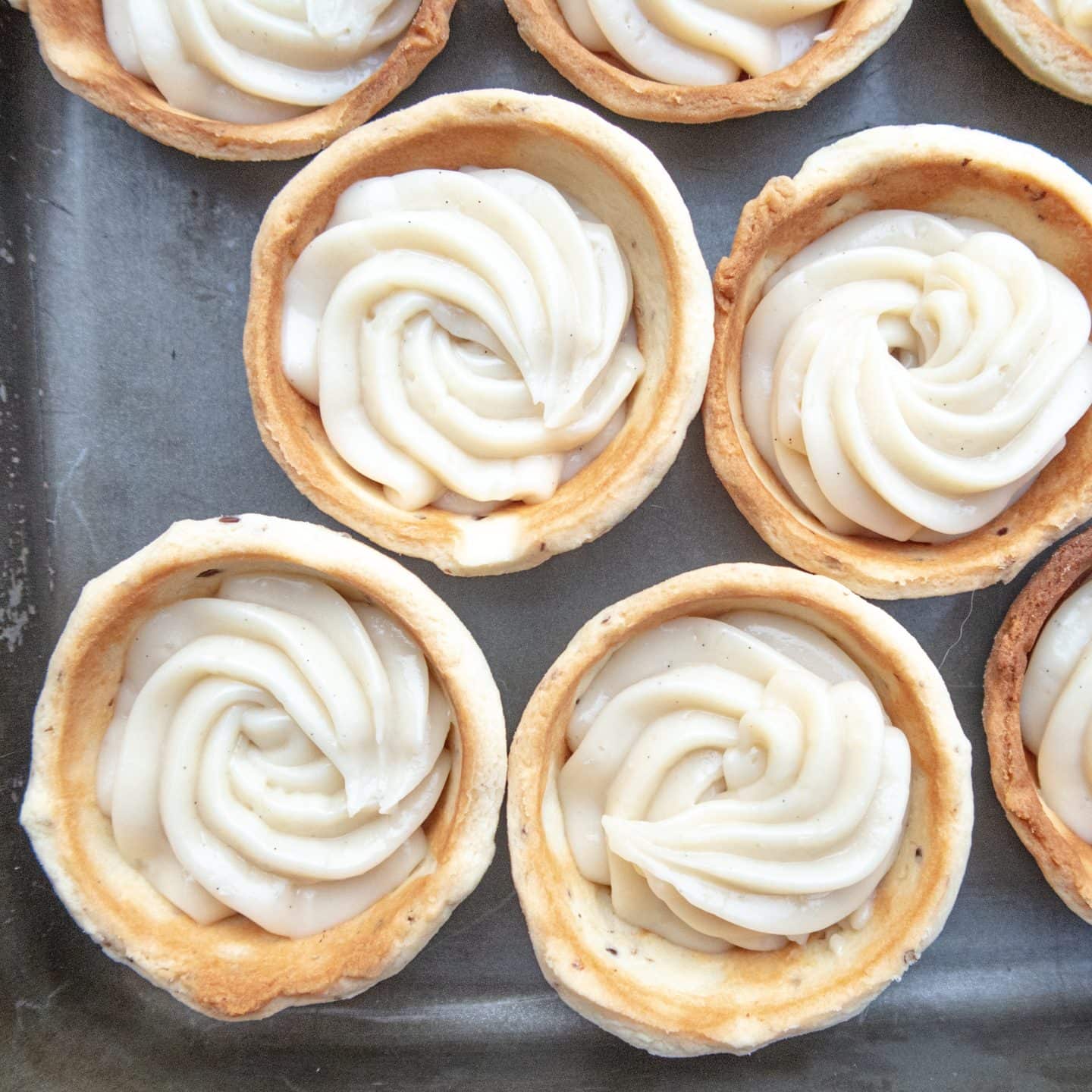 How long can you keep vegan pastry cream in the fridge?
Pastry cream has a very short life span of 3 days. You can go up to 5 days if you want to push it. The trick with pastry cream is that you want it to cool it down quickly and keep it cool as much as you can. It is always better to make pastry cream fresh since you can not freeze pastry cream.

Do that by pouring the vegan pastry cream in a thin layer on a flat surface like a shallow dish and cover with plastic wrap so that the plastic is in constant contact with the surface of the cream. This will stop it from drying out and developing a skin. Place in the refrigerator until cold.
After it's cooled down, it will be very thick and almost jelly-like. Loosen up the cream by whisking it until it becomes creamy again.
Try this pastry cream in my easy fresh fruit tartlets!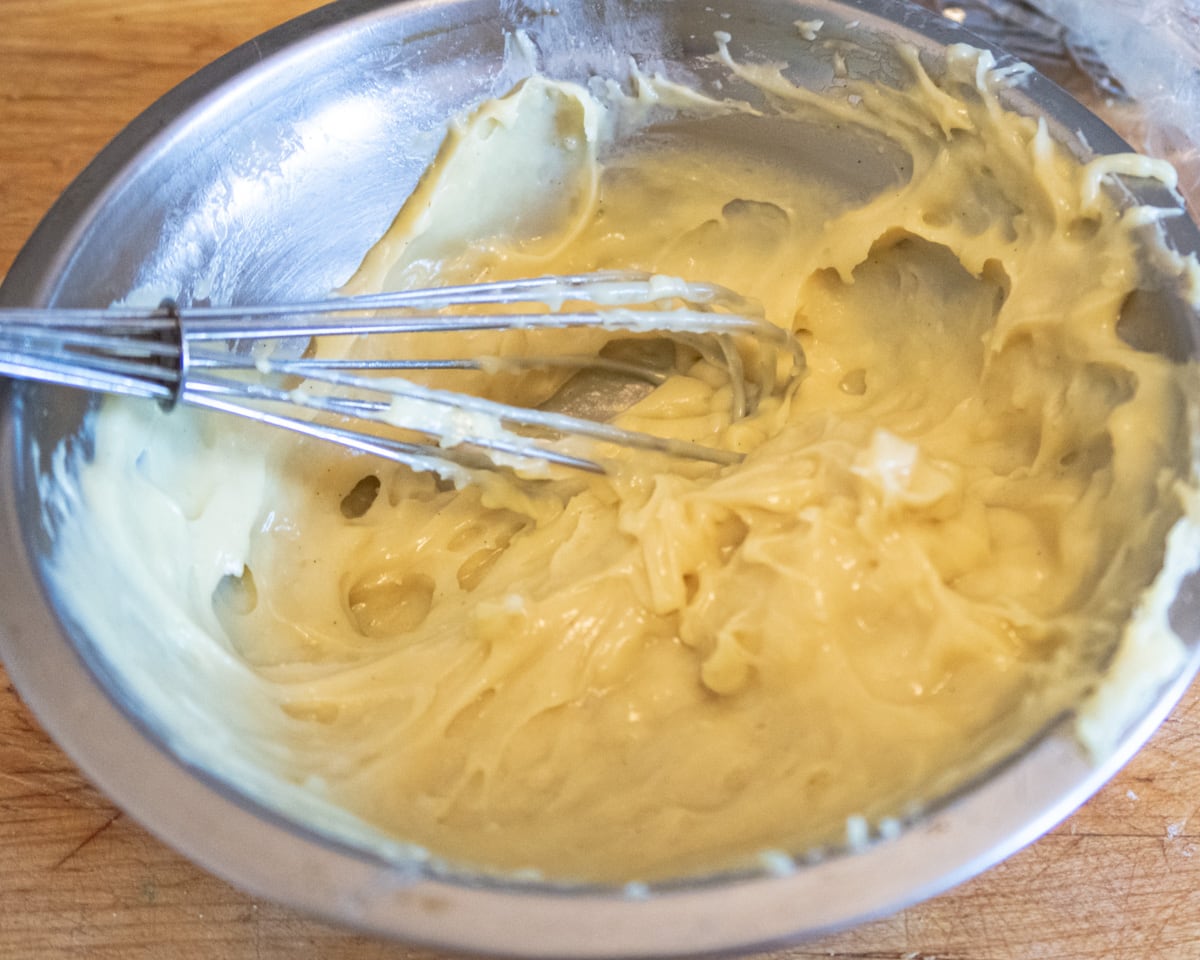 Tools you will need to make this recipe
Whisk
Flexible silicone spatula, also known as a maryse
Small paring knife
1 medium bowl
Saucepan
A Shallow dish or baking tray
Plastic wrap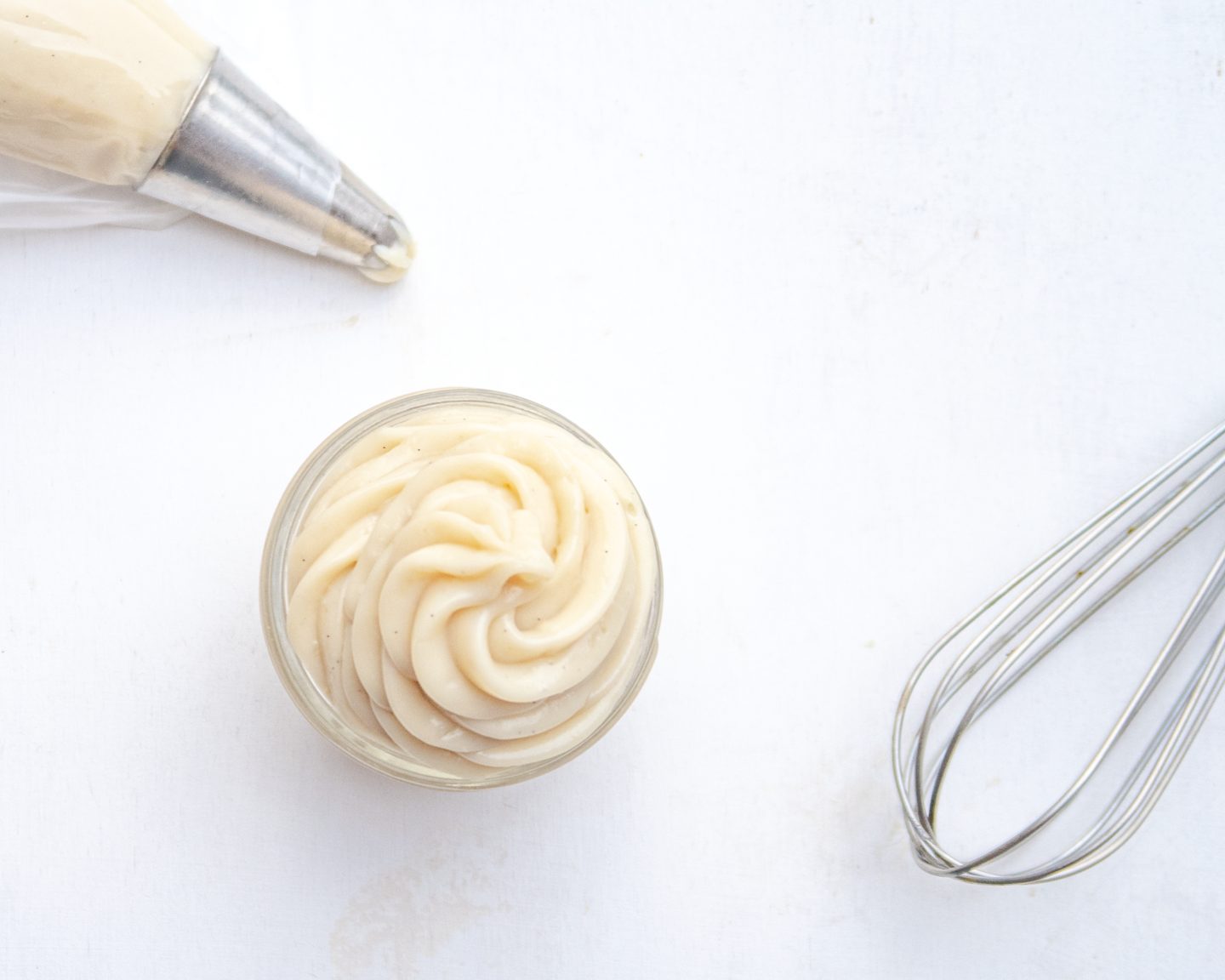 Recipe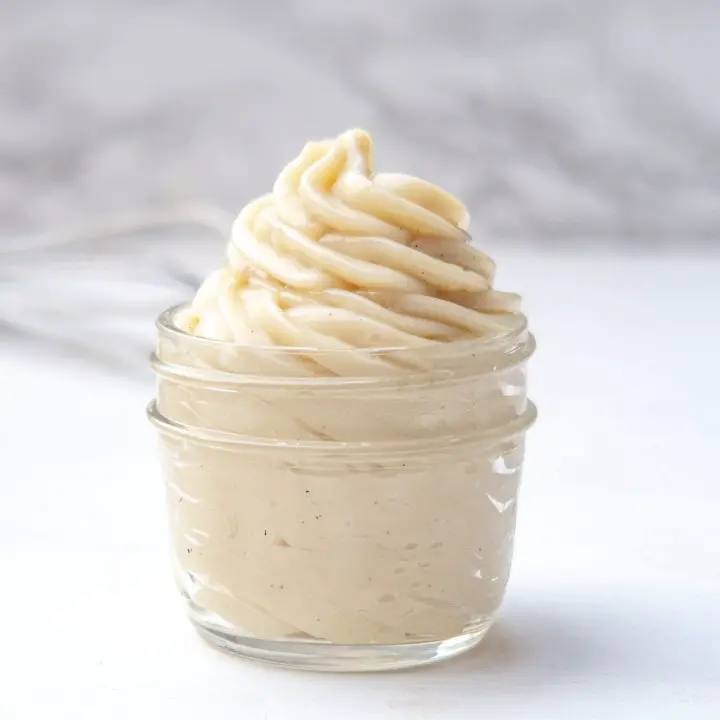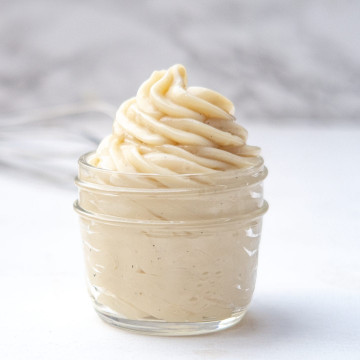 Print
Classic Vegan Vanilla Pastry Cream
This vegan version of classic pastry cream is tasty, creamy, and silky smooth. It is a great base for french desserts.
Ingredients
500g

(2 cups)

plant-based milk (oats, cashew, almond, rice)

, I like to use unsweetened soy milk

1

vanilla pod

100g

(½ cup)

white sugar

60g

(½ cup)

cornstarch

1

pinch

turmeric

60g

(¼ cup)

vegan margarine or butter
Instructions
Line a medium to large shallow dish, or a baking tray with plastic wrap.

With a paring knife, cut the vanilla pod in half and scrape off the seeds with the blunt side tip of the knife. Add the seeds and the pod into a saucepan

Add the vegan milk to the saucepan, and simmer over low-medium heat for 5-10 minutes to infuse the vanilla. Discard the vanilla pod and bring to a boil.

While the milk is infusing, in a medium bowl, dry whisk the sugar, cornstarch, and turmeric until completely smooth.

Pour slowly a third of the boiling milk over the sugar mixture and whisk until smooth and lump free. Pour back the sugar mixture into the still-hot saucepan with the leftover milk.

Cook the preparation for 2 to 3 minutes on medium heat while continuing to whisk constantly. Check the sides and bottom of your pan with a silicone spatula from time to time to stop scorching from happening.

When the pastry creme has started to thickened and large bubles starts appearing, remove the sauce pan from the heat while still stiring.

While still hot, add the margarine and incorporate it with the spatula until homogenous.

Transfer the cream onto the shallow dish and cover with plastic wrap so that it is in direct contact with the cream. Refrigerate until cold ( minimum of 1h)

Use depending on your final product. Before using as a filling, put the pastry cream back in a bowl and whisk vigourously unil it becaumes creamy again and smooth.
Notes
You can replace the vanilla pod with 1 teaspoon of vanilla bean paste or 1 ½ teaspoon of pure vanilla extract if needed.
The turmeric is to give the pastry cream the classic yellowish look. It can be replaced with a drop of food coloring or be removed altogether since it is optional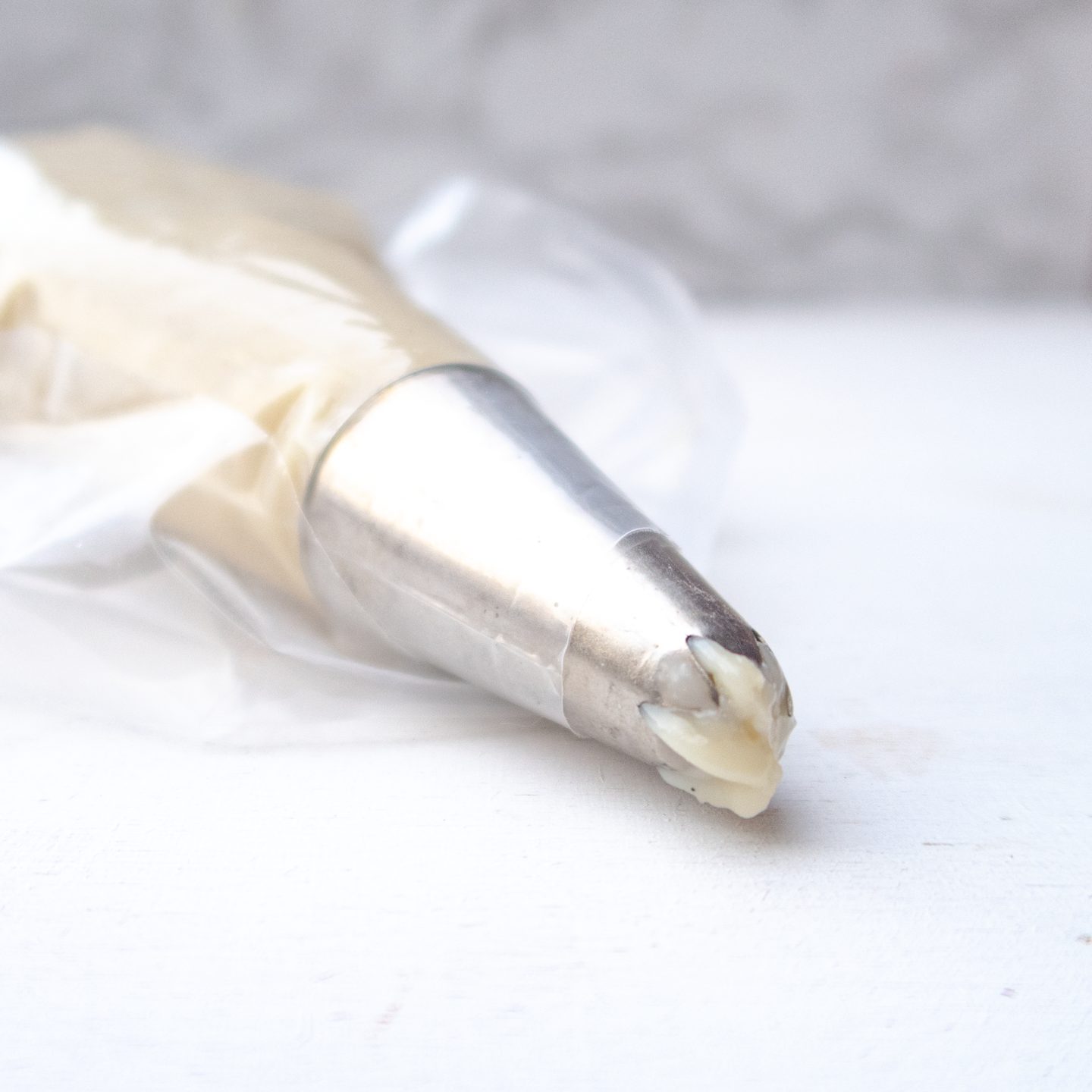 Did you try this recipe?
Don't be shy and let me know how it went! Leave me a comment below and share a picture on Instagram  with #berrybakerblog!