Garnished with a crown of fresh local fruits and filled with orange blossom pastry cream, theses vegan mini custard tarts will be the talk at your next summer picnic or party.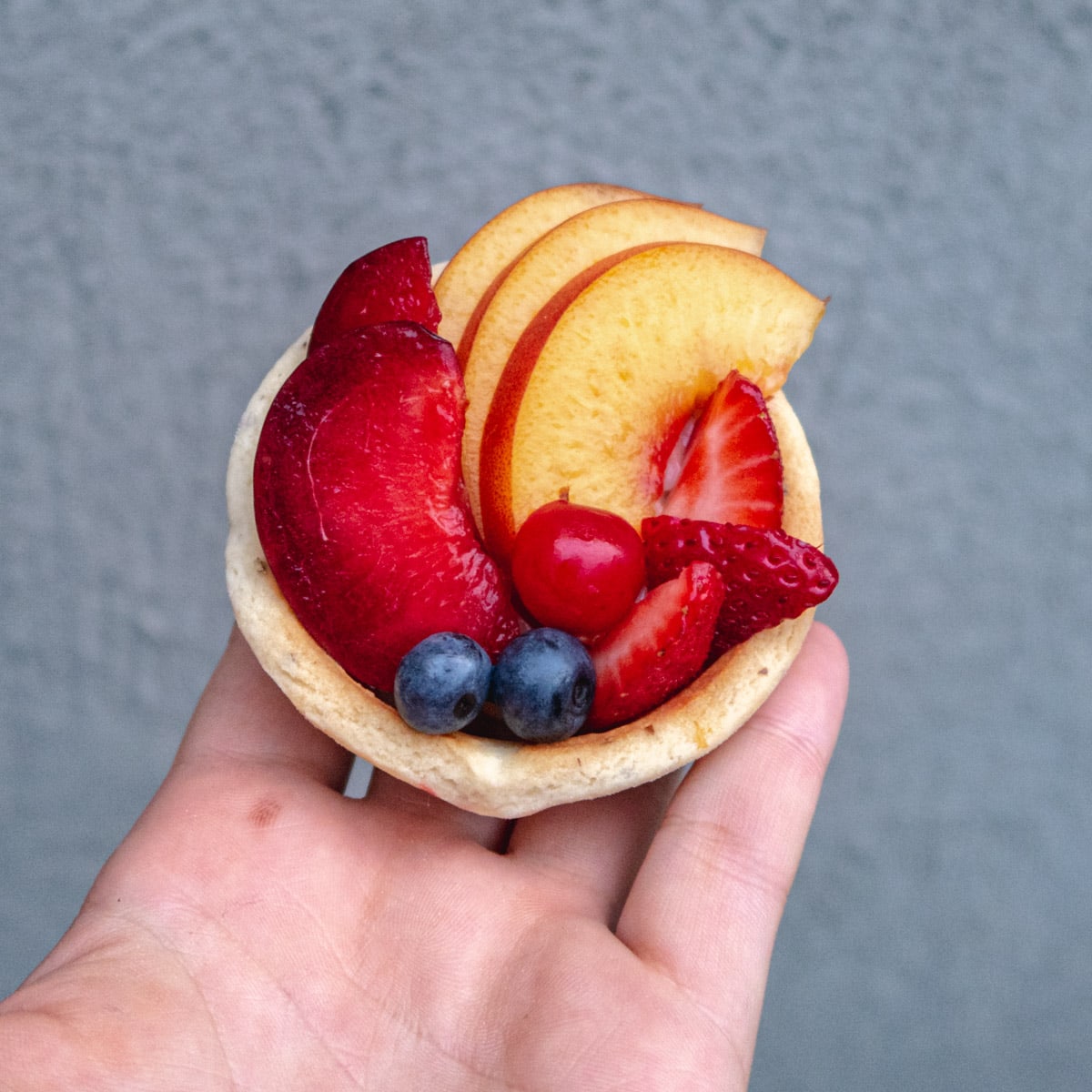 ---
Vegan mini fruit tarts for a special birthday boy
Any occasion is good to make these mini vegan fresh fruit tarts or tartelettes in French. Got your hands on a bounty of local fresh fruits and berries? Have a birthday coming? Have a little sweet tooth after dinner… or late at night? These are all good reasons to make these mini fresh fruit tarts.
I actually made them for a friend who finally gave me the permission to choose his birthday dessert flavor this time — He usually always requests a Bourdaloue tart.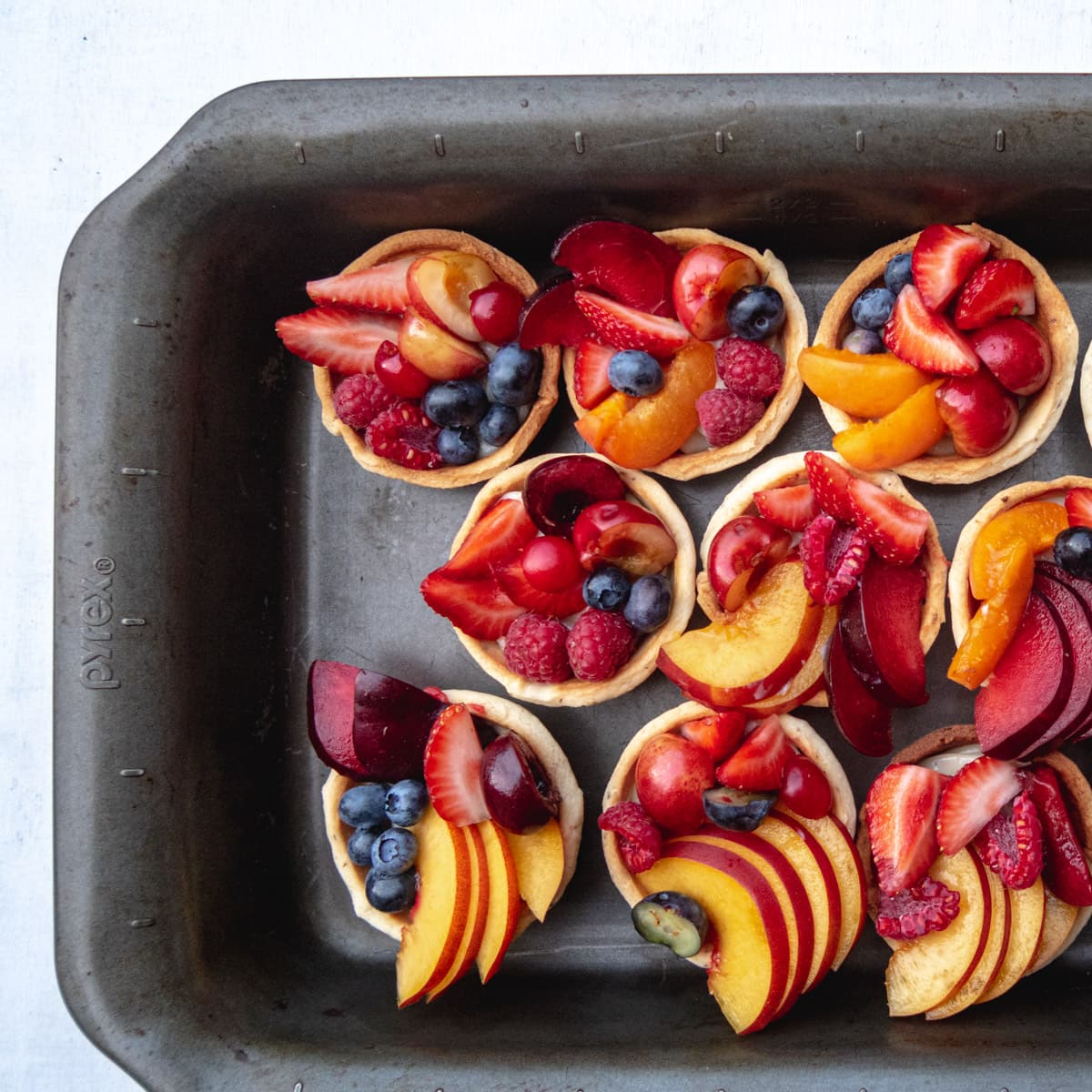 But I had gotten the chance to drop by the farmer's market earlier in the day and was drowning in a large selection of gorgeous local fruits so I knew exactly what do make! Deliciously fresh local fruit tartelettes with orange blossom water crème pâtissière or custard to zaz it up.
But even though this year's dessert was a bit different, I think he was a happy birthday boy. After all, he ate 3 of the 11 mini pies by himself.
(By the way a tartelette is just the french word for tartlet or mini tart)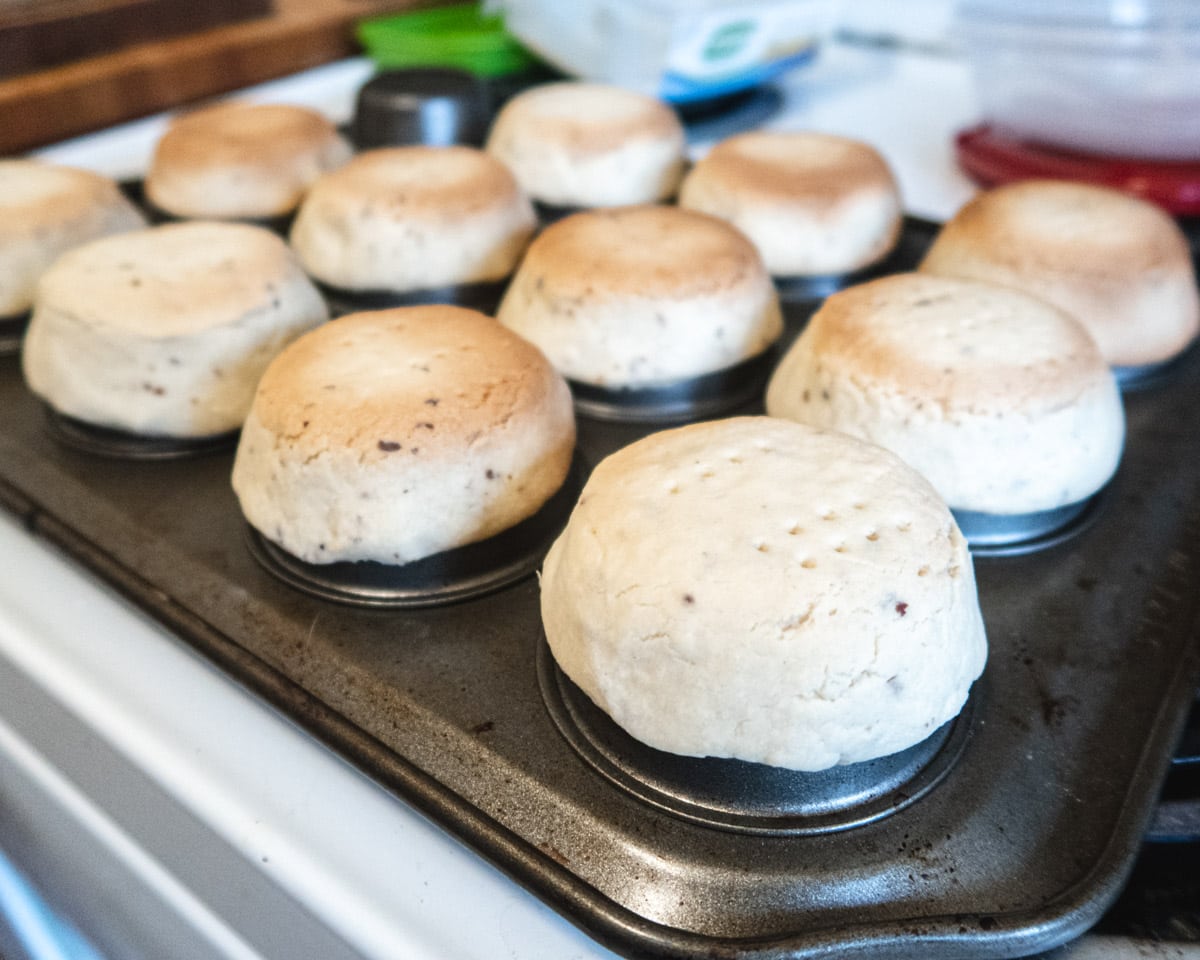 A cheater's version
This recipe is a bit quicker than making traditional vegan fruit tartlets because it is made by placing disks of sweet dough, or pâte sucrée on the back of a muffin tin to cook it instead of having to perfectly line tiny tart tins. For those days where you are just a biiiiit short on time and have 10 thumbs instead of your regular fingers.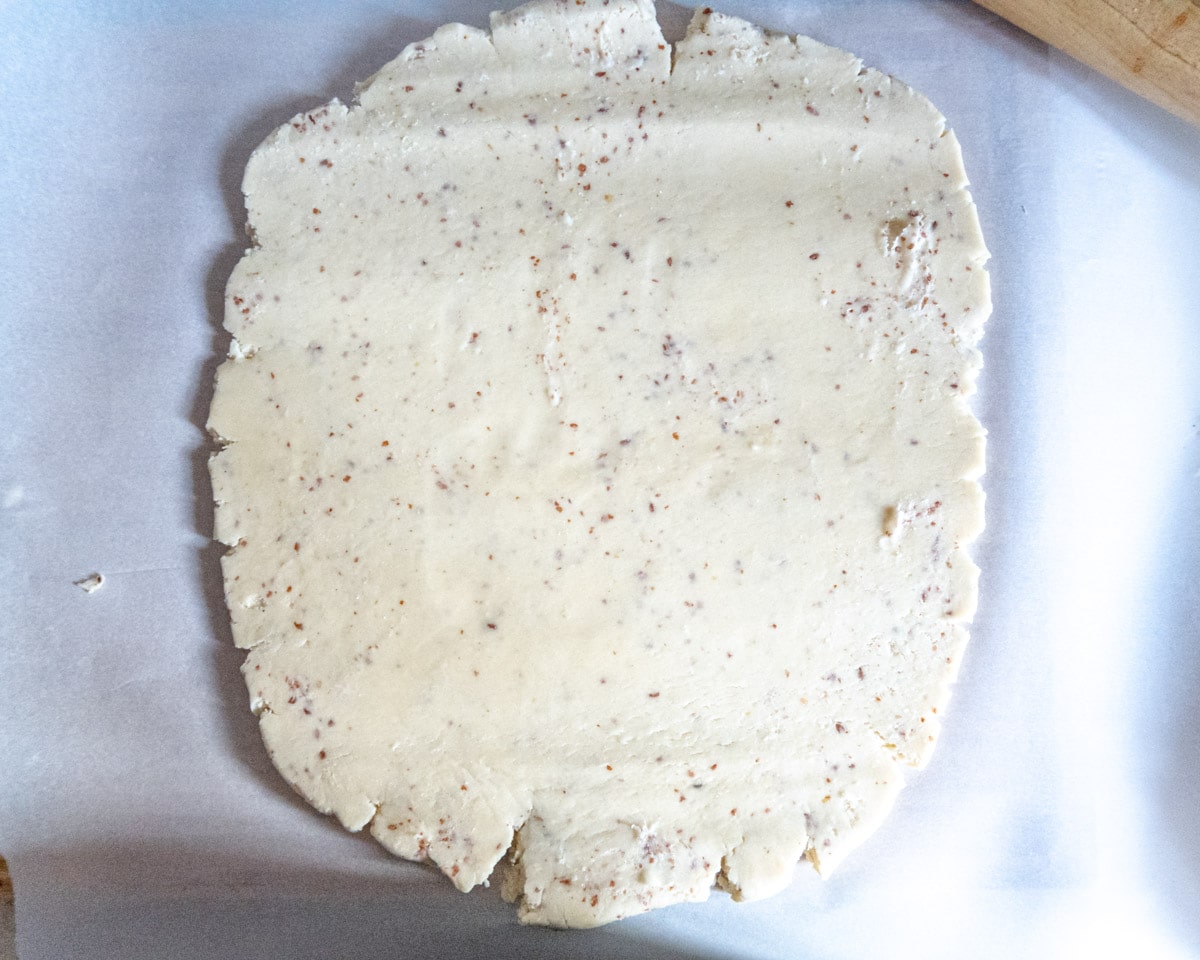 You could also get a premade dough but try not to go with regular pie crust. Sweet dough is the best for this task because it is sturdy and will hold strong against the humidity of the cream
RELATED : Learn all about making lump-free vegan vanilla pastry cream!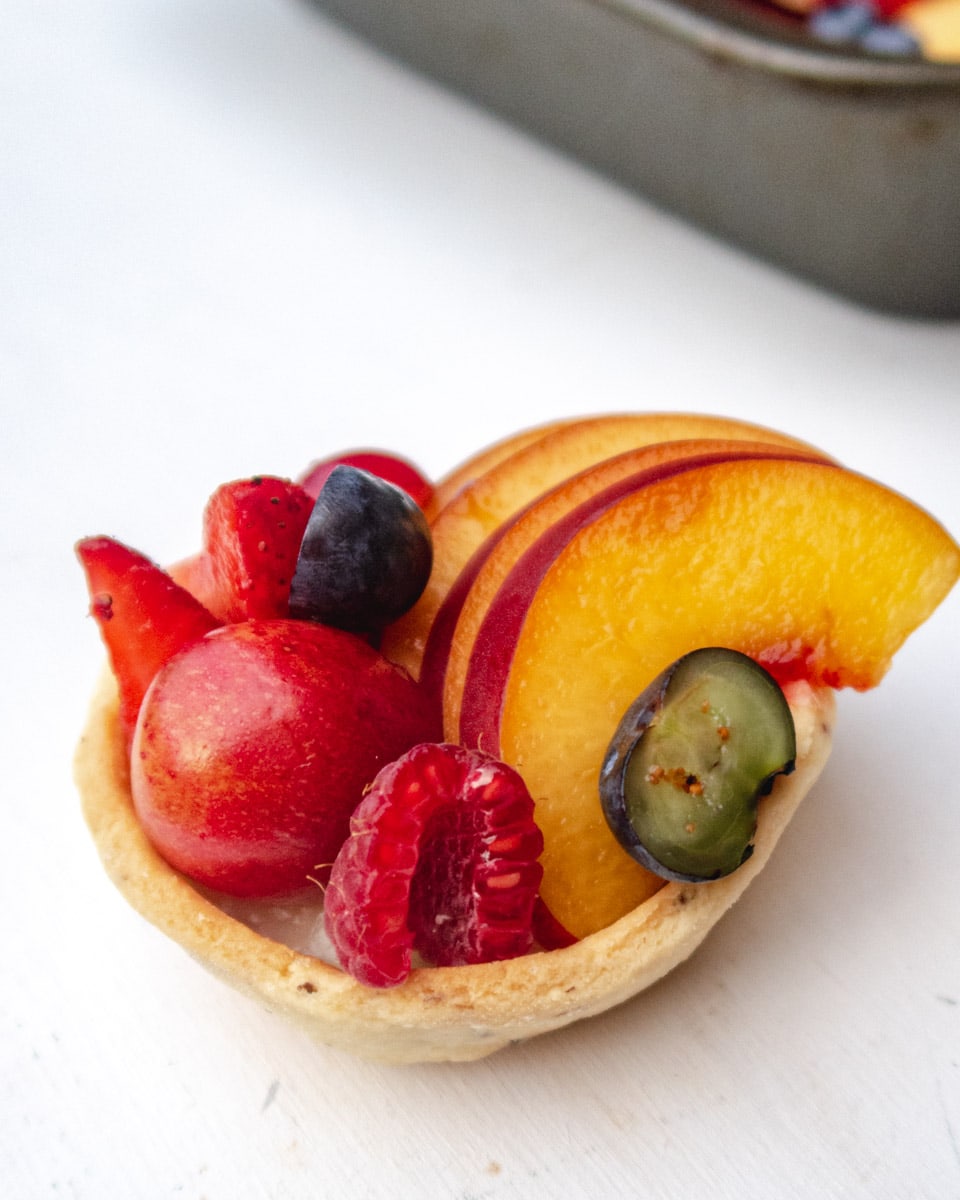 Orange blossom water custard
I love flavouring delicate creams with orange blossom water. You can find it in ethnic stores, or in fancier grocery stores. It is very present in Lebanese cooking.
But when using this ingredient you have to remember that a little goes a long way so taste and go. You can also have other people check the flavor as sometimes your taste buds can get all mixed up.
Rose water could also be used, but I find that it is a flavor that is not as appreciated and that it can sometimes overpower the delicate berries.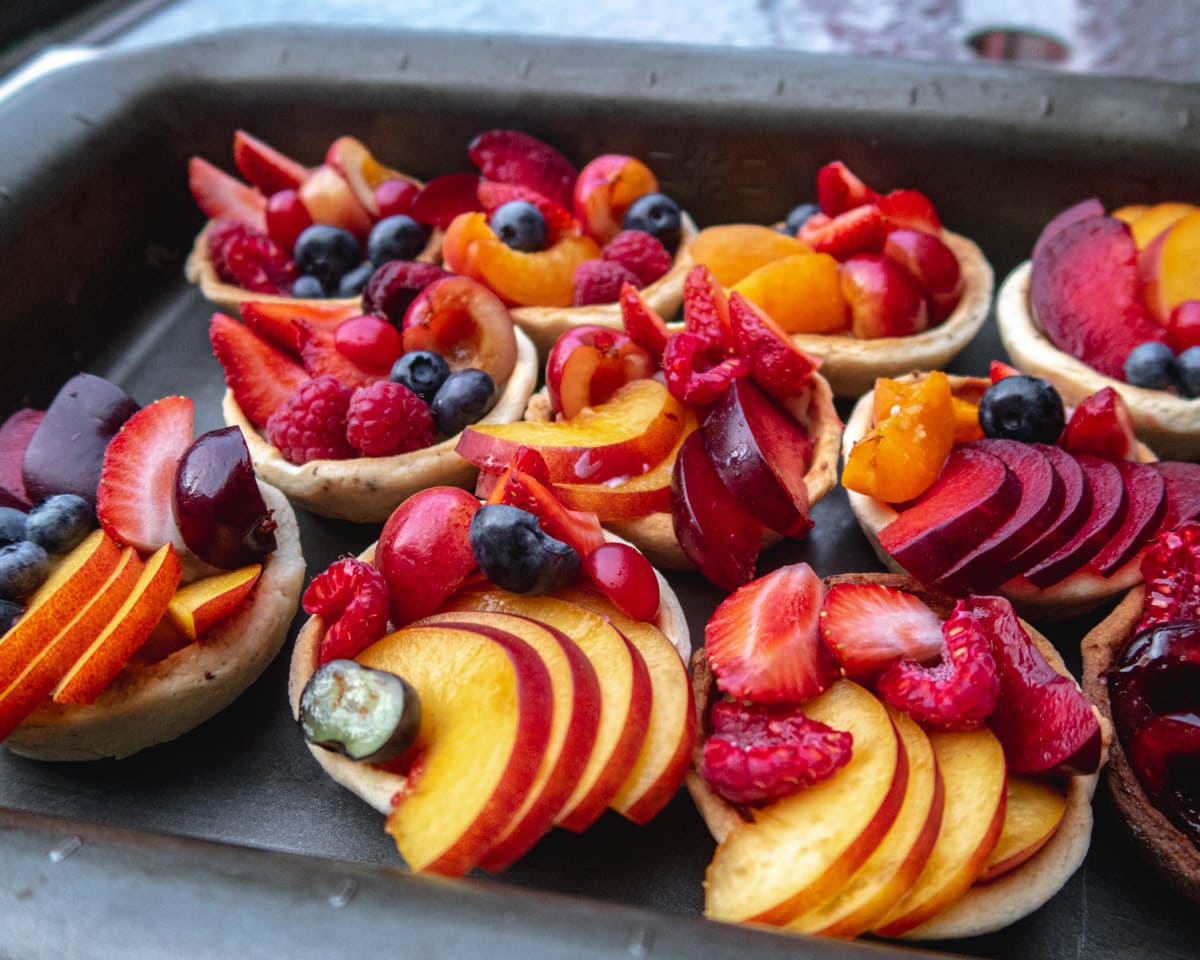 Storage
These mini vegan fresh fruit tartlets are best eaten the same day they are made and NEVER frozen.
This is because the crust will get soggy quickly and might break. However, brushing cocoa butter or vegan white chocolate on the inside of the cooked crust before filling and covering the fruits with a thin layer of nappage neutre, neutral (most often apple) jelly, or thinned and strained apricot jelly will help you keep these french fruit tarts for a day longer.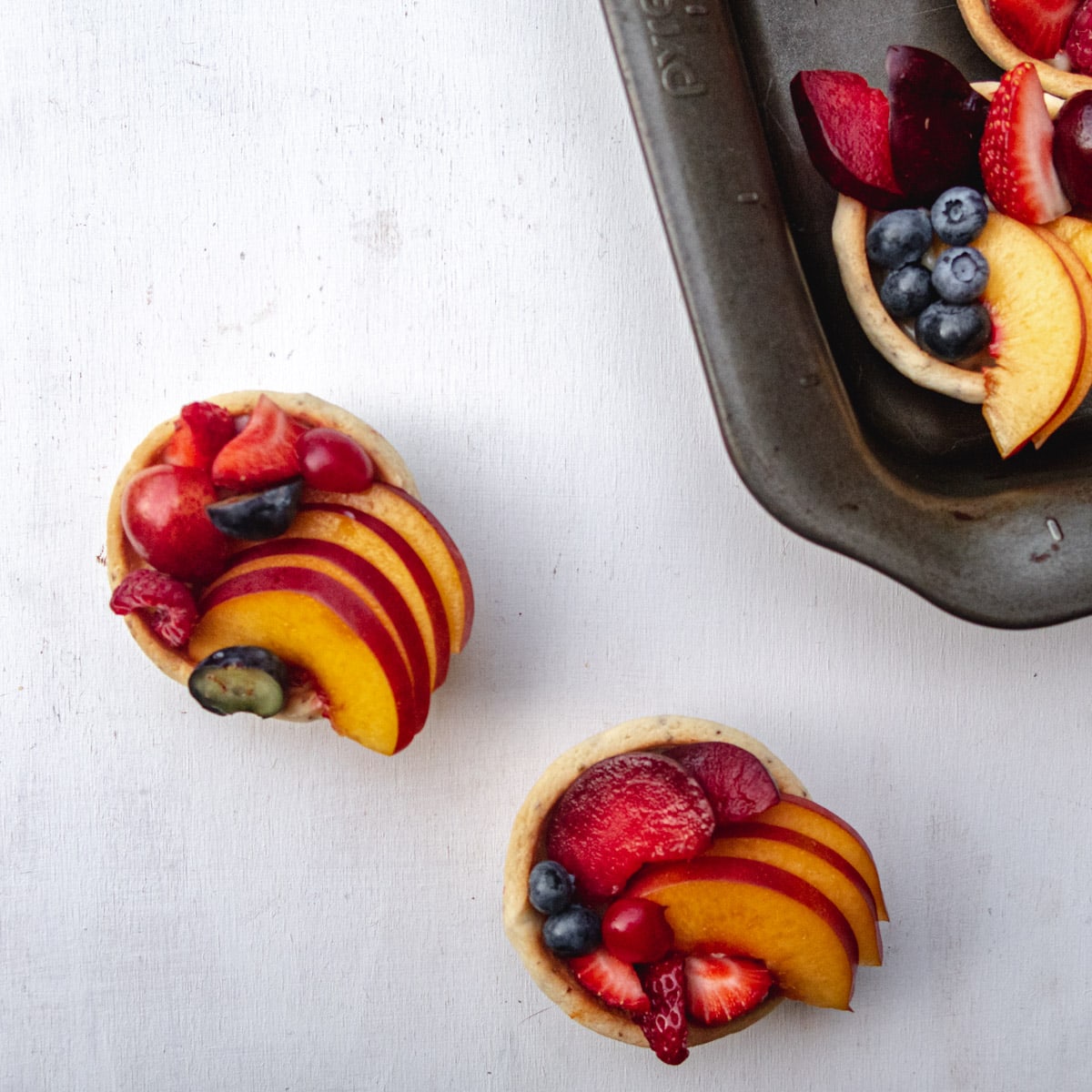 Tools
To make this vegan fresh fruit tartlets recipe you will need the following tools:
1 rolling pin 
1 saucepan
1 whisk
1 medium bowl
1 pairing knife
1 muffin tin
9 cm ( 3 ½-inch)  diameter round cookie cutter, to be adjusted depending on the size fo your muffin tin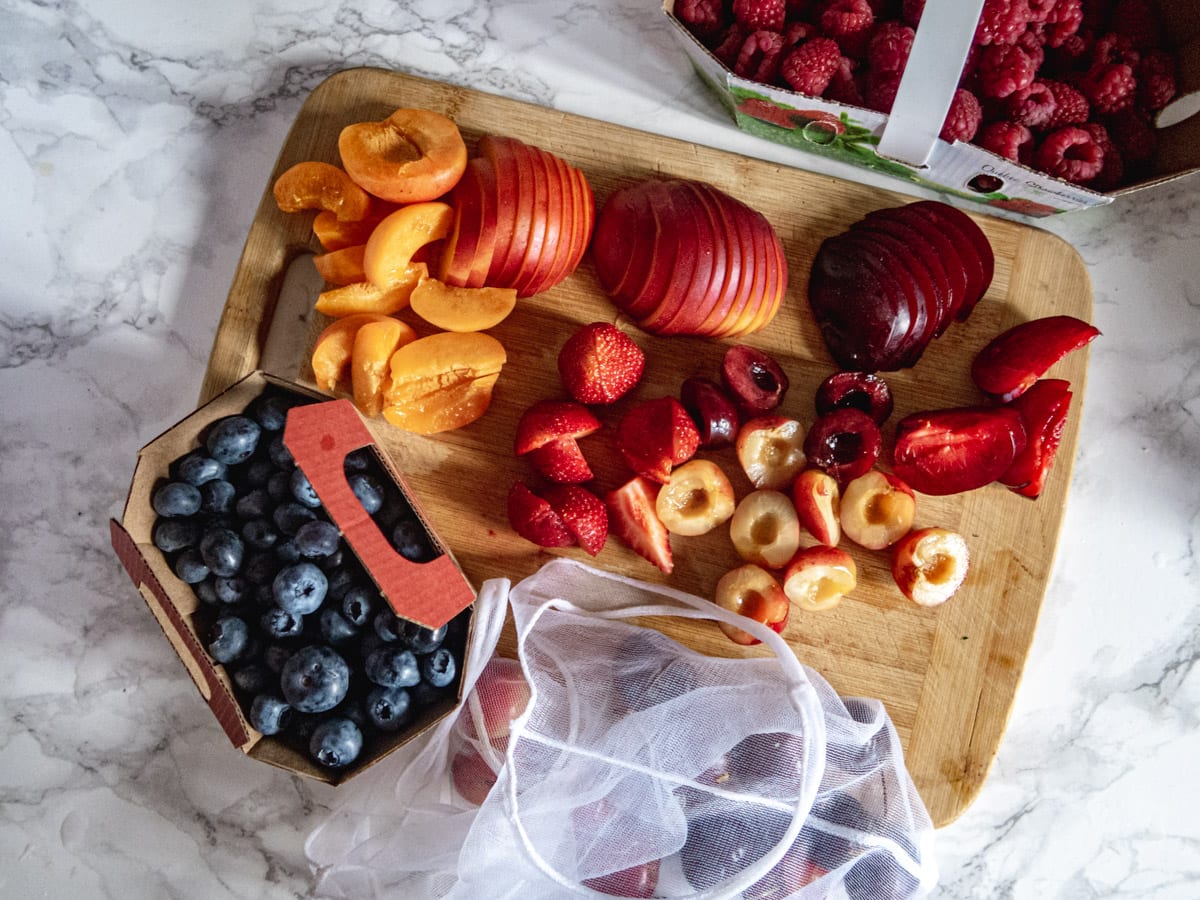 Recipe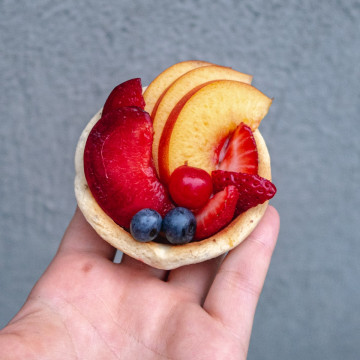 Print
Vegan mini fresh fruit tart with delicate summer custard
Garnished with a crown of fresh local fruits and filled with orange blossom water custard, theses mini vegan French-style tarts will be the talk at your next summer picnic or party.
Servings
6
tartelettes or mini tarts
Ingredients
Orange Blossom Crème Pâtissière
500g

(2 cups)

your favorite plant-based milk

, I like to use soy milk

30g to 45g

(2 to 3 tablespoon )

orange blossom water,

, adjust according to your taste

½ tsp

vanilla bean paste

120g

(½ cup)

white sugar

60g

(½ cup)

cornstarch

, also known as cournflour

60g

(¼ cup)

vegan margarine or butter
Garnish
Fresh fruits like berries, stone fruits, or tropical fruits

Neutral jelly or apricot jam strained and thinned with simple syrup

(optional)
Instructions
Tart Shell
Preheat your oven at 375°F ( or 190°C)

Roll out the sweet pastry dough to a 3mm (⅛-inch) thickness, prick all over with a fork and cut 9cm (3 ½ -inch) diameter circles with a cookie cutter ( or use a round object as a guide).

Place each dough circles on the back of a flipped-over muffin tin. Press down on the dough so that the dough is pressed flushed against the sides of the muffin cavity.

Cook for 15 to 20 minutes, or until cooked through and golden brown.

Let the crust cool down at room temperature. Once the tart shells are not warm to the touch anymore, remove the shells from the muffin tin and brush the inside with melted cacao butter. Set the mini tart shells aside for later.
Orange Blossom Crème Pâtissière
Pour the vegan milk,orange blossom water and vanilla bean paste in a saucepan, and bring to a simmer over medium heat.

In a medium bowl, dry whisk the sugar and cornstarch until completely smooth.

Pour slowly a third of the boiling milk over the sugar mixture and whisk until smooth and lump-free. Pour back the sugar mixture into the still-hot saucepan with the leftover milk.

Cook the preparation for 2 to 3 minutes on medium heat while continuing to whisk constantly. Check the sides and bottom of your pan with a silicone spatula from time to time to stop scorching from happening.

When the pastry creme has started to thicken and large bubbles start appearing, remove the saucepan from the heat while still stirring.

While still hot, add the margarine and incorporate it with the spatula until homogenous.

Transfer the cream onto the shallow dish (or back in the rinsed out medium bowl), and cover with plastic wrap so that it is in direct contact with the cream. Refrigerate until cold (minimum of 1h).

Transfer the pastry cream into a medium bowl and whisk vigorously until it becomes smooth and creamy again.

Transfer the pastry cream into a pastry bag with a 1M Wilton pastry tip.
Assembly
Clean and cut your fruits according to how you want to decorate your tarts ( slices, quarters, diced, fannes, etc.)

Garnish each mini tart crust halfway with the orange blossom pastry cream.

Decorate the tarts by placing the fruits over the cream in a design of your choice

If using, brush some warm neutral jelly or thinned jam over the fruits and the edge of the pie to preserve the fruits and give a shiny appearance to the fruits. Enjoy!
Notes
The vanilla bean paste can be replaced with 1 teaspoon vanilla extract
Best eaten the same day, but can be stretched to the next day if coating with jelly/jam and if lining the tart shell with melted cacao butter.
Refrigerate but don't freeze.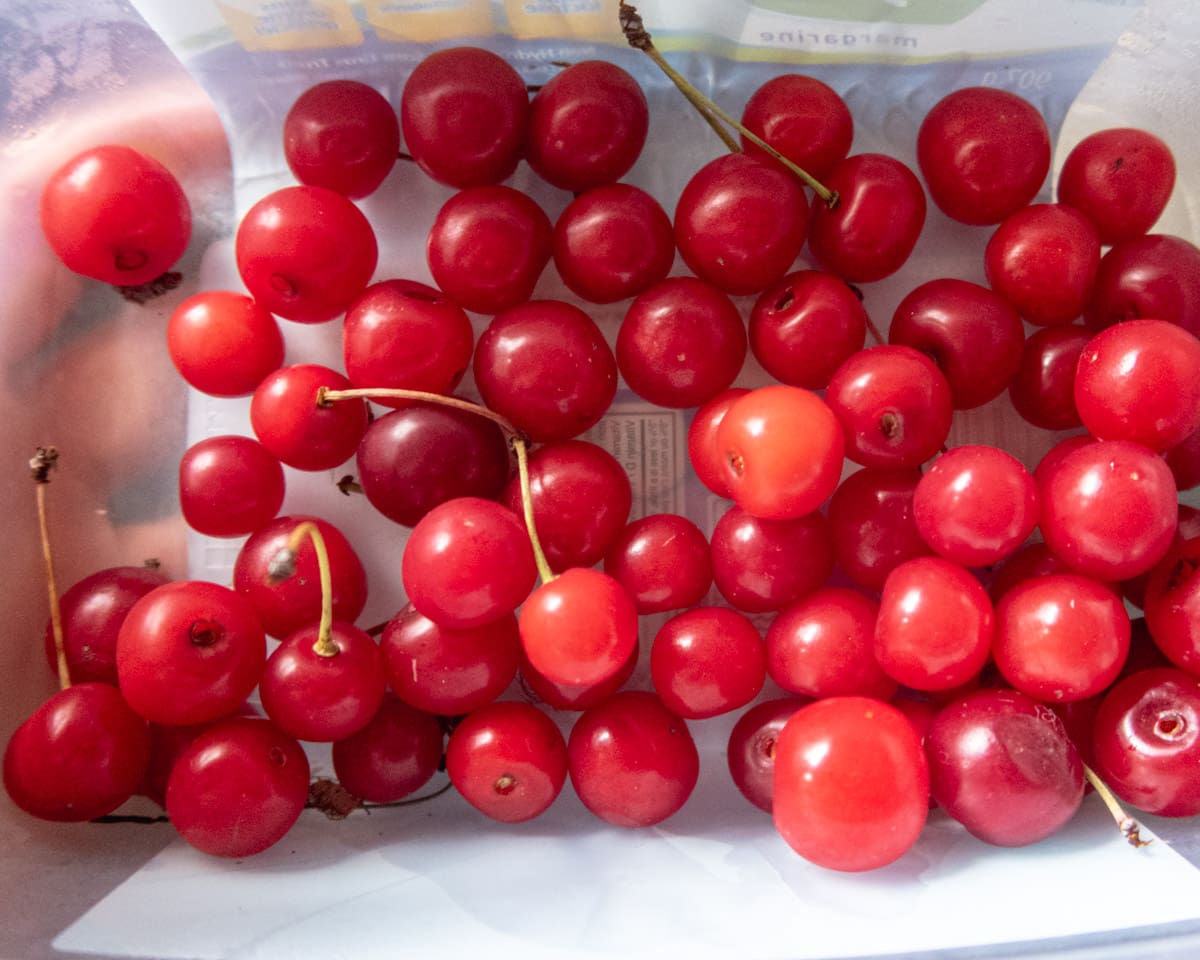 Did you try these vegan fresh fruit tartlets?
Don't be shy and let me know how it went and which fruits you chose to use! Leave me a comment below and share a picture on Instagram !