Garnished with a crown of fresh local fruits and filled with orange blossom pastry cream, theses vegan mini custard tarts will be the talk at your next summer picnic or party.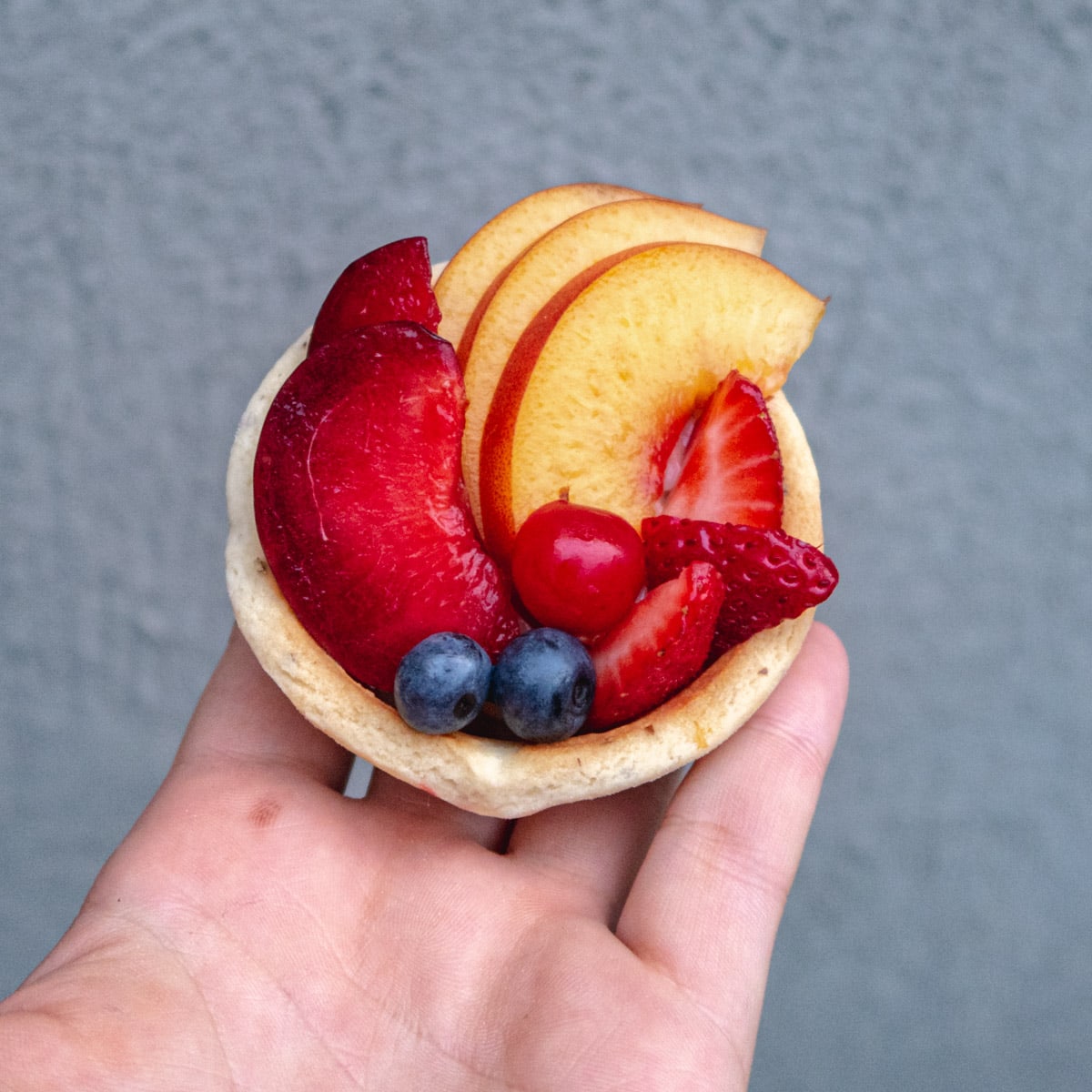 ---
Vegan mini fruit tarts for a special birthday boy
Any occasion is good to make these mini vegan fresh fruit tarts or tartelettes in French. Got your hands on a bounty of local fresh fruits and berries? Have a birthday coming? Have a little sweet tooth after dinner… or late at night? These are all good reasons to make these mini fresh fruit tarts.
I actually made them for a friend who finally gave me the permission to choose his birthday dessert flavor this time — He usually always requests a Bourdaloue tart.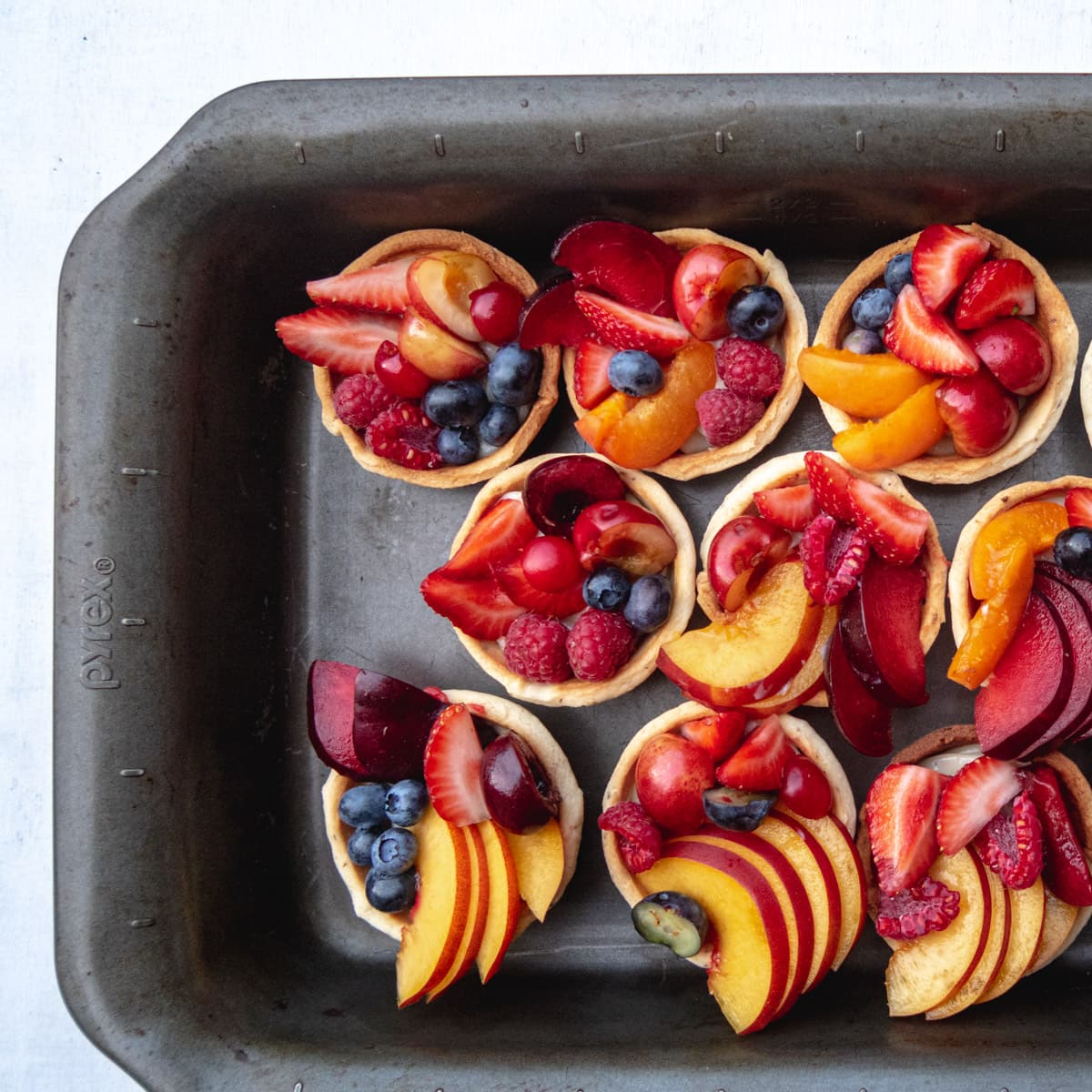 But I had gotten the chance to drop by the farmer's market earlier in the day and was drowning in a large selection of gorgeous local fruits so I knew exactly what do make! Deliciously fresh local fruit tartelettes with orange blossom water crème pâtissière or custard to zaz it up.
But even though this year's dessert was a bit different, I think he was a happy birthday boy. After all, he ate 3 of the 11 mini pies by himself.
(By the way a tartelette is just the french word for tartlet or mini tart)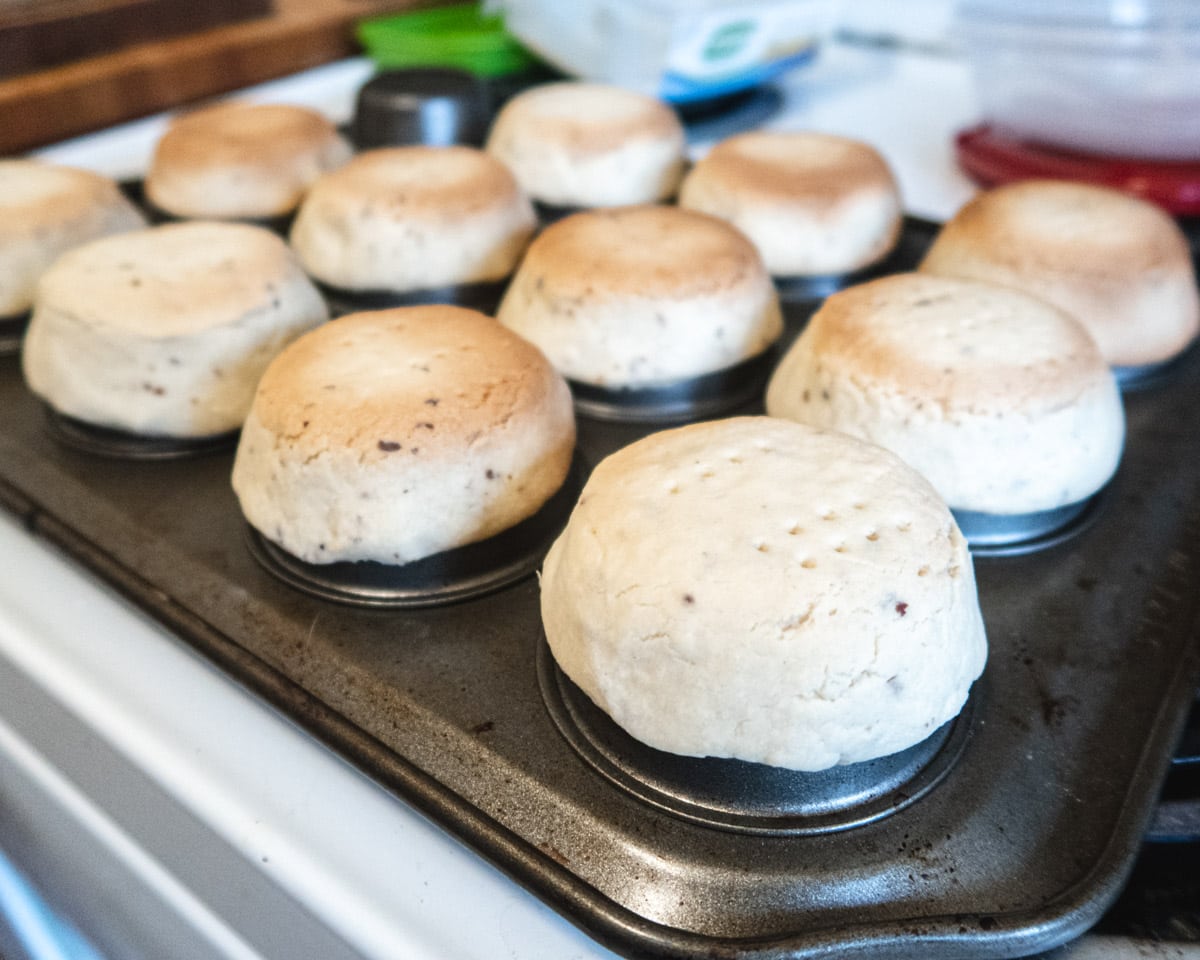 A cheater's version
This recipe is a bit quicker than making traditional vegan fruit tartlets because it is made by placing disks of sweet dough, or pâte sucrée on the back of a muffin tin to cook it instead of having to perfectly line tiny tart tins. For those days where you are just a biiiiit short on time and have 10 thumbs instead of your regular fingers.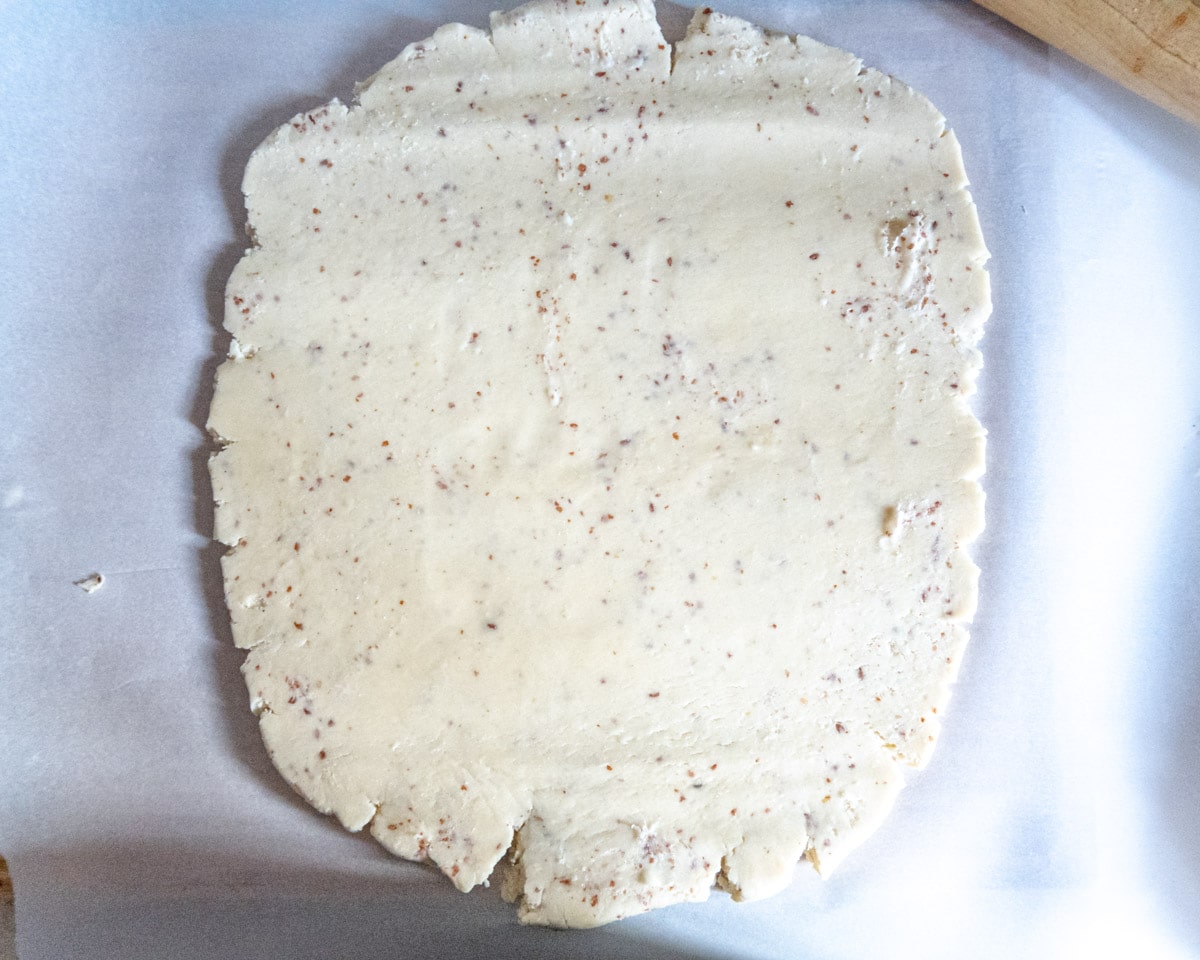 You could also get a premade dough but try not to go with regular pie crust. Sweet dough is the best for this task because it is sturdy and will hold strong against the humidity of the cream
RELATED : Learn all about making lump-free vegan vanilla pastry cream!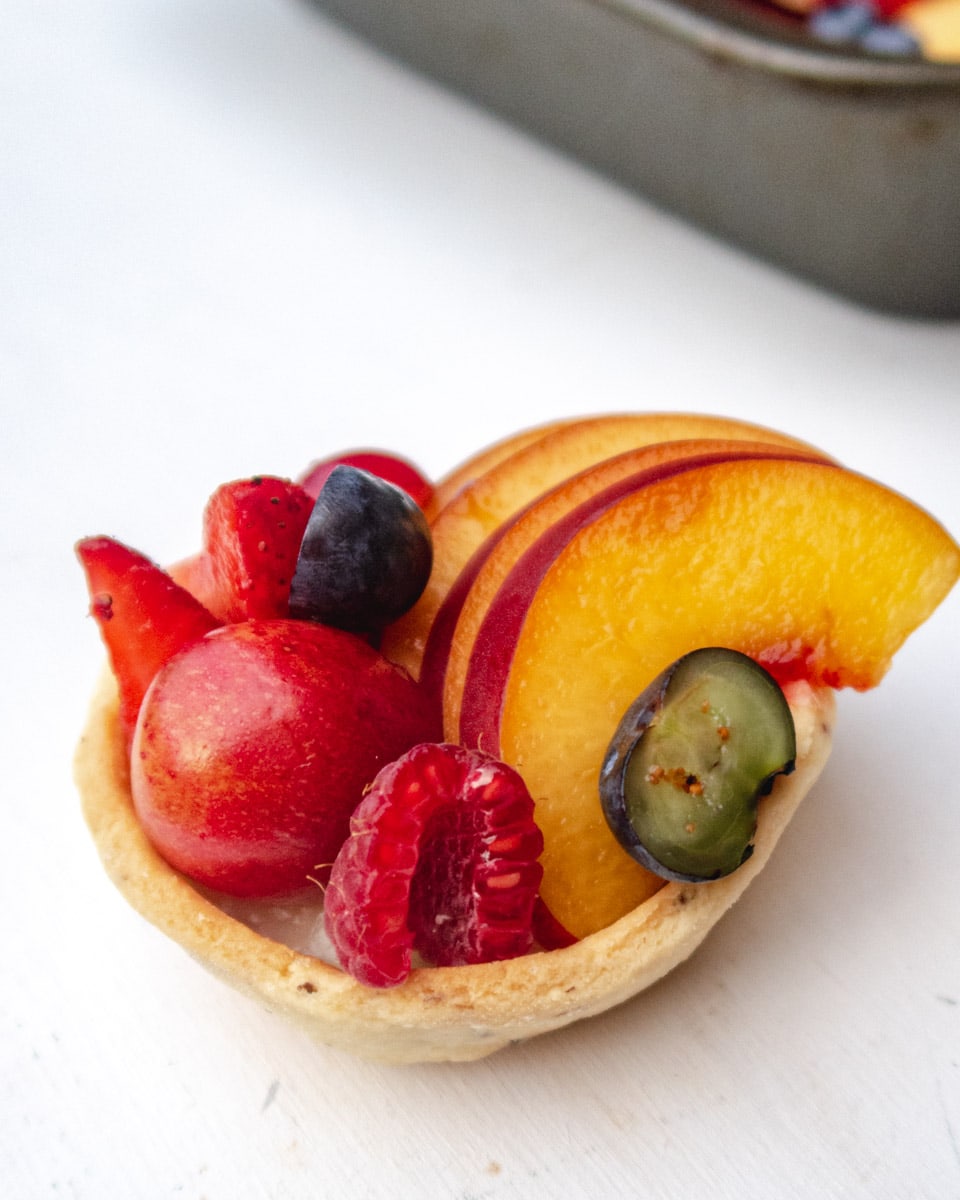 Orange blossom water custard
I love flavouring delicate creams with orange blossom water. You can find it in ethnic stores, or in fancier grocery stores. It is very present in Lebanese cooking.
But when using this ingredient you have to remember that a little goes a long way so taste and go. You can also have other people check the flavor as sometimes your taste buds can get all mixed up.
Rose water could also be used, but I find that it is a flavor that is not as appreciated and that it can sometimes overpower the delicate berries.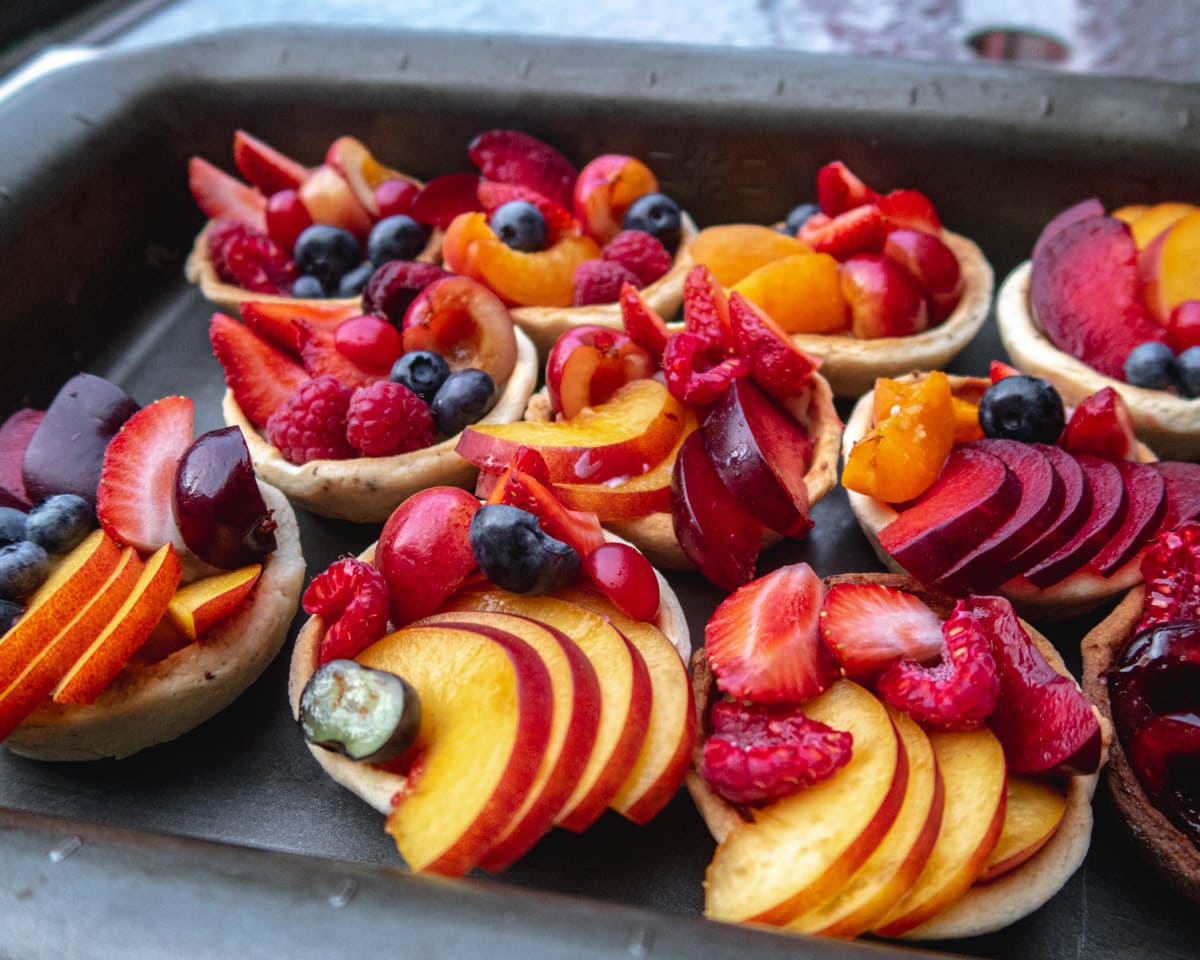 Storage
These mini vegan fresh fruit tartlets are best eaten the same day they are made and NEVER frozen.
This is because the crust will get soggy quickly and might break. However, brushing cocoa butter or vegan white chocolate on the inside of the cooked crust before filling and covering the fruits with a thin layer of nappage neutre, neutral (most often apple) jelly, or thinned and strained apricot jelly will help you keep these french fruit tarts for a day longer.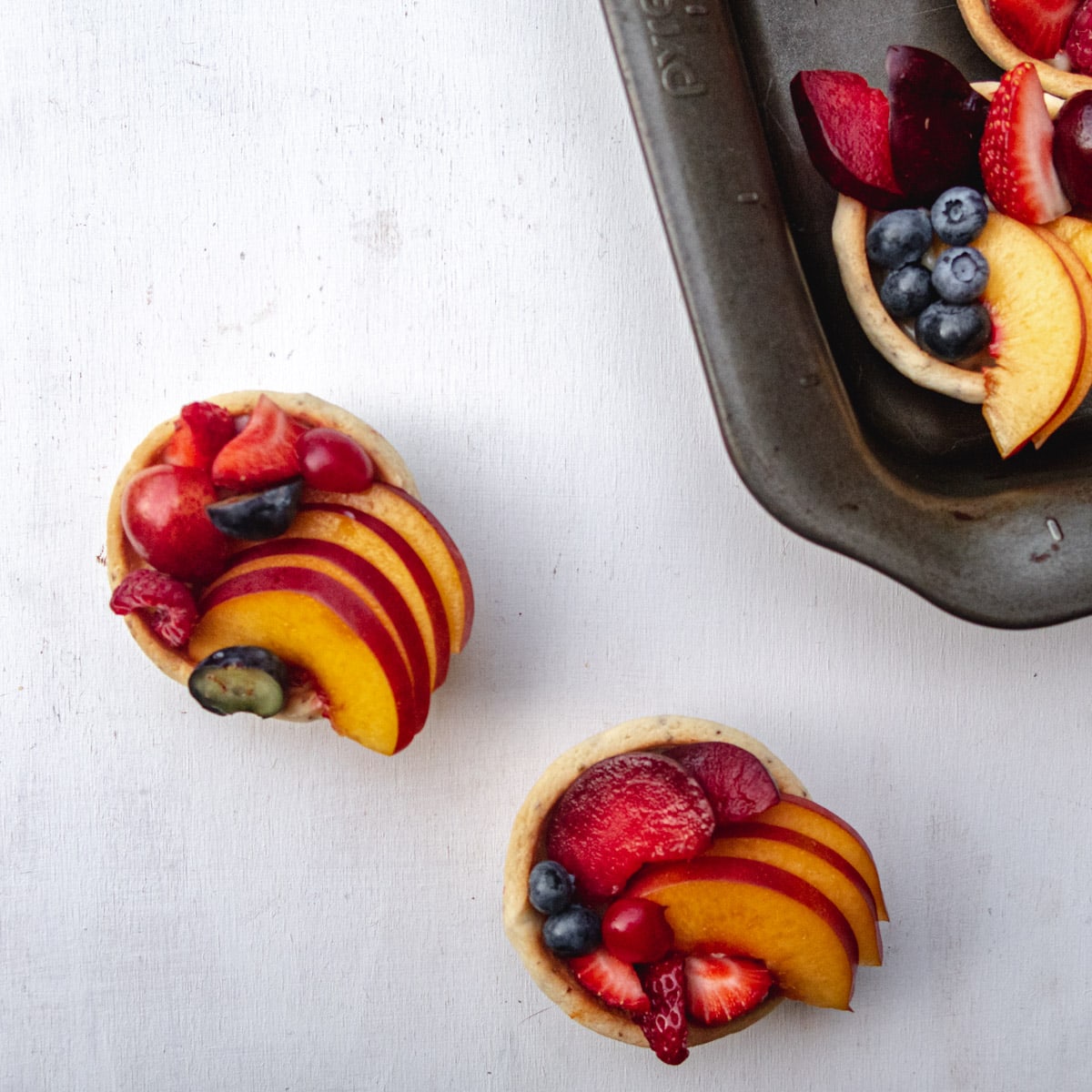 Tools
To make this vegan fresh fruit tartlets recipe you will need the following tools:
1 rolling pin 
1 saucepan
1 whisk
1 medium bowl
1 pairing knife
1 muffin tin
9 cm ( 3 ½-inch)  diameter round cookie cutter, to be adjusted depending on the size fo your muffin tin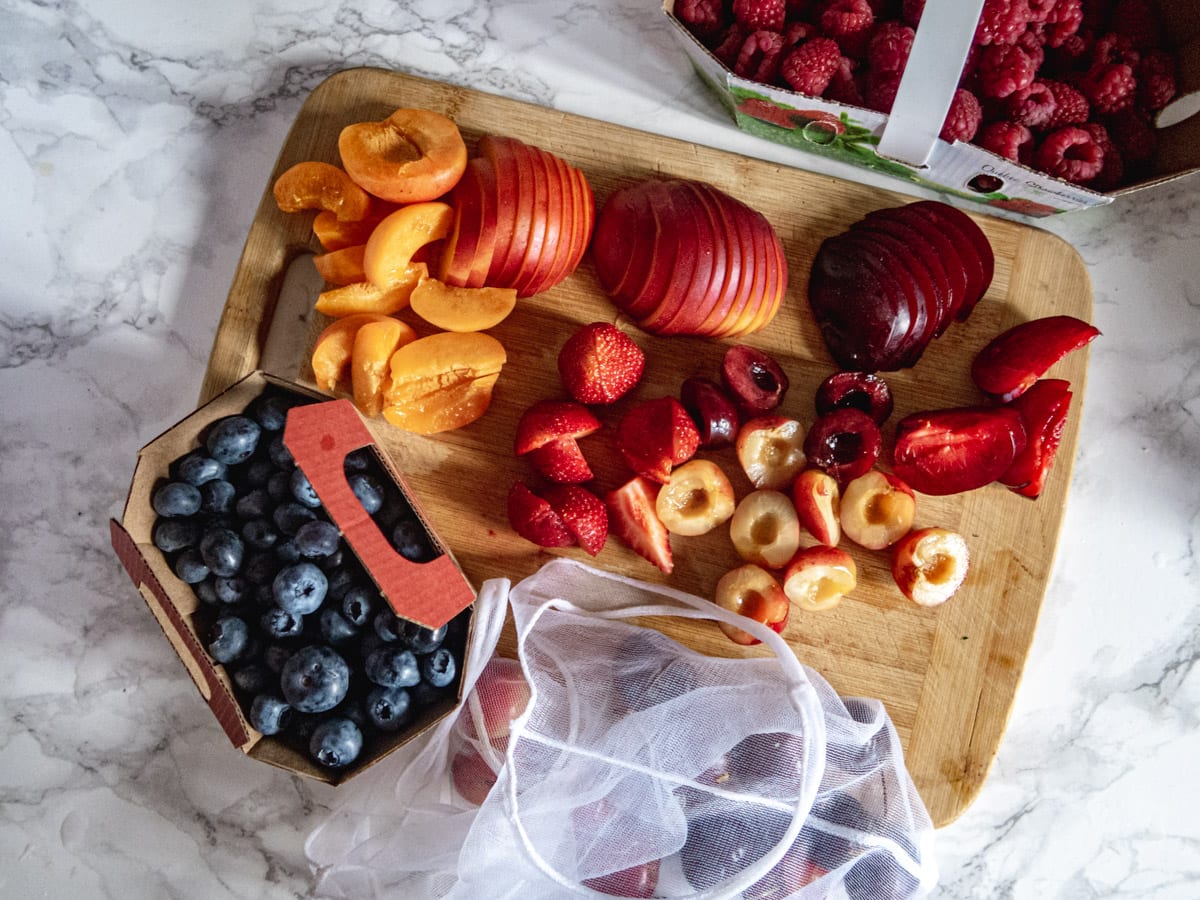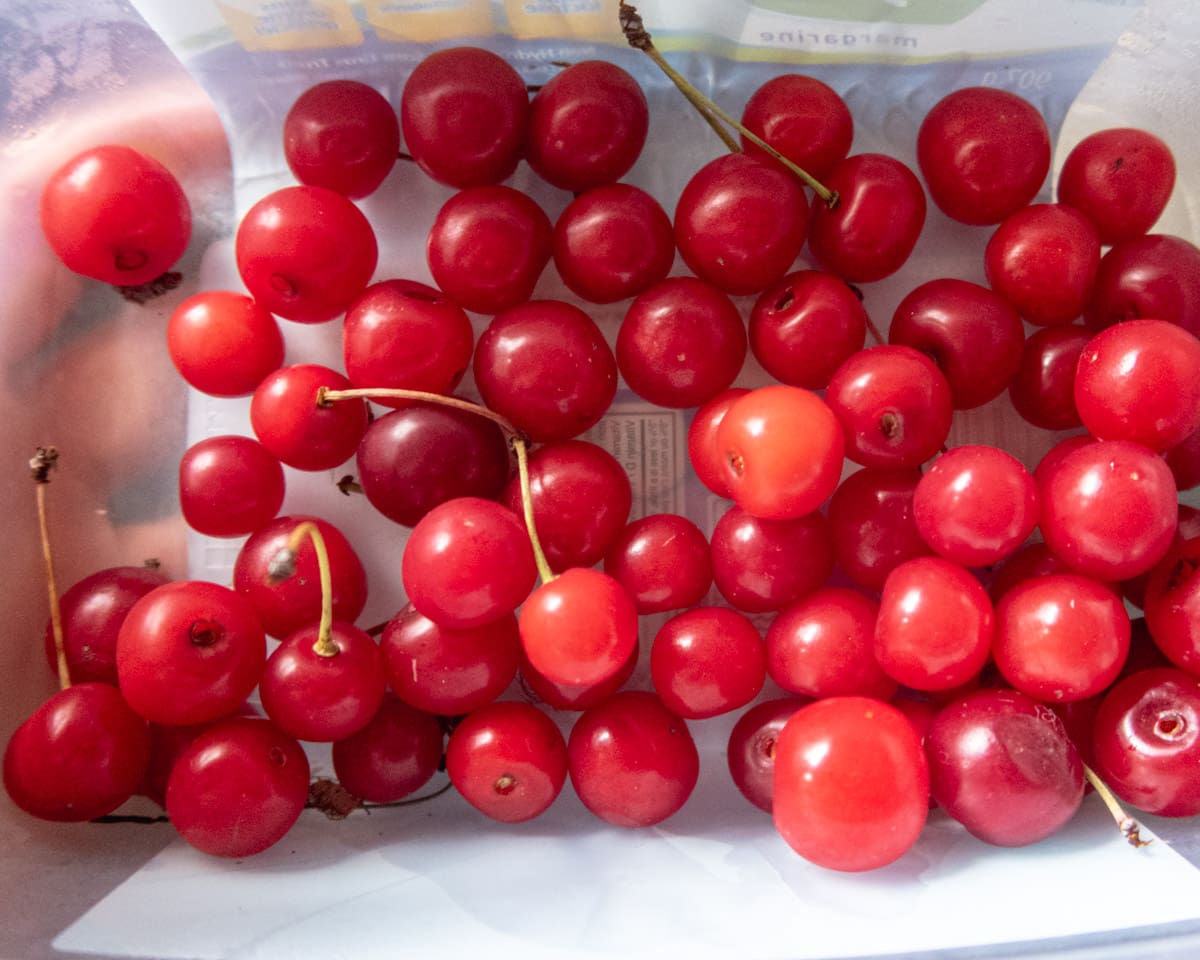 Did you try these vegan fresh fruit tartlets?
Don't be shy and let me know how it went and which fruits you chose to use! Leave me a comment below and share a picture on Instagram !