Learn how to make this classic vegan Italian meringue buttercream with my step-by-step guide (with pictures)! 
This light and fluffy "not too sweet" buttercream will quickly become your favorite frosting to pipe on cupcakes or to decorate cakes with.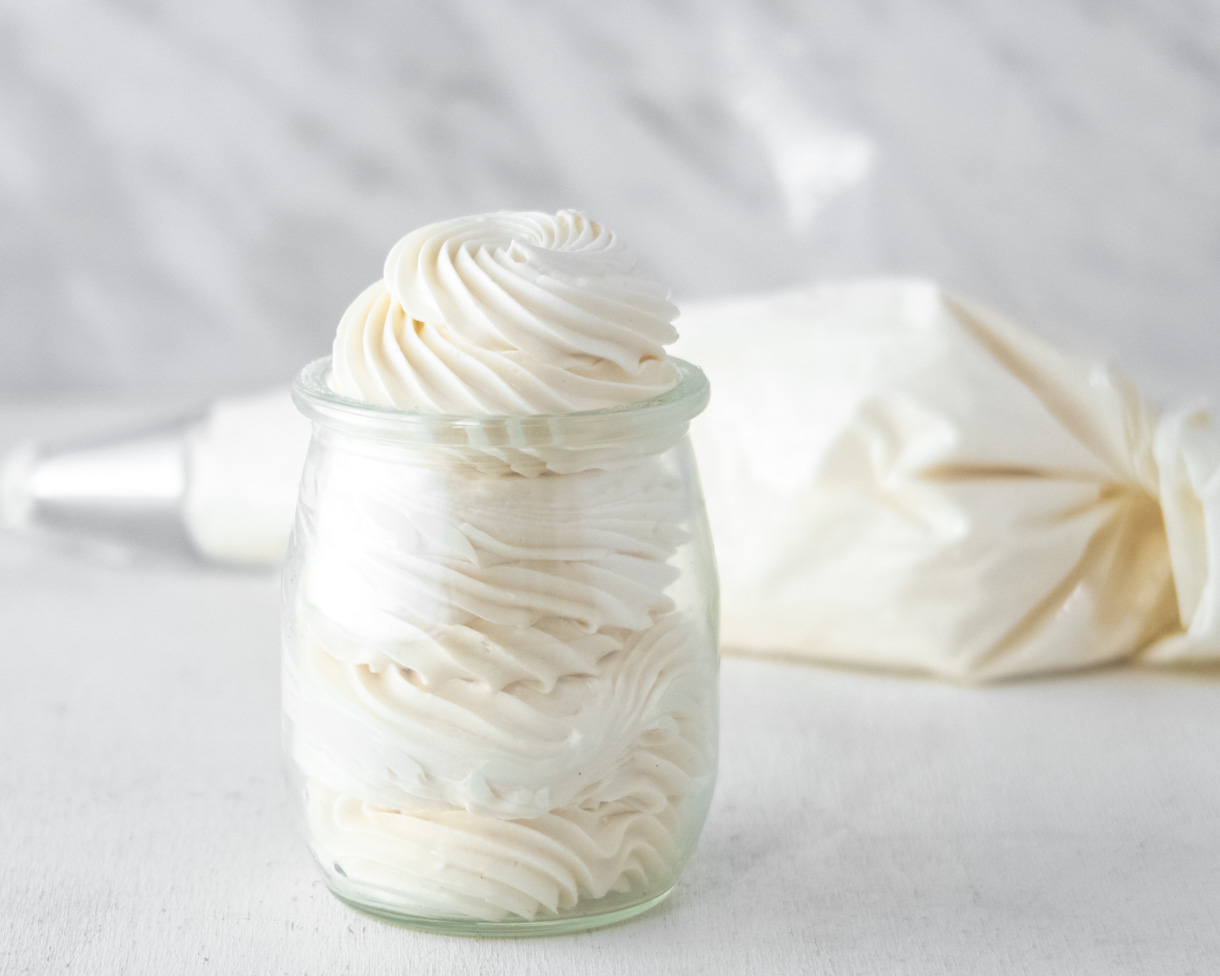 This buttercream is a true classic that I actually learned in pastry school. This recipe is actually adapted from the one I learned on the school benches so I know it works.
This egg-free and dairy-free meringue buttercream is:
Perfectly stable and pipable
Not too sweet
Light and fluffy
Meringue buttercreams like this one are usually "non-crusting" and become quite a bit firm when refrigerated. Swiss and Italian buttercreams in general are my favorites because they don't leave a grainy mouthfeel behind as American buttercream does.
This vegan Italian meringue buttercream blog post is very complete but also pretty long so feel free to skip to the part you are looking for using the following table of content.
Jump to:
📖 Type of classic buttercreams
There are 3 different types of classic buttercreams that were taught at my culinary school. They can sometimes look the same so here are the main differences between them so that you can tell them apart. Keep in mind that there are plenty more buttercreams and frosting to try out other than these classics.
Italian meringue buttercream (or IMBC) is made by making a meringue and then "cooking" it with hot sugar syrup.
Swiss meringue buttercream (or SMBC)  is made by heating the sugar and egg whites (or replacements) until dissolved and then whipping it up to make a Swiss meringue.
French buttercream however is not made with a french meringue. It is made by "cooking" whipped egg yolks with a hot sugar syrup to make what is called a pâte à bombe. 
I do have to warn you that Italian buttercream is one of the more complex buttercreams. It requires you to work with meringue and hot sugar syrup, and both need to happen at the same time. 
Looking for a buttercream recipe similar to IMBC but slightly easier? I recommend trying out Swiss meringue buttercream (which is frankly what I use 75% of the time).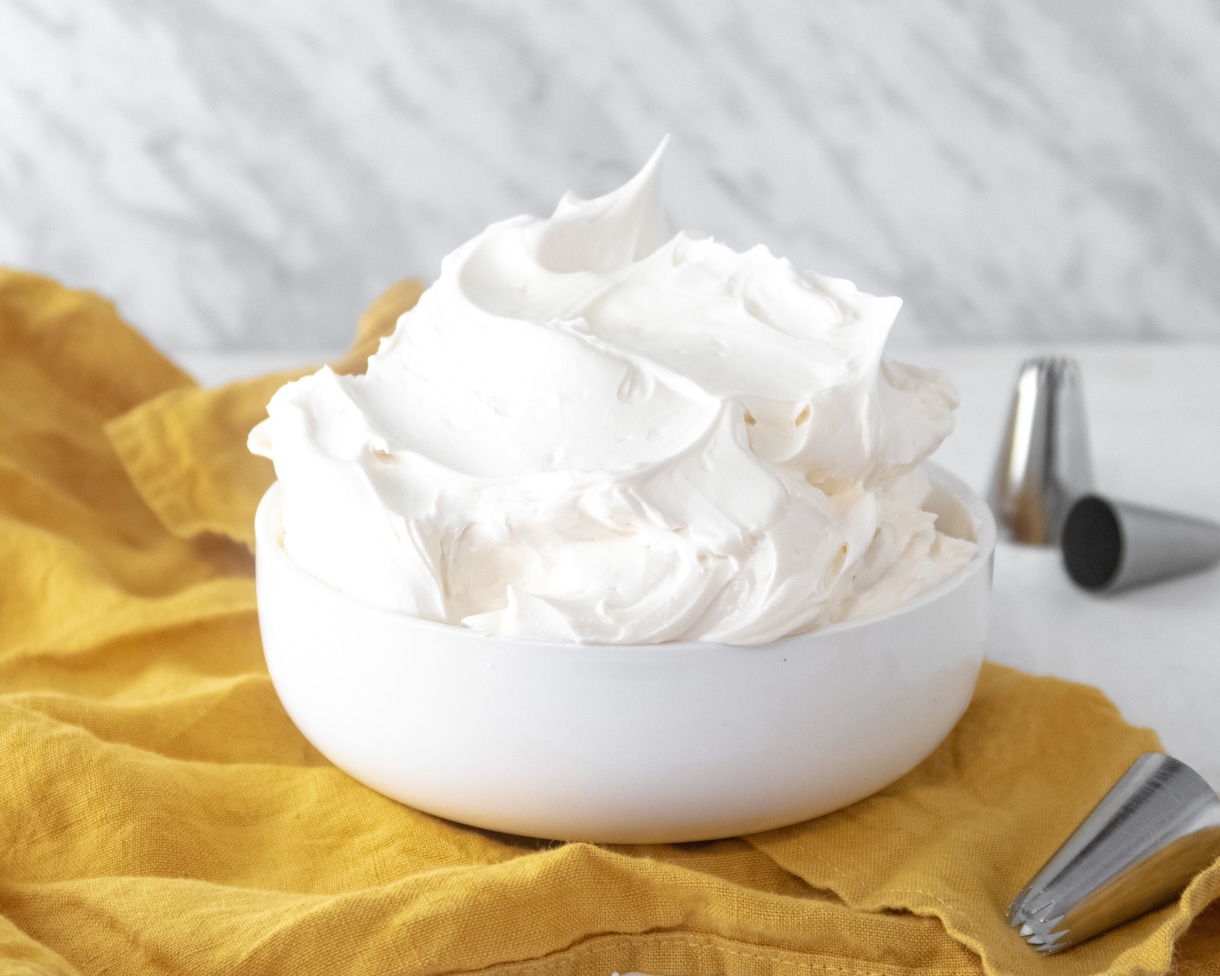 📋 Ingredients + Substitutions
Vegan Italian meringue buttercream doesn't have a lot of ingredients but here is some additional information on some of them just to make sure we are on the same page.
Aquafaba is the brine found in a can of beans like chickpea or white cannellini beans. This replaces egg whites. Try to find beans that are unsalted if you can. Aquafaba consistency can change depending on the brand you use so if it feels very liquidy when you open up your can, reduce it on low heat until reduced by a third to a half. It should feel slightly slimy but not quite as thick as egg whites.
Substitutions:  You can also use Versawhip 600K mixed with water (see quantities in the recipe's notes). Versawhip is a molecular gastronomy powder made from modified soy protein. You can also replace some of the water with other liquids like coffee or lemon juice to make flavored buttercream.
Firm vegan butter - I use Becel plant-based bricks but any firm vegan butter, usually found in blocks, like Flora, Stork, or Naturli' will work. Try to find an unsalted version but salted will do if it's all you can get. 
If vegan butter is hard to find or expensive where you live, you can do half and half of the vegan butter and hi ratio shortening like Sweetex. I do not recommend using only shortening because of the way it tasted and how it leaves an unpleasant mouthfeel.
♨️ Warning!
Making and using hot sugar syrup is very dangerous. It is very hot and can stick to your skin and cause major burns and blisters. You need to take all necessary precautions like wearing pants and long-sleeved shirts and never touching the syrup.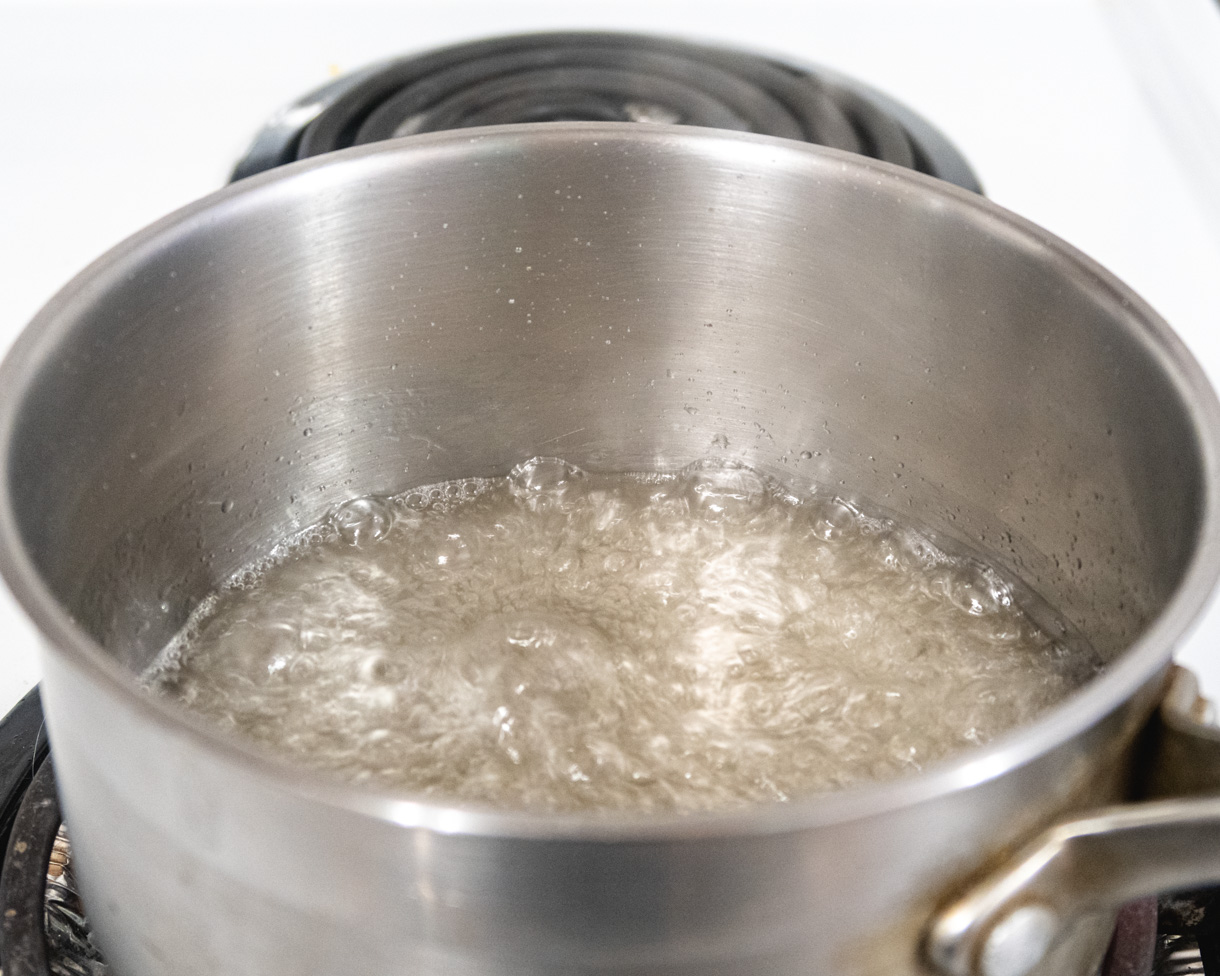 🥣 Instructions
Sugar Syrup
This recipe starts by making a  hot sugar syrup. Bring the water and sugar to a boil over medium heat. If you have made caramel in the past the following rules will be similar.
Use a thick-bottomed saucepan. A small to medium saucepan will do.
Don't stir the syrup, or it might crystalize
Wipe down the inside of the saucepan with a bit of water if you see sugar crystals start to appear where the syrup meets the wall of the saucepan.
Be precise with the temperatures. A digital thermometer is best but an analog candy thermometer will also work.
 If you don't have a thermometer, do not use the "hot sugar in water" technique to determine the syrup's temperature, unless you are confident you know how to use it. I would instead recommend making a Swiss meringue buttercream, which does not require a thermometer at all.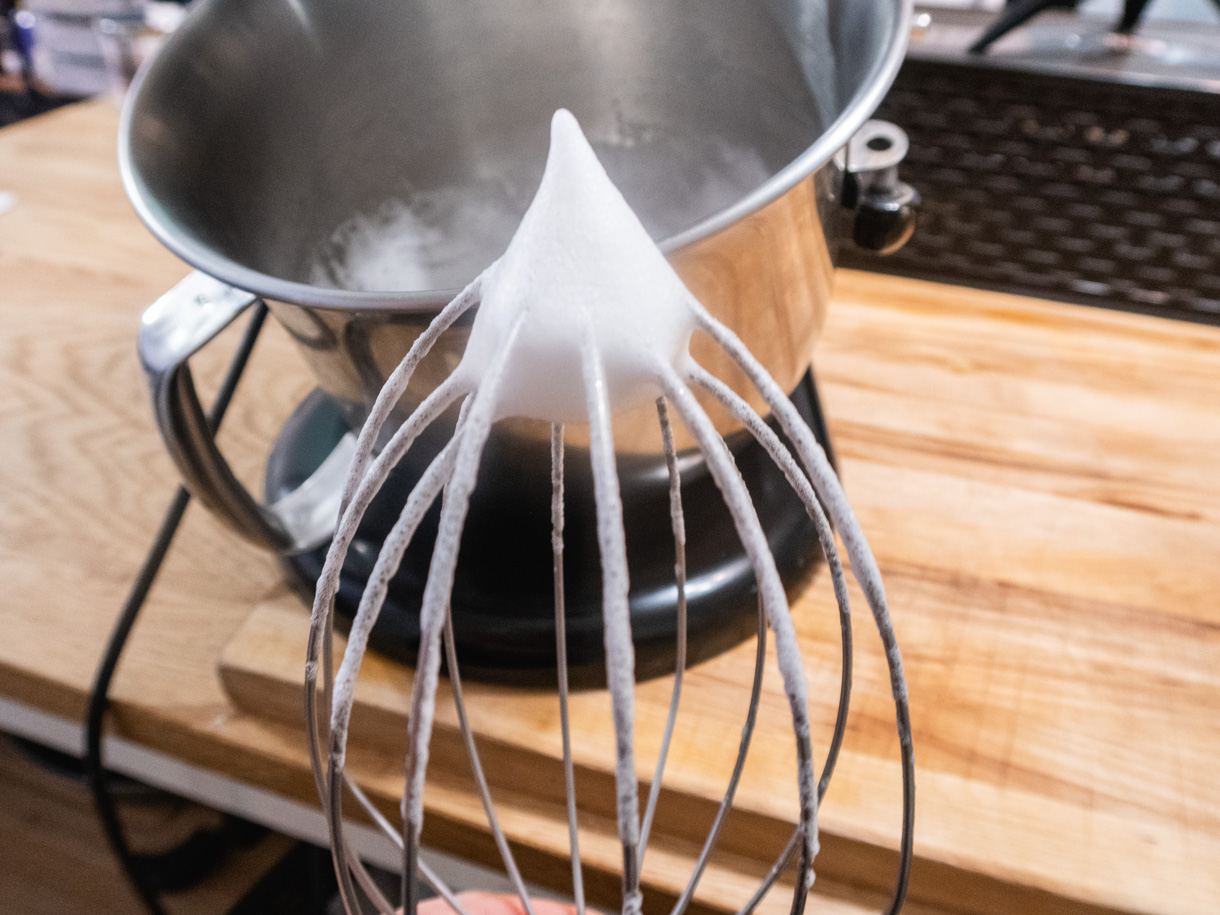 Meringue
The moment we have set the sugar syrup to cook, we start the meringue while still keeping an eye on the syrup. The goal here is to finish both at the same time. This is why using a stand mixer is recommended.
We are going to whip the aquafaba or Versawhip mixture on high to get a foam that is airy and opaque. When whipping, the whisk should leave traces in the meringue that don't go away. This can take up to 10 minutes depending on your mixer and how thick your aquafaba is. 
Because it doesn't yet have sugar in it, this meringue will be very light, have visible bubbles, and will look like it doesn't have a lot of structure. If you flip the whisk upside down, some of the meringue, but not much, should stay on the whisk and stand straight up in a peak.
Adding the sugar syrup to the meringue
Once your syrup reaches the right temperature range, you want to act quickly. Steady the saucepan against the side of the bowl of your stand mixer and slowly add the syrup in a very thin stream into the meringue while it is whipping on the lowest setting.
The tricky part is that you don't want to hit the side of the bowl with the syrup or it will pool at the bottom of the bowl. You also don't want to hit the whisk because this will leave beads of hard syrup on the whisk and on the walls of the bowl, as you can see in my previous picture. 
My pastry teacher explained it as wanting to hit the sweet spot right before the meringue connects with the bowl. As you add more sugar syrup, the volume in the bowl will increase and it will be easier to stream in the syrup.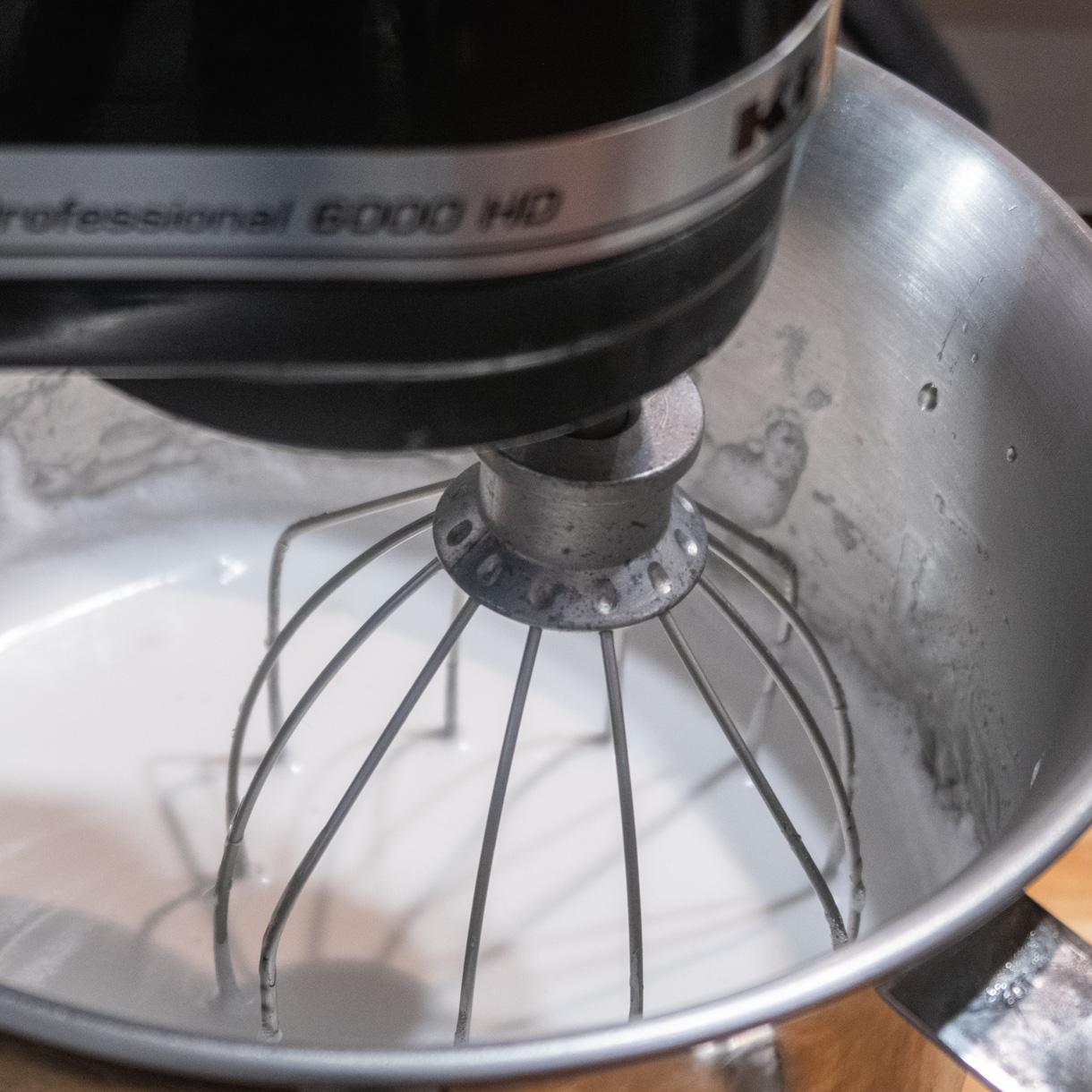 Once you have added all the syrup, your meringue will look completely deflated and soupy. When you lift the whisk, all of the meringue will want to fall down like a ribbon. This is perfectly fine. 
We continue to whip on high for another 10 minutes or until the meringue becomes thick and glossy and it wants to "climb up" the whisk. If you flip the whisk, a lot of meringue will want to stay on it and the peak should stand straight up.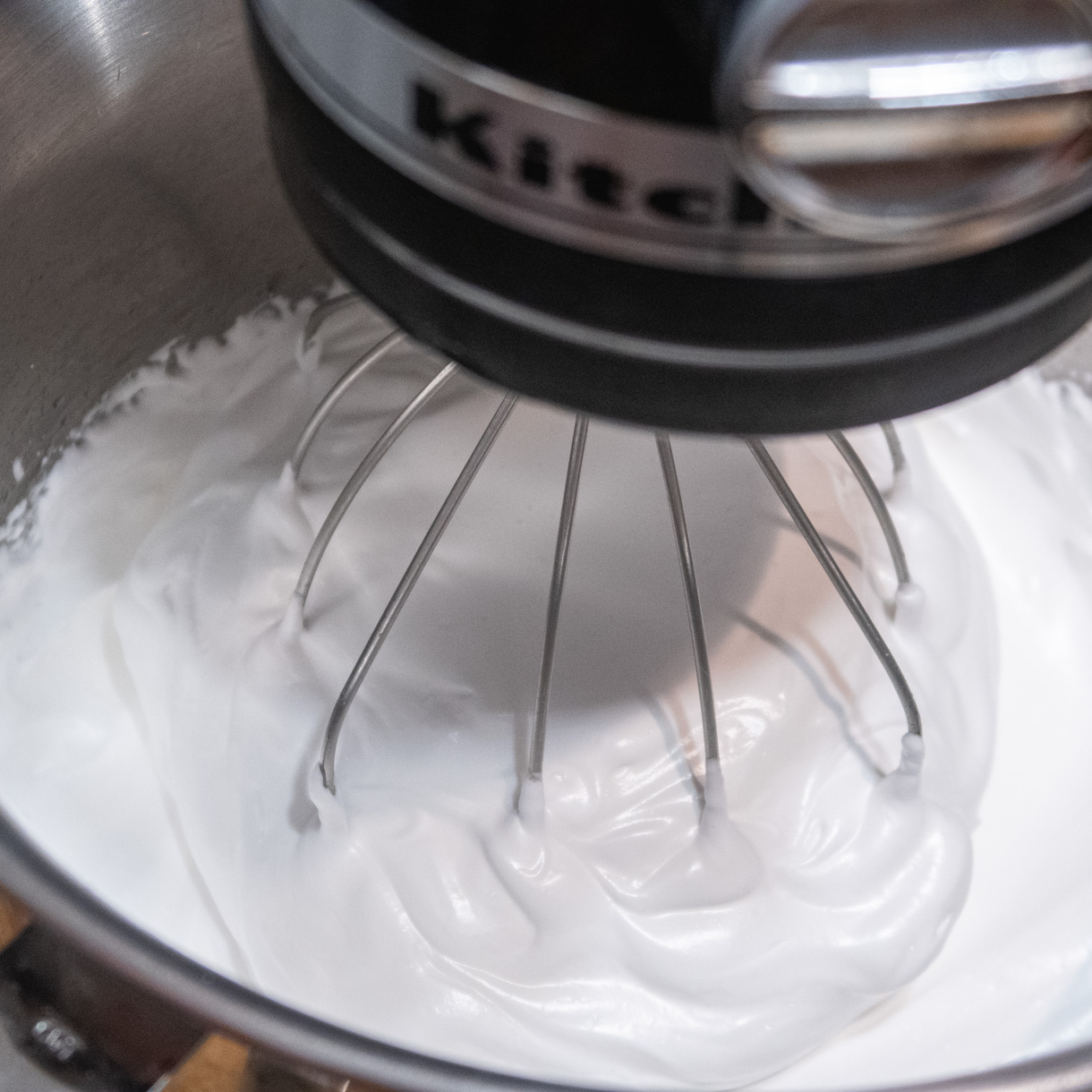 You should be comfortable flipping the bowl of meringue over your head and counting to 5. If you have any doubt, simply whip for a couple more minutes. You can not overwhip this meringue.
Then we are going to assess the temperature of the meringue. If it still feels warm to the touch, continue whipping on low so that the butter doesn't melt when you add it.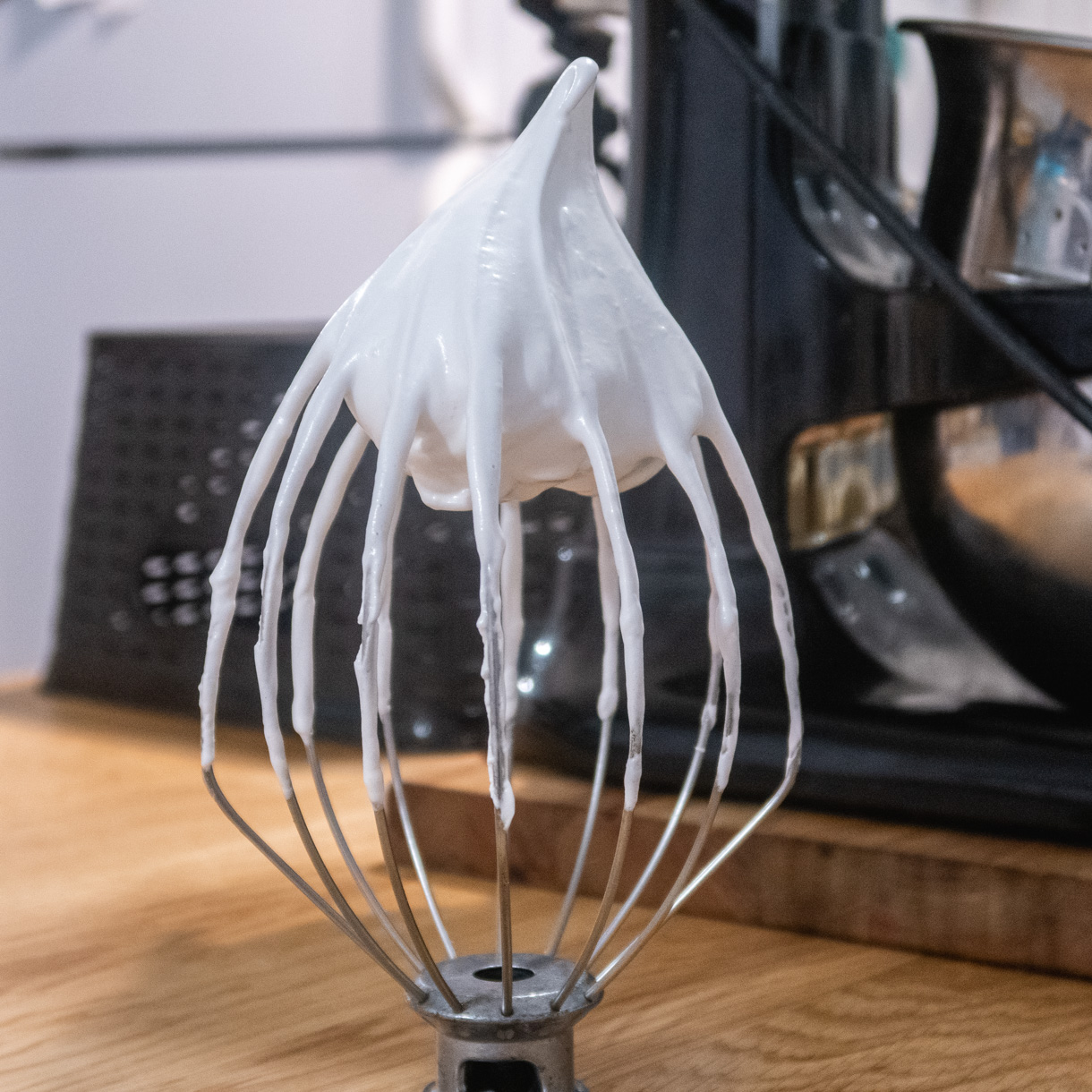 Adding  the butter
When you add the butter into the meringue to create an emulsion, the buttercream will go through different stages. This is where most people think they fail this recipe, so be ready to doubt yourself, but I believe in you!
You want to add the butter slowly, 1 cube at a time. Wait for the previous cube to be all incorporated before adding the next one.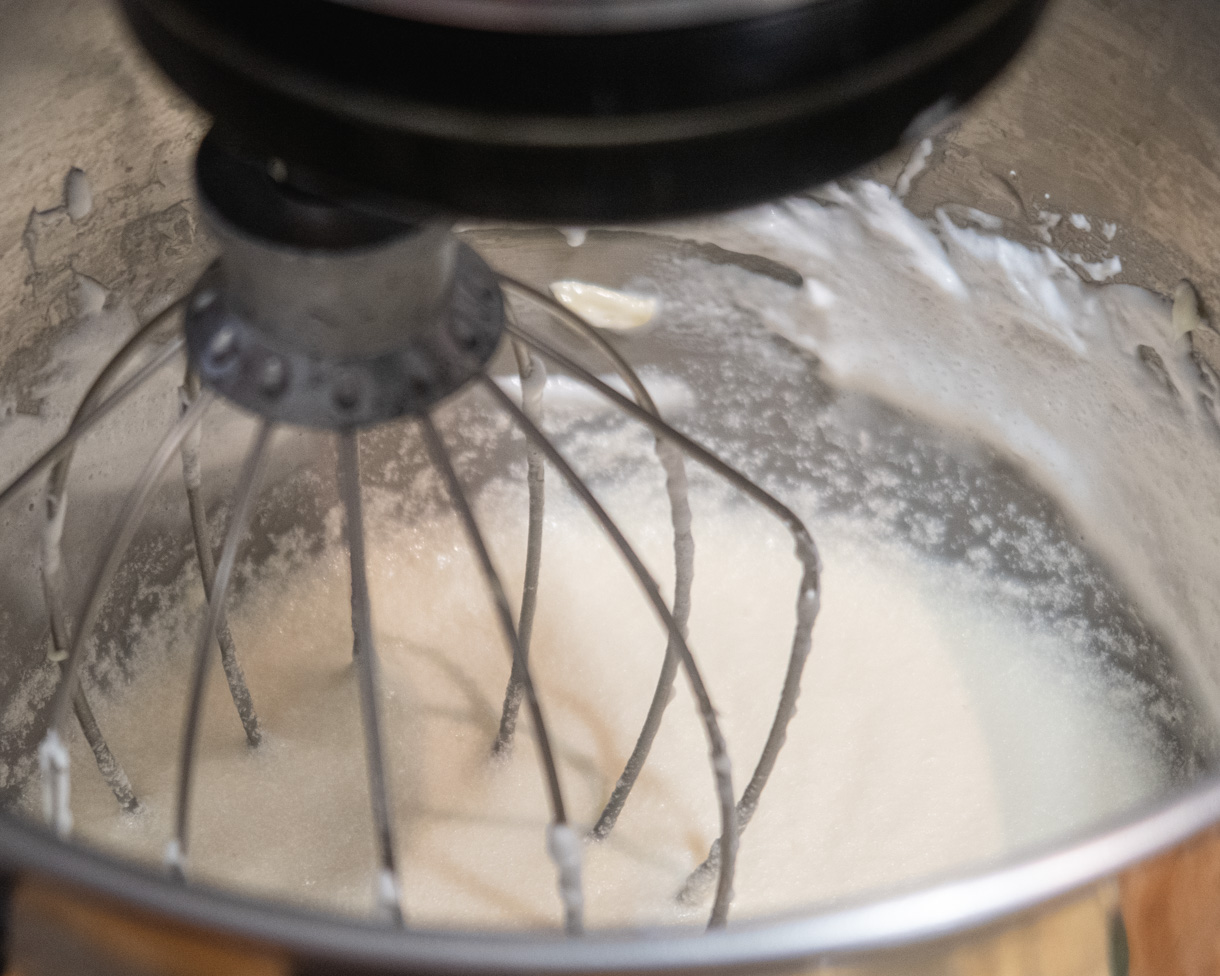 Stage 1 - Soupy
When you start adding the butter slowly the meringue will become soupy. After all, we are adding fat to a meringue which usually doesn't tolerate it. Don't worry, it will come back together. 
The only time you should be warry is if you added the butter while the meringue was still hot and if it melted the butter. If you think this might have happened, continue whipping for 10 minutes in case it comes back together. If it doesn't not, refrigerate the buttercream for 1 to 2 hours before retrying to whip it up.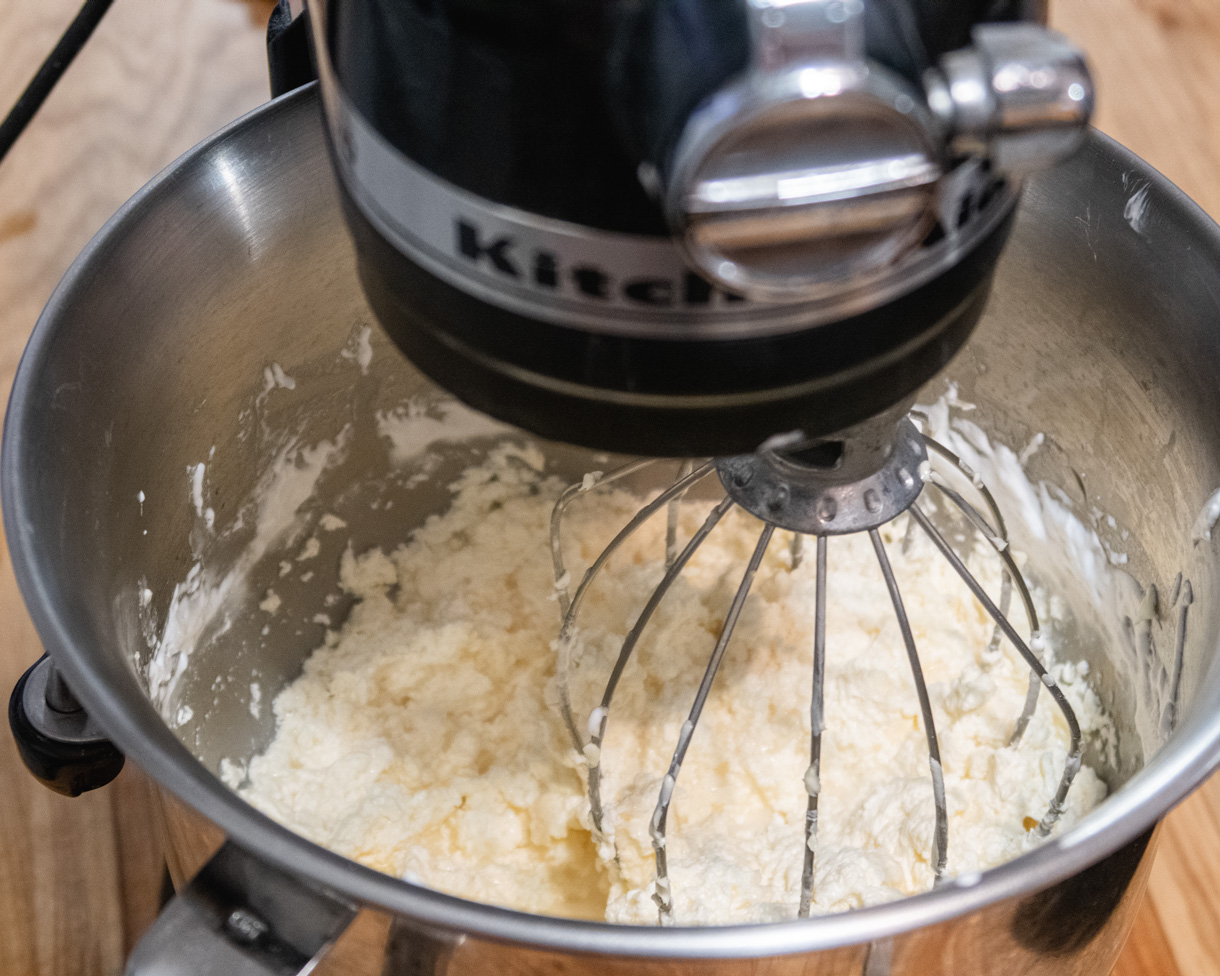 Stage 2 - Curdled
When you are almost done adding the butter, the buttercream will look like it's curdled and split. You will see chunks of butter and even liquid at the bottom of your mixer. This is normal. It's because the butter is slowly emulsifying. Continue to whip on high. It should start to come back together in 3 to 5 minutes.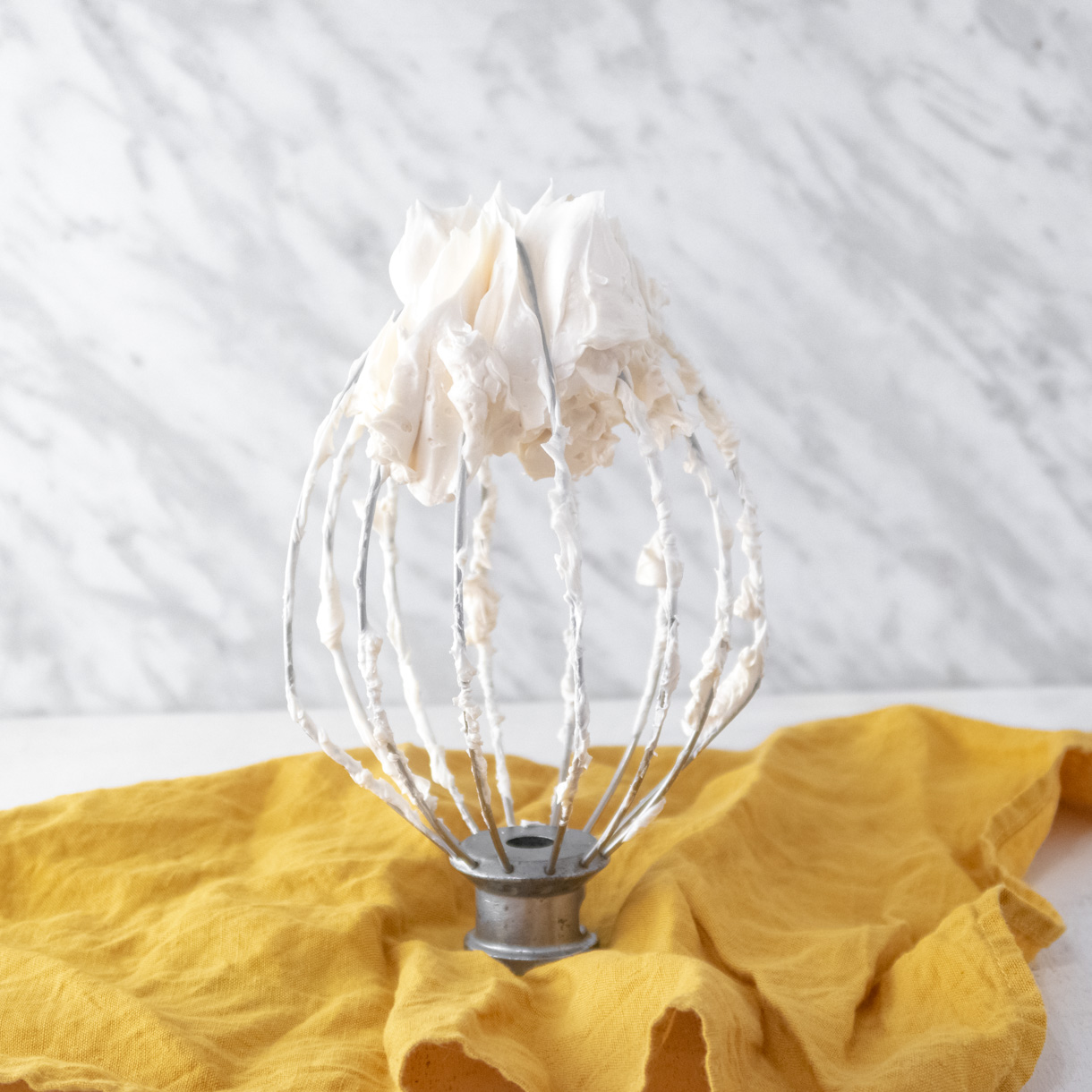 Stage 3 - Yellow and dense
Once the butter is emulsified, you will have what looks like a thick and dense yellow buttercream. While you might want to stop here, you need to continue to whip to get that fluffy and silky smooth buttercream with a light taste. 
When people complain about Italian meringue buttercream tasting too much like butter, usually it's because they stopped whipping here. The less air this buttercream has, the stronger the butter flavor will be.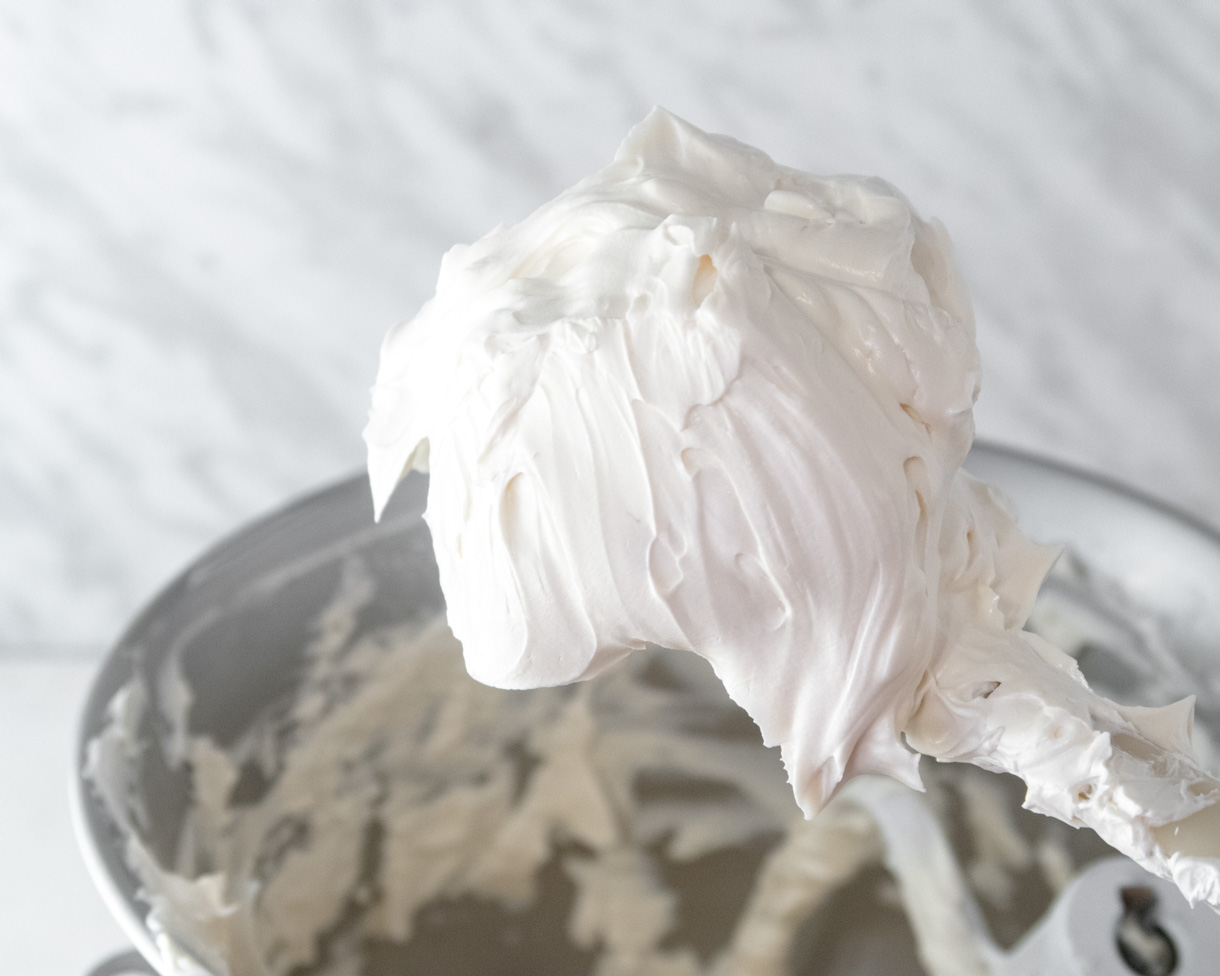 Stage 4 - Light and silky
Continue whipping until you get a light, almost white buttercream. Compared to stage 3, the buttercreams should have almost doubled in size due to the air we have incorporated. You might need to give a break or 2 to your mixer if you feel it's starting to overheat.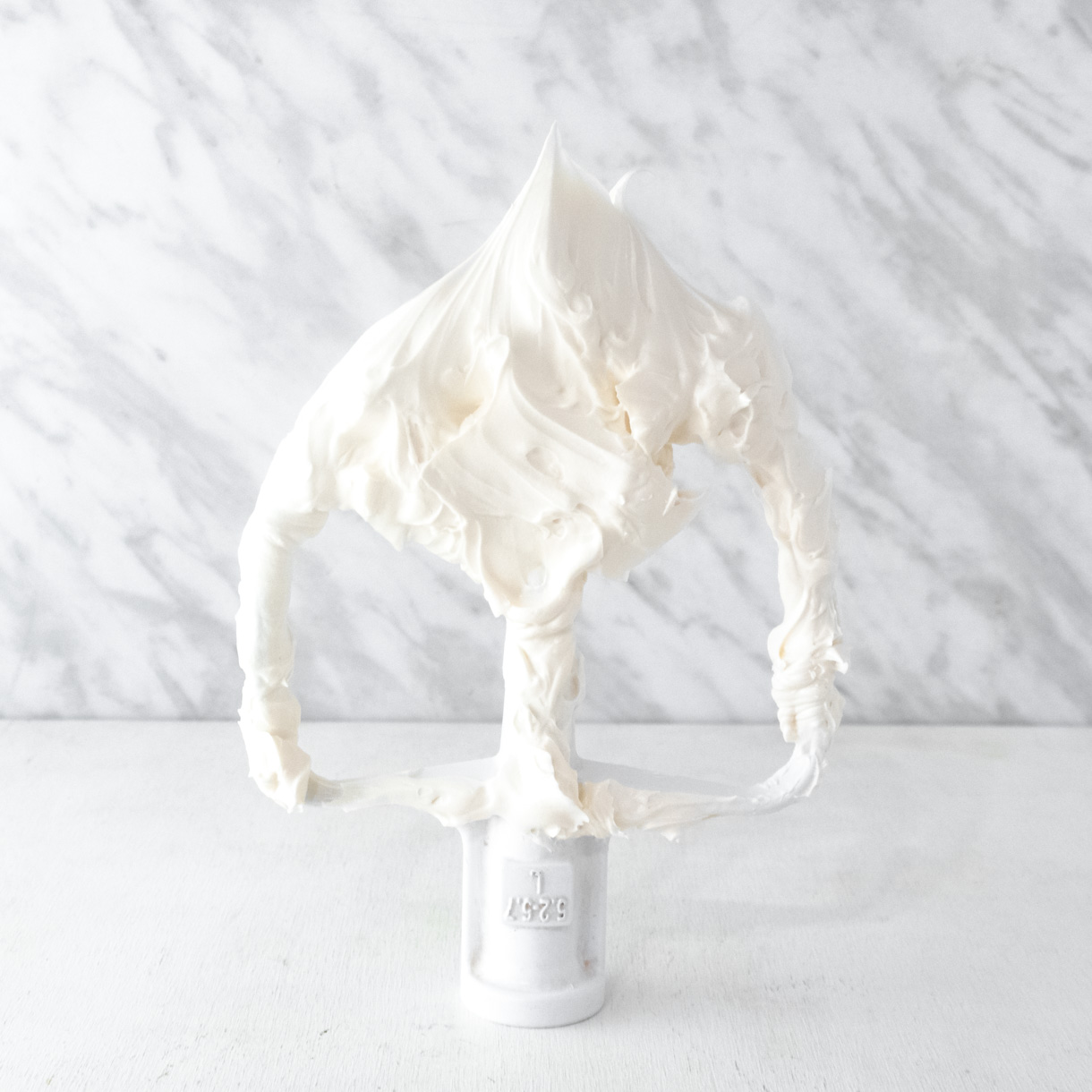 Stage 5 - Removing air bubbles
At this stage, we have whipped so much air into the buttercream that if we wanted to use it straight away, we would have unsightly large air bubbles in it. 
Now we mix this vegan IMBC for 1 to 2 minutes with the paddle attachment on the lowest setting to remove the air bubbles. You can also "squish" the buttercream against the side of the bowl using a silicone spatula, but I find it's not as effective as the paddle trick. This is also the time to add food coloring to your vegan Italian buttercream.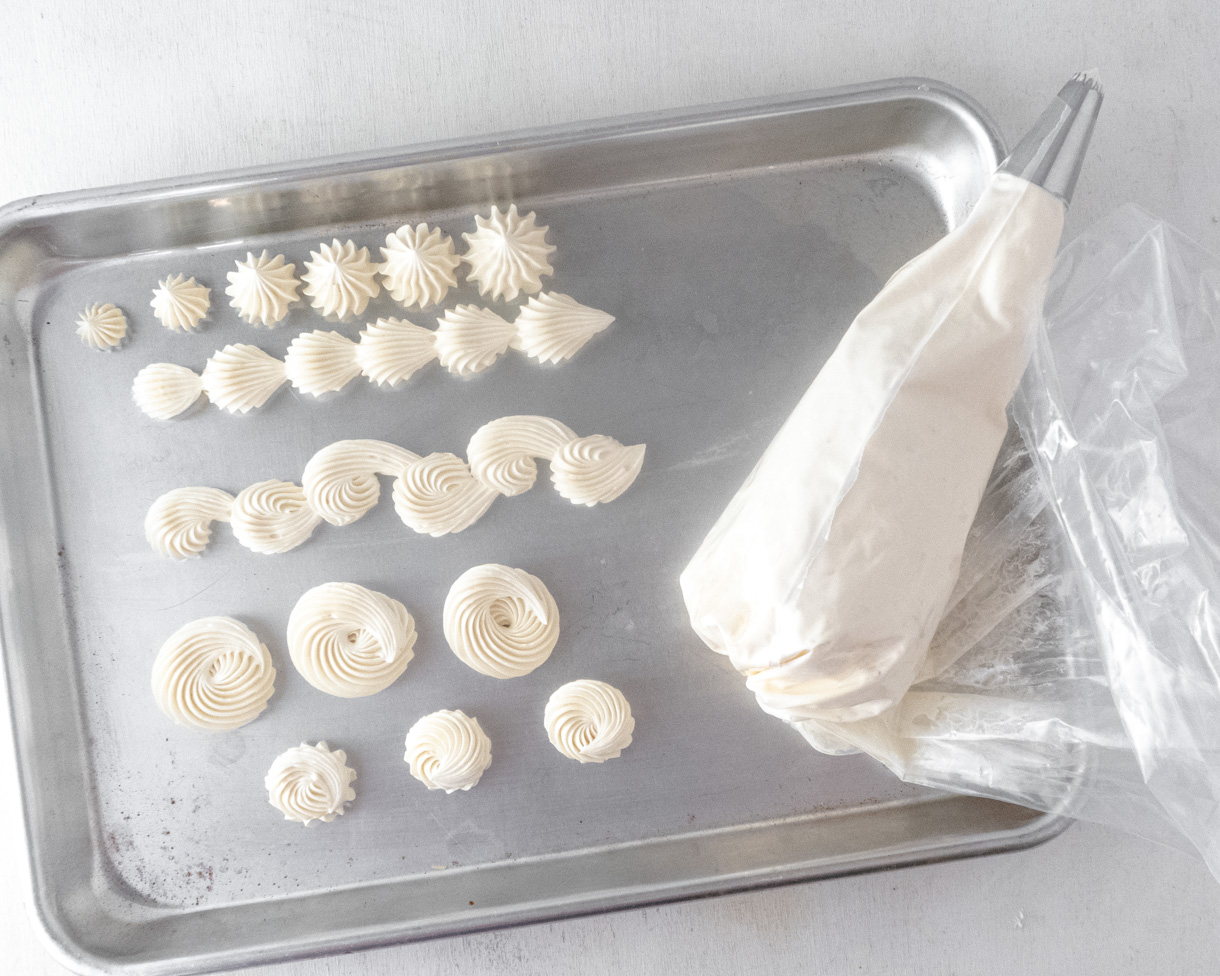 👩🏻‍🍳 Pro tips
White buttercream
If you want a truly white buttercream, add a teeny tiny drop of violet or purple food coloring to your buttercream. This will counterbalance the yellow from the butter as we learn with color theory
Coloring buttercream
To color Swiss or Italian meringue buttercream, concentrated food coloring is best so as to not change the flavor or texture of the buttercream. I love using gel food coloring but sometime when adding a lot, it will look like the color doesn't want to mix with the buttercream. 
The best way to prevent that is to make and color your buttercream in advance and let it rest so that the gel color has time to bond with the fat in the buttercream. You can also use an oil-based food coloring like Colour Mill to help with this problem. Keep in mind that colored buttercream will deepen in color with time. 
Refrigerated or frozen buttercream
If you refrigerate or freeze this vegan Italian meringue buttercream for later use, you will need to let it come back to room temperature for a couple of hours, or overnight, before you can use it. You'll need to re-whip the buttercream on high for 10 minutes and paddle on low for 1 to 2 minutes to bring it back to working consistency.
If the buttercream is still cold when you try to whip it, it might go through the curdled stages again. A little trick, if you don't want to whip for an eternity waiting for the buttercream to come back to room temperature, is to swipe the flame of a blowtorch on the metal bowl of your stand mixer. You want to keep the flame in constant movement but this should help warm gently the buttercream.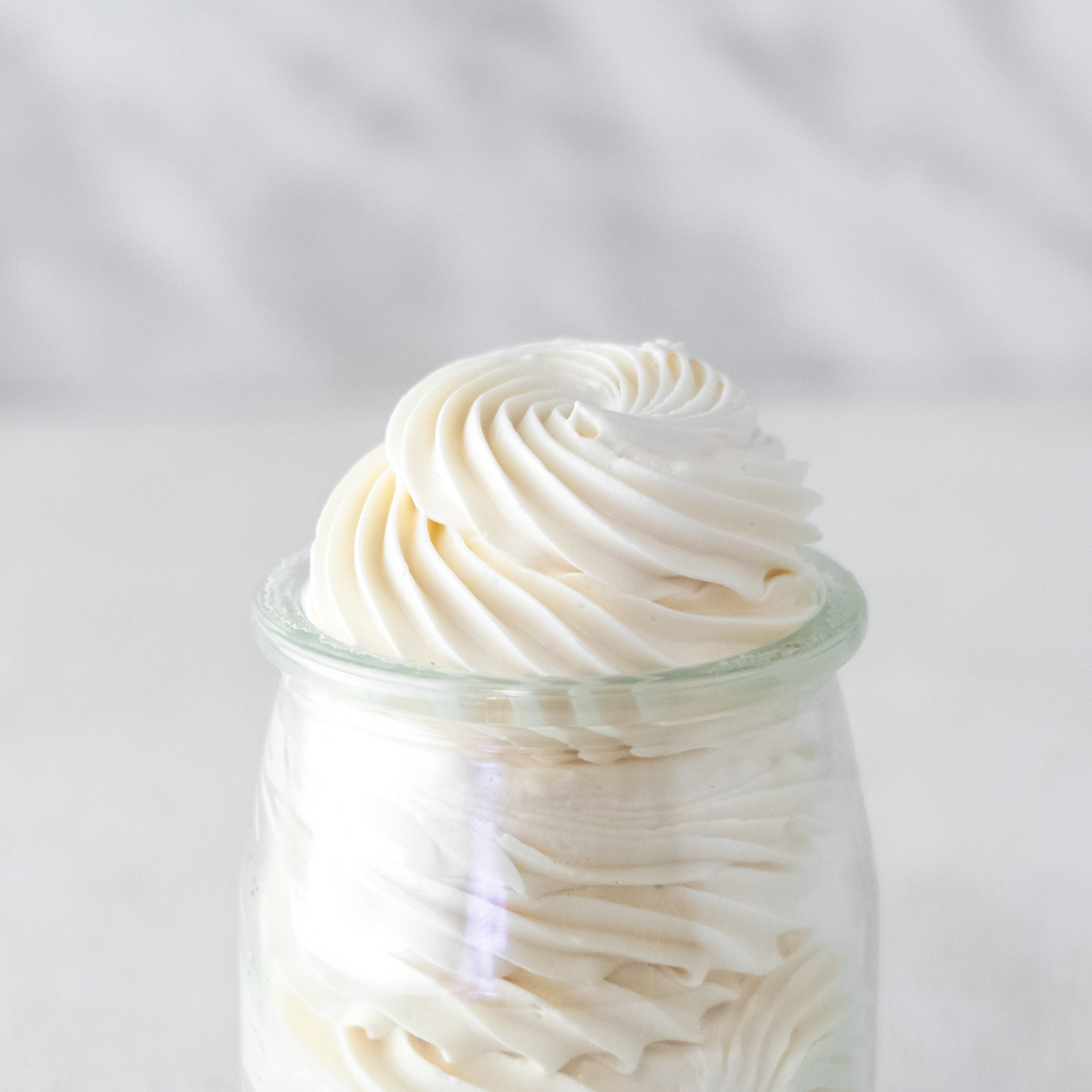 🔪 Equipment
A stand mixer is recommended because of the coordination needed to pour the hot syrup into the meringue, but a strong handheld mixer will also work if it's all you have. Double the time indicated in the recipe if using a hand mixer. This recipe is not feasible without an electric mixer.
A digital thermometer really makes it easier to see when the syrup is ready but an analog candy thermometer will also work.
Heavy-bottomed small or medium saucepan and a heat resistant culinary brush
Flexible silicone spatula
I highly recommend you use a digital scale and weight measurements when following my recipes as it is more accurate. While I have provided the cup measurements for this recipe, measuring cups are unreliable and they vary in volume worldwide.
🌡️ Storage
Here are multiple ways to store vegan Italian meringue buttercream.
Room temperature: Up to 3 days in a cool and dry area in a bowl tightly covered with plastic wrap, or in an airtight container.
Refrigerator: Up to 2 months. (See top tips to bring it back to a working consistency)
Freezer: Freeze any leftover buttercream in an airtight container, or wrapped in a plastic wrap log, for up to 6 months.
The buttercream should still be edible passed these dates guidelines but it might not taste as fresh.
Recipe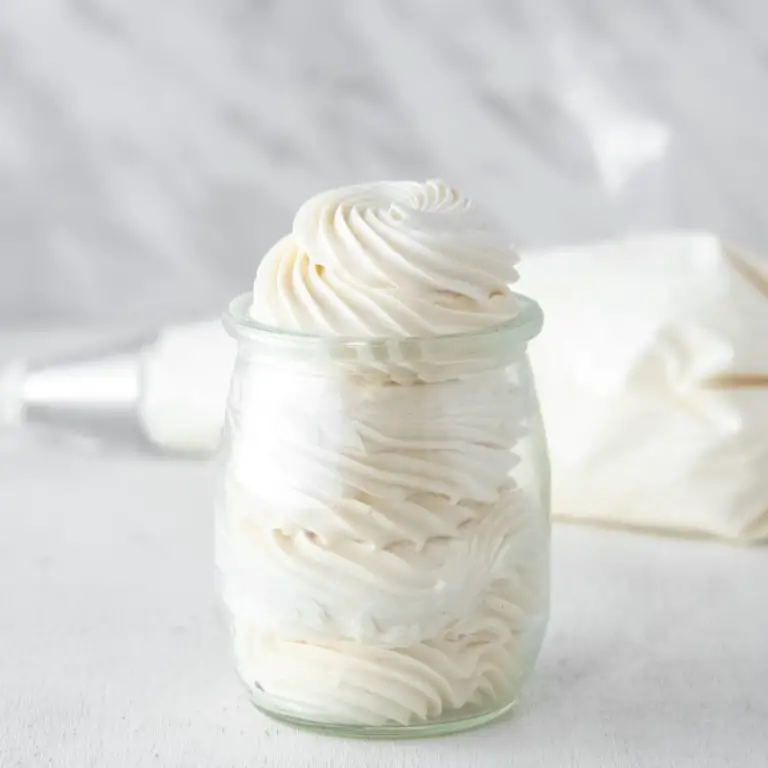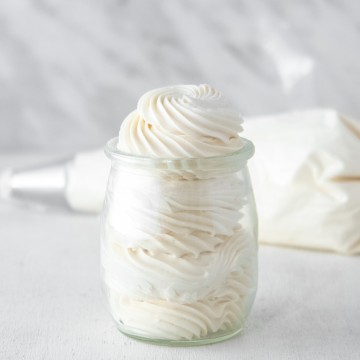 Print
Perfectly pipeable Vegan Italian Meringue Buttercream
This light and fluffy "not too sweet" vegan Italian meringue buttercream will quickly become your favorite frosting to pipe on cupcakes or to decorate cakes with.
Servings
1
kg of buttercream
Ingredients
Sugar syrup
300

g

white granulated sugar

(1 ½ cup)

125

g

water

(½ cup)
Italian meringue buttercream
135

g

aquafaba*

, or Versawhip (see notes) (½ cup)

454

g

unsalted vegan butter

, room temperature (2 cups or 1 pound)

5

g

vanilla extract

(1 teaspoon)
Instructions
Sugar syrup
Place the sugar and water into a saucepan and cook on medium heat until your reach a temperature between 240°F and 250°F (116°C and 121°C). Do not stir the sugar syrup while it is cooking and whip down the side of the saucepan with a wet heat resistant brush if you see some sugar crystals forming.
Italian meringue
While the syrup is cooking, start whipping the aquafaba (or Versawhip mixture) with an electric mixer on high. Whip until you reach a firm but light peak that stands straight up when you flip the whisk over. If the syrup is not ready yet, lower your mixer to the lowest setting and continue to whip until the syrup is ready.

With your mixer on the lowest setting, pour the hot sugar syrup in a very slow stream directly on the meringue, making sure not to hit the bowl or the whisk. Once the syrup is completely added, the meringue will look a bit soupy.

Increase the speed to high and whisk for an additional 10 minutes, or until the meringue is very stiff and glossy. The meringue should be climbing up the whisk. If the meringue still feels warm to the touch, leave it to whip on low speed until it reaches room temperature.
Italian meringue buttercream
Cut the room temperature butter into 1-inch (2.5 cm) cubes. Add them one at a time into the Italian meringue, waiting for the previous cube to be completely incorporated before adding the next one. Add the vanilla extract.

Increase the speed of the mixer to high and whip for a minimum of 10 minutes, or until the buttercream is bright white and fluffy.

Switch to the paddle attachment and beat the buttercream on low for 1 to 2 minutes to remove any large air bubbles. Use according to your recipe or store for a later time. Enjoy!
Notes
Aquafaba:
If your aquafaba feels thin, reduce it by a third to a half on low heat until it feels slightly slimy before using it.
Aquafaba substitution:
You can replace the aquafaba with 2.7 g (1½  teaspoon) of Versawhip 600K mixed with 135 g (

½

cup + 2 teaspoons) of water.
Did you try this vegan buttercream recipe?
Don't be shy and let me know how it went! Leave me a comment below and share a picture on Instagram!