Silky smooth vegan Swiss meringue buttercream will soon be your go-to icing for all your cake needs. This light and fluffy icing will make any cake shine.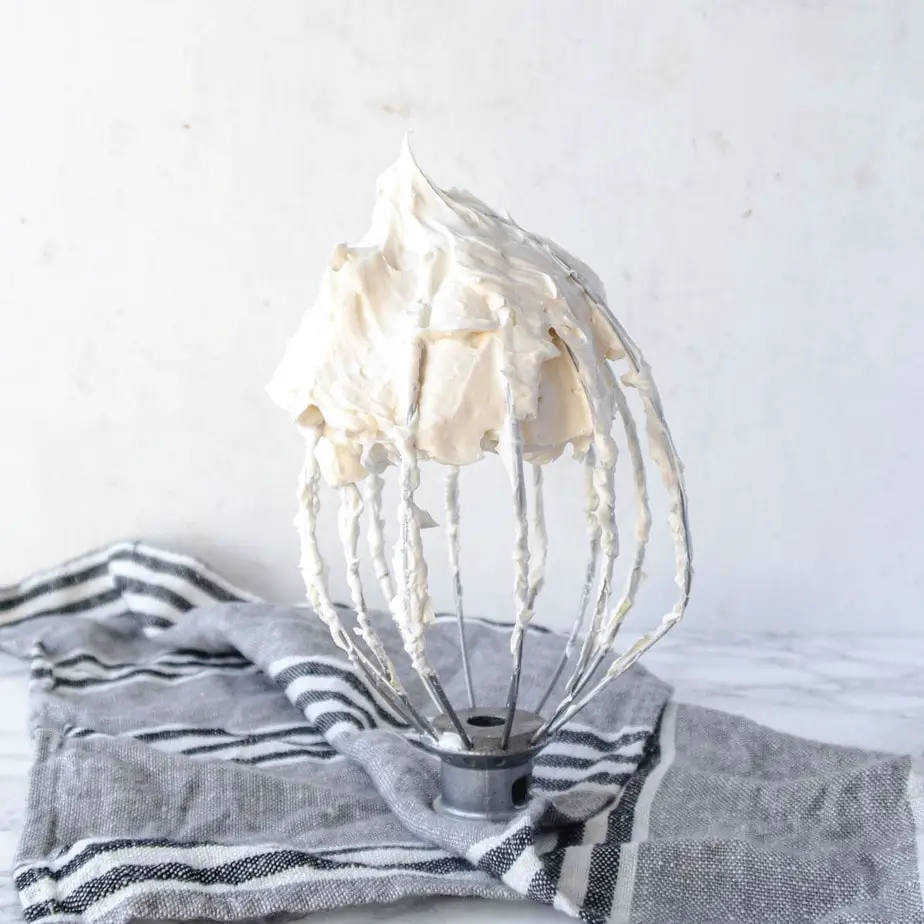 If this is your first time making any type of Swiss meringue buttercream, I recommend that you read the whole post, some parts might be tricky. If you are a pro, feel free to jump straight to the recipe!
---
Classic Swiss Meringue Buttercream
Also known as "SMBC", Swiss meringue buttercream is usually an icing used in bakeries to smoothly ice cakes or fill pastries. Traditionally made with egg whites and butter, this vegan version will have everyone fooled. It is dairy-free, egg-free and naturally gluten-free.
I love Swiss meringue buttercream because it is not too sweet and it is very versatile
It is perfect for filling macarons and icing cakes
Gives a smoother finish than American buttercream
Is great is pastries and entremets like Opera cake
Takes color beautifully
Easily pipable and is great at keeping its shape 
Doesn't "crust" as much as American buttercream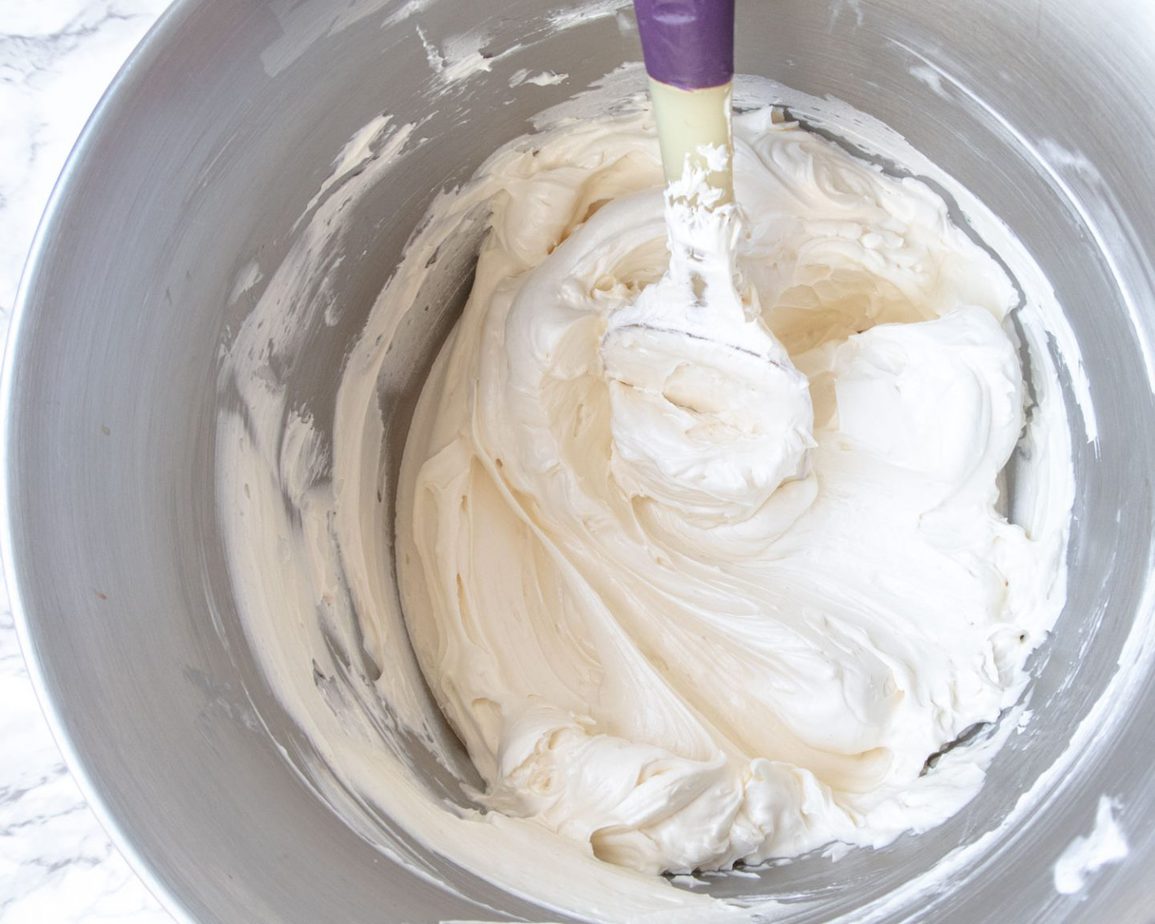 Smoothest Icing 
When I was a budding baker, I always found that my buttercream – an American-style buttercream – was always grainier than what I could find at my local bakery. I tried ermine frosting, whipped ganaches and stabilized whipped cream and never found an icing that was quite right.
This is before I started pastry school and learned about Swiss meringue buttercream. Meringue buttercreams, either Italian or swiss, are some of the smoothest icing out there. It is actually the only type of buttercream that we learned in pastry school and pretty much the only ones I use at home nowadays.
But I do have to say that I do have a preference for swiss meringue buttercream because it is so much easier to make than Italian meringue buttercream. You get to skip the risks of working with hot syrup, and hoping you didn't ruin your meringue because you added that syrup too quickly.
Vegan Swiss meringue buttercream also has the advantage of eliminating the risk of overcooking the egg whites during the cooking process, which can happen with regular swiss meringue buttercream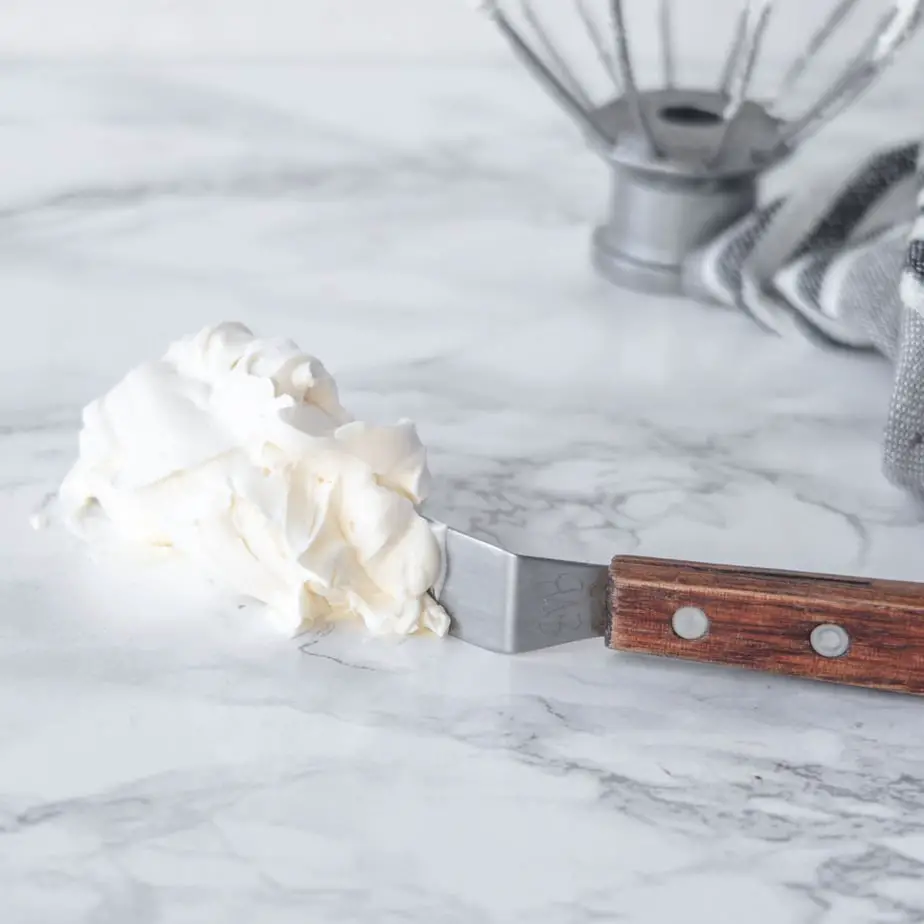 Ingredients
Aquafaba
Usually made with egg whites, this vegan Swiss meringue recipe uses aquafaba, which is the liquid found in a can of beans. Certain brands of beans will naturally have a thicker aquafaba while others might have a very thin liquid. If you end up with a thinner aquafaba, you will need to reduce it to concentrate the protein found in the liquid to get that stiff peak once you start whipping  up your meringue.
Personally, I like to use salt-free beans for this, as it has more of a neutral taste. Chickpeas and cannellini beans are some of my favorites, but I've whipped up vegan meringues made of pinto bean or red kidney beans aquafaba in the past without problems.
Alternative: Versawhip 600K
If you feel like experimenting a bit, or are simply sick of eating beans, try using Versawhip 600K instead to make your meringue.
I found that 2.8 g (1 ½ tsp) of Versawhip well mixed with 190g (¾ cup) of water works well in this recipe to replace aquafaba. Mix the water and Versawhip together and use as you would aquafaba.
Will it taste like beans?
No, meringue made out of aquafaba does not taste like beans. However, depending on the brand you get, it might taste slightly saltier.
To get that perfect meringue, check out my vegan meringue troubleshooting guide!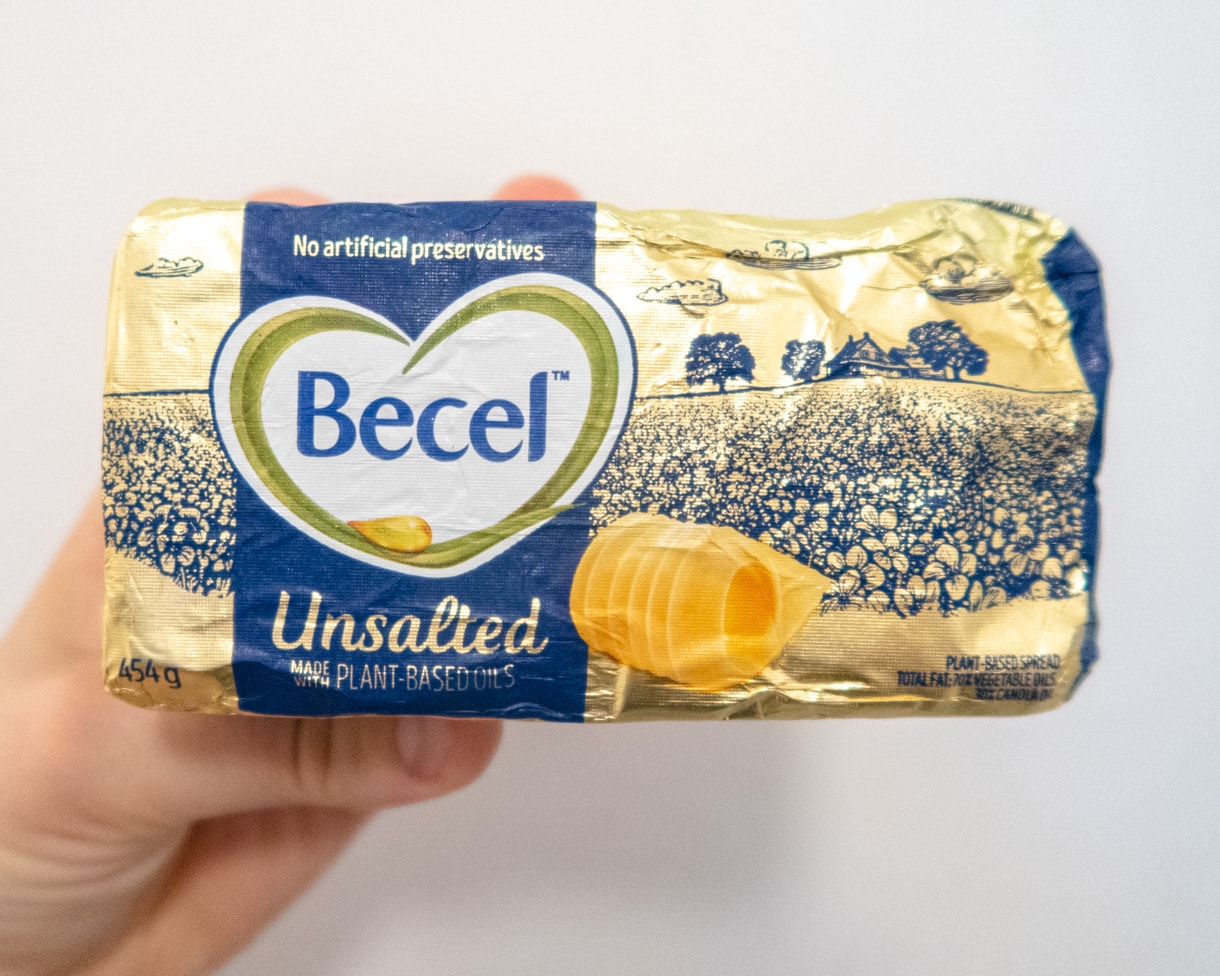 Vegan Butter
 My favorite vegan butter for this recipe is Becel Unsalted Plant-Based Bricks. I love this product because it:
Is cheaper than other brands
Taste great!
Stay firm like regular butter. No more soft margarine
Comes in salted and unsalted. This is actually the biggest reason why I love it! 
If you can't get your hands on Becel plant-based bricks, Hearth Balance sticks (not the tub) will do but will give a slightly saltier result. And while I haven't tried it myself, I think the country crock plant-based vegan alternative should also work with this recipe.
While shortening does give a more neutral taste and whiter color, I do not recommend it in this recipe as it does leave an unpleasant mouthfeel ( a bit like a coat of fat in the inside of your mouth) and you would miss that wonderful buttery taste. Using something like vegan butter instead of shortening also means that the buttercream will firm up in the refrigerator, which is great when decorating cakes.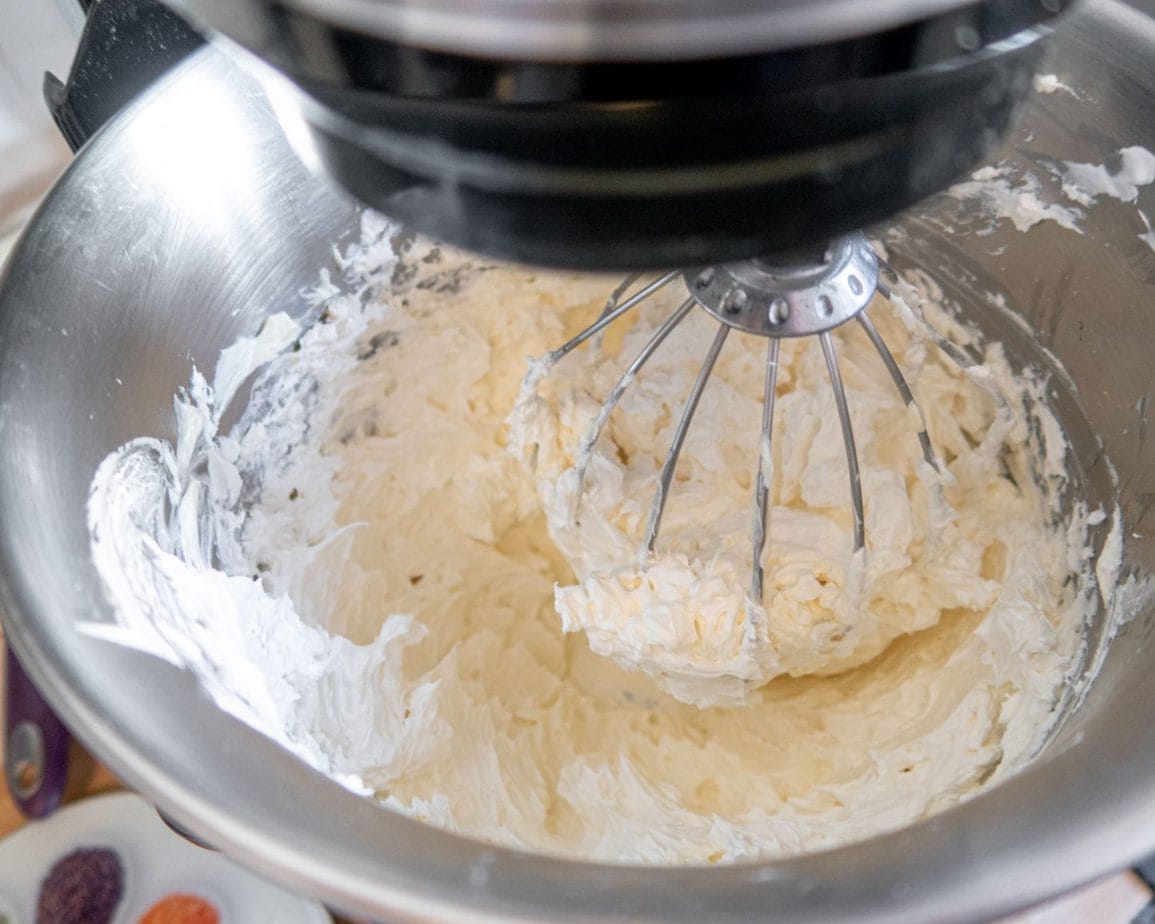 Stand mixer
Most recipes I share can usually be done with a hand-held mixer but in the case of this vegan swiss meringue buttercream – or when making any kind of vegan meringue really – I highly recommend using a stand mixer.
This is because vegan meringue made with aquafaba is usually whipped for a long period of time to reach those gorgeously strong stiff peaks and a hand-held mixer's motor is simply not strong enough. The shape of the whisk also helps get that meringue whip up, which can be harder with regular double beaters.
Is my meringue whipped enough?
So you want to reach a stiff peak meringue for this recipe. Here are some indications that your meringue has reached that stage.
The whisk is leaving traces in the bowl of meringue. When you look closely at the meringue, you also do not see any bubbles.
The biggest indication your meringue is ready is when the whisk is whipping, the meringue starts to accumulate around the whisk and is riding up the whisk. If you stop your stand mixer, it looks like you have a "bump" in the middle of your bowl of meringue.
When you see that the meringue wants to climb up the whisk, take the whisk and lift it up from the meringue completely. If a lot of meringue stays on top of the whisk ( ½ cup to 1 cup) when you flip it upside down and the peak stands straight up, your meringue is ready. If you see a peak that leans slightly and only a small amount of meringue wants to stay on the whisk, continue whisking for 3 to 5 minutes.
TIP: Your bowl needs to be very clean and completely free of fat, which could stop your meringue from wiping up properly.
My buttercream curdled?!?!
1.When making the icing
The first time people make Swiss meringue buttercream, they often think they fudged up and curdled their buttercream. This is completely normal. This type of buttercream often goes through a "curdled" stage right after all the butter is incorporated.
This is because the butter still hasn't completely mixed into the meringue. After all, butter can have trouble emulsifying with liquids like aquafaba. This might also be caused by the butter being too cold when you are trying to add it to your meringue.
To fix this issue
Continue whipping for up to 10 minutes. The vegan Swiss meringue buttercream should start to slowly come together again. This will also make your buttercream light and fluffy. 
If you still see chunks of whole butter pieces in the buttercream, this is because your ingredients were too cold. Warm up the buttercream slightly by swiping a blowtorch on the outside of your stand mixer bowl (only if it is made of metal), making sure never to stay too long at the same spot, as it could damage the bowl of your stand mixer. Alternatively, you could place your  bowl with the buttercream on a bain-marie for a couple seconds on and off while continuing to mix. 
The buttercream closer to the edge of your bowl will slightly melt and will warm up the rest of the buttercream. That bit of melted buttercream will also help with emulsification. In pastry school, we actually always used the blowtorch technique while whipping up our buttercream for those pesky 10 minutes (or more!) because we were not patient enough to get the butter to that perfectly soft but unmelted texture.
You should let your butter come up to room temperature until you are able to leave a deep imprint with your thumb into the vegan butter without a problem. I often simply leave my bloc of vegan butter overnight on the counter.
2.When coloring it
If the buttercream looks like it split while you were adding color – especially if you added lots of it –  place the buttercream in the refrigerator until it firms back up again. Then re-whip the vegan swiss buttercream on high until it comes back together. You might also try to add a spoonful of plain buttercream to help the emulsification along.
Also make sure you are using gel food colorants, since they are more concentrated and are better at colouring icing without thinning it.
Refrigerating Swiss meringue buttercream
Vegan swiss meringue buttercream can be refrigerated for up to 1 week. To bring it back to its light and airy consistency you will need to bring the buttercream to room temperature slowly before wiping the SMBC on medium-high until it becomes light and fluffy again. You can also use the blowtorch technique mentioned previously to bring it back together and re-emulsion it together.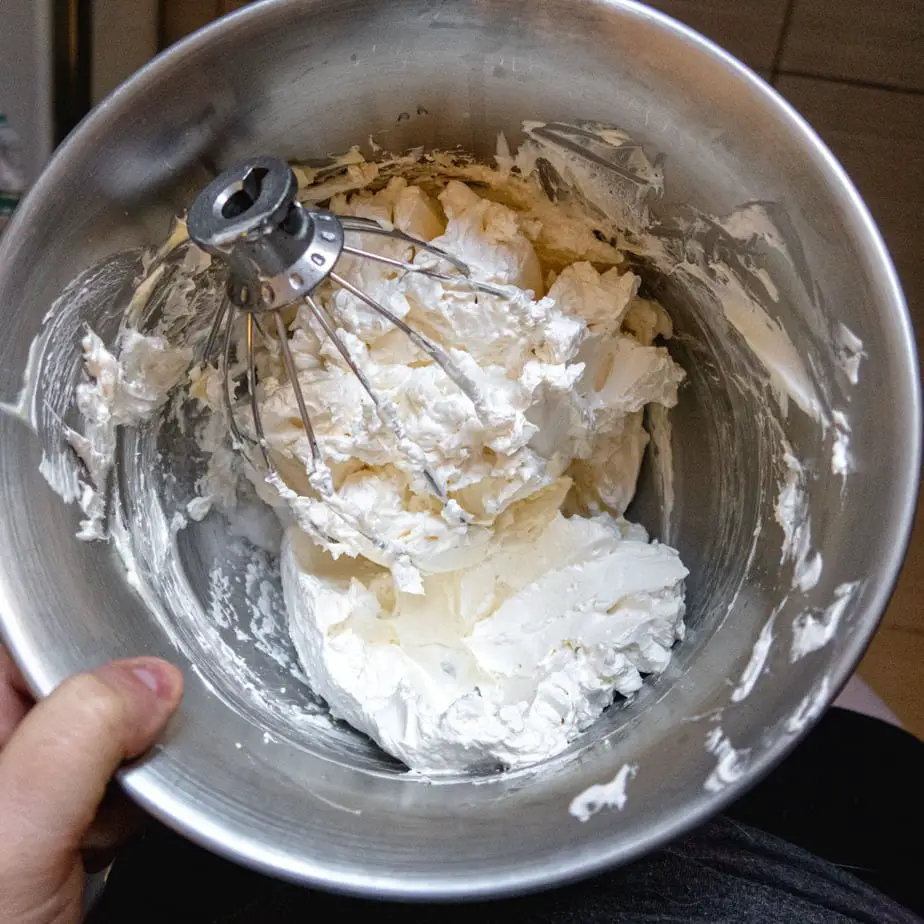 How to get white icing
Because of the high butter content, buttercreams tend to be slightly yellowish. Here are some tips and tricks to get a snow white icing.
Most people under-whip their icing. The more your whip the whiter the icing will be due to the air incorporated. It also makes a buttercream that tastes less like straight-up butter. Aim for a good 10 minutes of whipping.
Add 1 drop of violet food coloring. It will counterbalance the yellow color. Try to get just the tip of a toothpick into the food colo to get the proper amount and not end up with a Barney-colored icing.
Try white titanium dioxide. Sometimes named white food coloring, titanium dioxide will whiten any icing. you can find this product in cake supply shops next to the food coloring.
Recipe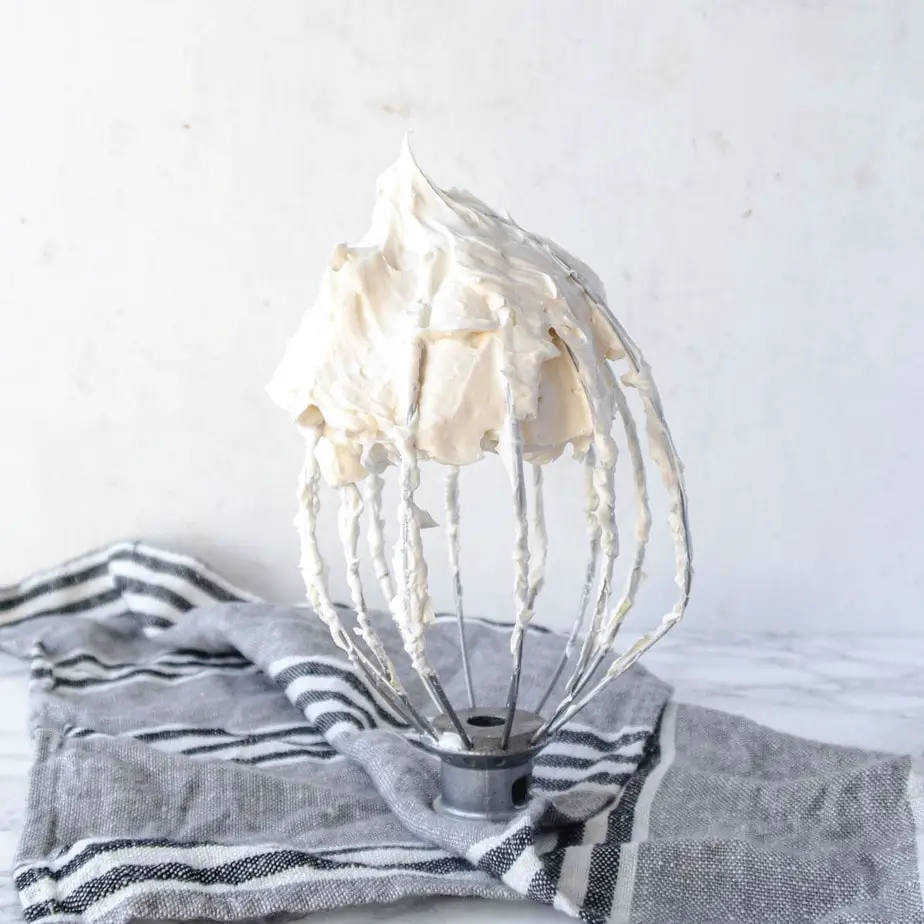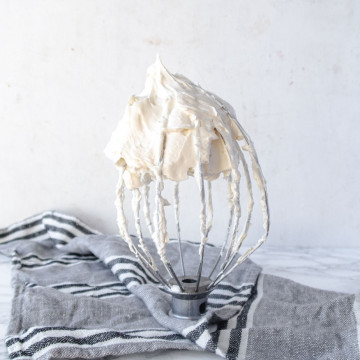 Print
Vegan Aquafaba Swiss Meringue Buttercream
Silky smooth vegan Swiss meringue buttercream will soon be your go-to icing for all your cake needs. This light and fluffy icing will make any cake shine.
Servings
950
g of buttercream
Ingredients
180g

(⅔ cup)

previously reduced aquafaba

, see step 1

350g

(1 ¾ cup)

white granulated sugar

¼

teaspoon

cream of tartar

⅛

teaspoon

xanthan gum

, optional but recommended

454g

(2 cups or 1 pound)

room temperature vegan unsalted butter cut into 1-inch cubes

, I recommend using Becel plant-based bricks

1

teaspoon

vanilla extract or vanilla bean paste

,adjust to taste
Instructions
As needed, reduce your aquafaba to get a slightly slimy consistency. In a small saucepan, simmer the aquafaba on low heat until it has reduced by a third to a half. If your aquafaba is thick straight from the can, feel free to skip this step.

In a saucepan, mix the aquafaba and sugar together and bring to a boil over medium heat. Transfer the aquafaba into a container and let the preparation cool down until it is at room temperature. This is also a great time to get your vegan butter out of the fridge to let it come up to room temperature.

In the bowl of a stand mixer, add the aquafaba, cream of tartar, and xanthan gum. Using the whisk, whip up the aquafaba on high until you reach stiff peaks. This will take between 7 and 10 minutes.

Slowly add the vanilla and the butter, cube by cube, waiting between each addition that the previous cube is almost completely incorporated before adding the next one.

Whip the vegan swiss meringue buttercream for 10 minutes, or until it is light in color and has a subtle butter taste. Optional: As needed, swipe a blowtorch on the outside of the bowl of your stand mixer (if it is made of metal) for 20 to 30 seconds at a time, keeping the flame moving constantly if you have trouble incorporating the butter. This should be gentle heat and the butter should not melt.

Change the whisk for the paddle attachment and whip the swiss meringue buttercream on low for 2 to 3 minutes to remove any air bubbles. You can also press the buttercream against the side of the bowl with the help of a silicone spatula to get rid of any large air bubbles.

Color and use as needed, or refrigerate in an airtight container for up to 1 week. Enjoy!
Notes
Double-check that the bowl of your mixer is extra clean before starting as fat can prevent your meringue from whipping up.
Did you try this vegan buttercream recipe?
Don't be shy and let me know how it went! Leave me a comment below and share a picture on Instagram !