Learn how to make vegan royal icing for all your sugar cookie decorating needs (+ tips and tricks to get the perfect consistency).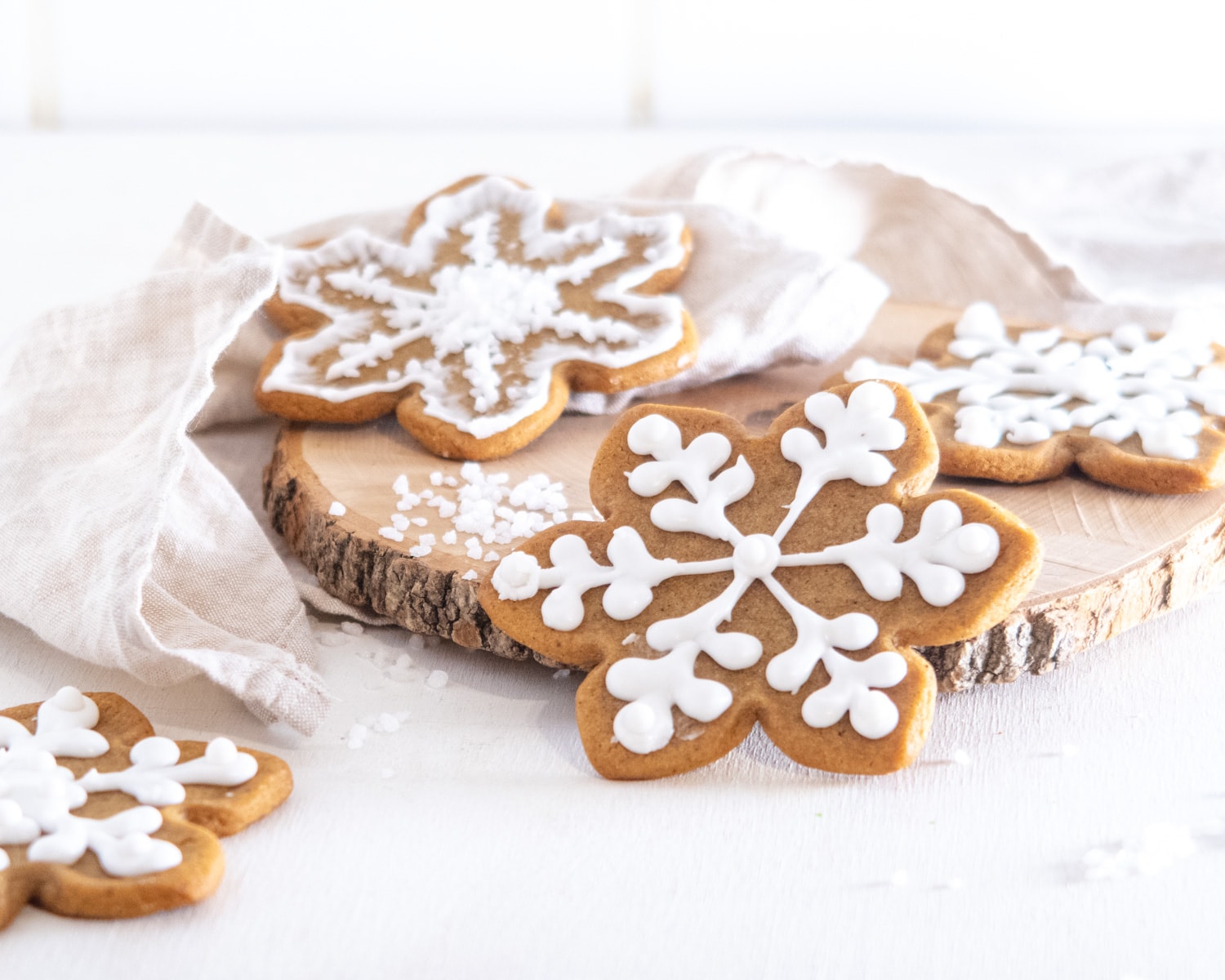 Feel free to skip straight ahead to the recipe if you have made royal icing in the past. It's very straightforward. But if you need additional tips, come back to read my vegan royal icing consistency guide in the blog post. 🙂
---
What is Royal Icing
Royal icing is an icing that is made of powdered sugar, egg whites, and water that is often used to decorate sugar cookies because of its capacity to dry hard.
It is very versatile and depending on how much water you add, it can be used in many ways to achieve different icing effects and looks.

Veganizing Royal icing
To make royal icing vegan, we will replace the egg whites with aquafaba, which is the liquids that you find in a can of beans, usually chickpeas or white cannellini beans. No, the icing won't taste like beans at all.
Aquafaba alternative: An alternative to aquafaba is to use Versawhip 600K, which is a molecular gastronomy ingredient. You can replace the 3 tablespoons of aquafaba in this recipe with  ½ teaspoon (1 g) of Versawhip 600K mixed with 3 tablespoons (45 g) of water.
RELATED: Try this vegan royal icing recipe with my tender gingerbread cookie recipe!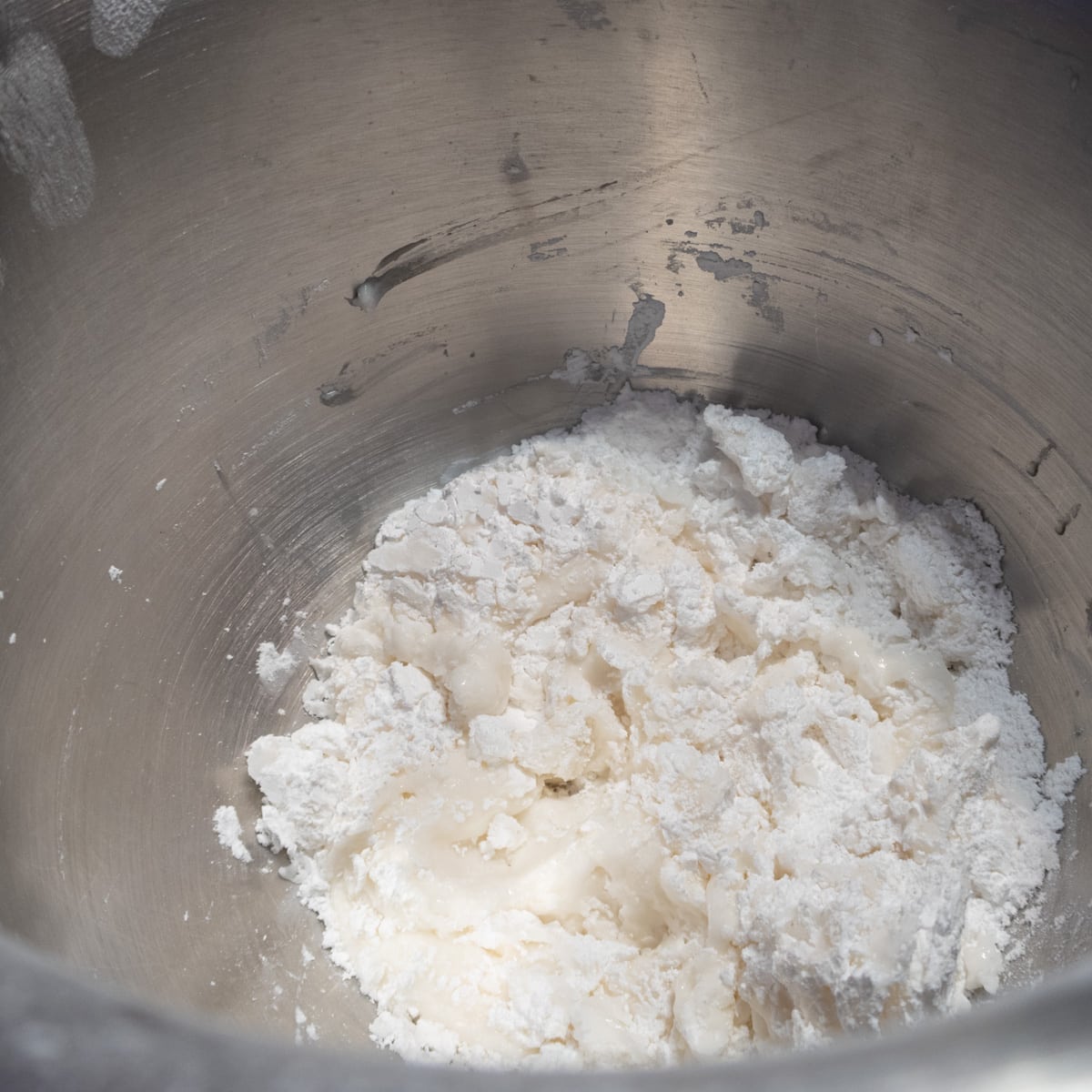 Getting the perfect royal icing consistency
Thickening royal icing: To thicken royal icing, stir in additional sifted powdered sugar by hand with a silicone spatula.
Thinning royal icing: To make royal icing thinner, gently stir in water into the icing ½ teaspoon at a time. 
Here ar the different royal icing consistencies you can get out of this 1 recipe and how to get different effects.
Stiff
Has the consistency of buttercream. If you pull a spoonful of icing, it should make a V shape and act as a soft peak when flipped over.
Usage: making flowers and ruffles since it can keep the texture of a pastry tip.
Piping
If you make a figure "8" with a ribbon of icing, it should take between 20 and 25 seconds to disappear into the rest of the icing.
When piped with a small round tip, you should get a continuous line of icing that doesn't slump. If the icing curls on itself, is hard to pipe or the line of icing breaks often, it means that your icing is too thick.
Usage: Outlining, lettering, and adding details
Marbling or Medium Consistency
If you make a figure "8" with a ribbon of icing, it should take between 12 and 25 seconds to disappear into the rest of the icing. 
Medium consistency is great as a "do it all" icing, as you can use it both for outlining and flooding.
For marbling royal icing specifically, you want a consistency that is slightly thicker than top coat royal icing. The most important part is that your different colored royal icing needs to be at the exact same consistency.
Usage: outlining, flooding, marbling
Flooding or Top Coat
If you make a figure "8" with a ribbon of icing, it should take between 6 and 10 seconds to disappear. 
You will need to have a royal icing outline if not you will end up with uneven edges. 
Usage: great to cover large areas and to get a very flat surface for stenciling or airbrushing.
For additional great tips and tricks on royal icing (and an amazing illustrated guide), check out Semi Sweet Designs's article on Royal Icing.
Tips + Tricks
How to remove air bubbles in royal icing
Over mixing your royal icing can mean having air bubbles that break your smooth piped lines of icing.
To remove air bubbles, squish your desired amount of icing between an offset spatula and your clean work surface using a side-to-side motion. 
This will "squish out" any air bubbles and will homogenize your icing. It's also a great way to color a very small quantity of icing.
How to get snow white icing?
You can use food whiteners made of titanium dioxide like this one from Chefmaster to whiten your icing. Some people also find that it helps prevent color bleeding. 
However, Titanium dioxide does have its controversies and might not be available where you live.
Coloring your Royal Icing
It is best to color your royal icing with a small amount of gel food coloring to not make your icing thinner. Let the colors develop for an hour before using them as the color will deepen with time.
Pastry bag alternative
If you don't have a pastry bag on hand, I recommend you make a parchment paper cone using this tutorial. You can also use a medium-sized freezer bag since they are more sturdy than regular ones but they still tend to pop on the edges so be careful.
Storing Royal Icing:
Royal icing dries and crusts really quickly so it is important to store it properly while you ice your favorite cookies.
Step 1: cover the top of the icing with a piece of plastic wrap and press it down until it touches the whole surface of the icing and edges of the bowl.
Step 2: cover the top of the plastic-wrapped bowl with a damp kitchen towel.
Step 3: Keep at room temperature until ready to use. Can be kept for up to 3 weeks.
Royal icing does separate after a couple of hours so remix it as needed with the stand mixer until it goes back to its creamy consistency.
While I have provided the cup measurements for this recipe, I highly recommend you use a digital scale and weight measurements.
Recipe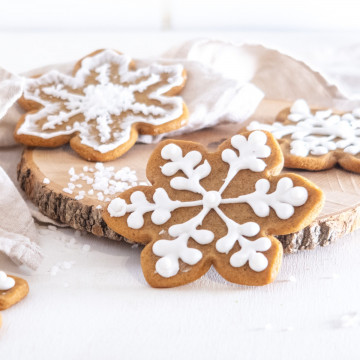 Print
Vegan Royal Icing
Learn how to make vegan royal icing for all your sugar cookie decorating needs.
Servings
2
cups of royal icing ( enough to fill 2 dozen cookies)
Ingredients
454

g

powdered sugar

(1 pound or 3 ½ cups)

50

g

aquafaba*

(3 tablespoons or 45 ml)

20

g

light corn syrup or glucose syrup

, optional ( 1 tablespoon or 15 ml)

2

g

flavouring of your choice

, optional (½ teaspoon or 2.5 ml)

gel food coloring

water

, adjust according to your desired consistency
Instructions
In the bowl of a stand mixer, mix together the aquafaba and corn syrup.

Sift the powdered sugar into the bowl of the stand mixer and stir it into the aquafaba with a silicone spatula to moisten the sugar and prevent sugar spillage.

Using the paddle attachment, mix the icing on medium-high for 2 to 4 minutes minutes, or until the icing is thick, silky and light in colour. The icing should form a "V" shape when you pull the paddle from the bowl. Do not over mix as you could incorporate air bubbles.

Mix in any flavoring or food coloring as wanted and add water a ½ teaspoon at a time until you reach your desired consistency. Transfer the icing into a pastry bag, parchment paper cone, or use as is. Enjoy!
Notes
Aquafaba:
Strained liquid from a can of beans, usually chickpeas or white cannellini beans. It is used to replace egg whites.
Aquafaba alternative: Replace the 3 tablespoons of aquafaba with  ½ teaspoon ( 1 g) of Versawhip 600K mixed with 3 tablespoons (45 g) of water.
Corn syrup or glucose syrup:
I like to use light corn syrup but you can also use glucose syrup. The inverted sugar is added to the royal icing to help soften the bite of dried royal icing which makes it more pleasant to eat. This does not change how firm the icing will dry.
It is optional so you can omit it depending on your preference
Flavoring: Clear

vanilla, almond, and lemon are great flavorings for royal icing
Did you try this icing recipe?
Don't be shy and let me know how it went! I'd love to see your sugar cookie creations. Leave me a comment below and share a picture on Instagram !