This vegan gingerbread cookies recipe will soon become your favorite once you realize how easy it is to make!
Soon enough you will end up with an army of tender gingerbread cookies that are perfect for a family cookie decorating activity.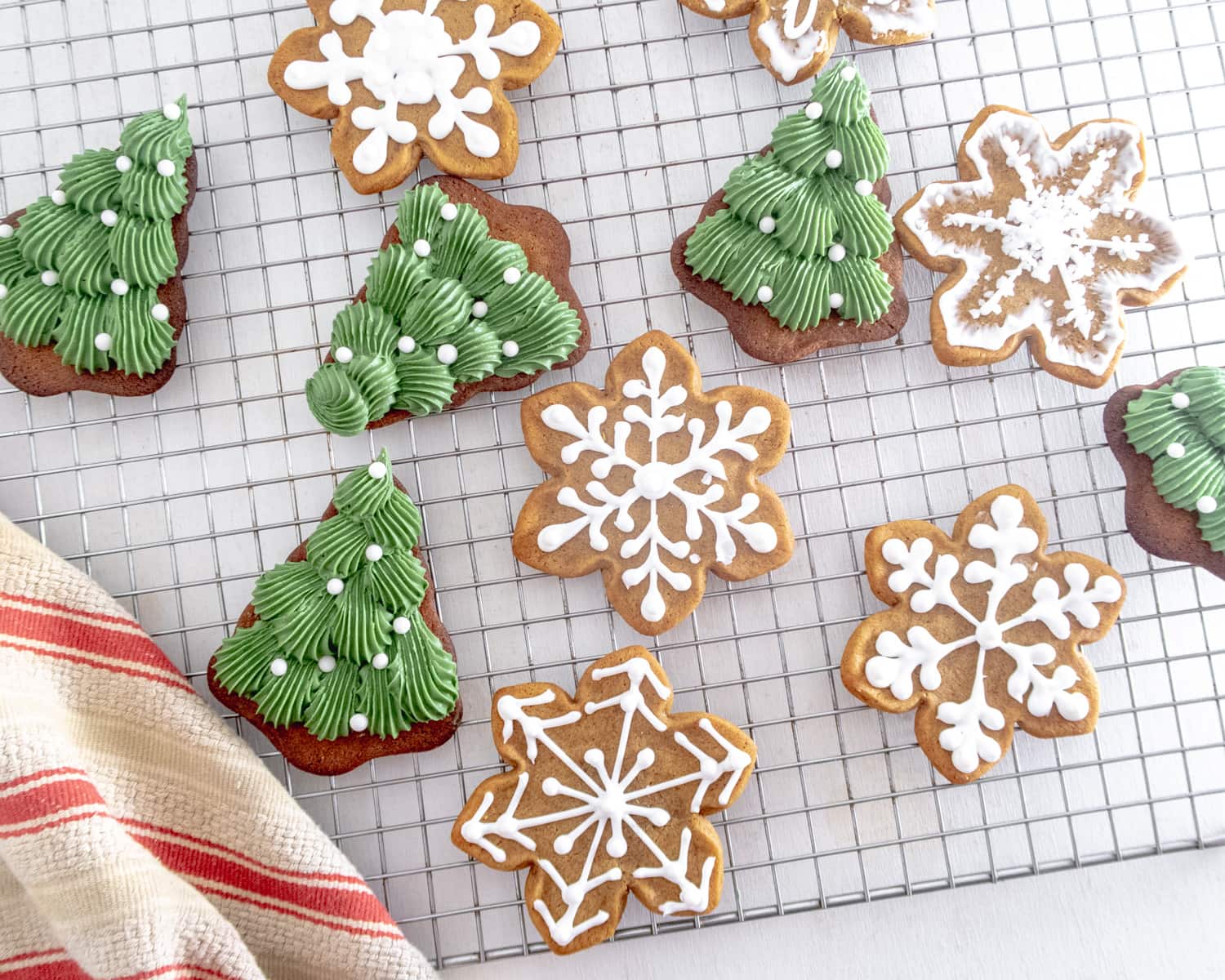 This recipe is pretty easy so feel free to skip straight ahead. Continue to read for royal icing decoration ideas and check out the origin of this recipe all the way at the end (after the recipe).
---
Tender vegan gingerbread cookies
These vegan gingerbread cookies are tender with a nice balance of spices and are easy to roll out. They are also great if you are planning on decorating them with royal icing as a family activity. 
Even if you overbake a baking tray by accident, these vegan cookies should soften up after you store them aside for a day.
Drop cookies
One thing I absolutely love about this recipe is that if you don't feel like rolling out dough and sprinkling flour on all available surfaces, you can add 60 g or ¼ cup of water to the wet ingredients.
You can then scoop the cookies using a small ice cream scoop right into a baking tray for drop cookies. You can also roll them in cinnamon sugar or crunchy demerara sugar.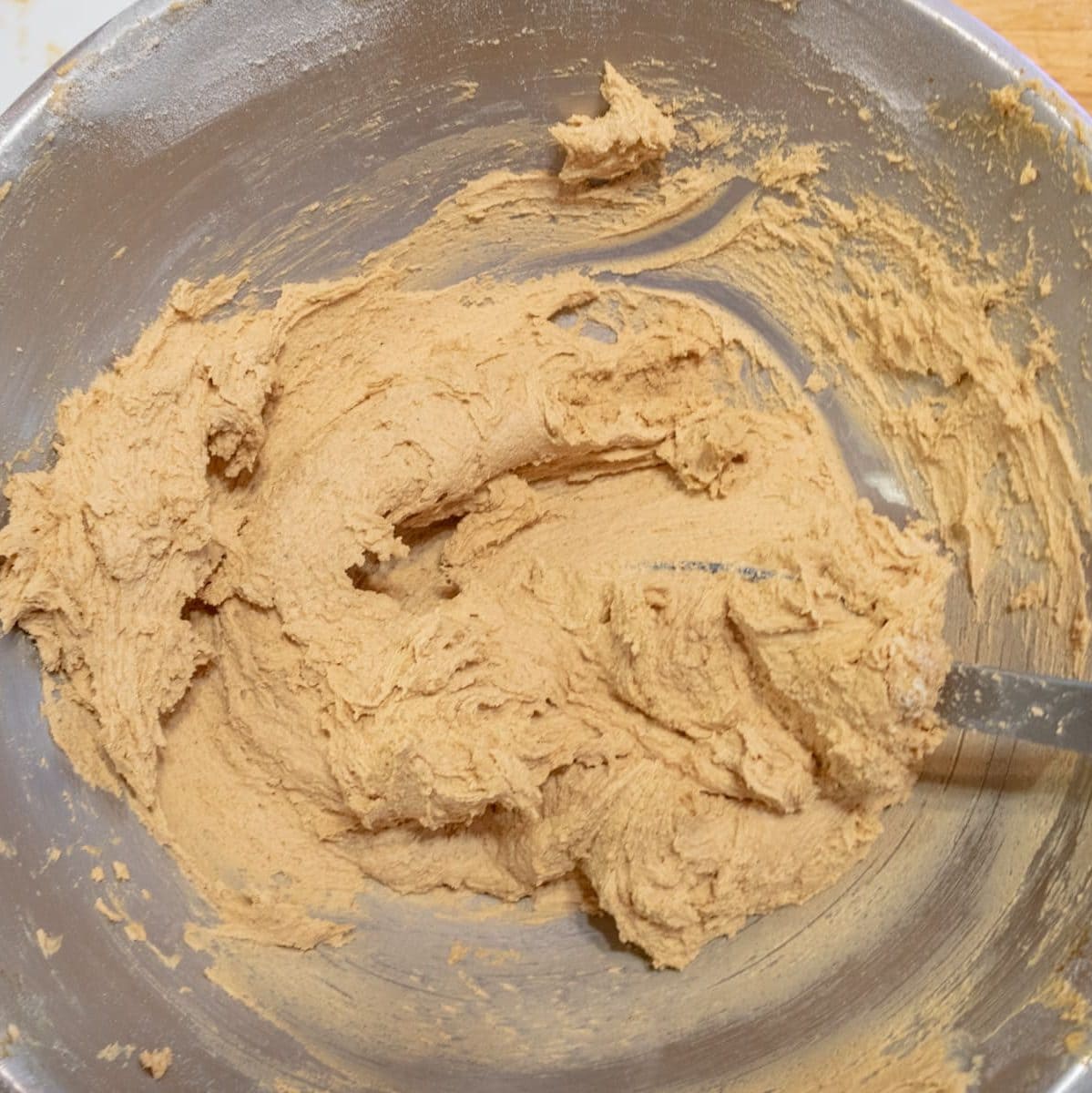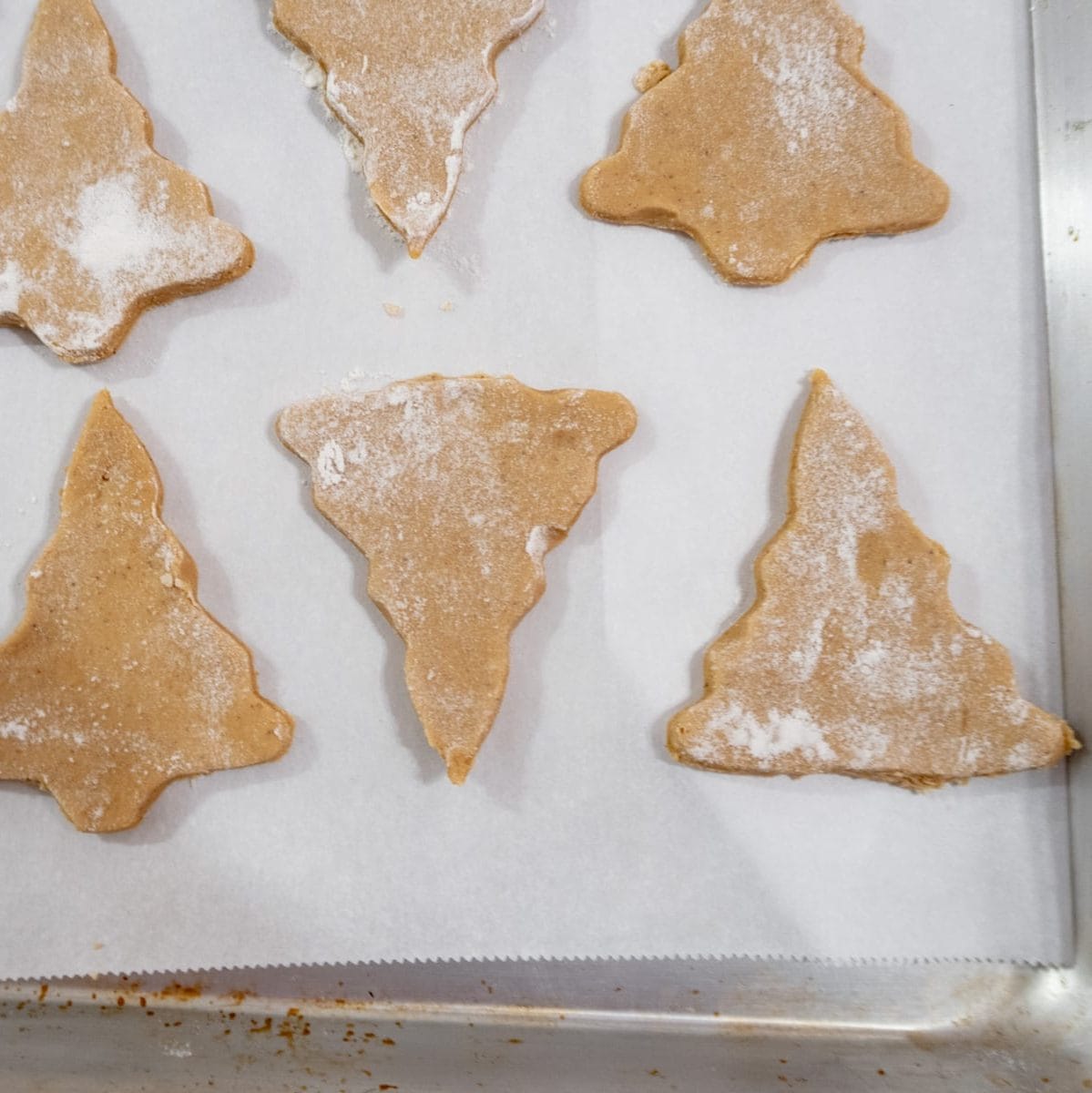 Tips to prevent gingerbread cookies from spreading
You can't completely stop cookie spreading without tweaking the recipe and risking getting dry cookies but you can use the following tips to try to prevent cookie spreading.
Place your cookies on cold baking sheets. A hot baking sheet will melt the butter in the cookies and the cookies will spread before they get a chance to cook properly.
Refrigerate the cookie cutouts before baking them. If you are baking a lot of cookies, you should refrigerate the baking trays with the cookies on them instead of letting them rest on your countertops while you are waiting for space to free up in your oven.
RELATED: Looking for more holiday cookies? Check out my festive chocolate butter cookies.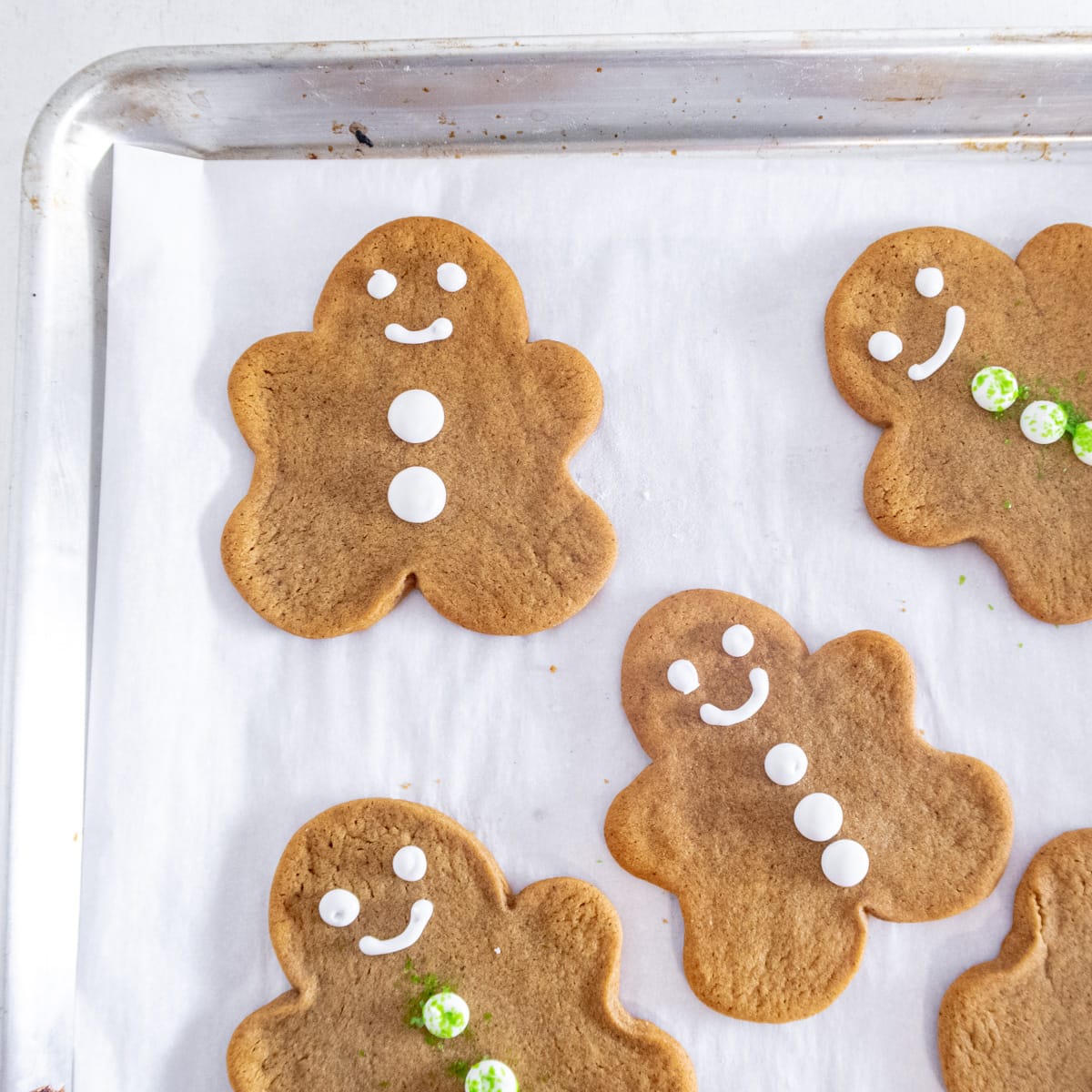 Decorating Gingerbread Cookies
The only rule when decorating cookies is that they need to be completely cooled before decorating them. Any leftover heat will melt your icing decorations.
The best icing to decorate gingerbread cookies, sugar cookies, or any other roll-out cookies is royal icing because it dries firm and then can be stacked for easy gifting. 
Royal icing is usually made with egg whites but I have veganized my own recipe using aquafaba! I even explained the different textures that you can reach with royal icing for easy decorating.
Gingerbread people
Gingerbread people are the easiest to decorate, pipe a face, a couple of buttons, and you are done. 
If you want you can give them a fashionable wardrobe, bowtie, hairdo, or even just a light dusting of sprinkles. 
Christmas Trees
I made a stiff royal icing with some juniper green food coloring and piped shells the same way you would for a cake border. I then added some vegan white pearl sprinkles.
Truth be told, they are a bit heavy on the sweetness due to the larger amount of icing but they just looked too cute. If I were to remake these, I'd decorate the trees with buttercream icing instead.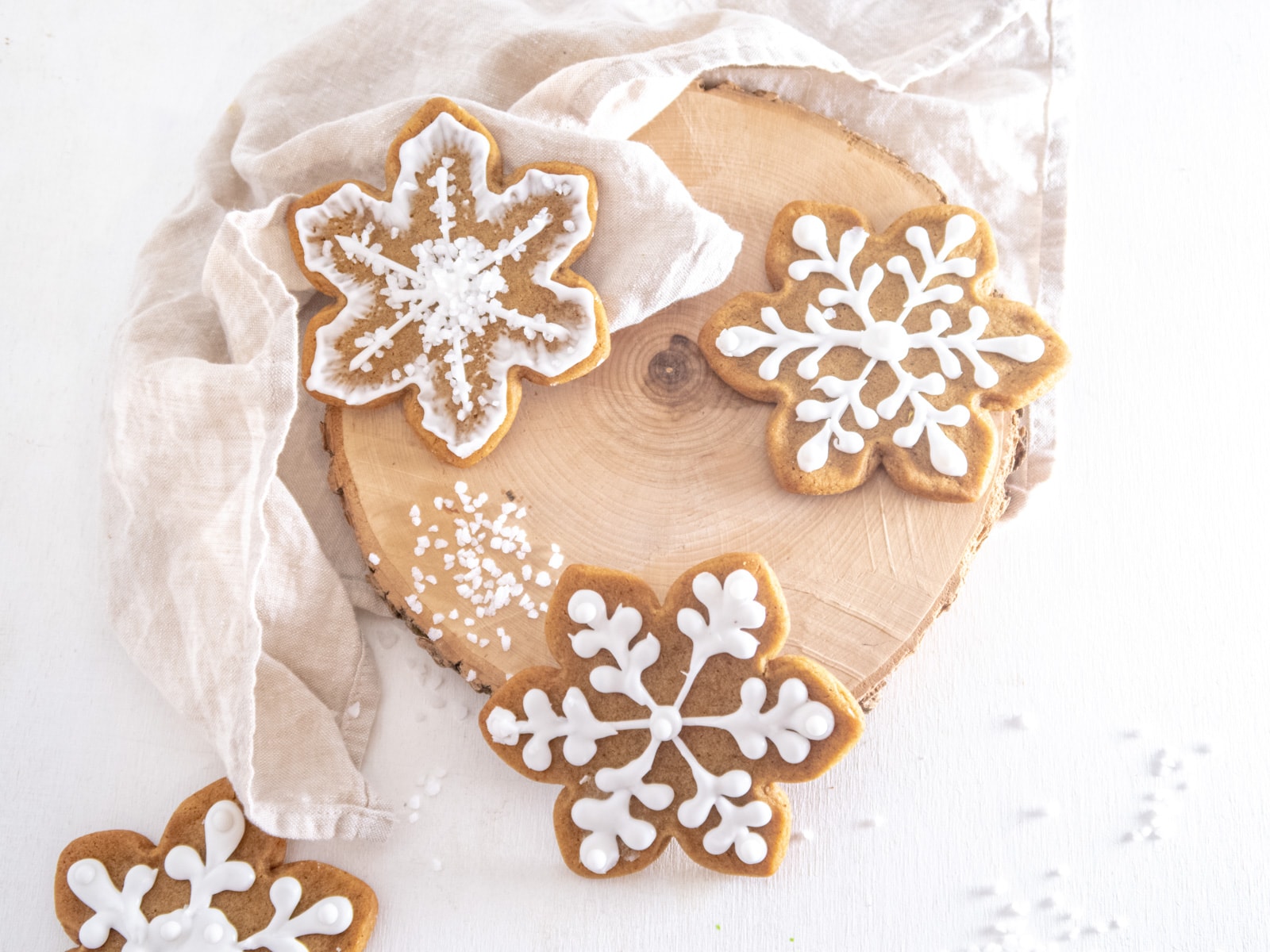 Snowflakes
I made a medium consistency royal icing to decorate the snowflake cookies. This one is all about piping precision, there is no shortcut.  However, if you mess up, you can always dust the top of the cookies with crystal or pearl sugar to give the cookies a frosted look which will hide any imperfections.
For the faded edge cookies, I used an embroidery piping method where I piped a thin line of icing on the edges of the cookies and then pulled the icing inward using a small wet paintbrush.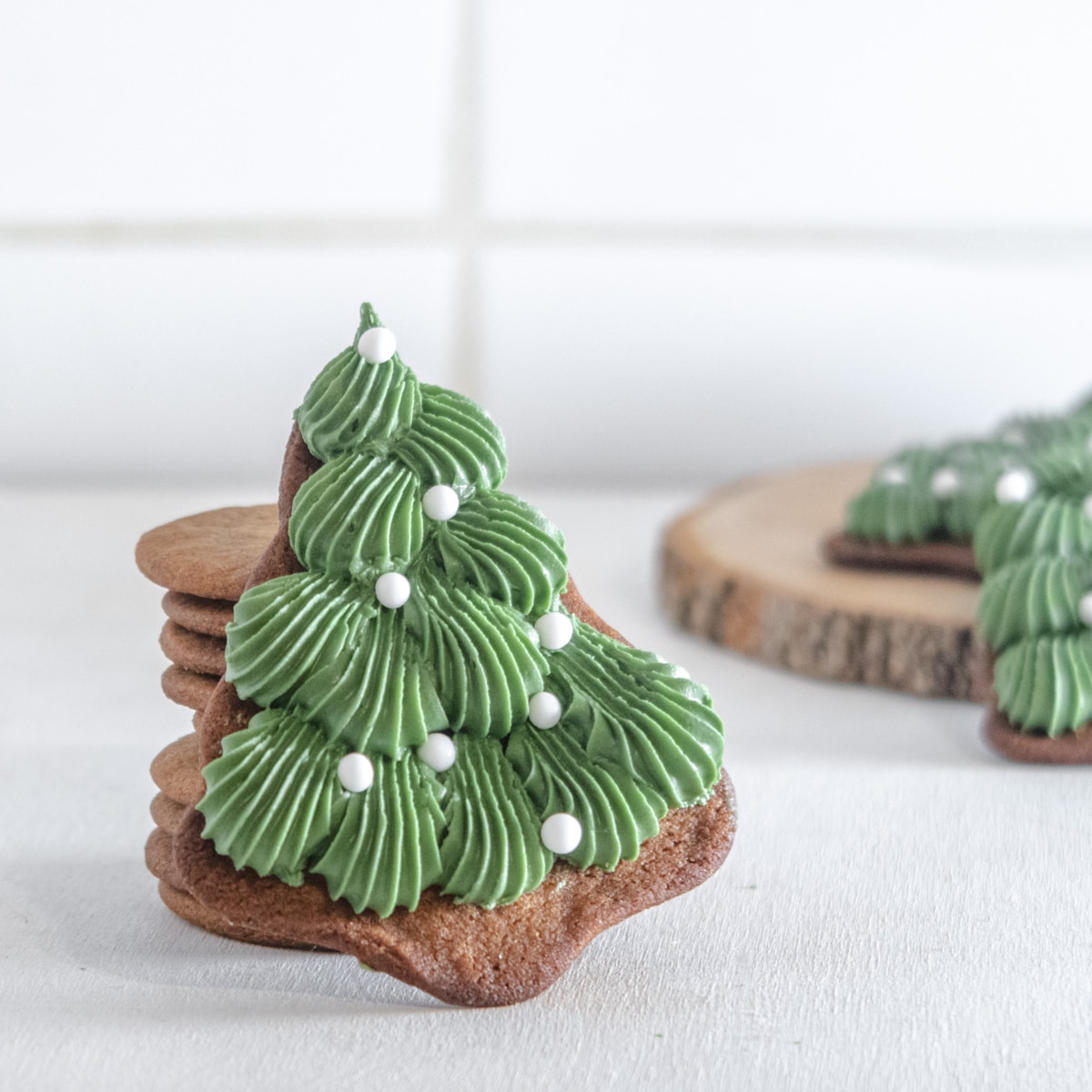 Storage
These vegan gingerbread cookies will last for up to 1 week at room temperature if stored in an airtight container, but I highly doubt they will last that long.
You can also freeze the raw dough for up to 6 months or unfrosted baked cookies for up to 2 months.
Tools
These vegan gingerbread cookies are so easy anyone can make them at home.  This recipe can be made with just a large bowl and a sturdy wooden spoon. A bottle of wine and the outer ring of a mason jar lid will also work in a pinch if you can't find your cookie cutters.
For bakers with well-stocked kitchens, here is my tool recommendation for this recipe.
Stand mixer. My trusty 6-quart bowl-lift Kitchenaid is never too far in my kitchen but a large bowl and hand mixer will also work.
Rolling pin. My favourite style are French-style rolling pin, as you can steer it and it doesn't have moving pieces that can easily break
Cookie cutters of your choice
Pastry bags, or freezer Ziploc bags. I love to use small disposable pastry bags with small round metallic pastry tips to decorate my cookies. 
Digital scale. I'm a big fan of weighing my ingredients. It is more precise but also it comes in handy with sticky ingredients like the molasses. You can weigh it straight in your mixing bowl without having to deal with sticky measuring cups.
While I have provided the cup measurements for this recipe, I highly recommend you use a digital scale and weight measurements for most of the recipe, with the exception of the spices.
Recipe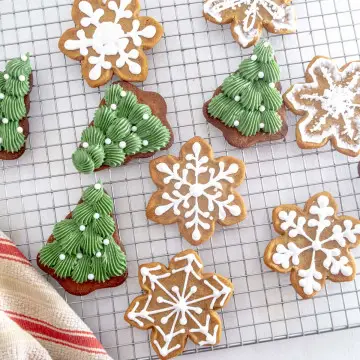 Print
Vegan Gingerbread Cookies (Very Easy!)
This vegan gingerbread cookies recipe will soon become your favorite once you realize how easy it is to make!
Ingredients
Wet ingredients!
240

g

firm vegan unsalted butter at room temperature*

(1 cup)

200

g

light brown sugar

(1 cup lightly packed)

70

g

molasses

(¼ cup)

4

g

vanilla extract

(1 teaspoon or 5 ml)
Dry ingredients
330

g

all-purpose flour

, plus extra for rolling the dough (2 ¾ cup)

1 ½

teaspoon

baking soda

( 7 g or 7.5 ml)

2

teaspoons

ground cinnamon

(6 g or 10 ml)

1 ½

teaspoon

dried ground ginger

(4 g or 7.5 ml)

¼

teaspoon

ground nutmeg

(0.5 g or 1 ml)

½

teaspoon

fine sea salt*

(3g or 2.5ml)

1

recipe

vegan royal icing

, optional

vegan sprinkles

, optional
Instructions
Gingerbread cookie dough
In a large bowl, cream together the vegan butter and sugar. Add the molasses and water and mix until incorporated.

Sift the dry ingredients together and stir into the wet ingredients gradually. Mix well then work with your hands to form a smooth dough.

Cover and chill for a minimum of 1 hour (preferably overnight) for easy rolling and to let the spice settle.
Rolling
Once chilled, preheat your oven to 350°F (180°C) and line a baking tray with parchment paper.

On a lightly floured surface, roll the dough to a ¼ inch thickness (6 mm). Dip your cookie cutters in flour before cutting out cookies from the dough and placing them on the prepared baking sheet. Brush off any excess flour on the cookies.
Baking
Place the cookies in the preheated oven and bake for 7 to 9 minutes, or until the edges are starting to darken slightly. Do not overbake.

Cool completely before decorating the cookies with royal icing, buttercream or sprinkles. Enjoy!
Notes
Vegan butter
:  I use Becel Plant-Based bricks for the butter but you can use any firm vegan butter in block form like Flora. This recipe does work with vegetable shortenings like Crisco or even margarine but you might have a bit more spreading. 
Salt:
If you are using salted margarine, you can skip the additional salt in the recipe.
Scoopable cookies:
 To make scoopable cookies, add 60g (¼ cup) of water to the wet ingredients.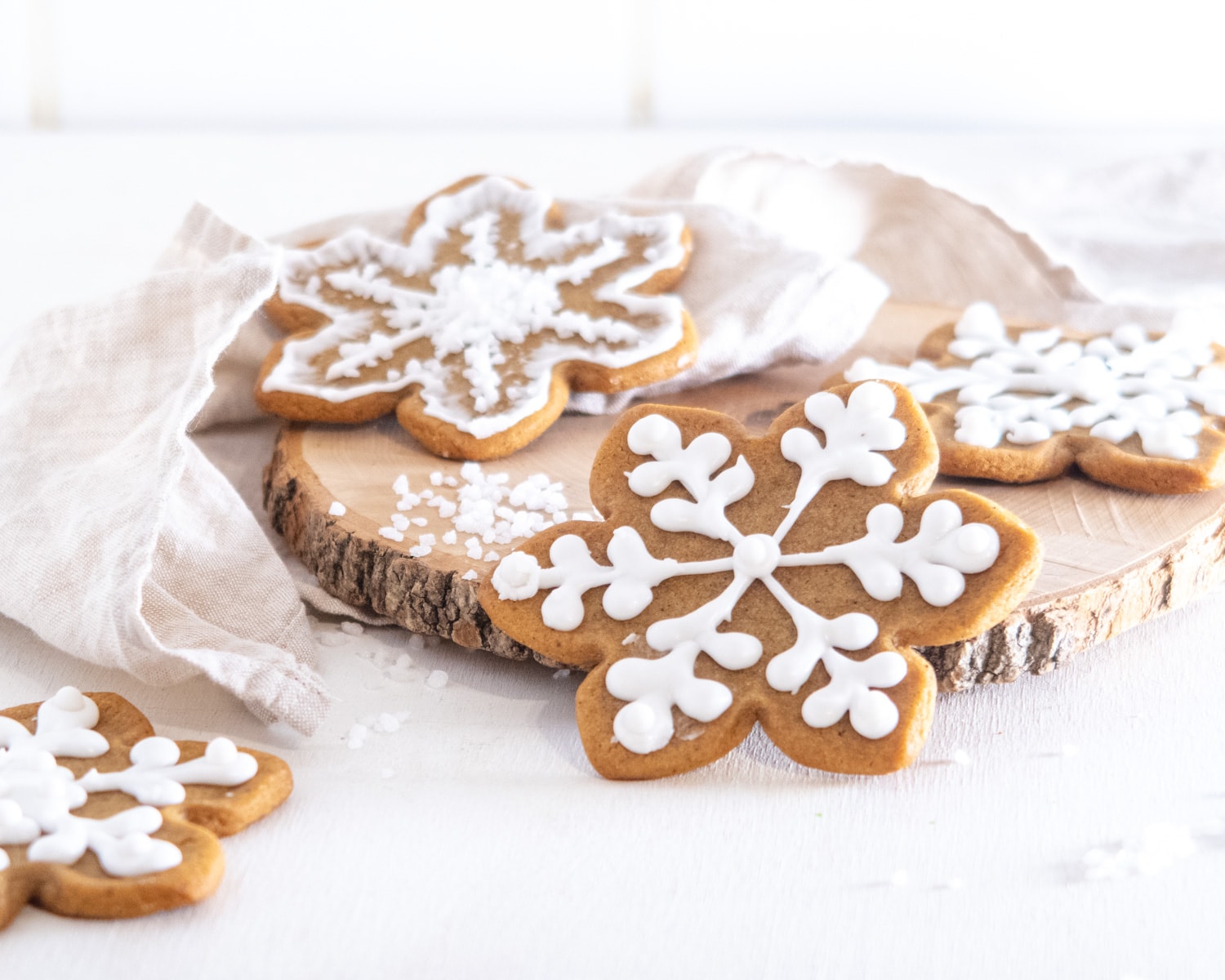 Vegan gingerbread recipe origin story
This recipe has a special place in my heart as it was one of the first cookie recipes I ever made. It was passed down to me through a friend's mom while I was in high school. The first time I made it, it ignited my passion for baking and pastry. 
I recently decided to revisit it after a couple of years of not making it to try to attempt to veganize it before realizing it was vegan all along and I didn't need to change anything. So enjoy this classic recipe which I consider to be a family heirloom at this point.
I hope you like it as much as I do!
Did you try this cookie recipe?
Don't be shy and let me know how it went! Leave me a comment below and share a picture on Instagram !