Bite into crinkly spooky brookies that are looking at you with their vegan white chocolate eyes. These vegan brownie cookies are easy to make and school-friendly!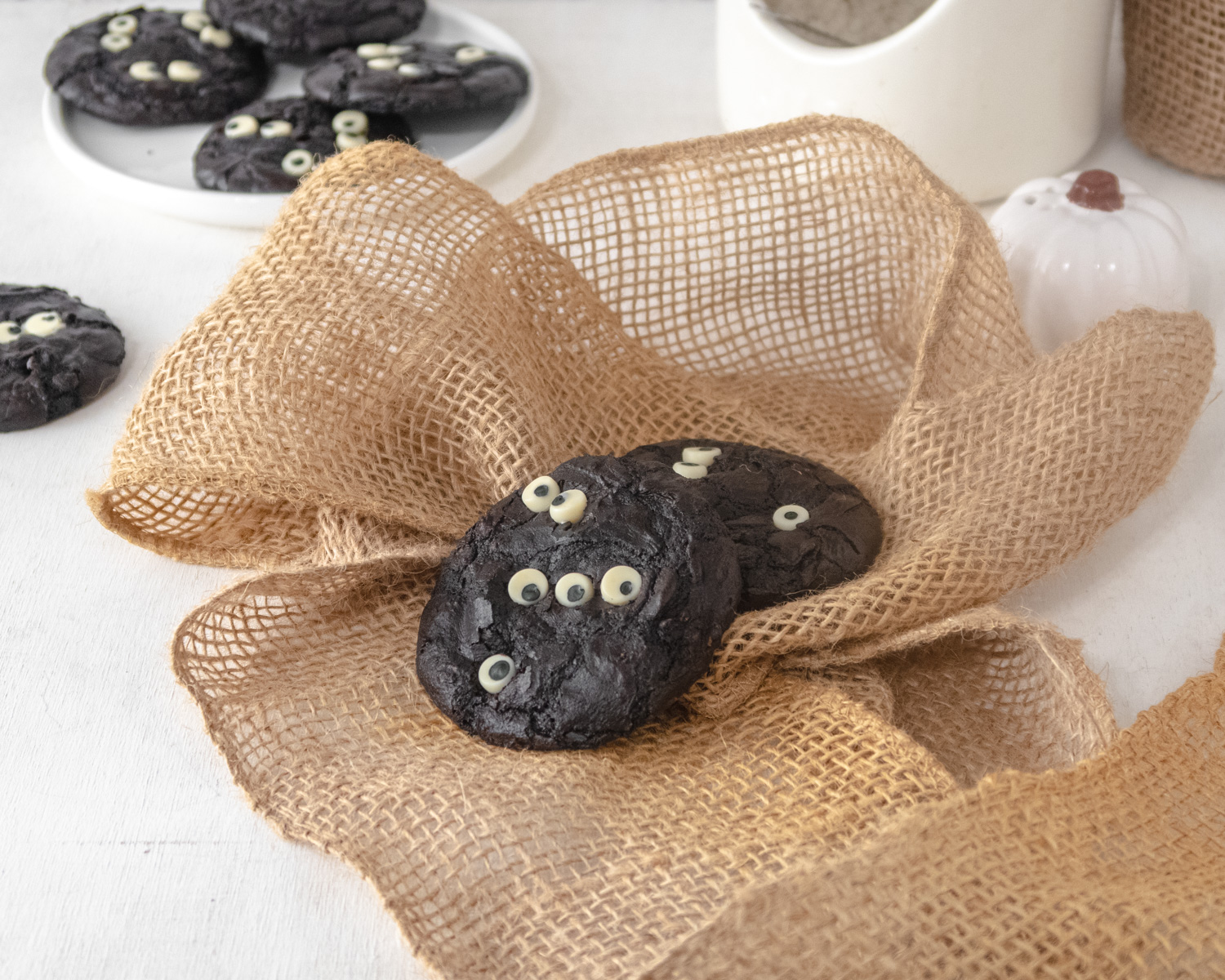 This crinkly brownie cookie recipe is egg-free and dairy-free and great as a year-round snack (with or without eyes). Adding vegan white chocolate chip monster eyes makes them perfect for the spooky season.
You won't need any fancy equipment or electric mixert to make these cookies. Everything is done by hand. You can even have the kid join you in the cookie-making process. I also incorporated an alternative if you can't find vegan white chocolate chips where you live. 
If you are planning a Halloween party for the world to remember, check you my bloody red velvet cinnamon rolls and my 100% buttercream sculpted pumpkin cake.
Jump to: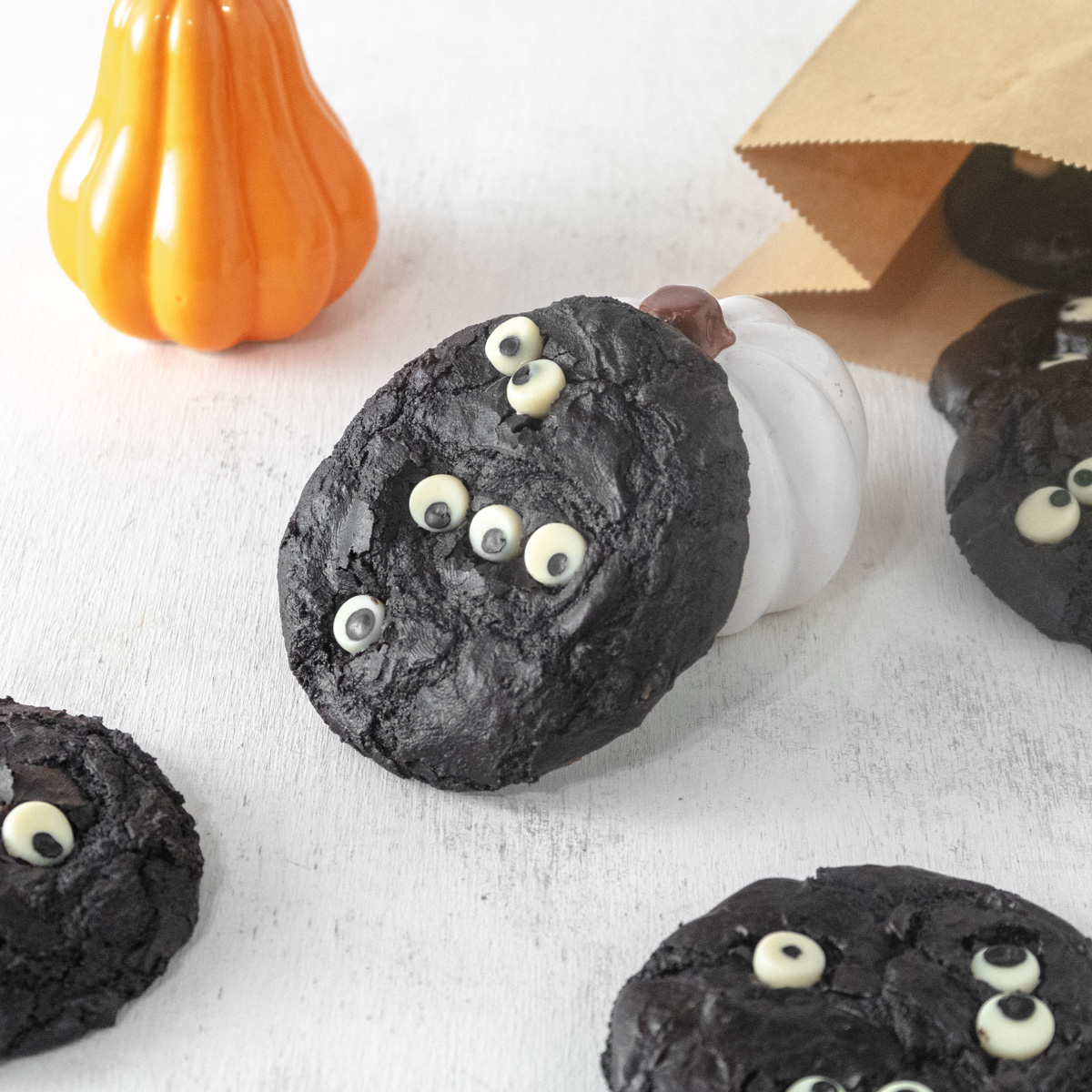 📋 Ingredients
Most of the ingredients for this recipe are already in your pantry but some might be harder to find. I shared some pointers on where to start looking for those rarer ingredients.
All-purpose flour, bleached or unbleached
Cornstarch is also known as cornflour in the UK and in Australia
Black cocoa powder is preferred to give the cookies their black colour, but regular unsweetened cocoa powder will also work. The black cocoa powder tastes a bit like Oreos. For Canadian peeps, I found mine at Bulk Barn and for my US friends you can also find black cocoa powder on amazon or in specialized baking stores.
Baking powder and fine sea salt
White granulated sugar. I live somewhere where all sugar is vegan, but make sure you double-check for bone char where you live. Organic unbleached sugar will also work with this recipe
Dark chocolate with approximately 60% cocoa solids. Different percentages of cocoa solids might give different results. Do not use chocolate chips. I used  Cacao Barry mi-amère 58% chocolate but you can use a good quality dark chocolate bar finely chopped up.
Light-tasting vegetable oil like grapeseed, canola and sunflower. Do not use olive oil or coconut oil for this recipe.
Vegan white chocolate chips, preferably large in size. I use the Healthy Crunch vegan white chocolate chips which you can find at Natura Market or at wells.com. I find the Enjoy Life brand white chocolate chip to be delicious, but too small for this recipe. Read further to see my white chocolate chips alternative
See recipe card for quantities.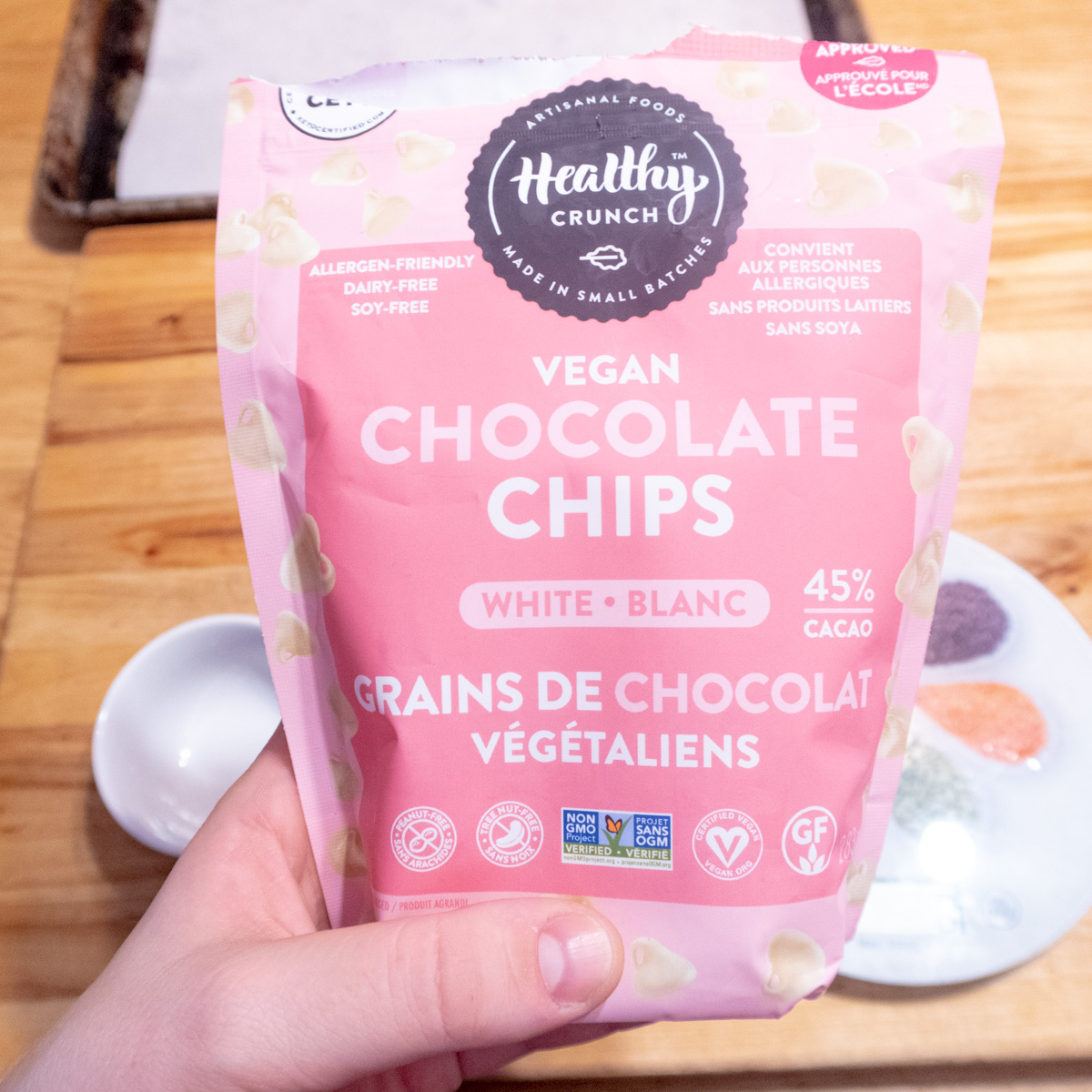 📖 Alternative
If you can't find vegan white chocolate chips or can't wait for them to get to you through the mail, don't despair!
You can replace the chocolate chips with drops of homemade vegan royal icing that you can pipe on top of the fully cooled brookies.
To make perfectly round royal icing eyes, pipe stiff royal icing using a small piping bag with a small round pastry tip or you can follow this tutorial to make a parchment paper cone and cut off the very tip to make a small opening.
🥣 Instructions
This spooky vegan cookie recipe is very easy to make but it does use an unusual technique while making cookies.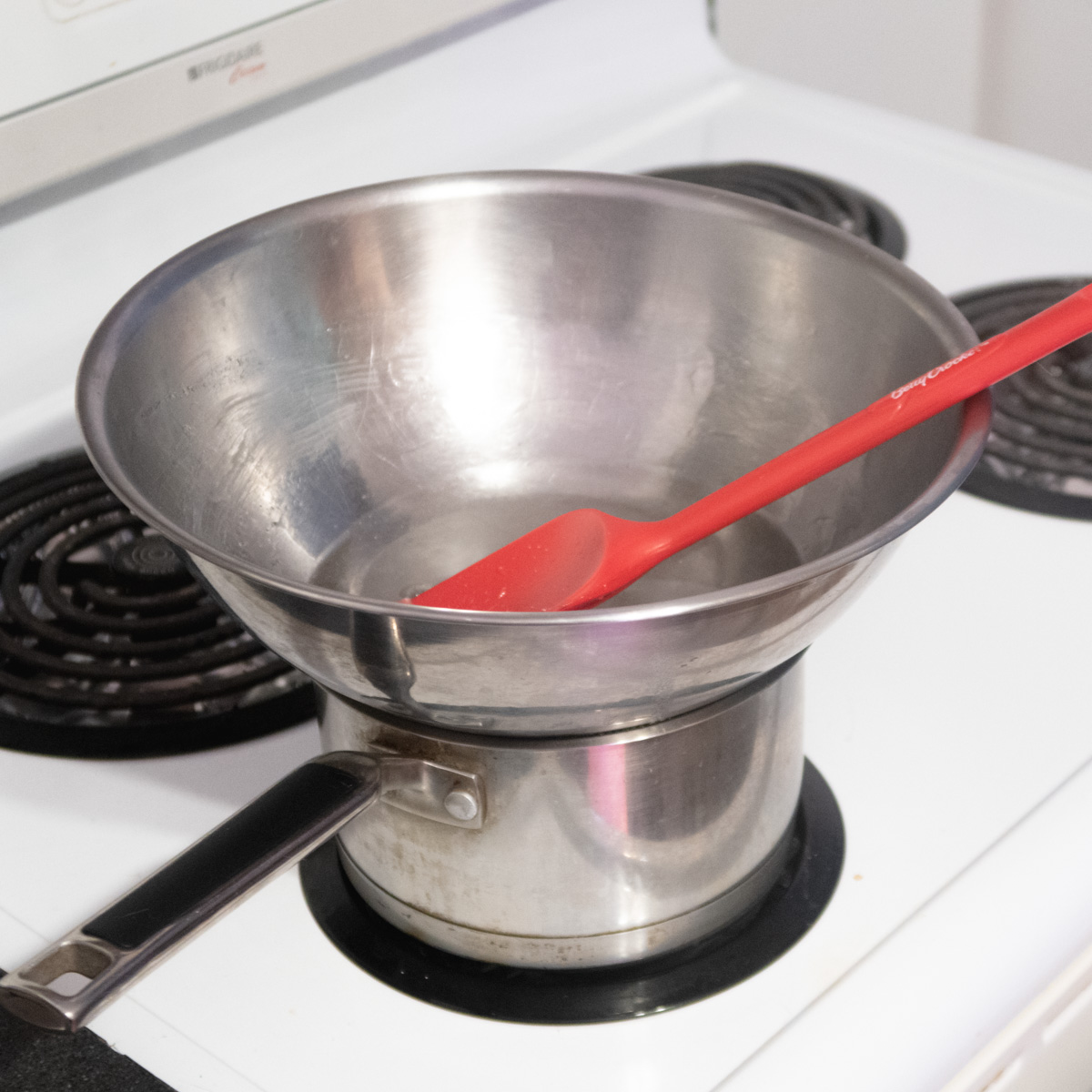 Double boiler
This recipe starts with a double boiler, which is when you place a bowl on top of a saucepan filled with about an inch of simmering water. This provided indirect heat which is preferred for melting chocolate, or in this case, for slowly melting sugar into a small amount of water without caramelizing it. 
The sugar syrup in this recipe is actually what gives these chocolate crinkly cookies their shine. The water should not directly touch the bottom of the bowl that is on top. The light steam should be doing all the work.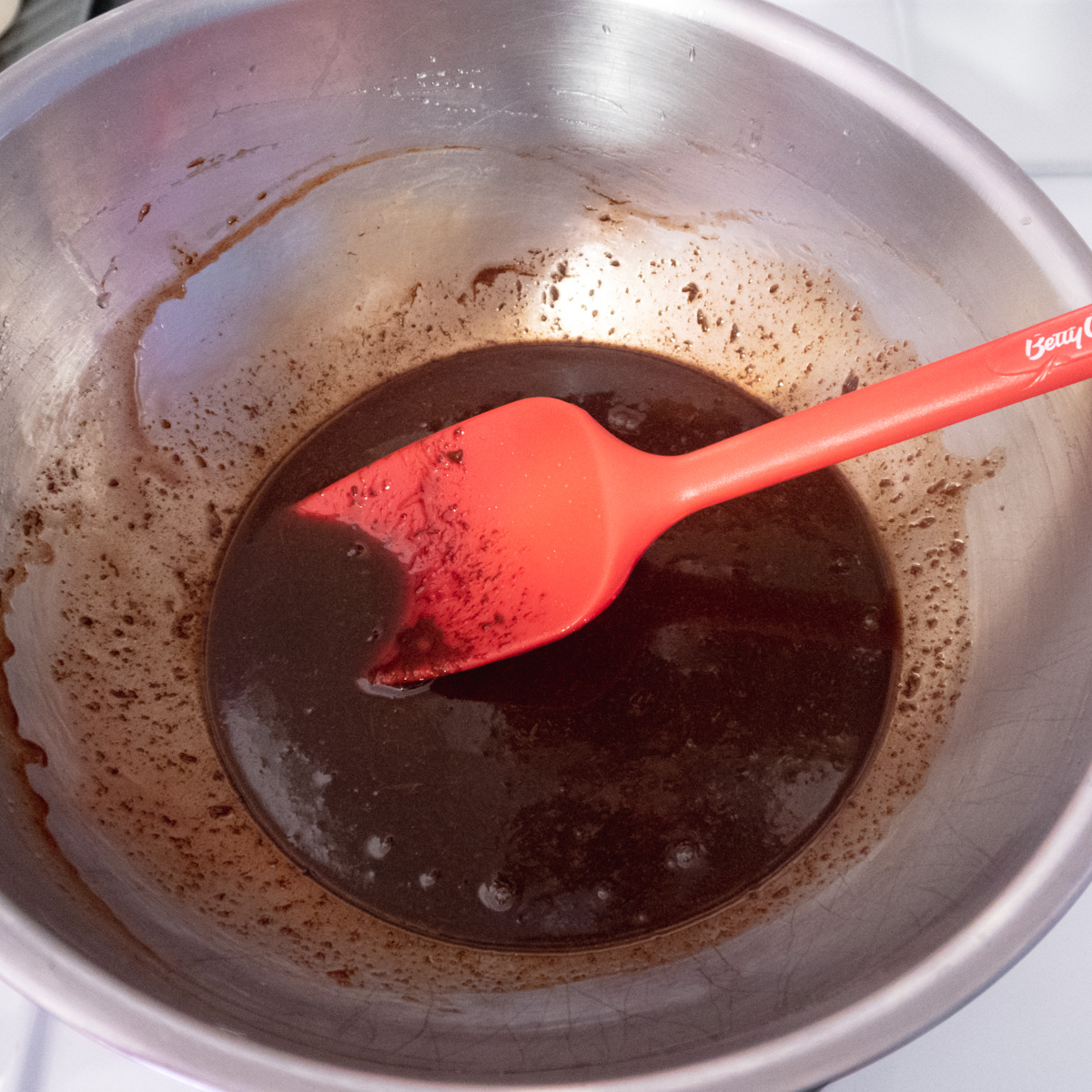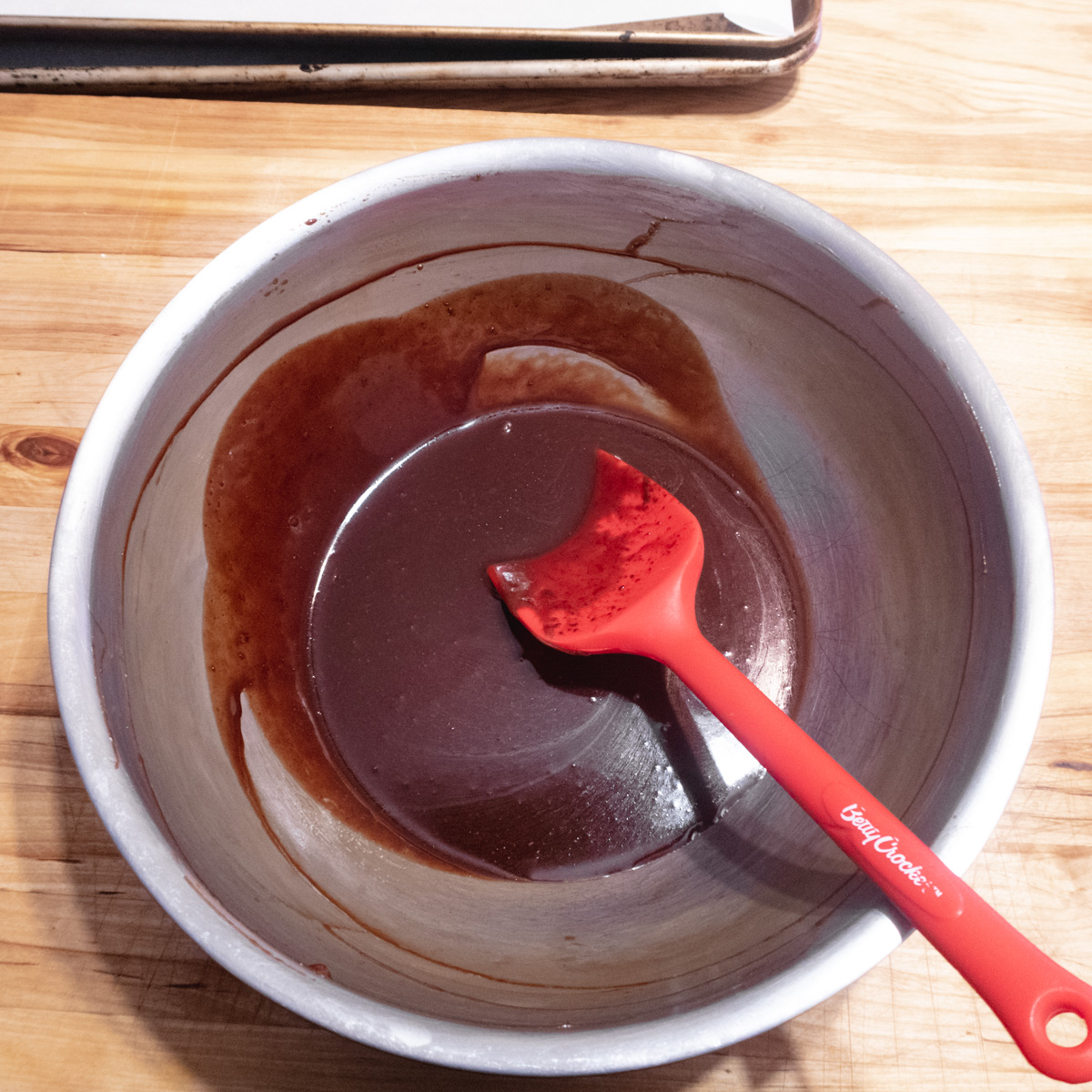 Batter
Once the sugar is completely dissolved into the water over a bain mary, the chocolate is added. The chocolate will slowly melt into the hot sugar syrup but it will take a lot of stirring to incorporate the chocolate. At first, it will look split but after about 5 minutes of gentle stirring, it will get incorporated. We can then put away the bain mary.
The best time to have kids join in is when we start to measure and stir the dry ingredients together. The dry ingredients need to be sifted because the cacao powder tends to clump.
The dry ingredients are then stirred into the chocolate mixture, which should feel hot to the touch. I found a sturdy silicone spatula to be the best tool for that task since the chocolate tends to want to stick to the edges of the bowl.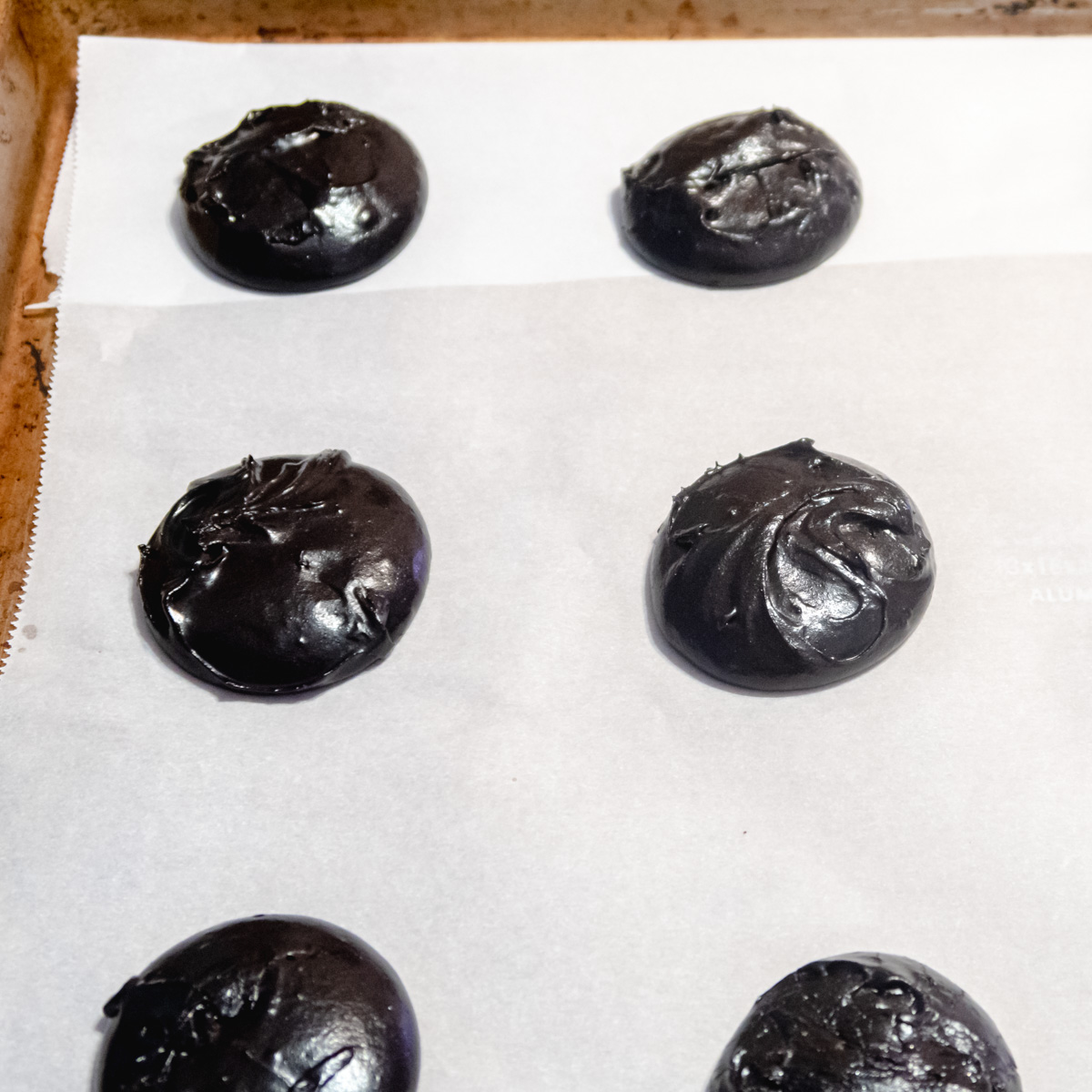 Shaping
The batter should be somewhat fluid once it's mixed. As the batter cools down, it will start to get hard, dry and crumbly so start scooping the batter into the prepared trays before that happens. 
I found the best way to scoop my cookies is with a small ice cream scoop which I bring very close to the baking tray before flipping it over and pressing on the mechanism to release the batter. 
If you get misshapen cookies, right away try to nudge the batter where you need it to make circles. The cookies will spread as it settles and as it cooks, so leave plenty of free space around them on the tray.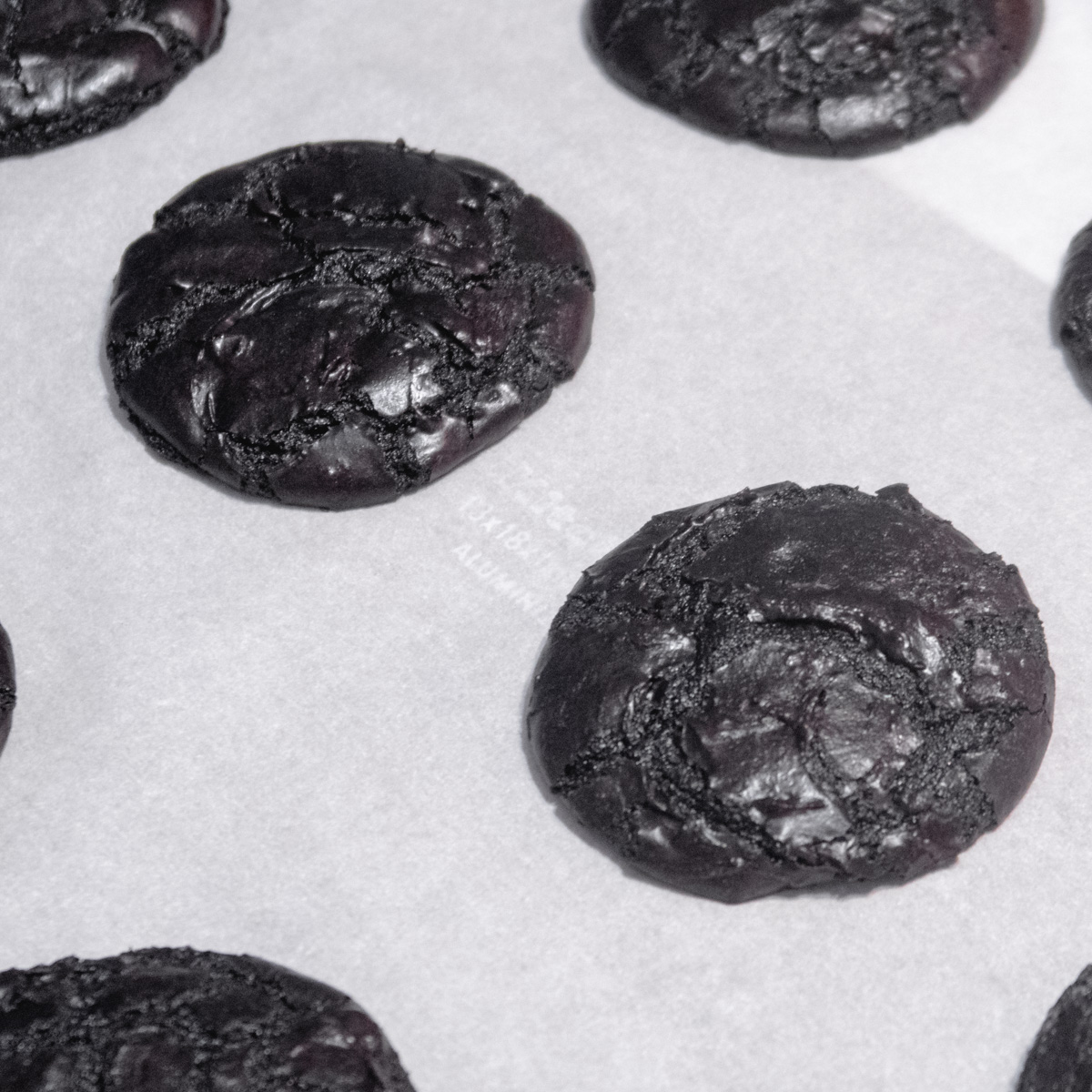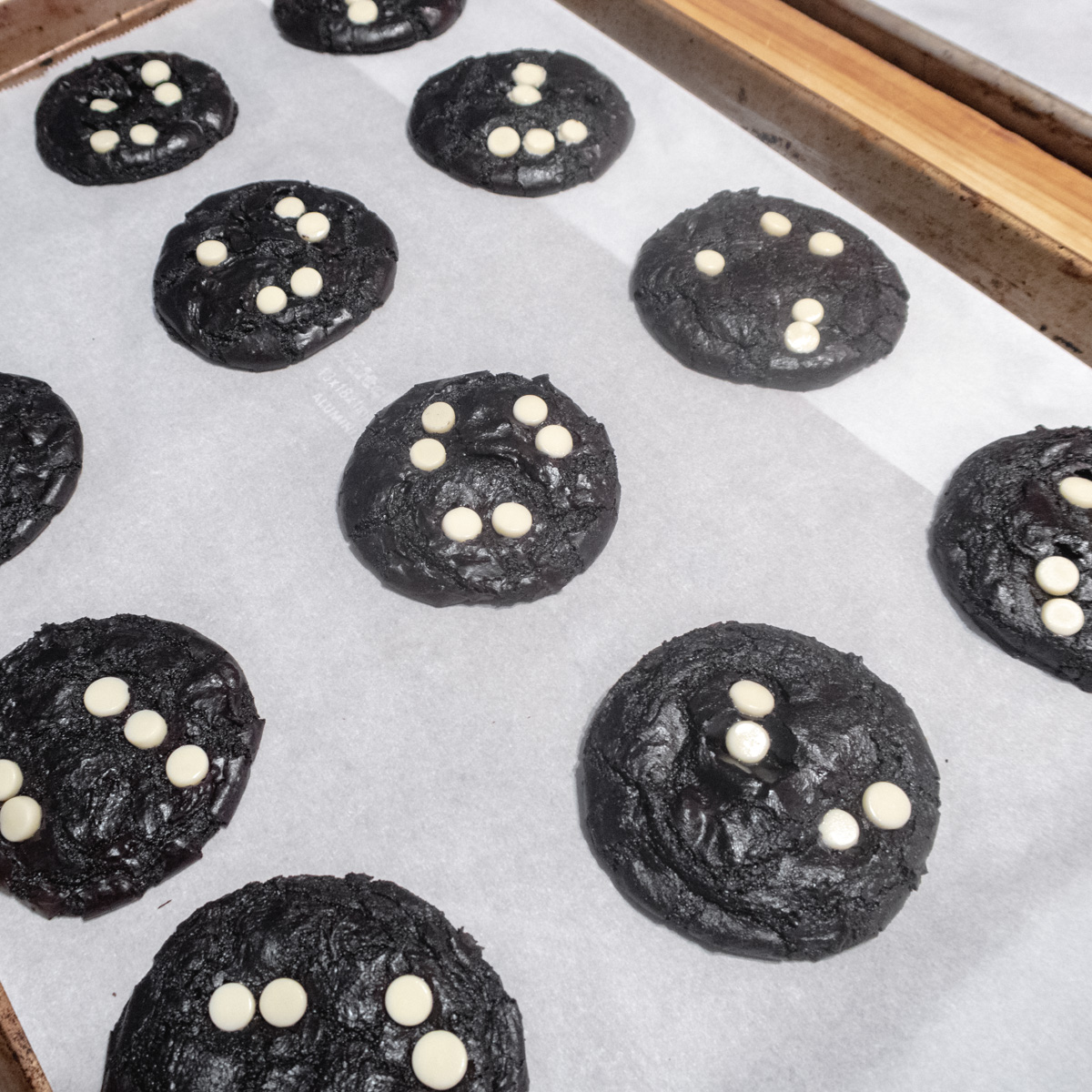 Crinkle secret
Now for that crinkle secret. I found that if I baked the cookies straight away the cookies would not have those gorgeous crinkle lines. However when I left the cookies at room temperature for 5 to 10 minutes, the cookies would develop a light crust and when baked, the cookies would crack. So give those cookies a little break once they are on the baking tray to develop that gorgeous shiny crust. 
Baking these cookies is pretty straightforward, but make sure you don't overbake them. It can be tricky to see when they are done since they are jet black.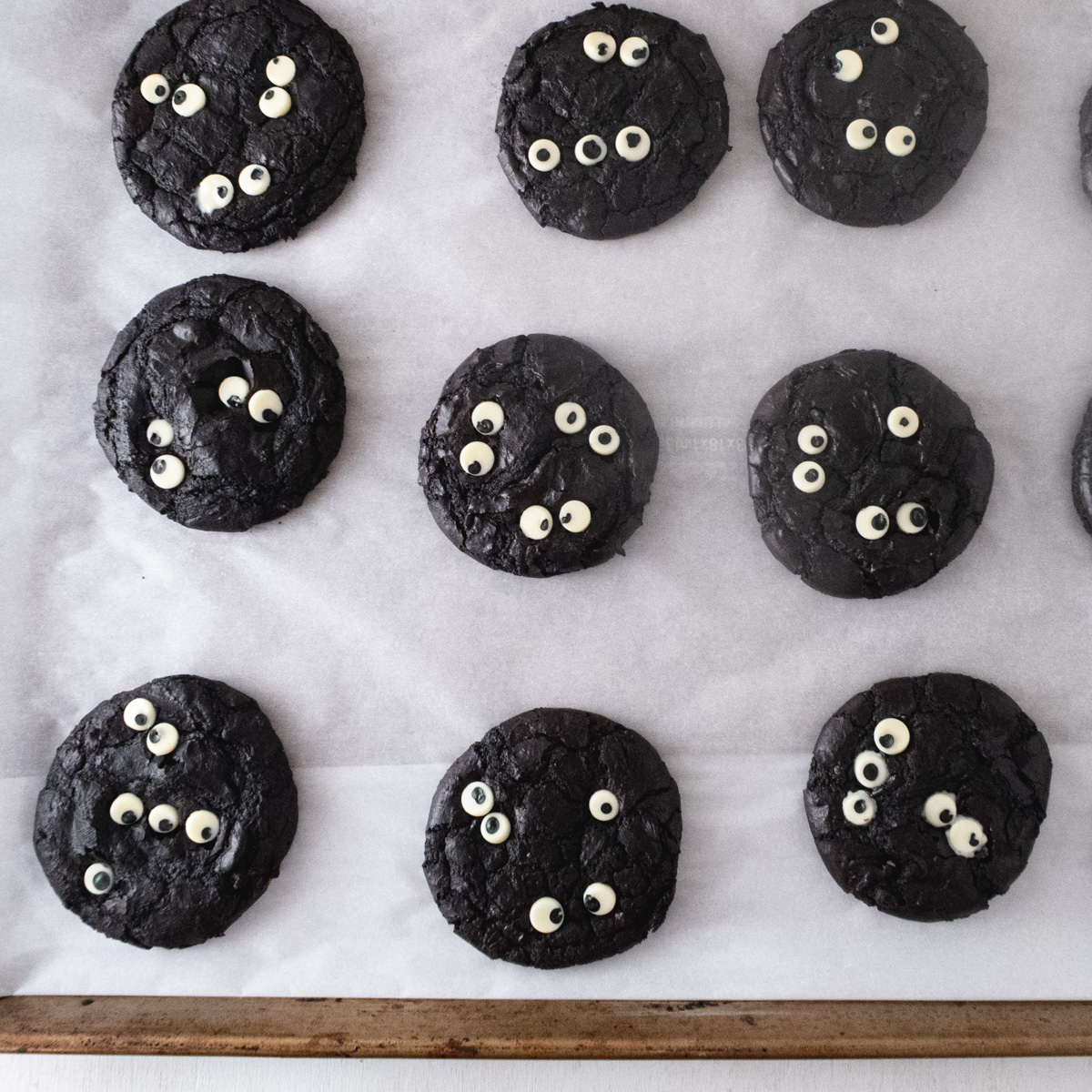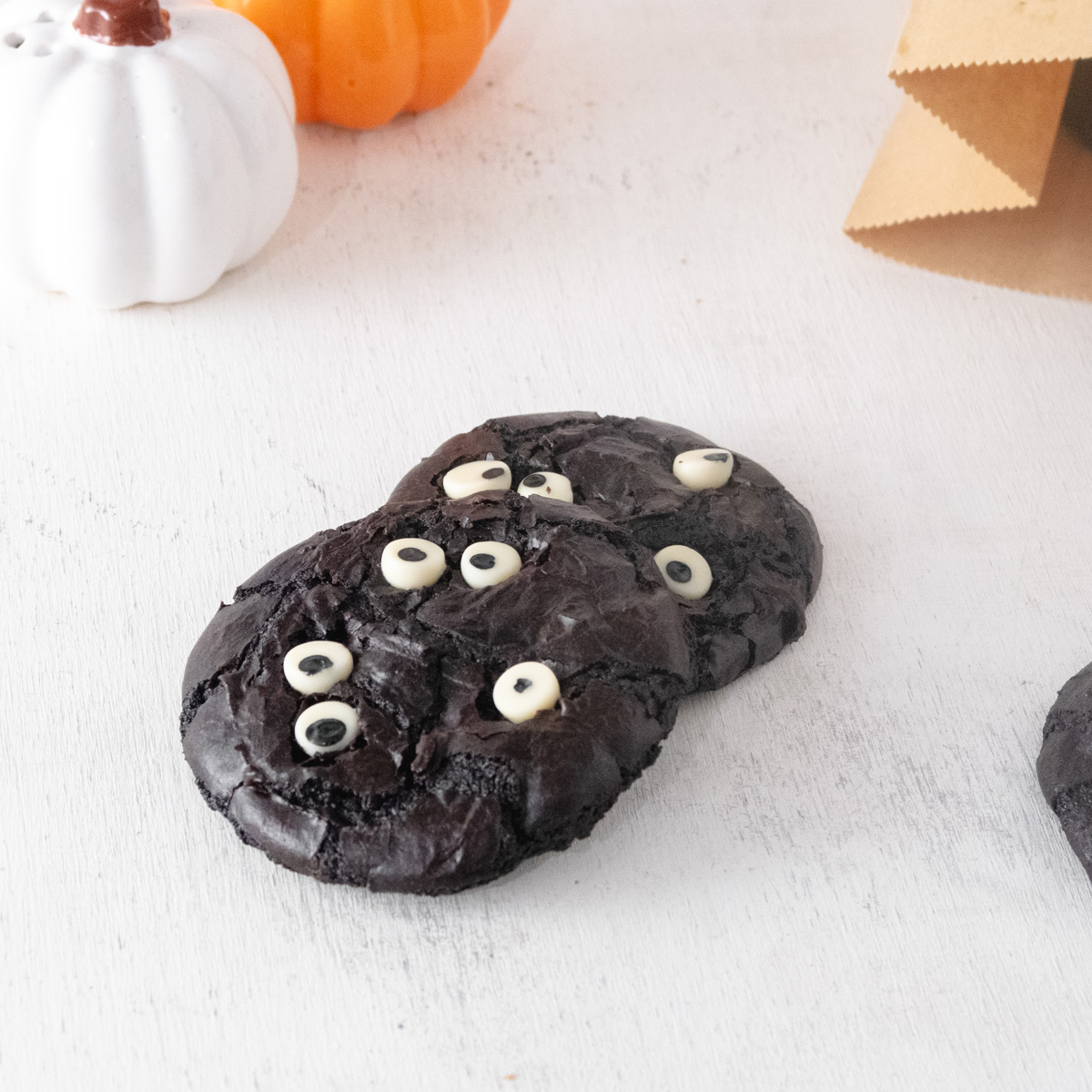 Decoration
To decorate the vegan brookies, we are pressing upside-down chocolate chips into the cookies the moment they get out of the oven while they are still soft. I love placing pairs and trios of eyes close together since they look better than when slit appart.
Once you place the chocolate chips, resist the urge to touch them. The chips will be melting with the heat of the cookies and touching them might result in weirdly shaped eyes. Let the cookies completely cool down and the chocolate set before adding the irises to the eyes.
I used a drop of black gel food colouring diluted in a bit of vodka to paint my eyes but you can also pipe or place with a toothpick a drop of melted dark chocolate. Have fun making various sets of eyes looking in different directions.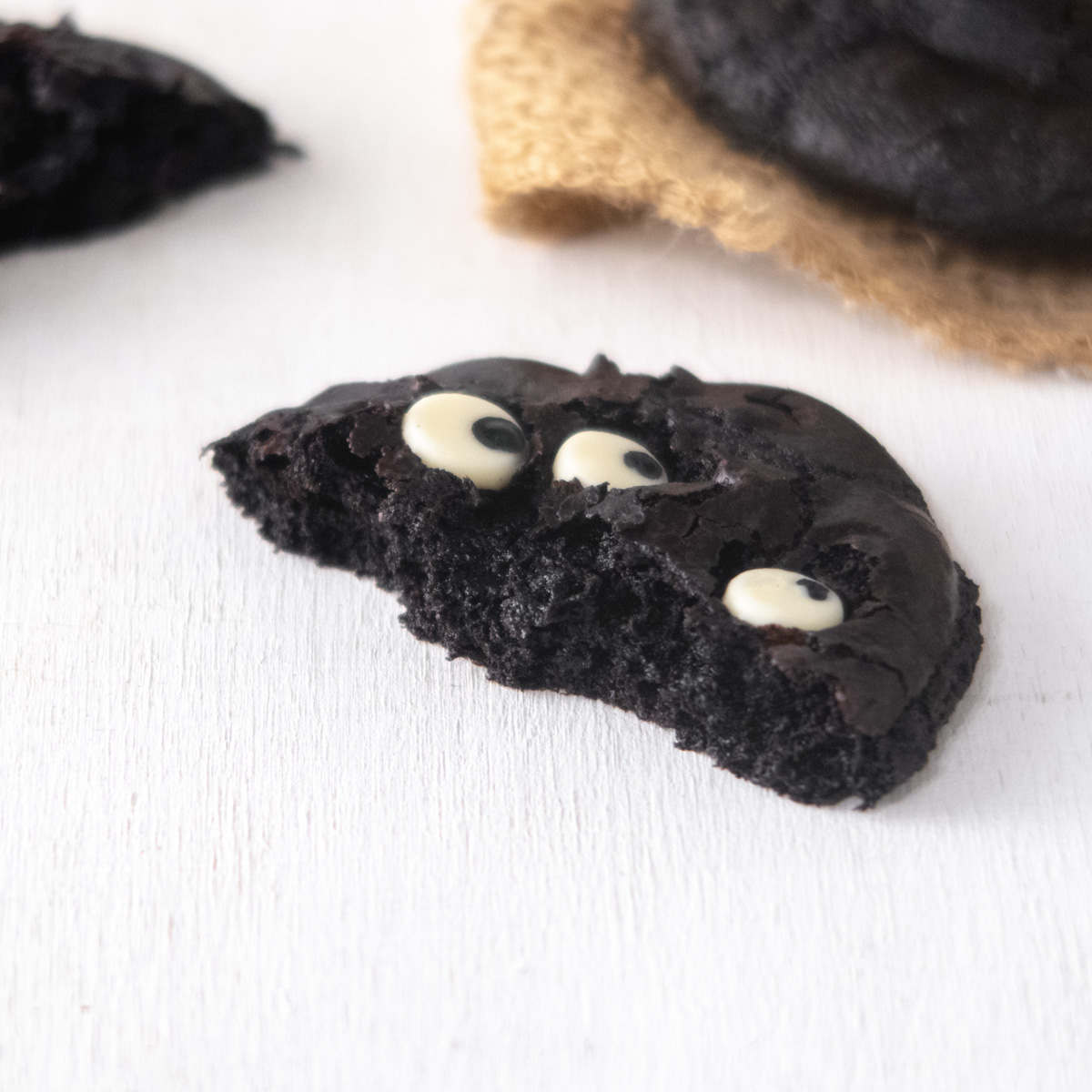 🔪 Equipment
Mixing bowl, large and medium
Saucepan, small or medium
Sturdy silicone spatula, or wooden spoon
Sieve
Small ice cream scoop with a release mechanism and a capacity of about 2 tablespoons. You can also use 2 regular spoons to shape the cookies
Large baking tray with parchment paper. Depending on the size of your trays, you might need 2 trays.
Wire rack for cooling down the cookies.
I highly recommend you use a digital scale and weight measurements when following my recipes as it is more accurate. The only exception is with very small quantities where I recommend using teaspoons.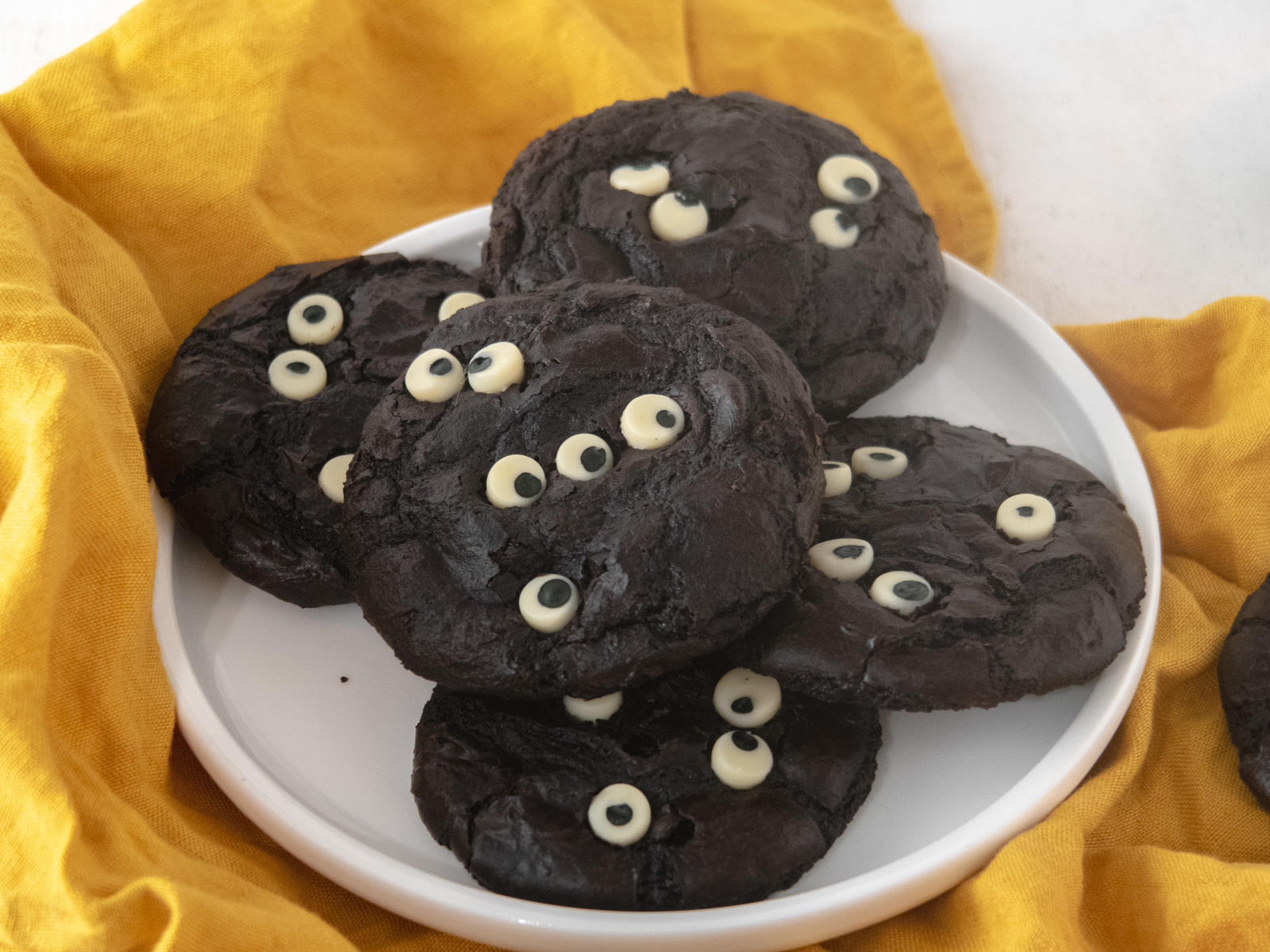 🌡️ Storage
Store these vegan spooky cookies for up to 3 days at room temperature in an airtight container.
You can freeze these cookies for up to 2 months but they taste better when made fresh and kept at room temperature. 
After 3 days they might start to feel hard. Truth be told they never last that long in my house.
Recipe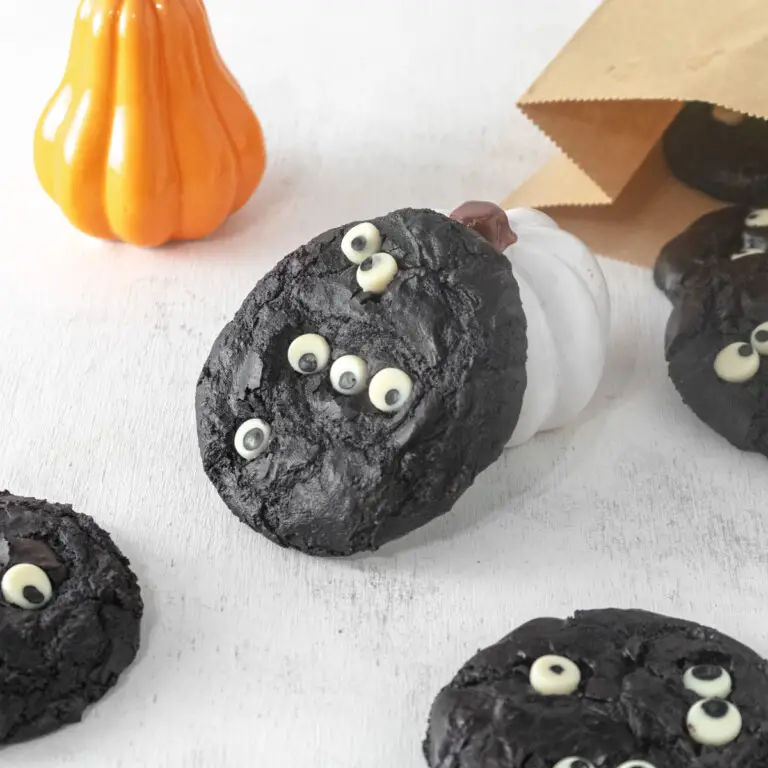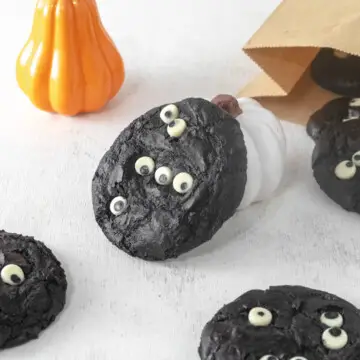 Print
Vegan Spooky Brownie Cookies
Bite into spooky crinkly brownie cookies that are looking at you with their vegan white chocolate eyes. These cookies are easy to make and school-friendly!
Ingredients
Dry ingredients
80

g

all-purpose flour

(⅔ cup)

1

tablespoon

cornstarch

(8.5 g)

30

g

black cocoa powder

(¼ cup)

½

teaspoon

baking powder

⅛

teaspoon

fine sea salt
Wet ingredients
80

g

water

(⅓ cup)

130

g

white granulated sugar

(⅔ cup)

70

g

finely chopped dark chocolate

, 60% cocoa solids (⅓ cup+ 1 tablespoon, or 2.5 oz)

30

g

light-tasting vegetable oil

( 2 tablespoons)
Garnish
40

g

vegan white chocolate chips

(¼ cup)

Dark chocolate or black food colouring
Instructions
Preheat your oven to 350°F (180°C) and place the baking rack in the middle of your oven. Line a large baking sheet with a piece of parchment paper,

Stir and sift all the dry ingredients together and set aside.

Fill a saucepan with about 1 inch (2.5 cm) of water and place a large heatproof bowl on top of the saucepan to make a bain-marie. Place the water and sugar in the bowl and cook over medium to low heat while constantly stirring with a silicone spatula until the sugar is completely dissolved.

Add the chopped chocolate and vegetable oil to the sugar mixture and continue cooking and gently stirring until you get a homogenous mixture. The chocolate will look split at first but the mixture will get homogenous with time.

Remove the bowl containing the chocolate mixture from the top of the saucepan. Add the dry ingredients all at once into the chocolate mixture and stir using the silicone spatula, making sure to scrape the side of the bowl as needed.

Right away, divide the batter onto the prepared baking pan using a heaped small ice cream scoop. Bring the scoop very close to the baking pan before inverting it and releasing the batter to get even circles. As needed, gently push the batter into a round shape using the edge of the scoop.

Let the baking tray rest for 5 to 10 minutes at room temperature to help give the cookies their shiny crust and crinkles. Bake for 9 to 11 minutes, or until the cookies look set in the middle.

Right away after removing the baking trays from the oven, press flat-side-up white chocolate chips into the still-hot cookies. Let the cookies cool on the baking tray at room temperature for 10 minutes before transferring them to a wire rack to completely cool.

When the cookies are cool and the chocolate eyes have hardened, place a dot of melted dark chocolate, edible marker, or black gel food colouring diluted in vodka on top of each white chocolate chip to make pupils. Enjoy!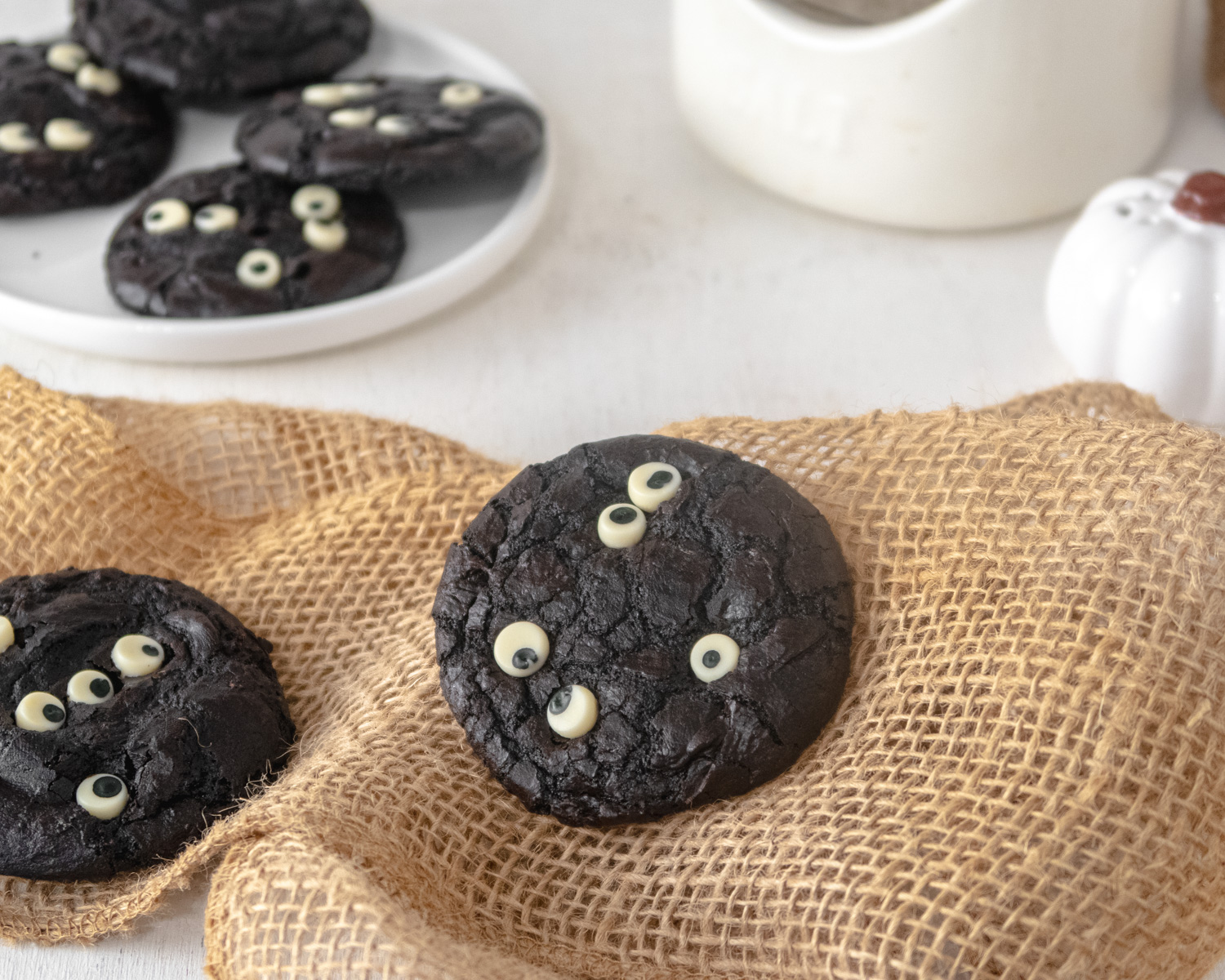 Did you try this spooky cookie recipe?
Don't be shy and let me know how it went! Leave me a comment below and share a picture on Instagram!