Fluffy vegan pumpkin cinnamon rolls filled with cookie butter cinnamon filling are absolutely incredible. This Fall delight is also topped with a generous helping of cookie butter and crushed Biscoff cookies.
Once leaves start to fall off the trees, I always get the inexplicable urge to bake cinnamon rolls.
Not to toot my own horn, but this cookie butter version is my favourite version EVER. A fight almost happened while trying to decide who would have the privilege of eating the last one. A friend even rated them 11 out of 10.
This easy, from-scratch cinnamon bun recipe cuts a full hour off the process by using instant yeast so that you can get them in your belly sooner than later. They are also the softest and fluffiest rolls you will ever make with my (not so) secret trick.
Jump to:
📋 Ingredients
Most of the ingredients in this vegan pumpkin cinnamon roll recipe can already be found in your pantry.
All-purpose flour - I use unbleached flour
White granulated sugar and light brown sugar - double check that it is bone char free
Instant yeast, also known as quick-rise yeast. Make sure it is fresh!
Vegan margarine - I use soft salted margarine that comes in a tub
Plant-based milk - I use unsweetened and unflavoured soy milk since it is closest to cow's milk but other plant-based milks will work
Canned pure pumpkin puree. I do not recommend using hom.emade pumpkin puree since it has a higher moisture content.
Cookie butter, also known as Biscoff butter or Speculoos butter. Choose the smoth option.
Fine sea salt, ground cinnamon, ginger and nutmeg
Vanilla extract
Vegetable oil, to oil the pan
See recipe card for quantities.
🥣 Instructions
Dough
I love this recipe because it is shorter to make compared to other cinnamon recipes. It's because it uses instant yeast instead of active dry yeast. This lets us skip the activation of the yeast and the first proofing of the dough. 
Instead, we add the yeast directly to the dry ingredients before making our dough and we only need to let the dough rest for 10 minutes instead of a full hour. The 10 minutes rest is mostly to let the gluten in our dough relax, making rolling out the dough so much easier.
Kneading
One thing to note is that brioche dough takes longer to knead compared to a classic bread recipe because it is an enriched dough. An enriched dough means that we add a large amount of fat to it to make it extra soft and rich. That same fat that we add to the dough makes it harder for the gluten to develop so we need to knead it longer.
You can check if you dought as kneaded enough by taking a small ball of dough and stretching it in opposite direction to see if it stretches or tears. If you can stretch it and can see light come through the dough, it is ready for the next step. This is called the window pane test.
Rolling out the dough
Start with lightly scoring a cross a third of the way into the top of the ball of dough and then press each section (also known as an "ear) outward to make a square. This makes it easier to roll out the dough into a rectangle while keeping straight corners. 
When rolling out your dough, only flour your work surface as needed and brush off any excess flour before rolling it into buns. Personally, I don't usually need to flour my work surface since the dough is covered in oil and doesn't stick. I roll and release the dough from my work surface as I go so that the dough can expand fully and shrink back to its natural length. 
Shaping
When rolling the dough on itself to make a log, pick up the start of the log, and pull it lightly toward you before flipping it over and continuing the rolling process. Continue pulling the dough lightly toward you as you roll. This will ensure the log is tight and that it is easy to cut. A long and flexible serrated knife is also a must for clean cuts.
👩🏻‍🍳 Top tip
Adding some milk to the bottom of the pan before proofing and baking the rolls makes them extra soft and prevents ending up with a hard or crunchy bottom or sides. 
You can use also use this tip with other cinnamon roll recipes like my red velvet version.
🔪 Equipment
You will need the following equipment to make vegan pumpkin cinnamon rolls.
Stand mixer with a paddle and dough hook attachment. Can be done by hand with a large bowl and sturdy wooden spoon
Saucepan
13 by 9-inch (33 by 23 cm) metallic baking pan. A light coloured coating is best for this. You can use a pyrex or ceramic pan but you will need to adjust the baking time. 
Rolling pin -  I love using my French rolling pin for this
Small mixing bowl
Instant read digital thermometer
Small disposable pastry bag, or a spoon
Silicone spatula, a large metallic offset spatula and a ruler
Serrated knife
Clean dishtowel
I highly recommend you use a digital scale and weight measurements when following my recipes as it is more accurate. The only exception is with very small quantities where I recommend using teaspoons.
🌡️ Storage
Store the rolls in an airtight container at room temperature for up to 5 days (I doubt that they will last that long without being eaten).
Freeze the baked cinnamon rolls for up to 1 month. Thaw overnight in the fridge and then leave at room temperature.

TIP: Microwave the rolls for 10 to 15 seconds before eating to make them extra soft.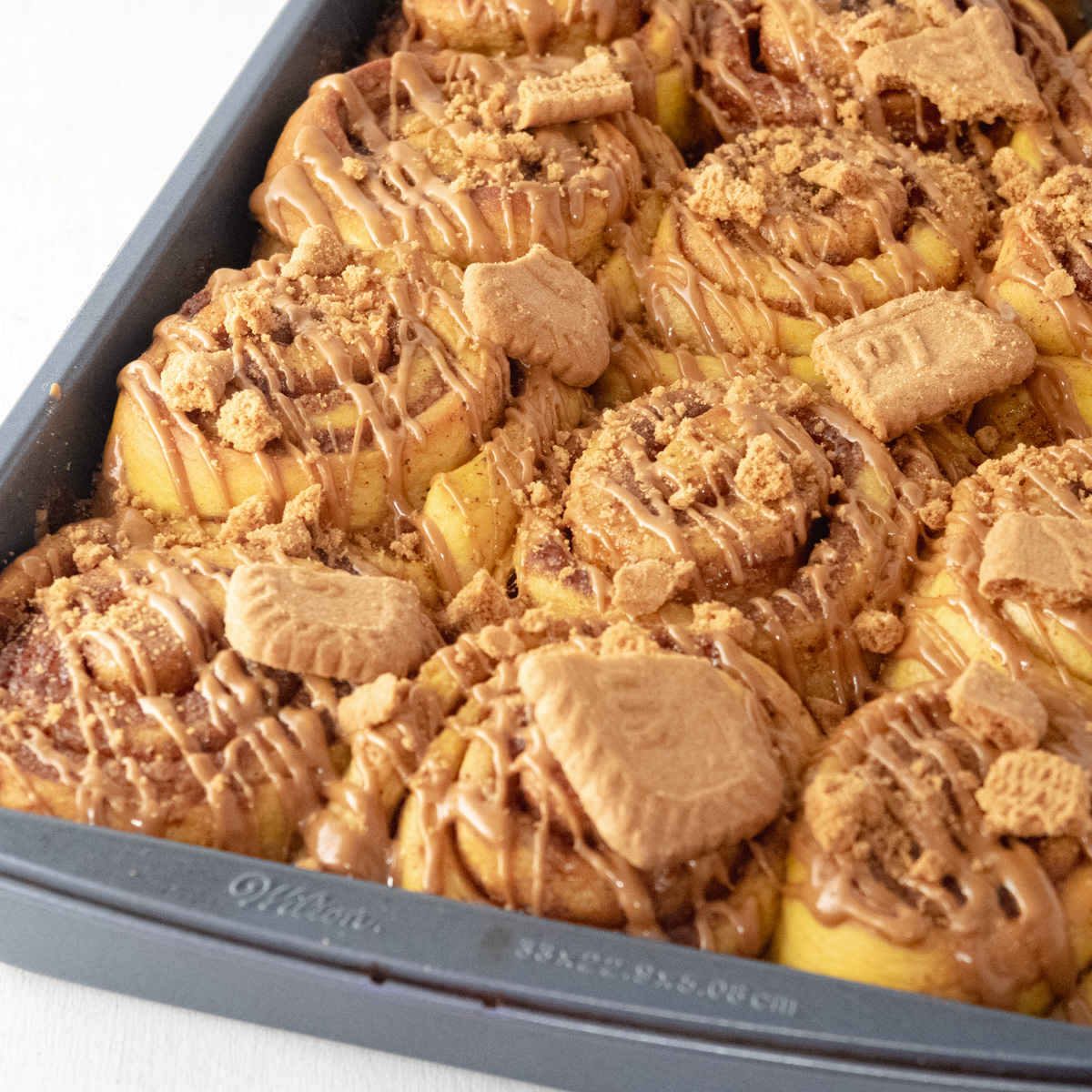 Recipe
Print
Vegan Pumpkin Cinnamon Rolls with Cookie Butter
Fluffy vegan pumpkin cinnamon rolls filled with cookie butter cinnamon filling are absolutely incredible. This Fall delight is also topped with a generous helping of cookie butter and crushed Biscoff cookies.
Servings
12
large cinnamon rolls
Ingredients
Dry ingredients
480

g

all-purpose flour

(4 cups)

50

g

white granulated sugar

(¼ cup)

1 ½

teaspoon

fine sea salt

(9 g)

2 ¼

teaspoons

instant yeast

(1 packet or 7 g)
Wet ingredients
55

g

vegan margarine

(¼ cup)

185

g

plant-based milk

(¾ cup)

170

g

canned pure pumpkin puree

(¾ cup)
Filling
115

g

vegan margarine

65

g

cookie butter

(⅓ cup)

100

g

light brown sugar

(½ cup, packed)

1

tablespoon

ground cinnamon

½

teaspoon

ground ginger

¼

teaspoon

freshly ground nutmeg

2

teaspoon

vanilla extract
Other
125

g

plant-based milk

, for the bottom of the pan (½ cup)

65

g

cookie butter

, for the garnish (⅓ cup)

6

Biscoff cookies

, optional

light-tasting vegetable oil
Instructions
Dough
Place all the dry ingredients in the bowl of a stand mixer with the paddle attachment and stir until combined.

In a saucepan, melt the margarine. Add the plant-based milk to the saucepan and heat until lukewarm- between 120°F and 130°F (50°C and 55°C), or follow yeast package directions.

Add the pumpkin puree and the lukewarm milk mixture to the dry ingredients and mix on low until you get a shaggy dough, 1 to 2 minutes.

Switch the paddle attachment to a dough hook and knead on medium-low ( kitchen aid speed 2 or 3) for approximately 15 minutes, or until the dough becomes uniform, smooth and elastic.

Shape the dough into a ball and lightly coat it with oil. Place the dough back into the bowl and cover it with a clean dishtowel. Let the dough rest for 10 minutes at room temperature.
Filling
While the dough is resting, add all the filling ingredients to a bowl and mix until homogenous.
Assembling
Lightly oil a rectangular 13 by 9 inch (33 by 23 cm) baking pan. Pour the milk into the bottom of the prepared pan.

Roll out the dough to make a 12 by 18 inch (30 by 45 centimetre) rectangle, making sure to keep a regular thickness throughout. Flour your work surface as needed. Place the dough so that the 18-inch side is facing you.

Spread the filling evenly over the dough from edge to edge. Starting on the long side, tightly roll the dough on itself to make a tight log. Using a serrated knife, cut into 12 equal pieces.

Place the cinnamon rolls in the prepared baking pan and cover with a clean dishtowel. Let the cinnamon rolls rise at room temperature for 1 hour, or until doubled in size.
Baking + Garnish
Preheat your oven to 350°F (180°C) and bake the cinnamon rolls uncovered for 20 minutes, or until golden brown on the top and springy to the touch. Let the cinnamon rolls cool down completely in the baking pan at room temperature.

Microwave the cookie butter for 10 to 15 seconds, or until fluid. Transfer into a small pastry bag and drizzle all over the cinnamon buns. Crumble some Biscoff cookies and sprinkle all over the rolls. Serve warm and enjoy!
FAQ
Can I make cookie butter cinnamon rolls without a stand mixer?

Yes. Place your dry ingredients in a large bowl and makes a well in the middle. Place the wet ingredients in the well and slowly start mixing the dry ingredients into the wet from the center going out using a sturdy wooden spoon until you get a shaggy dough.
Place the dough on your clean work surface and knead the dough for 15 to 18 minutes, flouring your work surface as needed until you get a smooth ball of dough.  Continue with the rest of the recipe.

Can I make the cinnamon rolls and bake them the next day?
Yes, you can. Assemble the cinnamon rolls and instead of proofing them, wrap the pan in plastic wrap and refrigerate overnight. The next day, remove the plastic wrap and let the buns proof at room temperature until doubled in size. You will need to add between 30 minutes to 1 hour to the proofing time. Bake as instructed.
What should I do if my cinnamon rolls are hard to cut?

Cut the dough log in half, place on a parchment pepper-lined baking tray and freeze for  10 to 15 minutes. The rolls should be easier to cut once they are cold. Also, you should be using a long and slightly flexible sharp serrated knife.
How to know when cinnamon buns are finished baking?
Using an instant-read thermometer, insert it into the middle of the roll making sure it is in the dough and not the filling. The temperature should be around 190°F (90°C).

Can I use active dry yeast instead of instant yeast?

Yes. You can use the same amount of active dry yeast in this recipe but you will need to change the process a bit. 

You will need to activate the yeast in 100°F to 110°F ( 38°C to 43°C)  milk mixed with 1 tablespoon of sugar. Make the dough and then let it rise a first time for 1 hour (or until doubled in size) instead of the 10-minute rest. Punch out the air in the dough then proceed with the rest of the recipe. The second proofing might also take longer.

If you have more questions, feel free to ask them in the comment sections and I'll do my best to answer them.
Did you try this vegan pumpkin cinnamon rolls recipe?
Don't be shy and let me know how it went! Leave me a comment below and share a picture on Instagram! And most importantly, leave a rating to help me and let other people know how much you like this recipe!