These festive vegan chocolate (and cherry) butter cookies are the perfect gift to impress anyone and everyone. They are suuuuuper easy to make and take little time to whip up.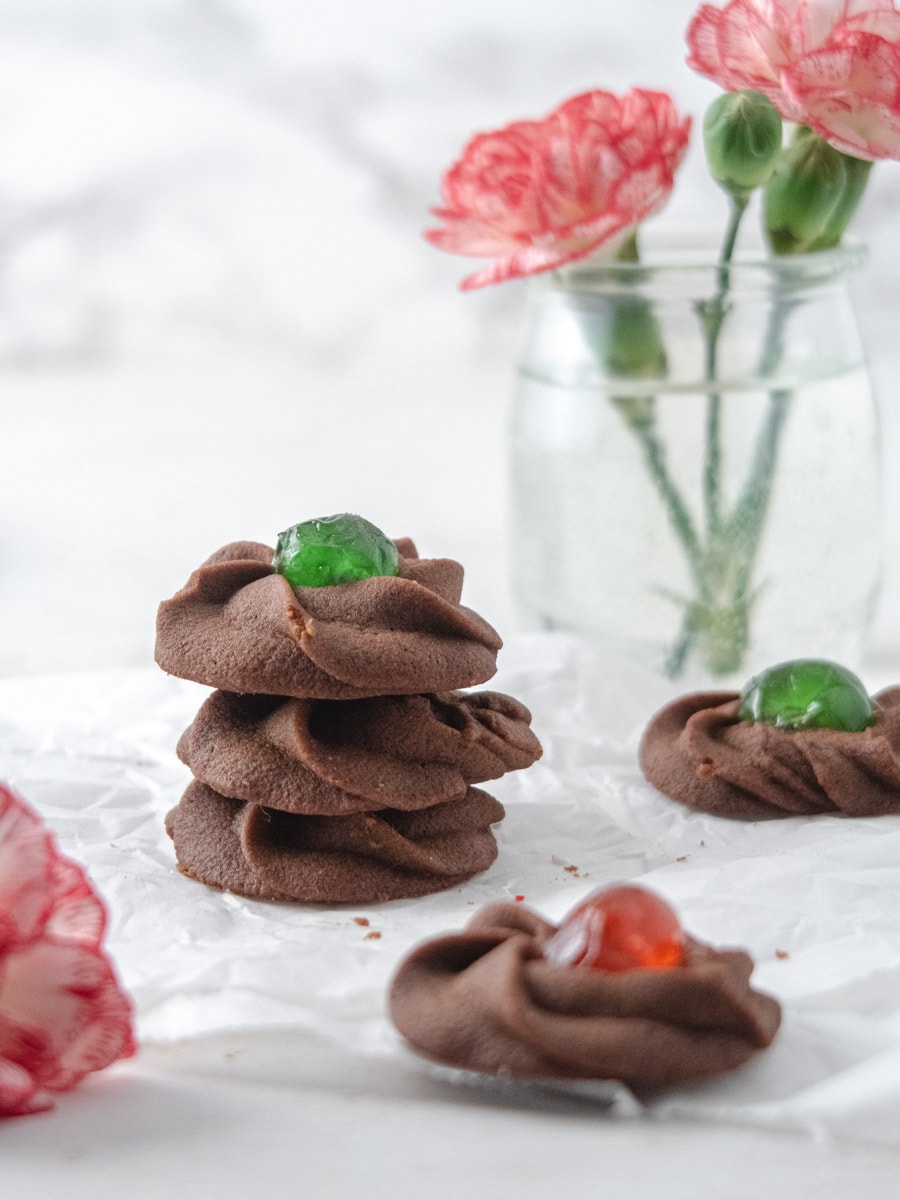 This recipe is very easy so feel free to jump straight to the recipe if you are already a pro with piping.
---
These cookies are the underated cookies that still end up being the first ones that dissapear in a guifted cookie box. They are super versatile and can be custumized and decorated for year-long snacking.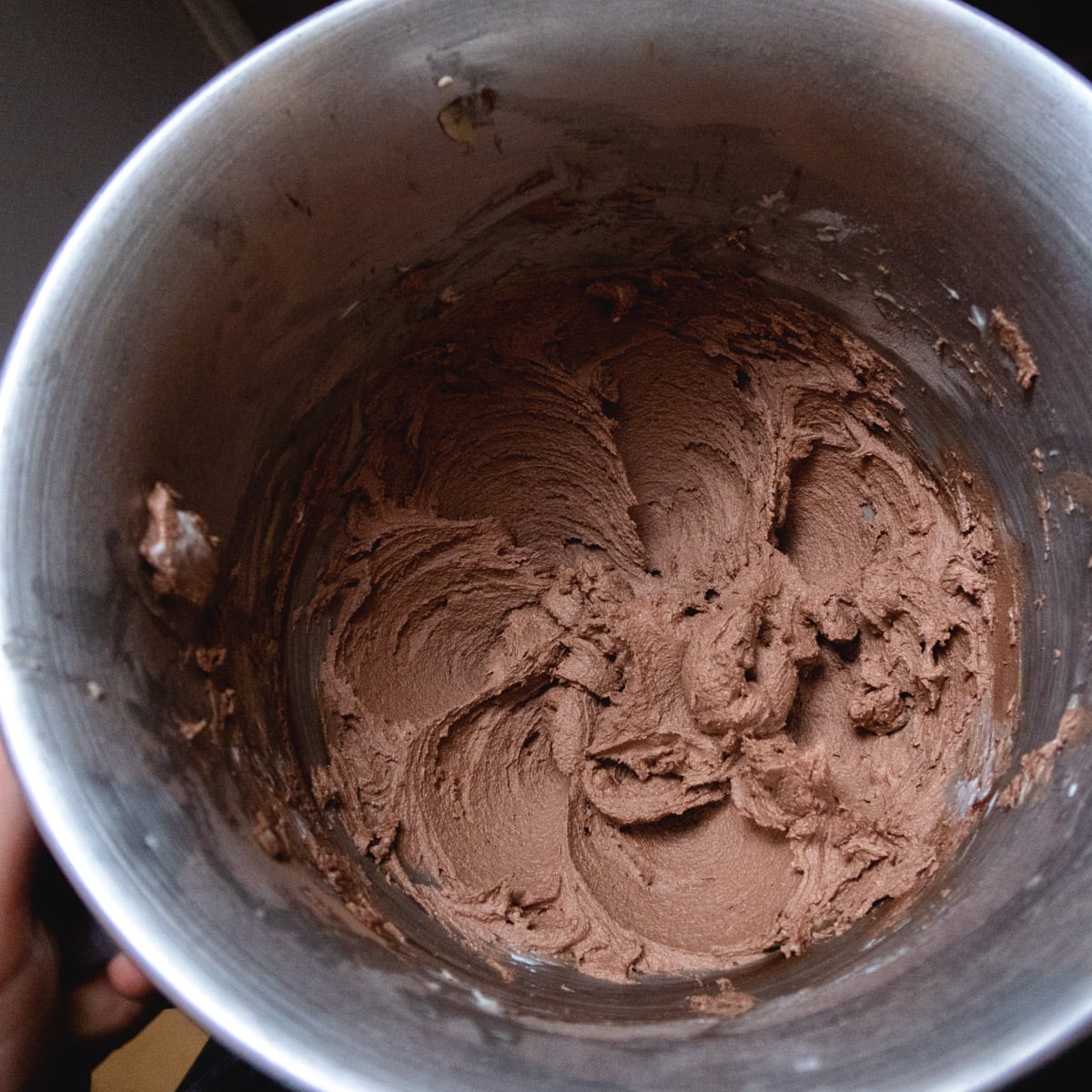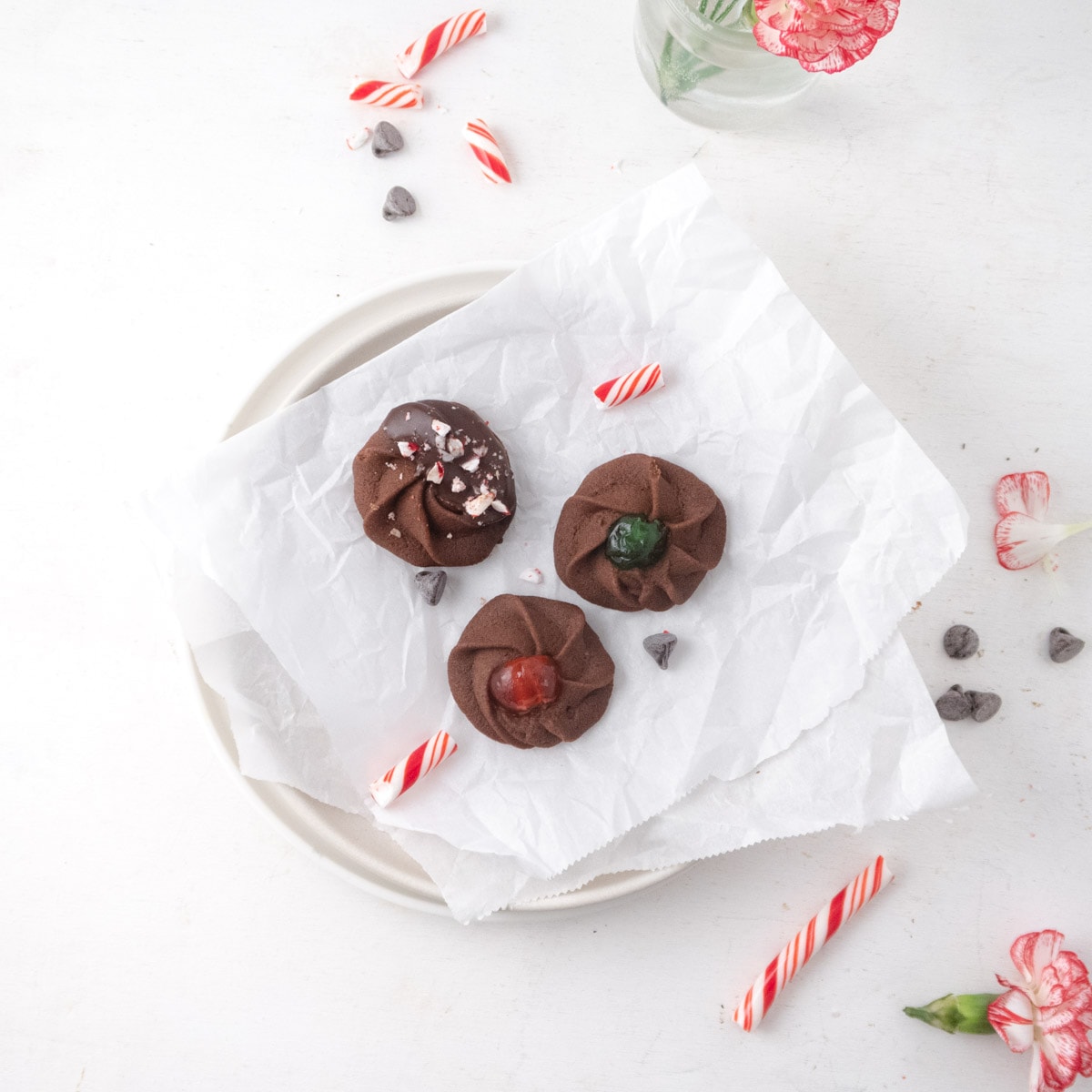 RELATED: This recipe is actually a variation of my classic vanilla Danish cookie recipe!
Pipping the perfect rosette
The fact that these vegan chocolate butter cookies are piped makes them look 100 times fancier than they really are. And to be honest, there is no rule dictating that these cookies must be in a specific shape. So feel free to try different shapes to see the ones you prefer using. The only important rule is that should all be the same shape and size on each baking tray so that they can cook evenly. 
My favorite piping shape for this vegan chocolate butter cookie recipe (and the one I got taught in pastry school) is the classic rosette. however, you could also try zigzags or a figure 8 like in my vegan Danish cookie recipe!
If the idea of having to pipe cookies give you cold sweats, you could also invest (or steal your grandma's) cookie press. This dough works great with a press and it will transform your dough into gorgeous shapes. You are guaranteed to get perfectly identical cookies every time with this tool.
Getting the movement right
When making a piped rosette, start and finish at the same place. This is how I pipe my rosettes for cookies  (and  when I'm icing cupcakes too). Placing a medium to firm amount of pressure on the pastry bag, start piping at 12 o'clock and pipe a small circle clockwise around an imaginary point ( the circular movement will be smaller than you think). 
The movements actually come from your whole body. Clench your abs, don't forget to breathe, and make a small round movement with your whole body while keeping your wrists stable. There should not be a hole in the middle of your cookie so if you see the parchment paper shining through, try to go tighter on the next one.
Once you reach 11 o'clock, stop putting pressure on your pastry bag and follow through with the movement so that the tail end of your rosette overlaps your starting point, keeping the pastry bag at the starting high throughout the movement. Give a quick flick of the pastry bag to release the dough if needed still in the same circular movement.
Decorating
What is nice about this type of danish butter cookie is that you can make a big batch and then decorate them afterward in a multitude of ways. So when you give a box of these cookies, it looks like you worked day and night to bake a variety of recipe when in reality you simply added last minute touches to an easy recipe.
There are two ways that I like to decorate these vegan chocolate butter cookies. I usually pick one of the two. You wouldn't want to crowd your cookies.
Placing a garnish in the center before baking the cookies. Here are some great garnish ideas!
Candies cherries work really while for this. If you are giving these as a holiday gift, you could use both green and red cherries. Don't forget to double-check that the glazed cherries are vegan!
A roasted and skinned whole hazelnut
Candied orange zest, or crystallized ginger for a little zing
Once the cookies are cooked, you can make a small pool of caramel in the middle and place a pecan on top.
Dipped in chocolate! White or black, it's your decision. You can then sprinkle on some topping on the chocolate before it sets, like these ones:
Crushed candy canes
Flaked maple sugar
Desiccated coconut
Festive sprinkles
Flaked smoked sea salt
If you are using chocolate, you will need to temper it before using it, or you can use Dark Prima coating, but it might be hard to get your hands on some.
And just in case you need it, here's my favorite ( and easy) way to temper chocolate.
Recipe
Print
Vegan Chocolate (and cherry) Butter Cookies
These festive vegan chocolate (and cherry) butter cookies are the perfect gift to impress anyone and everyone.
Servings
36
rosette cookies
Ingredients
Chocolate cookie dough
160g

(⅔ cup)

soft vegan margarine

65g

(½ cup)

powdered sugar

, sifted

25g

(2 tbsp)

vegan plain full-fat yogurt

I use Riviera coconut yogurt

160g

(1 ⅓ cups)

unbleached all-purpose flour

15g

(2 tbsp)

good quality unsweetened cocoa powder

, sifted

¼

teaspoon

fine sea salt
My favorite garnishes
½

cup

vegan tempered dark or white chocolate

or dark Prima coating, optional

10 to 12

whole candied cherries, sliced in half

optional

2

crushed large candy canes

optional
Instructions
Chocolate cookie dough
Preheat your oven to 160C (325F).

In a large bowl, with a mixer or by hand with a sturdy wooden spoon, cream together the margarine and powdered sugar until smooth.

Add the yogurt and salt, and mix until incorporated.

Add the flour and cocoa powder all at once and stir until the flour is all incorporated. Do not overmix. Transfer the dough in a pastry bag with a large star pastry tip, or into a cooky press.

Line a baking tray with some parchment paper, or a silicone liner, and pipe rosettes in rows. If using, garnish with half of a glazed cherry in the middle.

Bake for 11 to 13 minutes, or until the bottom of the cookie looks dry and it can be lifted from the paper as one unit with a knife.
Garnish
If using, leave the cookies to cool completely before dipping halfway in chocolate and sprinkle some crushed candy canes on top of the chocolate. Leave to set completely before eating them or gifting them. Enjoy!
Notes
Keep in an airtight container for up to 1 week, or frozen for up to 3 months.
Did you try this vegan butter cookie recipe?
Don't be shy and let me know how it went! Leave me a comment below and share a picture on Instagram !