These melt-in-your-mouth super soft vegan Lofthouse-style red velvet sugar cookies are topped with tangy cream cheese icing.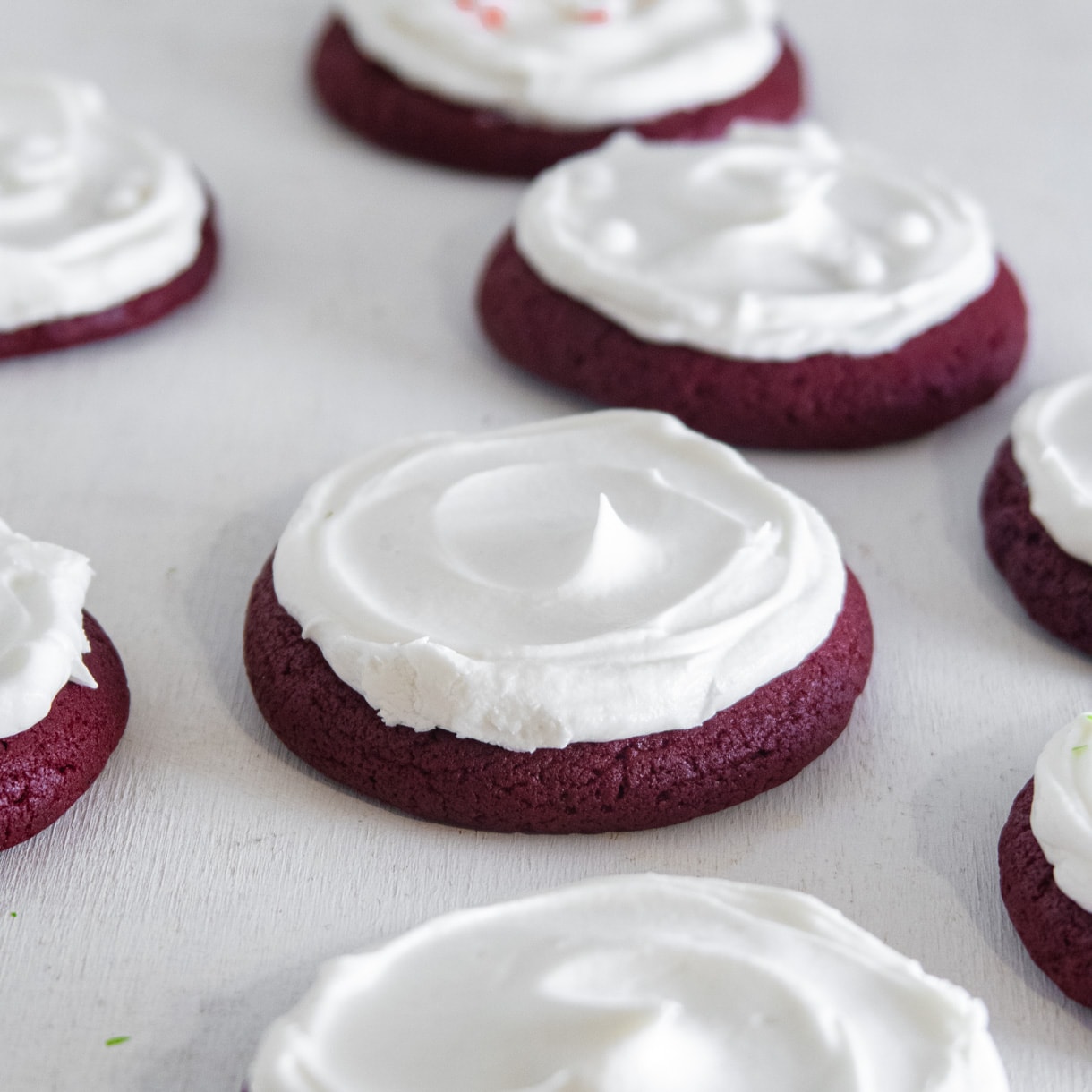 This recipe is pretty easy so feel free to skip straight ahead to the recipe. See you there!
---
Perfect vegan red velvet treats
These vegan red velvet cookies are 
Very easy to make!
Oh so soft, they will melt in your mouth
Like a mini portion of cake but without the hassle
If you like treats that are not overly sweet, you can reduce the amount of icing and make whoopie pies by sandwiching half the amount of icing in between two vegan red velvet cookies.
You could even make them half size but be careful when cooking them so they don't burn.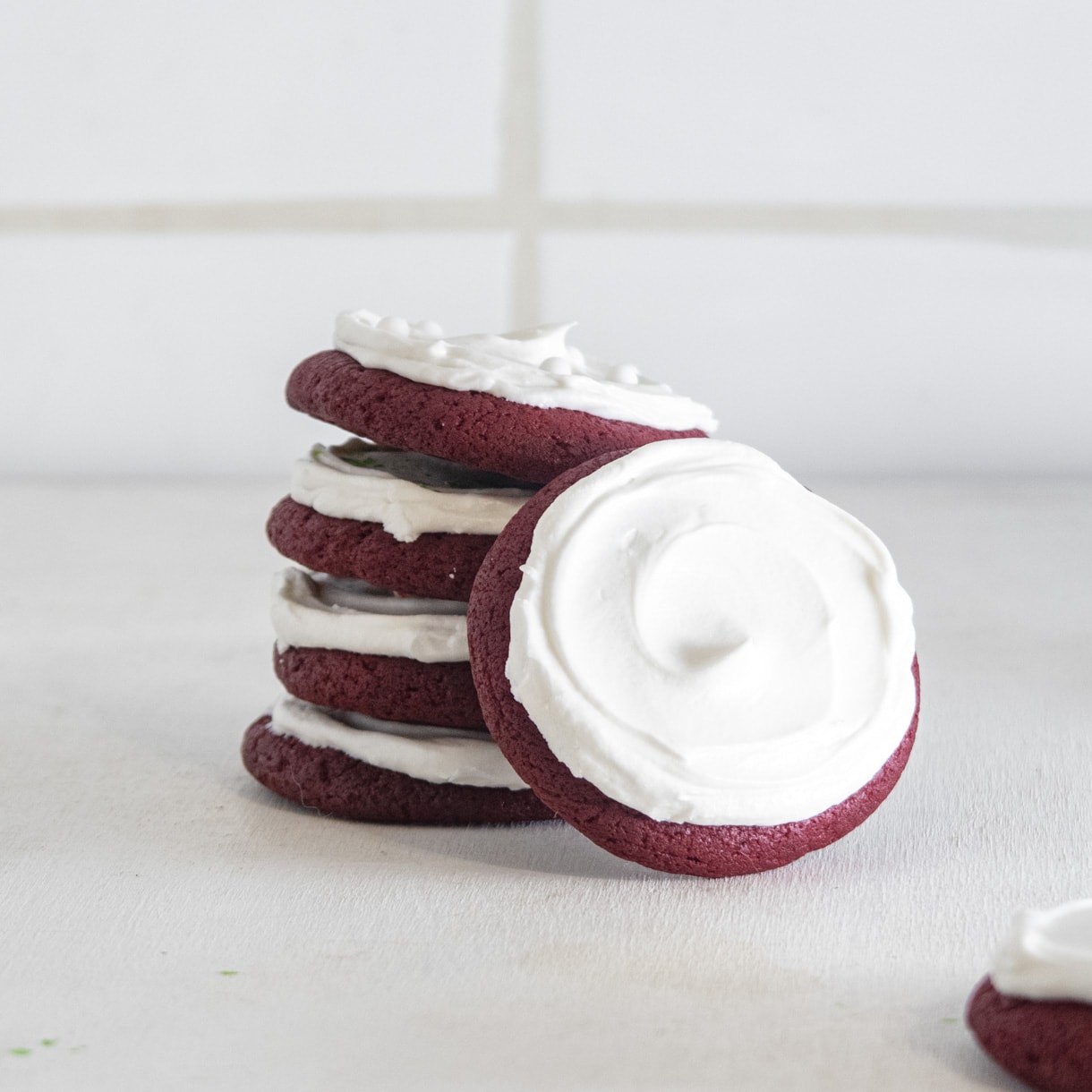 Best vegan cream cheese
This creme cheese icing recipe works best with a firm vegan cream cheese that is light in flavor but that still has some tang.
I use the President's Choice coconut cream cheese style spread but here are other vegan cream cheeses that would work well.   
RELATED: Lick off the cream cheese icing off this spiced bourbon pumpkin loaf before scarfing it down.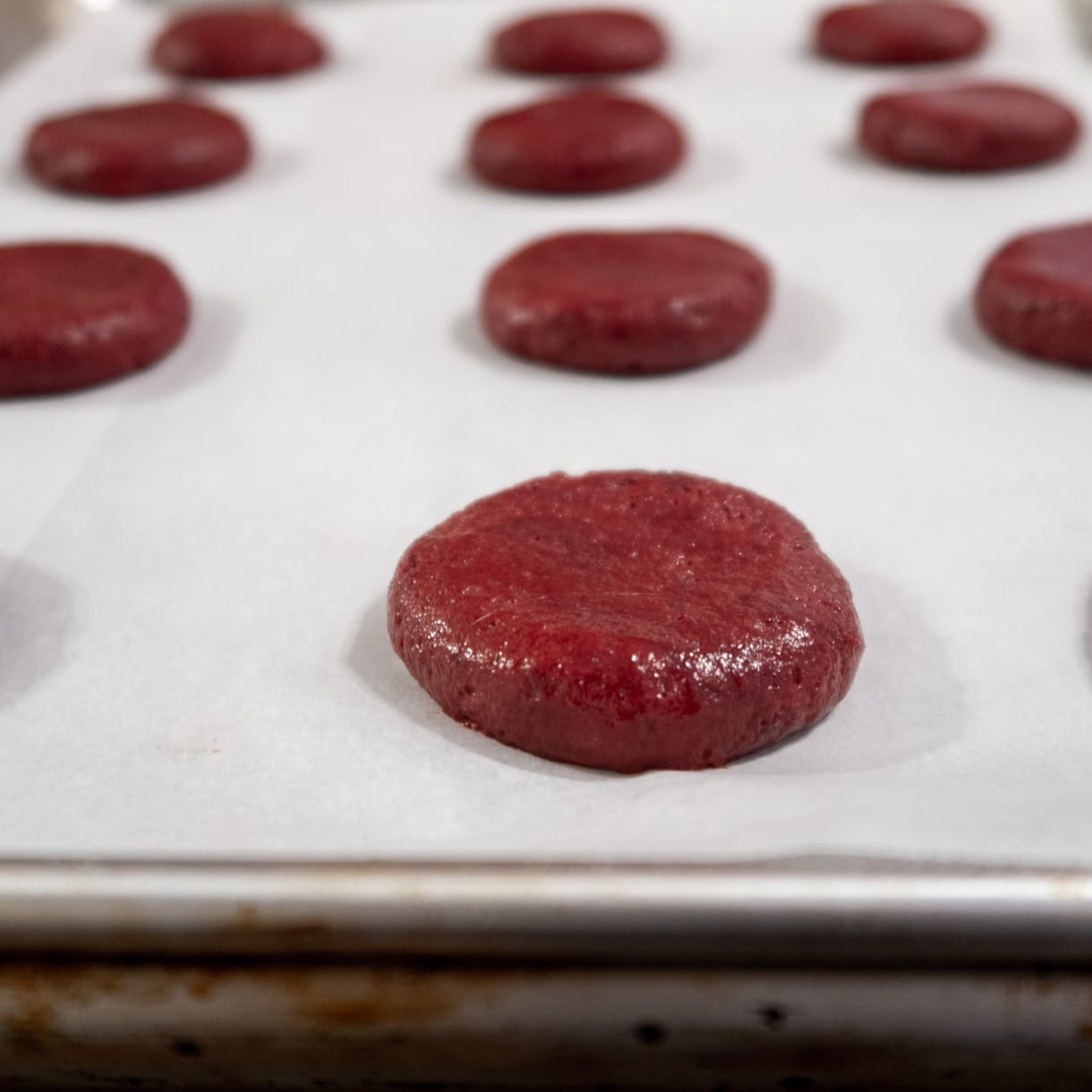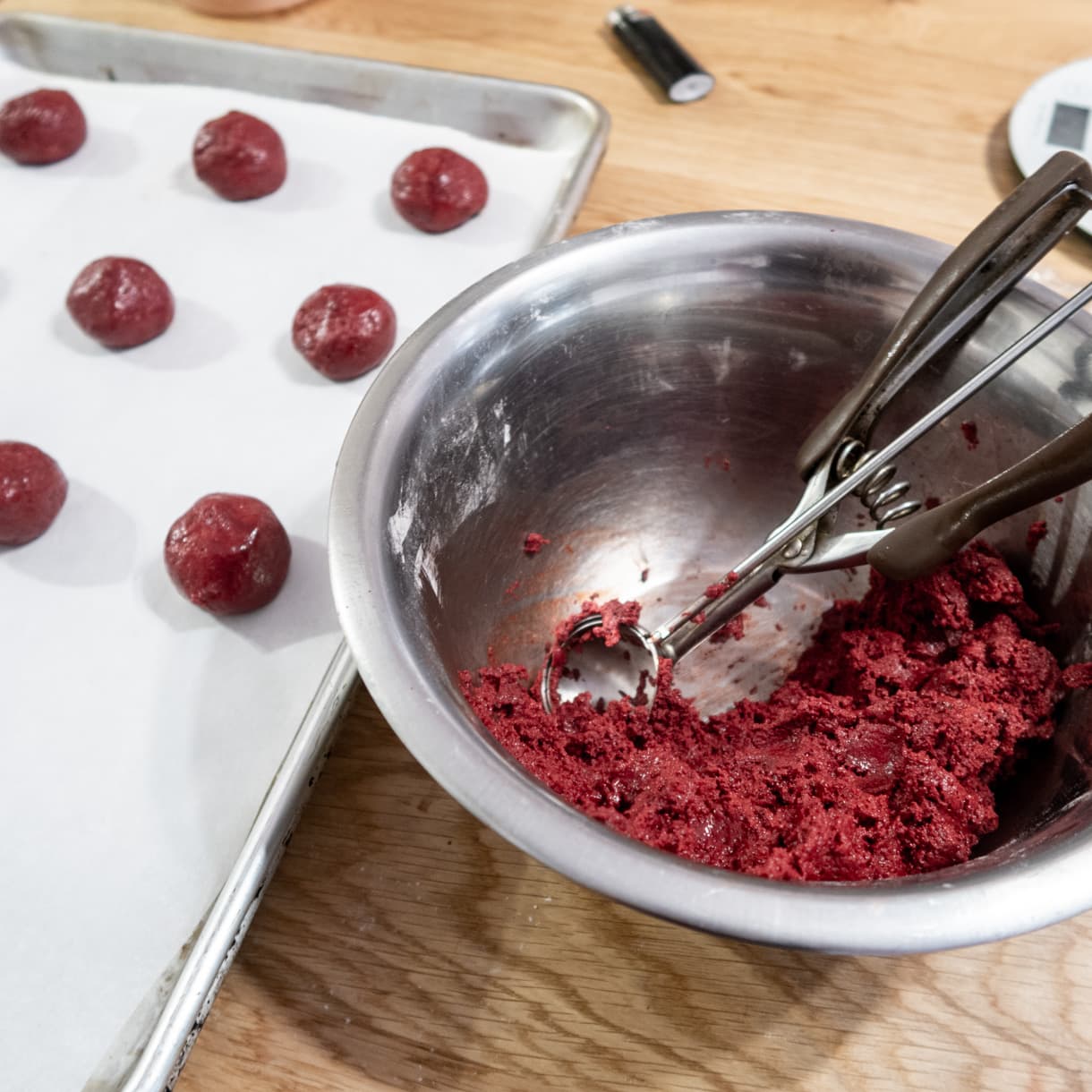 Baking perfect soft sugar cookies
It is better to undercook than overcook Lofthouse cookies, or they might end up dry instead of having a fine and fluffy crumb.
When you pull the cookies out of the oven, they might look undercooked but they will continue to cook slightly due to the residual heat from the baking sheet.
If you notice the cookies are slightly dark on the bottom when you pull them out of the oven, slide the parchment paper with the cookies on it from the baking sheet to your work surface to stop the cooking process and prevent dry and hard cookies.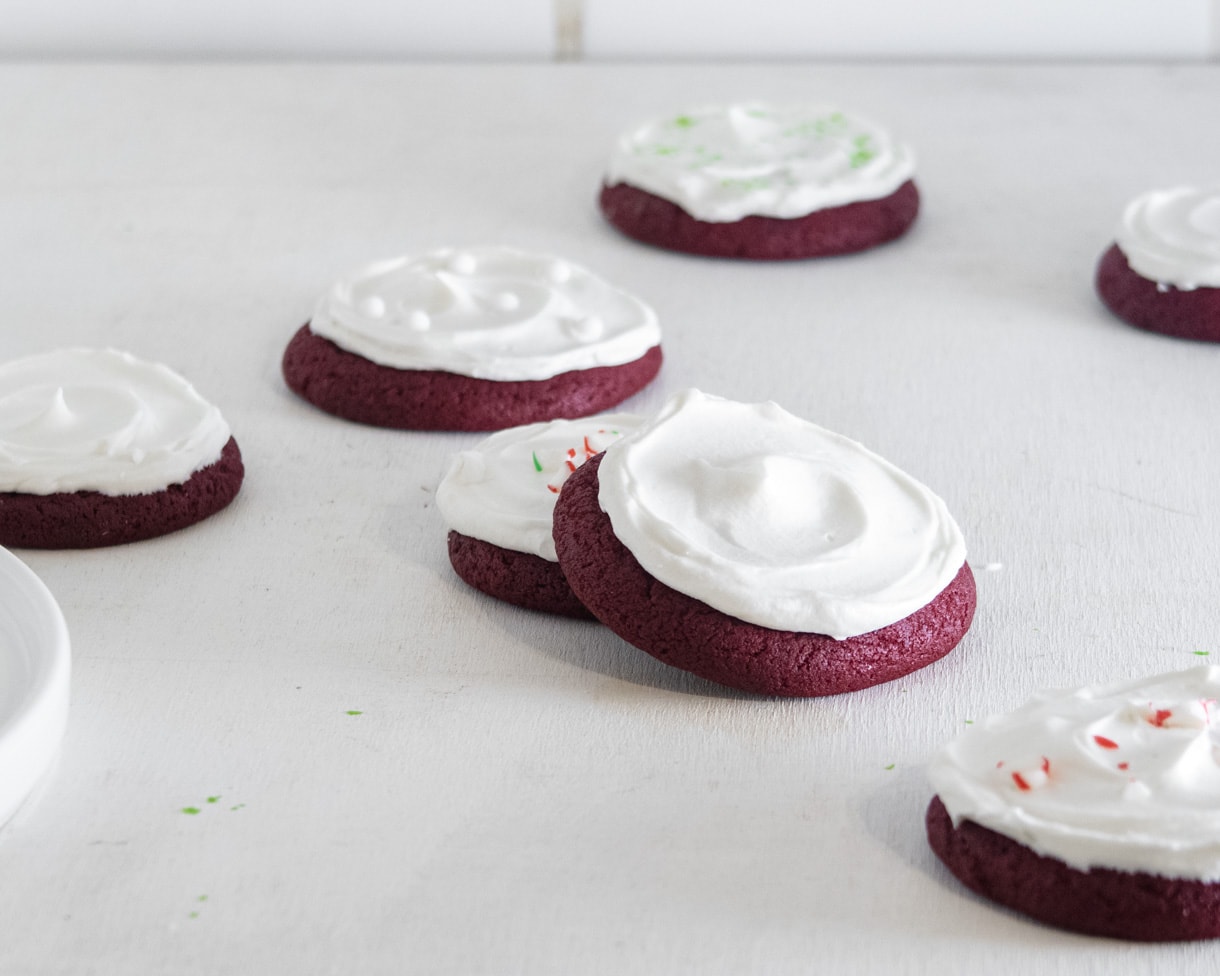 While I have provided approximate cup measurements for this recipe for convenience, I highly recommend you use a scale and weight measurements for accuracy.
Recipe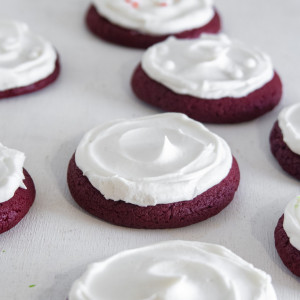 Print
Super Soft Red Velvet Vegan Sugar Cookies (with Cream Cheese Icing)
These melt-in-your-mouth super soft vegan Lofthouse-style red velvet cookies are topped with tangy cream cheese icing.
Ingredients
Wet ingredients
120

g

vegan margarine*

(½ cup)

150

g

white granulated sugar

(¾ cup)

85

g

plain vegan soy or coconut yogurt*

(⅓ cup)

1

teaspoon

white vinegar

(4 g or 5 ml)

1 ½

teaspoon

vanilla extract

(6 g or 7 ml)

1 ½

teaspoon

red food gel coloring

, adjusted to your prefered shade (7 ml)
Dry ingredients
210

g

all-purpose flour

(1 ¾ cup)

15

g

unsweetened cocoa powder

(2 tablespoons)

13

g

cornstarch*

(1 ½ tablespoon)

½

teaspoon

baking powder

(2 g or 2.5 ml)

½

teaspoon

baking soda

(2.5 g or 2.5 ml)

¼

teaspoon

fine sea salt*

(1.5 g or 1 ml)
Icing
60

g

vegan cream cheese

, I use "President's Choice" (2 oz or ¼ cup)

45

g

firm vegan unsalted butter

, I use Becel plant-based bricks (3 tablespoons or 45 ml)

200

g

powdered or icing sugar

, sifted (1 ½ cup​​)

½

teaspoon

clear vanilla extract

(2 g or 2.5 ml)

1

pinch

fine sea salt
Instructions
Red Velvet Sugar Cookies
Using a stand mixer with the paddle attachment or hand mixer, cream the margarine and sugar together on medium-high speed until it becomes bright white and fluffy, about 7 minutes. Mix in the rest of the wet ingredients.

Sift the dry ingredients together and add them to the mixer in two additions alternating with the rest of the wet ingredients while mixing on low until just incorporated. Do not overmix . Cover the bowl and refrigerate for 1 hour.

Once chilled, preheat your oven to 350°F (180°C) and line 2 baking sheets with parchment paper.

Make balls of dough the size of 1 ½ tablespoons (or a heaping small ice cream scoop), roll them in your hand, and place them on the prepared baking sheets. With the palm of your hand or the bottom of a flat glass dipped in flour, slightly press on each ball to evenly flatten them to a ¾ inch (2 cm) thickness.

Bake one baking sheet at a time in the preheated oven for 7 to 9 minutes, or until the cookies are just starting to look set and crinkly on the top. Do not overcook. Remove the baking sheets from the oven and leave the cookies to cool completely before removing them from the baking sheets.
Cream cheese frosting
Using a stand mixer with the paddle attachment or hand mixer, cream the vegan butter and cream cheese until soft.

Add the sifted powdered sugar, extract and salt to the butter and cream cheese mixture and mix on medium-high for 5 to 7 minutes, or until light and fluffy. Scrap the bowl with a soft silicone spatula and then mix on low for an additional minute to remove air bubbles.

Spread 2 teaspoons of frosting on the top of each cookie using a small offset spatula or the back of a spoon and then decorate with sprinkles. Enjoy!
Notes
Margarine in the cookies: You can use vegan margarine from a tub or even Cristo. You can use firm vegan butter in bloc form but you will need to bring it to room temperature before starting the recipe.
Yogurt alternative: You can replace the yogurt with blended silken tofu. Storage: Store at room temperature in an airtight container for up to 3 days. For a more classic sugar cookie taste, add ½ teaspoon of almond extract to the batter.
Cornstarch is also known as cornflour in the UK and in Australia. You can also replace it with potato starch.
Salt: If your margarine is salted, leave out the salt in the recipe.
Vegan butter in the icing: You want to use a firmer vegan butter (usually in block form) for the icing or a shortening so that the icing has some structure.
I use Becel Plant-based Blocks but Country-Crock, Flora, and Naturli' should also work. If all you have is soft margarine from a tub, you will need to add an additional

½

cup or 65 g of powdered sugar to get a stiff enough icing to spread.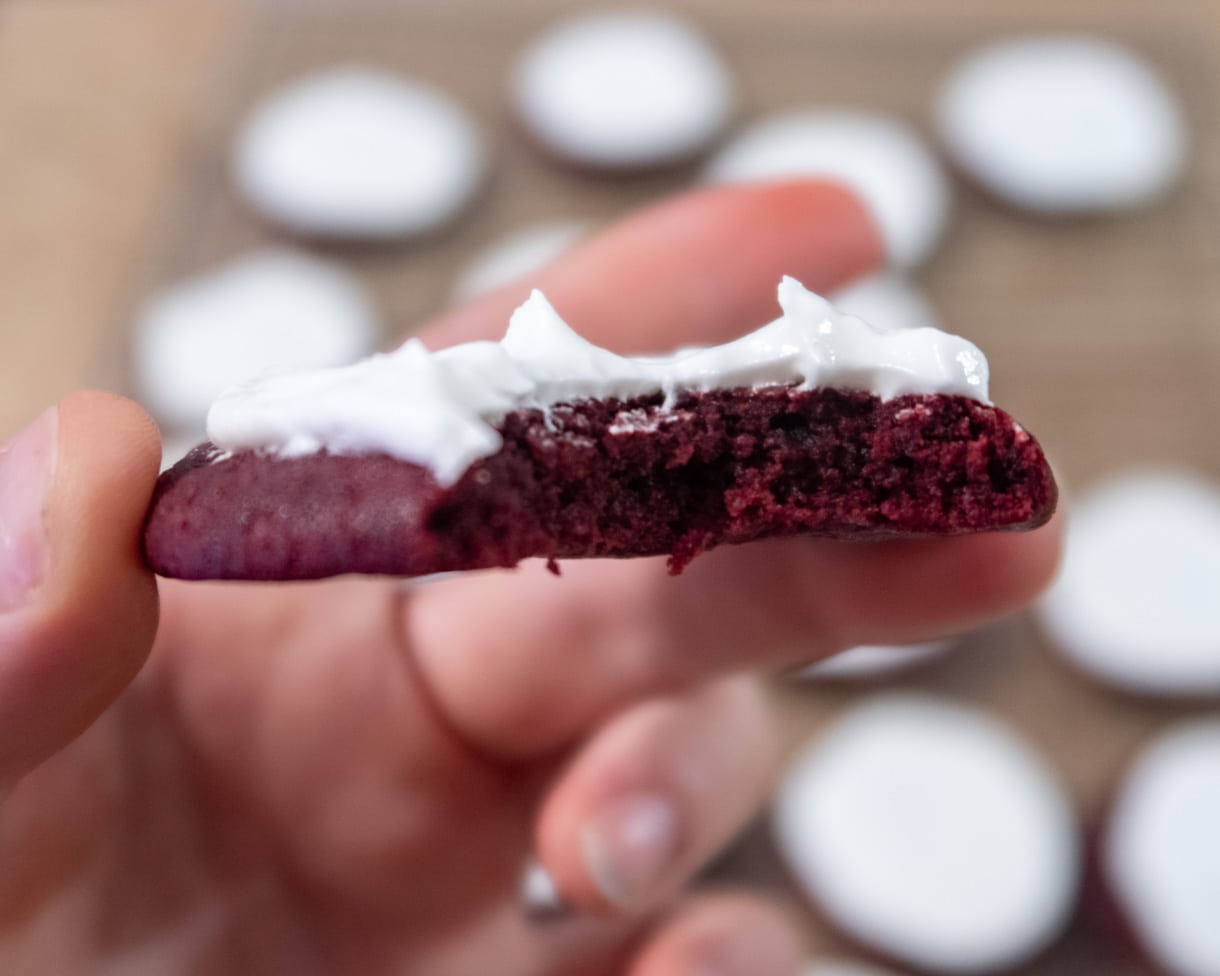 Did you try this soft cookie recipe?
Don't be shy and let me know how it went! Leave me a comment below and share a picture on Instagram!