Flavorful spices, bourbon notes, and creamy tangy icing, this vegan pumpkin bread will fulfill all your fall cravings. This moist loaf cake uses ingredients from your pantry for a delicious dairy-free and eggless treat that can be easily frozen.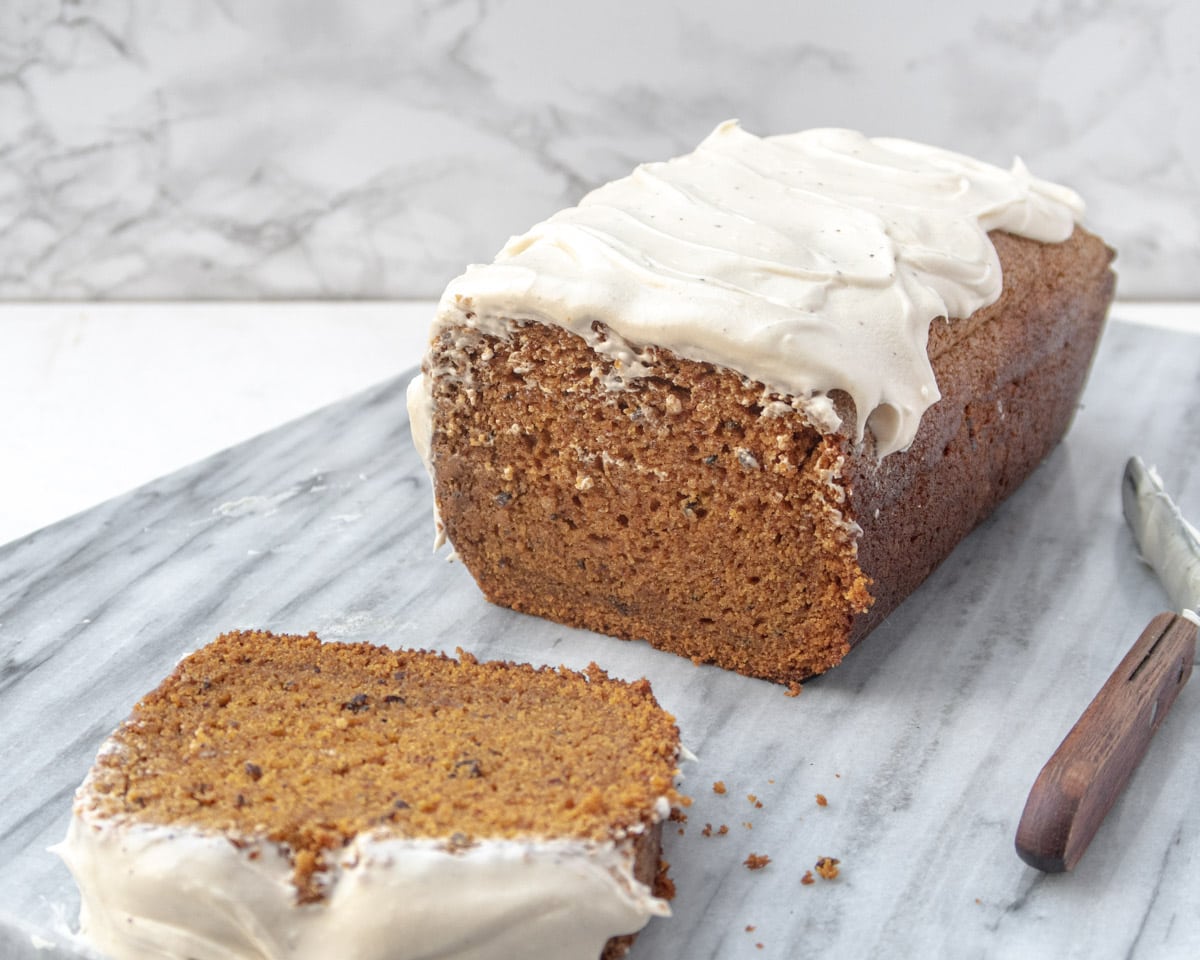 ---
Pumpkin season is here!
I have a confession to make. Pumpkin stuff doesn't really tickle my fancy usually, but I do have to say that this recipe has changed the game. The higher amount of fo salt in this recipe gives a balanced taste to the recipe, not unlike a good sea salt caramel. I had to stop myself from eating the raw batter with a spoon!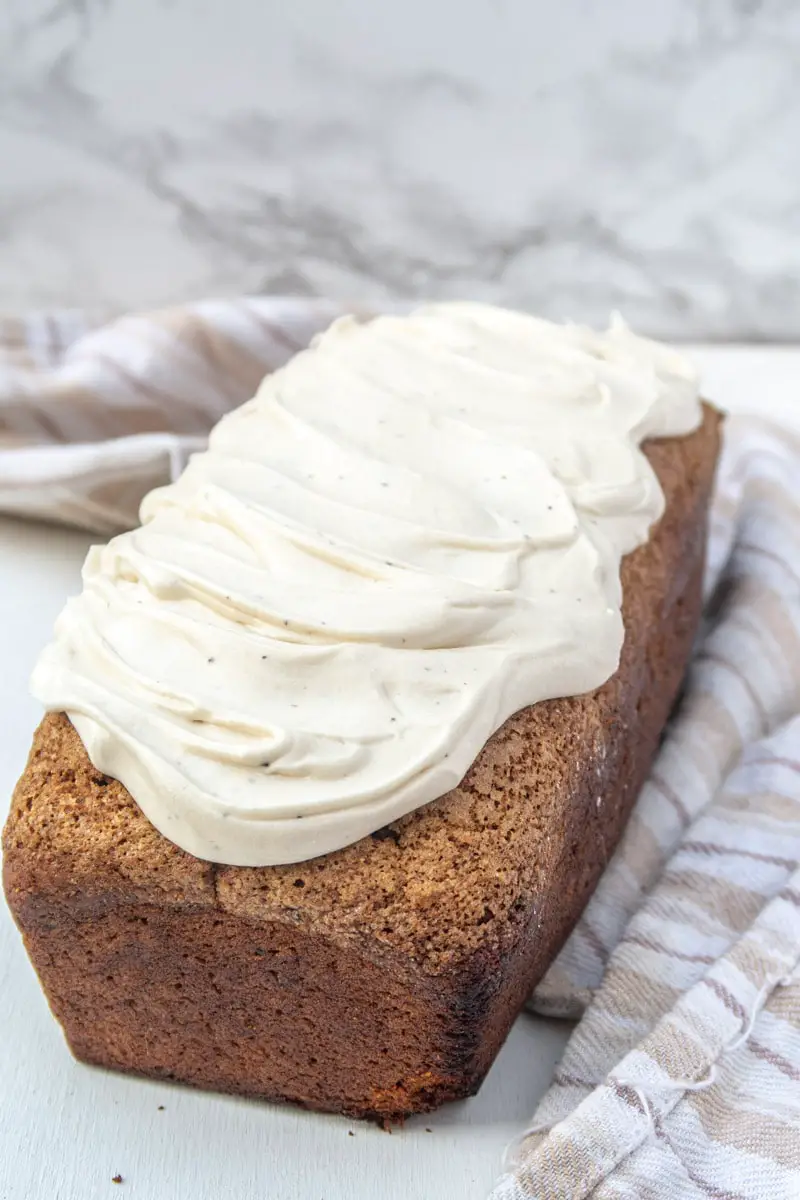 While this vegan pumpkin bread recipe is not one you would normally find in a European pastry shop or bakery, it is a quick and easy recipe to make in the comfort of your own home. And perfect to enjoy with a nice cup of tea and a pair of fuzzy socks.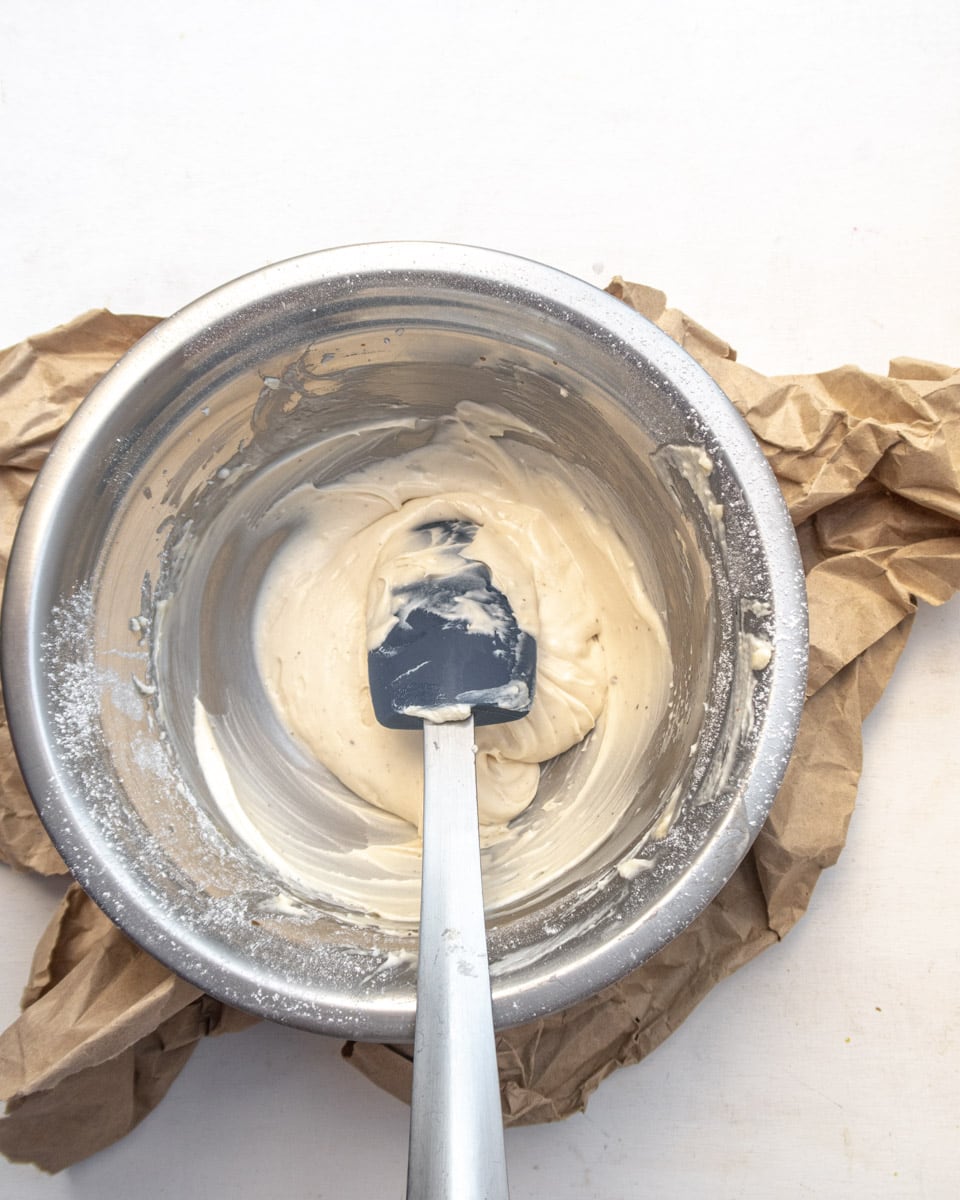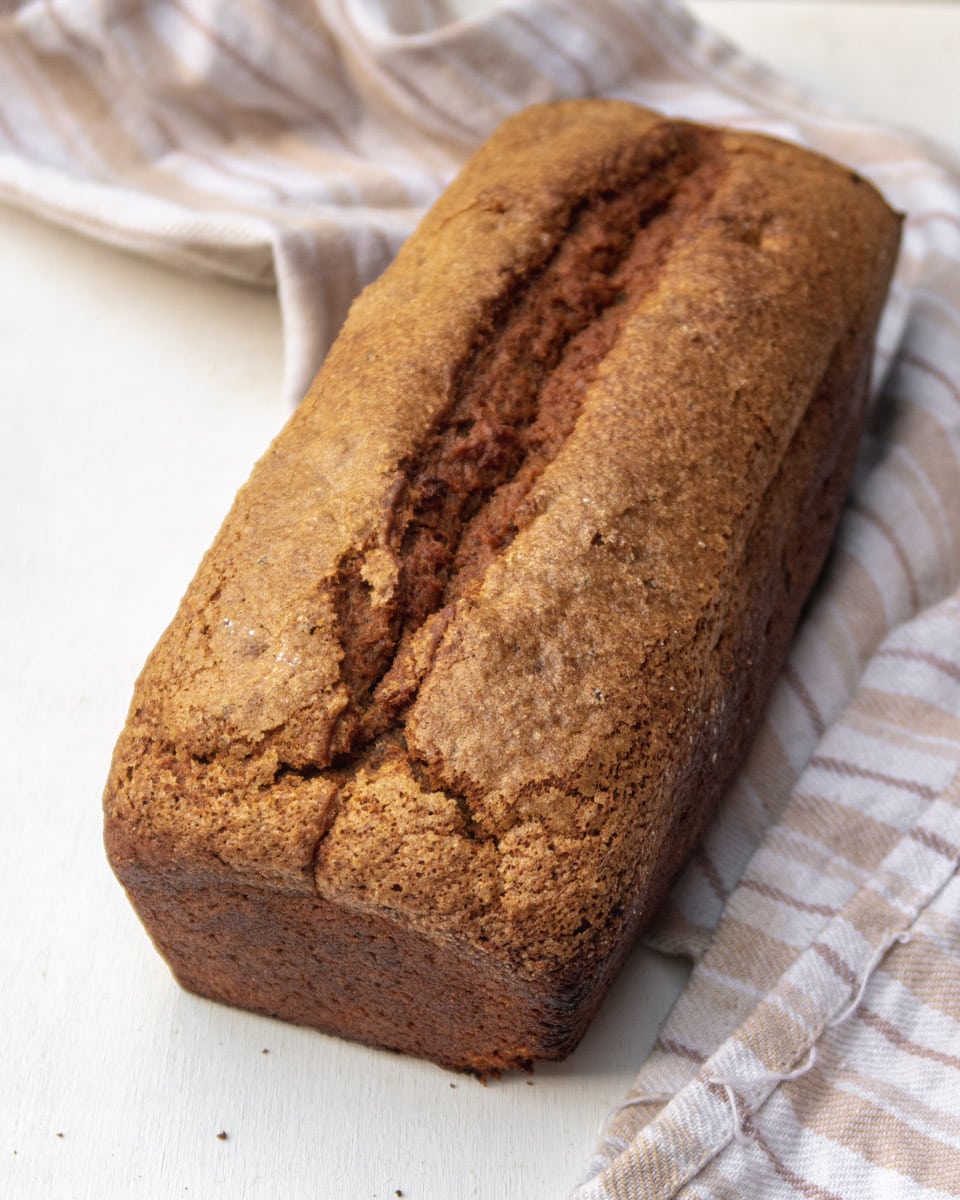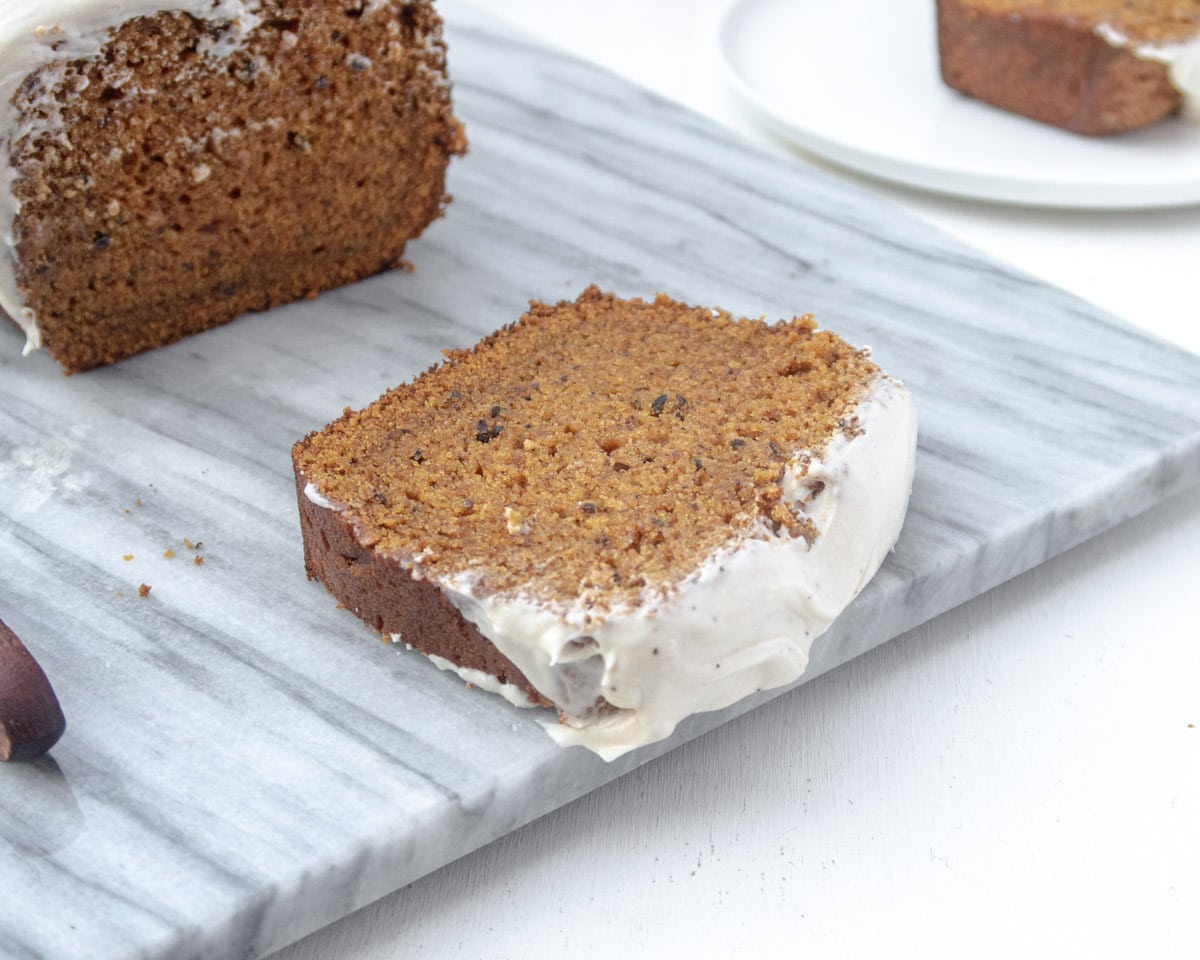 Tips + Tricks
Here are some tips, tricks, and variations that might be useful to you when you attempt this wonderful vegan pumpkin bread.
Use a Microplane to freshly grate your nutmeg. Freshly grated nutmeg makes a world of difference, especially in pumpkin spiced anything. 
Try jazzing up your traditional pumpkin spices by adding ⅛ teaspoon powdered cardamom or a couple of pinches of allspice.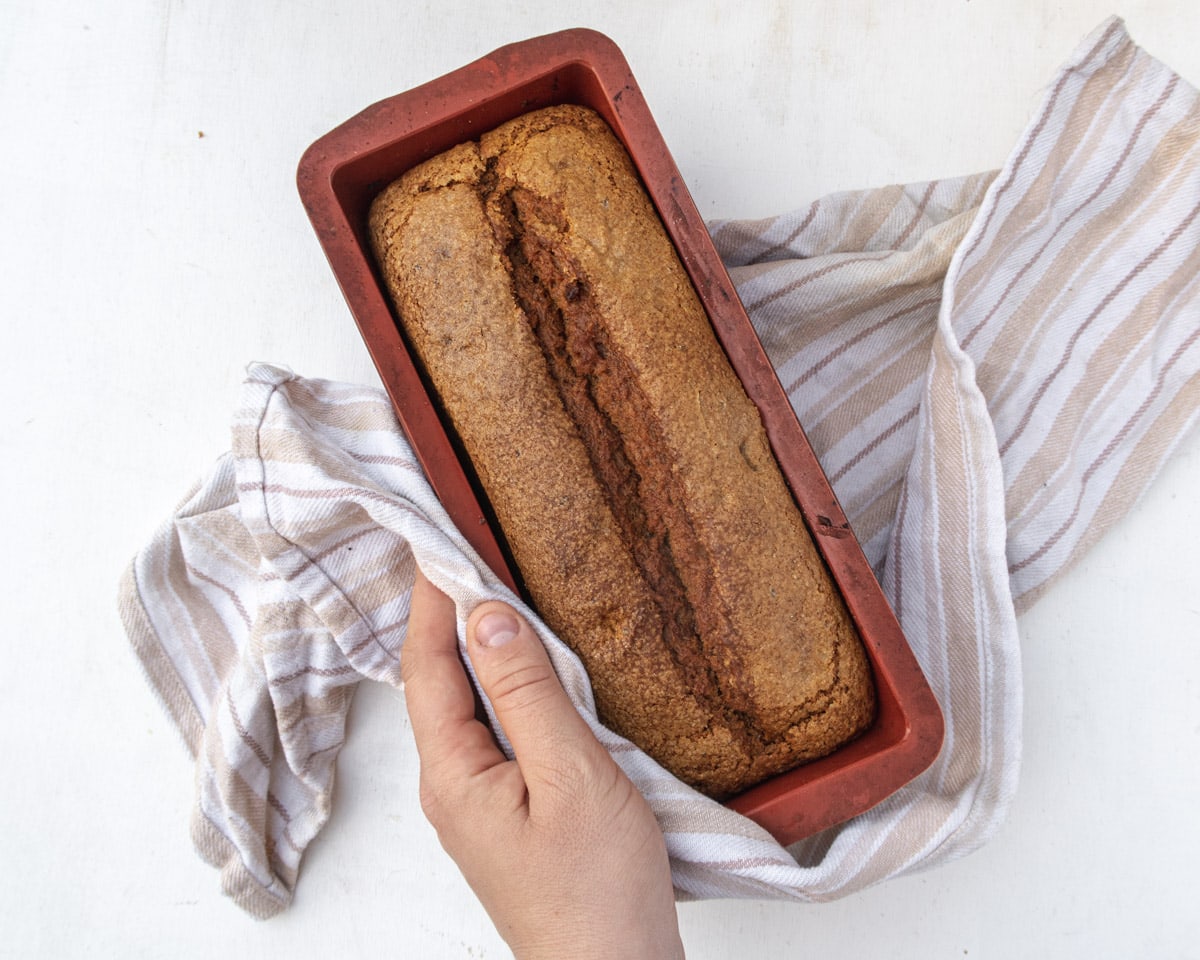 You could also replace the oil in this recipe with vegan brown butter, but you will need to be choosy with your vegan butter. Try Miyoko's or Earth Balance if you want to reach that nutty and buttery perfection.
You could also skip the icing and sprinkle a healthy amount of flaky maple sugar (or demerara sugar) on top of your batter before cooking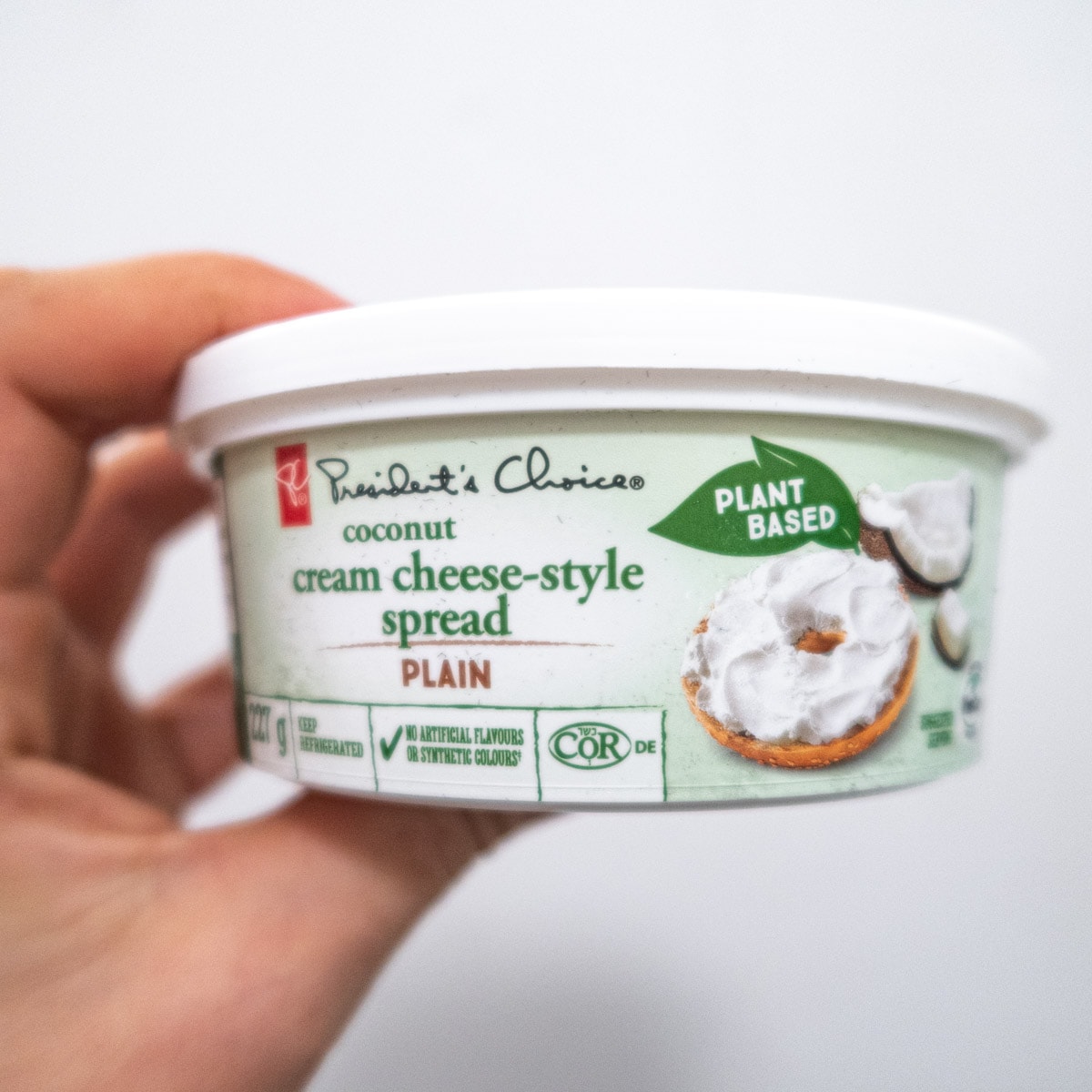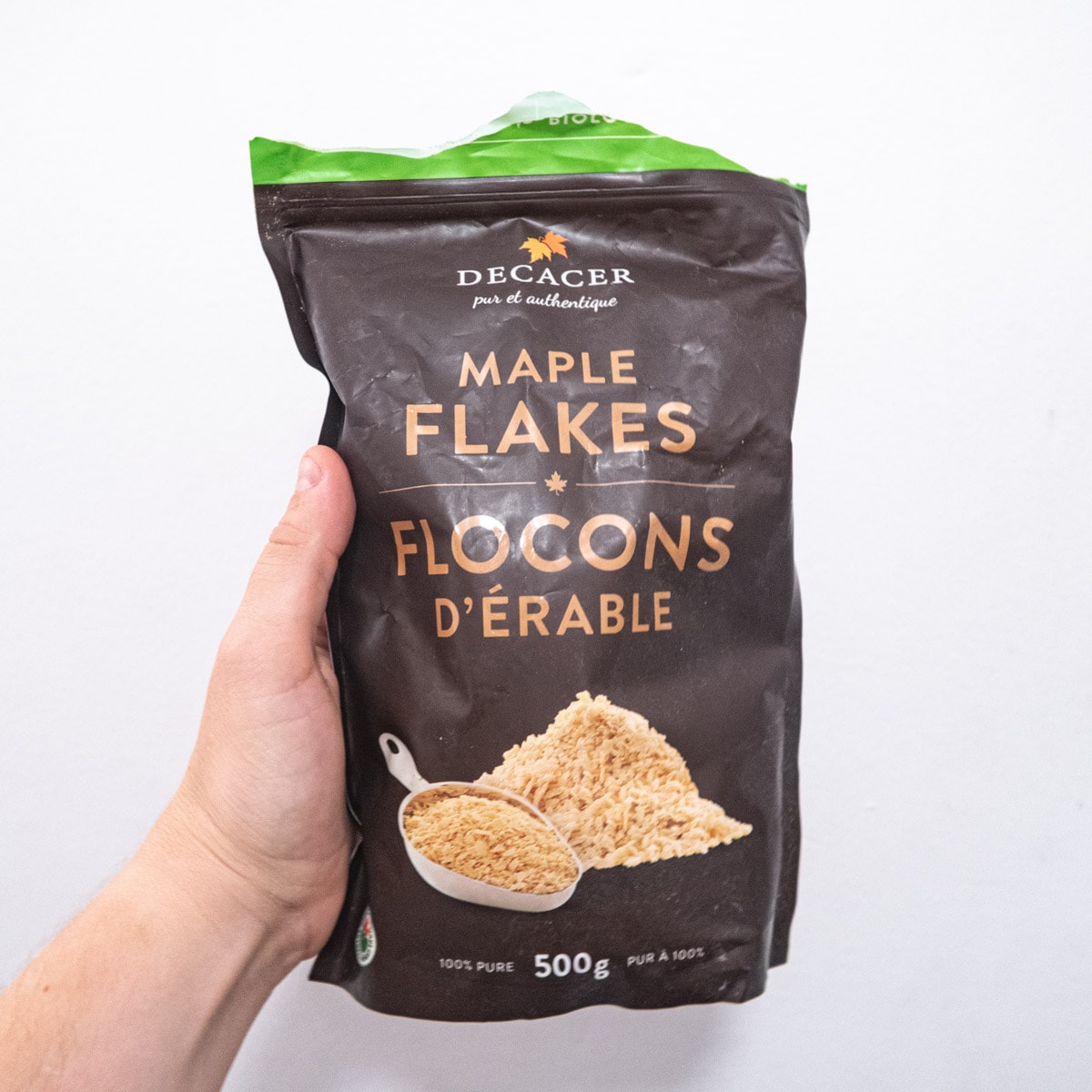 Vegan cream cheese battle
Let's be honest here, not all vegan cream cheeses are created equal. Personally, I can't stand the aftertaste I get from most cream cheeses, especially Daiya. This is why I was so surprised when I discovered the "President's Choice" coconut cream cheese-style spread. 
I found mine at a Provigo store but I believe you can also find them at Loblaws. Out of the 4 tubs I had purchased to test out Fall recipes, only 1 survived, all the other ended up on toast and eaten plain ( which I've never done before). I also really love the price of theses, at about 3$ CAD per tub.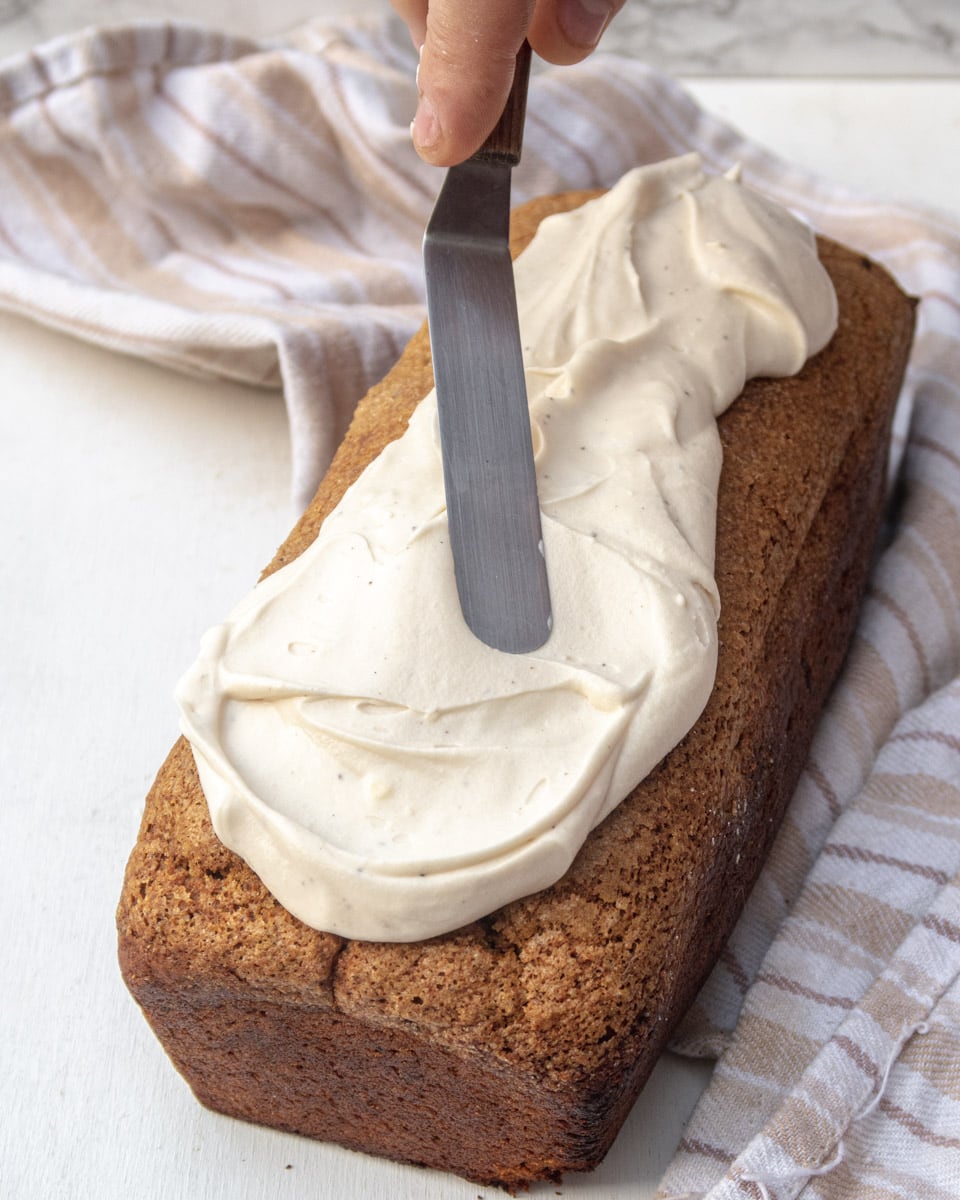 Other good alternatives are Miyoko's cream cheese and Tofutti. Unfortunately, I found that while the flavor for the earth island cream cheese is there, the one I picked up had a grainy texture that would be a big nono in icing like this one.
RELATED: Extra special pumpkin and chocolate chip muffins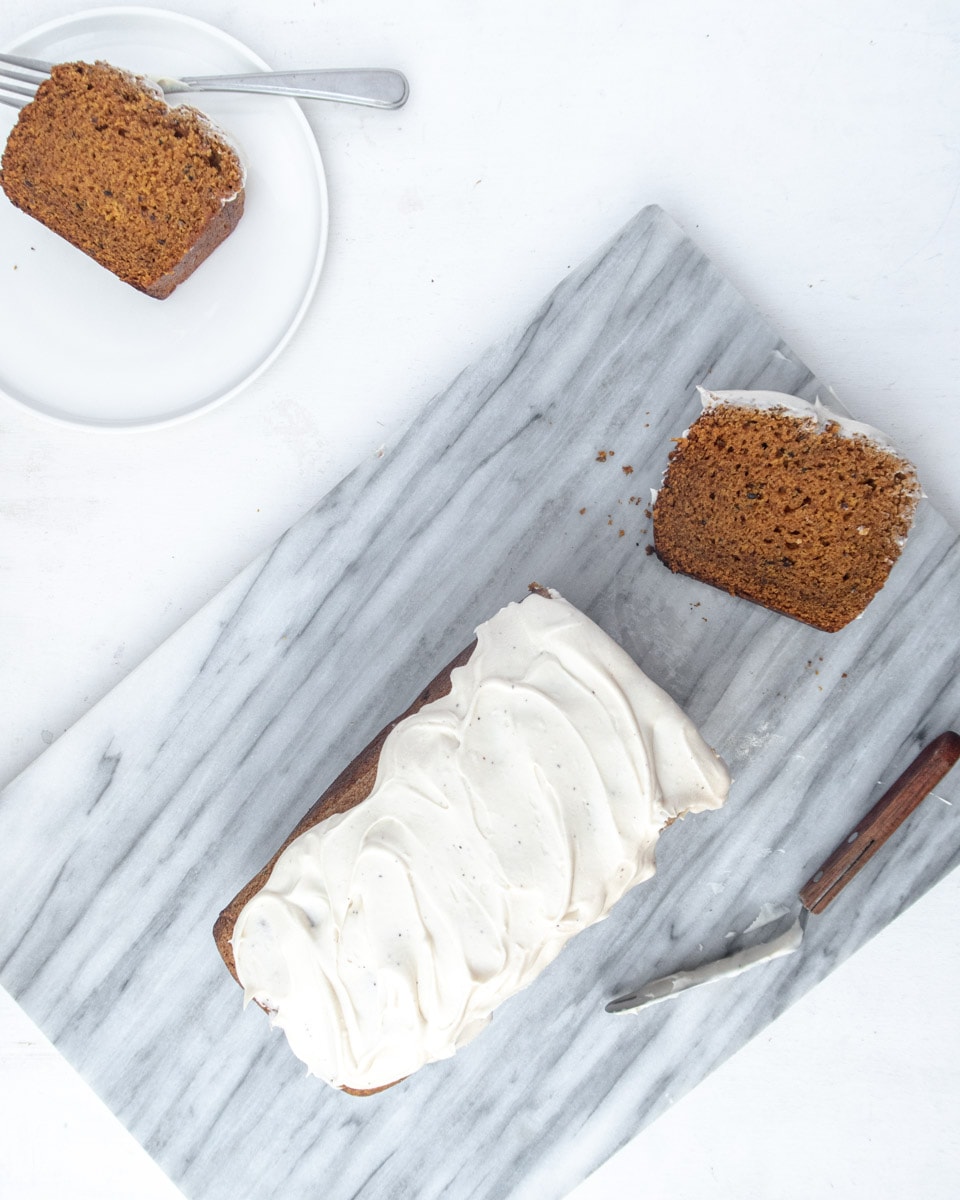 To Burbon or not to Burbon?
The bourbon in this vegan pumpkin loaf bring some delightful flavors but if you are short on Burbon, feel free to replace it with
Whisky
Brown Rum, even better if it is a spiced Rum
Coureur des Bois, for nice maple notes
Some Frangelico could also be nice for a little nutty flavors
For a non-alcoholic version, replace the alcohol with the same amount of plant-based milk
BTW, these crunchy chocolate meringue cookies make great gifts!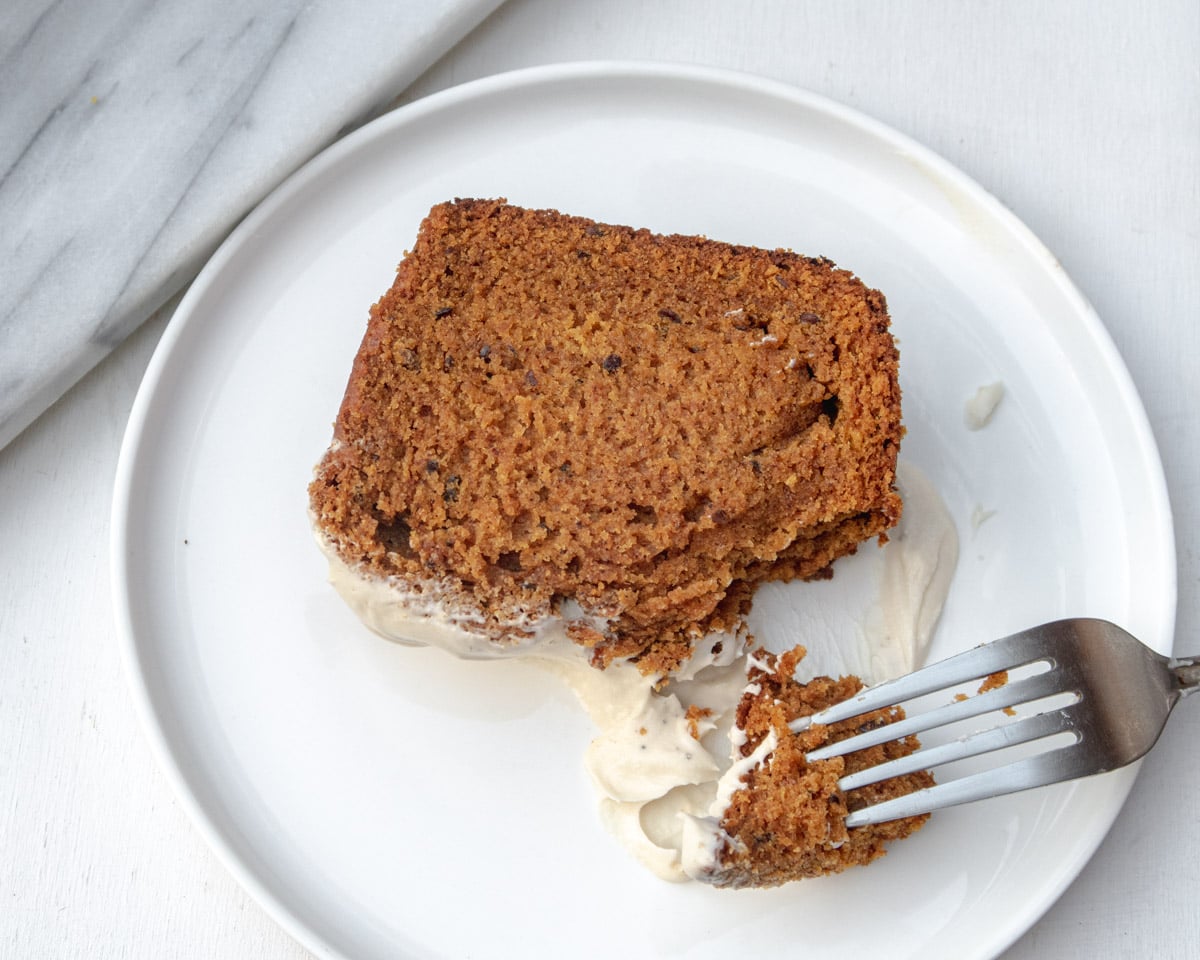 Recipe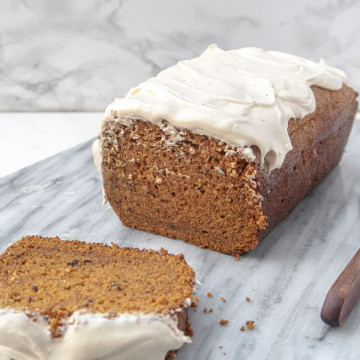 Print
Vegan Bourbon Pumpkin Bread with Cream Cheese icing
Flavorful spices, bourbon notes, and creamy tangy icing, this vegan pumpkin bread will fulfill all your fall craving.
Servings
10
1-inch slices
Ingredients
Wet ingredients
430g

(1 ¾ cups)

pumpkin puree

, or 1 15-ounce can

115g

(½ cup)

canola oil

,or other light tasting vegetable oil

20g

(2 tbsp)

ground flax seeds

, or chia seeds

80g

(⅓ cup)

bourbon

200g

(1 cup )

white granulated sugar

160g

(⅔ cup)

dark brown sugar

, packed
Dry ingredients
300g

(2 ½ cup)

all-purpose flour

1 ½

teaspoon

baking powder

¾

teaspoon

baking soda

1 tsp

(6g)

fine sea salt

2

teaspoon

ground cinnamon

¼

teaspoon

nutmeg, freshly grated

¼

teaspoon

ground ginger

⅛

teaspoon

ground cloves
Icing
33g

(3 tbsp)

vegan cream cheese

, I use "President's Choice"

45g

(3 tbsp)

vegan butter

, I use Becel plant-based bricks

132g

(1 cup)

powdered or icing sugar

, sifted

½ tsp

clear vanilla extract

, or ¼ teaspoon vanilla bean paste
Instructions
Pumpkin Bread
Start by preheating your oven at 350°F (180°C).

In a large mixing bowl, whisk together all the wet ingredients together until smooth.

Sift together the dry ingredients, add to the bowl with the wet ingredients and mix until everything is just incorporated and smooth. Do not overmix.

Grease a 10.4x2.8 inch (26 x 7cm) loaf pan ,or 2 smaller loaf pans (see notes). Pour the batter into the prepared loaf pan, smooth out the top with a small offset spatula and score a long line on the top of the cake where you want the cake to "open" during baking.

Cook the pumpkin loaf cake for 45 minutes to 1h, or until a toothpick inserted in the middle comes out clean. Let the cake cool down in the pan before releasing it.
Icing
Whip together with a handheld mixer, or stand mixer, the cold cream cheese and cold vegan butter until the mixture is homogenous and creamy.

Add the powdered sugar and vanilla and continue whipping until creamy and smooth. Adjust the amount of icing sugar to your preferred icing consistency.

Add the icing to the top of the pumpkin loaf cake and make swirls back and forth with the back of a small offset spatula or the back of a spoon. Enjoy!
Notes
Your loaf pan should be able to hold 7 cups of water in it. If not, cook in 2 smaller loaf pans.
Keep in the refrigerator for up to 5 days, or freeze wrapped in plastic wrap without icing for up to 6 months, and add icing right before serving.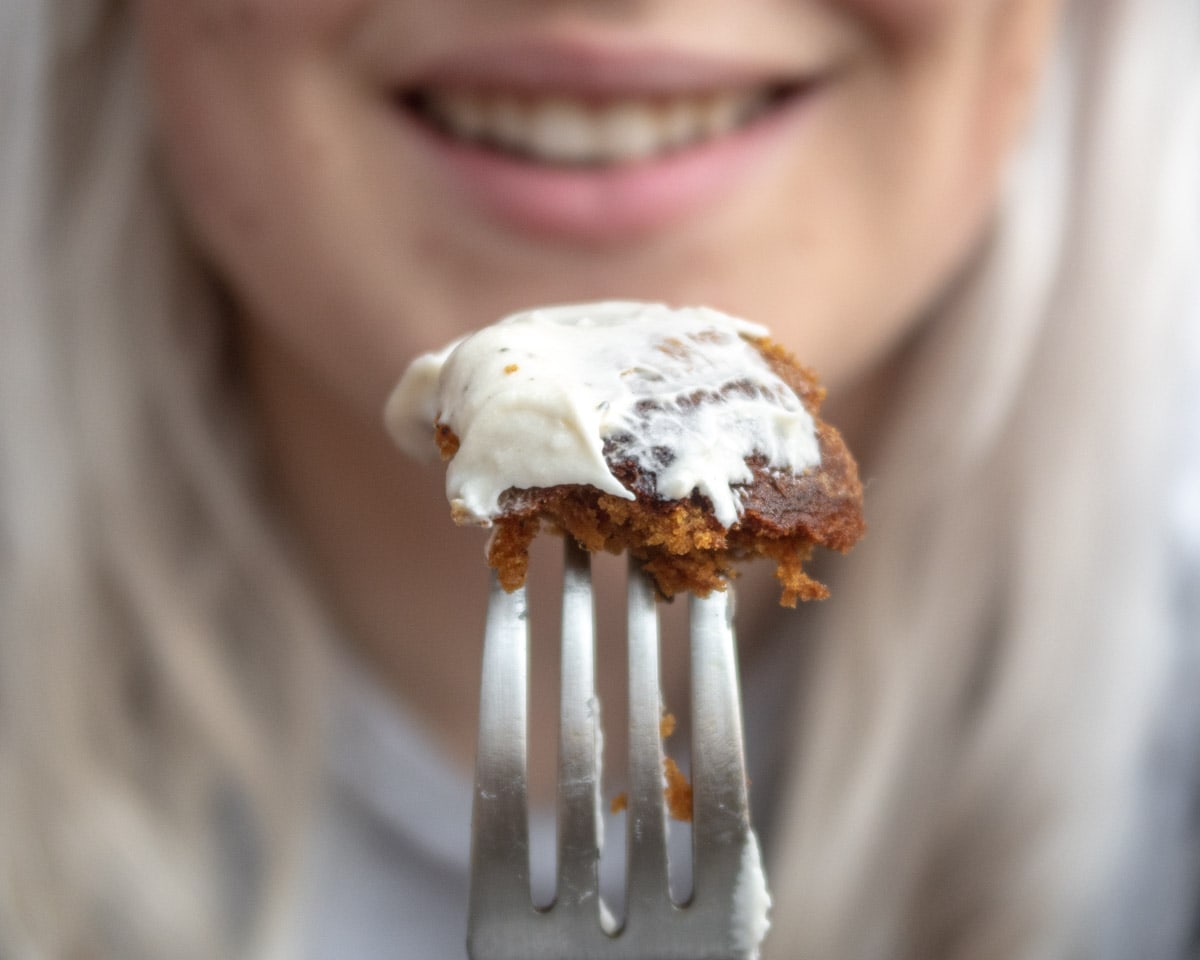 Did you try a bite of this vegan pumpkin bread recipe?
Don't be shy and let me know how it went! Leave me a comment below and share a picture on Instagram !