These soft and chewy vegan coconut salted caramels are flavourful and oh so very gift-able. You also probably already have all the ingredients to make these sweet treats right in your pantry.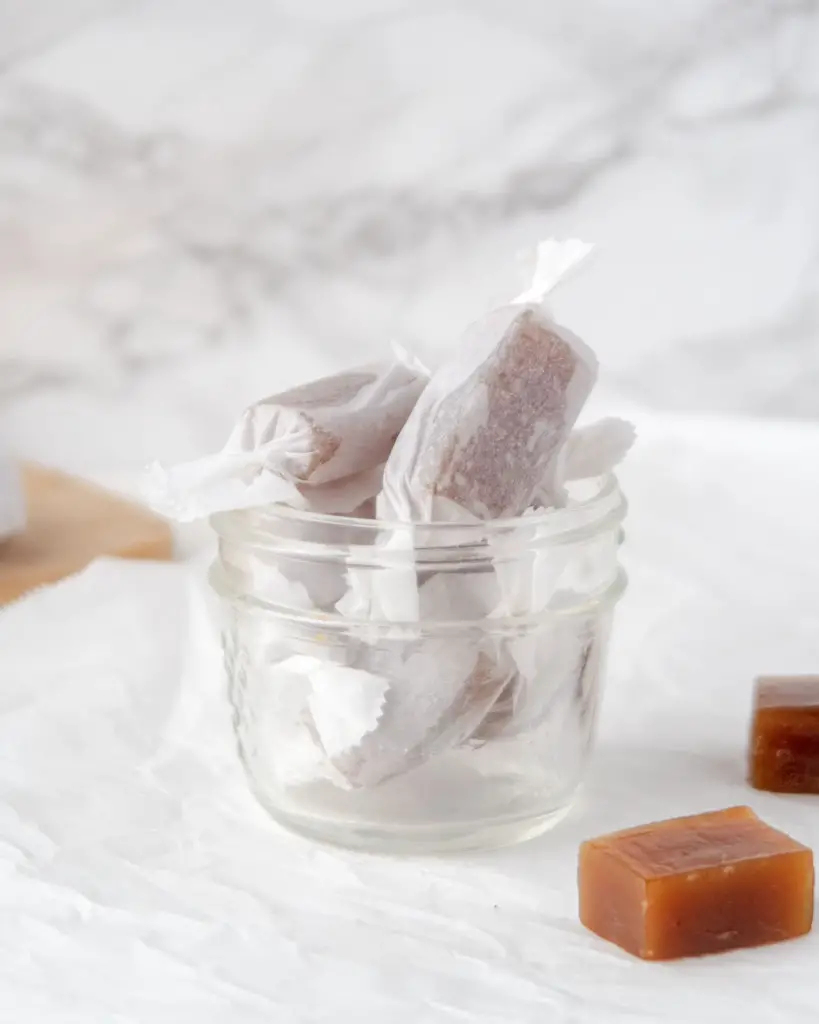 Feel free to skip straight ahead to the recipe if you have made caramel before! It is a pretty straightforward recipe.
---
Precautions while working with caramel
Working with hot sugar can be extremely dangerous. Trust me, second-degree burns made by caramels are not fun. I've lived it and once was enough. Hot sugar will stick to the skin, so follow these precautions while working with caramel to keep you and the people around you safe.
No kids in the kitchen. The risk is simply too high. Let them spend their energies outside or make this recipe while they are sleeping.
Sugar syrup is very hot – hotter than boiling water and lasts longer as it sticks to your skin – so I recommend wearing socks, pants, and long sleeves in the kitchen to prevent contact with your skin. 
If you have them, an extra precaution would be to work with disposable gloves. This is because if a drop of sugar falls on your hand, you will be able to quickly and easily remove the glove and get rid of the sugar before it burns you. This technique is actually used by professional pastry chefs while making large Croque-en-bouche because it works.
Use a bigger pot than anticipated. The caramel often rises higher than anticipated, and it will bubble, splash and splatter when you add the vanilla extract. When you start the recipe and are adding all the ingredients to the pot, if the level is higher than a third of the height of your pot, you should change your pot to a bigger one before starting with the cooking process.
Can I skip the corn syrup?
No, you can not skip the corn syrup as it has a specific role to play while making caramel. Corn syrup is an inverted sugar and its role is to stops the squares of vegan caramel from crystalizing and getting an unpleasant mouthfeel.
However, if you can't find corn syrup where you live, or if you simply don't like corn syrup, you can replace the corn syrup with another inverted sugar like glucose syrup or homemade (corn-free) corn syrup. Simply use the same amount of these inverted sugar in this vegan caramel recipe.
Getting the right temperature
It is primordial that you get the right temperature indicated in this recipe. If you go under, you will get a soft caramel that will have trouble keeping its shape. If you go too high, you might end up with a hard-on the teeth brittle.
So when you start the cooking process, stay right next to your caramel. It will start slow and will take a good 15 to 20 minutes before you get anywhere close to the right temperature, but trust me, in the blink of an eye, your caramel will get from " this is taking forever" to " heck I'm already at the right temperature". You don't want to miss your window of opportunity and have to start again.
If you are afraid that your caramel is continuing to cook in your still-hot pan, you can dip the butt of your pan in a bowl of ice-cold water. It will give the saucepan and the caramel the temperature shock it needs to stabilize and stop the temperature from going higher. Simply make sure none of the water actually gets in the saucepan.
RELATED: The caramel in my homemade vegan Mars bars is softer because we cook it at a lower temperature.
Preventing crystalization
Crystallization is the arch-enemy of making caramel and one of the main ways we try to prevent that from happening is by using corn syrup in our recipe, as mentioned previously. There are other steps you can do to prevent crystalization, mostly using the right technique.
When you start your vegan salted caramels, some of the undissolved sugar crystals can stick to the side of your pan. If that sugar cristal was to fall back down in your almost finished caramel, it could cause a chain reaction and crystalize your whole batch of vegan caramels. 
So to remove any crystals that might have glued themselves to the side of your pan, with a heat-resistant pastry brush, brush the side of your pan with a  bit of clean water. This is very important to do right before the sugar mixture starts to boil, but if you want to be extra cautious, you can do it through the cooking process, especially if you see more sugar crystal forming.
The second tip is to not stir the caramel at all once it starts boiling. It could cause that crystallization on the edges of the pan, or cool down your caramel in weird ways that could create crystals. However, it is perfectly fine to stir at the beginning before the mixture boil, as long as you remember to brush the sides of your pan.
Cutting the caramel pieces
If you have trouble cutting the caramels into neat little squares, refrigerate the caramel for a bit longer. This will firm up the caramel slab (if you reached the proper cooking temperature) and will make your caramel not as sticky. You can also lightly oil the blade of your knife to help with stickiness.
Another trick is to cut the caramels with the help of a  sharp pair of kitchen scissors if you are not too worried about having sharp edges.
Cool variations
Here are 3 cool and easy ways to make those vegan salted caramels fancy:
Use fancy salts to top them off. I love my smoked sea salt, but I know espresso salt or even maple flaked salts would also be incredible.
Dip them in chocolate! Soon your caramels will be competing with you the ones from your local artisan chocolate shop. However, you will need to use some tempered couverture chocolate, or vegan compound chocolate if tempering is not your thing ( but it might be hard to find).
Right after pouring the caramel, sprinkle some nuts in it. Peanuts, pecans, and cashews are all great options.
Tools
When you are making caramel, make sure you got all your tools ready because caramel waits for no man! (...or woman... or little mischief makers!)
9 x 9-inch square pan,  preferably metal with straight edges
Medium or large heavy-bottomed saucepan
Pastry brush
Digital thermometer, that goes to high temperatures
Knife and cutting board
While glass thermometers are often the most available ones, they aren't that precise and are easily breakable. I recommend investing in a good digital thermometer that will last your years instead of a "meh" thermometer that will probably get smashed in the bottom of a drawer on the second week you bring it home.
Recipe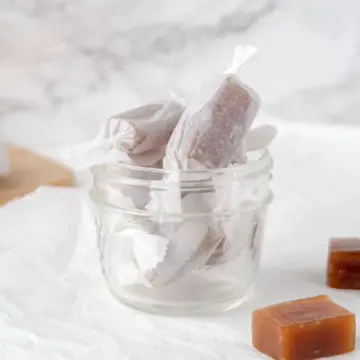 Print
Soft and Chewy Vegan Caramel squares
These soft and chewy vegan coconut salted caramels are flavourful and oh so very gift-able. You also probably already have all the ingredients to make these sweet treats right in your pantry.
Servings
91
1-inch square caramels
Ingredients
240g

(1 cup)

vegan margarine

420g

(2 cups packed)

dark brown sugar

342g

(1 cup)

light corn syrup or glucose syrup

360g

( 1 ½ cup)

full-fat canned coconut milk

, vigourously shaken

13g

(1 tbsp)

pure vanilla extract

2

teaspoon

flaked sea salt
Instructions
Line an 9 by 9-inch pan with 2 9-inch wide strips of parchment paper placed across each other. Keep the extra overhang of parchment paper for easy release.

In a heavy-bottomed medium-sized saucepan, add the brown sugar, corn syrup, margarine, and coconut milk and heat over medium-low heat while stirring until the butter is all melted and the sugar dissolved.

With a wet pastry brush, clean the sides of the saucepan of any sugar crystal. Increase the heat to medium and continue to cook the caramel without stirring until it reaches between 245°F - 250°F (118°C - 121°C), about 15 to 20 minutes.

Remove the saucepan from the heat and stir in the vanilla, being careful of the steam and splashback that can happen. If needed, quickly cool down the caramel by placing the bottom of the saucepan in a bowl filled with iced water.

Transfer the caramel into the prepared container and smooth out the top with the back of a metal spoon as needed. Sprinkle the sea salt all over the caramel while it is still hot. Transfer the caramel into a refrigerator to cool it down for about 2 hours, or until the caramel is firm to the touch.

Release the caramel from the pan by lifting the slab with the overhang of parchment paper and cut into 1-inch by 1-inch squares (2.5cm by 2.5 cm), using a lightly oiled chef's knife.

Wrap each caramel individually in parchment paper, wax paper, or small plastic wrappers. Enjoy!
Notes
Keep in an airtight container, at room temperature, in a cool and dark place between 6 and 9 months.
Alternative: make 100 rectangular 1 ½ inch x ½ inch caramels for easy wrapping.
These vegan caramels squares definitely brings back the best of my memories from the internship I spent in Britany, where caramel and salt where part of everyon's daily diet.
If you liked this recipe as much as I do, well feel free to share a picture of your sweet, sweet caramels on Instagram and to tag me @Raspbelyse so that I can see them! 🙂
I hope to see you around here more often!
— Raspbelyse