Pillowy homemade espresso marshmallows dipped in crunchy dark chocolate make for the best vegan mocha marshmallows or mochamellows.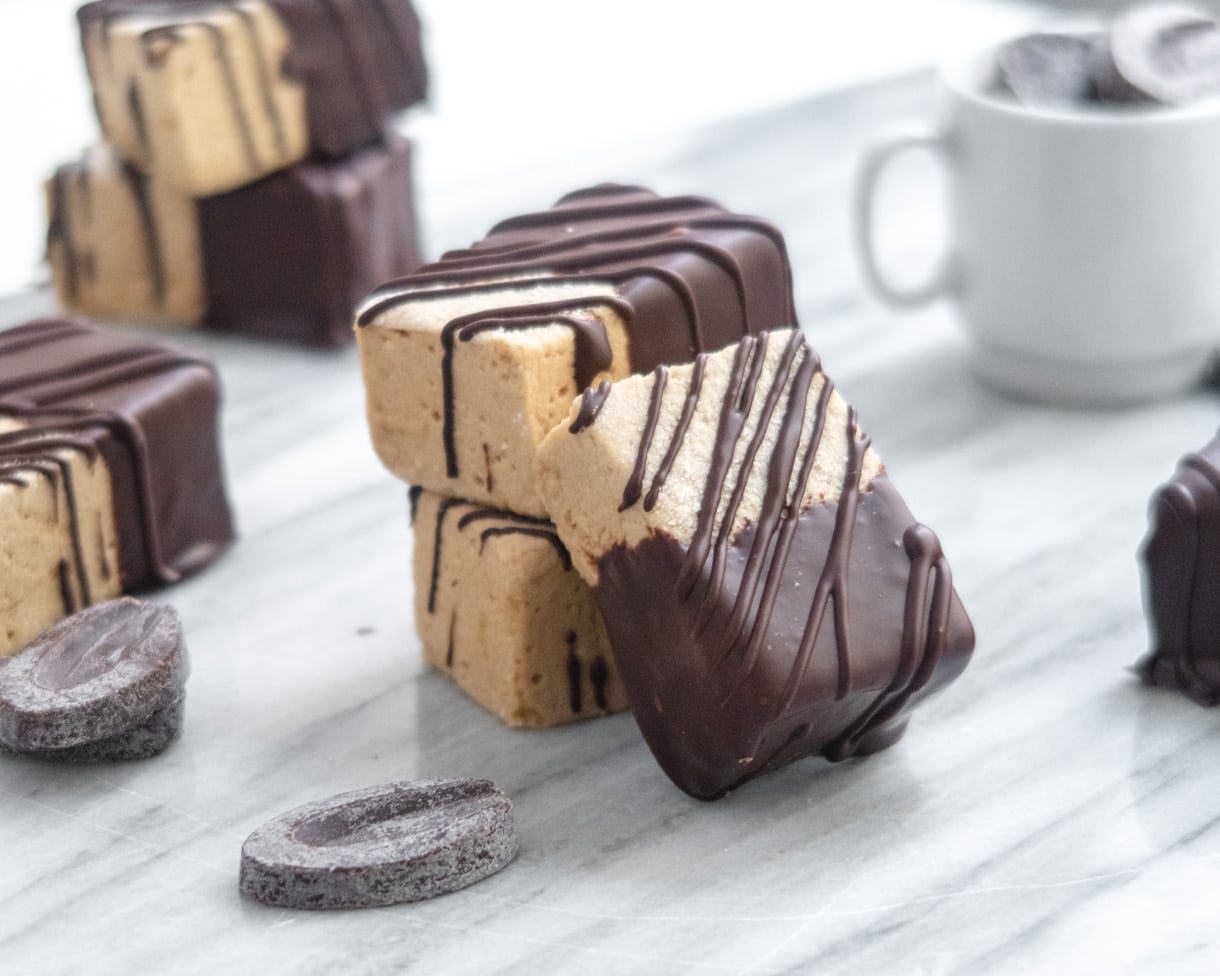 If this is your first time making this marshmallow recipe, I really recommend you read through the blog post, as you might not be familiar with some of the ingredients used and you would miss a bunch of free tips and tricks. I also keep this blog strictly professional, so you won't find any personal stories here.
---
Mochamellows
These vegan mocha marshmallows are the perfect gift for the coffee addict in your life. The coffee addict in my life (a.k.a. my BFF Millie) is actually the first one to name these pillowy bites mochamellows.
In this recipe, the egg whites traditionally found in marshmallow is replaced with espresso straight from the portafilter mixed with a magical powder to make a coffee meringue. Ok, I admit it's molecular gastronomy and not magic.
These vegan mocha marshmallows do actually contain caffeine so restrain yourself from giving any to your kids (or your niece and nephews).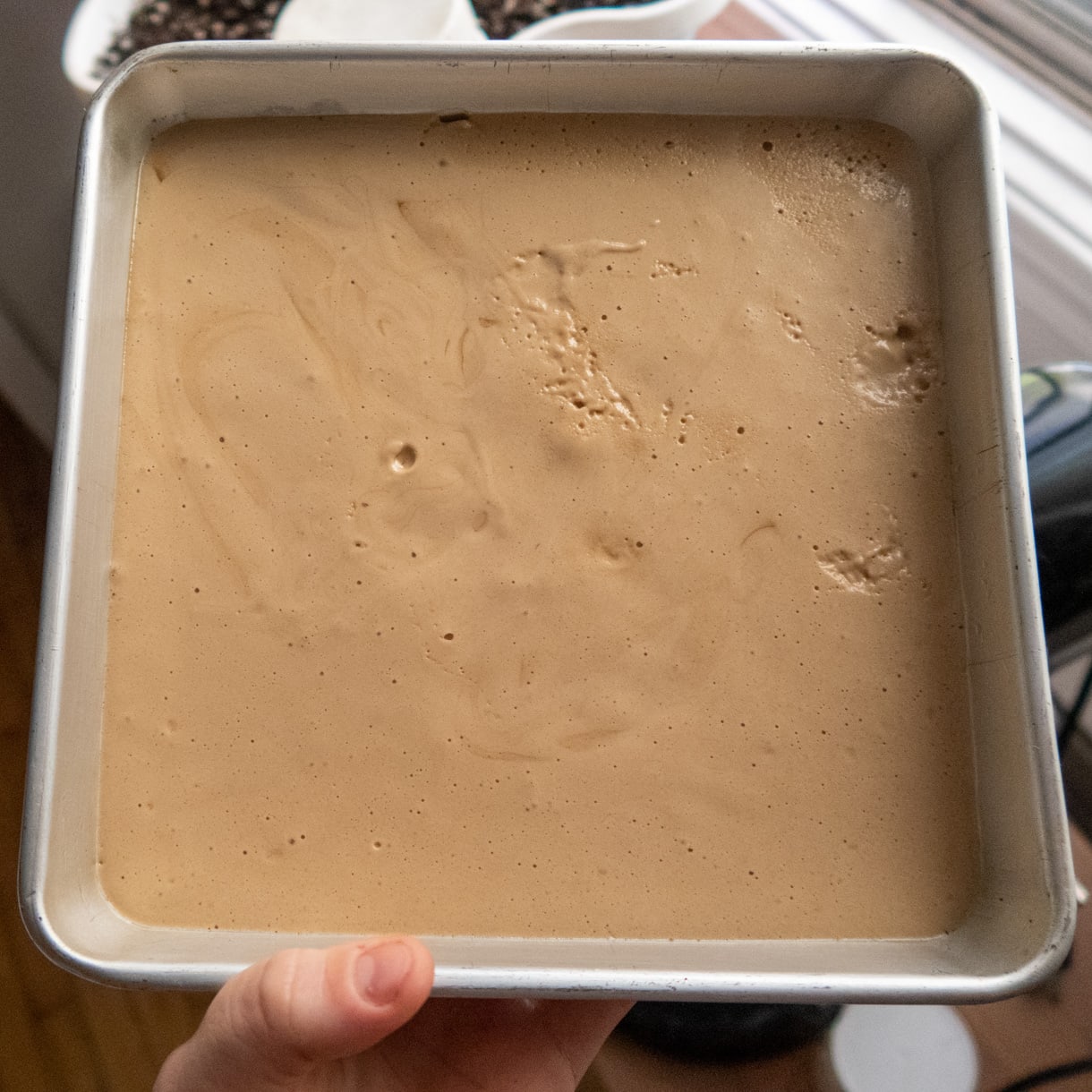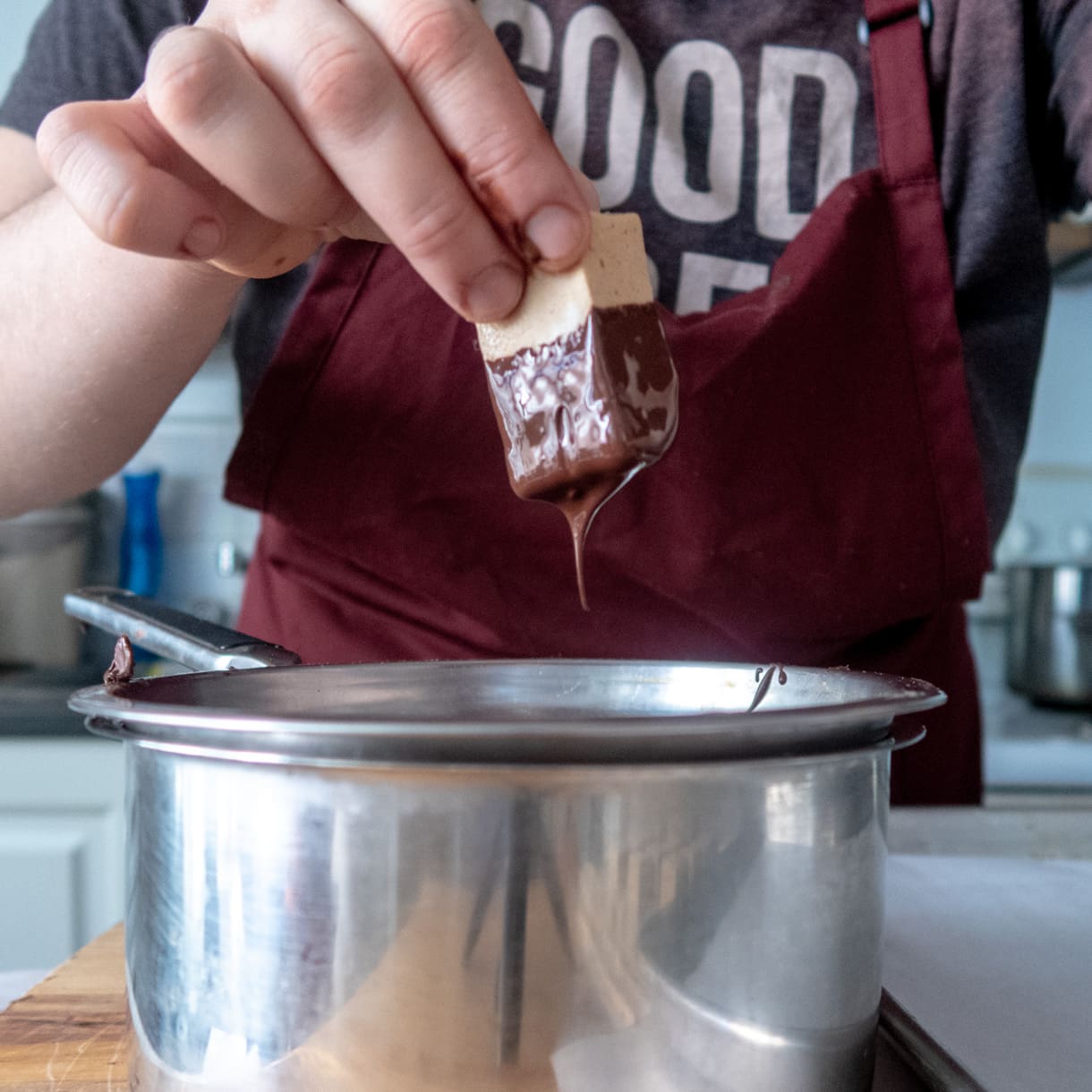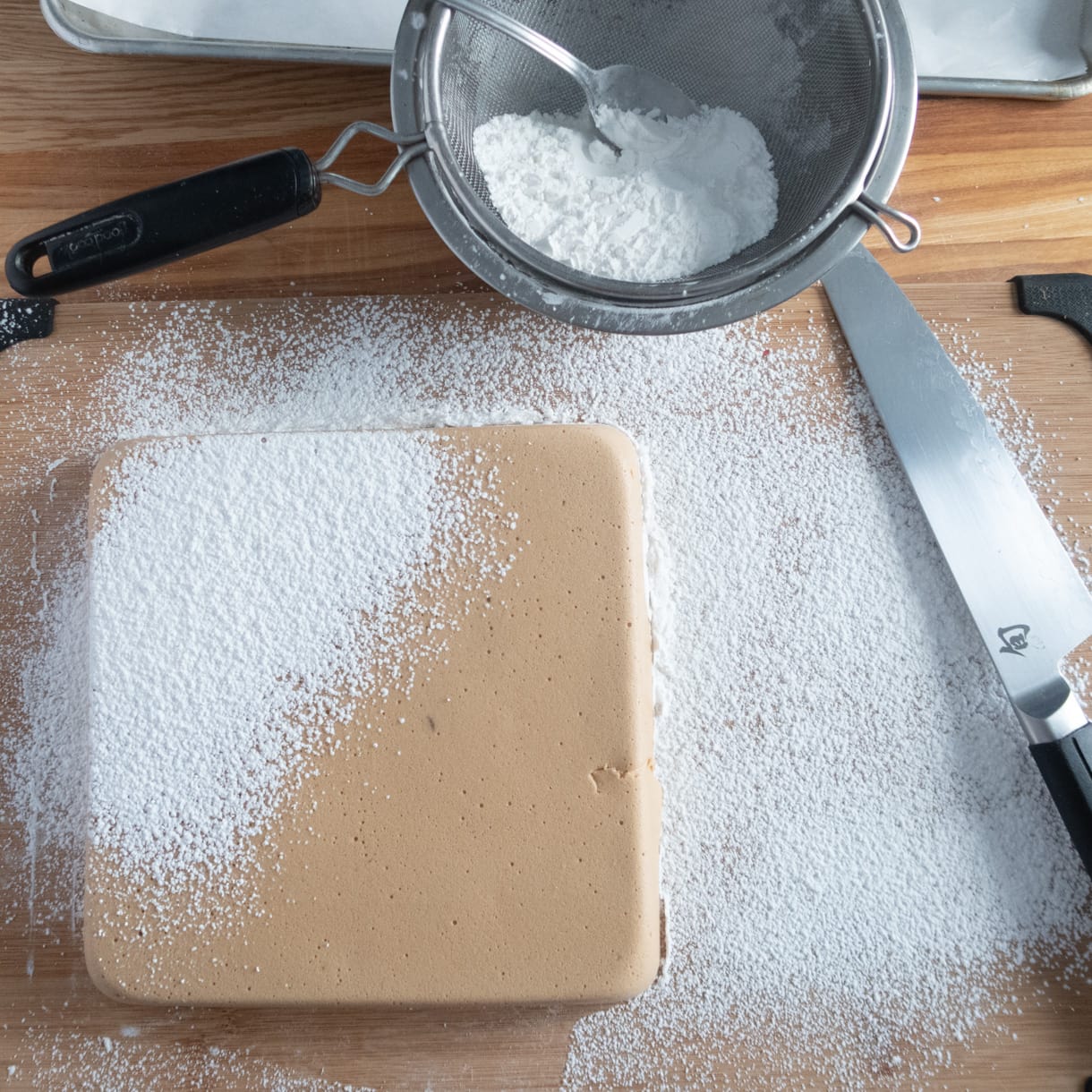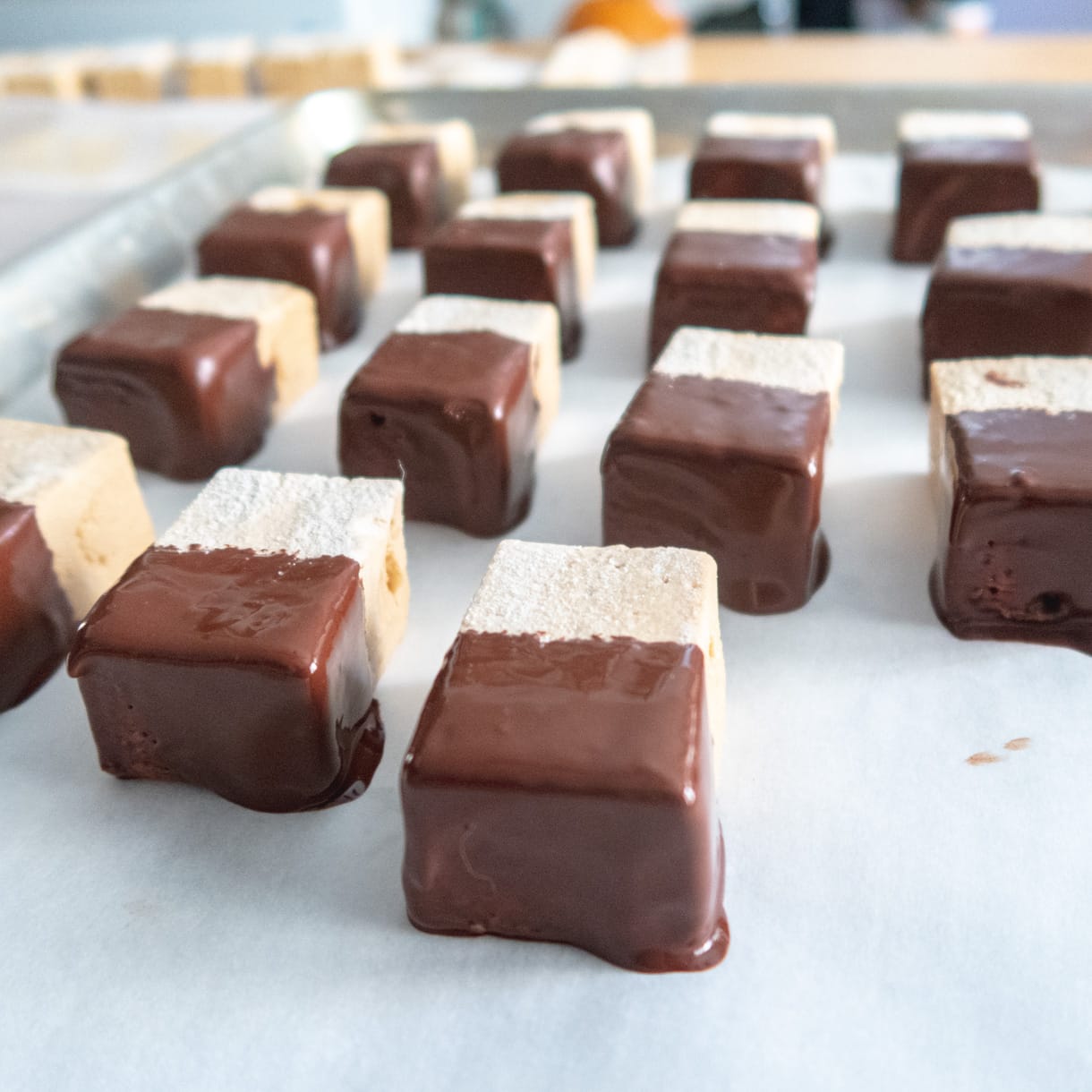 Ingredients
If this is your first time making vegan coffee marshmallows, then you might not know about some of the ingredients found in this recipe. In this particular recipe, substitutions are almost impossible.
Agar-agar
This is a gelatine replacement made of seaweed sometimes called just agar. It can be found in Asian markets in small pouches or in health food stores. My favorite brand is "Telephone". 
Agar-agar can be found in multiple forms. This recipe uses powdered agar-agar but if you can only get your hand on flaked agar-agar it's ok. You can substitute 1 teaspoon of agar-agar powder with 1 tablespoon of flaked agar-agar.
Xanthan gum
Xanthan gum is a powder that gives structure and helps in the whipping process when making meringue. A little goes a long way, since adding too much can give a weird gluey mouthfeel to preparation. If you can't find it anywhere you can omit it from the recipe but your marshmallow might be more fragile.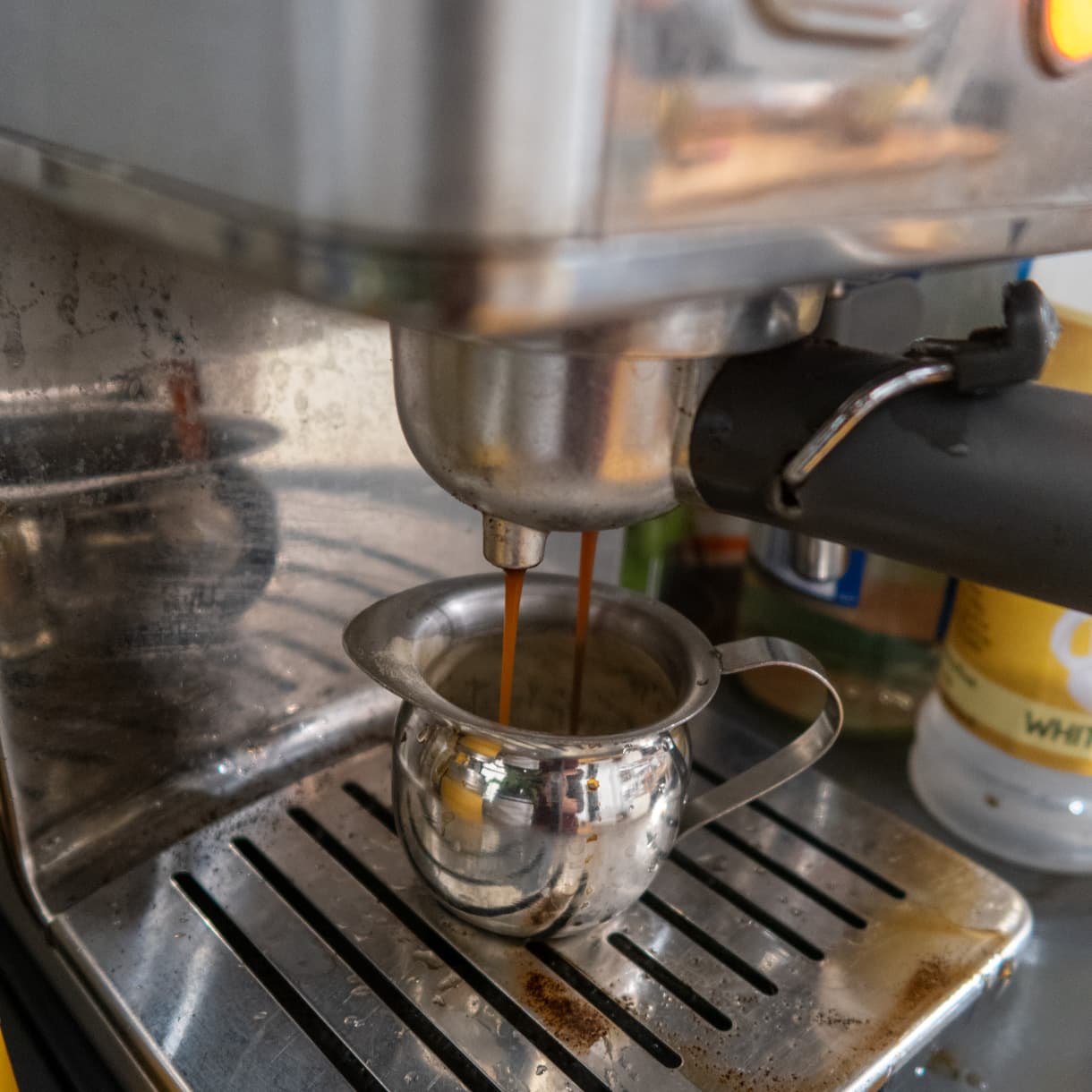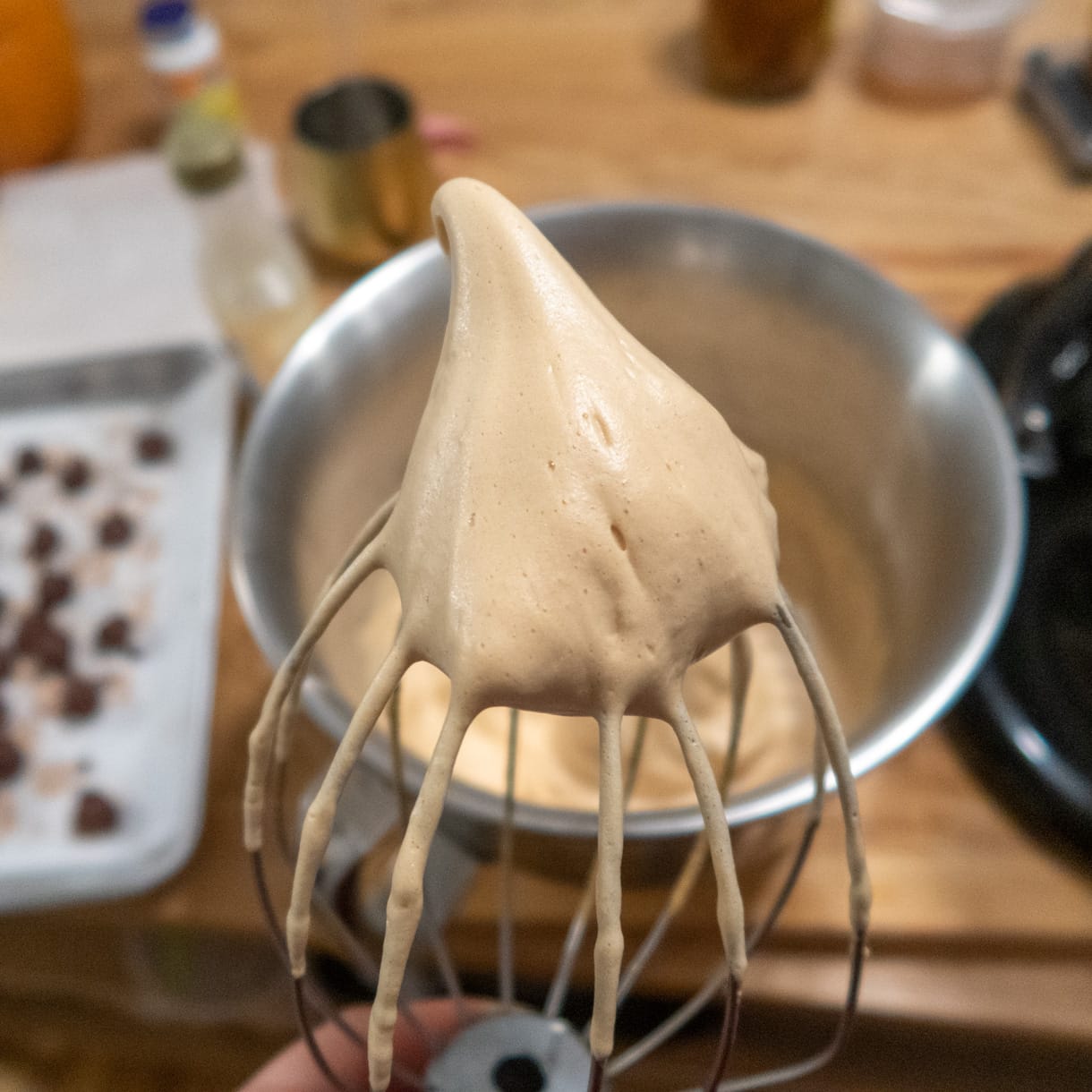 Versawhip 600K
Versawhip is a soy protein-based molecular gastronomy powder that you can add to most liquids to transform into a meringue. It can be used hot or cold and a package lasts forever since you need very little of it to make a large amount of liquid foam.
I find mine locally in person at La Guilde Culinaire, but you can also get it directly from Modernist Pantry who created this product that in my eyes revolutionized vegan pastry making. 
If Versawhip is not available where you live, you can instead make a meringue out of aquafaba and add diluted instant coffee or coffee extract see recipe notes) but you won't get the same coffee flavor satisfaction as with fresh espresso meringue.
RELATED: Brush up on your aquafaba knowledge using my aquafaba troubleshooting guide.
Hot sugar syrups 101
Marshmallows are usually made from an Italian meringue stabilized with gelatine. But what exactly is Italian meringue? Italian meringue is a meringue that is cooked slowly by adding a hot sugar syrup into the stiff meringue. 
Usually, after adding the hot syrup, the meringue is warm enough to melt gelatine. but agar-agar doesn't work like gelatine, it needs to be boiled to activate. So instead we will break a few rules and add the agar-agar powder into our sugar syrup.
WARNING: Sugar syrup is incredibly hot and can cause dangerous burns. 
Sugar syrup can reach a higher temperature than boiling water and will stick to the skin. Always wear long sleeves when working with syrup and be very careful of splashes.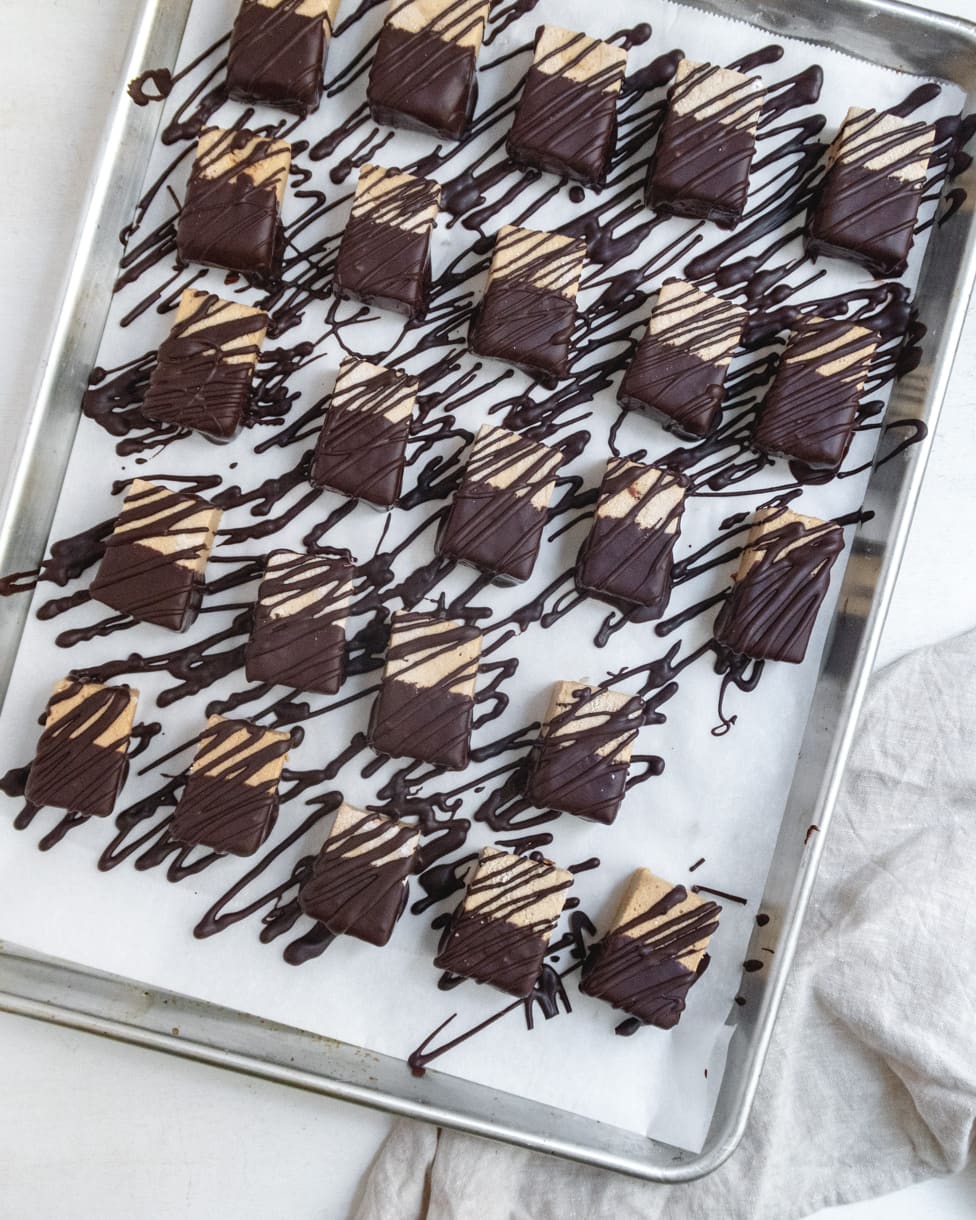 Italian meringue tips + tricks
Stand Mixer: I recommend using a stand mixer while making Italian meringue because it is very hard to pour syrup while whipping up meringue with a hand mixer. This also takes a good 10 minutes of whipping and you will end up with a sore arm.
Sugar crystals: If you see sugar crystals forming on the edge of the saucepan where your sugar syrup mee the sides, brush them off using a pastry brush dipped in water. Usually, we would also avoid stirring the syrup but not in this case.
Breaking sugar syrup rules: Because we add agar-agar to our hot syrup, it will act slightly differently than regular syrup. We are going to have to stir the sugar syrup while we heat it up using a heat-proof silicone spatula to prevent the syrup from scorching and sticking to the pan. Be careful with splashes!
Pouring the syrup: When pouring the hot syrup to make an Italian meringue, try to make a very thin stream and make it hit the edge where the meringue almost touches the side of the bowl. This will prevent the syrup from hitting the whisk and creating beads of hard syrup.
You also don't want the sugar syrup to slide down the side of the bowl as you could end up with a pool of syrup at the bottom of your bowl.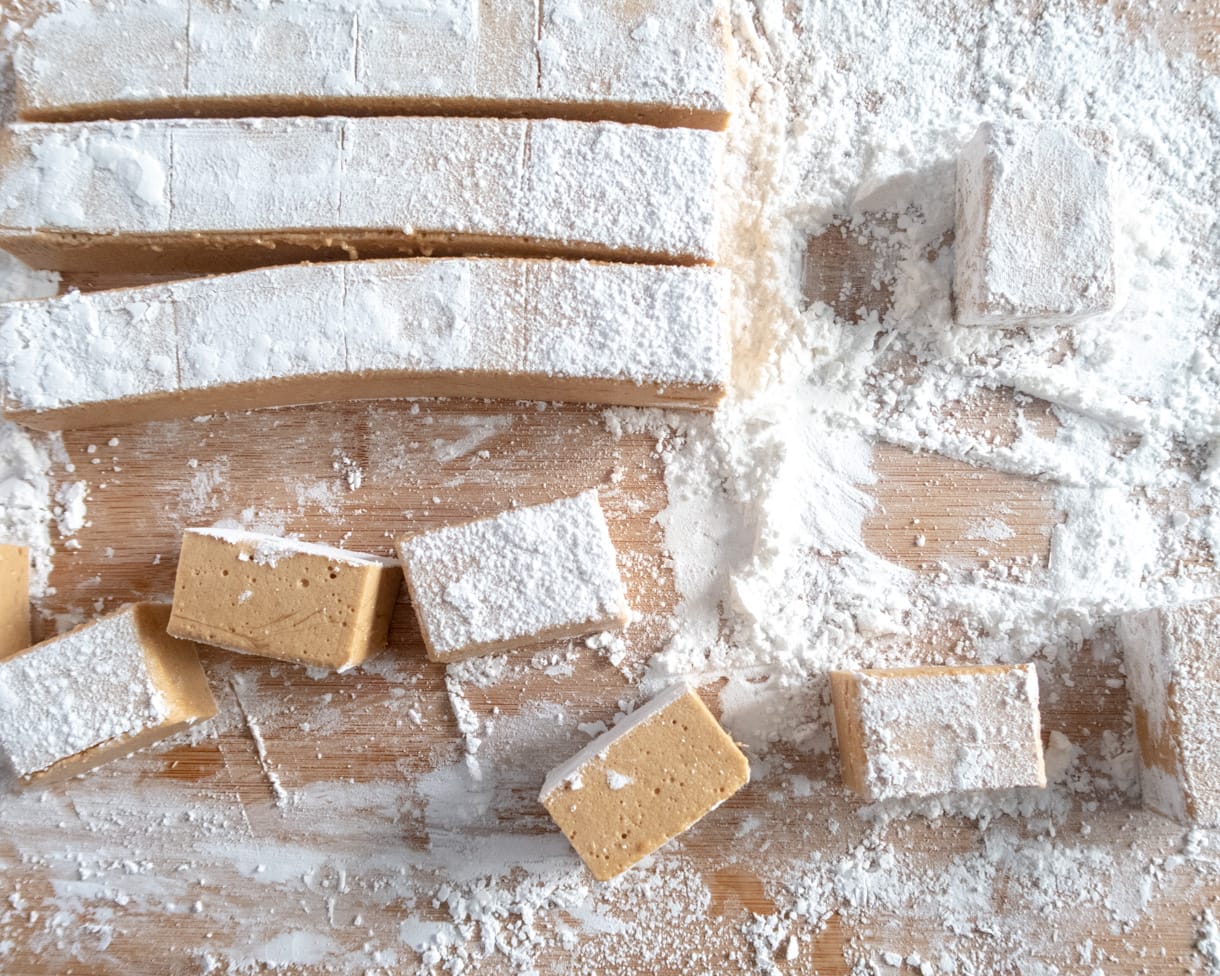 How to evenly cut mocha marshmallows
A great tip to cut perfectly even coffee marshmallows is to leave traces in the powdered sugar coating of where you want to place your cuts.  If you decided you want to change how you want to cut your marshmallow or if you made a mistake then you can recoat them and re-score them.
Lightly oiling your knife or using unflavoured dental floss can also help with cutting perfect squares of marshmallows.
Storage
Undipped: Leave to air dry for 24 hours before storing at room temperature in an airtight container for a month. Recoat with powdered sugar as needed.
Partially dipped in chocolate: Leave to air dry for 24 hours before storing at room temperature in an airtight container for up to 3 weeks.
Fully dipped in chocolate: Store at room temperature in an airtight container for a month if not more.
Store in a cool and dry spot and place wax paper or parchment paper between layers. If you have some, place 1 or 2 food-grade desiccant packets in the airtight container. Never refrigerate or freeze.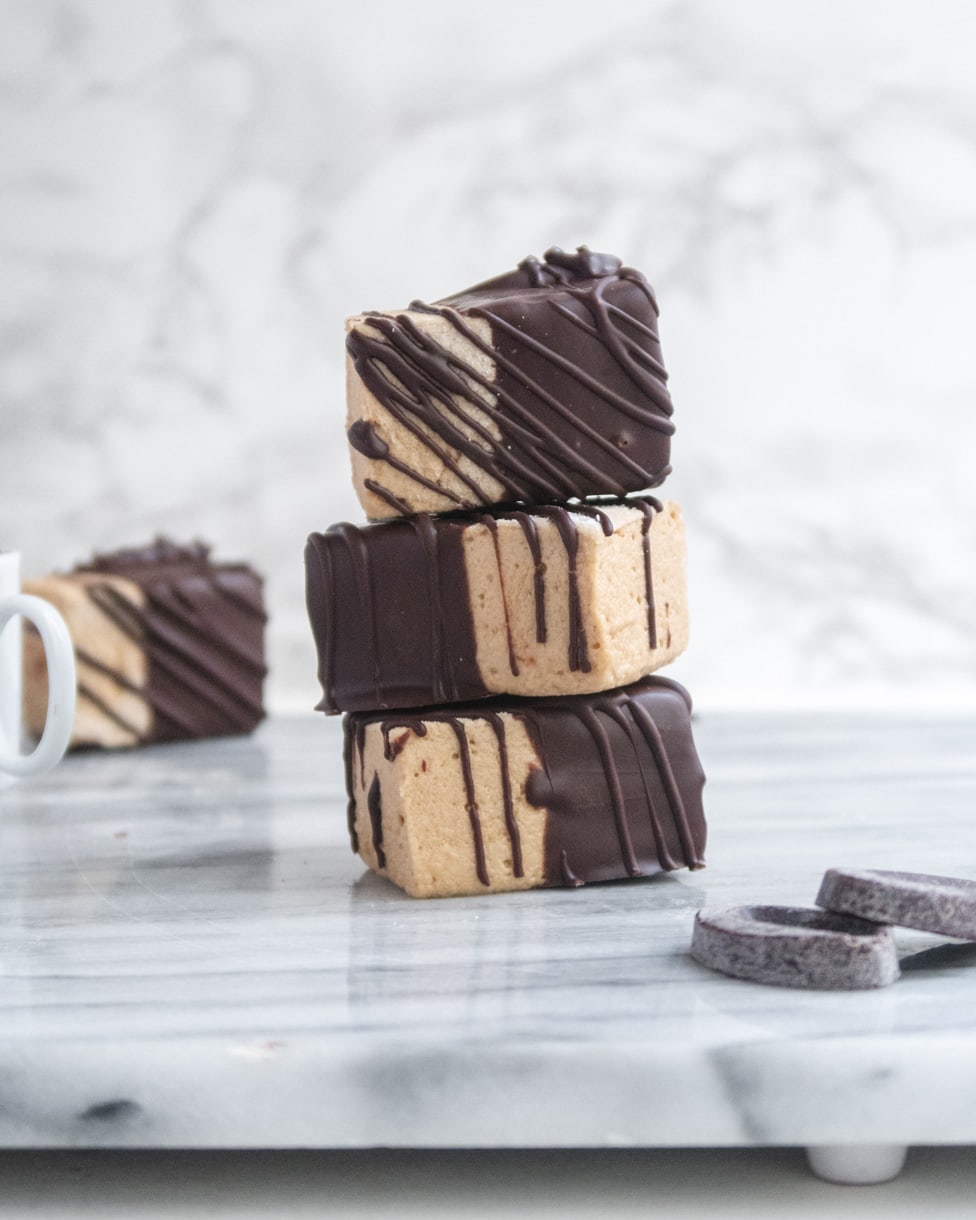 While I have provided the cup measurements for this recipe, I highly recommend you use a digital scale and weight measurements, since it is more accurate. It's also easier to measure sticky ingredients
Recipe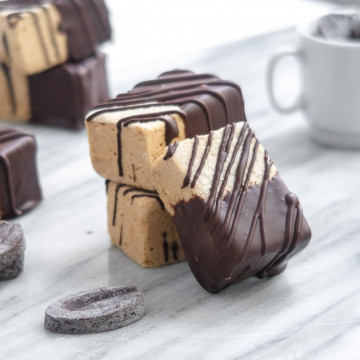 Print
Vegan Moka Marshmallows
Pillowy homemade espresso marshmallows dipped in crunchy dark chocolate make for the best vegan Mocha marshmallows,, or mochamellows.
Ingredients
Sugar syrup:
400

g

white granulated sugar

(2 cups)

4

g

agar-agar powder

(2 teaspoon or 10 ml)

85

g

light corn syrup or the same quantity of glucose syrup

(¼ cup)

125

g

water

(½ cup)
Espresso Meringue
190

g

espresso*

( ¾ cup)

2.9

g

Versawhip 600K*

(1 ½ teaspoon or 7.5 ml)

1

g

xanthan gum

(¼ teaspoon or 1.25 ml)

⅛

teaspoon

of fine sea salt
Dusting
oil spray

35

g

powdered or icing sugar

(¼ cup)

35

g

cornstarch

, also known as cornflour (¼ cup)
Chocolate Coating
400

g

dark couverture chocolate*

, I used Belcolade 64% Peru (14 oz)
Instructions
Sugar Syrup
In a heavy-bottomed medium-sized saucepan with high edges, place the sugar, agar-agar powder and dry mix until homogeneous. Add the corn syrup and water to the saucepan and stir until the sugar is all wet.

Heat the saucepan over medium heat while stirring constantly with a heatproof flexible silicone spatula. The mixture will want to stick and thicken in the corners and bottom of the saucepan and will bubble up a lot so stay close and stir regularly. If sugar stuck on the edges of the pans starts to caramelize, wipe down the sides of the saucepan with a wet pastry brush and reduce the temperature to medium-low.
Espresso Meringue
While the syrup is cooking, place the espresso in the bowl of your stand mixer, sprinkle the Versawhip, xanthan gum and salt on the surface of the espresso and stir it in.

Using the whisk attachment, start whipping on slow until the mixture starts to foam and becomes opaque. Then increase the speed to medium and continue whipping the meringue until you reach stiff peaks and the meringue starts to climb up the whisk.

Once the meringue has reached stiff peaks, leave the mixer running on medium-low while you wait on the syrup to finish cooking.

Keep an eye on your hot sugar syrup and continue stirring it until it reaches 240°F (115°C). Then, VERY slowly, start pouring the hot syrup in a thin stream into the meringue trying not to hit the whisk with the stream. The meringue will slightly deflate, it is normal.

Once the syrup has all been poured into the meringue, set your stand mixer on the lowest setting and mix for 2 minutes to remove large air bubbles. Stop the mixer and then stir by hand a couple of times using a soft silicone spatula, reaching to the bottom of the bowl.

Lightly oil an 8 by 8 inch (20 by 20 cm) square pan and then pour the marshmallow mixture in it. Flatten out the top of the preparation and lightly tap the pan against your work surface. Pop any remaining air bubbles on the surfact with a toothpick.

Leave the marshmallow to set at room temperature for a minimum of 4 hours, or overnight is best.
Dusting
In a small bowl, mix together the powdered sugar and cornstarch and then sift some of the preparation on your cutting board and blade of your knife. Slightly press on the marshmallow slab going all around the edge and then flip the pan upside down on your powdered surface. If the marshmallow slab doesn't want to release, you can slide a knife on one of the edges to make an air pocket.

Dust the top of the slab with the powdered sugar mixture, trim the sides and then cut 3 cm by 4 cm rectangles ( 1 ³/₁₆ by 1 ½ inches). Liberally coat each piece in the powdered sugar mixture and then brush off or tap off any excess powder.
Chocolate coating
Line a baking sheet with a fresh sheet of parchment paper.

Temper the dark chocolate using your favourite method (see notes). Place a third of the chocolate into a small disposable pastry bag or a parchment paper cornet and set aside for later.

Brush or tap the marshmallows a second time to remove any excess dusting powder and then dip them halfway into the chocolate one at a time. Let the chocolate drip off the marshmallows for 2 to 3 seconds before wiping the bottom on the side of the bowl and placing them on the prepared baking sheet leaving some space in between each.

Take the chocolate-filled pastry bag, cut off a small opening at the tip and then quickly drizzle some chocolate at an angle on top of each marshmallow. The higher you hold the pastry bag, the thinner the dizzle will be.

Let the chocolate set completely before removing any excess drizzle strands stuck to the marshmallows. Optional: let the marshmellows air dry for 24h before storing in an airtight container. Enjoy!
Notes
Espresso: You will need about 6 single espresso shots.
Versawhip 600K substitution: Replace Versawhip and water in the meringue mixture with 200g ( ¾ cup) of aquafaba. To get that coffee flavor, mix in diluted instant coffee or concentrated coffee extract to taste right into the freshly whipped marshmallows before pouring them in a pan to set.
Tempering chocolate: My favorite method for tempering chocolate is using Mycryo but you could also use a seeding method or an ice bath method.
If you don't feel comfortable tempering chocolate, you can use Callebaut Dark Prima Coating, which doesn't require tempering.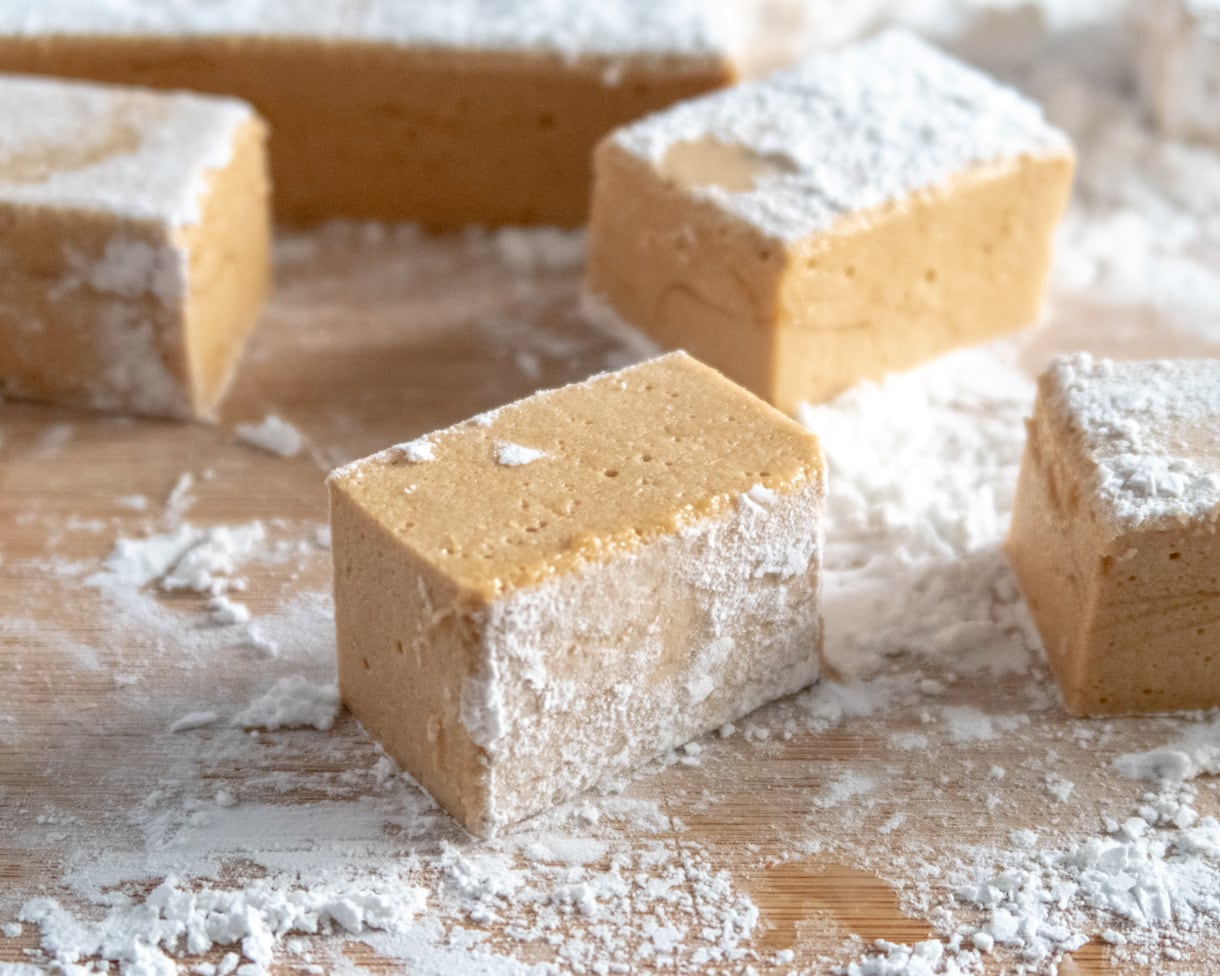 Did you try this cafeinated marshmallow recipe?
Don't be shy and let me know how it went! Leave me a comment below and share a picture on Instagram ! I'm also open to testing out other marshmallow flavours so let me know what oyu would like to see next on the Berry Baker blog.