Dainty classic vegan madeleines flavored with lemon pair beautifully with a full cup of tea. These small scalloped shell-shaped cakes only need a  light dusting of powdered sugar to make them pop.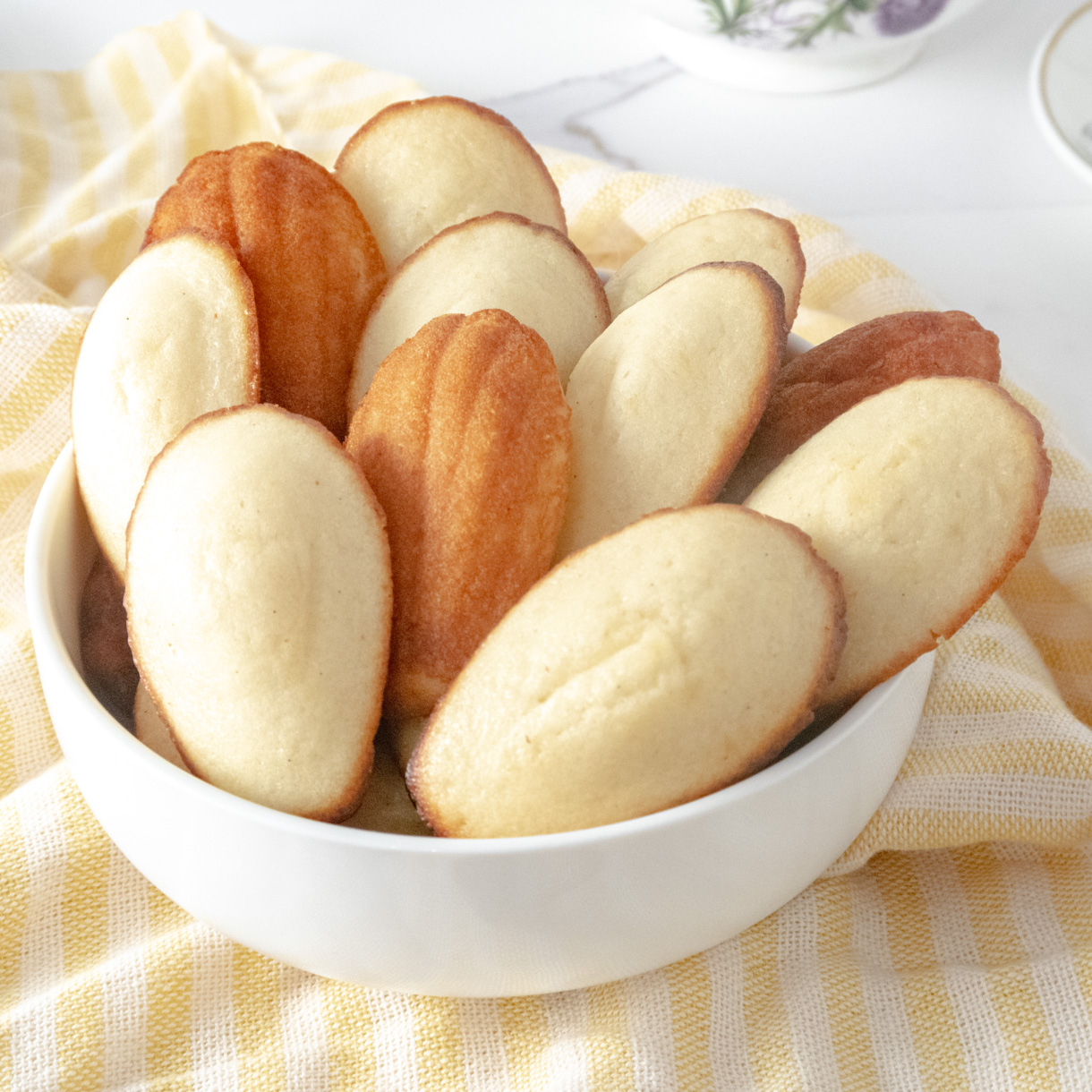 Share these fresh vegan madeleines with friends around a cup of tea or gift to someone you cherish for mothers day or valentine's day. They are also super easy to make.
This recipe is pretty straightforward. Feel free to skip right to the recipe or the section that interests you via this table of content.
Jump to: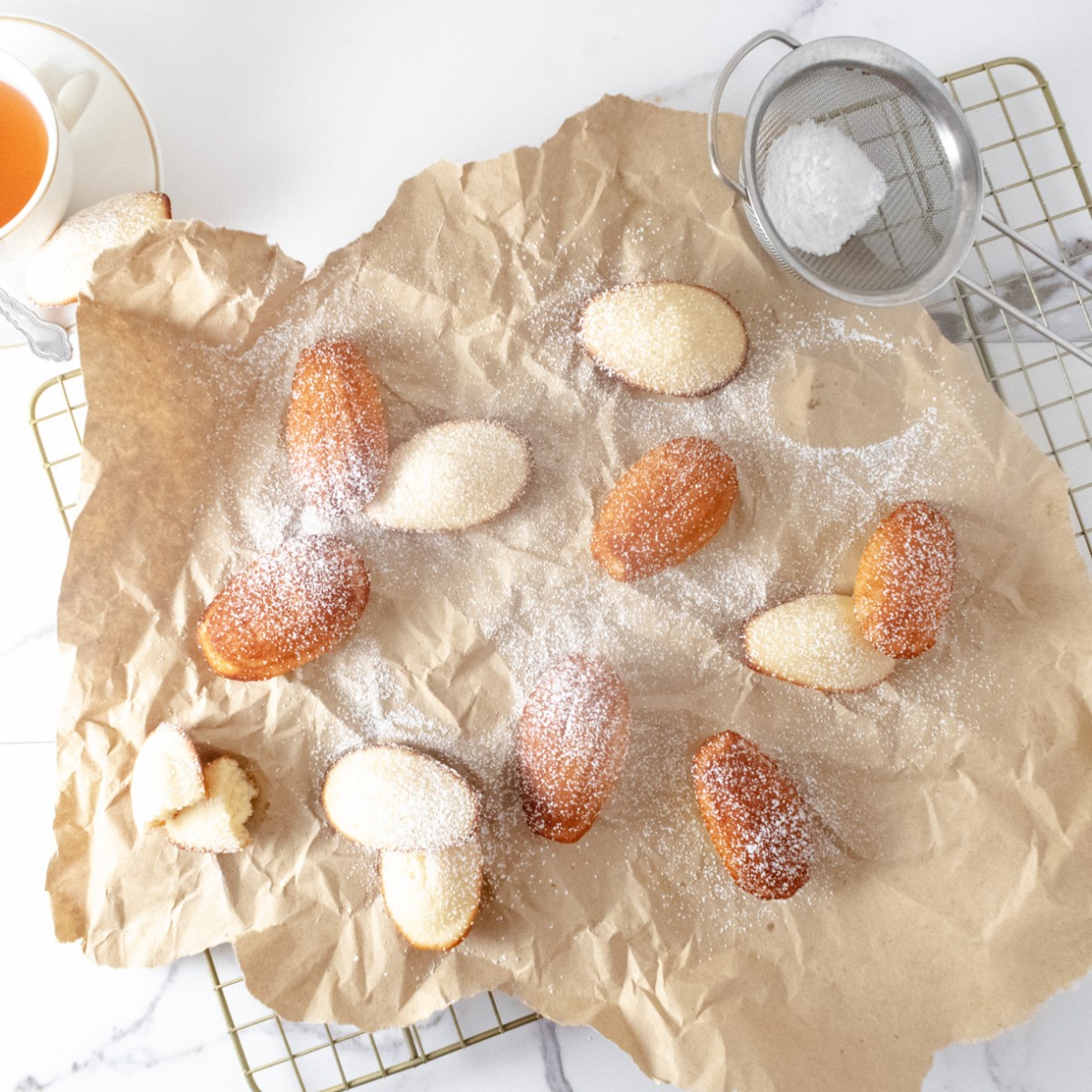 📖 Madeleines
What are Madeleines
Madeleines, also known as "petite madeleine", are small French tea cakes. They are baked in specialty baking pans to give them a distinctive small scalloped shell-shaped look. Madeleines are traditionally made of a genoise cake batter made of flour, sugar, eggs, and melted butter but variations can include nut flours and lemon zest.
They are sometimes described as cakes and other times as cookies. This is because in French cake layers are often referred to as "biscuits", which literal translation is "cookies",  and are only called cakes or "gâteaux" when they are assembled into a finished product. But I confirm that these madeleines are truly tiny cakes that can be eaten in 2 to 3 bites.
If you are looking for a crisp cookie to pair with your tea instead of a soft cake, take a look at my grapefruit and thyme shortbread, Viennese whirls, gluten-free classic shortbread, or even my pistachio and cranberry biscotti recipes.
Classic madeleine flavors
There are disagreements on if vanilla or lemon is the "classic" madeleine flavor. In pastry school, the lemon madeleine is what was presented as being the classic madeleine. This recipe is actually an adaptation of the recipe I learned on the school benches. 
However, if you want to try the vanilla version, simply omit the lemon zest in this recipe and add a teaspoon of vanilla extract to the batter.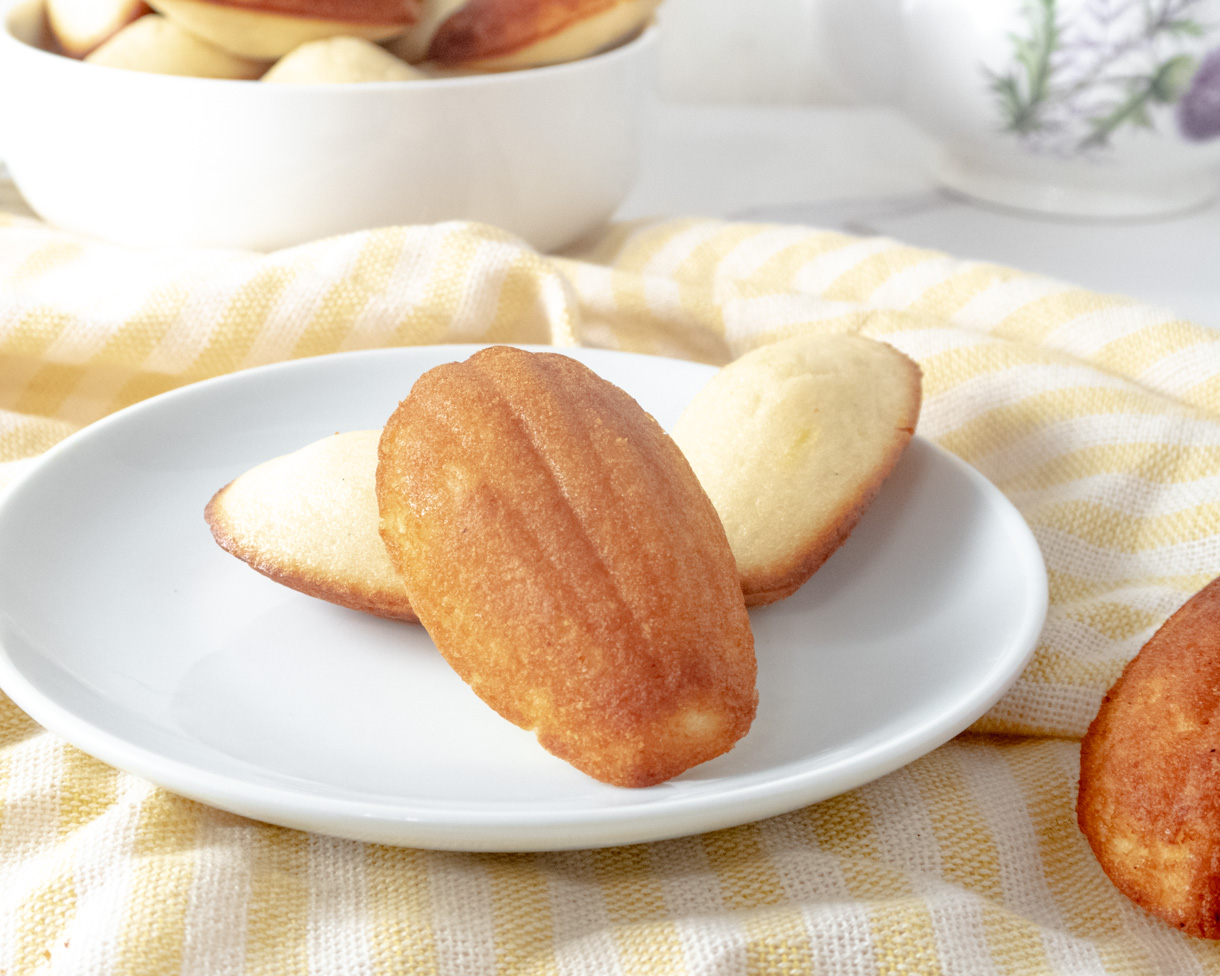 Making the perfect madeleine
The perfect madeleine recipe makes small madeleine cakes that have:
the distinctive shell pattern
a golden brown bottom and edges
light and airy crumb with a buttery taste
a tall hump or bump at the top of the cake. Without this, it's just a small shell-shaped cake and not a madeleine
Believe me, my recipe for vegan lemon madeleine ticks all the boxes.
These light cakes are best served slightly warm with a light dusting of powdered sugar. But feel free to also give them a quick dip in melted chocolate if that is your jam.
Since they are so small, they lose moisture quite quickly. They are best eaten within an hour or 2 of baking them.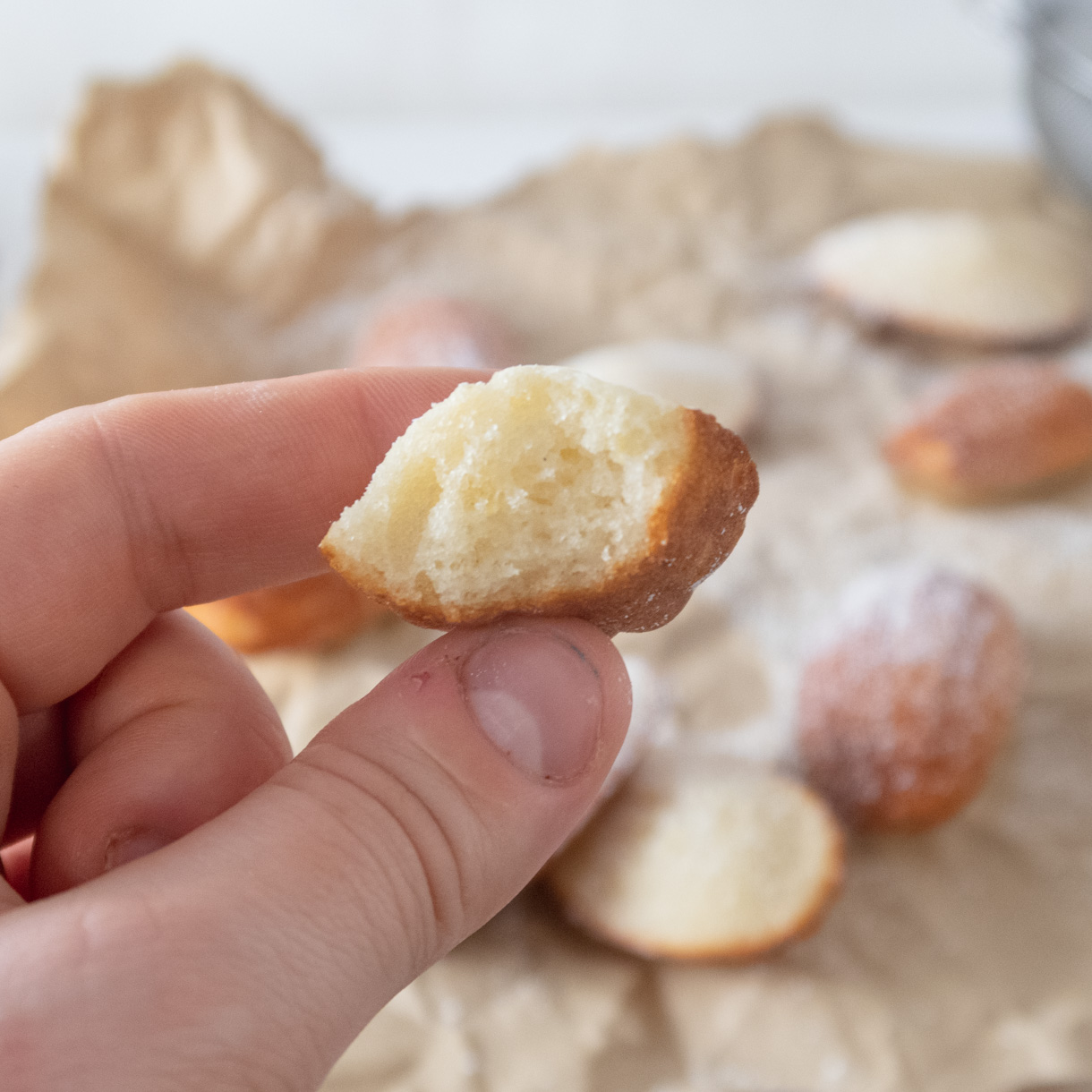 📋 Ingredients + Substitutions
Here is some extra info on some (but not all) of the ingredients so that we are all on the same page. However, this recipe is easily customizable so experiment with flavors as much as your heart desires.
Cornstarch is also known as cornflour in Australia and the UK. This will give a lighter texture to the cakes.

Substitution: Potato starch

Yogurt - I used Activia vanilla plant-based yogurt but any thick vegan yogurt (soy, coconut, almond) will do. The yogurt acts as an egg replacer in combination with cornstarch and leavening agents.

Substitution: Blended soft silken tofu

Vegan margarine- any margarine will do. I used a salted soft margarine from a tub.

Substitution: any light-tasting vegetable oil except coconut oil. However, the madeleine might taste a bit flavorless since you'll be missing that buttery flavor which is most of the flavor profile.

Plant-based milk - I used unsweetened and unflavoured soy milk but any vegan milk of your choice will work.
Lemon - You will need the zest of 2 large lemons and the juice of 1 lemon. If your lemons are on the smaller side, put a couple of extras in your basket
Leavening agents - This recipe uses both baking powder and baking soda. When picking up your baking powder, try to get a double-action one. This means that the baking powder will act a first time when in contact with liquids but also a second time when it is heated. Since we are going to refrigerate our batter, we still want our leavening agents to be able to make our batter rise once we cook it. The recipe will probably still work if you can't get a double-action baking powder but the madeleine bump might be on the smaller side.
See recipe card for quantities.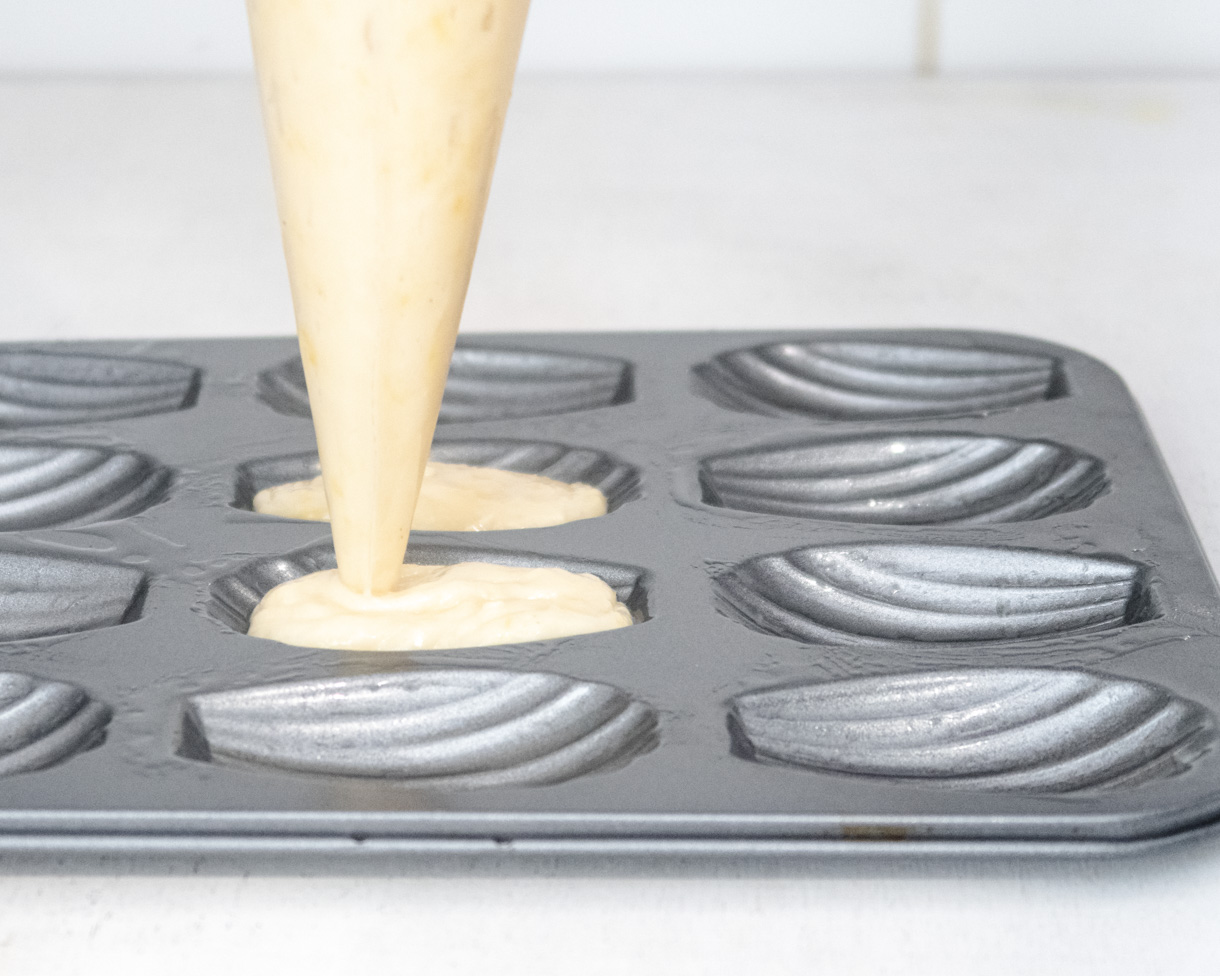 🥣 Instructions
Batter
Vegan madeleines have a very straightforward batter but there are still a couple of things that are different when compared to a classic cake recipe. 
Making this batter is as easy as mixing dry ingredients into wet ingredients. To be honest this recipe is even easier than the non-vegan recipe which requires you to whip eggs until you get a ribbon stage. Nobody got time for that!
Just make sure that your butter is melted but not warm to the touch anymore before starting. This batter is naturally on the thicker side. You will see the leavening agents act almost immediately when you mix in the dry ingredients so bubbles will appear in the batter.
Batter no-nos
As with all cake recipes, don't overmix the batter. The moment you don't see dry ingredients in the batter, stop mixing right away.
Refrigerating the batter before baking it is non-negotiable. It will help the cake bake at the edges quicker than in the middle, which boosts your chances of having that distinctive madeleine hump.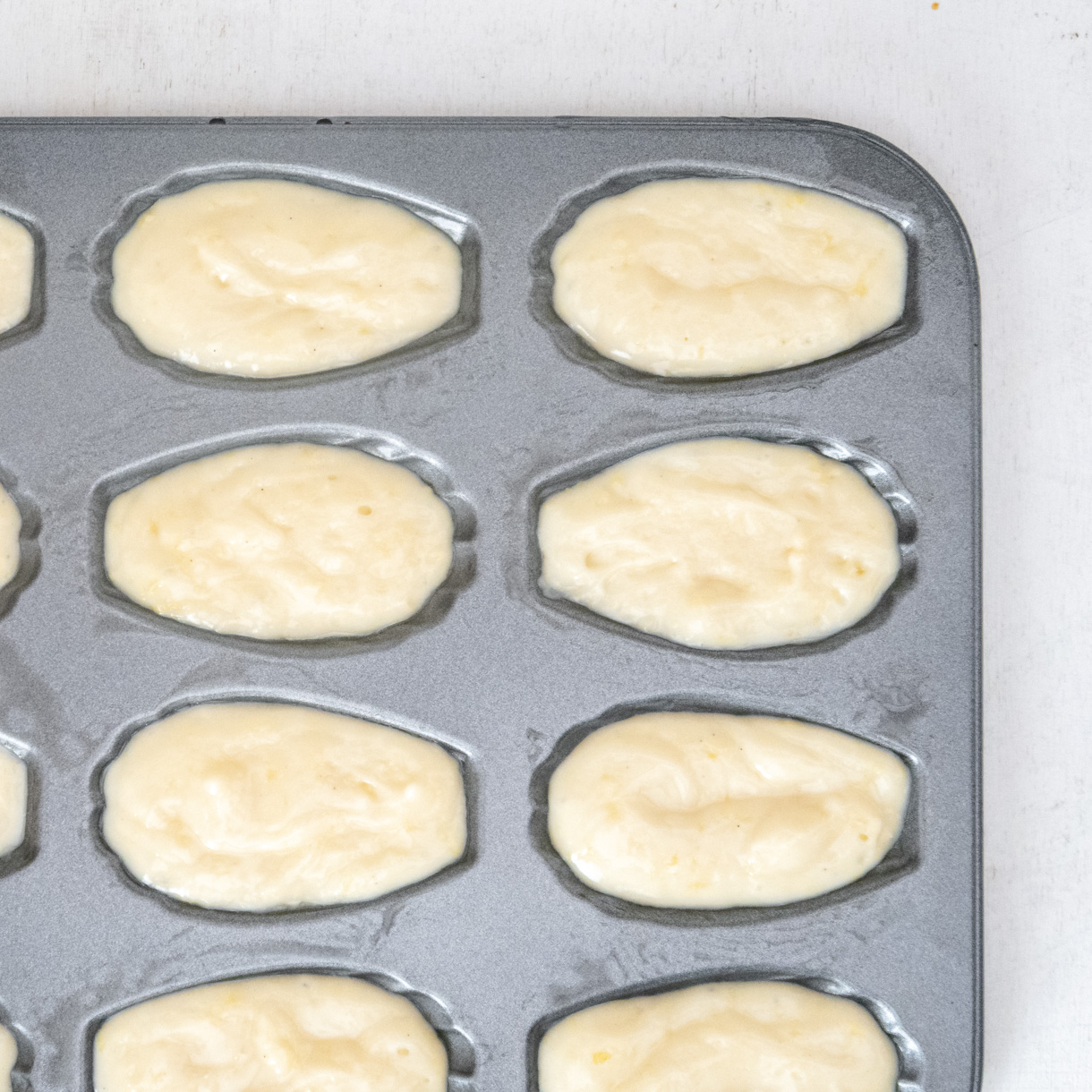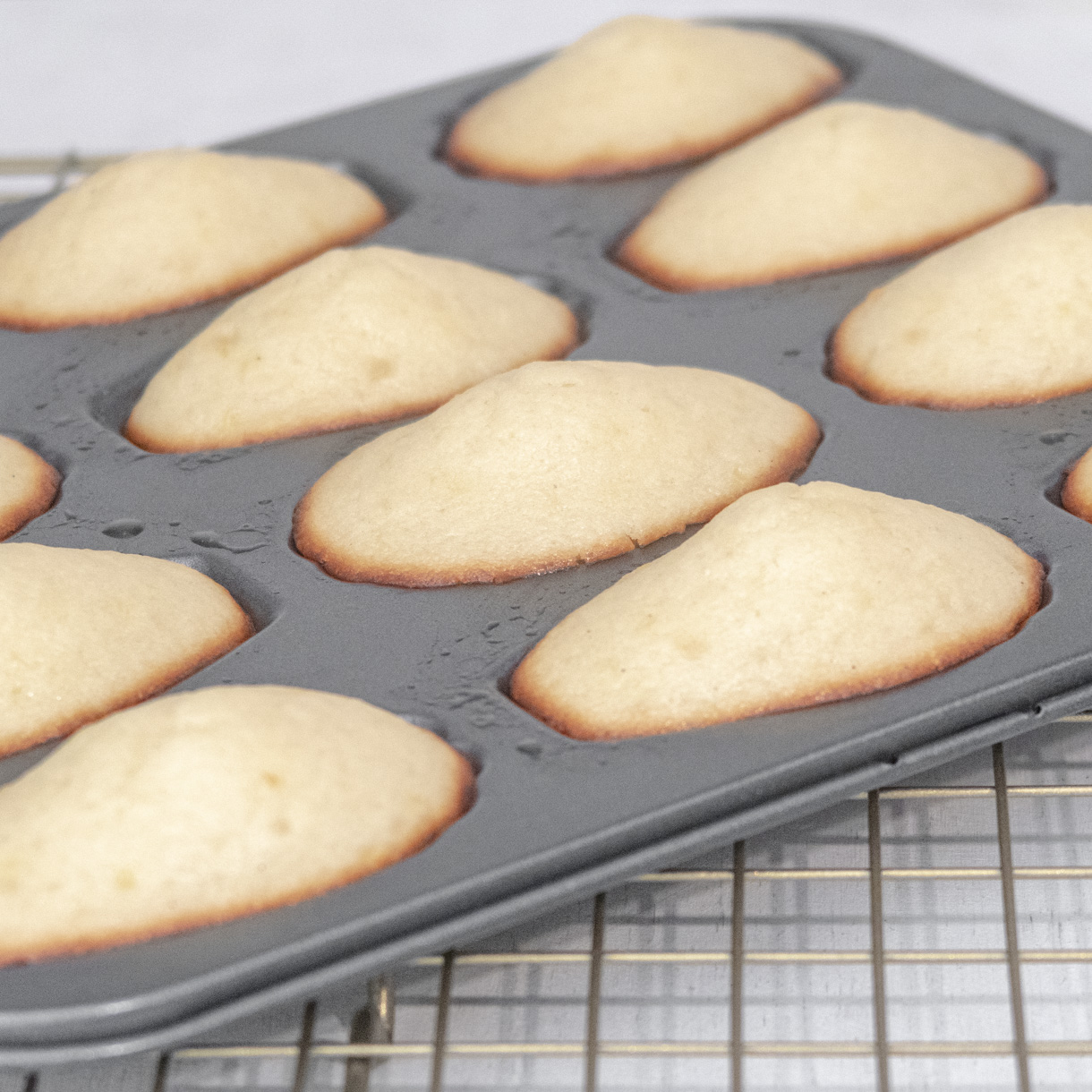 Filling the cavities
Before filling the madeleine cavities for baking, make sure your pan is buttered so that each madeleine comes out a perfectly even golden brown and so that they release easily.
You can use either a pastry bag, a freezer plastic bag, or 2 spoons to fill each cavity in the madeleine pan. The batter will be thick and won't settle once poured in, so flatten the batter by taping the underside of your madeleine pan against your open palm.
You don't want to overfill the batter as the edges that overspill while the madeleine bakes will be too crispy and it might also cause you to lose your bump. Try to fill the cavities ¾ of the way. It's better to underfill them than overfill them. 
If you feel like going the extra mile to get perfectly even in size madeleines, place the baking pan on a scale and weigh the batter as you pipe it. I found that 15g was the perfect amount of batter for my cavities but you might need to make a test batch to find the perfect amount for your own madeleine baking pan.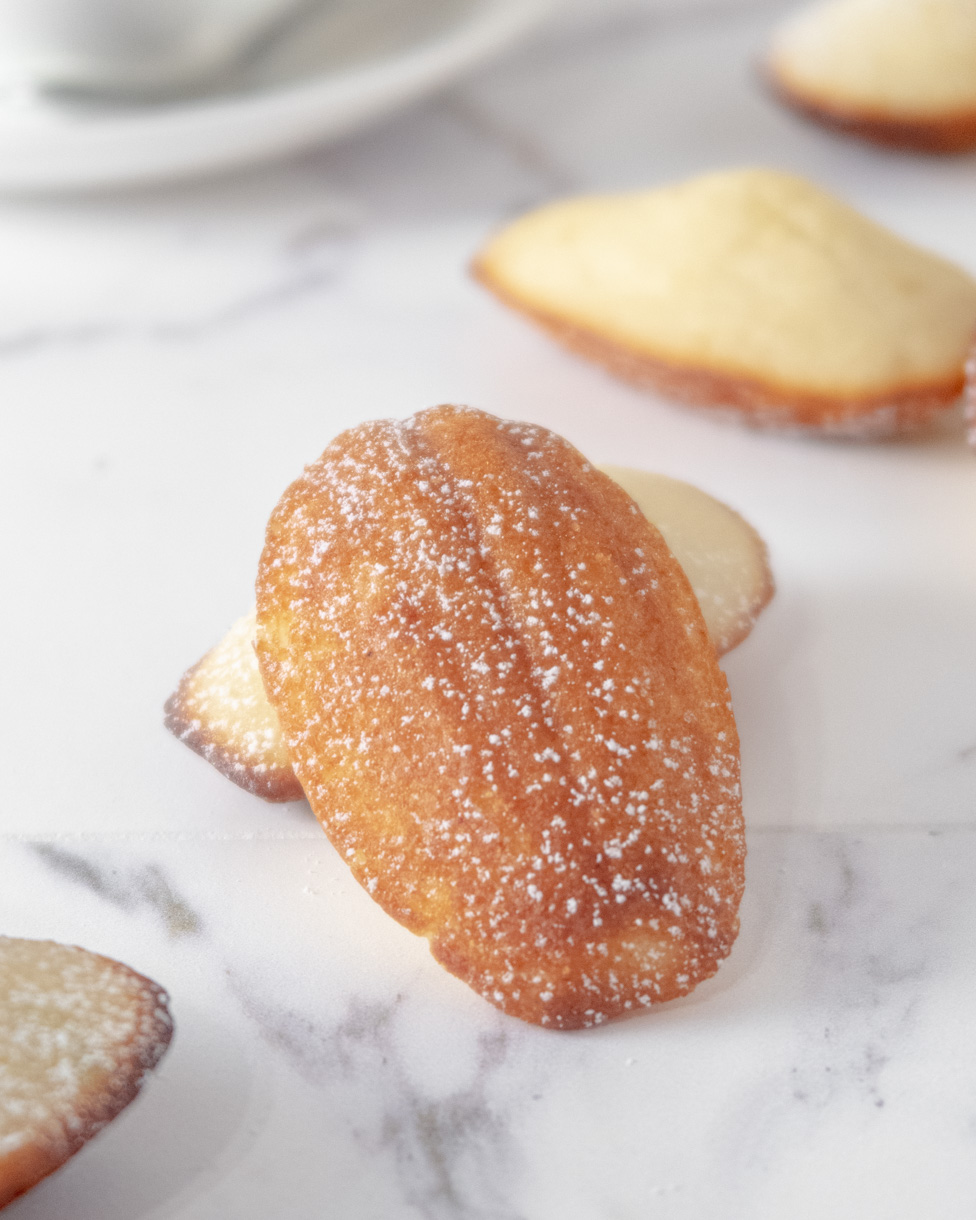 Baking
The oven's temperature for this recipe might seem high but we do want the edge of the cakes to cook quickly so that the middle has a chance to "hump" properly and to get that nice golden shell underside. 
However, since the temperature is so high, it's also easier to overbake these teacakes. So stay close by while these are baking so that you don't end up with overcooked dry madeleines. You might need to adjust the baking time depending on your oven. Once the edges become golden brown, start poking the madeleine hump to see if it springs back.
Right after they are done baking, release them from the pan to stop them from overcooking and let them cool down on a wire rack. To release the madeleine, flip the madeleine pan upside down and lightly tap one of the edges of the pan against your work surface and the madeleine should fall out.
If like me you only have 1 madeleine pan, you will want to keep the batter cold in the refrigerator in between baking batches and remember to reapply butter before refilling the cavities.
👩🏻‍🍳 Hump troubleshooting
You followed this vegan madeleines recipe but oh no, the bump doesn't want to appear. Here are a couple of things that might help. Keep in mind that these madeleines will still be delicious and will get devoured, even if they are hump-less.
Leavening agents
Check how fresh your leavening agents (baking powder and baking soda) are. They do lose their potency as they get old. If you don't remember when last bought them, then it's probably time to change them.
Overfilling
If your madeleine looks like it's expanding sideways instead of going straight up and has a crown of batter all around the top of the shell, then your cavities are probably overfilled. When the batter is leveled, it should be about ⅛ to ¼ inch  (3 to 6 millimeters) lower than the top of the madeleine cavity.
Oven temperature
You might also look at your oven temperature if your vegan madeleines don't hump.  A too cold oven can make flat madeleine so bump up your oven's temperature by 10 to 15 degrees and see if that solves your problem.
Baking tip
To help these cakes form their bumps, bake the madeleine for 2 minutes before poking a hole in the middle of the madeleine with a sharp object before continuing with the cooking process. This will create a weak point for the cake to expand and might help you get that desired hump.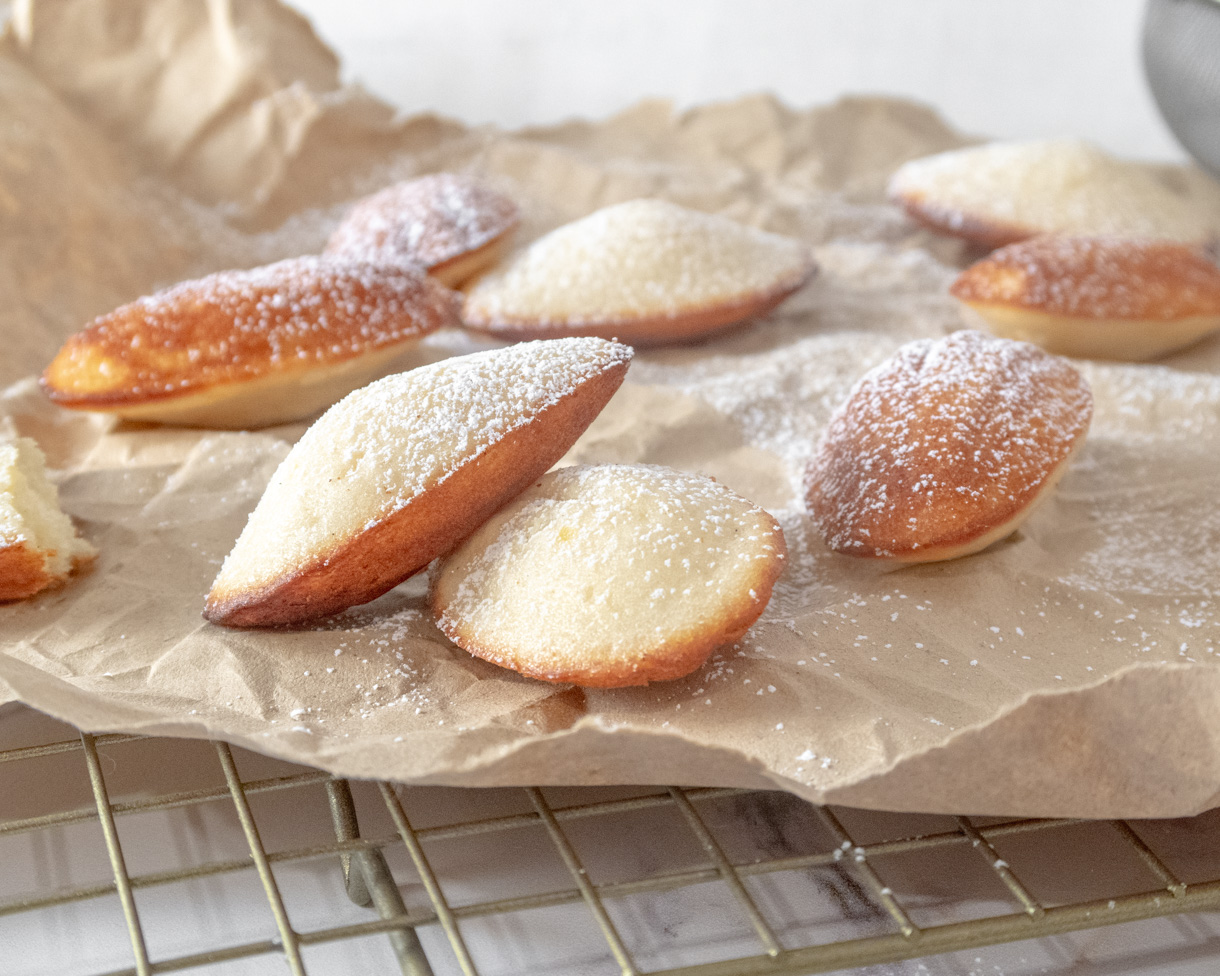 🔪 Equipment
1 metallic madeleine mold with 12 cavities. This is the most important equipment needed to make vegan madeleines. I do not recommend making these without a proper metallic madeleine baking pan. Mine is non-stick which I also recommend. Do not use a silicone mold as it does not give the same even baking results.
Large and medium mixing bowls
Wire whisk
Microplane - my Microplane is my favorite tool to zest any citrus. A box grater with small-size holes will also work.
Pastry bag, Freezer plastic bag, or spoons, to fill the madeleine cavities.
Pastry brush
Wire rack
I highly recommend you use a digital scale and weight measurements when following my recipes as it is more accurate. The only exception is with very small quantities where I recommend using teaspoons. While I have provided the cup measurements for this recipe, measuring cups are unreliable and they vary in volume worldwide.
🌡️ Storage
Madeleines are best eaten right after being baked as they go dry and stale quickly due to their petite size.
Room temperature: Store up to 24 hours in an airtight container with parchment paper in between layers.
Freezer: Allow them to cool down completely before freezing them fresh in an airtight container or a freezer bag for up to 1 month.
Make ahead: If you want to make madeleine in advance, I recommend making the batter and storing it in the refrigerator for up to 3 days. You can then bake fresh madeleine on-demand in less than 10 minutes when you need them.
Recipe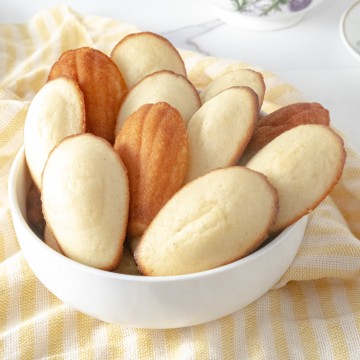 Print
Classic French Vegan Madeleines
Dainty classic vegan madeleines flavored with lemon pair beautifully with a full cup of tea. These small scalloped shell-shaped cakes only need a  light dusting of powdered sugar to make them pop.
Ingredients
Wet ingredients
60

g

vegan margarine + extra for the pan

(¼ cup)

30

g

lemon juice

(2 tablespoons)

2

tablespoons

finely grated lemon zest

, lightly packed

85

g

vegan yogurt

(⅓ cup)

30

g

plant-based milk

(2 tablespoons)
Dry ingredients
100

g

all-purpose flour

(¾ cup + 2 tablespoons)

25

g

cornstarch

(3 tablespoons)

80

g

white granulated sugar

(⅓ cup + 1 tablespoon)

1

teaspoon

double-action baking powder

(5 ml)

¼

teaspoon

baking soda

(1.25 ml)
Instructions
Melt the margarine and mix in the lemon juice and zest. Transfer the margarine into a large bowl and set aside at room temperature until it doesn't feel warm to the touch. Mix in the rest of the wet ingredients into the margarine mixture.

In a medium bowl, whisk together the dry ingredients.

Whisk the dry ingredients into the wet ingredients until you get a thick but smooth batter.

Cover and refrigerate the batter for a minimum of 1 hour, or until cold to the touch. The batter can be stored for up to 3 days in the refrigerator.

Preheat your oven to 425°F (220°C).

Using a metallic madeleine baking pan, lightly brush some melted margarine in each madeleine cavity before filling with batter ¾ of the way full using a pastry bag or spoons. You will need approximately 15g of batter per cavity depending on the size of your baking pan.

Bake for 5 to 7 minutes depending on size, or until the madeleines are golden brown at the edge and springs back when poked.

Right after they are done cooking, release each cake from their cavity before setting them on their side in the baking pan, or on a wire rack to cool completely. Optional: Serve still warm with a light dusting of powdered or icing sugar. Enjoy!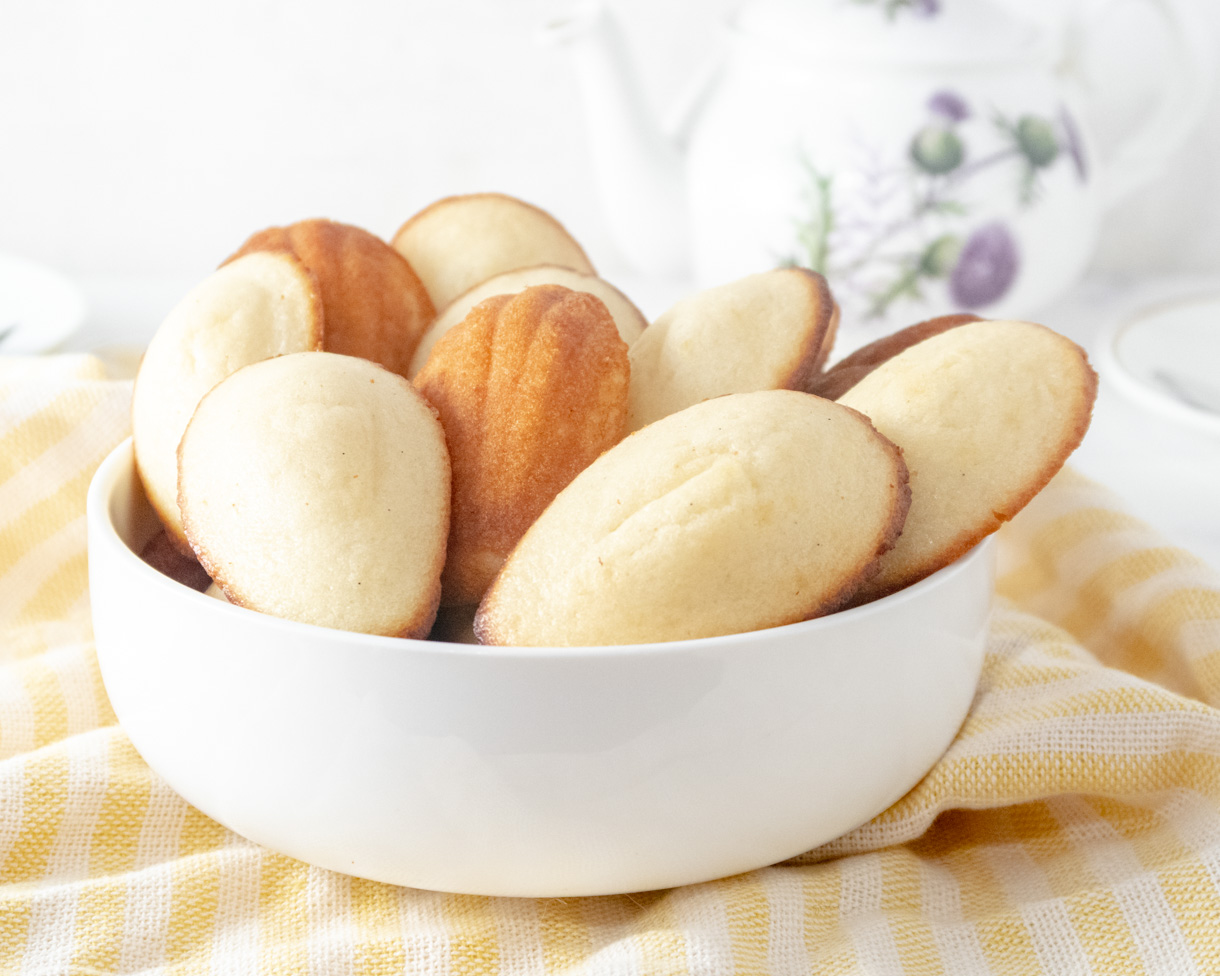 Did you try this lemon madeleines recipe?
Don't be shy and let me know how it went! Leave me a comment below and share a picture on Instagram!