Crispy and buttery grapefruit and thyme vegan shortbread make great gifts and are delicious when paired with a gigantic cup of tea.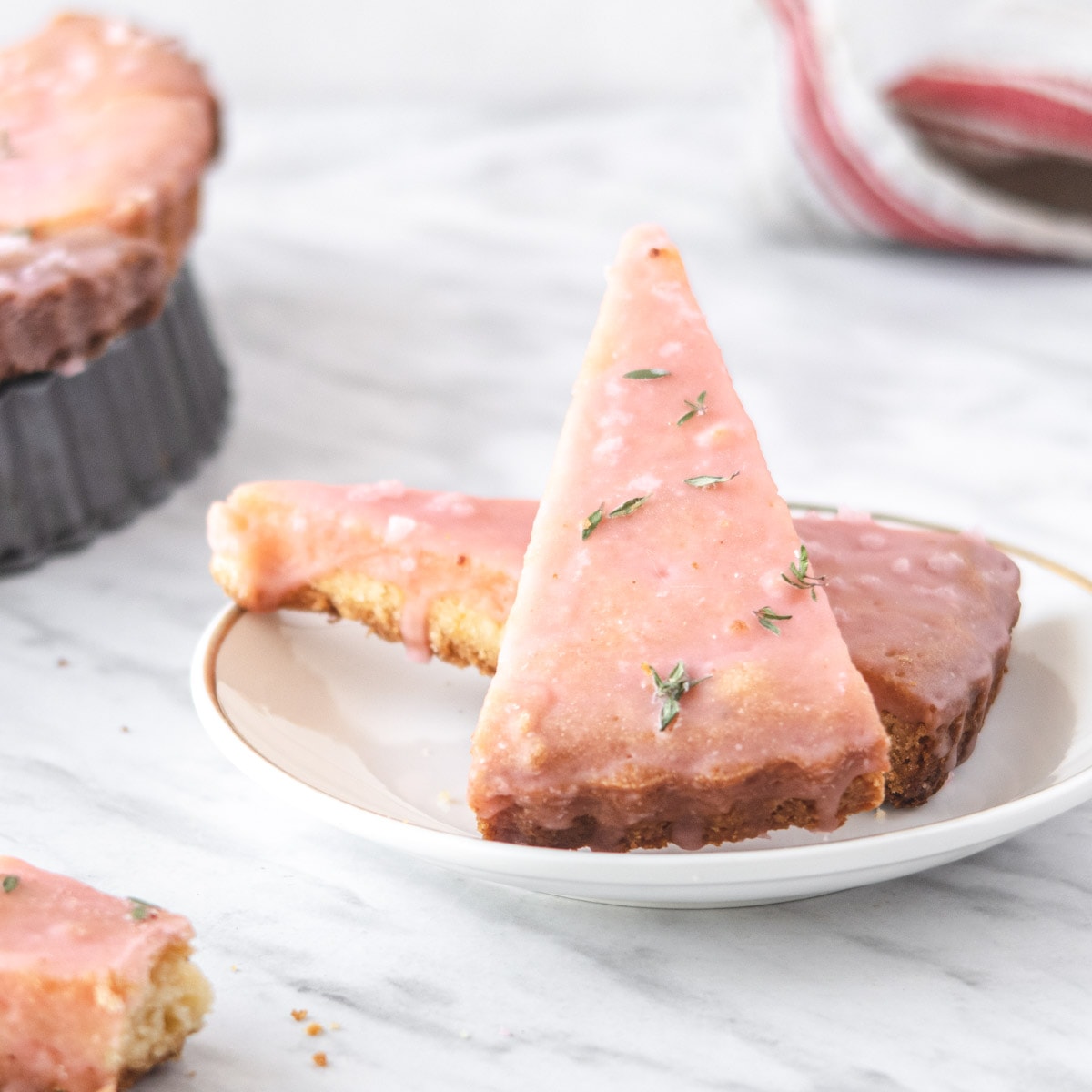 ---
Simple grapefruit shortbread cookies
These grapefruit and thyme vegan shortbread cookies are so simple to make that frankly I don't have much to say about them, other than they are delicious and you should definitely make them yourself (......and not share them with anyone 😛 ). 
There is no dough rolling to do and the shortbread dough is made quickly in a food processor. You simply need to press in the tart pan (or springform cake pan in a pinch) and bake! Soon, your whole apartment ( or house) will smell like cookies and joy. 
They might even disappear before you have a chance to give them away as presents since they are soooo delicious.
These vegan grapefruit shortbreads are crispy and crunchy, but if you are looking for a more tender and melt-in-your-mouth shortbread, go check out my traditional gluten-free shortbread recipe!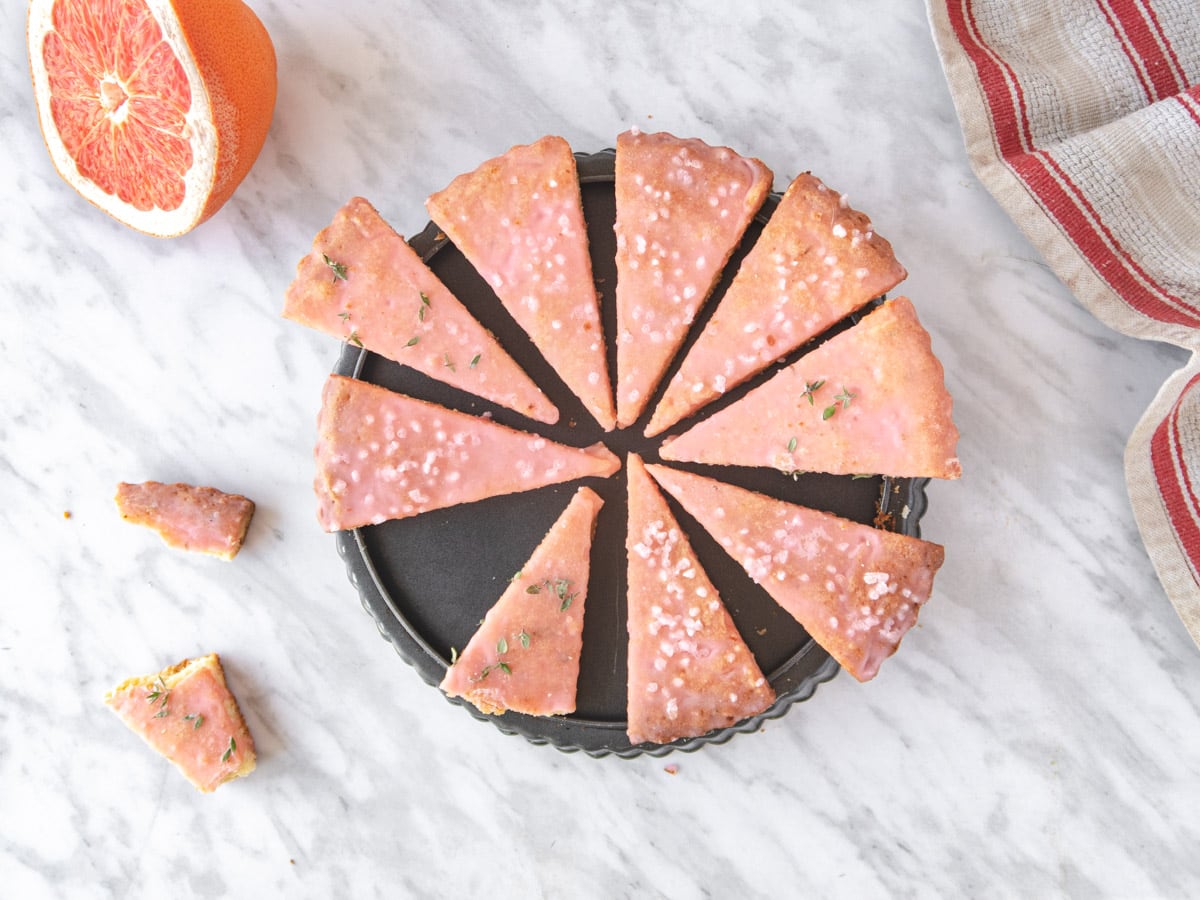 Dipping Tips + tricks
Instead of making a thick glaze for dipping, which could potentially break the cookies during dipping, make a thinner glaze and double-dip each cookie, letting them dry between each dipping.
A shallow bowl with a flat bottom and a large surface area is best to glaze these grapefruit shortbread cookies.
If you don't want to dip the cookies, you can make a thicker glaze by using only 1 to 2 tablespoon of grapefruit juice in the icing and drizzling it on top of each cookie with the help of a pastry bag or a freezer bag with a corner snipped off.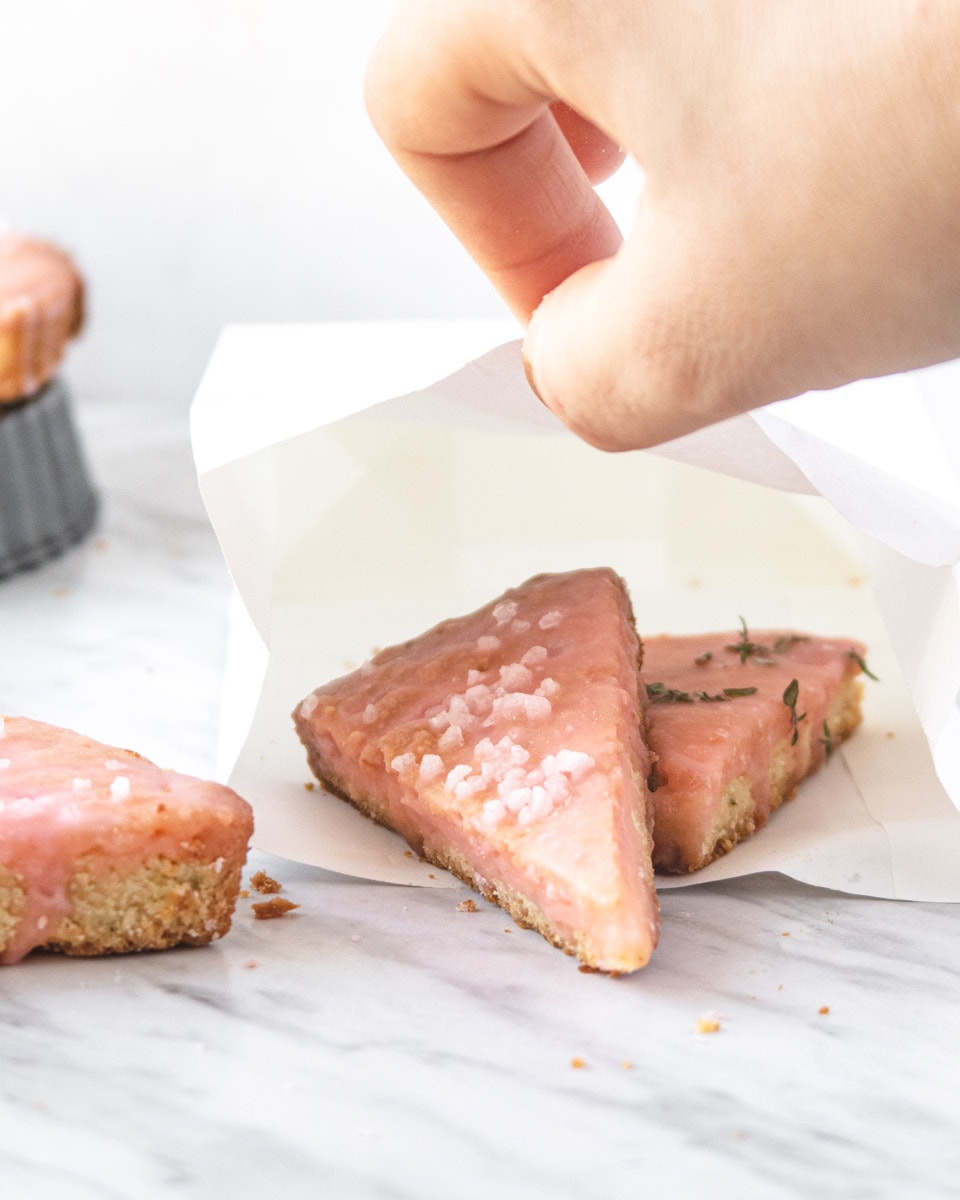 Storage
Store these vegan cookies preferably in a single layer in an airtight container. If you need to stack the cookies, place a piece of parchment or wax paper between layers.
Store at room temperature for up to 2 weeks or in the freezer for up to 6 months. If you decide to freeze them, I recommend glazing the cookies only after they have been defrosted.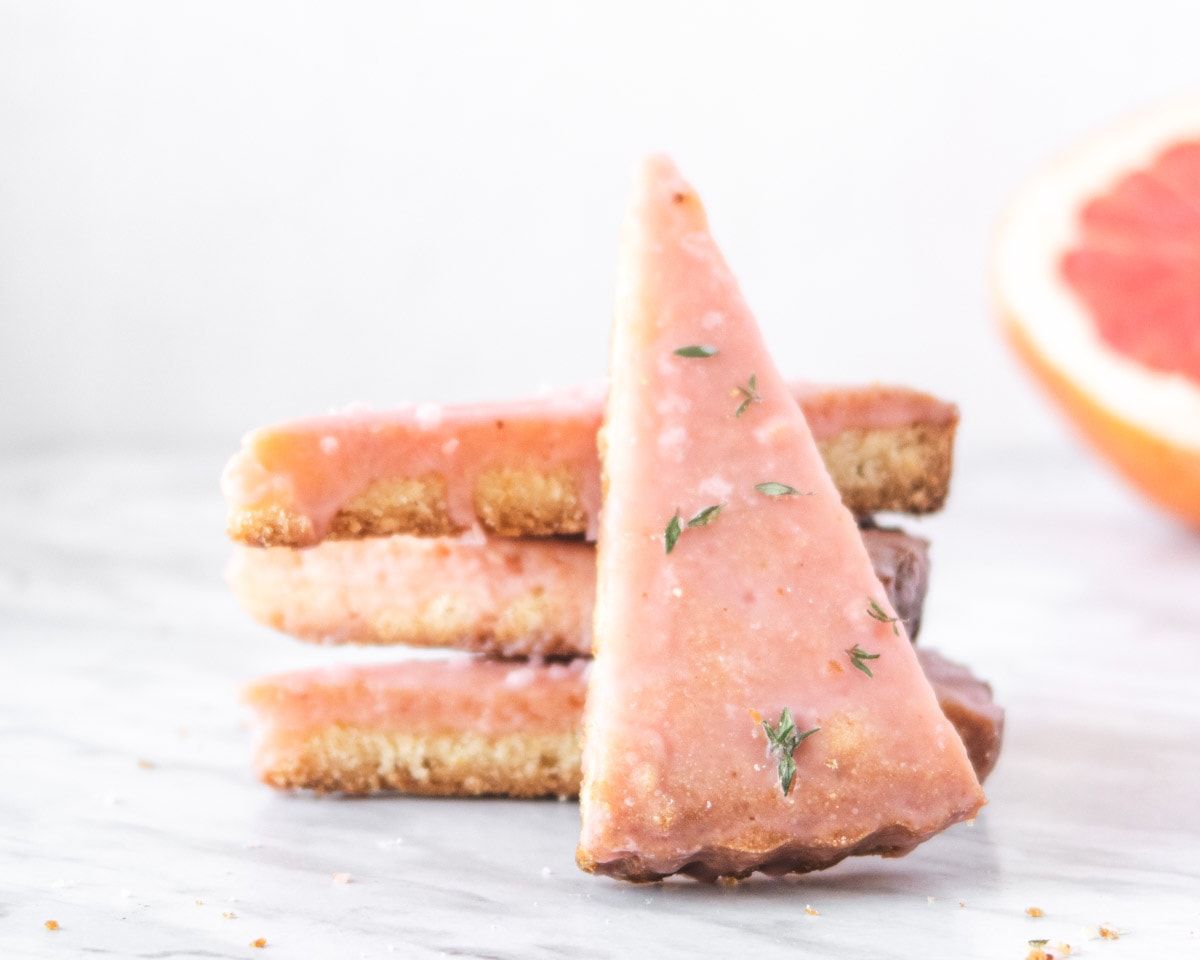 Recipe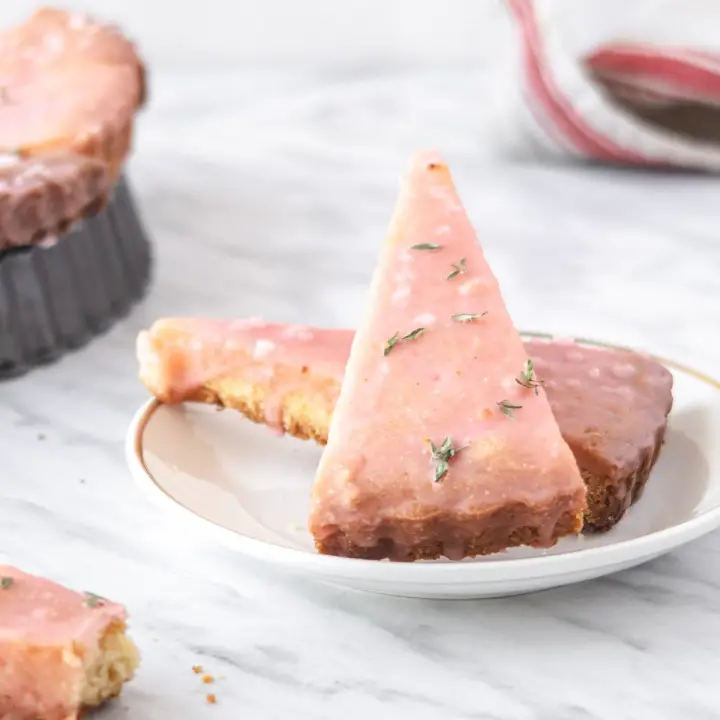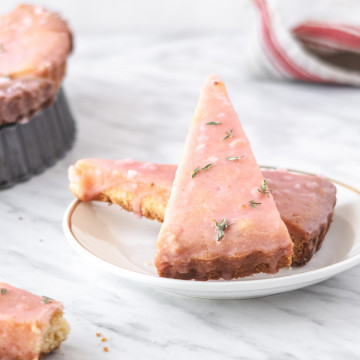 Print
Pink Grapefruit and Thyme Vegan Shortbread
Crispy and buttery grapefruit and thyme vegan shortbreads make great gifts and are delicious when paired with a gigantic cup of tea.
Ingredients
Grapefruit and Thyme Shortbread
240g

(2 cups)

unbleached all-purpose flour

100g

(¾ cup)

icing sugar

½ tsp

salt

1 tbsp

loosely packed, freshly grated, fine grapefruit zest

1 tbsp

fresh thyme

240g

(1 cup )

cold 1-inch cubbed unsalted vegan butter

, I like to use Becel plant-based bricks
Icing
200g

(1 ½ cup)

icing or powdered sugar

, sifted

60g

(¼ cup)

freshly squeezed grapefruit juice

, strained

Red or pink food gel coloring

, optional

fresh thyme or pearl sugar to garnish
Instructions
Grapefruit and Thyme Shortbread
Preheat your oven to 300F (150C)

In a food processor, add the flour, sugar, salt, zest, and thyme and pulse until combined.

While the food processor is running, add the cold cubbed vegan butter one by one until the mixture comes together in a rough ball.

Press the dough into a 9-inch fluted tart pan with a removable bottom until it is even all over.

Bake for 35 to 40 minutes, or until the cookie dough looks firm, dry, and slightly golden brown on the edges.

Remove the shortbread from the oven and straight away, with a sharp knife, cut 16 equal pieces. Leave the shortbread to cool completely in the tart tin before removing the cookies by lifting up the removable bottom.
Icing
While the cookies are cooling down, prepare the icing by adding slowly the grapefruit juice to the sifted icing sugar while whisking vigorously. Adjust the quantity of grapefruit juice to your desired consistency. If using, add food coloring to your desired shade. Place the icing in a large bowl where you will be able to maneuver and dip the shortbread cookies in.

Holding the cookies by its side, slowly dip the top part of the cookie until completely covered. Place on a drying rack and continue dipping until all the cookies have had their first coat of icing.

Starting back with your first dipped cookie, repeat the process so that each cookie receives a total of 2 icing dip. Garnish the top of each cookie with fresh thyme or pearl sugar and leave to dry until firm. Enjoy!
Notes
Can also be cut into 12 larger cookies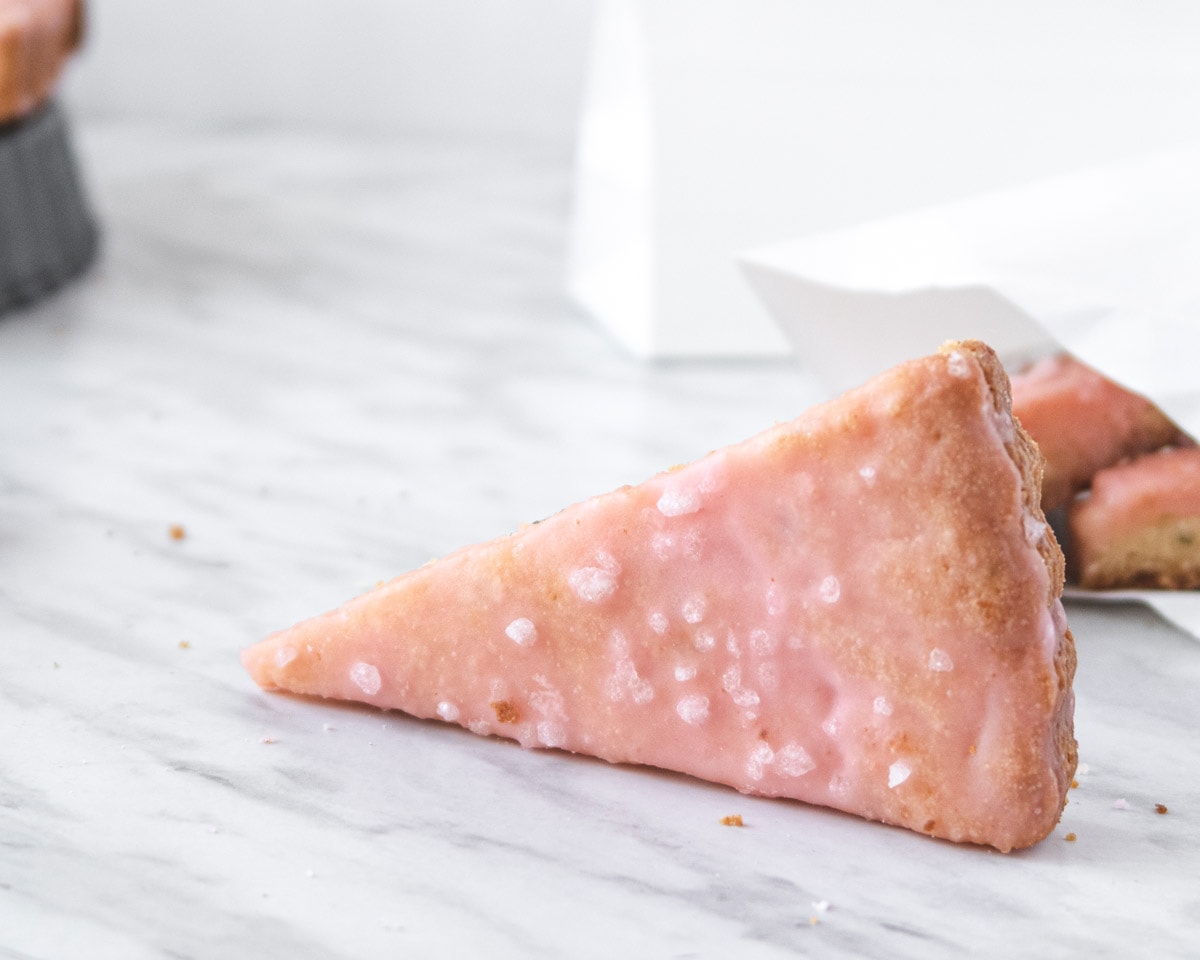 Did you try this recipe?
Don't be shy and let me know how it went! Leave me a comment below and share a picture on Instagram !