Melt-in-your-mouth gluten-free shortbread cookies that are the perfect companion to a warm cup of tea or a great gift to that celiac person in your life. It also only takes 5 minutes to bring this dough together, which gives you plenty of time to catch up on other baking plans.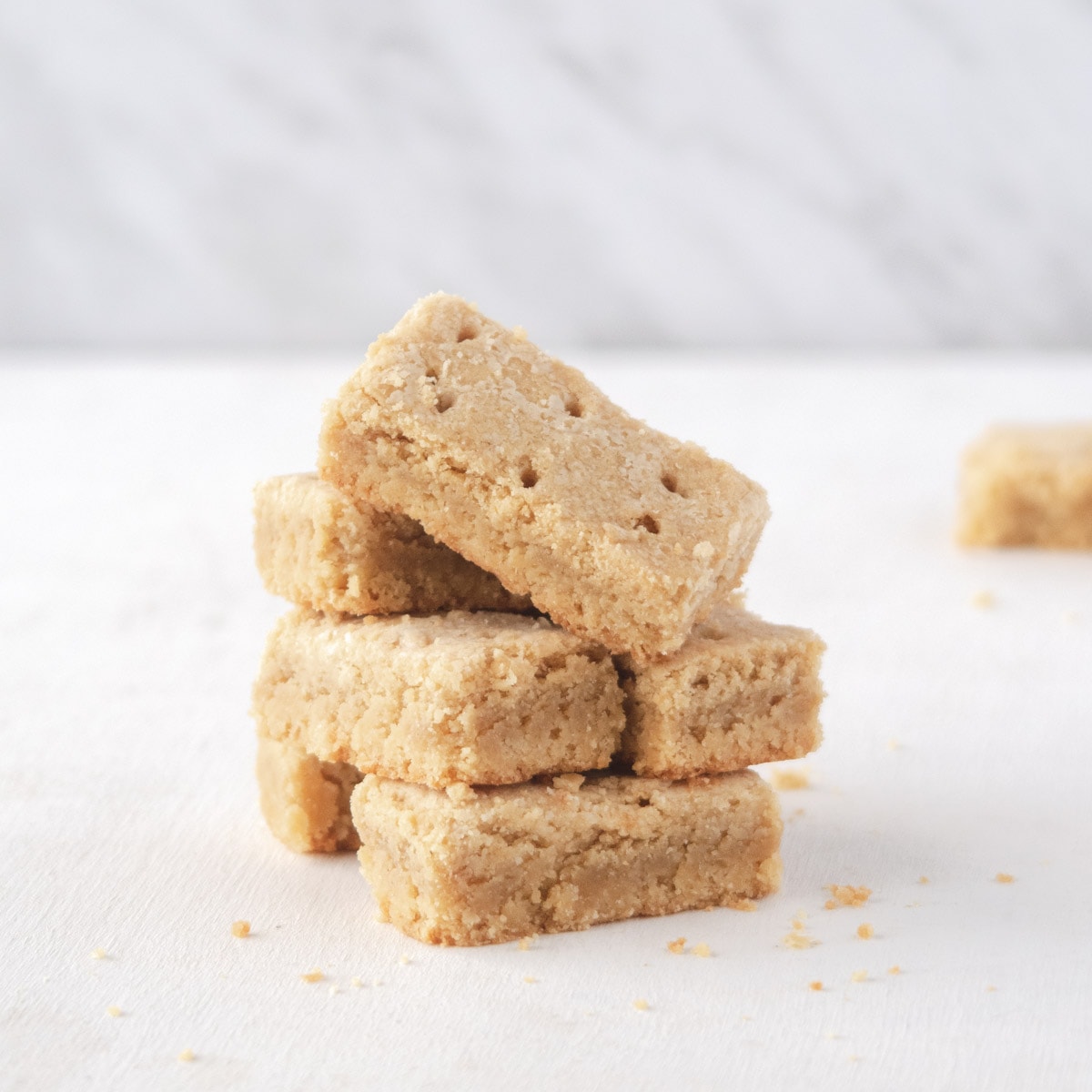 ---
Great gluten-free gifts
These gluten-free shortbread cookies are amazing gifts. They taste great, have a nice light and friable texture, and take very little active time to make. I actually created this recipe as a gift for my mom who doesn't get enough gluten-free stuff in her stockings, to be honest. 
I also sliiiiightly got inspired by biscuits with the boss from Tel Lasso. If you haven't seen this TV show yet, you really should. It was like a warm cup of tea for my soul. I now also get why he always gave them cookies in a cute little box. Like his, these vegan shortbread cookies are buttery and delicate, which means that placing them in a plastic bag might break them.
So I recommend placing these cookies in a box when giving them as gifts and to place a sheet of parchment or was paper between layers if you need to stack them up.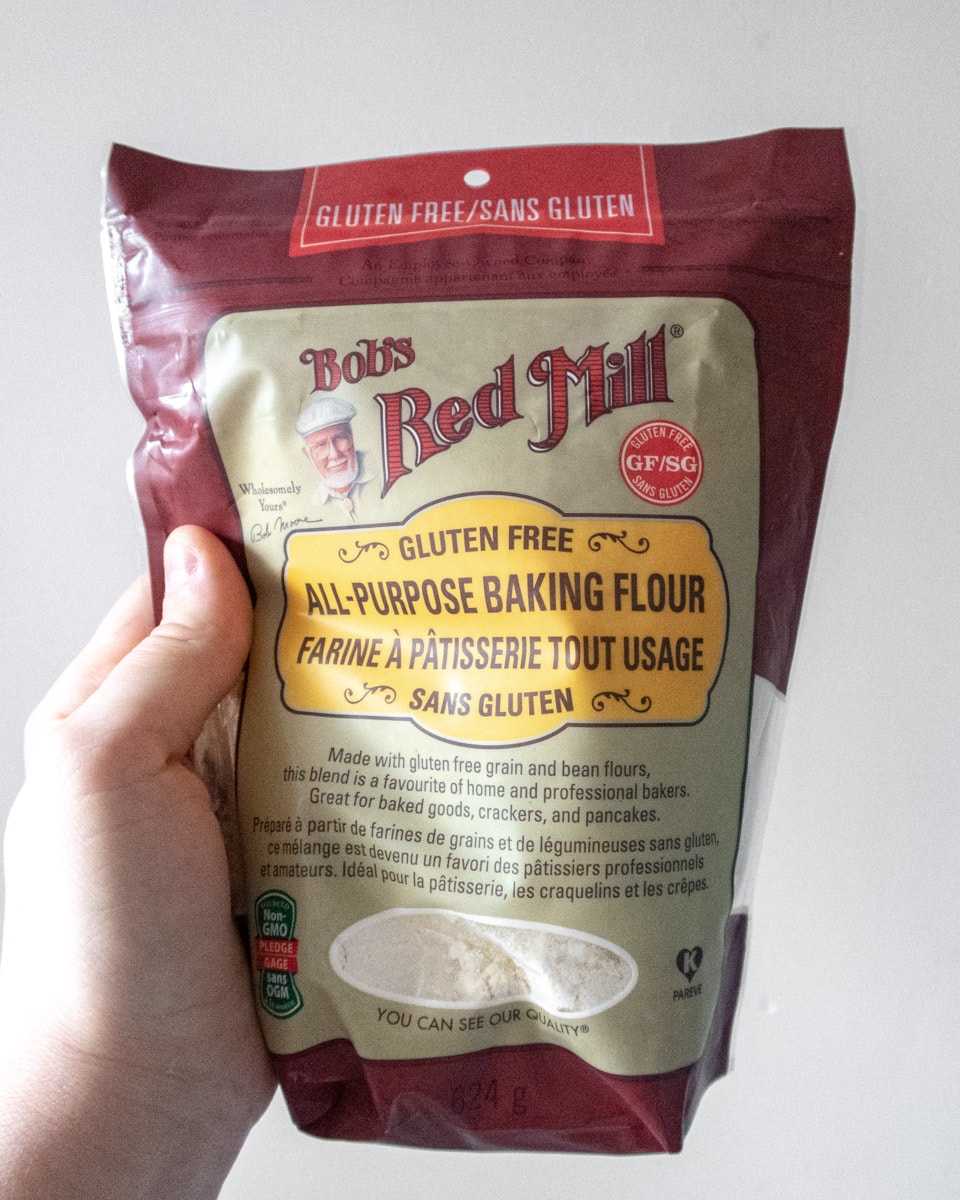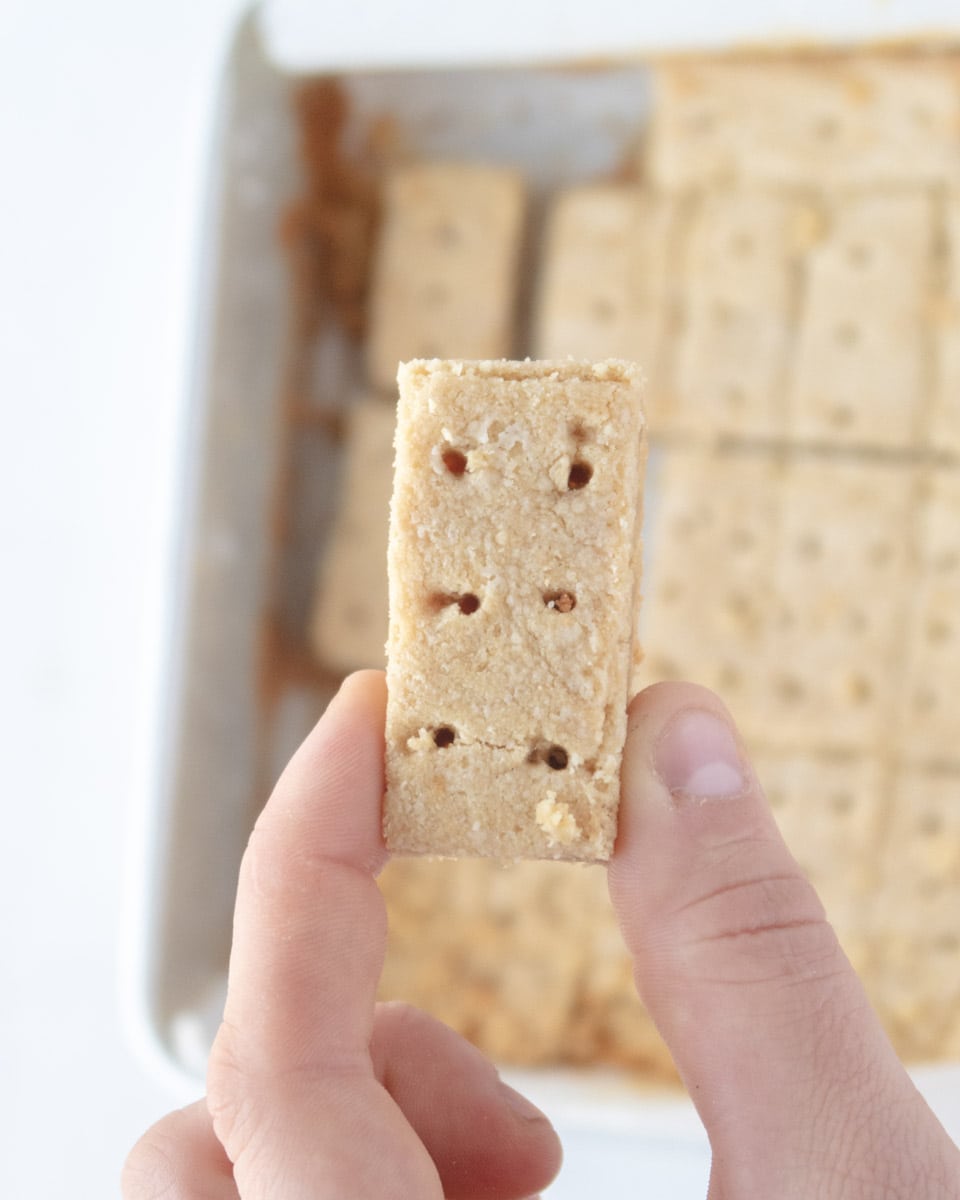 To make these gluten-free shortbreads, I used Bob's red mill gluten-free all-purpose baking flour. While raw it has the most awful taste ( it's the garbanzo flour), once cooked, you don't get any of that weird taste in the flour.
I found It doesn't even have a distinctive taste. And compared with other gluten-free flours I have tried in the past, I didn't get any grittiness that usually comes with rice flour. I even had one of my friend blint test these gluten-free cookies and he didn't realize they were gluten-free!
RELATED : In need of another gluten-free friendly gift? Try these chocolate meringue kisses cookies!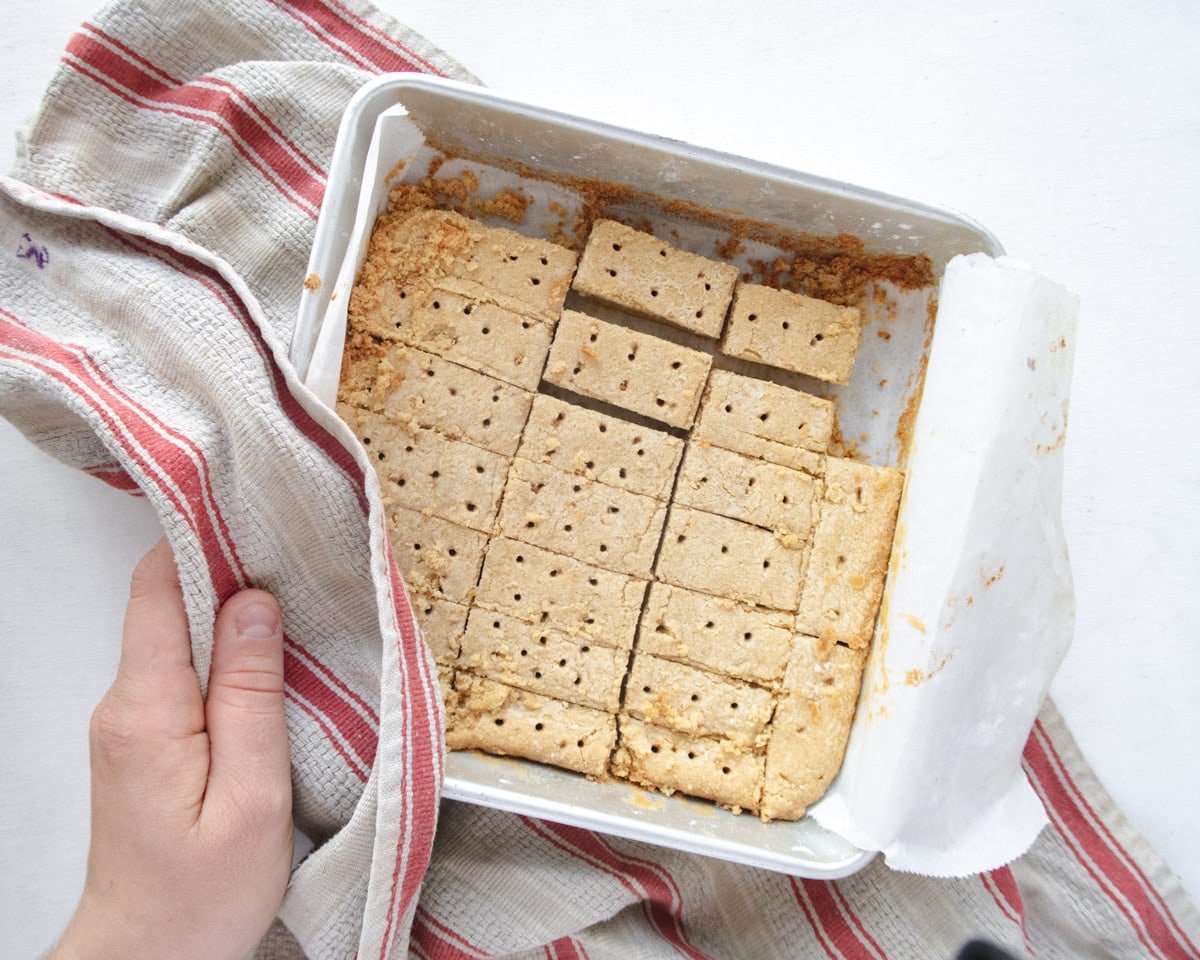 How to make these vegan shortbreads by hand?
These vegan shortbread cookies are made in a food processor but if you don't have one on hand, here are the instructions to make them by hand.
Start by placing all your dry ingredients in a large bowl whisk until incorporated. Place your diced butter in the dry ingredients and start by breaking up the pieces of butter with the tip of your fingers. 
Once the butter looks like 1cm pieces, you can start rubbing the mixture between the palms of your hands back and forth, making sure not to press too hard. This will "sand" your preparation. You then only need to add your vanilla, roughly mix and bring the dough together into a ball before continuing on with the pressing of the dough into the prepared pan. Voilà!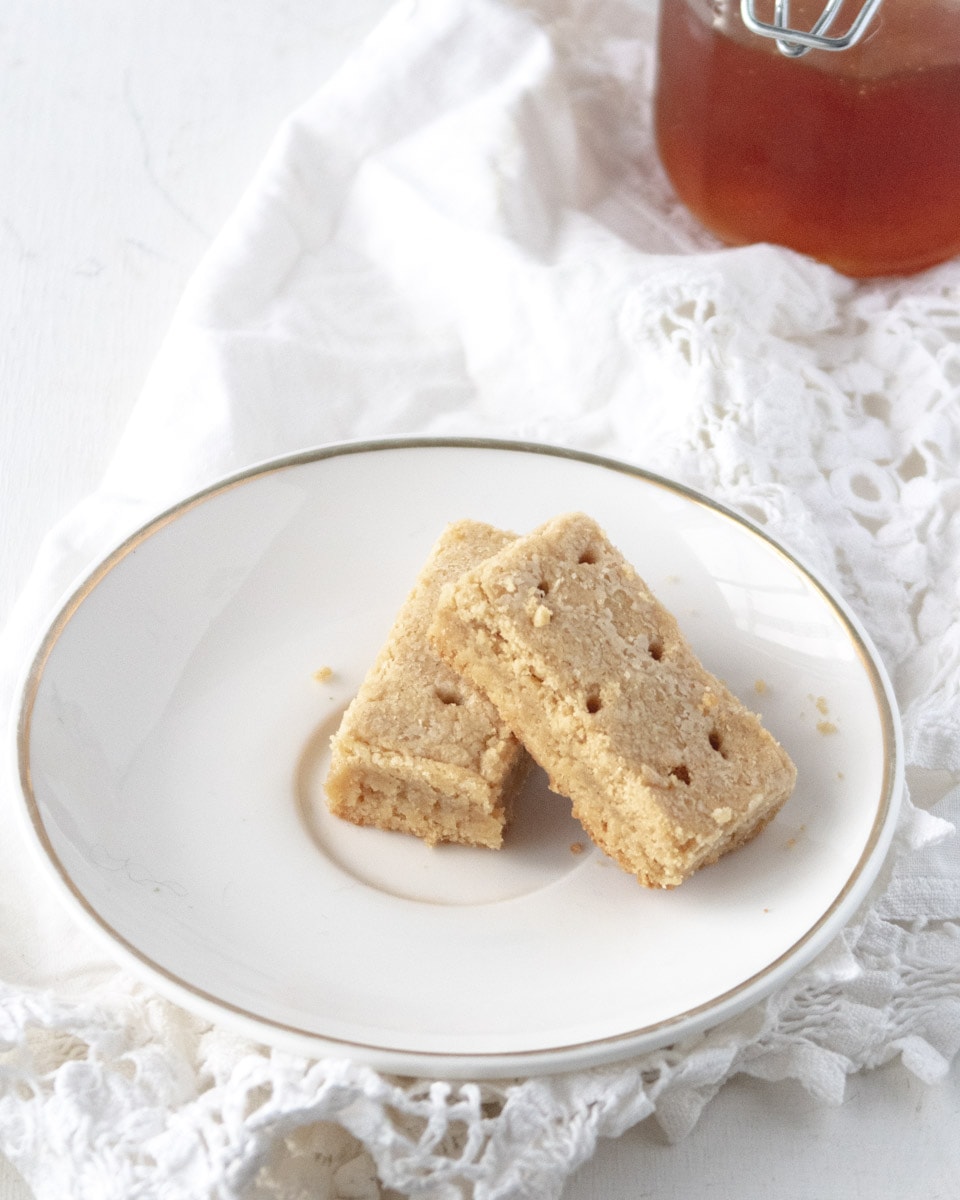 Tips + tricks
Check that the dough is spread in an even layer, if not, the dough will cook unevenly. You might even end up with burnt corners which is the usual trouble maker.
Poke individual holes into the cookies with a digital food thermometer. It is the perfect tool for those finishing touches and will give you precision and nice —  not too big and not too small — holes.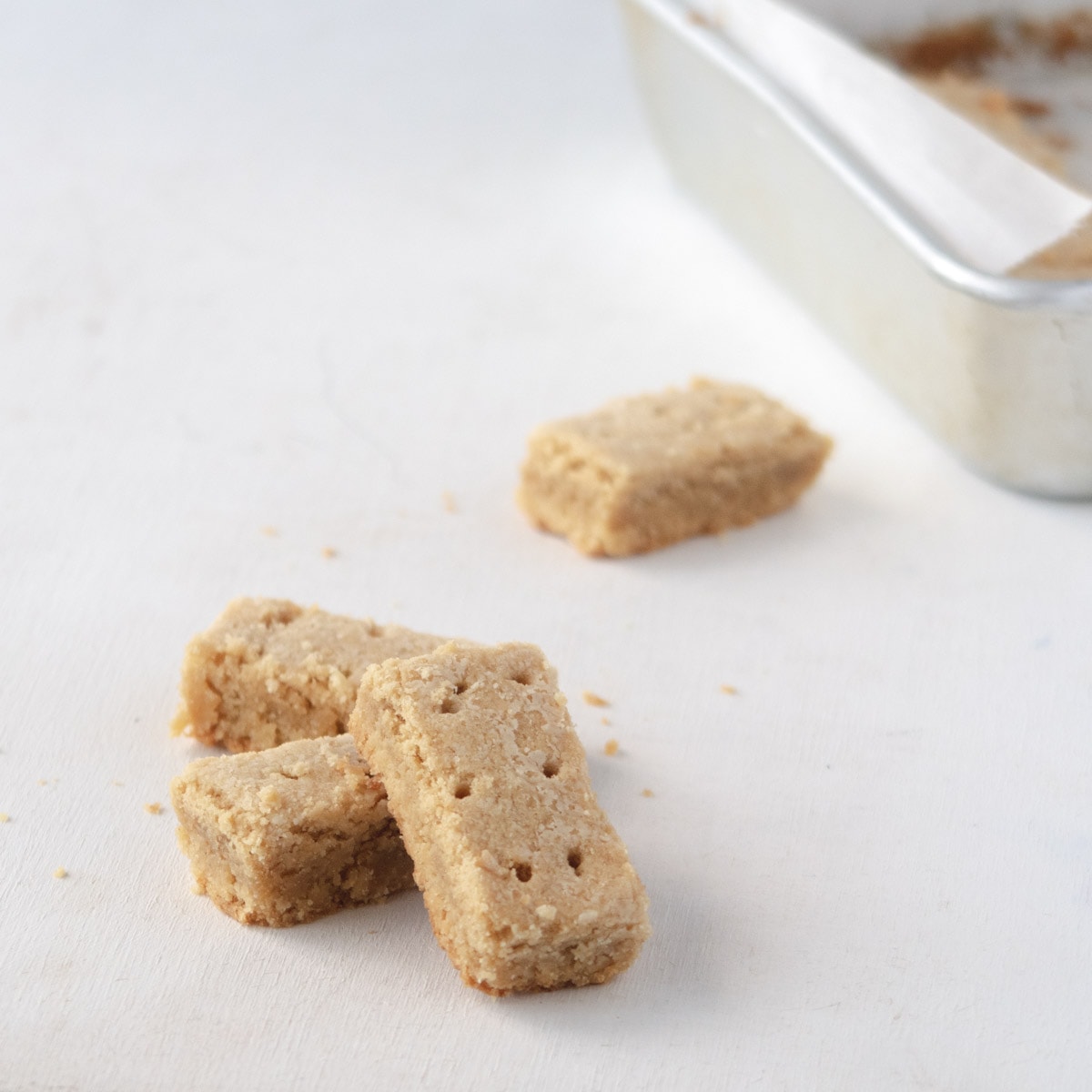 Storage
Thse cookies do great when stored by themselves in an airtight container at room temperature for up to 2 weeks ( some even says they keep them up to 1 month). But trust me, half my pan of gluten-free shortbread cookies disappeared the same day they were made so I highly doubt they will last this long.
You could also freeze these cookies once baked, again in an airtight container, for up to 6 months.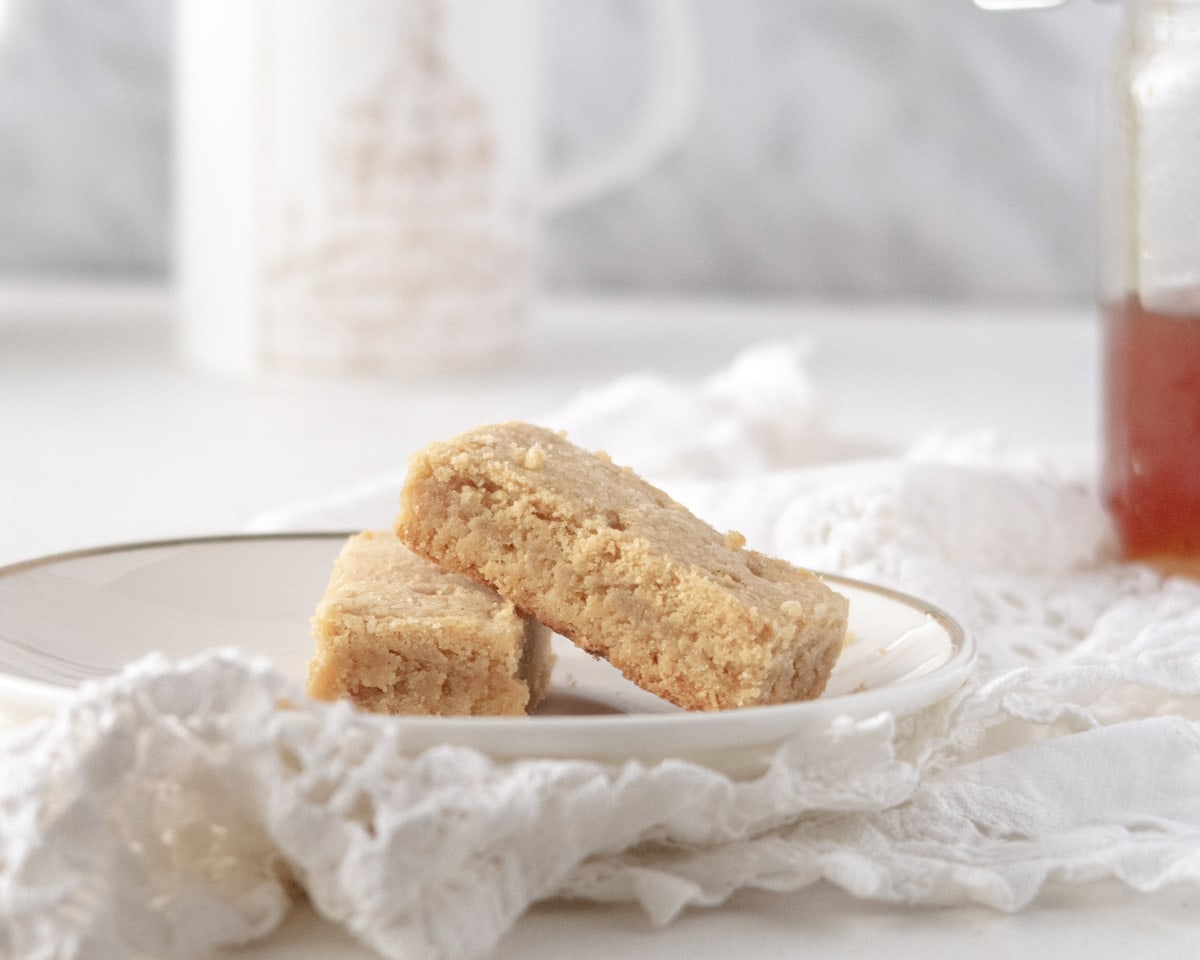 Recipe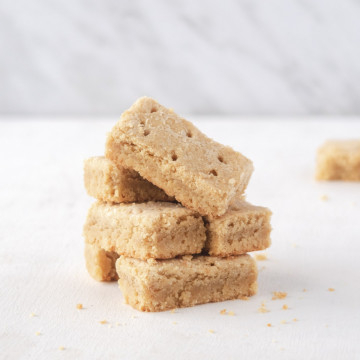 Print
Classic Vegan and Gluten-Free Shortbread Cookies
These melt-in-your-mouth gluten-free shortbread cookies that are the perfect companion to a warm cup of tea, or a great gift to that celiac person in your life.
Ingredients
272g

(2 cups)

bob's red mill gluten-free all-purpose baking flour

1

teaspoon

xanthan gum

100g

(½ cup)

granulated white sugar

1

teaspoon

salt

2

teaspoon

vanilla extract

240g

(1 cup)

chilled and cubed unsalted vegan butter

, I use Becel plant-based bricks

cornstarch

, as needed
Instructions
Preheat your oven to 300°F (150°C)

In a food processor, add the flour, xanthan gum, sugar, and salt and pulse until combined.

While pulsing the food processor, add the cold cubbed vegan butter one by one until the mixture looks like a coarse meal.

Add the vanilla extract and continue blending until the dough comes together into a soft ball.

Line an 8 x 8-inch square baking pan with an 8-inch strip of parchment paper, leaving some overhang on both sides for unmolding.

Transfer the shortbread dough onto the prepared pan, sprinkle the top with some cornstarch, and press into the bottom of the pan, making sure to keep an even thickness throughout, including into the corners. You can use a sheet of parchment paper and the bottom of a flat glass to help you flatten out the dough.

Bake for 35 to 40 minutes, or until the dough looks cooked, slightly matt, and golden brown on the edges.

Right after removing the pan from the oven, cut into 1 x 3-inches pieces with a sharp knife and poke holes to give each shortbreads it's distinctive look.

Leave to cool completely in the pan before removing the cookies by pulling on each overhangs of parchment paper to release them from the pan. Enjoy!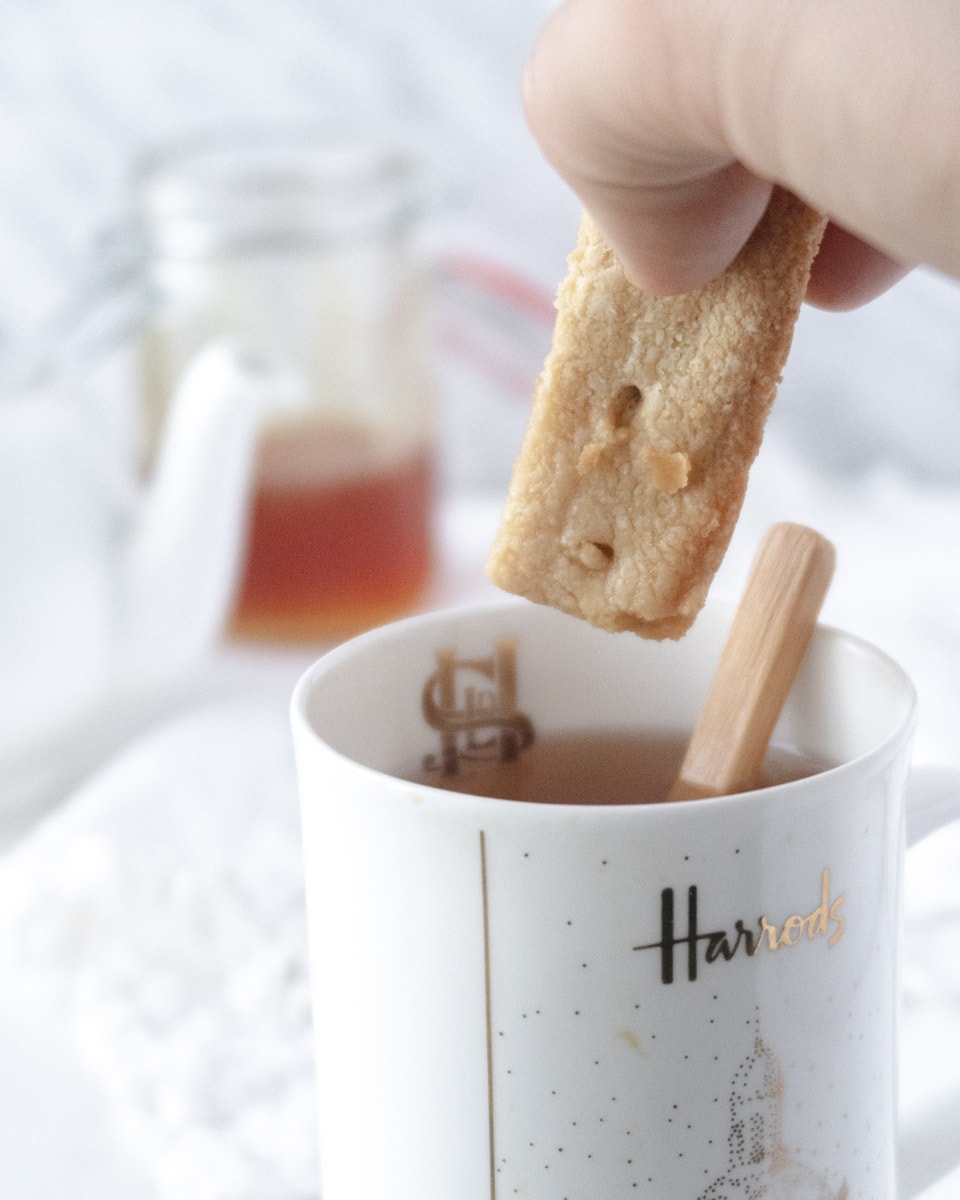 Did you try this gluten-free cookie recipe?
Don't be shy and let me know how it went! Leave me a comment below and share a picture on Instagram !