Flavorful lemon zest, chewy cranberries, and colorful pistachios come together perfectly in these crispy vegan biscotti.
---
Cranberry + Lemon + Pistachio
In my opinion, cranberry, lemon, and pistachios are some of the traditional flavor combos that never let me down. They are particularly good in these crispy vegan biscotti.
You can dip these biscotti in tea or coffee. They also are great as gifts since they can be kept for a long time at room temperature.
If citrusy cookies are your thing, come check out my lovely grapefruit and thyme shortbreads.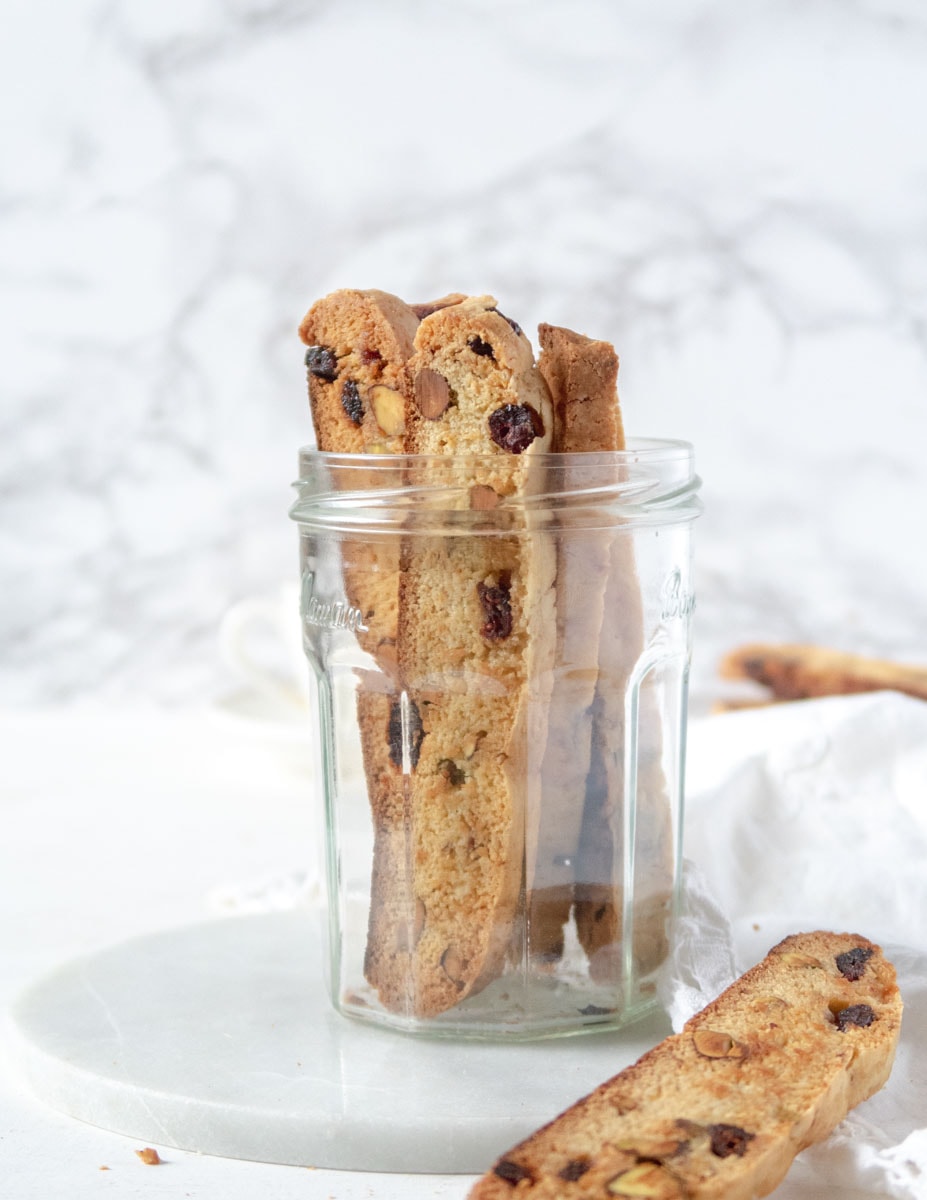 Untraditional Biscotti
Biscottis are traditionally made with egg yolks, and no butter or oil. While some people might call this heresy, this vegan biscotti recipe actually uses melted margarine to replace the fat that is found in egg yolks. 
The margarine also adds a nice little taste to these crunchy cookies, but you could replace it with aquaflaxa or a vegan flax egg to keep the same level of dough humidity without the butter taste.
Mess-free slicing
Follow these tips for a mess-free and stress-free biscotti slicing experience.
Shaping
While shaping the dough, try to minimize the number of holes and gaps because that will make a more fragile biscotti that will more easily break.
If the dough is hard to shape, pop the dough in the refrigerator for 30 minutes. The dough will firm up and become less sticky.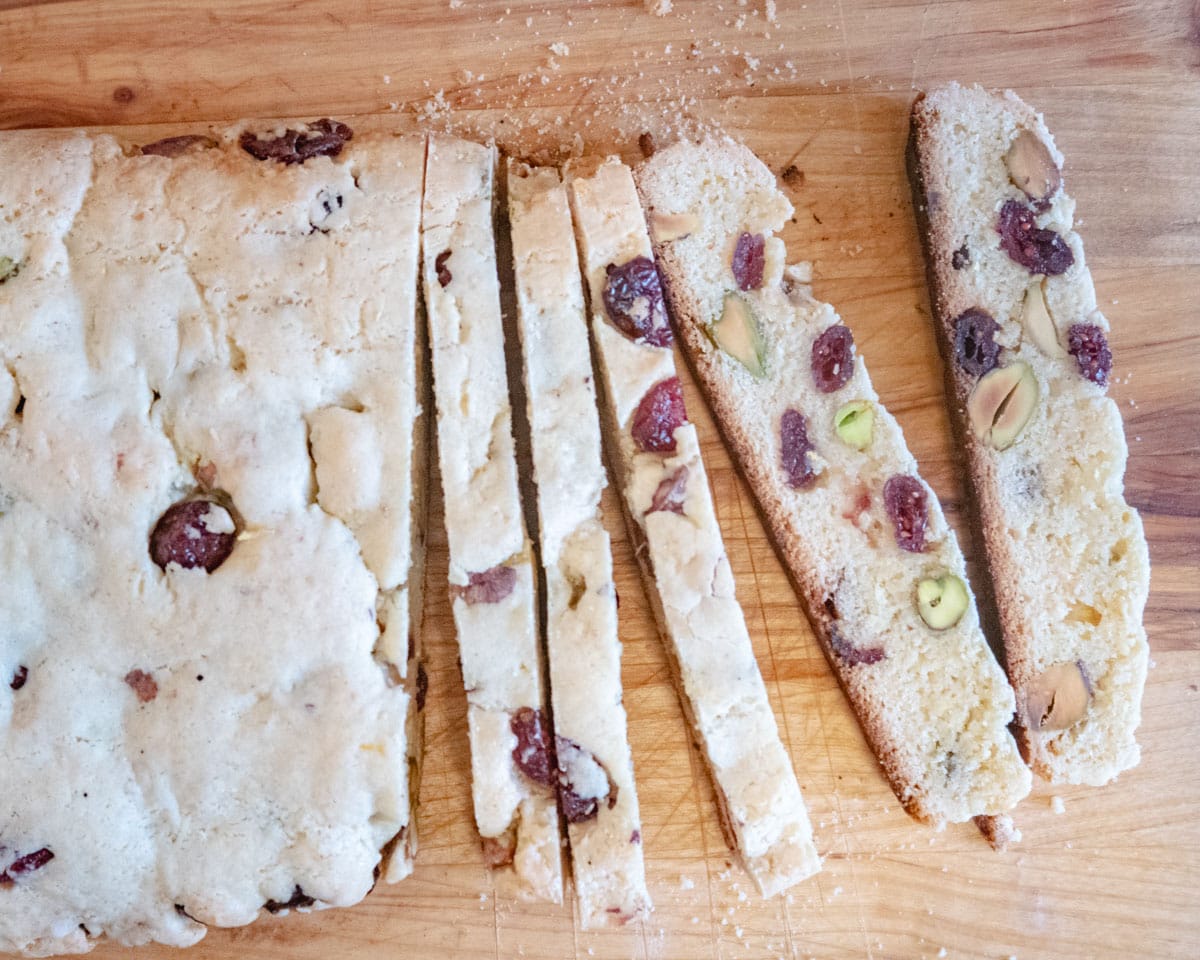 Temperature
Biscottis are easier to cut when still warm but you still want to give them 10 minutes to rest once out of the oven to let the dough finish its first cooking process. This way they will still be slightly soft in the middle, and the nuts will also be more tender.
Tools
A long and flexible serrated knife is the best tool to cut biscotti slices because it will cut the log with less back and forth and the flexibility in the blade will slice instead of tearing the cookies. As usual, my Victorinox Fibrox 12-inch serrated knife aced this task.
I like to make my slices thinner because I don't enjoy worrying about breaking a tooth while eating a cookie, but thicker slices can easily be done. Simply add 1 to 2 minutes to the cooking time per side during the second baking process.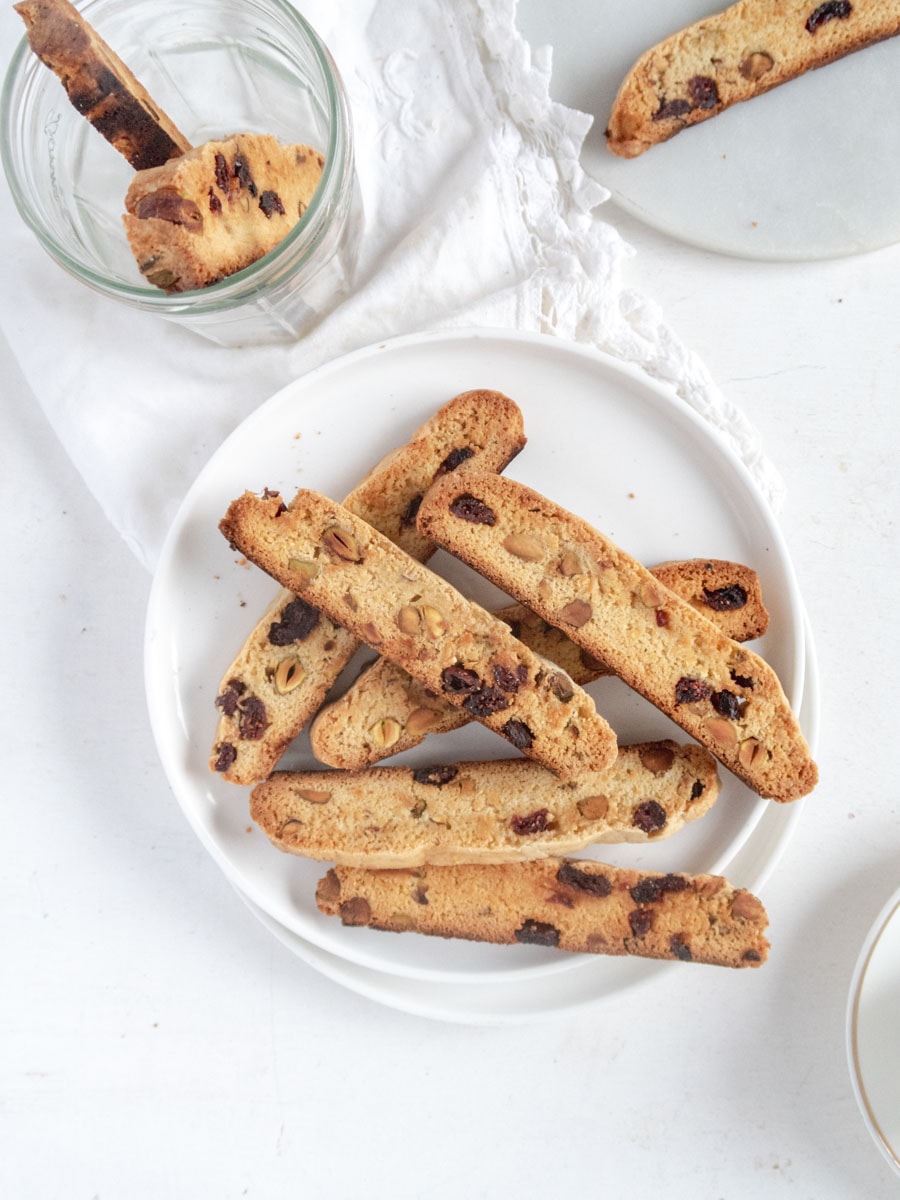 Cooking to perfection
Biscotti are, as their name suggests, twice baked. Here is what too look for when you are peaking into the oven.
First bake
We first make a log that is baked whole. We shape the dough into a rectangular log but it will spread a bit during the first cooking process to get those round nice edges. 
Look for a cookie that looks firm and that has slightly golden edges. Be careful to not overbake as the bottom of our log can easily burn.
Second Bake
At this point, the cookies will not spread any more. We bake them on each side until they have reached your desired color. Each cookie might still seem soft in the middle but trust me, they will crisp up as they cool.
Recipe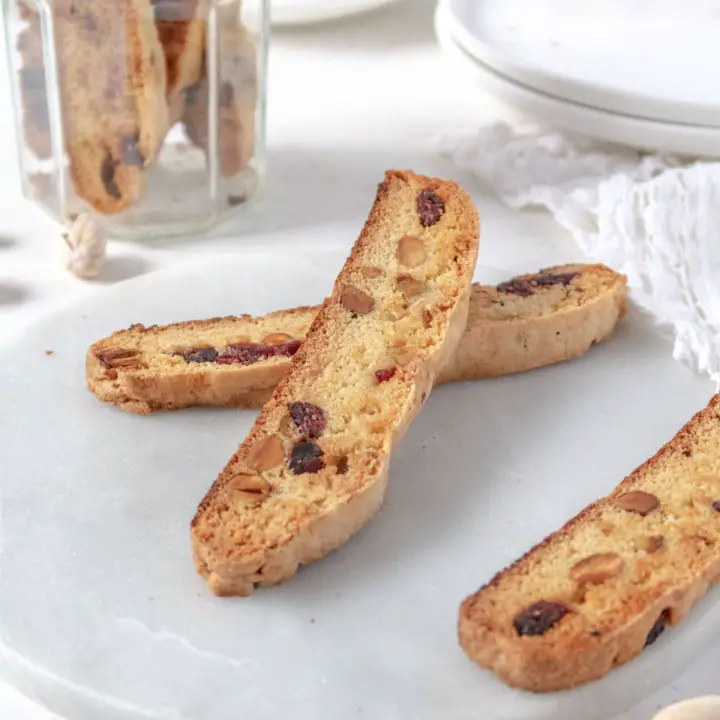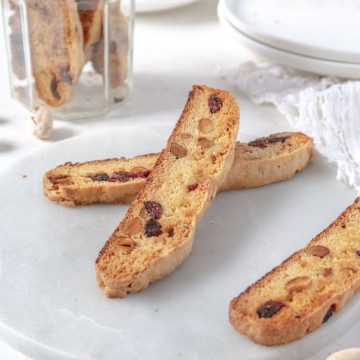 Print
Vegan Cranberry, Pistachio, and Lemon Biscotti
Servings
24
½- inch thick biscotti
Ingredients
Liquid ingredients
200g

(1 cup)

white granulated sugar

85g

(⅓ cup)

unsweetened soy milk

, or your favorite plant-based milk

45g

(3 tbsp)

vegan margarine

, melted

4g

(1 tsp)

vanilla extract
Dry ingredients
270g

(2 ¼ cups)

unbleached all-purpose flour

4g

(1 tsp)

baking powder

¼ tsp

salt
Garnishes
zest of 2 lemons

70g

(½ cup)

shelled unsalted whole pistachios

80g

(½ cup)

unsweetened dried cranberries
Instructions
Dough
Preheat your oven to 350°F (180°C).

In a large bowl, add all the wet ingredients and mix with an electric mixer on low (or by hand with a sturdy wooden spoon) until incorporated.

Add all the dry ingredients at once and mix until just incorporated. Do not overmix.

Add the lemon zest, pistachios, and cranberries and fold them into the biscotti dough.
Baking
Line a large baking tray with a piece of parchment paper.

Transfer the dough to the baking tray and roughly roll it into a long log. Flatten the top of the log to get a 12-inch long by a 4-inch wide (30cm long by 10cm wide) flat rectangle.

Bake in the preheated oven for 25 to 30 minutes, or until the log is firm and golden brown on the edges. Do not over bake as the bottom might burn. The dough will spread a bit and puff up on the top during the cooking process.

Let the biscotti log rest for 10 minutes before transferring it to a cutting board. With a sharp and flexible serrated knife, cut ½-inch (1.5 cm) slices, either perpendicularly or diagonally depending on your preference.

Place the sliced biscotti cut side down on the baking tray and place back in the oven for 6 to 8 minutes depending on your preferred level of crunchiness. Flip each biscotti on their other cut side and bake for another 6 to 8 minutes. The biscotti with continue to crisp up as they cool.

Let the biscotti cool down completely before storing in an airtight container. Enjoy!
Notes
You can also make 12 1-inch slices if you prefer a thicker biscotti. Simply add 1 to 2 minutes of cooking per side during the second baking process.

Keep for up to 2 weeks at room temperature or 3 months in the freezer. Do not refrigerate as this will make biscotti soft and chewy.
Airtight glass or metal containers are better for storing this type of cookie.
If these biscotti softens up, you can re-crisp them by baking them for 3 to 5 minutes at 350°F (180°C). Does not work with stale cookies.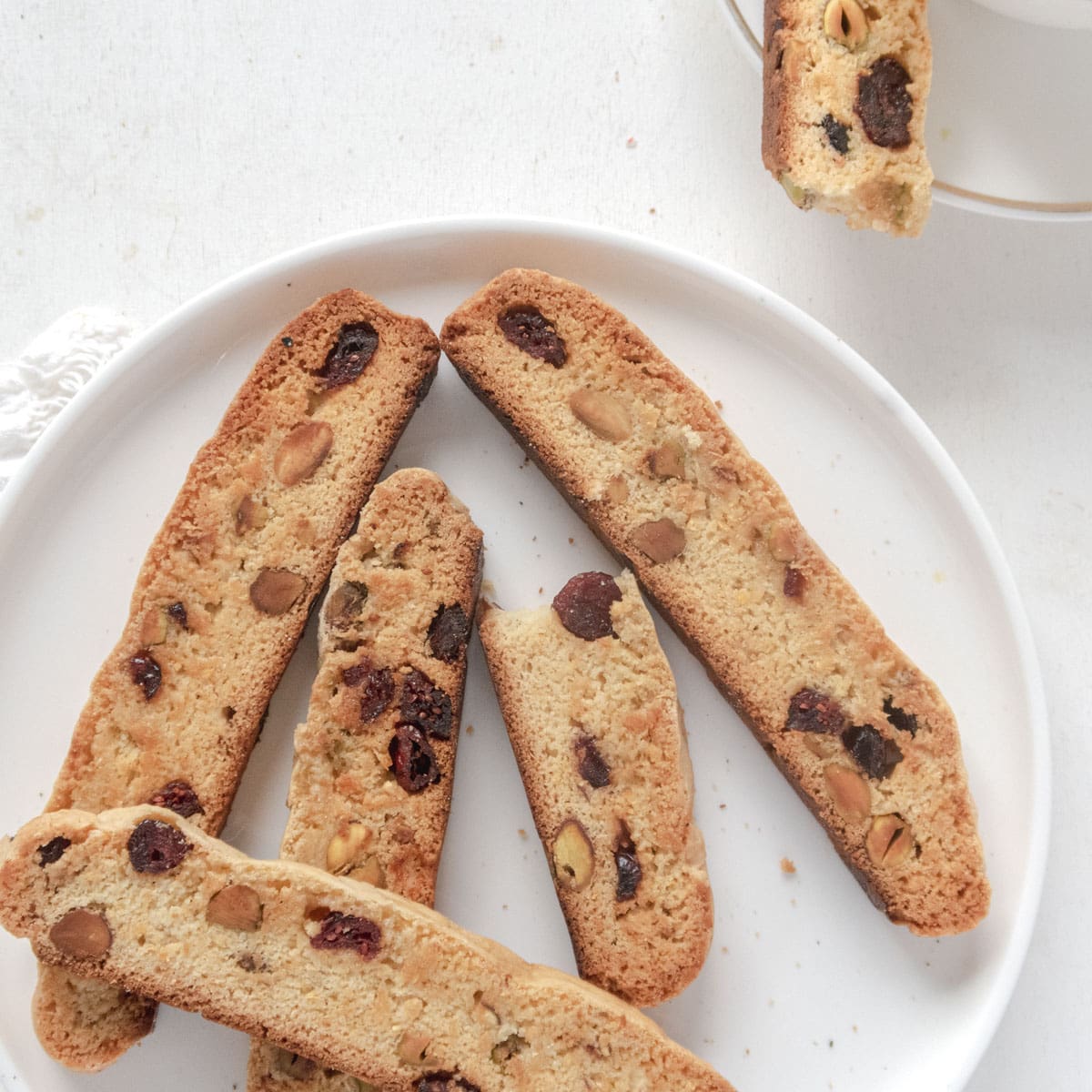 Did you try this biscotti recipe?
Don't be shy and let me know how it went! Leave me a comment below and share a picture on Instagram !