This amazing copycat Mars (or Milky Way depending on where you are from) candy bar is the answer to your wildest dream. Be careful because they are addictive!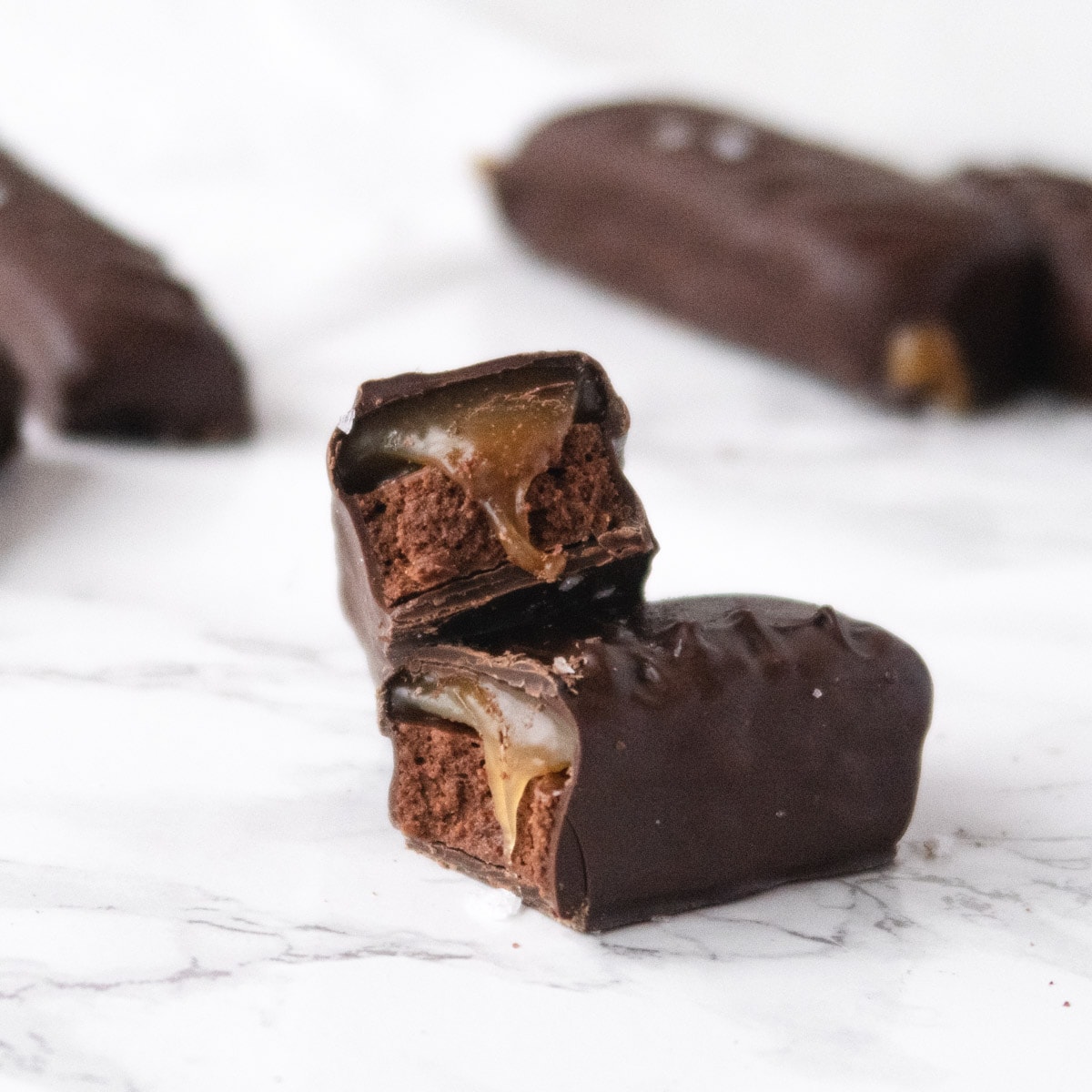 ---
Mars VS Milky Way
Chocolate candy bars are the first thing that springs to mind when someone asks me the fated " But don't you miss non-vegan food?" I really don't miss vegan food but I do get that candy bar craving from time to time.
Being a Canadian, Mars bars were my staples growing up but you might know them under their other name, Milky way. Either way, both candy bars are delicious and are unfortunately not vegan. This is why I decided to organize my own chocolate bars.
I love these vegan Mars bar because they have
A soft and chewy caramel
A tender nougat that is delicately flavored
A crunchy vhocolate shell
They are truly all I could ask for in a vegan candy bar!
Tempering chocolate
Ok, I can hear your question through my computer screen…... yes you really need to use tempered chocolate.
If you use untempered chocolate, you will likely end up with a super thick shell that is kind of soft and will melt just by entering in contact with your fingertips. The chocolate also won't be as glossy. 
Tempering with Mycryo
But tempering chocolate doesn't have to be scary! I know it got a bad rep on the internet ( and probably in most kitchens too, to be honest) but it's because all these people don't know my easy tempering method! I use Mycryo to easily temper chocolate. 
This guide from Cacao barry is so easy that it only has 6 steps! The only downside is that you need to keep Mycryo in your pantry, but that's not really a downside for me since Mycryo is super versatile and can be used in sweet baking or savory cooking.
Compound chocolate
And if even my super-secret easy tempering technique did not change your mind, you can sometimes find Prima coating, also from Cacao Barry. It is a chocolate coating similar to candy melts where they don't need to be tempered. You simply melt it over a double boiler and use it. Be warned that only the dark coating is dairy-free
The only downside is that the shell might be thinner so you might be used with tempered chocolate so you might need to double dip your sweet concoctions. It also doesn't taste as awesome as real chocolate, but it is still pretty tasty.
I find my prima coating chocolate in "open to the public" restaurant wholesalers and in specialty chocolate or pastry shops.
RELATED : 4 Totaly vegan and dairy-free candy waffers alternatives.
Material
To make these candy bars you will need the following tools:
stand mixer with a whisk attachment,  using a hand-held mixer  is not  recommended
scale
digital thermometer
11 x 8.5 inch (28 x 22cm) container,  I use a plastic container
1 medium heavy-bottomed saucepan
1 large bowl
heat-resistant silicone spatula
large offset spatula
3 prong chocolate dipping fork, or a regular fork
baking tray
Recipe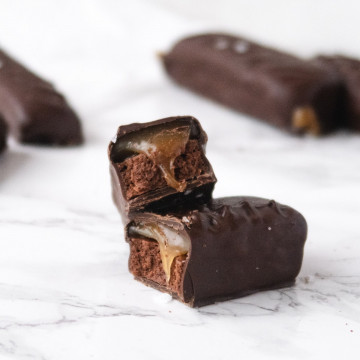 Print
Vegan Mars (Milky Way) Candy Bar
Ingredients
Chewy Caramel
420g

(2 cups packed)

dark brown sugar

342g

(1 cup)

light corn syrup

75g

( 5 tbsp)

vegan margarine

360g

( 1 ½ cup)

full-fat canned coconut milk

, shaken

13g

(1 tbsp)

pure vanilla extract

1 tsp

flaked sea salt
Soft chocolate nougat
1 tsp

pure vanilla extract

400g

(2 cups)

white granulated sugar

187g

(¾ cup)

water

114g

(⅓ cup)

light corn syrup

90g

(⅓ cup)

previously reduced aquafaba

⅛ tsp

cream of tartar

¼ tsp

xanthan gum, optional

31g

(¼ cup)

unsweetened cocoa powder

, sifted

200g

(1 ⅓ cup)

dark chocolate

, chopped
Coating
425g

(2 ½ cup)

tempered chocolate or prima dark coating
Instructions
Line a 28 x 22cm (11 x 8.5 inch) container completely with parchment paper. Set aside for later.
Chewy Caramel
In a heavy-bottomed medium-sized saucepan, add the brown sugar, corn syrup, margarine, and coconut milk and heat over medium-low heat while stirring until the butter is all melted and the sugar dissolved.

With a wet pastry brush, clean the sides of the saucepan of any sugar crystal. Increase the heat to medium and continue to cook the caramel without stirring until it reaches a temperature between 242-248°F (116-120°C).

Remove the saucepan from the heat and stir in the vanilla and salt, being careful of the steam and splashback that can happen. If needed, quickly cool down the caramel by placing the bottom of the saucepan in a bowl filled with iced water.

Transfer the caramel into the prepared container and smooth out with a heat resistant silicone spatula or metal offset spatula. Place in the refrigerator to cool completely.
Soft Chocolate Nougat
In a heavy-bottomed small saucepan, add the sugar, corn syrup, and water and heat over medium-low heat until the sugar is dissolved and the mixture is transparent.

With a wet pastry brush, clean the sides of the saucepan of any sugar crystal. Increase the heat to medium and continue to cook the syrup. When the sugar syrup reaches 230 (110C), start your meringue.

Add the aquafaba ( previously reduced if needed to get the right consistency), xanthan gum, and cream of tartar in the bowl of a stand mixer and whip on medium for 3 minutes, or until frothy and then whisk start to leave traces in the aquafaba.

Increase the speed to medium-high and whip for an additional 5 minutes, or until you reach a stiff peak meringue. Reduce the speed of the mixer to medium-low until the sugar syrup is ready. Add the vanilla extract to the meringue.

When the sugar syrup reaches a temperature of 260F ( 126C) remove the saucepan from the heat and pour the syrup in a thin steady stream into the bowl with the meringue while still whipping on medium-low. Try to avoid pouring the sugar syrup on the whisk. Once the syrup is all incorporated, turn the stand mixer off.

Melt the chocolate and fold it into the meringue with a silicone spatula until it is mostly incorporated. Add the sifted cocoa powder and continue folding until the mixture is uniform in color. Try to keep as much air in the nougat while folding as possible.

Remove the container with the caramel from the refrigerator and spread the nougat on top of the caramel, making sure the nougat layer is level with the help of a large offset spatula. Place in the freezer for 1 hour, or until very hard, for easy cutting and dipping.
Coating
Line a baking tray with parchment paper and set aside for later.

Temper your chocolate using your favorite method, or use compound chocolate like prima dark coating.

With a large offset spatula, spread a thin layer of chocolate on the nougat layer and leave to set before removing the filing from the container and releasing the paper. Trim the side of the filling and cut into 2.5 x 10cm (1 x 4 inch) bar.

One after each other, drop a bar of filling caramel side down in the tempered chocolate. Using a chocolate dipping fork (or a regular fork), flip the bar over by pushing on the closer long edge of the underside of the bar. Quickly touch the surface of the chocolate with the candy bar in a quick up and down motion. This will remove the excess chocolate.

Slide the coated candy bar onto the prepared baking sheet and mark a pattern on the top of the bar using the back of the chocolate fork.

Leave aside until completely set. It is best to keep the vegancandy bars in the refrigerator before eating. Enjoy!
Notes
Can be kept in the refrigerator for up to 3 weeks. Can be kept in the freezer for up to 4 months.
Did you try this candy bar recipe?
Don't be shy and let me know how it went! Leave me a comment below and share a picture on Instagram !