This passionfruit and chocolate tart will make everyone go WOW!! This rich chocolate ganache-filled tart is topped with tart passion fruit curd and passion fruit whipped white chocolate ganache.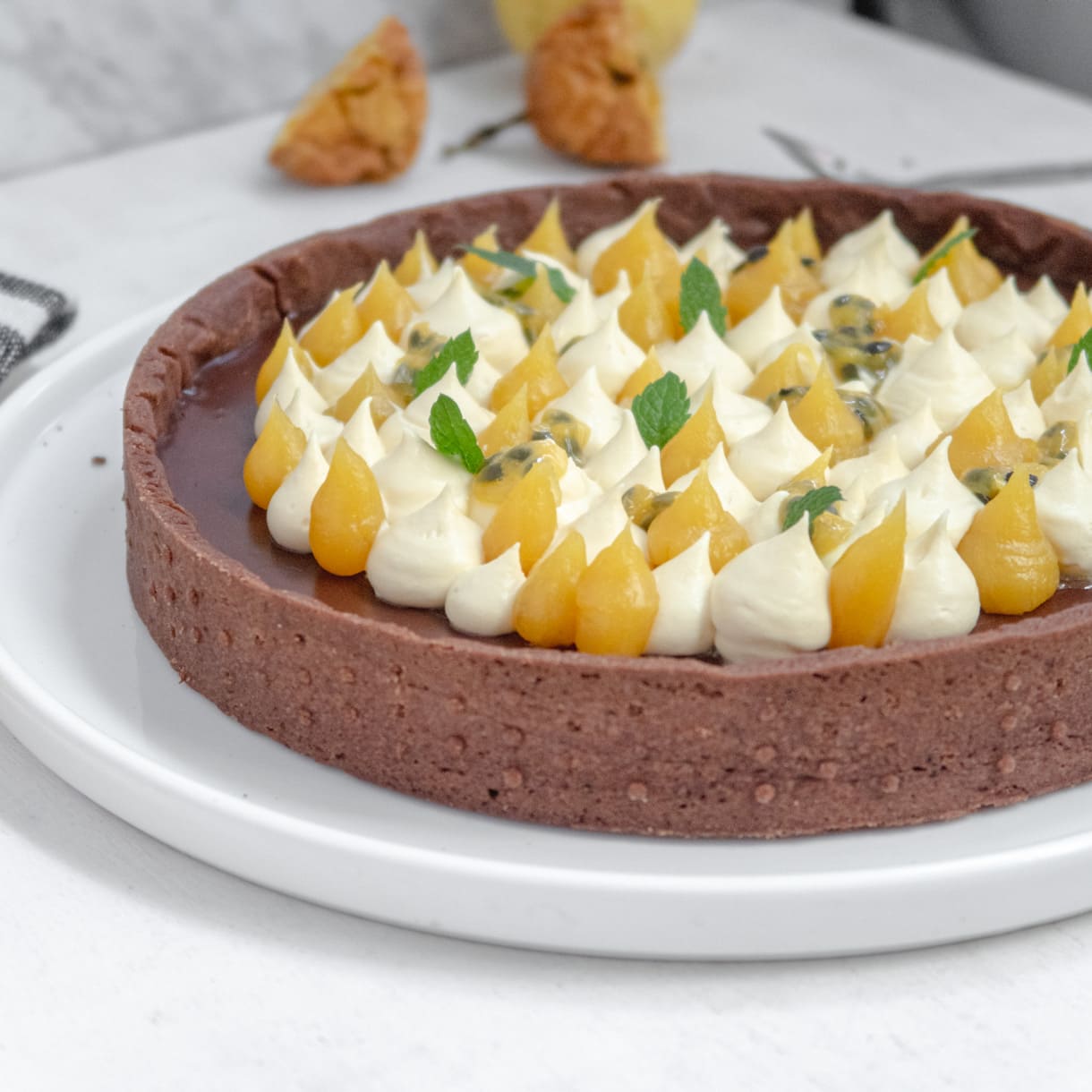 I do not recommend you skip the blog post and go straight to the recipe since this is a complex recipe........ but I'm not your mom so you can do whatever you want. I also keep this blog strictly professional, so don't expect any life stories, you won't find any here.
---
Passionfruit and Chocolate Tart Components
This complex vegan chocolate tart is made of multiple elements that pair together into a symphony of flavors.
Chocolate shortcrust pastry: this is the perfect sturdy and buttery base for a chocolate-filled tart
Rich and luscious ganache
Tart passionfruit curd to bring some brightness to this dessert
Light white chocolate ganache, flavored with more passion fruit
This is definitely a more complex dessert so expect this recipe to take most of your day and set aside a couple of swearwords just for when things are not going your way. It might be a challenging recipe but it will definitely be worth it if you are a chocoholic.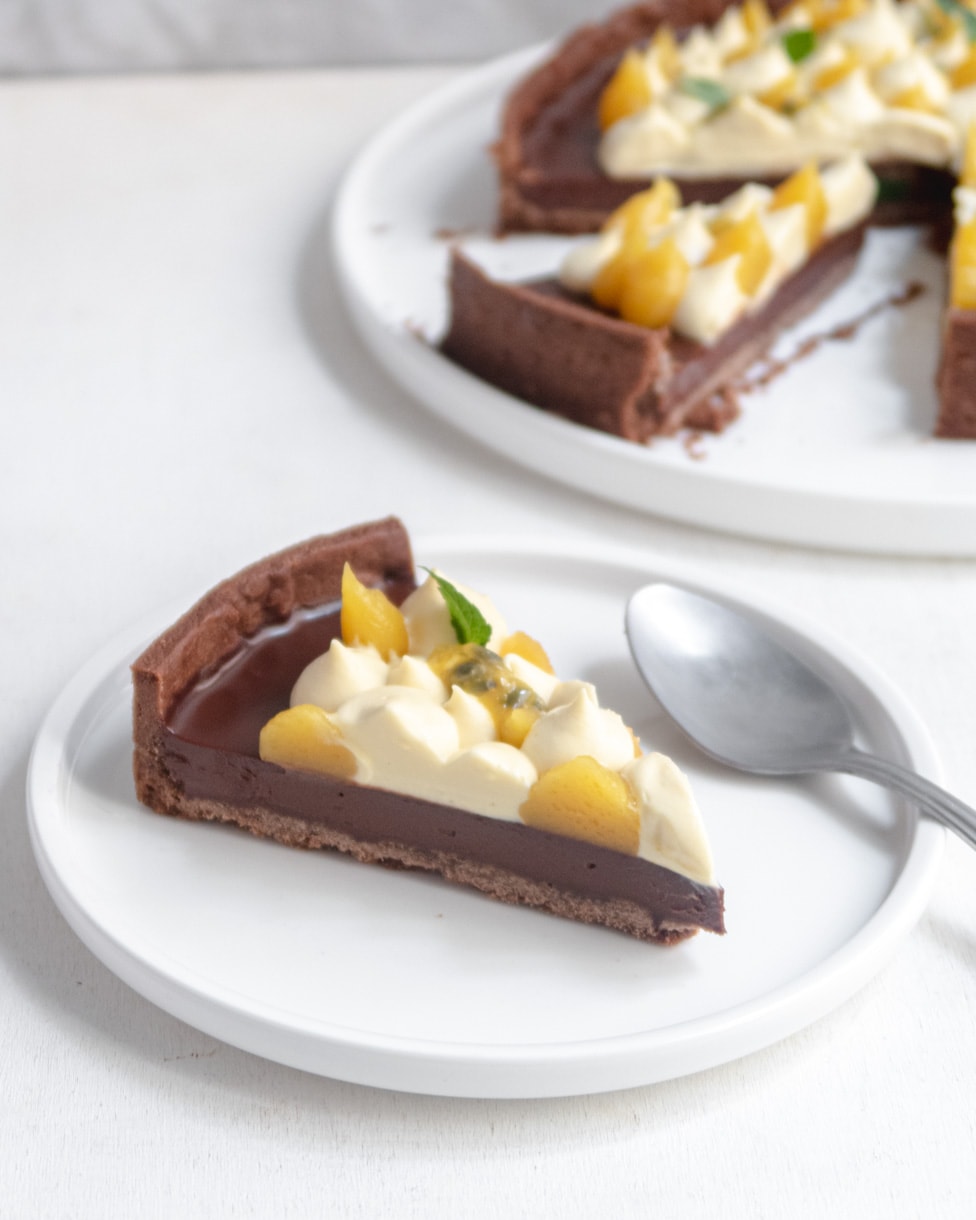 Timeline
While you can easily make this passionfruit and chocolate tart in one day (which I did), you could also follow this alternative timeline to spread the work over 2 days
Day 1
Make the chocolate shortcrust pastry and let it rest for 1 hour. Could also be done multiple weeks in advance and frozen until ready to use.
While the dough is resting, make the preparation for the passion fruit whipped ganache and leave covered in the refrigerator for the next day.
Prepare the passionfruit curd.
Line the tart ring with the dough and refrigerate overnight
Day 2
Blind bake the tart shell
While the tart shell is cooling, prepare the dark chocolate ganache and pour into the tart shell.

Whip the white chocolate and passionfruit ganache

.
Decorate the vegan chocolate tart with the whipped ganach and curd, and serve the same day.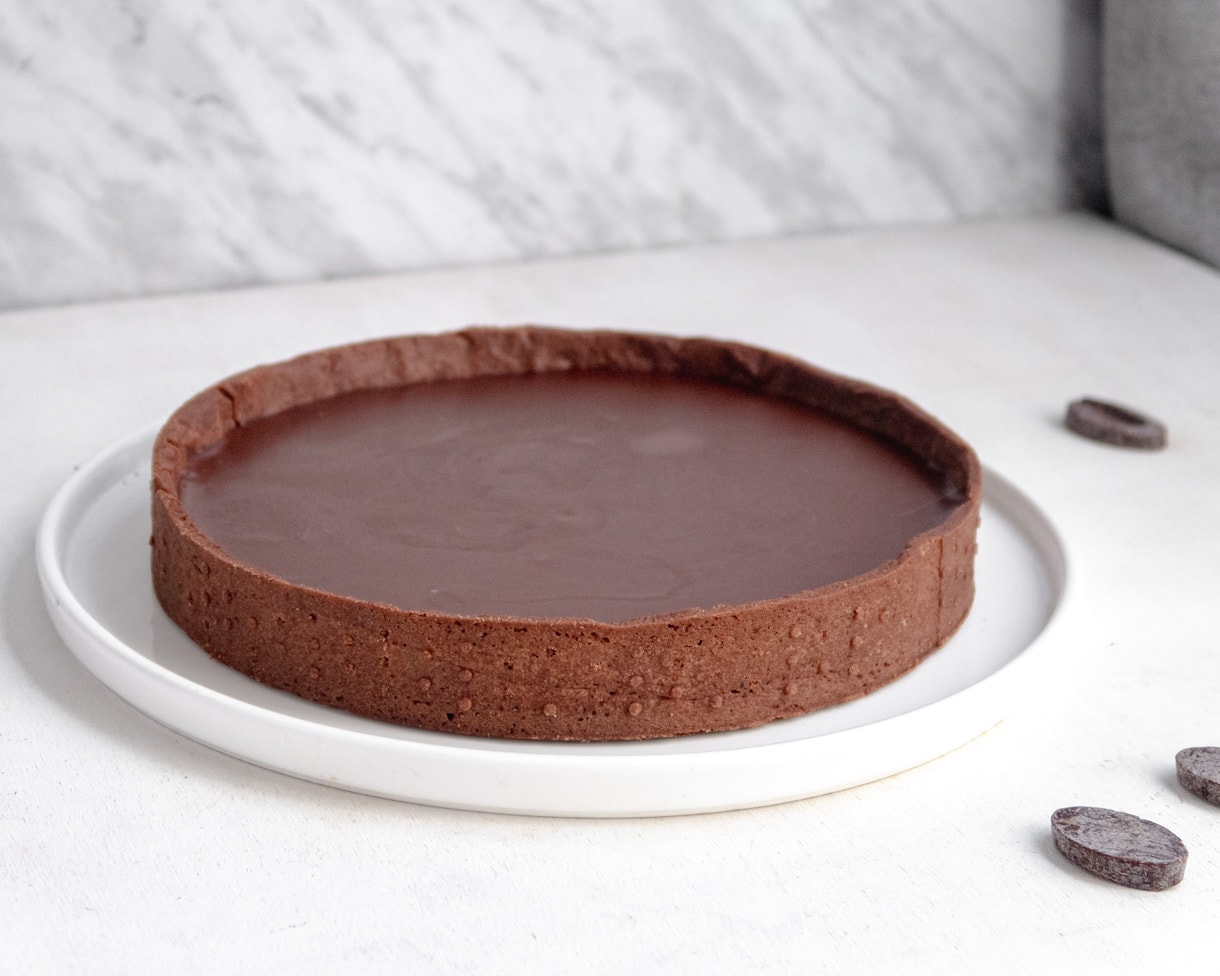 Ganache Technique, Tips and Tricks (From a Pro!)
How to emulsify a ganache without incorporation bubbles.
Once you have poured the warm coconut milk on top of the chocolate and let it rest for 1 minute, you can start stirring the ganache in little concentric circles until the middle is emulsified. 
You want to use a silicone spatula and not a whisk as whisks would incorporate air bubbles. Then you can start stirring in bigger circles until all the coconut milk is incorporated. This is mostly to get a perfectly smooth emulsion.
Once it's time to incorporate the butter you can start doing figure 8 to stir your ganache. This technique does not incorporate as much air into preparation and can even break bubbles on the edge of your bowl. Try to do slow movements and keep the majority of your silicone spatula immersed in the ganache.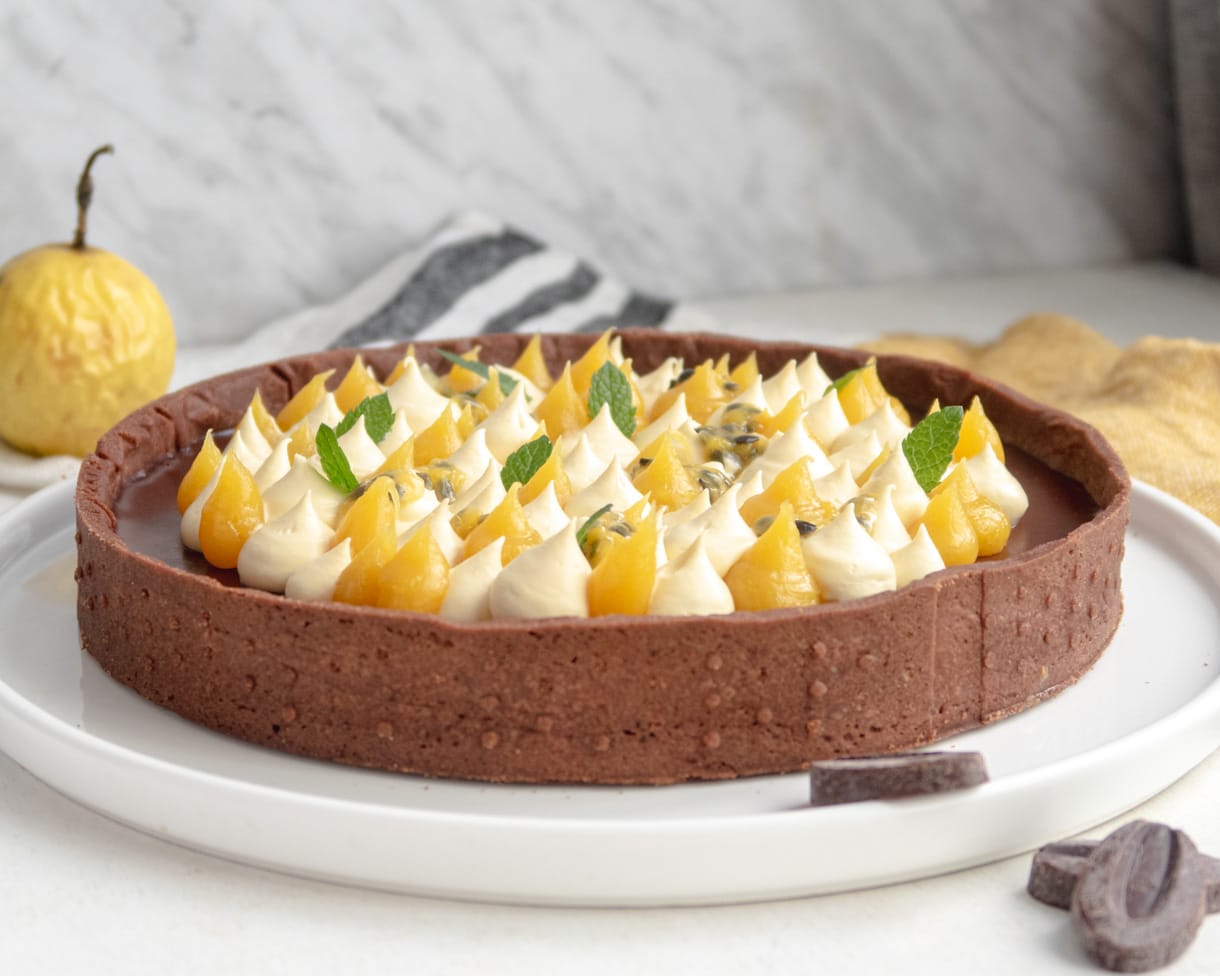 How to get rid of air bubbles on the top of my tart
Even while taking all the precautions in the world, sometimes air bubbles in ganache just happen and they can ruin the perfect gloss of the surface of a ganache tart. If you realize that your ganache has little bubbles before your pour it, you can try to pour your ganache from a higher height. Then tap the tart lightly on your countertop to release air bubbles that might have gotten trapped in the corners of your tart shell. 
Then if you still see some small air bubbles on the surface of your tart, swipe a blowtorch a couple of inches higher than the surface of the tart. You don't want the flame to get even close to the chocolate and you want to keep it constantly moving, but the residual heat should melt your ganache just enough to release those air bubbles. Be very careful as chocolate can easily scorch.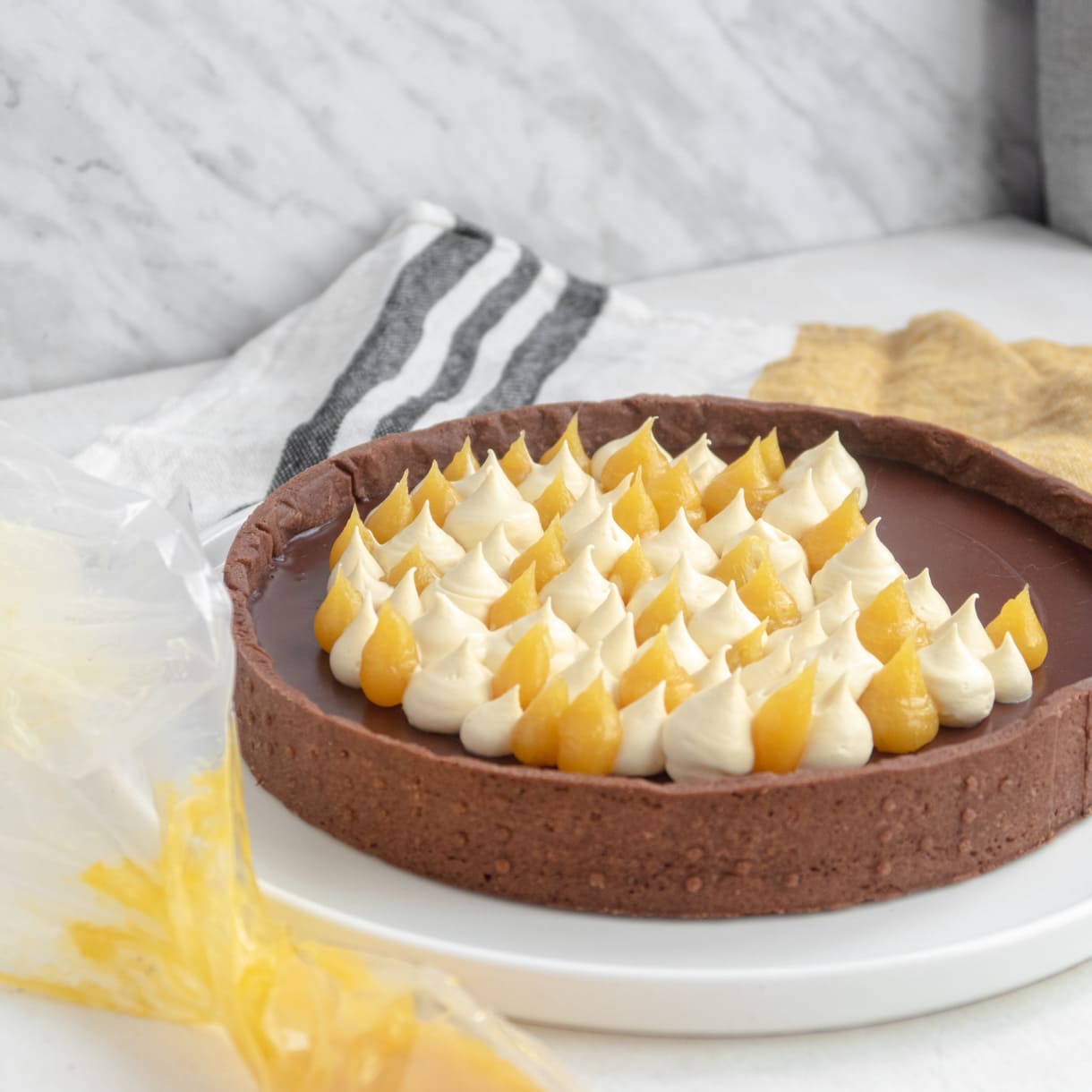 Frequently Asked Questions
Where to get passionfruit pulp?
I get Ravifruit frozen passion fruit pulp at restaurant wholesalers that are open to the public and in specialty pastry equipment shops. I also recommend Boiron's fruit pulp if it is easier to find for you. 

You can also check out your closest Asian market. They sometimes carry a sweetened version in the frozen section. However, you will need to adjust the sweetness level to your taste and might even need to add some acidity with some additional lemon juice.

If all else fails you can make it yourself by cutting open a couple of passion fruits, scooping out the guts, and straining it out.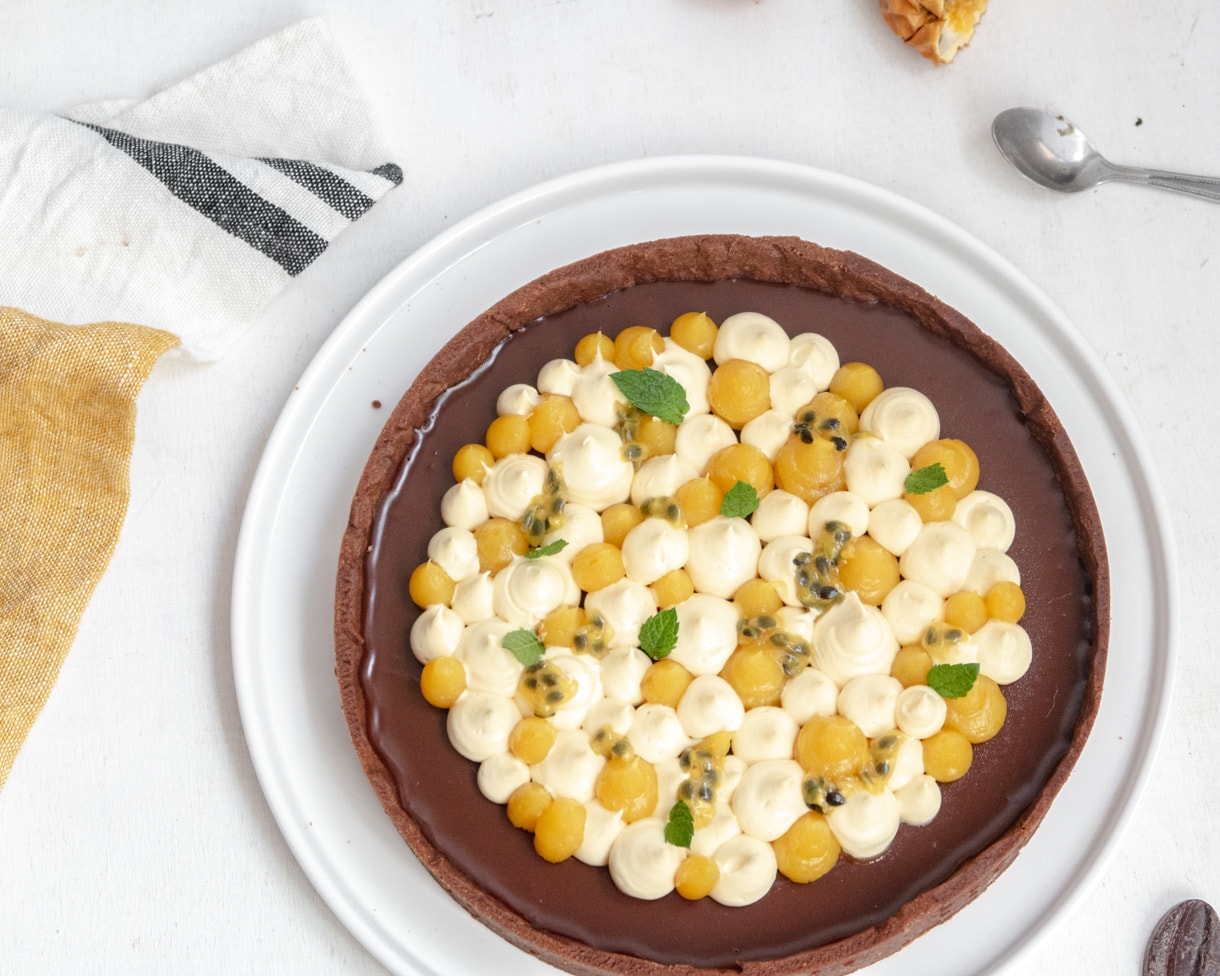 Tools
You will need the following tools to make this deliciously chocolatey recipe
While I have provided the cup measurements for this recipe, I highly recommend you use a scale and weight measurements, since it is a complex dessert.
Recipe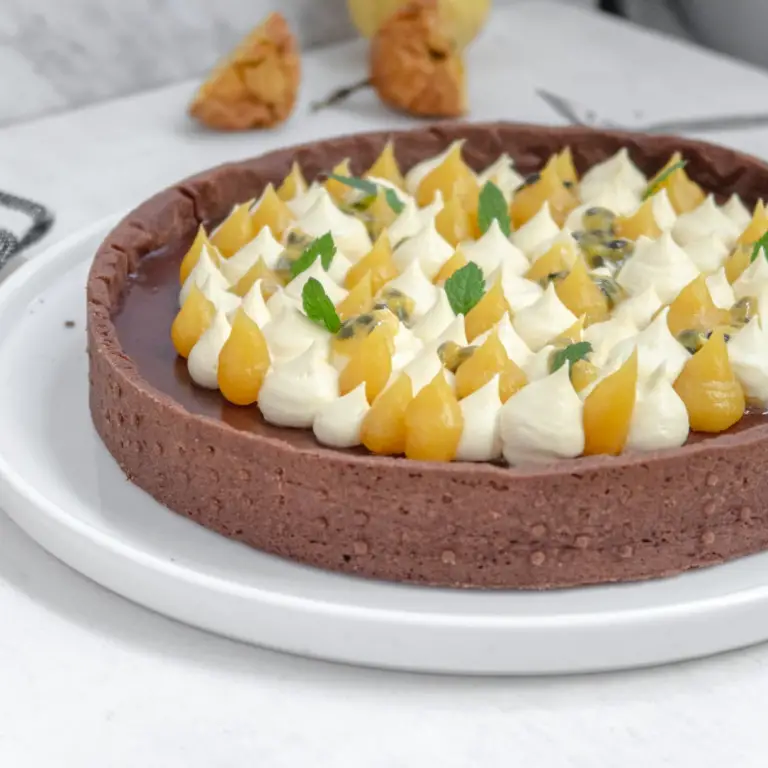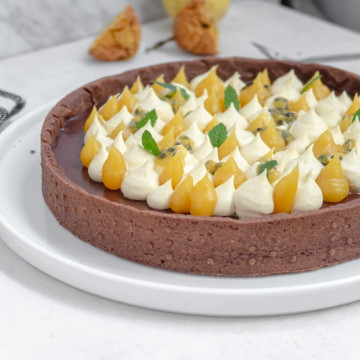 Print
Vegan Passionfruit and Chocolate Ganache Tart
This rich chocolate ganache-filled tart is topped with tart passion fruit curd and passion fruit whipped white chocolate ganache.
Ingredients
Chocolate shortcrust pastry
Passion fruit whipped white chocolate ganache
70 g

(¼ cup + 2 tablespoons)

seedless passionfruit pulp

, I use Ravifruit

15 g

(2 teaspoons)

glucose syrup

, or light corn syrup

50 g

(¼ cup)

finely chopped vegan white chocolate

, I used homemade but storebought is also fine

190 g

(¾ cup)

room temperature Ambiante non-dairy toping by Puratos

, or stable vegan whipping cream
Dark chocolate ganache
150 g

(⅔ cup)

full fat canned coconut milk

15 g

(2 teaspoons)

glucose syrup

, or light corn syrup

150 g

(¾ cup + 2 tablespoons)

roughly chopped high quality dark chocolate

, I use Valrhona Caraïbe 66%

60 g

(¼ cup)

room temperature vegan margarine
Passion fruit curd
50 g

(¼ cup)

white granulated sugar

13 g

(1 ½ tablespoon)

cornstarch

, also known as cornflour

80 g

(⅓ cup)

seedless passionfruit pulp

45 g

(3 tablespoons)

room temperature vegan unsalted butter

, I use Becel Plant-Based Bricks
Garnish
1

medium or 2 small fresh passion fruits
Instructions
Chocolate tart shell
Start by making one recipe of chocolate shortcrust pastry, or enough of your favourite sturdy tart dough to like a 9-inch fluted tart tin. Let the dough rest for 1 hour, or until firm.

Roll out the pastry to a ⅙-inch (4mm) thickness and line a 9-inch straight-edge tart ring with the dough, making sure to press the dough on the edges and corners of the tart ring. Prick the bottom of the dough and refrigerate for 30 minutes, or until the dough is very firm.

Preheat your oven at 350°F (180°C) and blind bake the tart shell using your favorite method for 20 minutes, or until completely cooked. Leave at room temperature to cool down and then release from the tart ring.
Passionfruit whipped white chocolate ganache
In a saucepan, mix together the passionfruit pulp and glucose and bring to a boil. Pour over the finely chopped white chocolate, let the mixture rest for 1 minute before emulsifying the ganache with a silicone spatula by mixing starting from the center while making small circles and then going outward.

Let the ganache cool down to 95°F (35°C) and then mix in the vegan whipping cream. Cover the ganache with some plastic wrap, pushing it until it comes in contact with the preparation. Refrigerate the ganache for a minimum of 1 hour.
Dark chocolate ganache
Finely chop the chocolate and place in a bowl. In a small saucepan, bring to a boil the whipping cream and glucose syrup and pour over the chocolate. Let the mixture rest for 1 minute without touching it. Then, emulsify the ganache with a silicone spatula by mixing the preparation starting from the center while making small circles and then making the circles bigger. Try to incorporate the least amount of air into the ganache.

When the ganache reaches a temperature between 105°F to 115°F (40°C to 45°C), add the room temperature margarine to the ganache all at once. Continue to stir until it is completly incorporated into the ganache.

Pour the ganache into the chocolate tart shell, tap the tart lightly against your countertop to remove any air bubbles and then refrigerate until the ganache is firm.
Passionfruit curd
In a small saucepan, dry whisk together the sugar and cornstarch. Slowly add the passionfruit pulp while stirring with a heatproof silicone spatula.

Bring to a boil over medium heat while stirring and cook for an additional 30 seconds to 1 minute, or until the curd has thickened. Remove the curd form the heat and mix in the vegan butter until homogenous.

Transfer the curd in a bowl, cover with plastic wrap and press on it until the curd is touching the wrap and refrigerate until cold.
Assembly
Using a 6-inch pastry circle or plate, make a light imprint on the surface of the ganache in the middle of the tart.

Whip the passionfruit ganache on medium speed until you get soft to medium peaks. Do not over whip. Whisk the cold passionfruit curd until smooth and creamy. Transfer the whipped ganach and curd into pastry bags with a medium round pastry tip.

Pipe various size dots of whipped ganache and passionfruit curd inside the circular imprint you just made. Cut the fresh passion fruits in half and scoop out the pulp over the piped ganache and curd. Enjoy!
Notes
The ganache-filled tart can be made a day in advance and kept in an airtight container until ready to garnish.
Garnish the same day it will be eaten as the creams can dry out quickly.
Do not freeze as the tart as it would end up soggy dues to components seeping liquid. The whipped ganache would also deflate.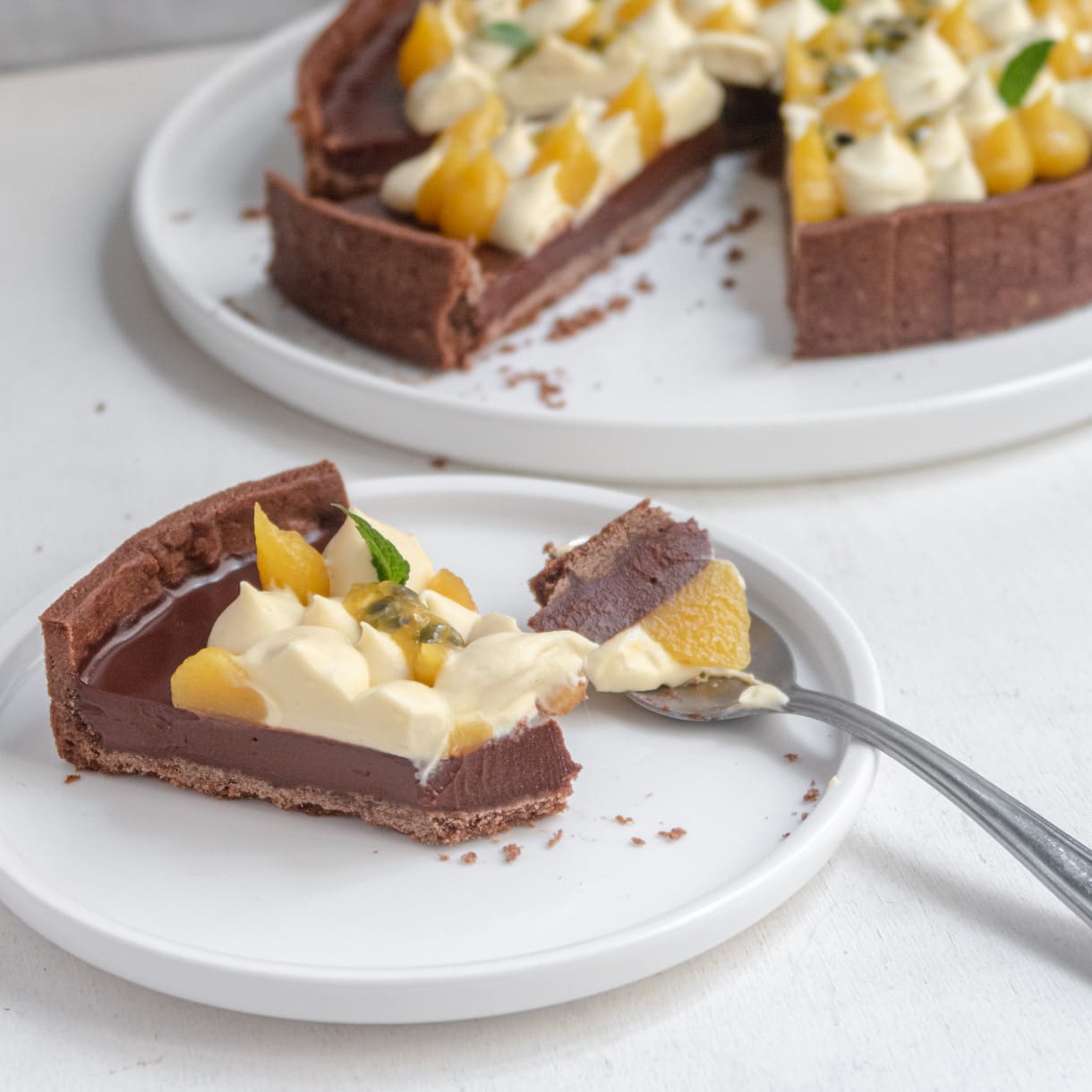 Did you try this passionfruit and chocolate tart recipe?
Don't be shy and let me know how it went! Leave me a comment below and share a picture on Instagram ! Also, you are the boss for even attempting such a comlex recipe. I'm so proud!