Learn all the secrets to making your own delicate vegan white chocolate at home (+ how to easily temper chocolate!)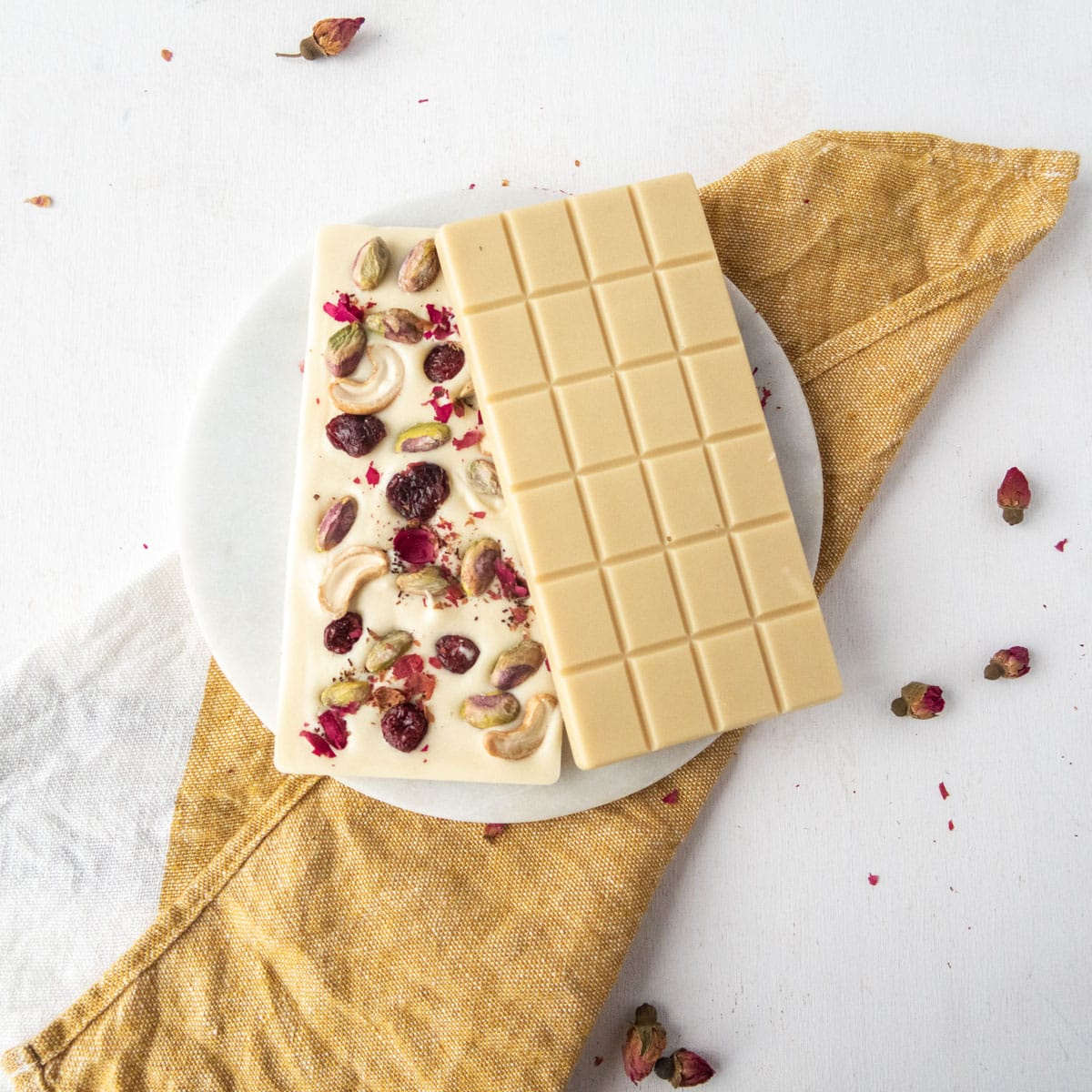 If this is your first time making your own chocolate or making chocolate bars and candies, I highly recommend you keep on reading until the end, since you would skip a lot of very important information on tempering and which proper material to use.
---
Having worked in an artisan chocolate shop in the past, let's just say that I haven't been super impressed with the vegan white chocolate option where I live.
This is why I'm ecstatic to finally share with you a recipe for some vegan white chocolate that isn't "melt your face off" sweet. It has a nice balance of delicate vanilla, just enough sweetness, and a nice creaminess and cacao taste.
This vegan white chocolate is perfect to eat "as is" in a bar, but also versatile enough to use in a multitude of recipes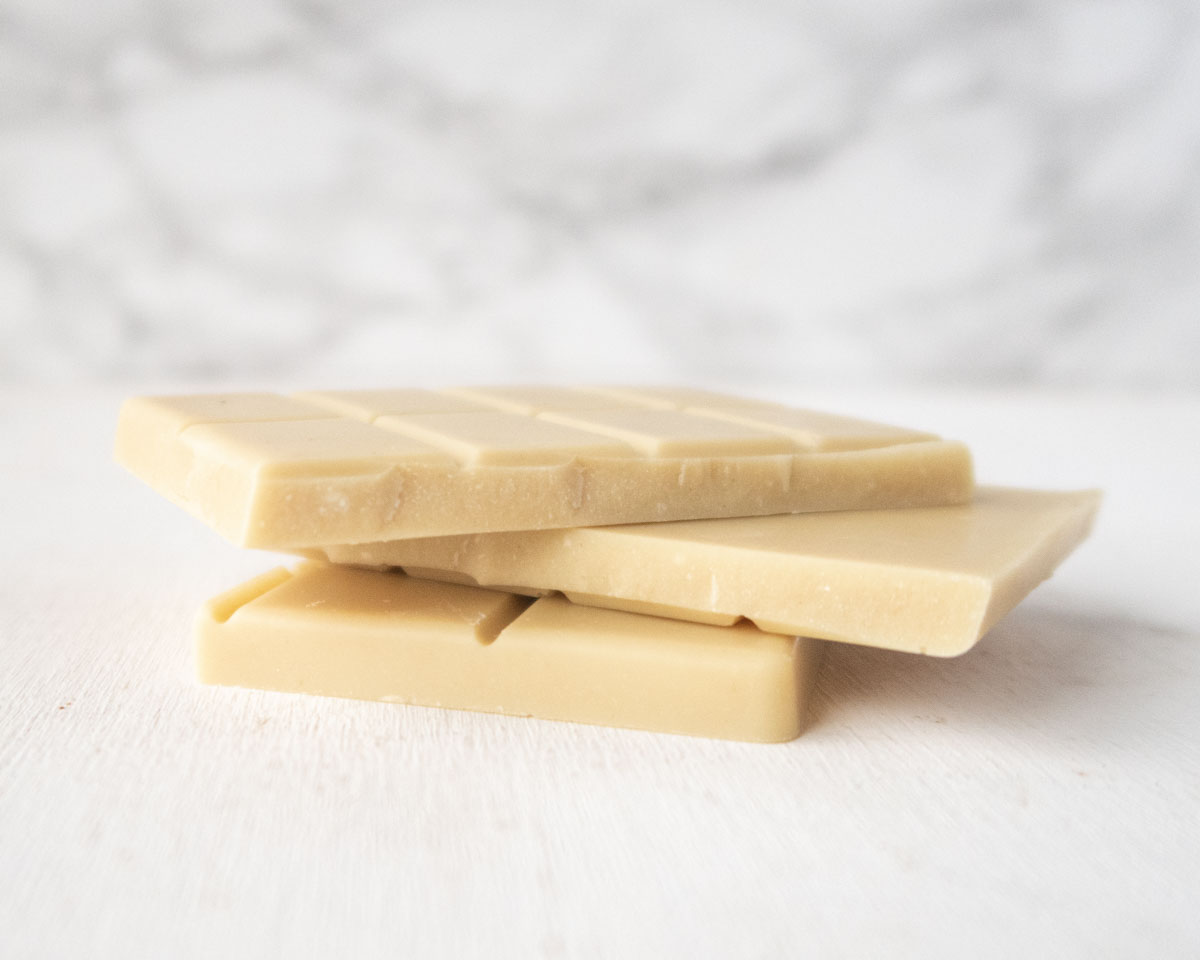 What is white chocolate?
First of all, let's talk about what exactly is white chocolate. 
White chocolate is a preparation made of cocoa butter, milk solids, sugar, vanilla, and lecithin, that is solidified and often available in blocks, bars, or pastilles shapes.
The difference between white chocolate and the other types of chocolates is that it doesn't have chocolate liquor, also known as cocoa mass. Chocolate liquor is made out of cacao nibs, which gives dark chocolate its distinctive color and more bitter taste. 
To this day, there is plenty of debate as to if white chocolate is really chocolate and right now the needle is pointing at no…...but it doesn't stop white chocolate from being delicious.
(Also white chocolate is totally chocolate in my book)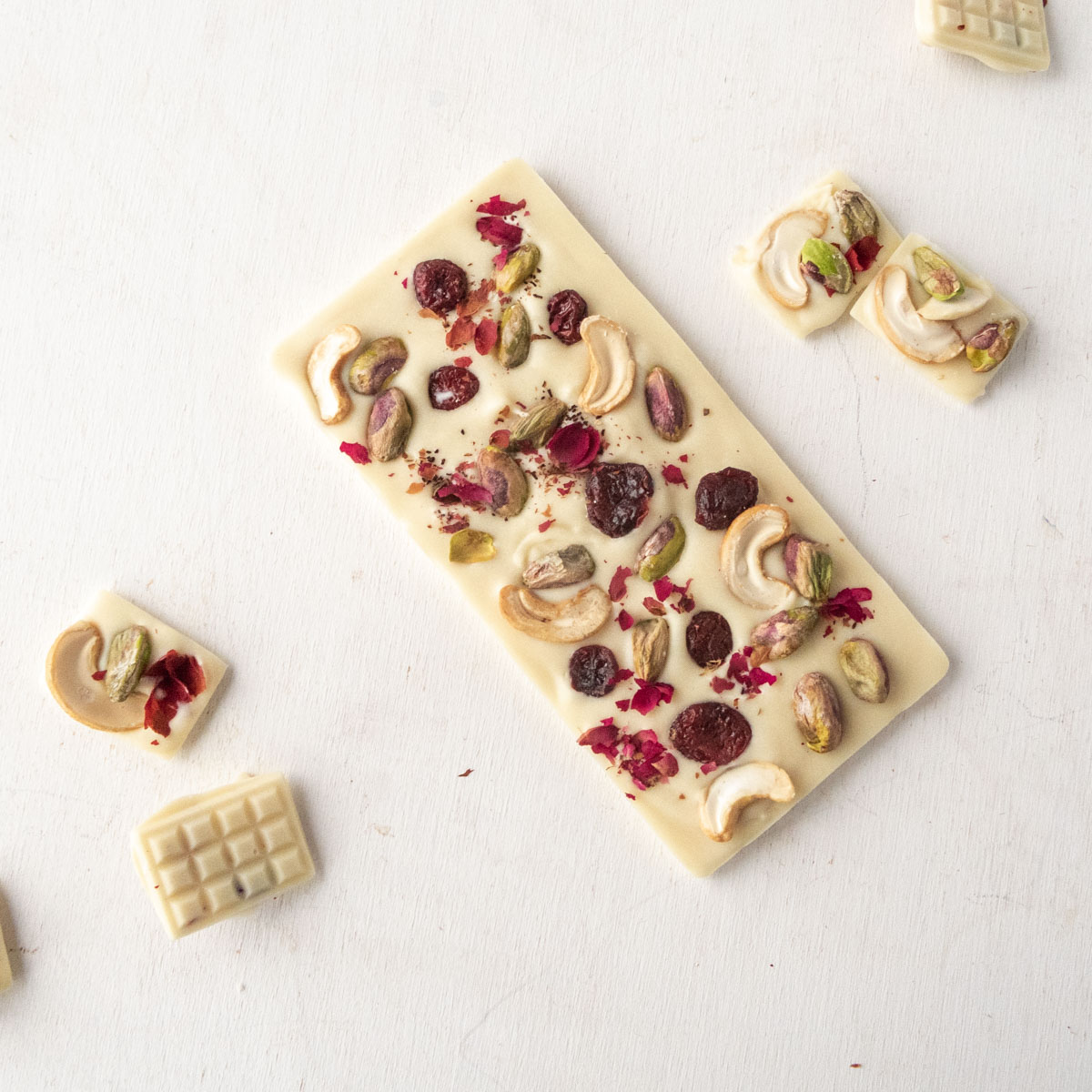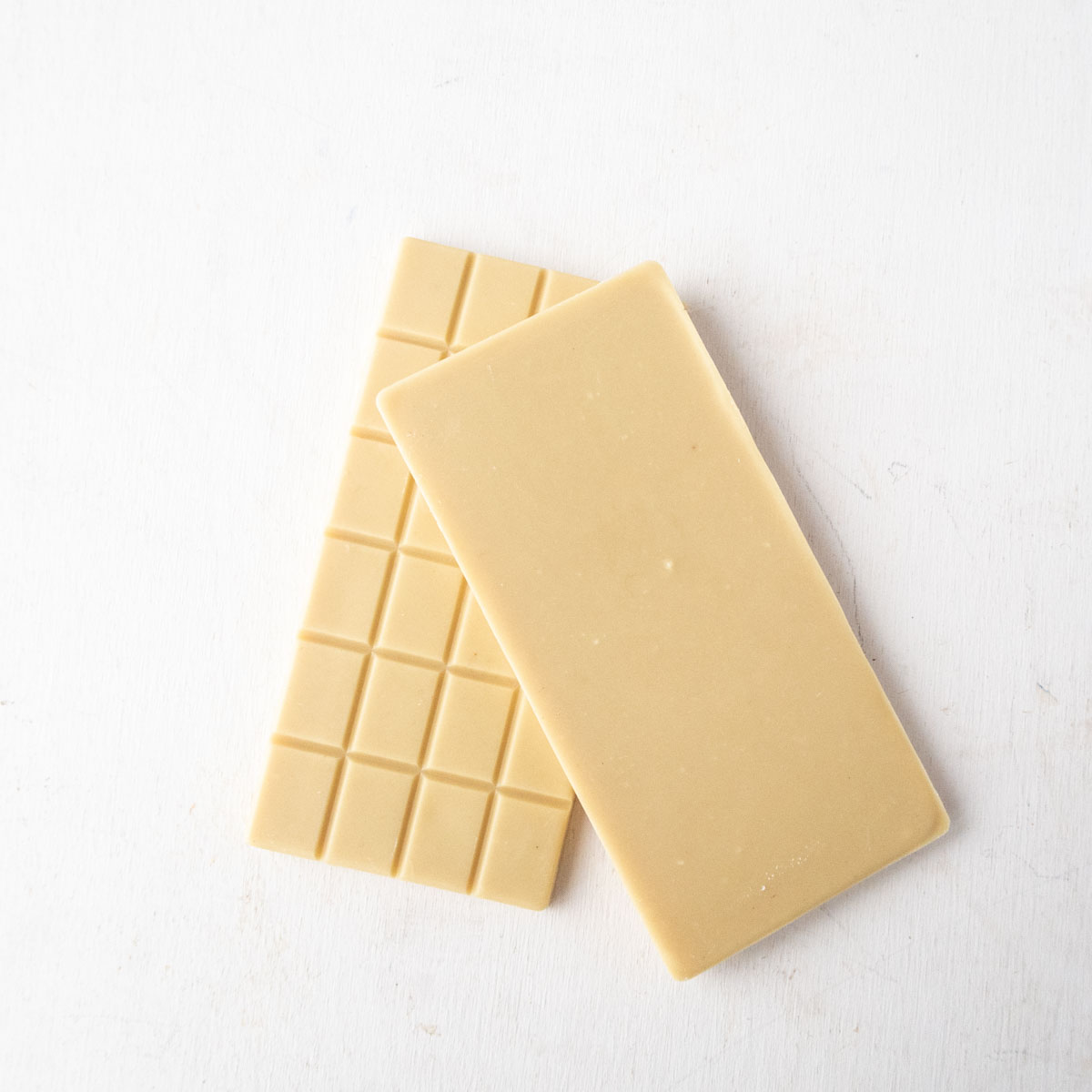 Why make your own chocolate? 
Vegan white chocolate is becoming more and more available in health food stores and you can now even find some in some grocery stores in Europe and in the USA.
But there might be multiple reasons why you would like to make your own white chocolate.
You might live in a country with less vegan options
If you live in a  rural or remote place
You might not like the taste of commercial chocolate
You might have allergies 
Or you simply might not want to pay for vegan chocolate, which can sometimes be expensive.
But while making your own vegan white chocolate at home can be a good idea in a lot of situations, be warned that it might now be exactly like commercial stuff. Homemade vegan white chocolate is naturally grainier.
This is because often powdered milk alternatives are grainier and unfortunately home cooks (me included) don't have access to professional equipment like a wet grinder to make smoother chocolate.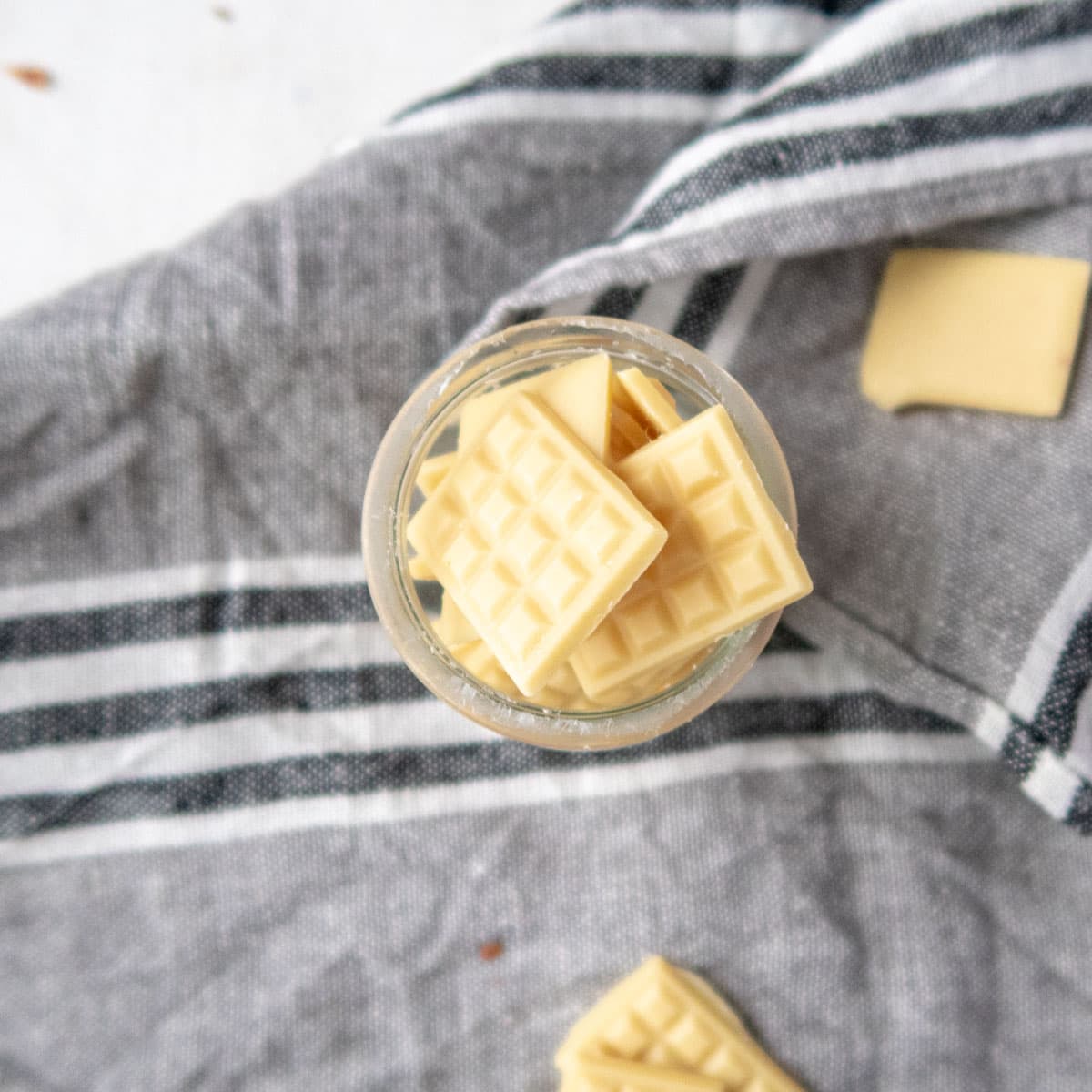 Warning!
Before we get into the kitchen, we need to talk about some very important stuff.
Chocolate REALLY hates water. So don't let one drop get in contact with your chocolate or it will become a seized mess that is crumbly and completely unusable. No one wants to throw away expensive ingredients so be careful.
Get all your things ready to go before starting this recipe. Tempering is on its own schedule and waits for no one.
Assume that by the end of this recipe, everything you wear will have chocolate on it, so don't wear your fancy clothes.
Now, let's do a deep dive into the ingredients needed to make our own vegan white chocolate at home.
Ingredients
Vegan milk powder
Milk powder is the main non-vegan ingredient in white chocolate, so we are going to replace it with coconut milk powder. I find mine at my health food store or sometimes at my local bulk barn, but you can definitely find some online too.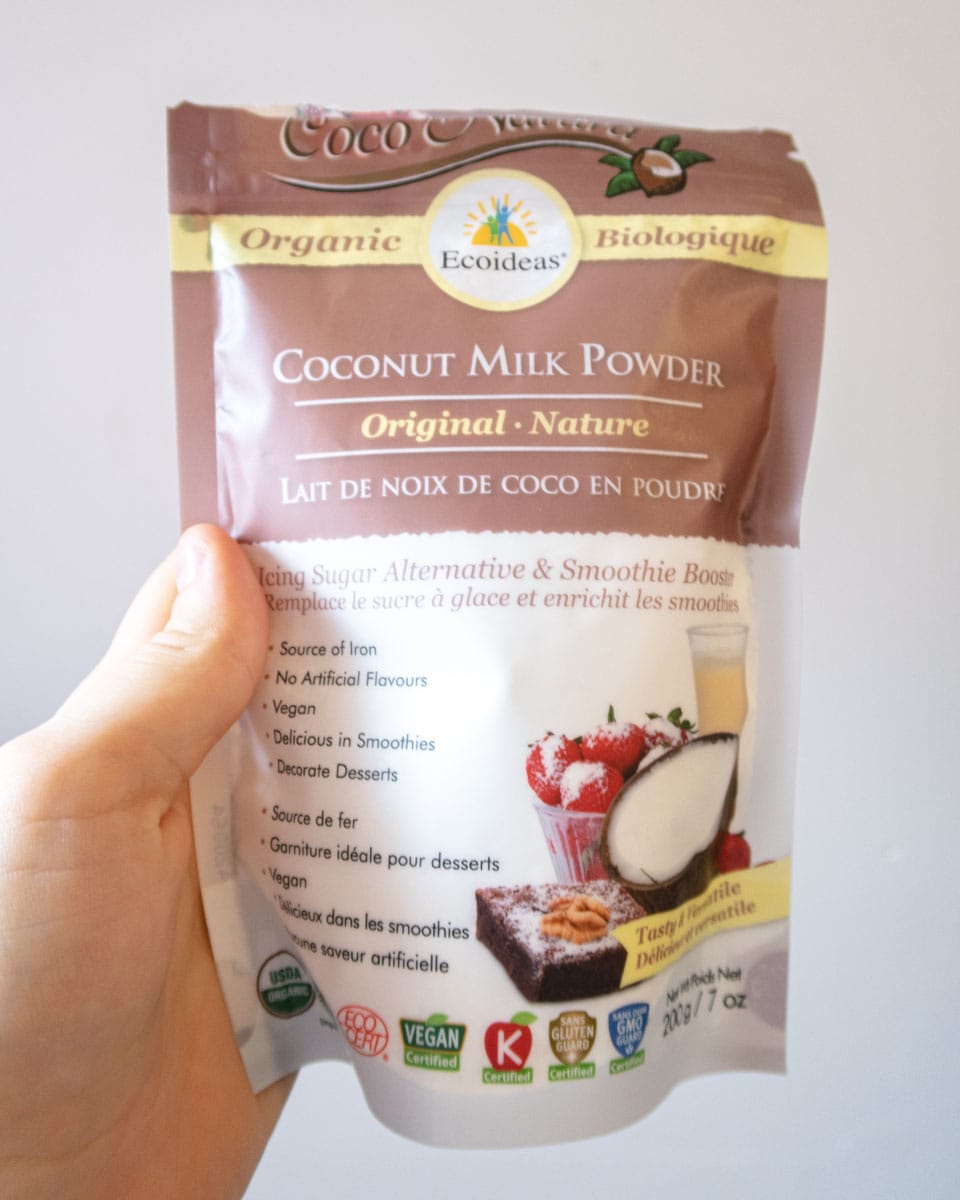 I prefer using coconut milk powder because it gives me a finished product that is less grainy than soy milk powder with a nice floral taste - don't worry it won't make the chocolate taste like coconut. Chocolate made with coconut milk ends up being whiter in color compared to the yellow tones of the soy milk powder one, but this recipe still works with soy milk and it is a bit cheaper. I can even find it at my local bulk store.
While I haven't tried it myself, a lot of other people have also been successful in making white chocolate out of defatted instant almond milk powder. Any kind of instant powdered milk is best, if you can get your hands on it.
Cocoa Butter
Don't worry, cocoa butter doesn't actually have any butter in it. It is actually the fat from the cocoa pod. Chocolate actually needs to use cocoa butter as its fat source to be able to be called chocolate, if not it has to be called compound chocolate. 
Cocoa butter is also actually naturally slightly yellowish, so if you have snow-white chocolate in front of you, it's probably one of those compounds, or "fake" chocolate. 
And while real chocolate tastes 100 miles better than those candy wafers, it does have one big downside. Real chocolate needs to be tempered to use it, especially when used as a coating or for making chocolate pieces and candies. But we'll talk about this later.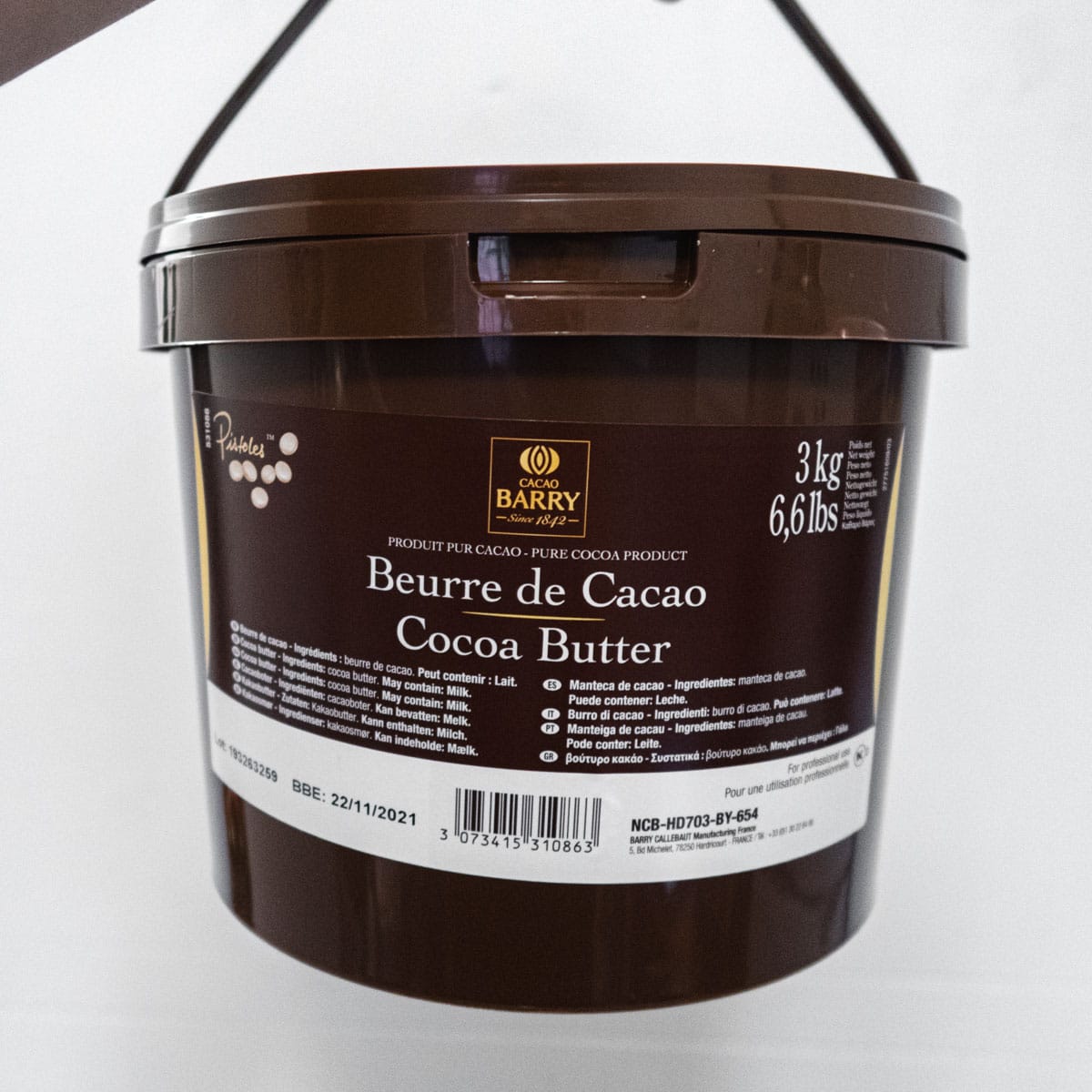 Now for all my cocoa butter needs, I use Cacao Barry cocoa butter because I love that I can find it in my local specialty pastry store. It's relatively not as expensive as other brands (I get a 3kg bucket for 75$ CAD before tax) and it comes in pastilles, which saves me the effort of chopping it up.
Any cacao butter will do but make sure to double-check that it is a food-grade product. The dept of the cacao taste will shift depending on if you use a deodorized product or not, so go with your preference.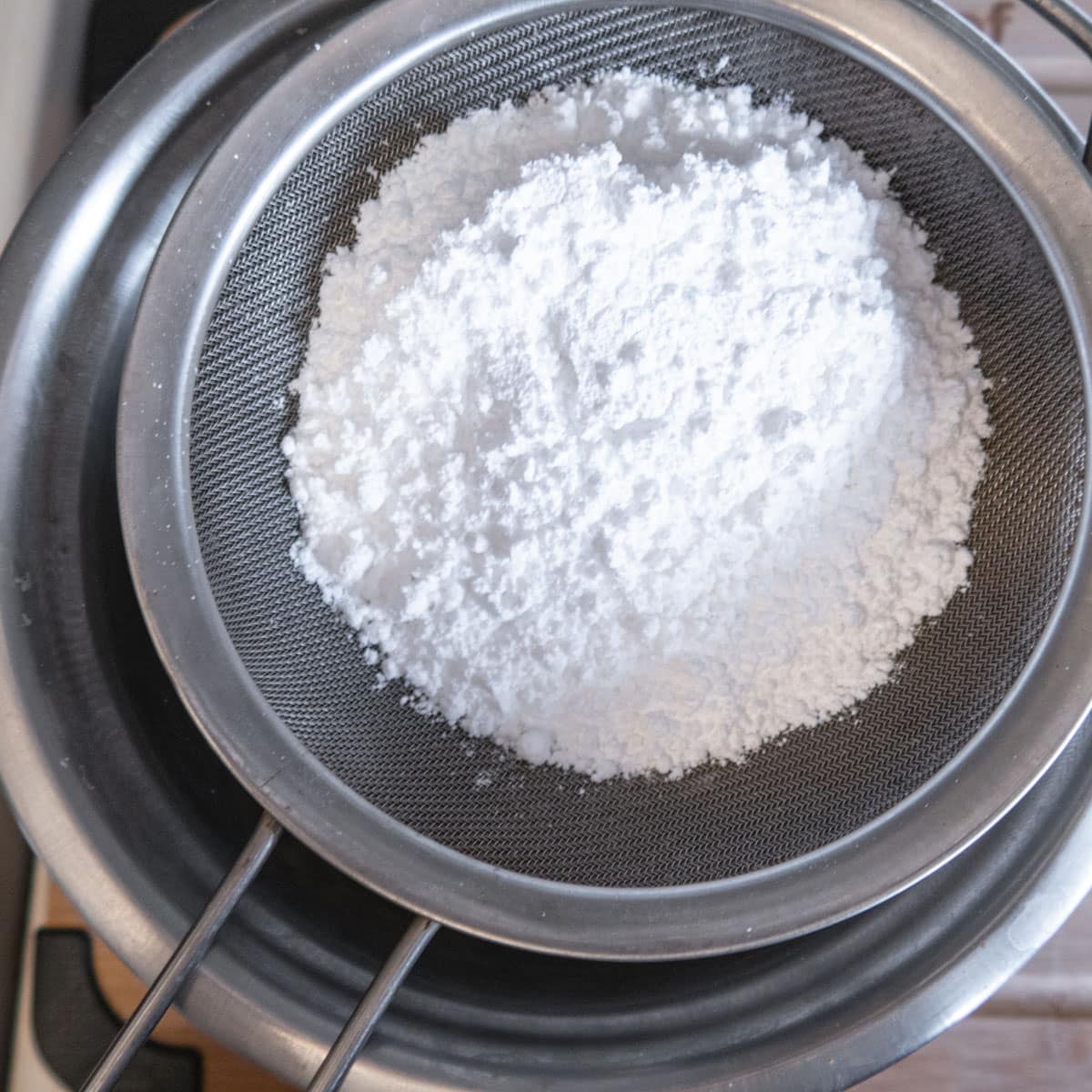 Sugar
Now for the sugar, you will want to use powdered sugar, since granulated sugar would leave a weird granulated texture behind. It is also good to check if the sugar has not been processed with bone char.
If you can find some, use powdered sugar, also known as icing sugar or confectioners sugar, that doesn't have any kind of starch in it. This is because icing sugar has some starch in it to keep it from clumping but it can leave a grainy texture behind. But if you can't find it, your regular icing sugar will do the job.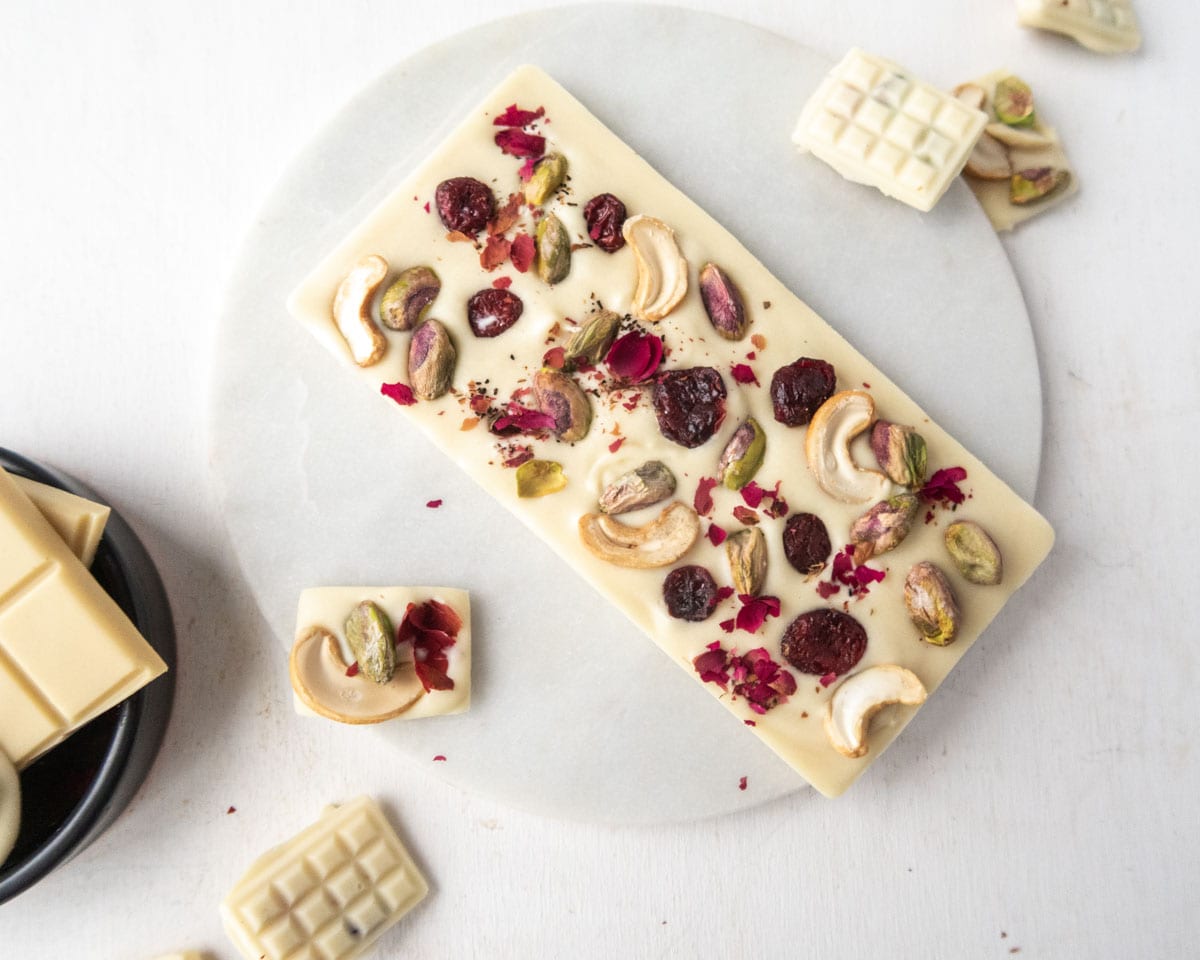 Flavouring
Another option would be going for an untraditional flavoring like peppermint or almond, but it's important that you always use fat-based or alcohol-based flavorings if you don't want to end up with a crumbly mess on your hands. You could also use spices like ginger, cardamon, or tonka bean to flavor your chocolate. 
Another idea to make your white chocolate fancy is to add topping on the backside of your chocolate bar before it sets. Here are some ideas of great topping for white chocolate:
Dried cranberries or cherries
Crystalized ginger or confit orange peel
Nuts like macadamia, hazelnut, sliced almonds, or even large coconut flakes
Sprinkle some local spices or teas like powdered earl gray or turmeric. Dried flower petals are also great!
Add some great texture with some caramel shards or some crushed pretzels
Colouring white chocolate
As mentioned, chocolate hates water. This means that you can't use regular liquid or gel-based food coloring. If you do, your chocolate will seize and separate into a clumpy mess.
You need to use specialty food colorants that are oil-based to color chocolate. I've been using the same Wilton candy food colorants for the past 10 years (like the exact same set!) and I'm happy with them.
You could also use natural food dies like crushed freeze-dried strawberries or turmeric, but you might have some specks here and there.
RELATED: Go take a look at my vegan candy wafer alternatives!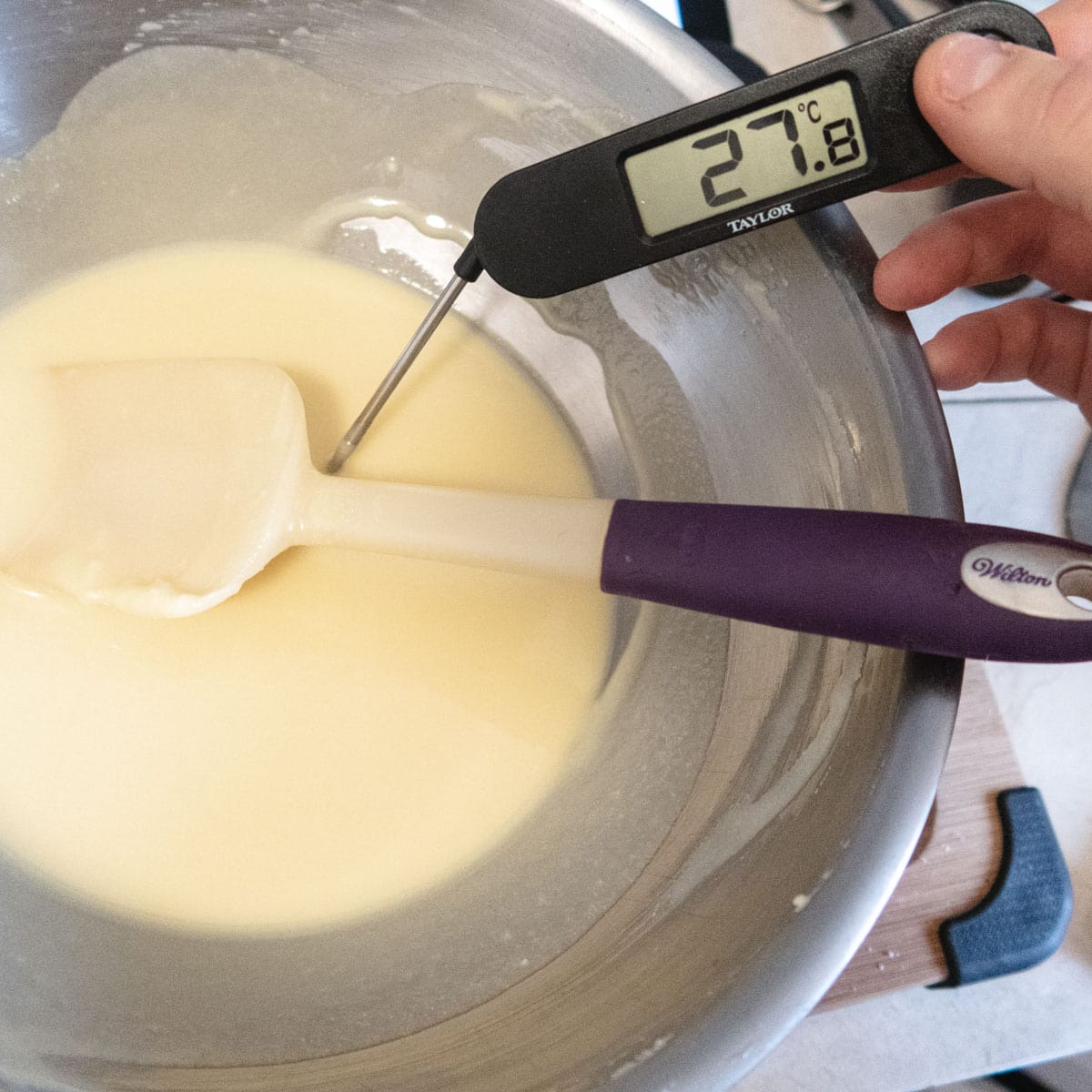 Material
A large (preferably metal) bowl. Get a bigger bowl than you think. You will need some space to mix your chocolate during the tempering process.
1 heat-resistant soft silicone spatula, also known as a maryse.
A medium saucepan
A good digital thermometer
An immersion blender or regular blender.
1 sieve
Chocolate molds of your choosing. More information coming soon about molds.
Optional: a digital scale. I'm a big fan of working with digital scales. They are by far superior to using cups for consistency. Do yourself a favor and get yourself a 20$ one from your local kitchen store, you won't regret it.
Chocolate molds
There are multiple types of molds that you can find on the market to make chocolate shapes like bars, pralines, and larger molded pieces. You can find most molds online or in specialty pastry material shops. Sometimes you can even find some in your local bulk food store. Look around the next time you shop, you might be surprised!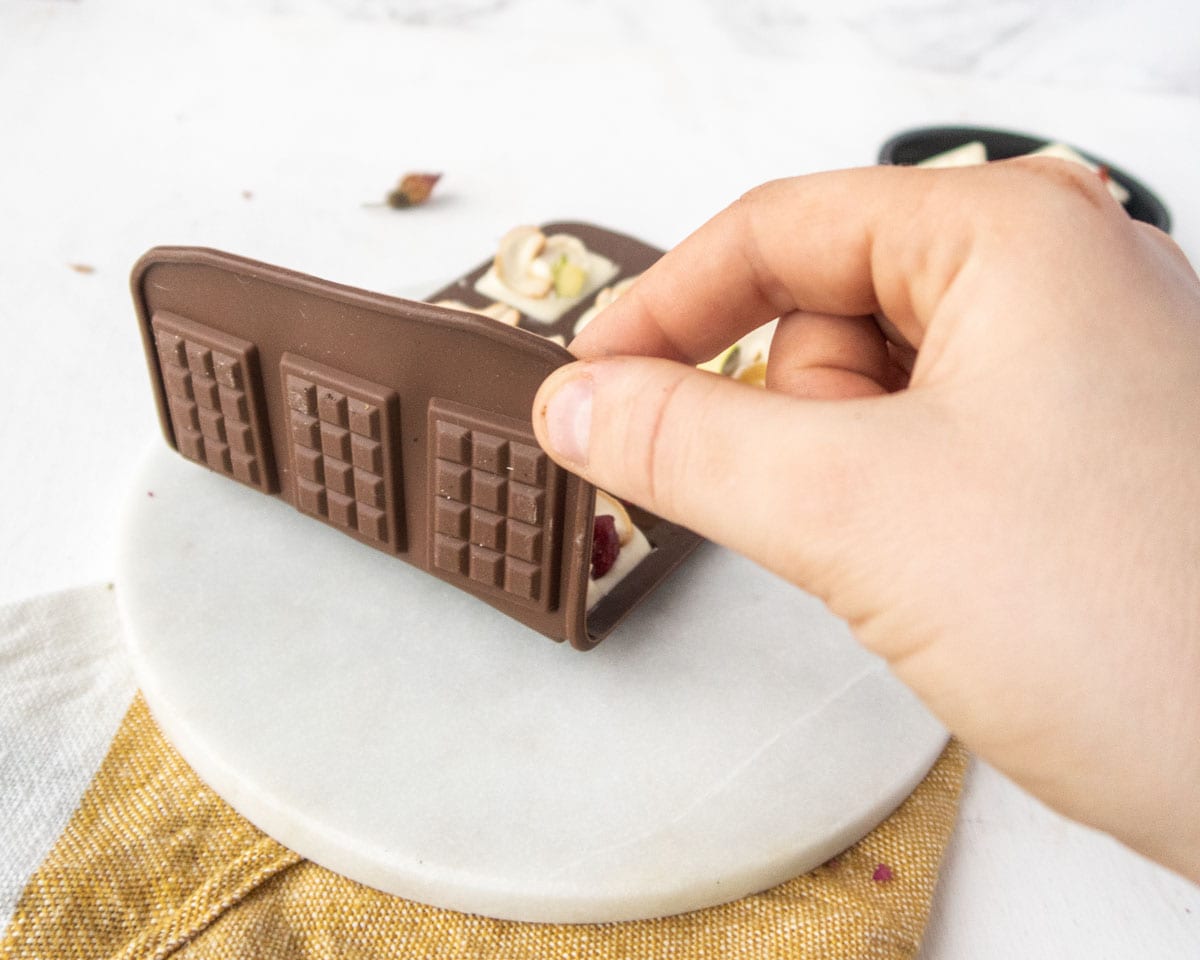 Silicone
Silicone chocolate molds are becoming more and more popular with home cooks who want to venture into chocolate making due to their availability and low cost. You can find them pretty much everywhere, even sometimes in grocery stores.
And while they are practical for making solid chocolate pieces like chocolate bars, they are not that great for hollow pieces or pralines since the silicone warps and can damage thin coatings. Silicone molds are so "flimsy" it is better to place them on a baking tray for support before filling them. It is also better to fill this type of mold with a piping bag.
Silicone molds also don't give the same shine to chocolate as polycarbonate molds for example, but they are very practical since they take little space in the cupboards. I actually used these silicone molds to make the full-size and mini chocolate bars you can see in the pictures and I am very happy with the result.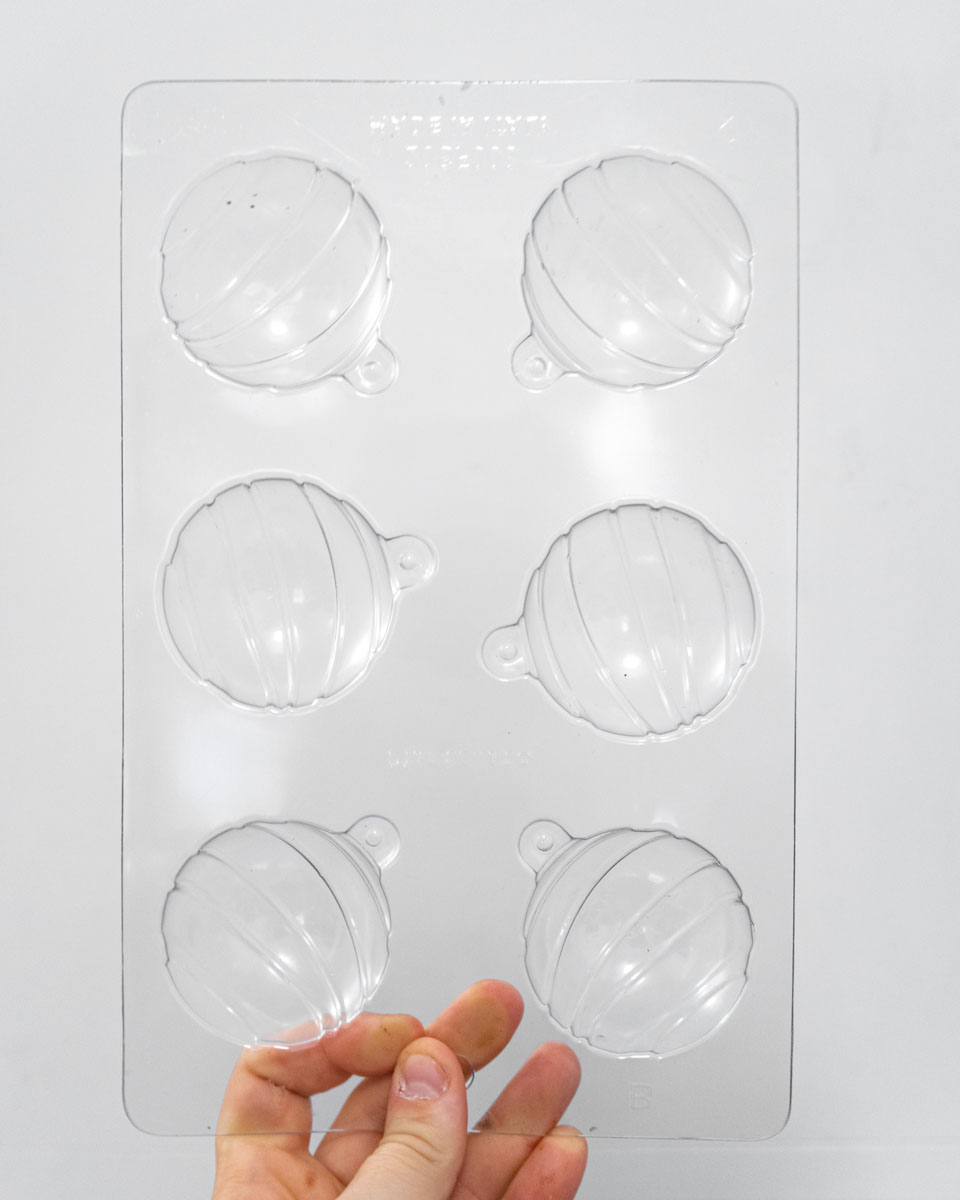 Plastic
Thin plastic molds to make chocolate and candies used to be available in places that carried candy wafers like Michael's and Bulk Barn. Unfortunately, recently these companies have replaced them with silicone alternatives which I find disappointing. You might still be able to find them at party stores but online might be your best bet. 
They are good when you don't want to invest too much in a shape that you will only use for special holidays, like Valentine's Day or Christmas. Especially since they are cheap and take less space than polycarbonate, but they have been hard to find recently.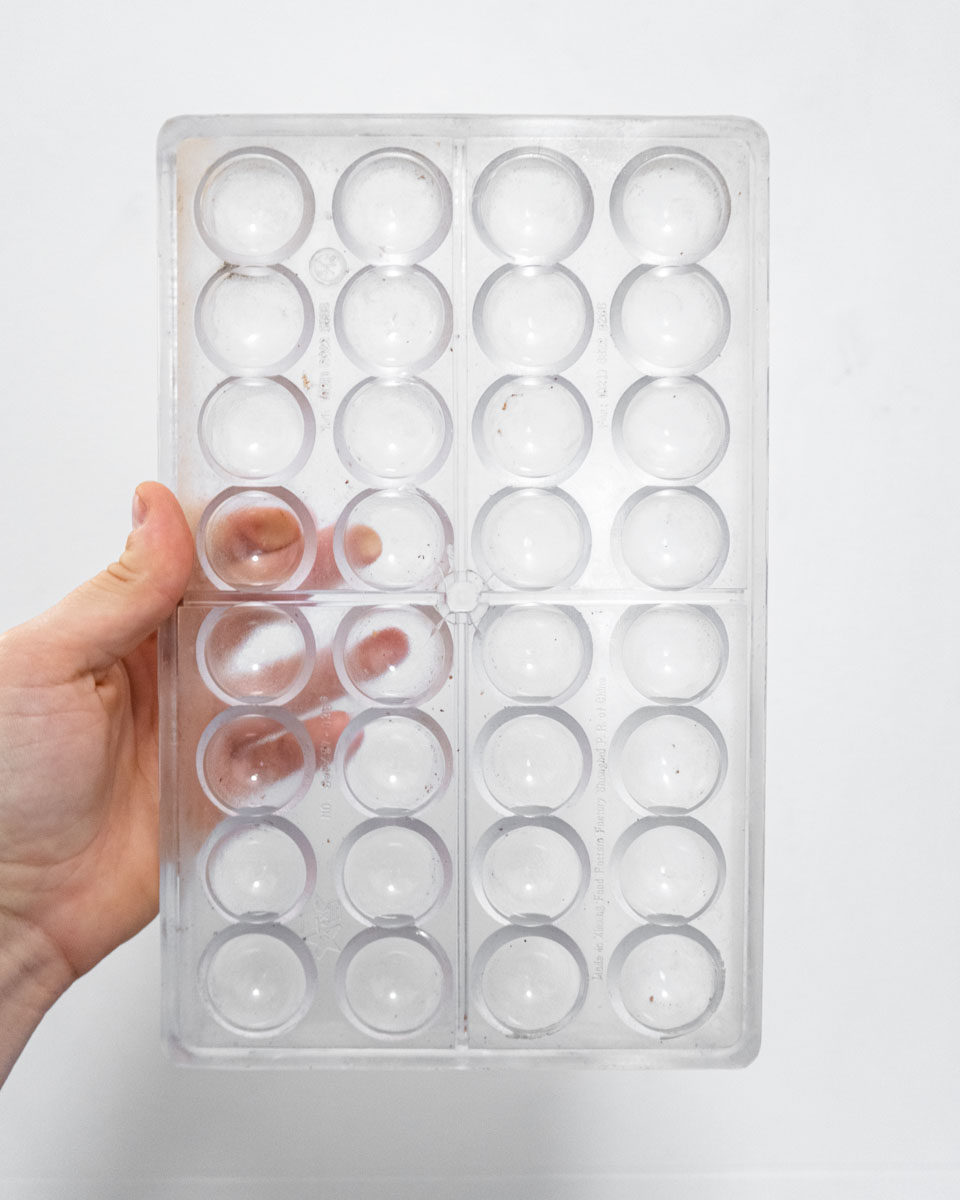 Polycarbonate
Polycarbonate is my favorite type of mold. They are extra solid and rigid which reduced breakage and are perfect for almost all chocolate usage. These are actually what we use in artisan chocolate shops.
They used to be super expensive, often between 20 and 30$ a piece. 20$ is actually the average in specialized pastry material shop where I live, but nowadays, with the internet, you can easily find some polycarbonate molds with awesome shapes for approximately 15$ if not less.
The only thing with polycarbonate is that to release the chocolate from the mold, you need to use chocolate that is properly tempered, if not they will get stuck in the cavities. In a professional setting, we actually just wack them really hard on a flat surface, and usually, that was enough to release the pralines.
This is why silicone is often advertised to home cook since it's easier to release chocolate that is improperly tempered with that material. But polycarbonate is, in my opinion, the best option for molds, but I also understand that sometimes cost and convenience comes first.
How to prep chocolate molds
Make sure your molds are completely dry.
Clean up any dust or debris from the mold with a clean towel.
Polish the inside of each cavity with a piece of folded cheesecloth. This will remove any fingerprints that would have transferred to the chocolate's surface and give a nice shine to the chocolate. This is very important with polycarbonate and plastic molds.
If using luster dust or cocoa butter pain, brush on the surface of each cavity.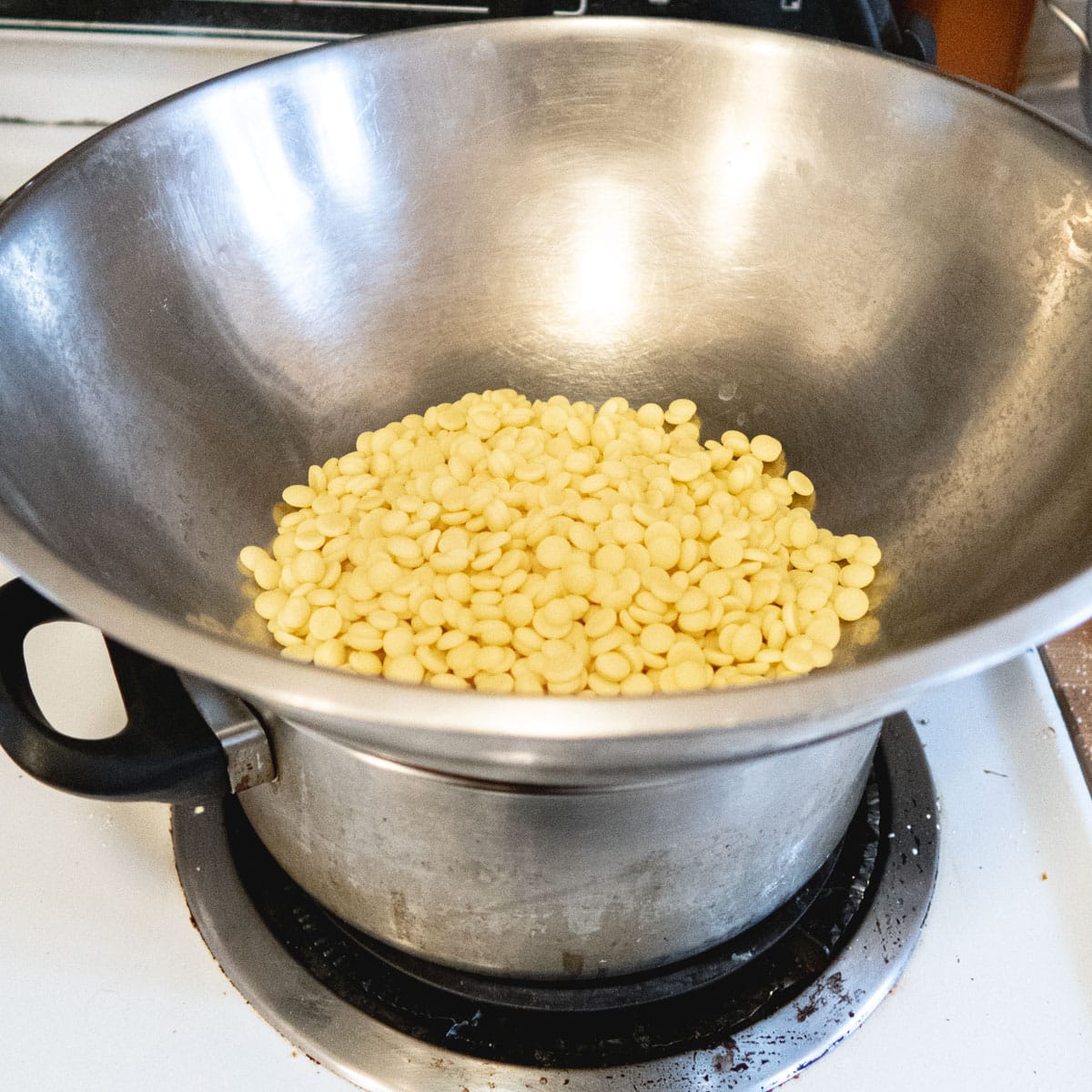 Tempering
Usually, the mention of tempering will make a lot of cooks turn around and run in the opposite direction.  This is because tempering has a bad rep of being temperamental and hard to do. 
What is tempering
Tempering is an essential process when working with chocolate to get shiny chocolate that sets properly and has a nice snap. 
Basically, cocoa butter has different types of crystals in it, and when you melt chocolate they get all scrambled up. You need to "organize" them so that they fit together and so that the chocolate can solidify properly. There are multiple ways to temper chocolate like with marble or seeding. My favorite method, and frankly the one I always use, is definitely the easiest of them all.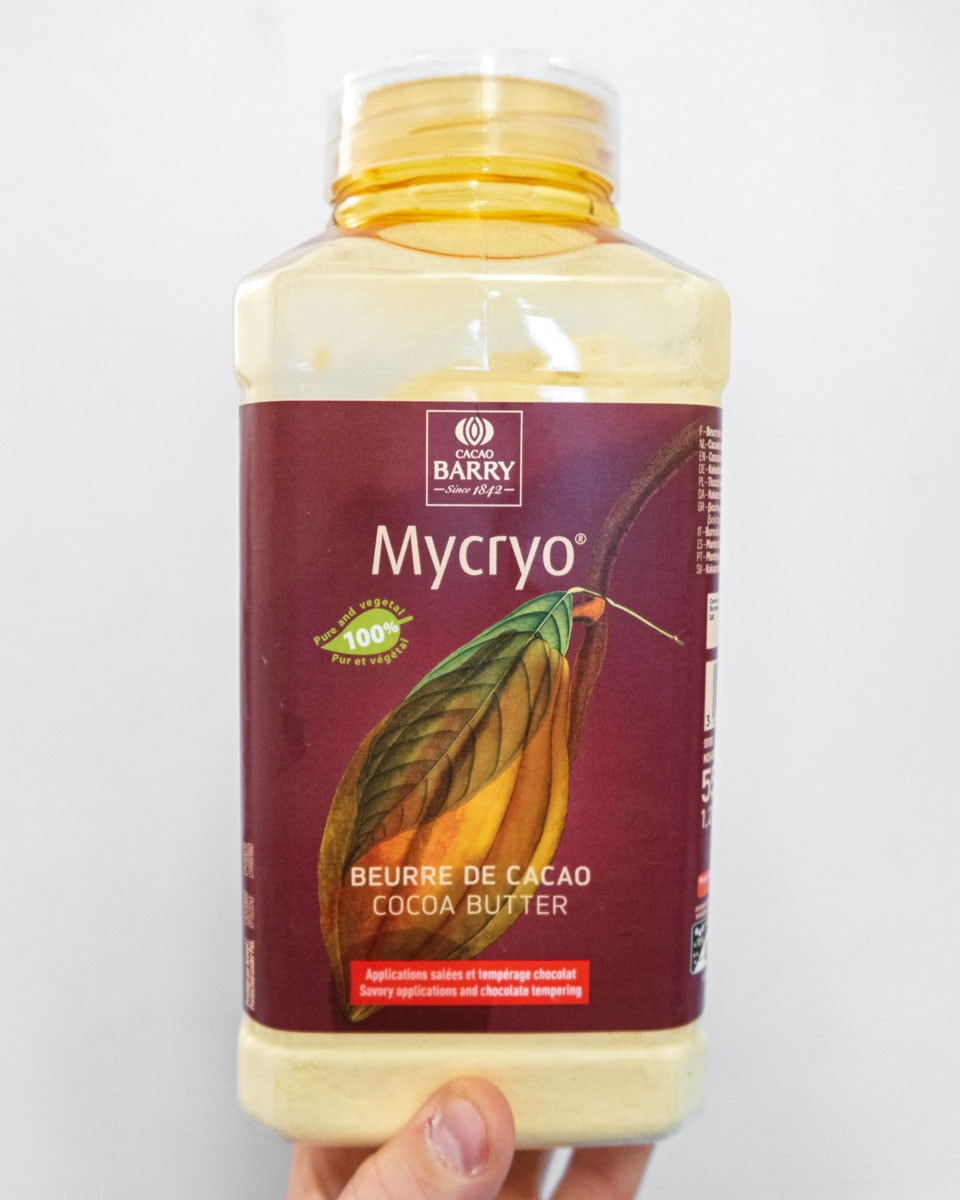 How to temper chocolate
I'm not gonna lie, I had problems before with tempering too but I finally found THE BEST  way to temper chocolate easily. It is actually a method that not a lot of people know about and even fewer use because you need to have a specialty ingredient, Mycryo. 
Cacao Barry actually gives great instructions on how to temper chocolate with Mycryo, but basically, you melt your chocolate, leave it at room temperature until you reach a specified lower temperature, sprinkle 1% of Mycryo, and stir. Voila! Easy non-temperamental chocolate tempering.
You can then increase slightly the temperature of the chocolate to make it more fluid and easier to work with, but often with this method, I find that it is not necessary. Still, be careful, it's easy to overshoot your maximum temperature and mess up your tempering.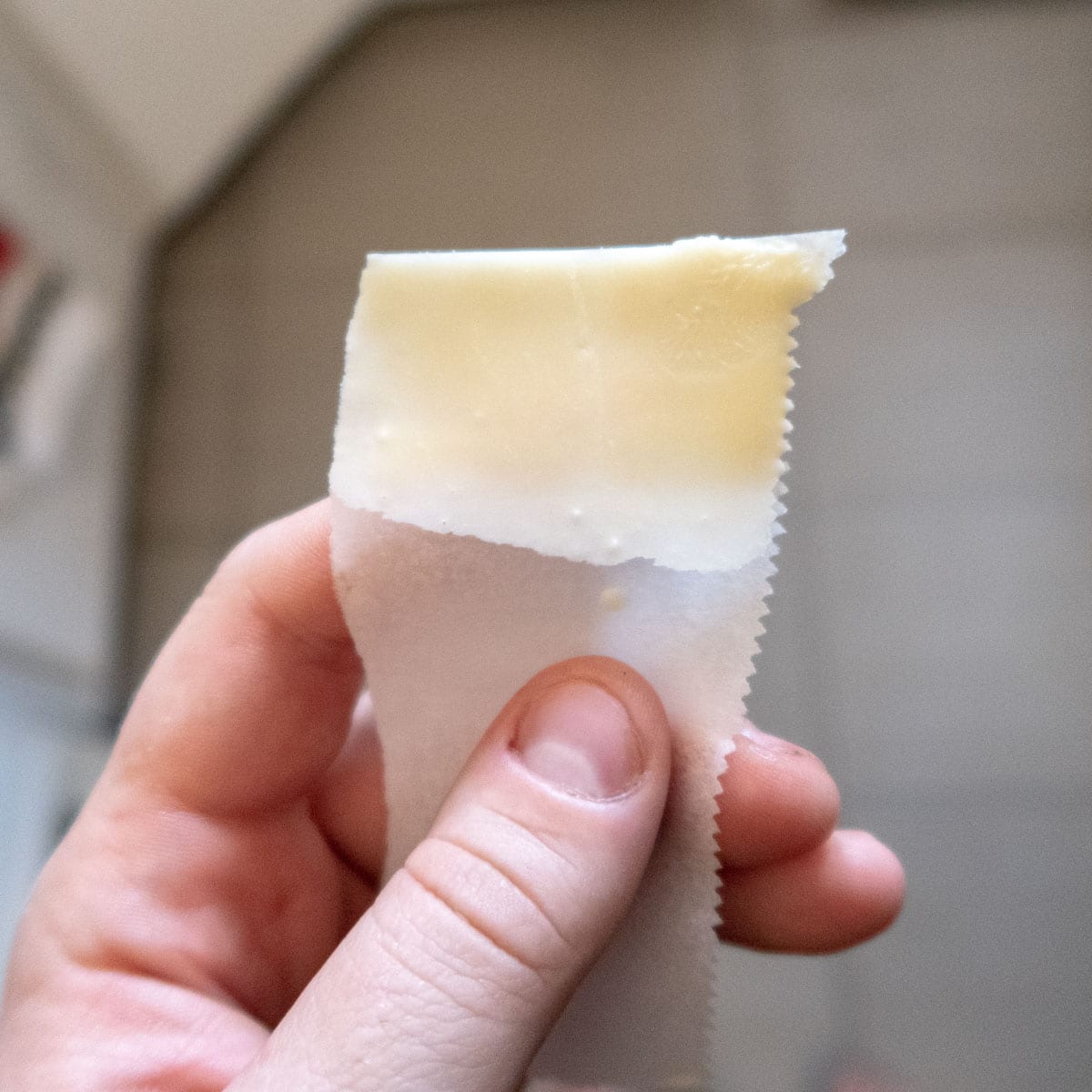 How to check if chocolate is tempered?
Take a small piece of parchment paper and dip the corner into the chocolate so that you have a thin but uniform layer of chocolate. You can also use the tip of a pairing knife. Leave the chocolate to set for 2 minutes.
After the 2 minutes have passed, check if the chocolate is matt and if you can partially peel it off the piece of paper. If the answer is yes, then congradulations! You are good to go.
Tip + Tricks
When measuring the temperature of the chocolate, always stir first with a silicone spatula to redistribute the heat evenly.
If you are using a water bath to melt the chocolate ( which is recommended), the water should not reach the bottom of the bowl. The heat from the steam is actually what is going to melt the chocolate. Also,  check that steam is not escaping from the side of the bowl as the humidity could be enough to make your chocolate seize.
When melting the chocolate, set the heat no higher than medium, as chocolate can scorch easily. Also, use a saucepan that is big enough for the bowl and the amount of chocolate that is being melted. 
To stop your tempered chocolate from setting too quickly, place the bowl with the chocolate on the still-warm saucepan with the stove completely off, as needed.
Recipe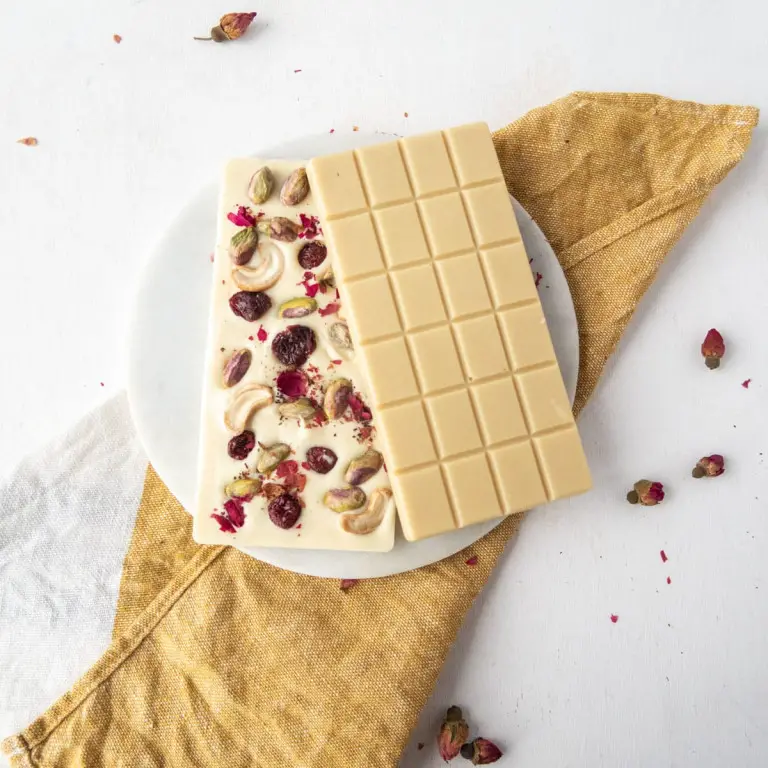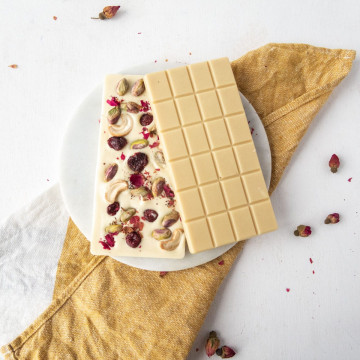 Print
Homemade Vegan White Chocolate
Delicious vegan white chocolate that isn't "melt your face off" sweet with a nice balance of delicate vanilla, just enough sweetness, and a nice creaminess and cacao taste.
Servings
5
large chocolate bars
Ingredients
175g

(1 ¼ cup unmelted)

food-grade cocoa butter pastilles

130g

(1 cup)

powdered sugar

50g

(6 tbsp)

coconut milk powder

4g

(1 tsp)

alcohol-based vanilla extract

or vanilla powder, adjust to taste

4g

(2 tsp)

Mycryo
Instructions
In a medium-sized saucepan, add 2 inches of water and a large bowl on top of it to create a double boiler. The water should not be touching the bottom of the bowl. On the double boiler over medium-low heat, melt the cocoa butter until only a quarter of the pastilles are still unmelted. Remove from the heat and continue to stir until all the cocoa butter is melted and the temperature is between 40-45°C (104-113°F)

Sift together the powdered sugar and coconut milk powder.

Using either a full-sized blender or a stick blender, mix all the ingredients except the Mycryo on medium until smooth, scraping the sides of the bowl or blender container as needed. This should take 1 to 2 minutes. Transfer the chocolate back into the bowl you used previously.

Leave the bowl of chocolate at room temperature and stir from time to time until the chocolate reaches a temperature between 33-34°C (91-93°F).

Sprinkle the Mycryo on the surface of the white chocolate and stir with a silicone spatula until incorporated. Continue stiring the chocolate for 2 minutes without incorporated too much air. This creates a final product that will be shinier.

Test if your chocolate is properly tempered by dipping a piece of parchment paper in the chocolate and leaving it to set at room temperature for 2 minutes. If the chocolate is matt and starting to peel off the paper, your chocolate is in temper. If not, start the tempering process again by following step 1, 4 and 5.

Use immediately, or fill your prepared chosen mold with the white chocolate, using a piping bag as needed. Leave to set at room temperature until the chocolate looks solid and matt. Enjoy!
Notes
Store in a dry, dark, cool place. A temperature between 13-15°C (55-60°F) is ideal.
Chocolate takes up to 24 hours to completely set and harden to its full capacity.
Did you try this chocolaty recipe?
Don't be shy and let me know how it went! Leave me a comment below and share a picture on Instagram !