This mesmerizing modern tart is filled with a thin layer of strawberry jam and some luscious almond cream. Topped with a gorgeous geometric rhubarb pattern, this vegan tart will impress all your friends and family during your next fancy dinner.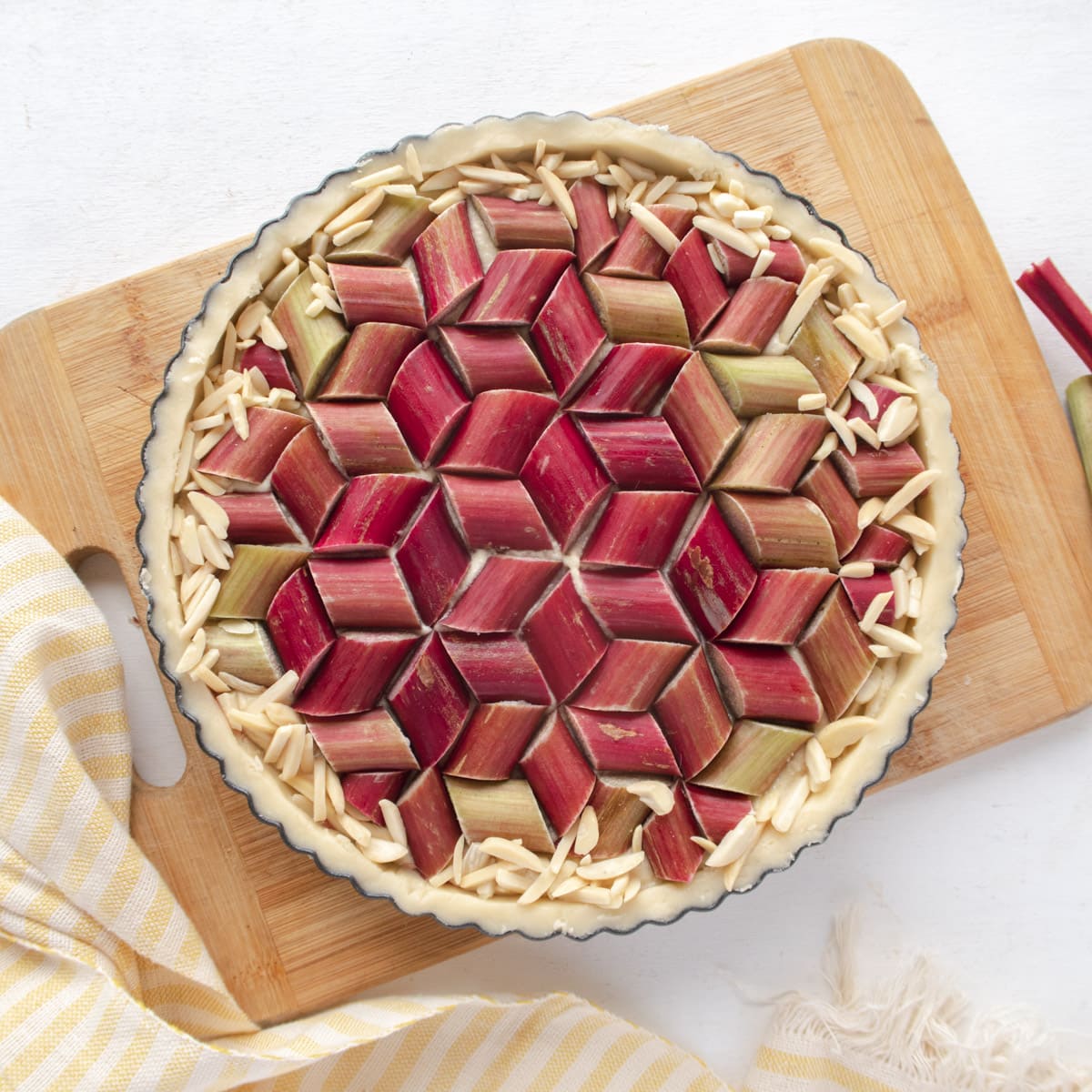 Feel free to skip right to the recipe... but you might miss some important information so go ahead at your own risk. 😉
---
Strawberry + rhubarb: a match made in heaven
Rhubarb is one of those ingredients that I simply can't get enough of. Unfortunately,  rhubarb season is very short where I live. This is why whenever I spot it at my local farmers market I jump on it to make the most delicious and slightly tart rhubarb pastries.
In this case, I made a sweet pastry dough tart filled with a thin layer of strawberry jam, some almond cream, and garnished with a geometric rhubarb pattern. The sweetness of the jam and the tartness of the rhubarb pairs together beautifully and the texture of the almond cream is a dream!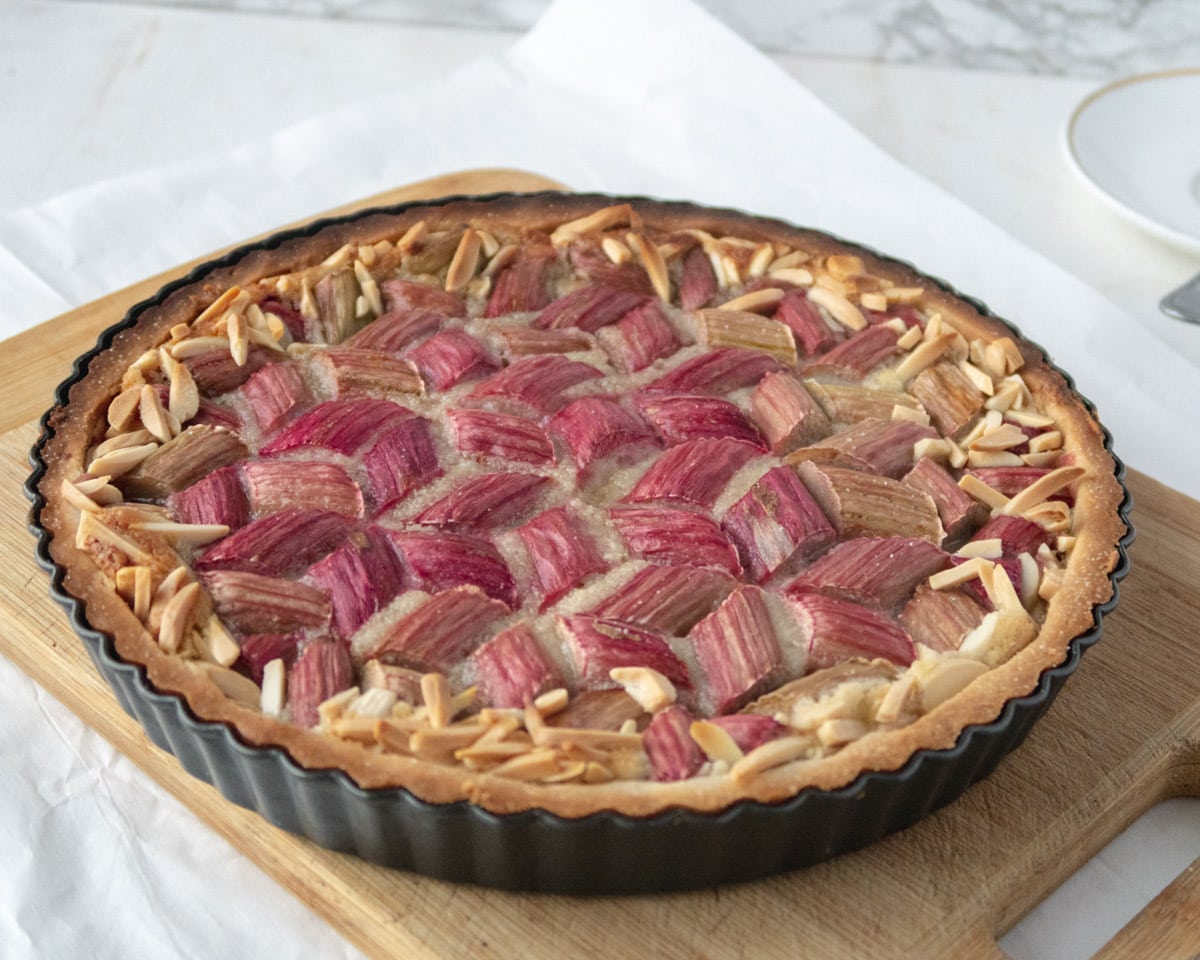 Choosing the best rhubarb
Try to find thick rhubarb stalks that are all uniform in size. This will make it easier for you while making the pattern. Look also for the most colorful rhubarb stalks to make the biggest impact with your tart. Finally, check for freshness. Try to pick rhubarb stalks that are crisp and not bendy.
RELATED : Vegan frangipane cream for all your tart needs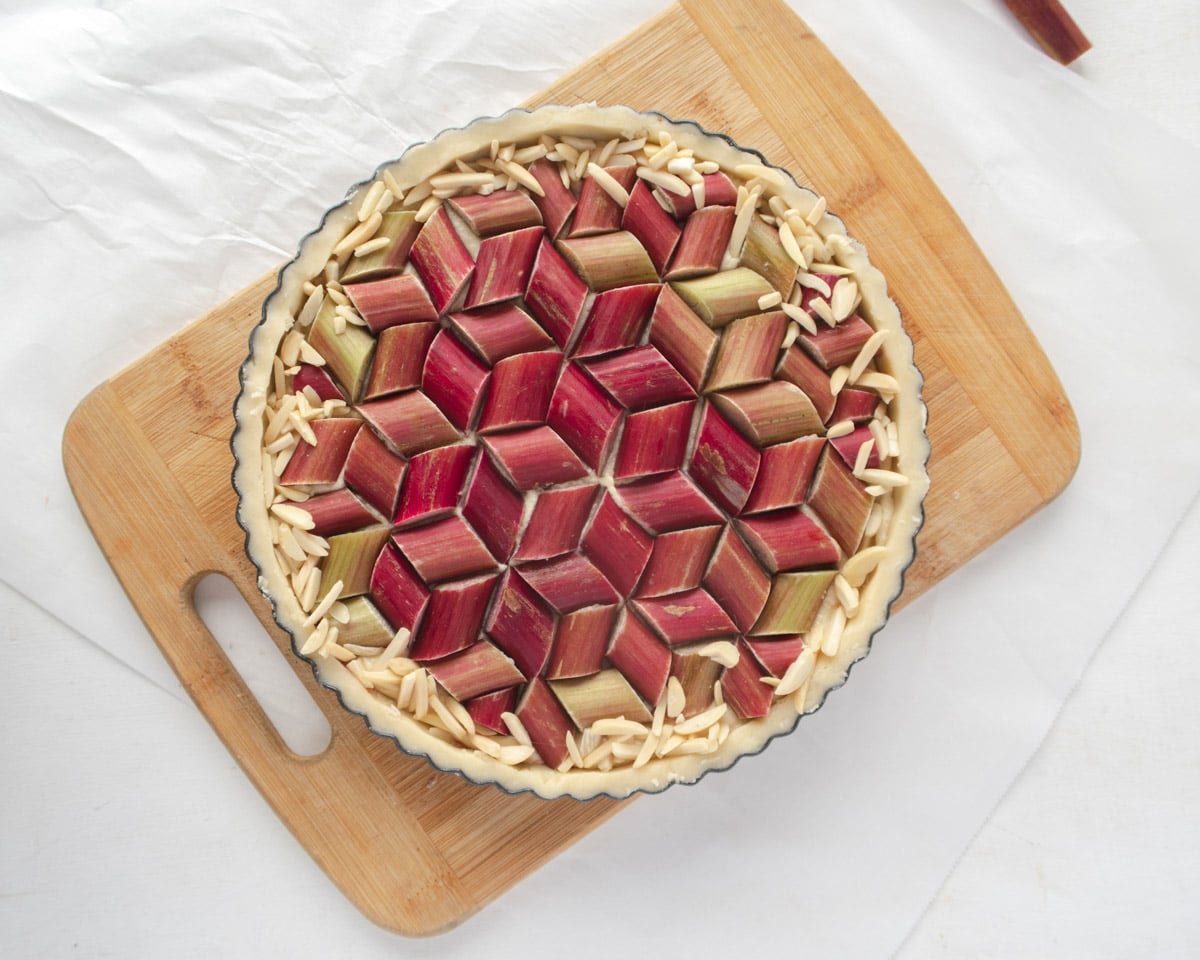 Making the geometric pattern.
Step 1
While your tart shell is cooling, prepare your rhubarb by cutting your rhubarb stalks at a 45-degree angle so that all the edges are the same size. In my case, that was 2cm on all sides, but that will depend on the length of your cut edge and on the thickness of your rhubarb. We are basically making some diamond shapes.
Place the pieces of rhubarb in a bowl of ice-cold water to keep it fresh while you work on making the pattern.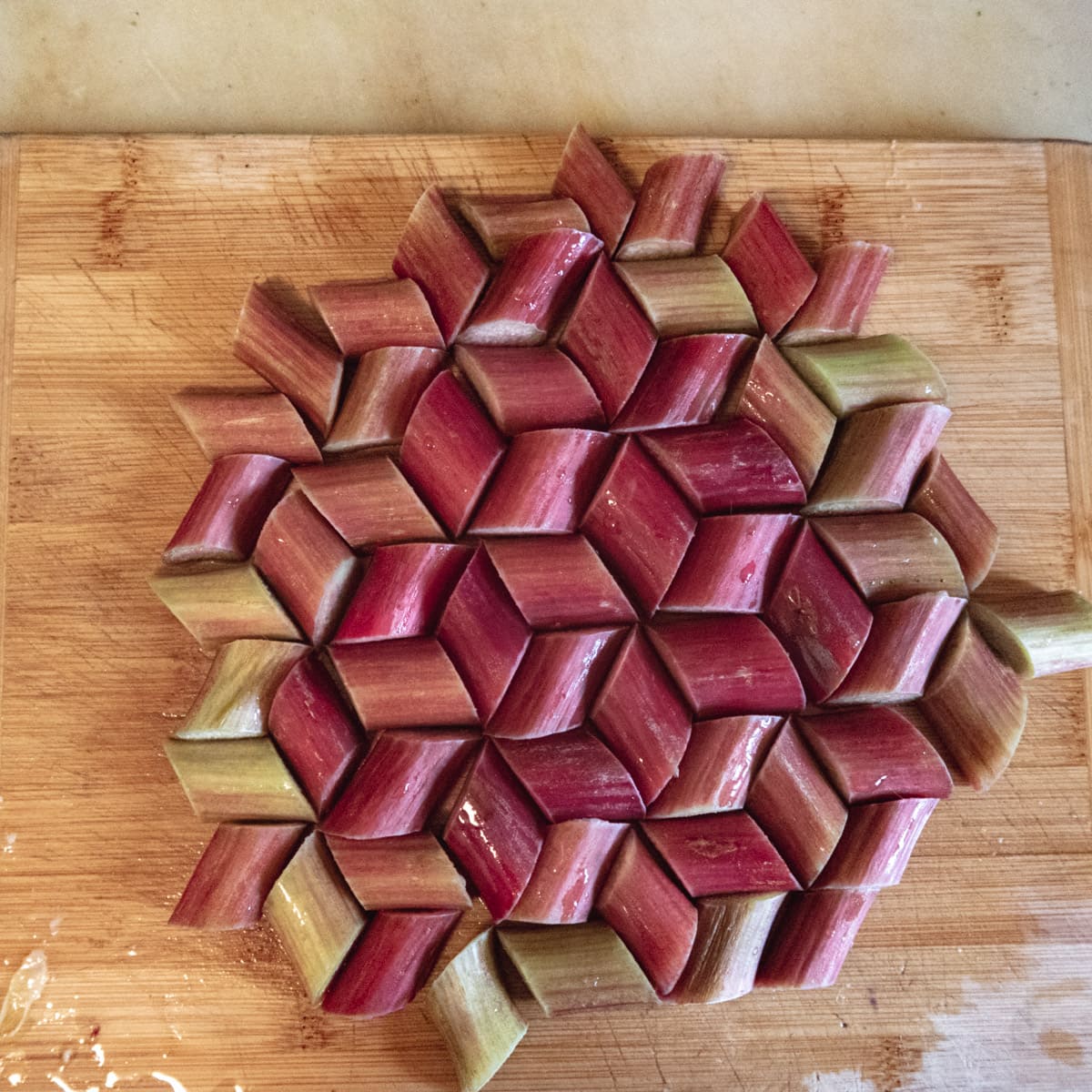 Step 2
In the middle of a cutting board, start by making a star shape with 6 pieces of rhubarb. Try putting the biggest and most colorful rhubarb pieces in the middle of the pie. This is where most people will look first.
Then work your way towards the edges with the smaller and greener pieces, completing the pattern. Don't forget that each star is part of the next one. Try to make a pattern that is bigger than your tart tin.
Making the pattern on a cutting board first will give you the cleanest look because you won't need to modify the pattern or move rhubarb pieces that will be coated in almond cream.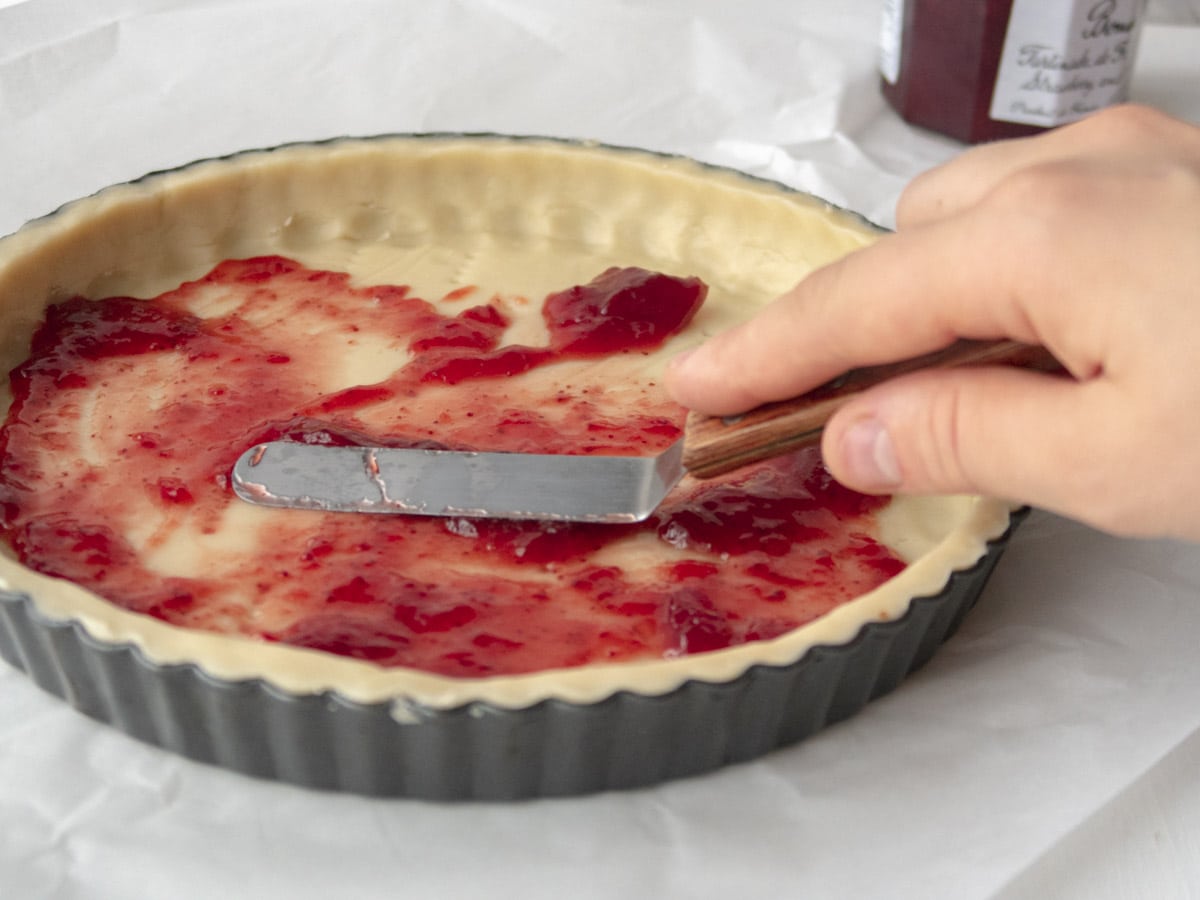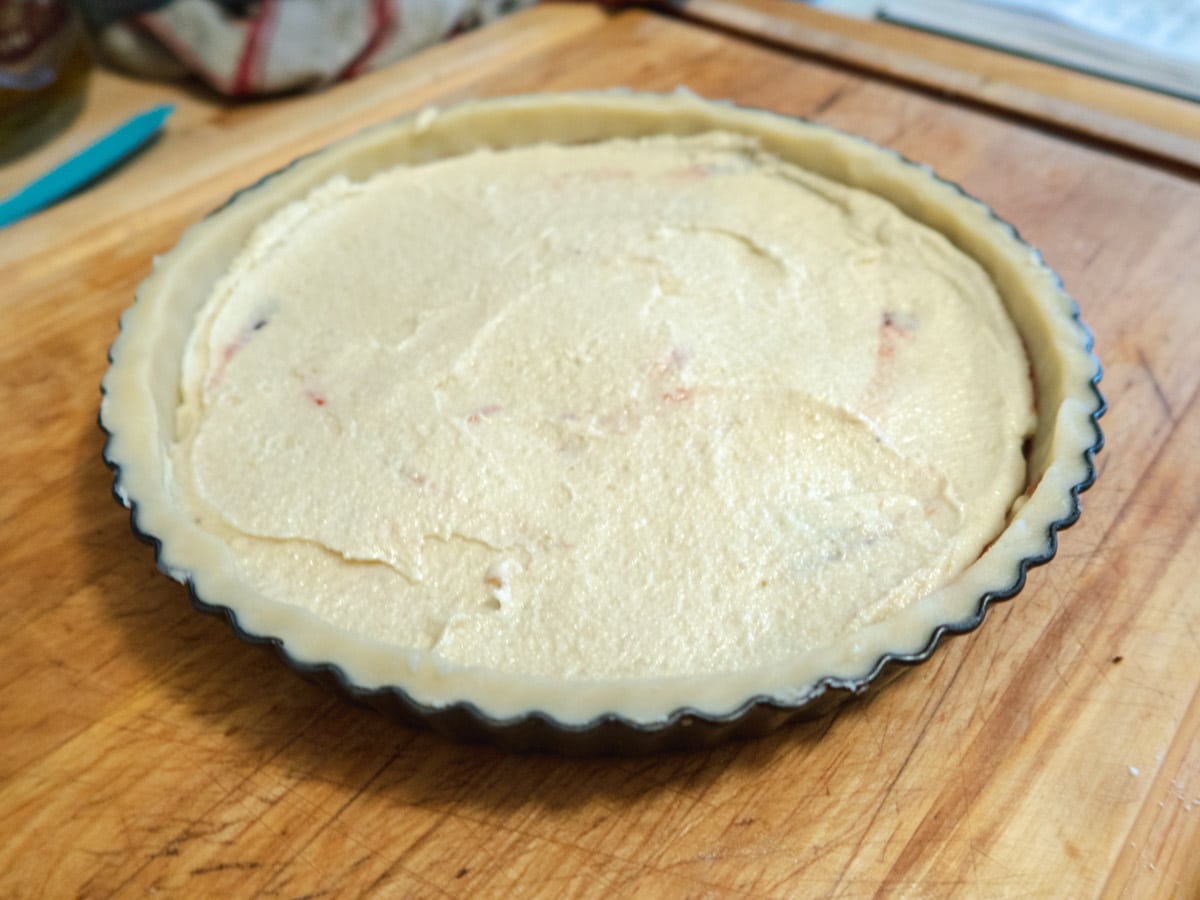 Step 3
Once your tart shell is filled, transfer the rhubarb pattern from the cutting board to the tart, starting from the middle and making sure the center of the star is in the center of the tart. Again, work your way towards the edges until the majority of the tart surface is covered in rhubarb.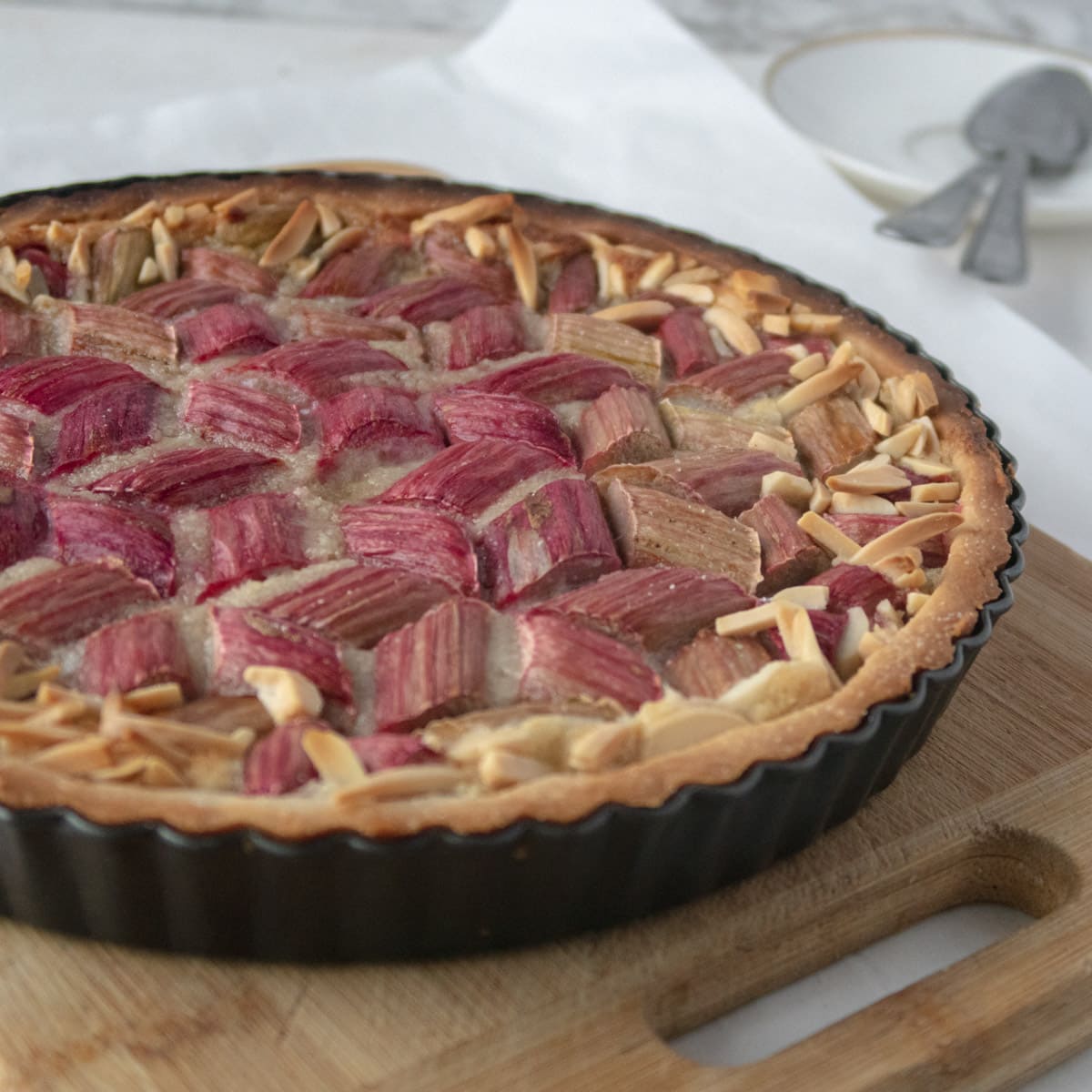 Step 4
Fill in the edges of the pie that are uncovered with pieces of rhubarb that you will cut to fit. Try not to break the pattern. Cover the holes that are too awkward to fill with rhubarb with sliced almonds.
Tips and tricks…and other answers
Making it a pie
I love to use pâte sucrée (or sweet pastry dough) to make this tart because it is sturdy, which means that I can remove it from the tin. However, you can transform this tart into a pie by using a pâte brisé (or your favorite classic pie dough) and your classic American-style pie dish but go for a smaller dish like a 7-inch pie tin because they tend to be deeper than tart tins. You will also not be able to remove it from the container.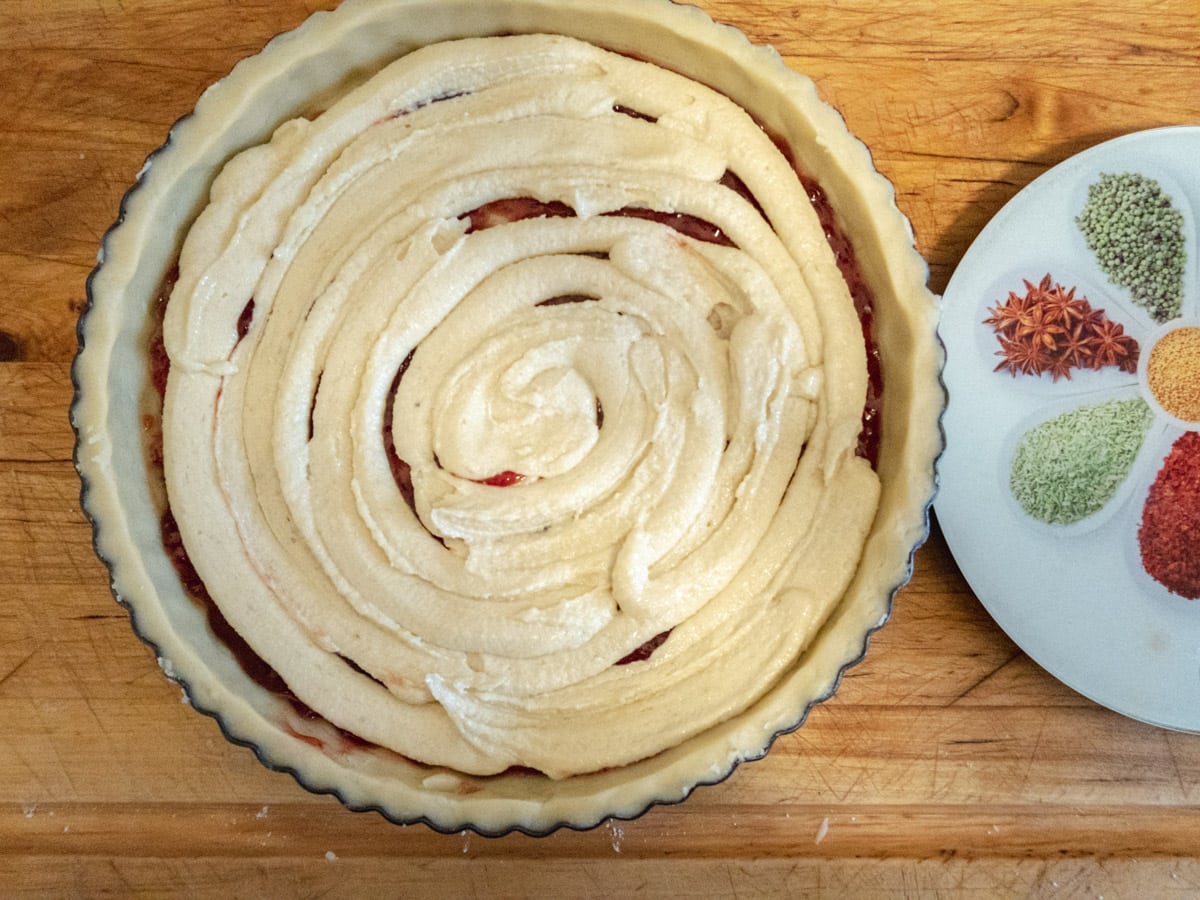 Filling the tart with frangipane
Use a pastry bag, or a large freezer bag with a corner snipped off, to garnish the tart evenly since the almond cream will "slip" over the jam if you try to garnish it with a spoon.
Once you fill the tart with the almond cream, the tart will look under garnished but that is normal. Almond cream does puff up while cooking and you need to leave some space for the rhubarb.
Gluten free
This tart can be easily made gluten-free by using compliant pastry dough, either store-bought or homemade, since the frangipane cream does not contain gluten.
A "press on" dough, like Cookie and Kate's almond-oats crust , would be a great alternative in this recipe to make this geometric rhubarb tart gluten-free friendly.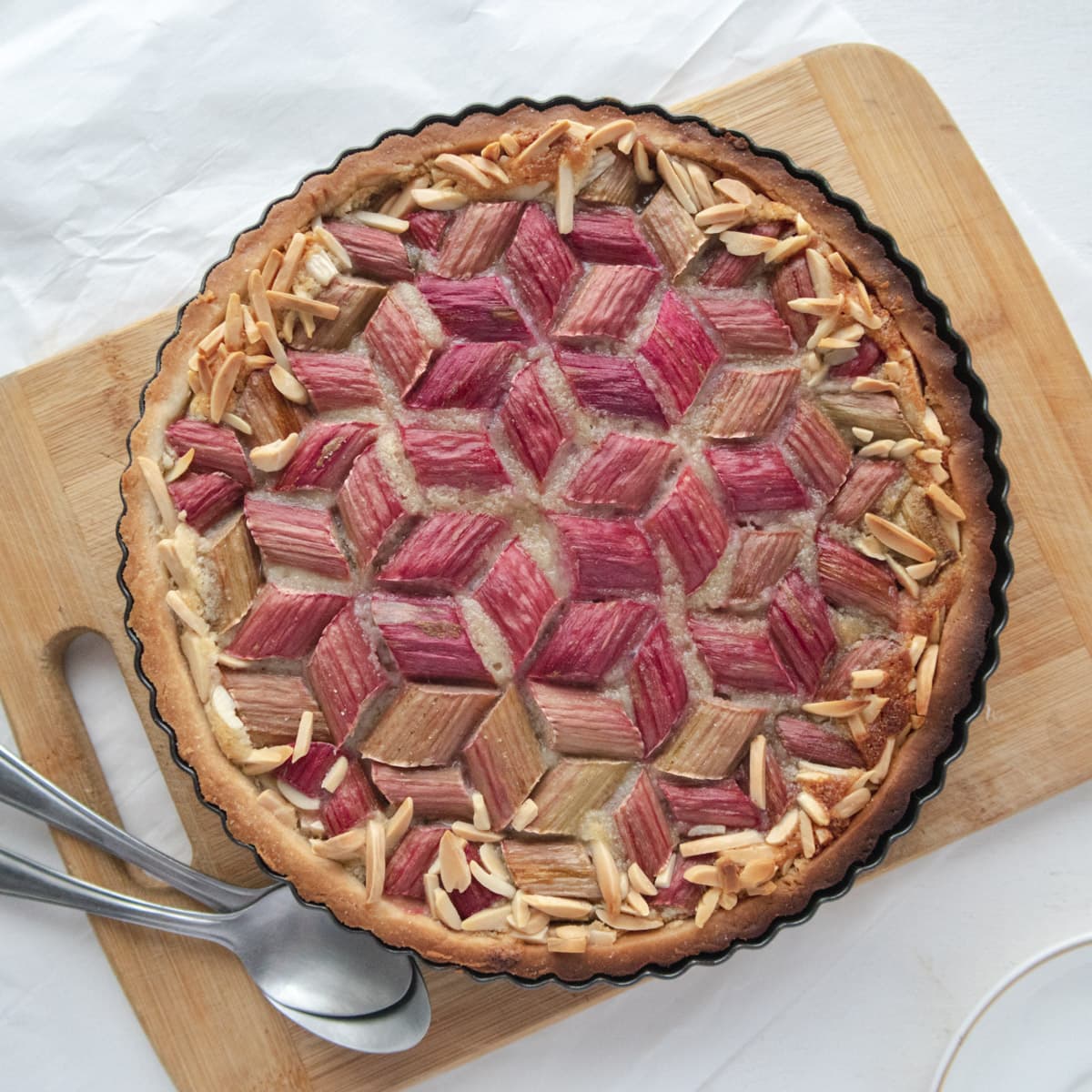 Cooked rhubarb texture
I got asked what the texture of the cooked rhubarb was like. This is also something I worried about before making it because no one wants to chew through though and fibrous rhubarb. Luckily the cooked rhubarb was delightful. Soft and almost jammy, the rhubarb could be cut with the edge of a spoon, which is perfect for this vegan strawberry and rhubarb tart.
The rhubarb still keeps its shape though, which keeps the integrity of the geometric pattern, which is not always the case with this type of tart.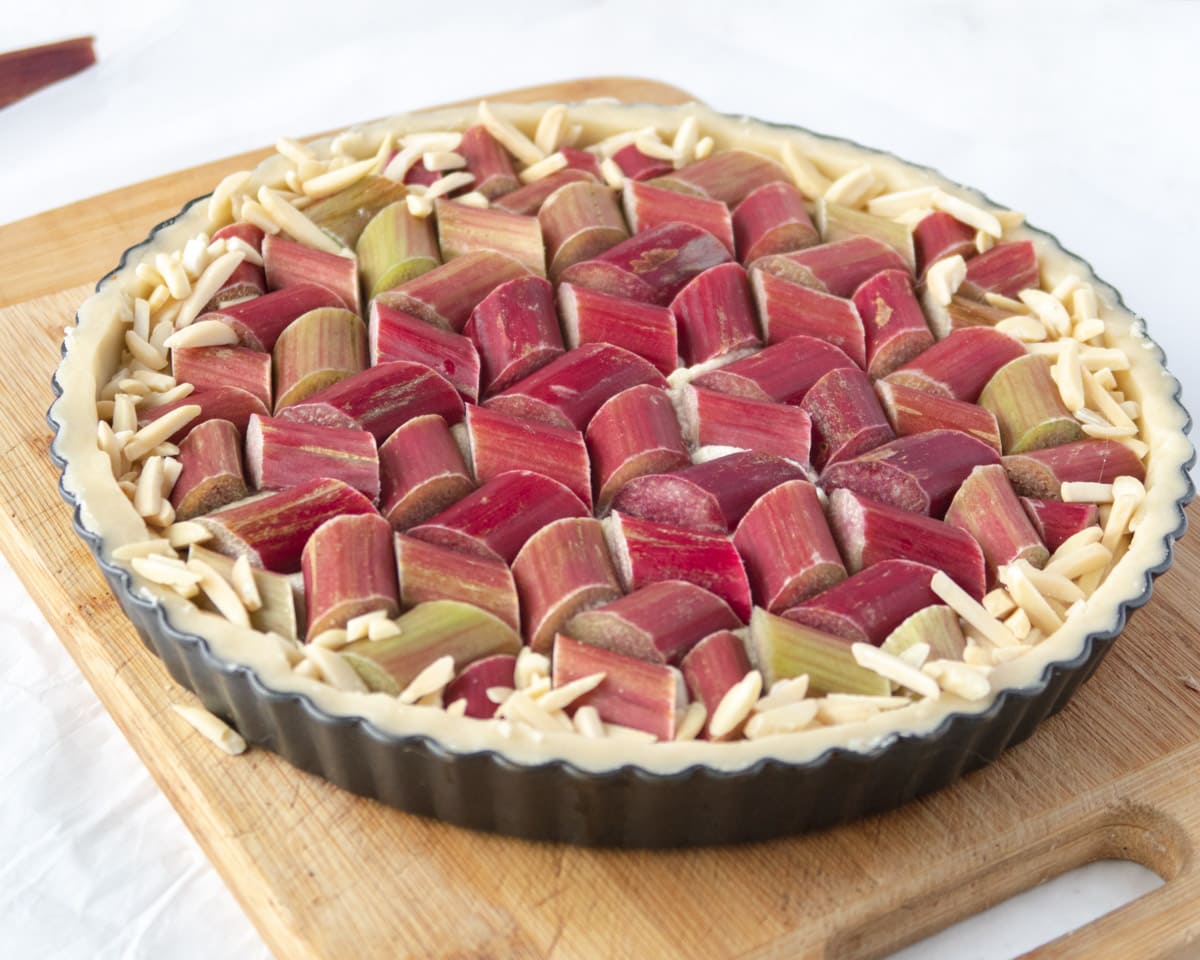 Storage
This vegan geometric rhubarb tart is perfect for making ahead and freezing for a special occasion. You can freeze this tart for up to 6 months or refrigerate for 3 to 4 days
Tools
Here are all the tools you will need in your cupboards to make this vegan geometric rhubarb tart.
 9-inch tart tin, or 7-inch pie dish
1 rolling pin
1 fork 
1 small offset spatula, or 1 spoon
1 medium bowl
1 sturdy silicone spatula, or maryse
1 pastry bag, (+ a 1.5 cm round pastry tip, optional)
A cutting board and a sharp knife
1 ruler
Recipe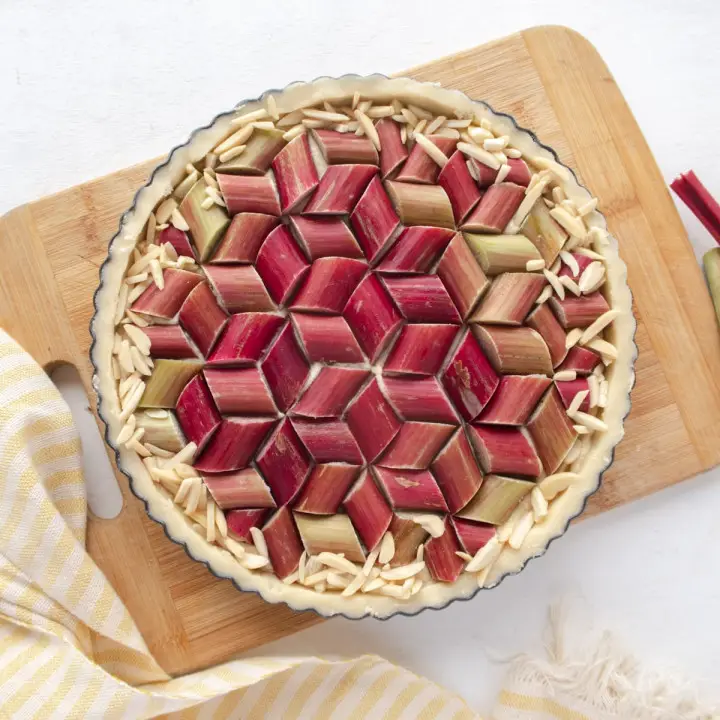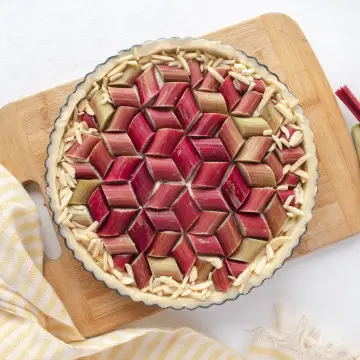 Print
Vegan Strawberry, Rhubarb and Frangipane Tart
This mesmerizing modern tart is filled with a thin layer of strawberry jam and some luscious almond cream. Topped with a gorgeous geometric rhubarb pattern, this vegan tart will impress all your friends and family during your next fancy dinner.
Ingredients
Frangipane Cream (Almond cream)
90g

(6 tbsp)

vegan margarine

132g

(1 cup)

powdered or icing sugar

, sifted

100g

(1 cup)

almond flour

⅛

teaspoon

fine sea salt

16g

(2 tbsp)

cornstarch

45g

(3 tbsp)

applesauce

10g

(2 tsp)

brown rum

1

teaspoon

almond extract

, adjust to taste
Garnish
6 to 8

large rhubarb stalks

, the most uniform in width possible

3 tbsp

of your favorite strawberry jam

Sliced almonds
Instructions
Foncer
Roll out the pâte sucrée (sweet pastry dough) between two pieces of parchment paper to a 2 to 3mm thickness ( ⅛ inch).

Transfer to a 9-inch fluted tart pan and line the pan with the rolled out dough, pressing all around for the dough to fill each crevice and for it to stick to the edges of the tin.

Cut off the excess dough with a sharp knife or by rolling a rolling pin on top of the sharp edges of the tart pan. Refrigerate the tart pan for 20 to 30 minutes, or until the tart shell is firm to the touch.
Frangipane Cream
In a large bowl, with a strong silicone spatula, mix together the soft margarine, powdered sugar, almond flour, and cornstarch until homogenous.

Slowly add the applesauce, rum, and almond extract while mixing until homogenous.
Assembly
Prick the bottom of the cold tart shell all over with a fork and spread the strawberry jam evenly on the bottom of the dough with the back of a spoon or with a small offset spatula.

Transfer the frangipane cream into a pastry bag with no pastry tip (or a large freezer-friendly Ziploc with a corner cut off) and evenly pipe a thin layer of almond cream over the whole surface of the pie. Smooth out the cream with a small offset spatula.

Preheat your oven to 350°F or 180°C

Cut your rhubarb stalks at a 45-degree angle so that all the edges are the same size and the pieces look like lozenges or diamond shapes.

Starting from the middle of the pie, cream a 6pinted star pattern, working your way out until the whole surface of the tart is covered in rhubarb. Cut custom pieces to fit where the pattern meets the edges of the tart.

Sprinkles some sliced almonds all around the edge fo the tart.

Place the tart in the 350°F (180°C) preheated oven and bake for 25 to 35 minutes, or until the cream looks cooked throughout and the bottom of the tart is golden brown.

Let the tart cool for 10 minutes before cutting into slices,or freezing for a later occasion. Enjoy!
Notes
Keep at room temperature for up to 3 days or freeze for up to 4 months.
Did you try this rhubarblicious recipe?
Don't be shy and let me know how it went! Leave me a comment below and share a picture on Instagram !