Almond cream is a flavourful and rich vegan filling that can be used to make incredible french pastries, fill tarts, or stuff croissants!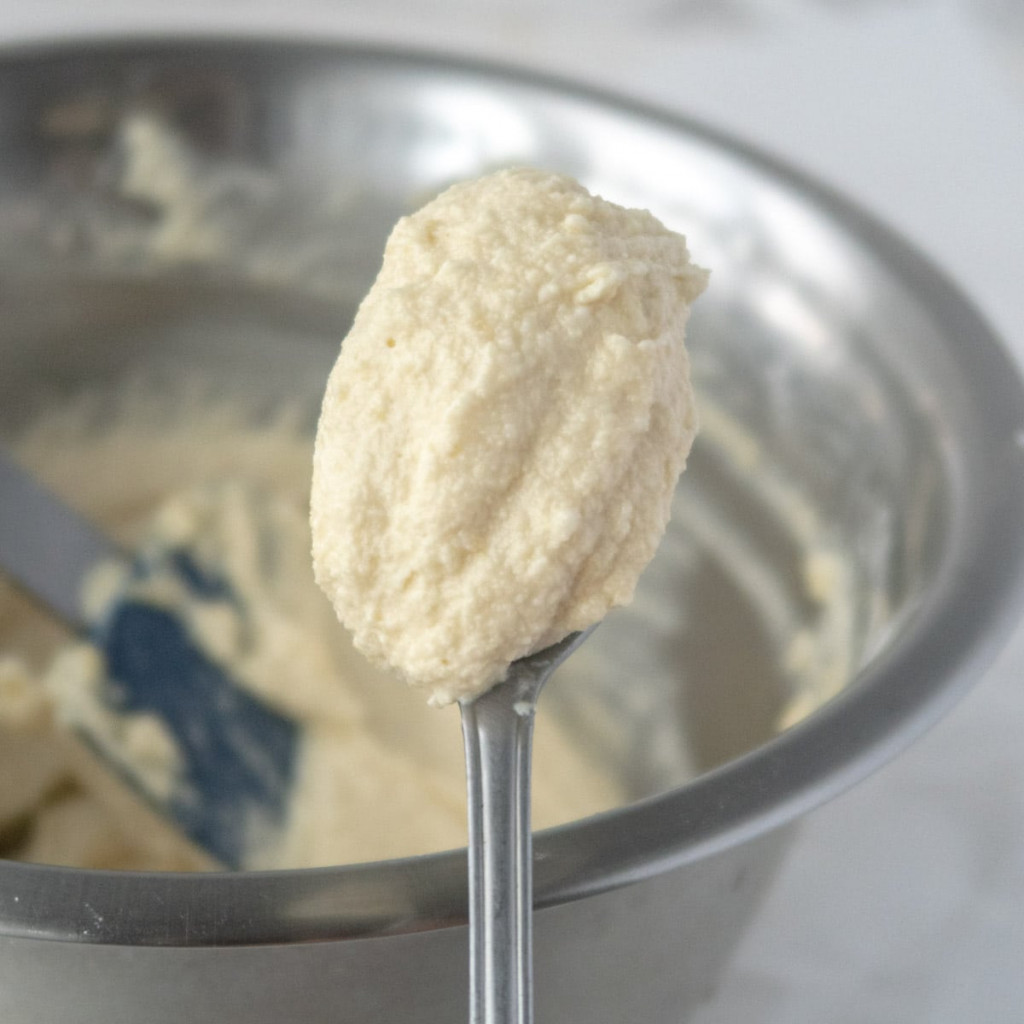 ---
What is crème d'amande?
Crème d'amande, also known as almond cream or frangipane is an incredibly versatile almond-flavored filling that is used, mostly cooked,  in multiple classic French desserts and pastries like Pithivier, almond croissants, or Tarte Bourdaloue.

While frangipane is traditionally made with eggs and butter,  this version is 100% plant-based and tastes just like the real deal. This vegan almond cream is very quick and easy to make. Vegan crème d'amande is a great stepping stone for beginner bakers starting out their exploration is french pastry making. 
After all, this recipe is so easy that all you need to make this recipe is a large bowl and a spatula or whisk depending on your preference.
Cooking frangipane
When using this almond cream in a pie, leave 1 to 1.5 cm of free space to the edge of the pie. While the pie might seem underfilled, almond cream does puff up when it cooks. Leaving this extra space will save you from a pie spilling over during the cooking process.
When using in a large pie, cook for 45 minutes to 1 h at 250F or 120C. You will know the almond cream is cooked when the cream doesn't jiggle when the pie is shaken. You can also poke a toothpick in the middle of your cream and if it comes out clean, it is ready. Well, cooked almond cream should be golden brown to even dark brown on the edges.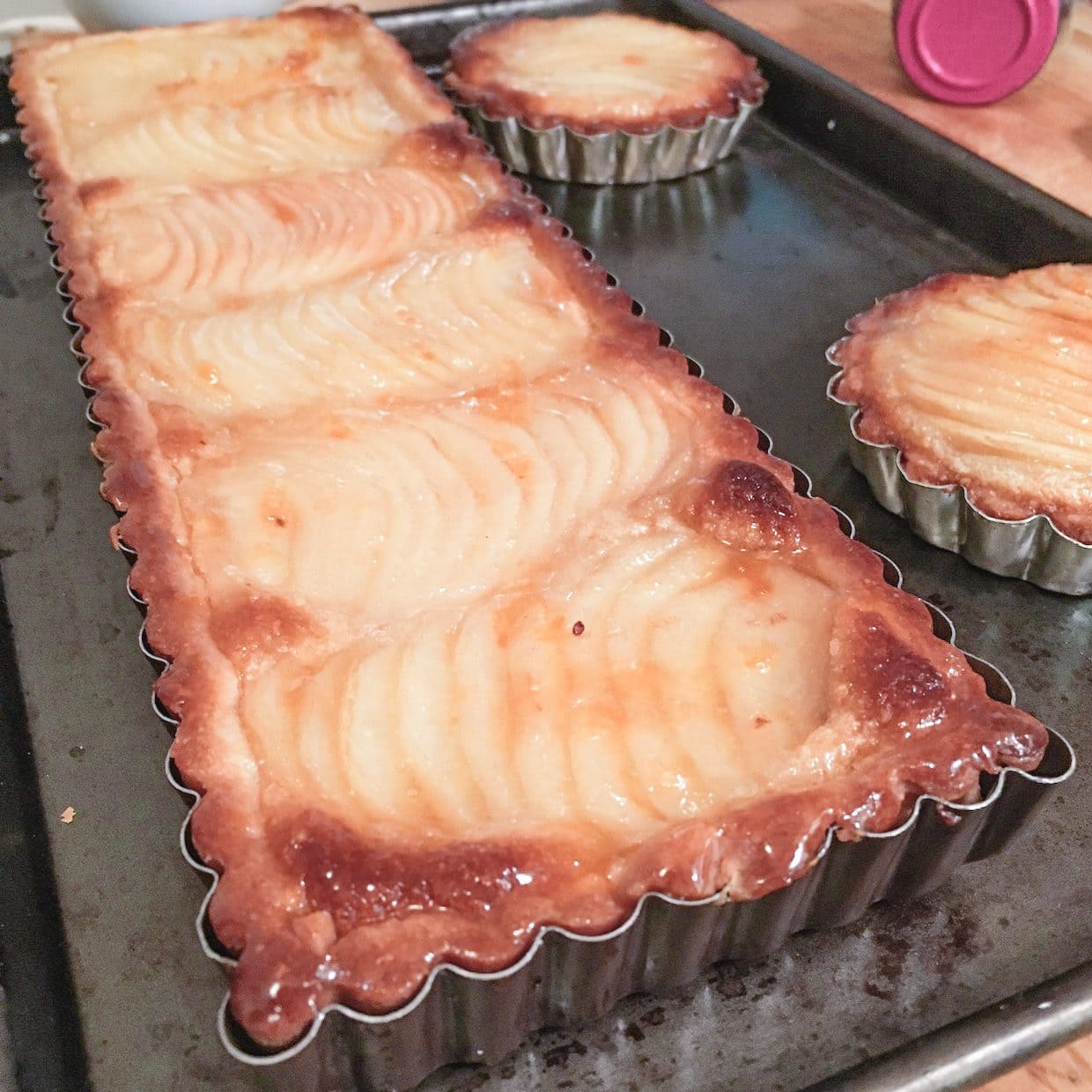 Great ways to use crème d'amande
Here are some great ways to use vegan crème d'amande
Bakewell tart and other fruit pies
Slice in half day-old croissants, dip in plant-based milk and stuff with almond cream. Bake until golden brown. 
Almond-cream stuffed  roasted half apricots or peaches
Use as a french toast stuffing or baked crêpe
You could also switch things up by using a different kind of powdered nuts, like hazelnuts or macadamia nuts.
Vegan almond cream as a pie filling
Since this vegan almond cream truly shines when paired with fruits and used in tarts, let's see together how to make any fruit and frangipane tart.
Make the almond cream

Make the vegan almond cream and place it in a pastry bag with a large round pastry tip for a clean and easy filling experience.

Foncer

Roll out and line your tart tin with your crust. A pâte sucrée is best for this type of filling. Prick the bottom of the crust with a fork.

Fill

Fill with your almond cream. A 2 cm thickness of cream is often enough for most tart, as this almond cream does rise as it bakes.

Garnish with fruits

Place fresh berries, sliced stone fruits, or other seasonal fruits on top of the cream. you could also spread a thin layer of fruit jam on the bottom of the crust before filling with cream. Fill in the empty spaces where there is no fruits with sliced almonds or other decorations.

Bake

Bake at 180°C or 350°F for about 45 minutes, or until the bottom of the crust is fully cooked and the almond cream is set. Cool completely before slicing. Enjoy!
RELATED : Try frangipane cream in my geometric rhubarb tart!
Storage
Almond cream can be kept in the fridge for up to 5 days.
Almond cream can be frozen, but it takes so little time to make that it is probably unnecessary to do so. Once defrosted, whisk well until homogenous before using.
Note: almond flour is best kept in the freezer
Recipe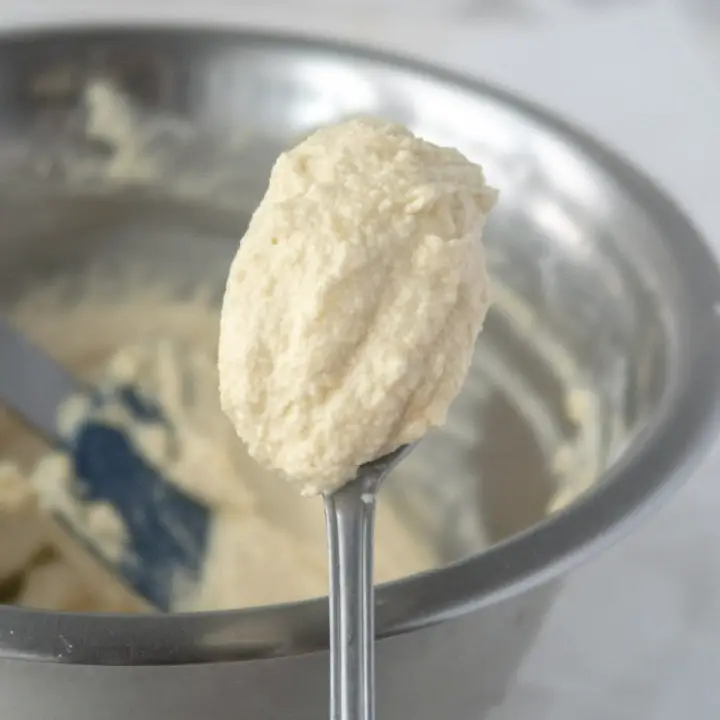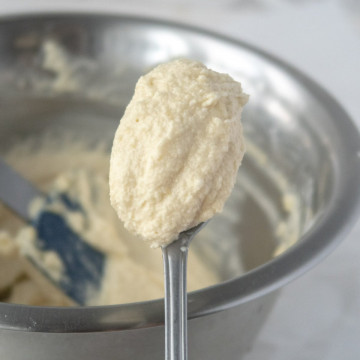 Print
Classic Vegan French Almond Cream (Frangipane Cream)
Almond cream is a flavourful vegan rich filling that can be used to make incredible french pastries, fill tarts, or stuff croissants!
Ingredients
90g

(6 tbsp)

vegan margarine

132g

(1 cup)

powdered or icing sugar

100g

(1 cup)

Almond flour

⅛ tsp

fine sea salt

16g

(2 tbsp)

cornstarch

45g

(3 tbsp)

applesauce

10g

(2 tsp)

brown rum

1 tsp

almond extract

, adjust to taste
Instructions
In a large bowl, mix together with a silicone spatula the soft margarine, powdered sugar, almond flour, and cornstarch until homogenous.

Add the apple sauce, rum slowly and extract while mixing until homogenous.
Notes
You can also whisk this frangipane cream in a stand mixer if you need to make a large batch.
You can use this almond cream right away or keep it in the fridge for up to a week.
Did you try this recipe?
Don't be shy and let me know how it went! Leave me a comment below and share a picture on Instagram !