This coconut milk free vegan whipped cream is a great, light tasting, and airy cream that you can use to garnish a bunch of vegan desserts, or use in plenty of recipes.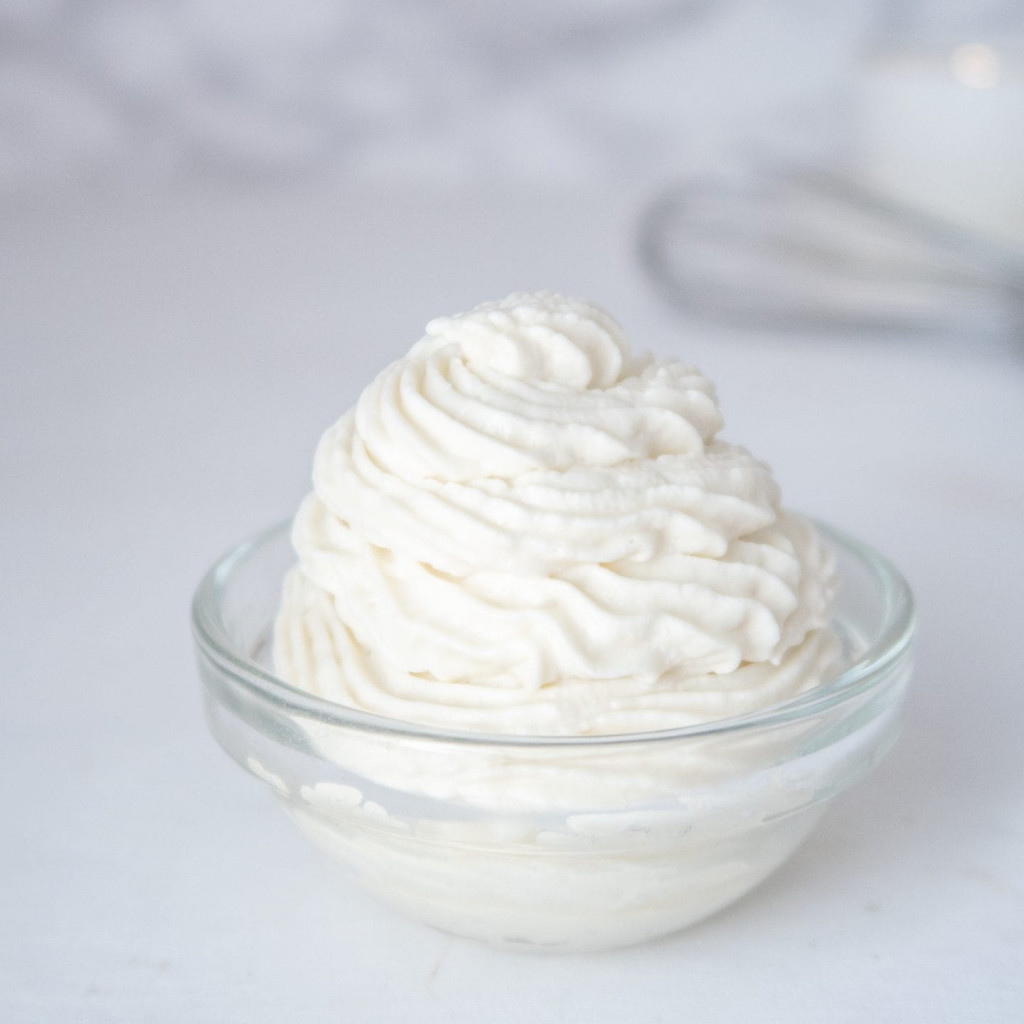 Feel free to jump straight to the recipe with the help of theses buttons.
However, if this is your first time making this recipe, I recommend reading the whole post, as this is very different from a lot of vegan whipped creams that are out there!
---
Crème Chantilly: veganizing a french classic
In my humble opinion, there is nothing more French than baguettes, croissants, and whipped cream. 
Whipped cream, also known as Crème Chantilly or Chantilly cream is traditionally made by whipping heavy cream with sugar and is flavored with vanilla. Unfortunately, recipes for a good vegan whipped cream that is light tasting, stable, and pipable are hard to find.
Yes, coconut whipped cream is all the craze right now, but the perfectionist pastry chef in my is not totally on board.
Every time I try coconut whipped cream, I always end up thinking "Man, what a shame! The whole dessert just tastes like coconut and nothing else! And what a weird texture >:(  "
Yeah, I don't hold my punches when it comes to pastry.
So after too many bad coconut whipped cream experience — and way too many times forgetting to put the cans in the fridge— I decided to embark on the quest to find a better, coconut milk-free, pipable (hell yes!) vegan whipped cream.....and I succeeded!
The problem with vegan whipped cream
There is currently no existing naturally produced plant-based milk that has a high enough fat content to truly be considered a cream. The high amount of fat that is in dairy-based whipped cream is the reason whipped cream gains some volume and structure once whipped.
So when other vegans started the same the quest to vegan heavy cream, they went with the next best alternative, coconut cream. But even when we are taking only the cream from the cans of coconut, we are nowhere near the amount of fat we need to copy dairy cream. And we are using coconut cream, which has a very strong flavor.
For example, if we compare 100g of coconut cream with 100g of dairy heavy cream, the coconut cream has  34.7g of fat while a whipping heavy cream needs a minimum of 36g of fat for the same amount, but can sometimes go up to 40%. 
RELATED: How to make a Vegan Frangipane – Classic Almond French Filling
Vegan heavy cream
So we need to create a plant-based milk that has enough fat content to compare to whipping cream. This is done by doing an emulsion to incorporate the added fat into our plant-based milk.
First, we melt our fat with some hot soy milk that has been infused with some vanilla bean.
We then blend the milk at high speed so that the fat incorporated into the milk –this is the emulsion. At this point, you do not want to see any fat particle leftover floating on the surface of your cream.
The cream will be liquid but it will thicken in the refrigerator and will end up looking like a thick heavy cream.
Which oil to use?
I use coconut oil and cocoa butter in this recipe because theses oils are solid at room temperature. After all, the dairy fat that is found in dairy cream ( which makes butter) is solid at room temperature and this is what we want to mimic. The cocoa butter also gives a nice floral taste to the cream.
But if what you want is a softer cream, like a soft peaked whipped cream, you can use 100% coconut oil or use a light tasting vegetable oils like peanut, canola, sunflower or grapeseed oil in this preparation. However, you will need to spoon this whipped cream since it won't be pipeable.
Will it taste like chocolate?
In this recipe I often use the cacao butter I have in my pantry, which is the one in the pictures. However that can result in a whipped cream that tastes a bit chocolaty.
For a truly neutral cream, use deodorized cocoa butter, which is cocoa butter that is scentless and flavorless. Unfortunately, deodorized cacao butter can be hard to find so you might need to look online to find it.
Which milk to use?
The best plant-based milk to use in this recipe is soy milk since it is creamier. Soy also has natural emulsifiers which makes it possible for us to do our emulsification. 
Unfortunately, I have had failures with rice milk, almond milk, and hemp milk in the past, where the oil would not emulsify with the milk. It could be different depending on the brand of plant-based milk you use, but I'm not willing to waste any more expensive oil.
Soy milk has never failed me so this is what I like to use. It is also what I have the most often in the fridge or in my pantry. If you successfully do this recipe with another plant-based milk, let me know and I'll incorporate it here!
Tips and Tricks for a successful vegan Crème Chantilly
If you do not have a blender, this will also work with an immersion blenderDo not over-mix. This whipped cream will become grainy if over-whipped.
This recipe is for a short-lasting whipped cream. This cream can be kept in the fridge for up to 6 hours. If it becomes liquid again, refrigerate and re-whip it.
This whipped cream is very reactive to hot temperature, so keep in the fridge until ready to serve.
If you want a long-lasting whipped cream ( 1 to 2 day), fold 100g of loosened vanilla pastry cream into the whipped cream before service.
You can find my classic vanilla pastry cream recipe right here!
Storage
Keep unwhipped in the fridge up to 5 days.
Keep whipped for up to 6 hours in the fridge
Do not freeze
Tools
To make this recipe, you will need:
1 saucepan
1 knife
1 blender, or immersion blender
1 small container with a lid for refrigeration
1 large bowl
A stand mixer, or hand-held mixer
A spatula
Recipe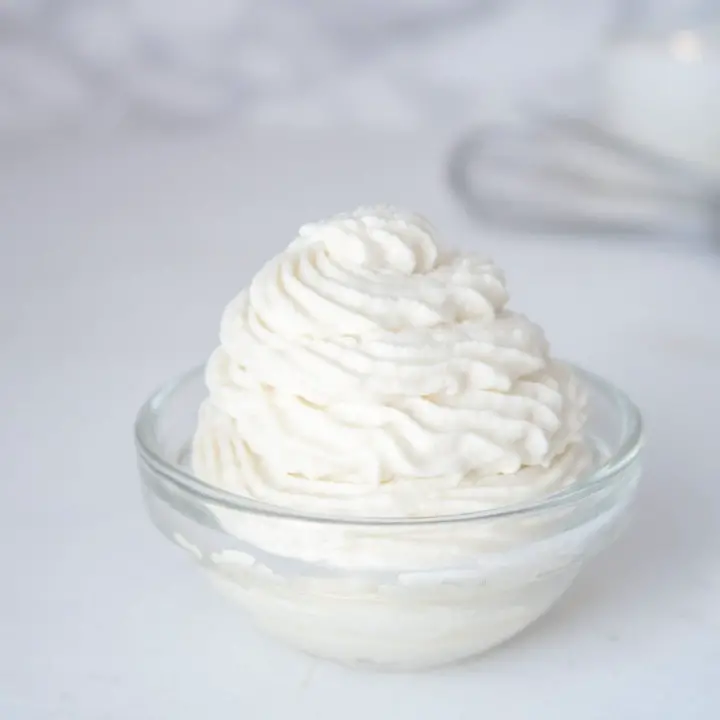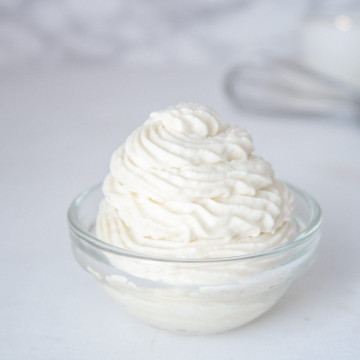 Print
Amazing Vegan Whipped Cream ( Crème Chantilly)
This coconut milk free vegan whipped cream is perfect with lots of classic French desserts.
Servings
600
ml of heavy cream for whipping
Ingredients
375g

(1 ½ cup)

unsweetened soy milk

50g

(¼ cup)

white caster sugar

, adjust to taste and recipe requirements

1

vanilla pod

110g

(½ cup)

deodorized cacao butter

, finely chopped or in small disk form

76g

(⅓ cup)

coconut oil

⅛

teaspoon

xanthan gum

, optional but recommended
Instructions
Simmer 250g (or 1 cup) of soy milk, sugar, vanilla bean pod sliced in half, and the vanilla seeds scraped from the pod for 10 minutes to infuse. Remove the pod from the hot milk.

In a blender, place the coconut oil and cacao butter and pour the simmering soy milk over it.

Let the oils melt for 1 minute and then run the blender at a high speed for 2 minutes.

Add the rest of the soy milk and blend until incorporated.

Refrigerate until very cold, between 2 and 6 hours.

If using xanthan gums,sprinkle on the cream before whipping.

Whip the cold preparation with a handheld mixer, or stand mixer, on medium speed until the whisks leave traces in the preparation and the cream becomes light and airy. Do not overwhip.

Serve spooned next to a desert, or pipe with a pastry bag.

Enjoy!
Notes
The vanilla pod can be replaced with ½ teaspoon of vanilla bean paste or 1 teaspoon of vanilla extract.
The heavy (unwhipped) cream can be kept in the fridge for up to 5 days. Do not freeze.
Use deodorized cocoa butter and refined coconut oil for a neutral-tasting whipped cream.
Add 100g of pastry cream for more stable cream that will last longer.
This makes A LOT of whipped cream so feel free to divide the recipe by half.
Did you try this vegan crème chantilly?
Don't be shy and let me know how it went! Leave me a comment below and share a picture on Instagram !