You need to try this amazing vegan pistachio and strawberry tart right now! Pistachio-flavored diplomat cream and juicy strawberries come together to make the perfect (all vegan) summer tart.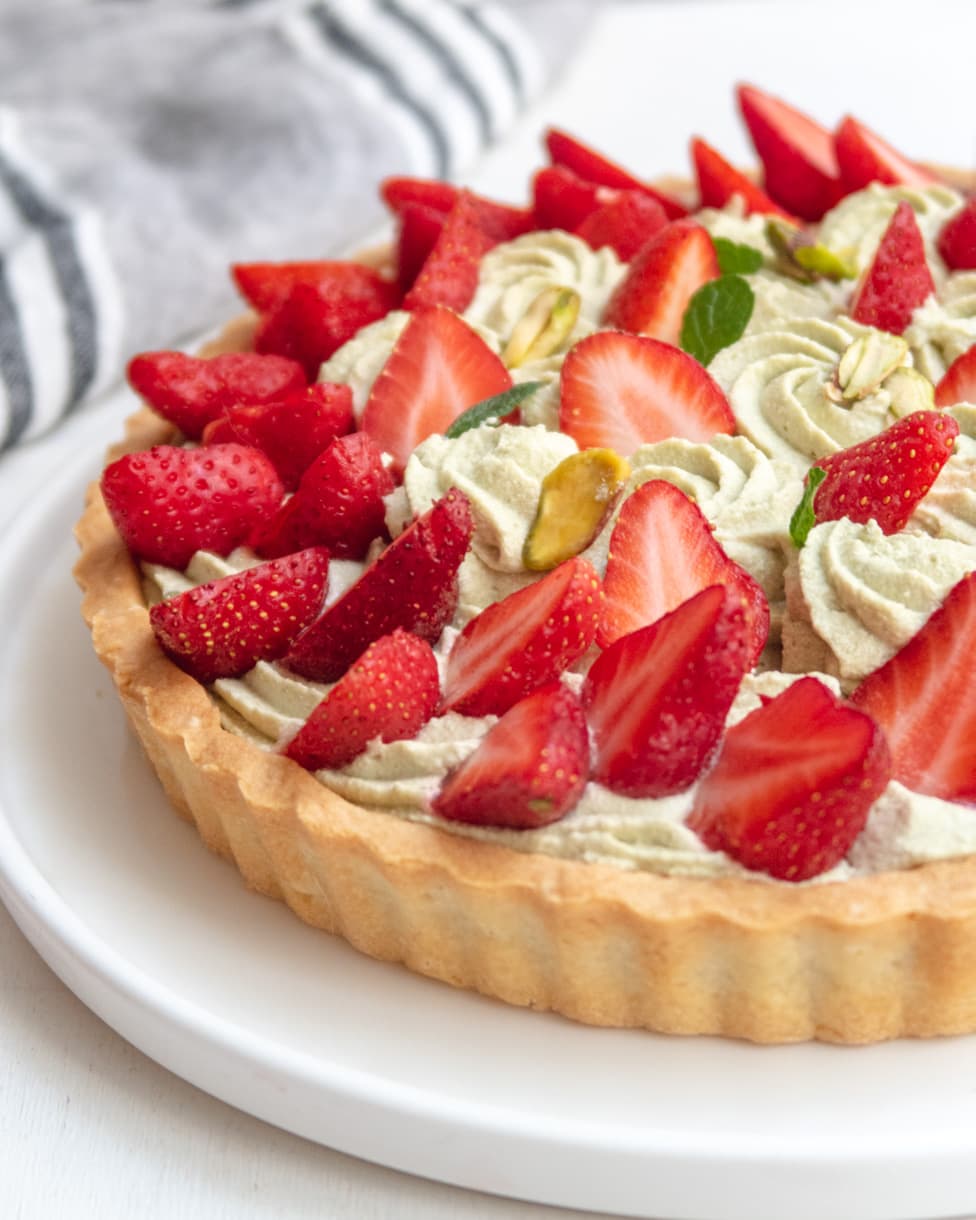 Feel free to head straight to the recipe. However, you'd be missing some great tips to prevent your tart shell from becoming soggy. I also keep this blog strictly professional, so don't expect any personal stories in this blog post.
---
Pistachio and strawberry tart components
This vegan summery tart is made of:
Pâte sucrée , also known as sweet shortcrust pastry dough
Crème diplomate, or diplomat cream flavored with pistachio paste
Fresh strawberries
It might seem like a complicated recipe but as you can see it only has 3 elements. If you would like to simplify this strawberry and psitachio tart recipe, feel free to replace the shortcrust tart shell with another sturdy tart crust (like a cookie crumble crust). You could also use store-bought dough but you might need to roll it a bit thicker to get the same sturdiness since often it is pâte brisée ( flaky pie crust) and not pâte sucrée.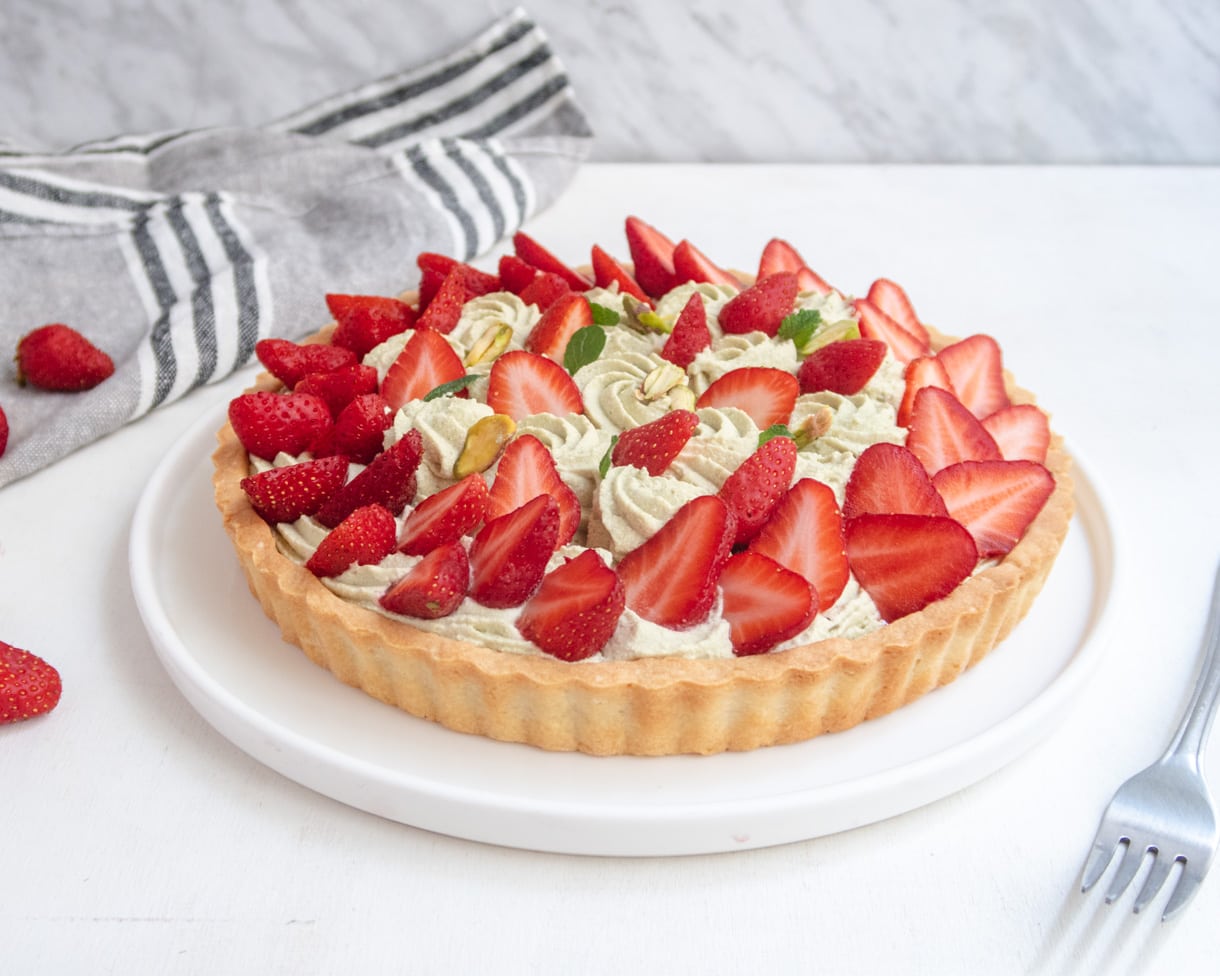 What is diplomat cream made of?
Diplomat cream is a classic French cream made of 1 part whipped cream folded into 1 part pastry cream. It can be stabilized with gelatin and flavored with some type of alcohol like Grand Marnier.
Since this is a vegan recipe, we will be making our own pastry cream and will be using non-dairy topping to replace the whipped cream. This cream is also stable enough to not need any additional stabilizer since Ambiante non-dairy topping is pretty sturdy.
And to make this tart extra delicious, we'll be adding some pistachio paste. If you don't have any at home, you could always flavor this vegan diplomat cream with vanilla bean paste to taste.
RELATED: Check out my in-depth vegan crème pâtissière ( or pastry cream in English) recipe if you want to make sure to get every detail right while making your crème diplomate.
How to prevent your tart shell from getting soggy
Tart shells that are par-baked and filled with creams or filling that have a high humidity content are at a high risk of getting soggy. 
There are two ways of preventing tart shells from getting soggy. You can either brush a thin layer of egg yolk while you are blind baking your tart shell, or brush a thin layer of cacao butter on the inside of the shell once it is completely cooked. 
This will create a barrier between the crust and the high humidity filling. In this case, since it is a vegan tart, we will use the cacao butter method.
RELATED: This recipe uses my classic pâte sucrée recipe but if you want to change things up, I recommend you go check out my chocolate shortcrust pastry right now!
Frequently Asked Questions
Why add food coloring to the pistachio cream?
Unless you have access to top-shelf pistachio paste, your pistachio paste or butter will probably be more khaki green color. A drop of green food coloring will adjust the color of your green to get a more appealing color. 

This is actually a very common thing to do in pastry shops, but remember that a little goes a long way. It's easy to overdo it and end up with a fluorescent green diplomate cream.

Why add almond extract to something flavored with pistachio paste?

Another common practice in pastry shops is to add a bit of almond extract to preparations made with pistachio paste to increase the nutty flavor of preparations since pistachio paste by itself can be underwhelming sometimes. Add just enough flavoring to brighten the cream but keep it subtle. The main flavor should still be pistachio.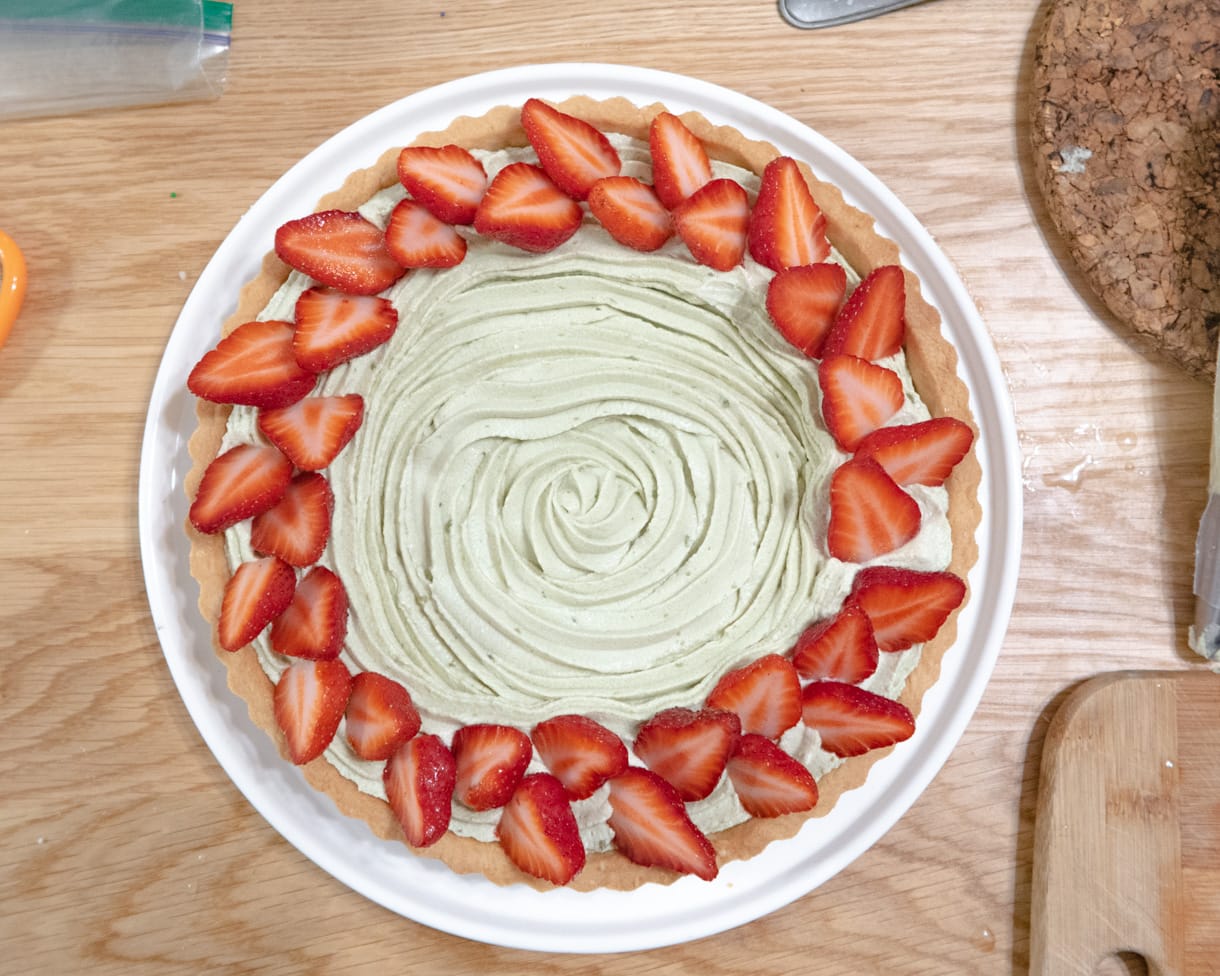 Material
9-inch fluted tart tin or tart ring
Rollin pin
Pastry brush
Medium-sized saucepan
Large and medium bowls
Stand mixer, or hand mixer
Whisk
Silicone spatula, also known as a Maryse
Pastry bag and large star pastry tip. I used an Atecco 845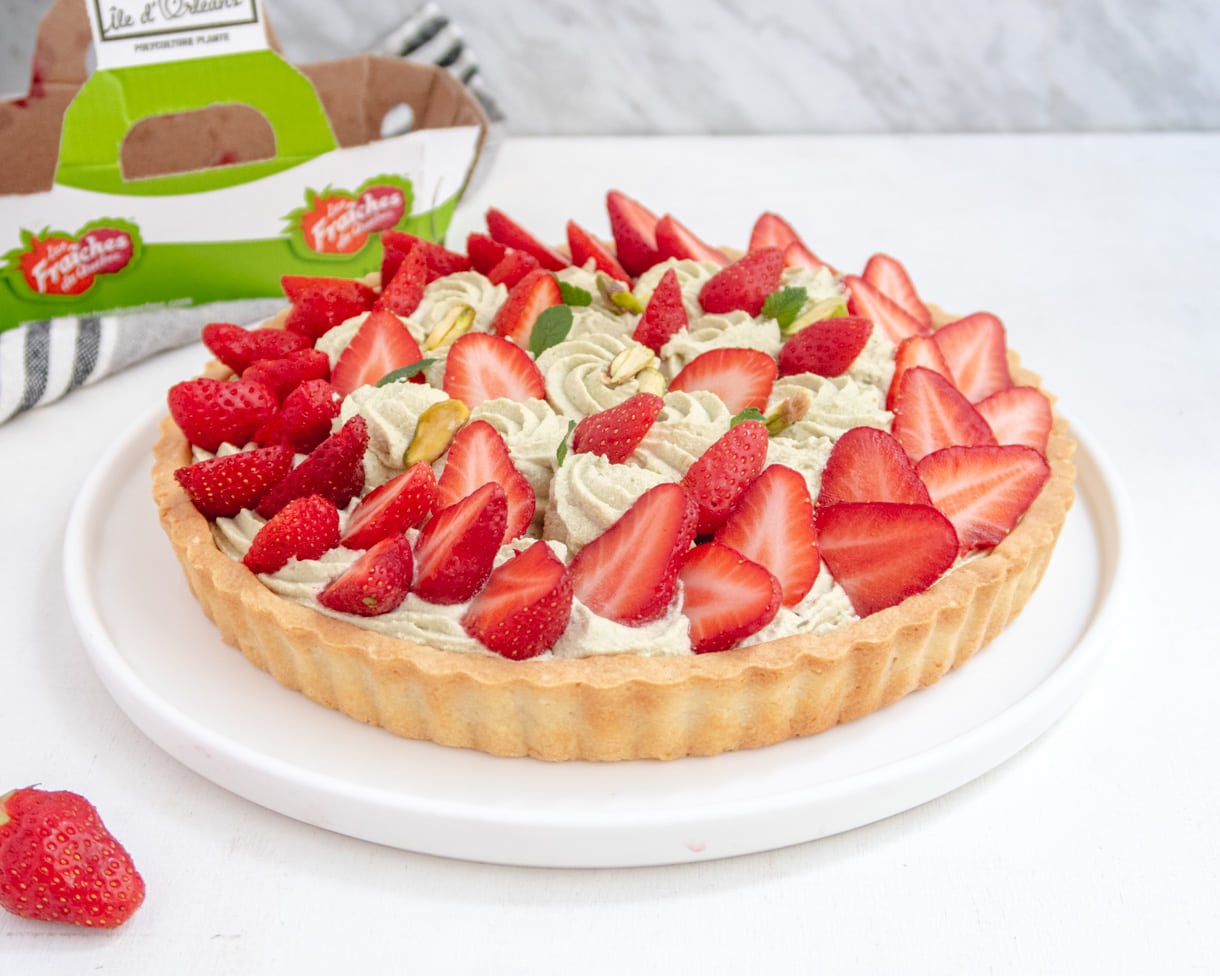 Recipe
Print
Vegan Strawberry and Pistachio Tart Recipe
Pistachio-flavored diplomat cream and juicy strawberries come together to make the perfect (all vegan) summer tart.
Ingredients
Pistachio Diplomat Cream
250 g

(1 cup)

your favourite plant-based milk

, I use unsweetened soy milk

50 g

(¼ cup)

white granulated sugar

30 g

(¼ cup)

cornstarch

, also known as cornflour in the UK

30 g

(2 tabelspoons )

vegan margarine

120 g

(½ cup)

pure pistachio paste

, stirred until smooth

1

drop green food coloring

, optional

almond extract to taste

, optional

375 g

(1 ½ cup)

Ambiante non dairy topping from Puratos

, or your favourite sturdy vegan whipped cream
Garnish
300 g to 400 g

(1 ½ to 2 cups)

whole fresh strawberries

10

sheled pistachioes

mint tops
Instructions
Tart Shell
Make a half recipe (about 400g) of pâte sucrée, or enough of your favourite sturdy tart dough to line a 9-inch fluted tart tin and refrigerate until cold and firm.

On a lightly floured surface, roll out the dough to a ⅙ inch (4 mm) even thickness.

Drape the dough over the tart tin, press the dough into each corner and sides. Cut dough overhand by rolling your rolling pin over the sharp edge of your tart tin. Prick the bottom of the tart with a fork and freeze the tart shell for 30 minutes, or until very firm to the touch.

Preheat your oven 350°F (180°C) and blind bake the tart shell using your favorite method for approximately 20 minutes. The tart shell should be completely cooked and slightly golden on the edges and on the bottom.

Let the tart shell cool at room temperature until it is not warm anymore to the touch. Brush a layer of melted cocoa butter on the inside of the tart shell to prevent it from going soggy . Set the tart shell aside for later.
Pistachio diplomat cream
In a small to medium-sized saucepan, dry whisk the sugar and cornstarch, until completely smooth.

Slowly pour a quarter of the plant-based milk over the sugar and cornstarch mix while whisking until smooth, then add the rest of the milk.

Bring the mixture to a boil over medium heat while whisking constantly. Check the sides and bottom of your pan with a silicone spatula from time to time to stop scorching from happening. Once it starts to boil, cook for an additional 1 to 2 minutes, or until the preparation has thickened and large bubbles start appearing. Remove the saucepan from the heat and while still hot, whisk in the margarine and pistachio paste until homogenous.

Transfer the cream onto a shallow dish and cover with plastic wrap so that it is in direct contact with the cream to prevent it from getting a skin. Refrigerate until cold, approximately 1 hour.

When the pastry cream is cold, transfer it to a large bowl and loosen it by mixing it with either a whisk or a spatula until it becomes creamy again.

Using a mixer, whip up the Ambiante non-dairy topping on medium speed until you reach medium-firm peaks. Do not overwhip.

With a silicone spatula, fold in the ambiante non-dairy topping into the pastry cream. Optional, add a drop of food coloring to reach your desired color and adjust the taste by adding almond essence.
Assembly
Transfer the pistachio diplomat cream into a pastry bag with a large star pastry tip (Atecco 845) and fill the tart tin halfway with cream.

Clean and de-stem the strawberries. Place strawberry halves in a herringbone pattern all around the perimeter of the tart. In the middle of the tart, pipe 2-layer rosettes with the leftover cream and place quartered strawberries in between the rosettes. Place pistachioes and mint tops in between the strawberries.

Refrigerate the tart until ready to eat. Enjoy!
Notes
This tart is best eaten the same day it is made as it will become soggy.
You could make the diplomat cream and tart shell a day before and assemble the tart the next day.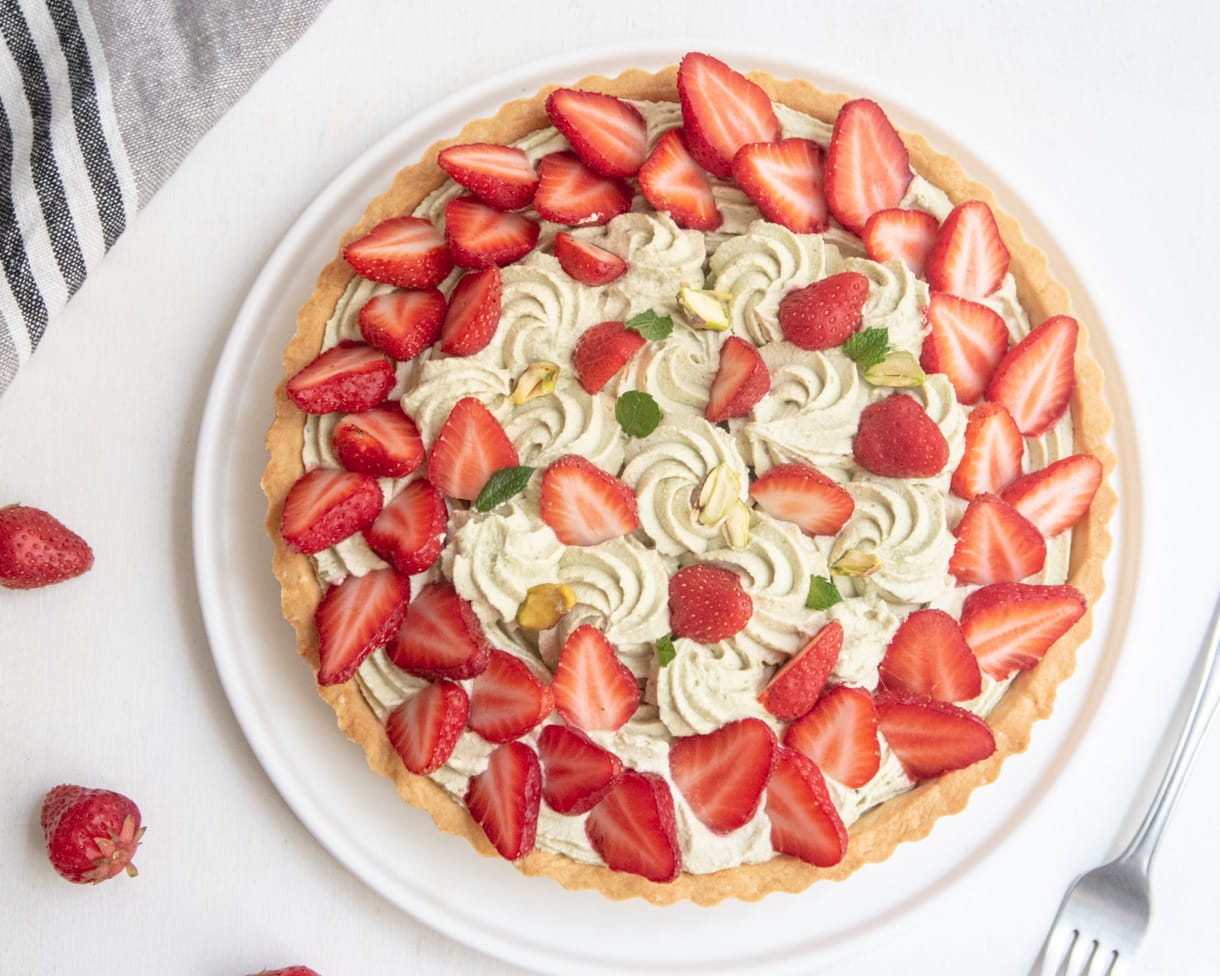 Did you try this vegan strawberry and pistachio tart recipe?
Don't be shy and let me know how it went! Leave me a comment below and share a picture on Instagram!