This vegan pâte brisé dough is flaky and tender, and is the perfect base for a multitude of classic tarts and pies, and is easy to make and to freeze for later use. Follow along with this step-by-step illustrated guide!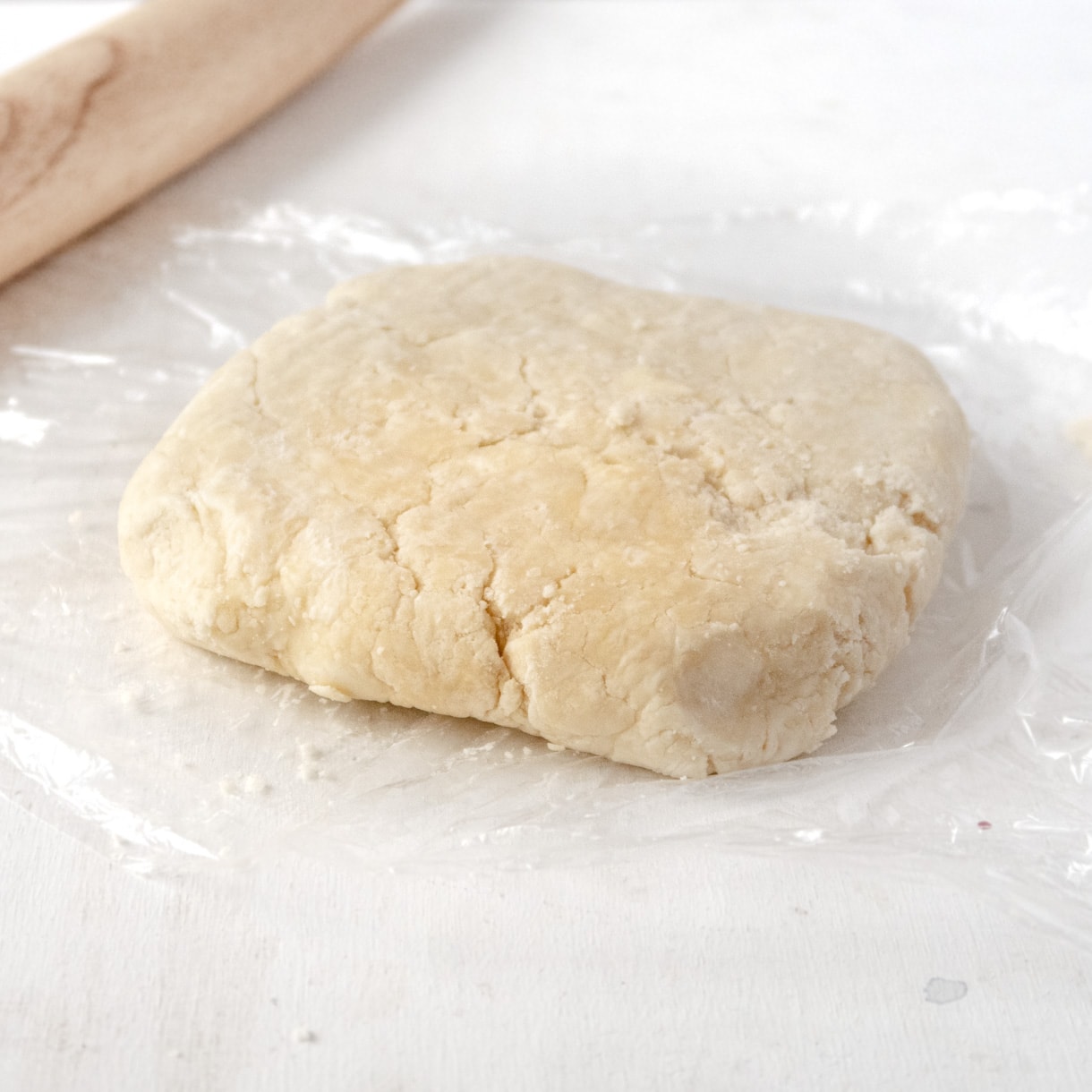 If this is not your first time making pâte brisé, feel free to jump straight to the recipe. If you want a complete step by step guide with pictures, well keep on reading!
---
What is pâte brisé?
Pâte brisé means broken dough. This is because this dough is "broken" by leaving little pieces of butter behind, which gives it its classical flaky texture. It is also the type of dough that is used in classical "American-style" pies.
It is one of the pastry dough basics you learn first in pastry school, in my case, it was the very first recipe I learned. While it is not the most used dough in the classic pastry French repertoire, it is a very useful dough to know how to make due to its versatility.
When to use vegan pâte brisée
Pâte brisée is used in your classic American-style fruit pies like apple, blueberry, and cherry pies. It is also great when making free-form pies like this nectarine and fresh thyme rustic galette. If you need a flaky dough, this is the recipe you are going to need.
And even though it has sugar in it, it is mostly to balance the flavors. You can still use it as is for savory pies like this curried chickpea skillet pie, but you can also simply omit the sugar if that is your preference. Hand pies are also a breeze with this classic vegan dough.
RELATED: For all your tarts need, go check out my pâte sucrée recipe, also known as sweet shortcrust dough!
How to make vegan pâte brisée
Step 1
Roughly dice your cold butter so that they are 2 to 3 cm (1-inch) dices. Vegan unsalted butter is what you should be using, but if you only have access to a salted butter like Earth Balance, simply remove the salt in this recipe.
Margarine won't do as it is too soft and will incorporate too easily into the dough. I like to use Becel's plant-based bricks for this type of recipe. I actually mention in all my recipe if it requires vegan margarine ( which is usually soft and kept in a tub) or vegan butter ( which is firm once refrigerated and often comes in a black wrapped in paper or foil).
Add the butter into the dry ingredients by breaking up the cubbed butter with your fingertips until they look like large pea-sized crumbs.
Making it easier
To make this recipe eave easier, take your very cold butter and, with a large-side cheese grater, roughly grate it directly into your bowl of flour while mixing it into the flour from time to time.
It might be an untraditional method for making pie crust but you will get same-sized butter particles without the headache. But be careful, this method only works with very cold vegan butter. You could also use a semi-frozen bloc of butter.
If you do get some clumps of butter that wants to stick together, rub lightly the four and butter mixture between the palm of your hands in a sanding motion.
Step 2
Add the liquids into your flour mixture. Use very cold water so that the butter doesn't melt and incorporate too much with the flour. You could even replace 1 teaspoon of water with 1 teaspoon of white vinegar if you want to keep it for a longer period of time without it turning gray.
This is because the vinegar makes the dough more acidic, which makes the dough a harder environment for bacteria to grow. Don't worry, you won't taste the difference.
Add the water slowly and adjust the quantity as you go, since you might need more or less water depending on the humidity where you live and the type of flour you use. Continue mixing until you get a still slightly crumbly dough.
Step 3
Bring the pâte brisée dough together by kneading once or twice but no more than than. Separate it into 2 flattened disks. Cover with plastic wrap and refrigerate until cold and firm.
The dough is going to be slightly crumbly still when you wrap it up but this rest time also gives a change to your dough to finish hydrating.
You should chill and rest the dough for a minimum of 1h. When I can, I leave it overnight. At this stage, you could also leave it in the freezer for later use.
Step 4
Remove the dough from the refrigerator and unwrap it. Place it on top of a lightly floured surface, or between 2 pieces of parchment paper, smack the dough a couple of times with your rolling pin while rotating it. The dough should become more pliable and won't crack as much when you roll it out. 
Start to roll out your dough, adding flour as you go, or releasing it from the parchment paper from time to time. If your dough becomes sticky or too soft, feel free to place it back in the refrigerator for a couple of minutes before continuing.
At this point, you can line your pie with your dough or use it according to your recipe.
Tips + Tricks
Try to work quickly and keep your ingredients as cold as possible. This will keep your butter harder, which will result in a flakier dough. It will also make your dough easier to work with.
I like to roll this dough a bit thicker than my pâte sucrée.  4mm to 5mm (⅙ inch) is a great thickness for this type of dough.
This dough is flaky and tender but is not made to stand on its own so you will need to serve the pie in the pie dish it was cooked in.
You can extend the longevity of this dough in the fridge by replacing 1 teaspoon of the liquids with white vinegar. The added acidity will make it harder for bacteria to breed and will extend your raw dough's lifespan to 7 days.
If your hands are clumped with dough, take a bit of extra flour and rub your hands together to clean them up.
For an easier experience rolling out your dough, do it between two pieces of parchment paper. If you decide to use flour, use a minimum amount of it because too much can make your dough tough.
Try this flaky vegan pie dough with my rustic curried chickpea pie.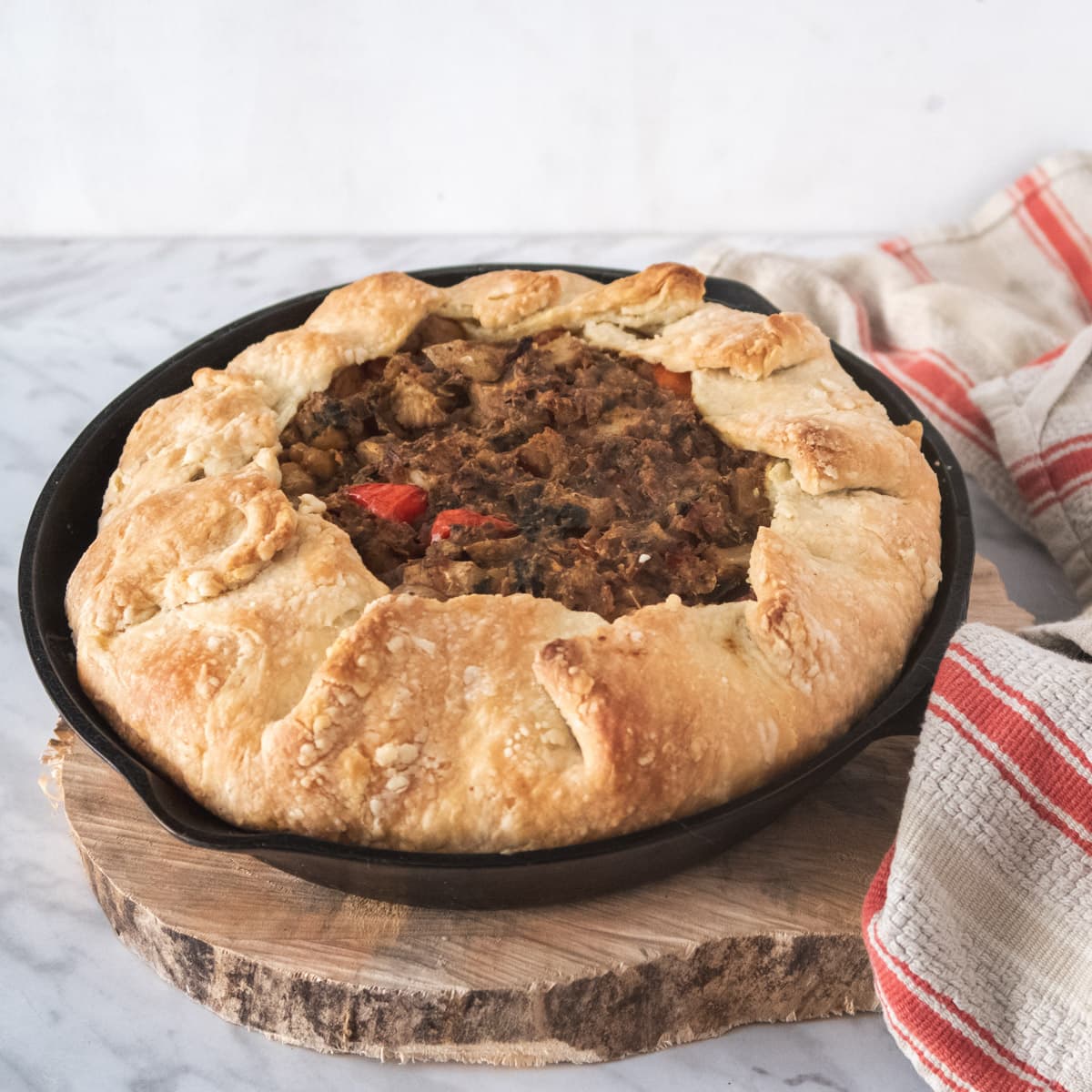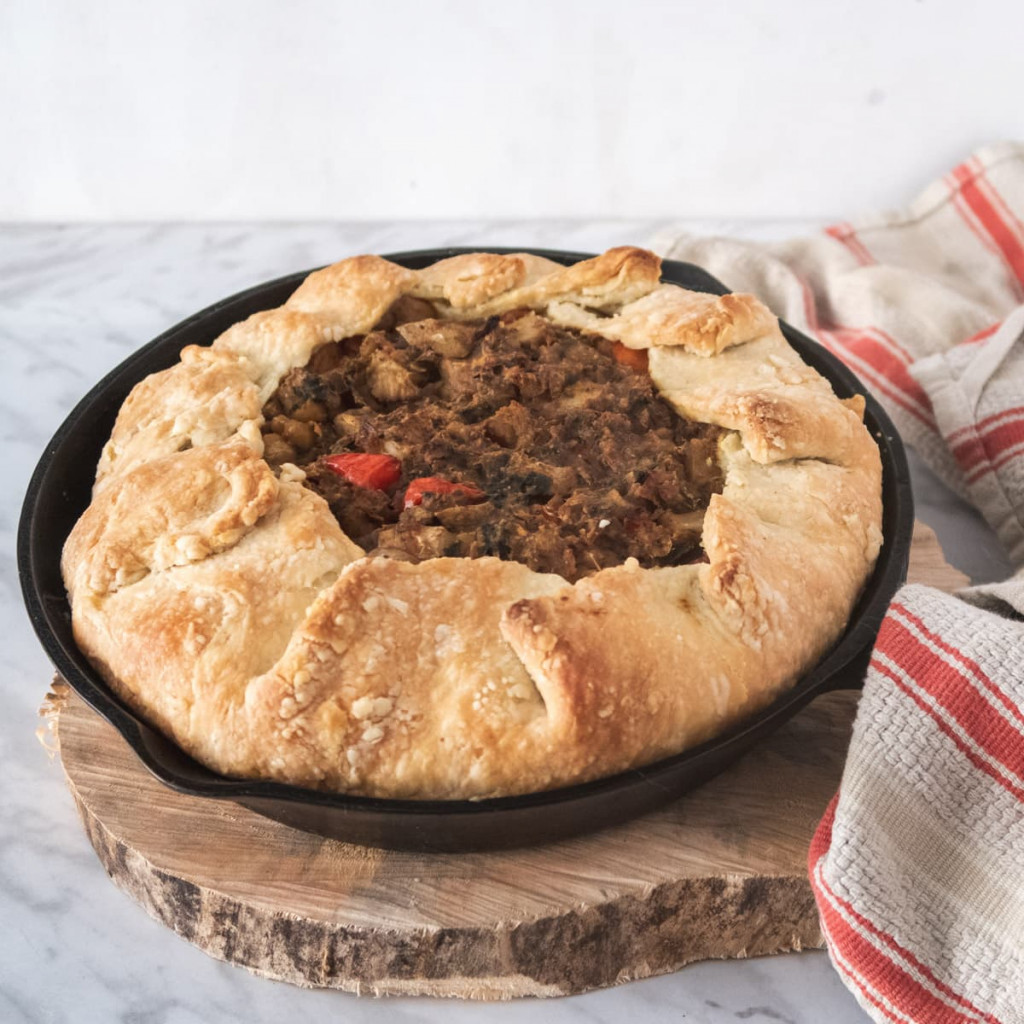 Storage
This recipe makes enough for 2 rolled sheets of dough.  You can always split the recipe in half but most of the time I either make 2 pies at once ( one savory and one sweet) or I end up freezing half of it for a later date.
It is also great if you are making a double-crusted pie like a classic apple pie or want to give your berry pie a lattice design on top.
You can store this dough for 2 to 4 days in the fridge or freeze it, well wrapped in plastic wrap, for up to 6 months.
Recipe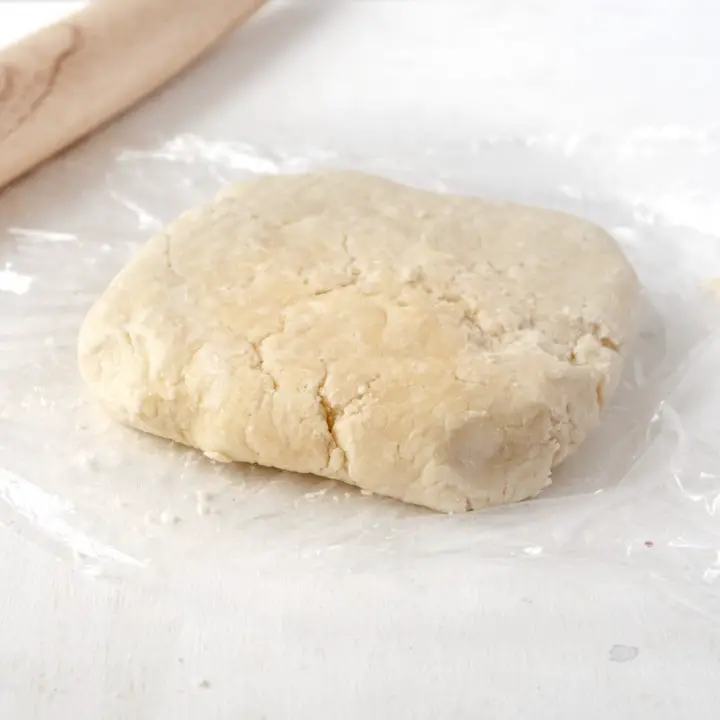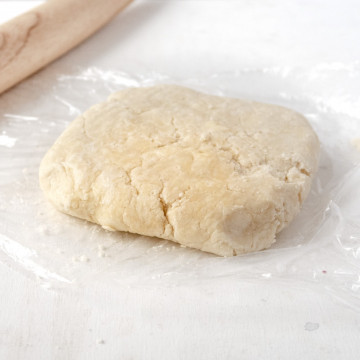 Print
Vegan Pâte Brisée (Flaky Pie Crust)
This vegan pâte brisé dough is flaky and tender, and is the perfect base for a multitude of classic tarts and pies, and is easy to make and to freeze for later use.
Servings
1000
g of dough or enough for 2 to 3 rolled doughs depending on the size of your pie pan.
Ingredients
500g

(4 ¼ cup)

unbleached all-purpose flour

12g

(1 tbsp)

granulated white sugar

10g

(1 ½ tsp)

fine sea salt

300g

(1 ¼ cup)

unsalted vegan butter

I use Becel Plant-Based bricks

125g

(½ cup)

ice-cold water
Instructions
Start by thoroughly cleaning your hands and drying them.

In a large bowl, place the unbleached flour, sugar, and salt and mix with your hand

Cut the vegan butter into roughly 2.5 cm (1 inch) cubes. Add to the bowl with the flour and press the butter between your fingertips to break them up and squish them slightly. Continuing to press them between your fingertips and rubbing the flour-butter mixture between the palm of your hands to sand the dough.

When the mixture looks like a crumble with large pea-sized butter pieces, add the water in a slow stream, quickly working the dough so that it comes together into a still slightly crumbly dough. Adjust the quantity of water depending on the texture of your dough.

Separate the dough into 2 balls, wrap in plastic film and refrigerate for a minimum of 1h, or until the dough is cold and firm. Overnight is best.

When you are ready to use your dough, unwrap it and place it on a lightly floured surface, or between 2 pieces of parchment paper. Smack the dough with your rolling pin to make it more pliable.

Adding flour as you go, or releasing the dough from the parchment paper as needed, start to roll your dough to your desired thickness. Use the dough according to your recipe. Enjoy!
Notes
Keep in the refrigerator for up to 4 days.
For a longer-lasting dough, replace 1 teaspoon of the liquids with white vinegar. This will increase the lifetime of your dough to 7 days.
Freeze, well wrapped in plastic wrap, for up to 6 months.
Did you try this pâte brisée recipe?
Don't be shy and let me know how it went! Leave me a comment below and share a picture on Instagram !