Vegan Danish butter cookies - these sweet treats are super quick and easy to make and make great gifts! They are also the perfect companion for a cup of tea or hot chocolate.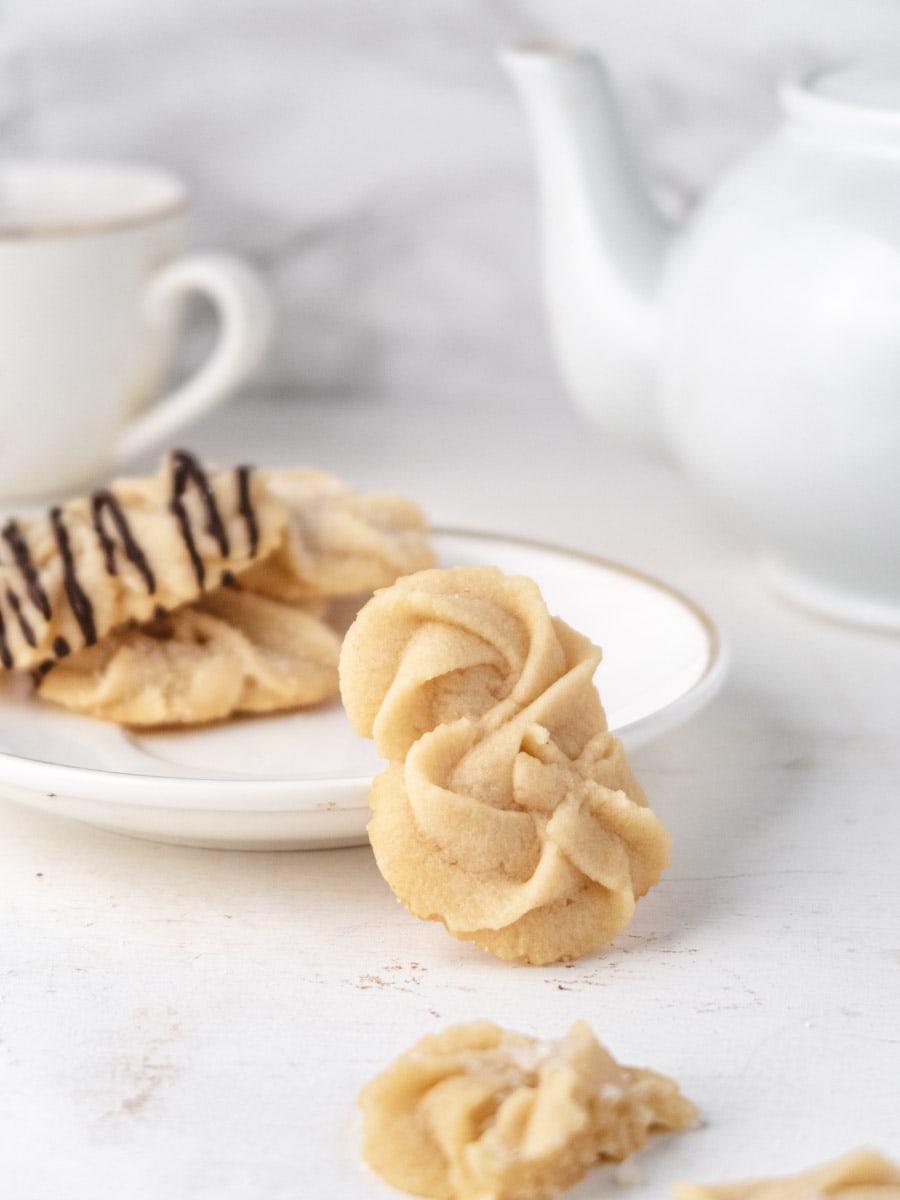 ---
Making (or eating) danish butter cookies was never really part of the holiday traditions at my home. I would only see a box of these whenever I peaked into my mom's (and grandmother's) sewing room.
But these cookies started to haunt my mind when I got asked to make them for a pastry school exam. After multiple weeks of practicing my rosettes and getting that perfectly cooked cookie, they started to grow on me. So I kept making them and simply stopped when I went vegan.
But I finally made a recipe that tastes just like the cookies from my memories......if not better. While classic Danish cookies are usually made with egg whites, this recipe is 100% vegan, but don't worry, you won't taste the difference. 
Tips + Tricks from a pro
While this recipe is very simple, there are a couple of things that will really make your cookies shine.
This recipe deserves "the good vanilla" treatment. You know what I'm talking about! The real extract that you paid way too much for ( or that someone brought you back from a trip down south).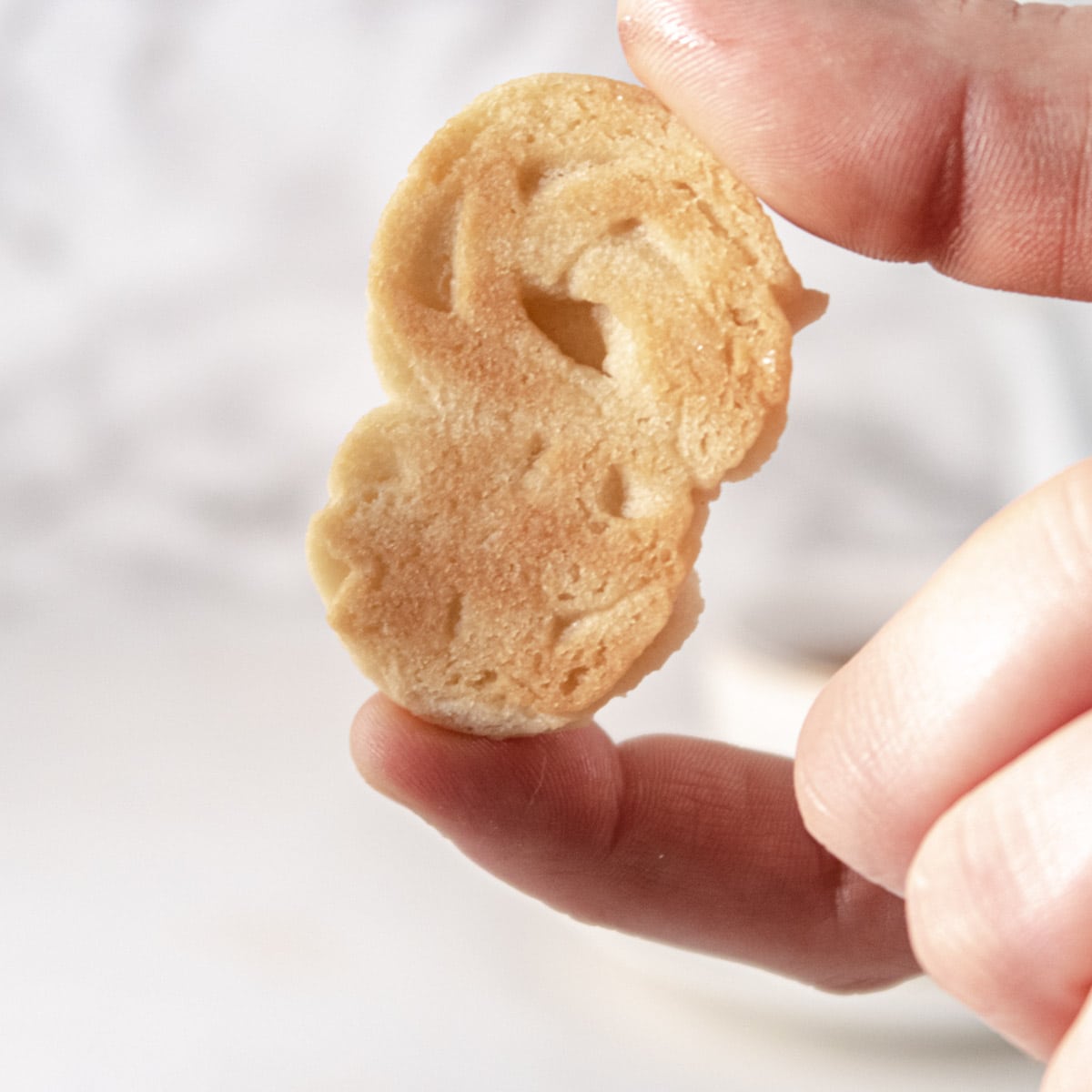 These cookies need to be perfectly cooked, if not they turn dry and crumbly. You want a cookie that is barely cooked. When you look at it, it should be matte. If you peek underneath the edge of a cookie you should spot the beginning of some browning happening, but none on the top. These cookies burn easily, so stay close to the kitchen when baking these.
The cookies will continue to cook on the baking tray for a couple of minutes after they are pulled out of the oven. If your cookies are already golden brown on the edges when you remove them from your oven, slide the parchment paper with the cookies on it on top of your workbench to stop the cooking process.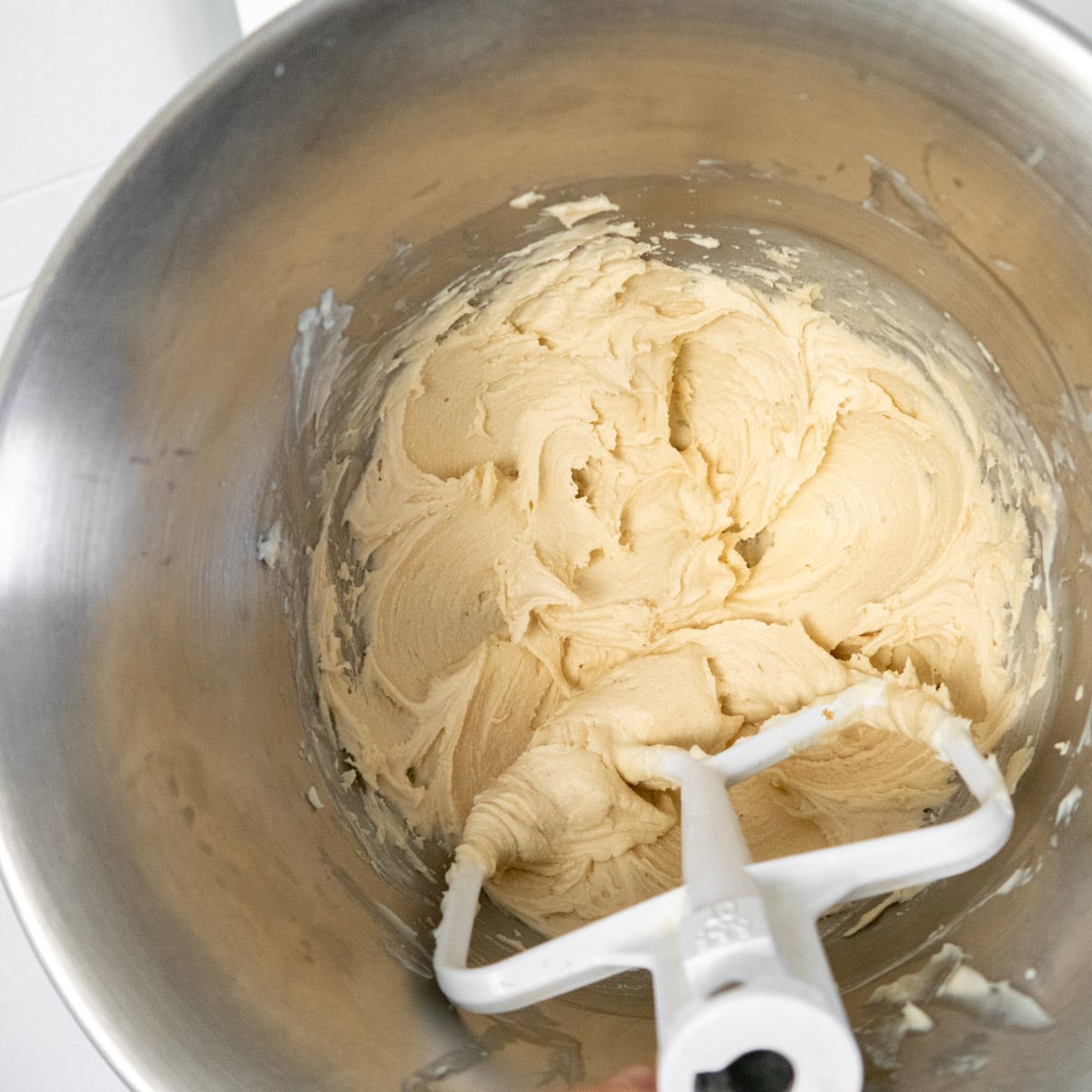 Can I make this recipe by hand?
Yes. Simply use a sturdy wooden soon to mix the dough. This is actualy how we where asked to make them during my exam in pastry school. The dough is relatively soft and the creaming process is relatively easy since this recipie uses softer margarine instead of  hard vegan butter.  
I'm out of yogurt
You can replace the yogurt in this recipe with 33g (2 tbsp) of aquaflaxa (AKA flaxseed gel). Another alternative is to use 34g (2 tbsp) of aquafaba.
RELATED: Try my grapefruit and fresh thyme shortbreads if you don't feel like getting your pastry bag out.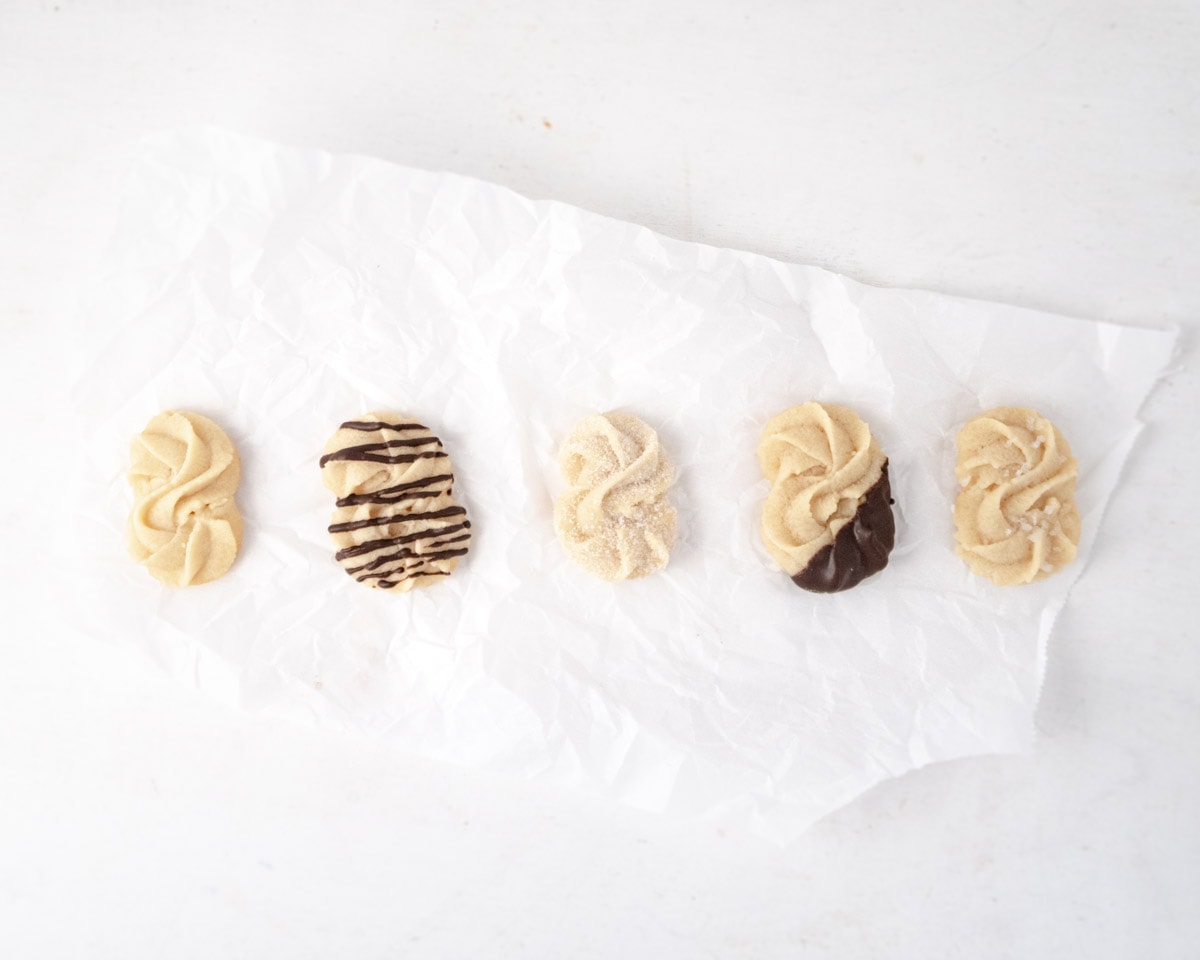 Decoration
One of my favourite thing to do with holiday butter cookies is to dip them at an angle half-way in chocolate. However you will need to use tempered chocolate or a coating like some dark Prima coating. Onced dipped, you can sprinkle some cute decorations like chopped nuts or flaked sea salt. You could also drizzle the chocolate on top of each cookies.
You can also garnish them with rock sugar or pearl sugar before baking them, like I did.
Finally, you can give them that classic boxed cookie look by dipping them, once cooked and cooled down, into granulated white sugar or sanding sugar. Some of the sugar will stick to the cookie and get into those crevices.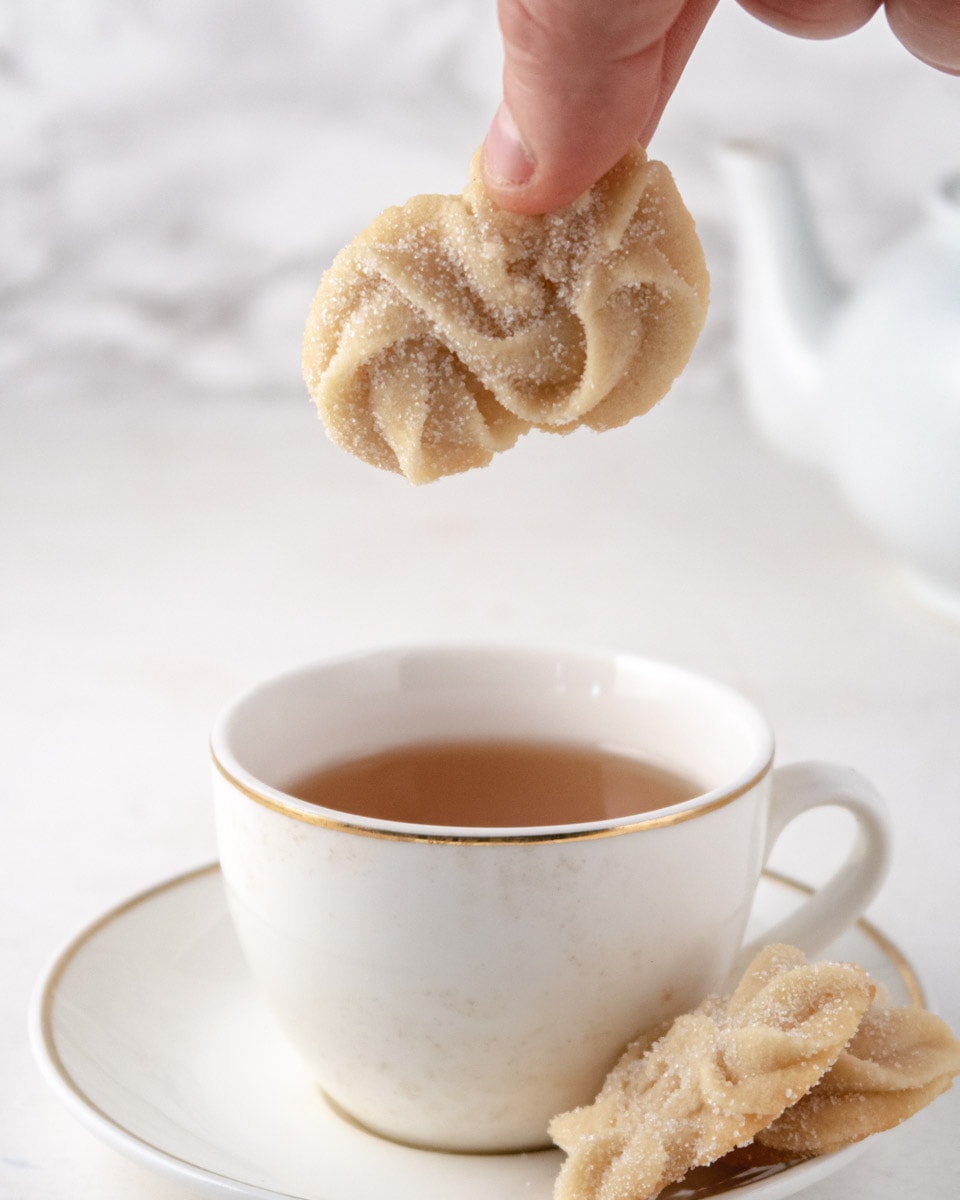 Piping cookies
For this vegan danish butter cookie, I decided to stray from the traditional rosette shape and go with an S shape. 
It is very easy to make with the help of a pastry bag. Starting at 11 o'clock, start to make a clockwise half-circle. Continue on like if you where doing a figure 8 and then stop right before crossing over the diagonal.
If you don't have a pastry bag, you can always use a Zipploc freezer bag and snip a corner off. However, you would still need a pastry tip. This recipe is also great to use with a cookie press!
Here are some additional info to slay that piping.
Use the right pastry tip. I use an Ateco #844 pastry tip when making this type of cookie because it has deep grooves, but you could also use a Wilton 2D. 
Give it some heights! Leave between 1 and 1.5 cm (½ inch) of space between your baking tray and the tip of your pastry tip.
Place your pastry bag straight up so that it is perpendicular to your baking tray. Use your dominant hand to apply even pressure on the pastry bag, and the index of your non-dominant hand to guide the pastry tip
If you are not happy with your piping, you can pick the dough back up and simply plop it back in your pastry bag. 
If your dough is looking like it's splitting or is very soft, it is probably too warm. Slide your pastry bag in the refrigerator for 10 to 15 minutes and massage the bag from time to time to make the cookie dough uniform in texture.
Recipe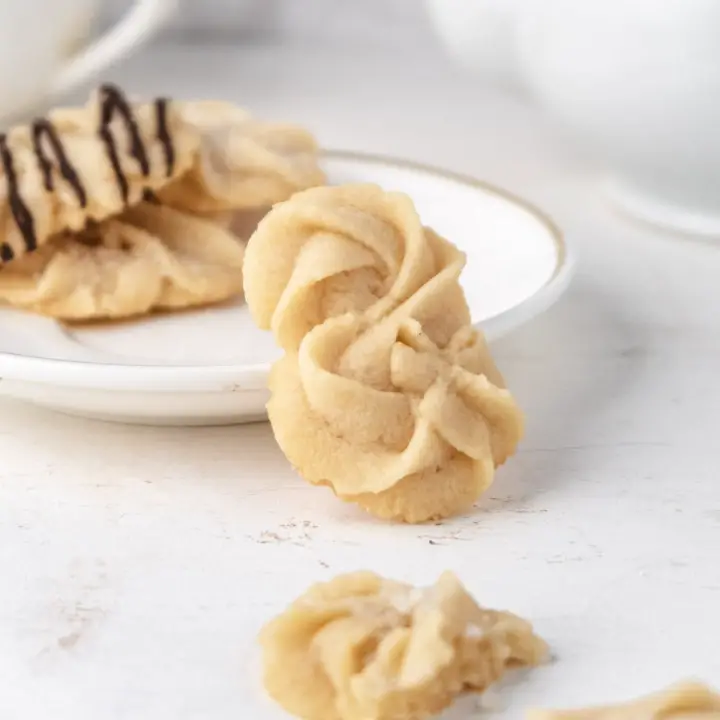 Print
Classic Vegan Danish Butter Cookies
These sweet treats are super quick and easy to make and make great gifts!
Servings
30
S-shaped cookies
Ingredients
160g

(⅔ cup)

soft vegan margarine

65g

(½ cup)

powdered sugar

,sifted

25g

(2 tbsp)

vegan full-fat plain yogurt

,I use Riviera coconut yogurt

4g

(1 tsp)

vanilla

¼

teaspoon

fine sea salt

180g

(1 ½ cups)

unbleached all-purpose flour

C-15 pearl sugar, white granulated sugar, or tempered chocolate as a garnish,

, optional
Instructions
Preheat your oven to 160°C (325°F).

In a large bowl, with a mixer, or by hand with a sturdy wooden spoon, cream together the margarine and powdered sugar until smooth.

Add the yogurt , vanilla and salt, and mix until incorporated.

Add the flour all at once and stir until the flour is all incorporated. Do not overmix. Transfer the dough in a pastry bag with a large star pastry tip, or into a cookie press.

Line a baking tray with some parchment paper, or a silicone liner , and pipe S shaped cookies that are uniform in sizes. If using, sprinkle some pearl sugar on some of the cookies.

Bake for 11 to 13 minutes, or until the bottom of the cookie looks dry and it can be lifted form the paper as one unit with a knife.

If using, leave the cookies to cool completely before dipping the cookies in granulated white sugar to coat. You can also dip some cookies halfway in tempered chocolate or drizzling some chocolate on top. Leave to set completely before eating them or gifting them. Enjoy!
Notes
Keep in an airtight container for up to 1 week, or frozen for up to 3 months.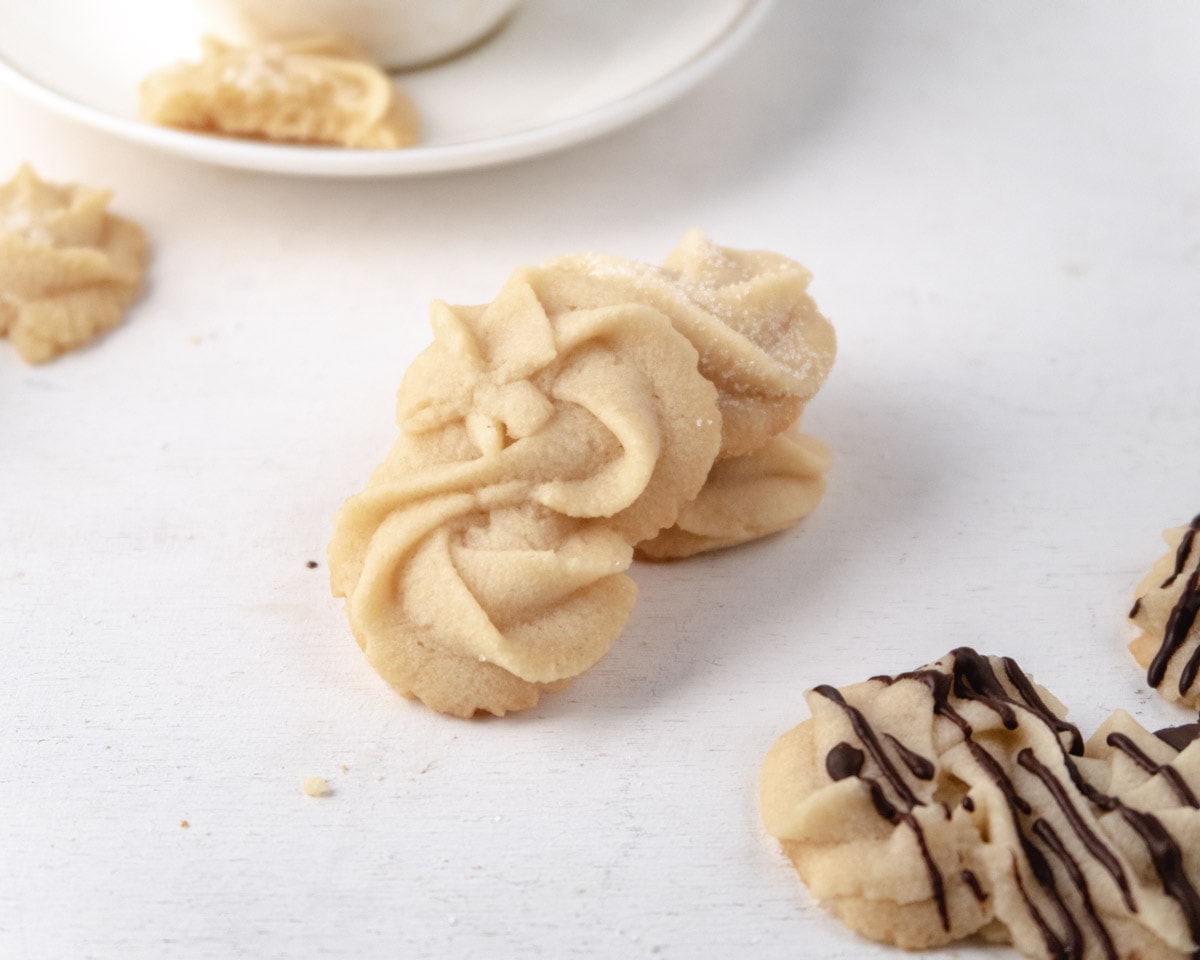 Did you try this vegan butter cookie recipe?
Don't be shy and let me know how it went! Leave me a comment below and share a picture on Instagram !