Pockets of raspberries and moist muffin crumbs — these 1-bowl vegan raspberry and yogurt muffins are super quick and easy to make and will bring a bit of brightness to your day.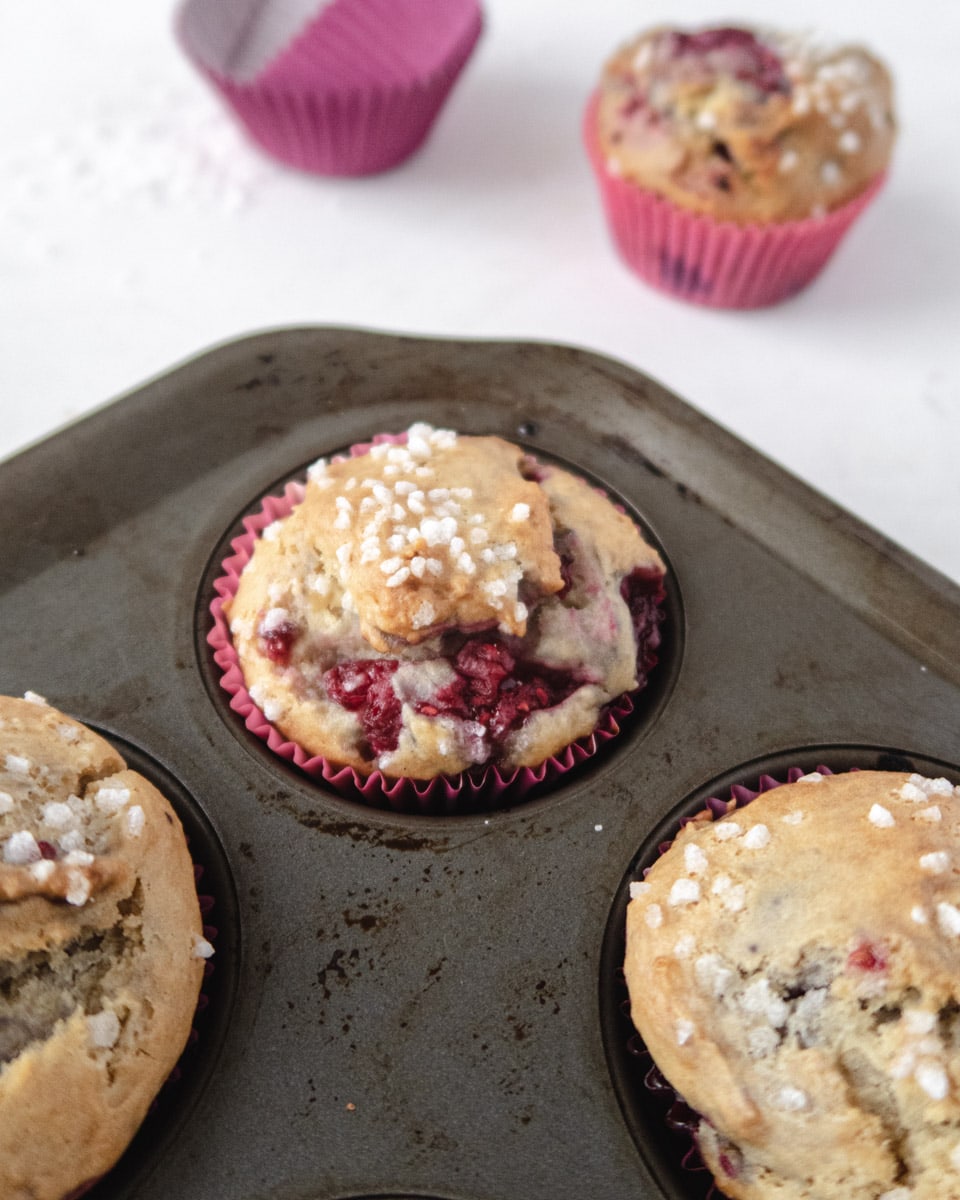 ---
Oh so moist raspberry muffins!
Ok I know how moist in overused in describing muffins.
But trust me, the yogurt found in these vegan raspberry muffins has a huge impact on getting a tender but sturdy crumb that is the perfect vessel for juicy raspberries.
These muffins are also a breeze to make. They took me a big 5 minutes to make and only uses one bowl!
Less dishes is always a winner in my home.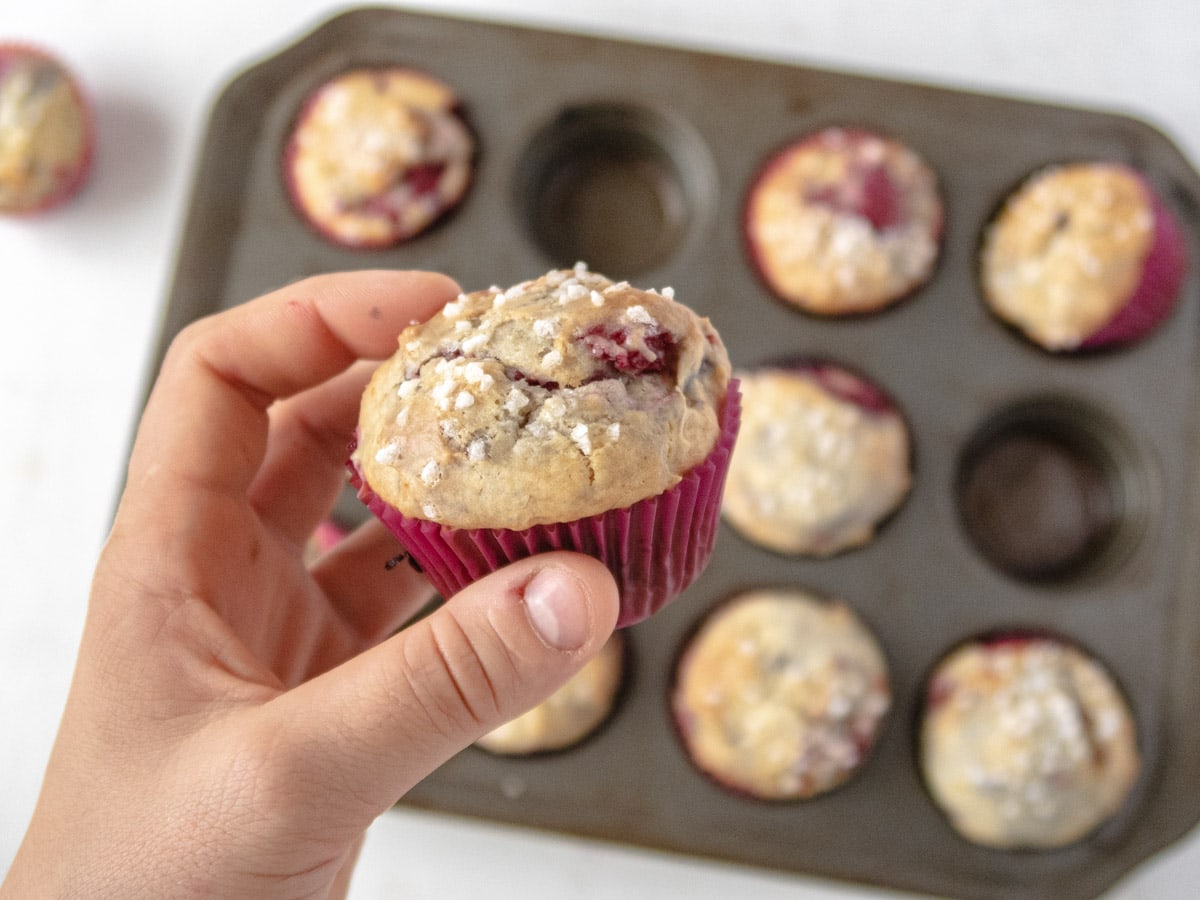 Blue-tinted muffins
When working with berries in baked goods, it can be tricky not to end with blue tinted muffins or cake. This is because the acidic juices from the berries ( especialy blueberries and raspberries) interact with the leavening agents and changes color.
This is why you can see a slight ( AKA barely noticeable unless you are a perfectionist like me) blue marble-like effect in my muffins. I swear it's not mold! Since I used frozen raspberries in these muffins, the berry juices mix more with the raw batter.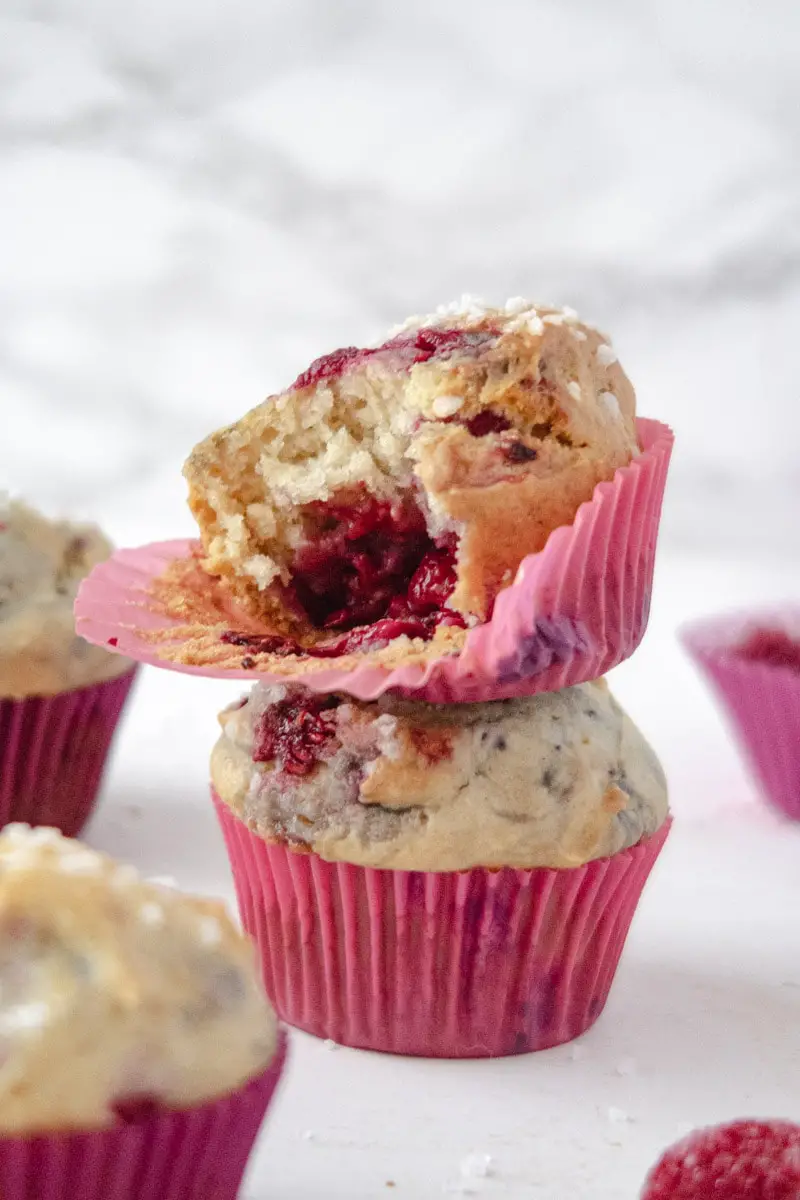 So to have non-blue looking muffins, try to use fresh raspberries and don't overmix! The idea is to fold them in, not to smash them in — which is easier said than done considering the thickness of the batter.
Some people also says that using aluminium-free baking powder also helps with the colour bleeding and slight metallic taste that can happen ( although I've never had that taste problems with my baked goods).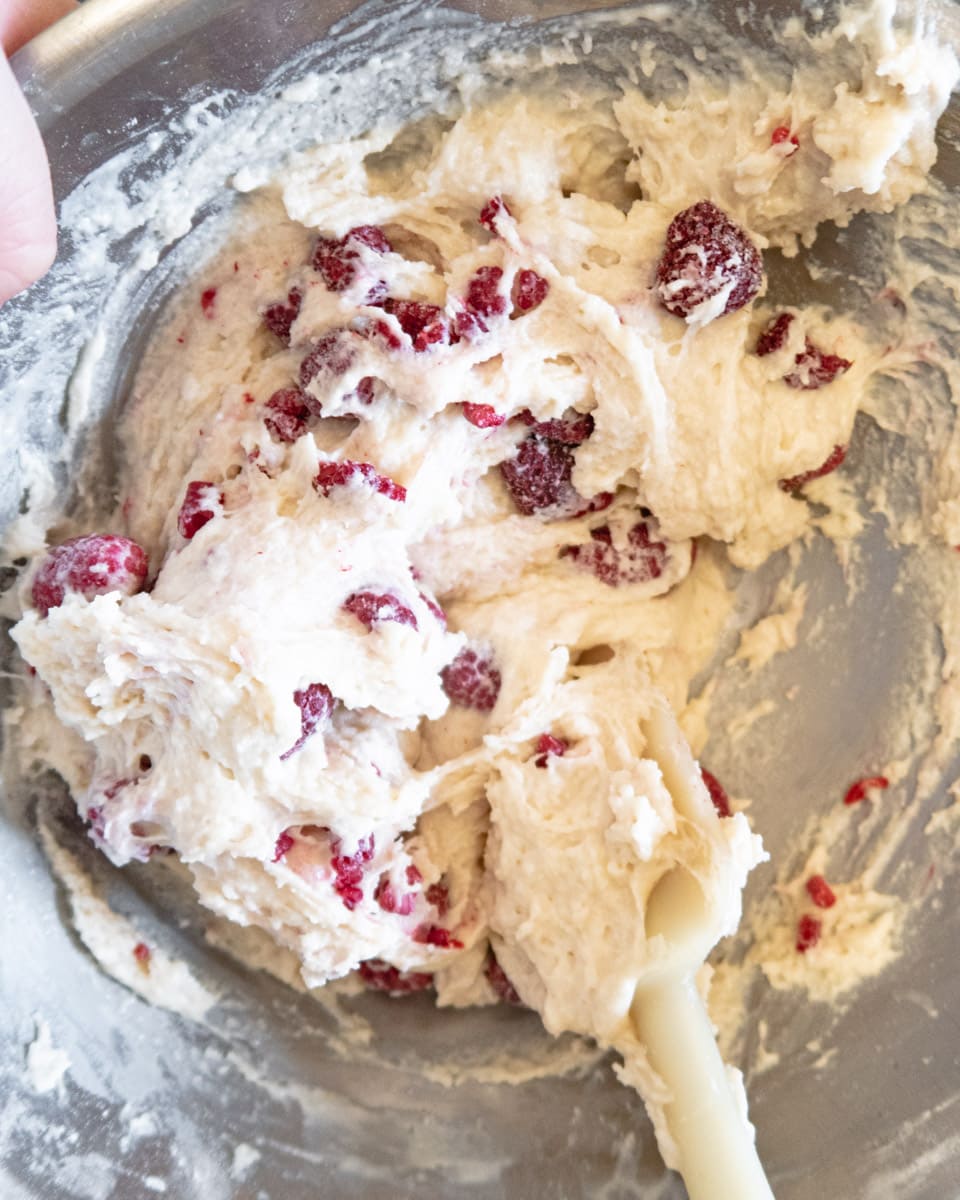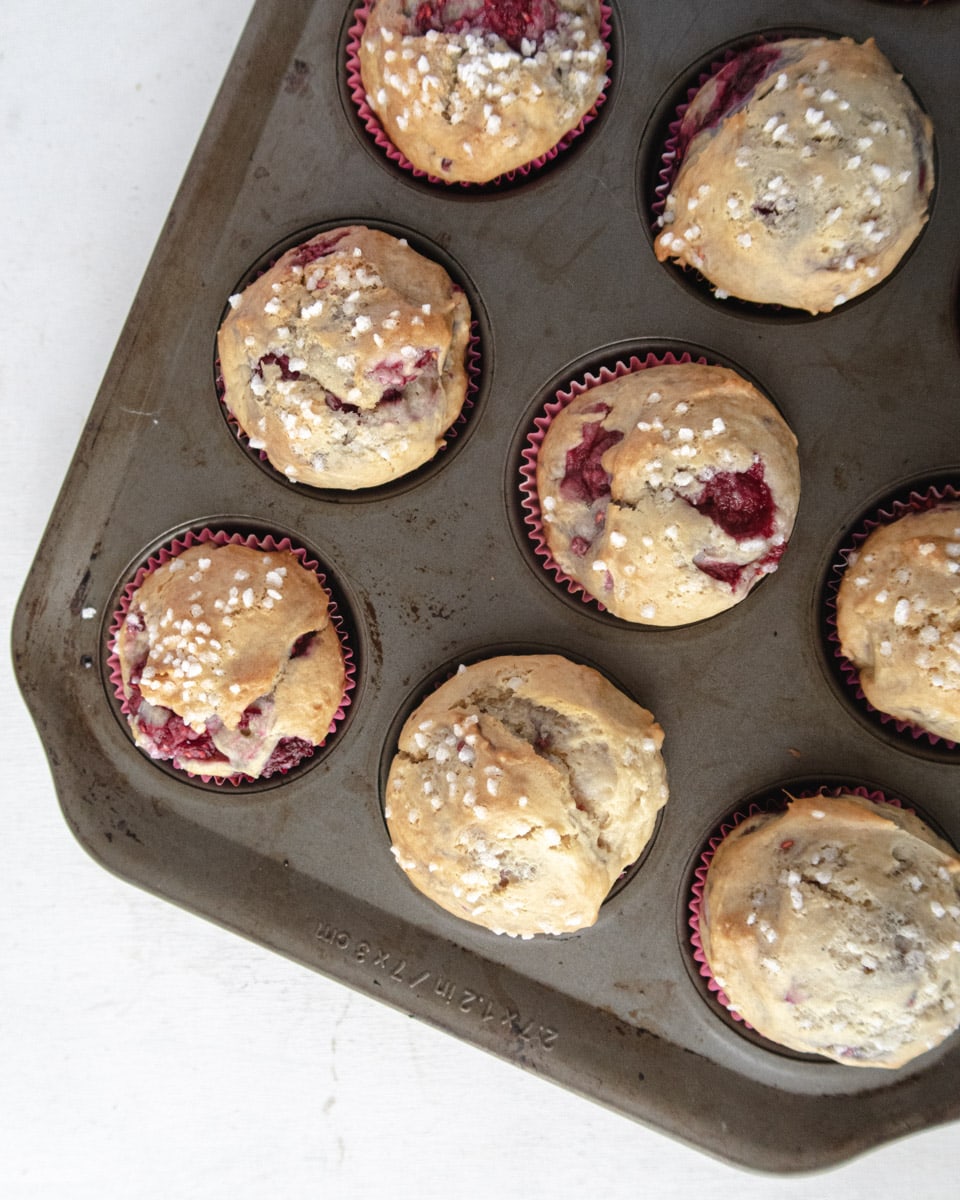 No more muffin soggy bottoms
One of the downsides to making buffins is the dreaded soggy bottom that you often get. You pick the cutest muffin paper cup and you end up with a greassy mess on your hands.
To save yourself from muffin soggy bottom, add approximately 1 to 2 teaspoon of dry rice to the bottom of your muffin pan before placing muffin liners and filling them.
This will lift your muffins a bit and let airflow pass underneath it. This will give you a nice dry muffin with a non-greasy muffin liner.
RELATED : Mini fresh fruit tartlets with orange blossom custard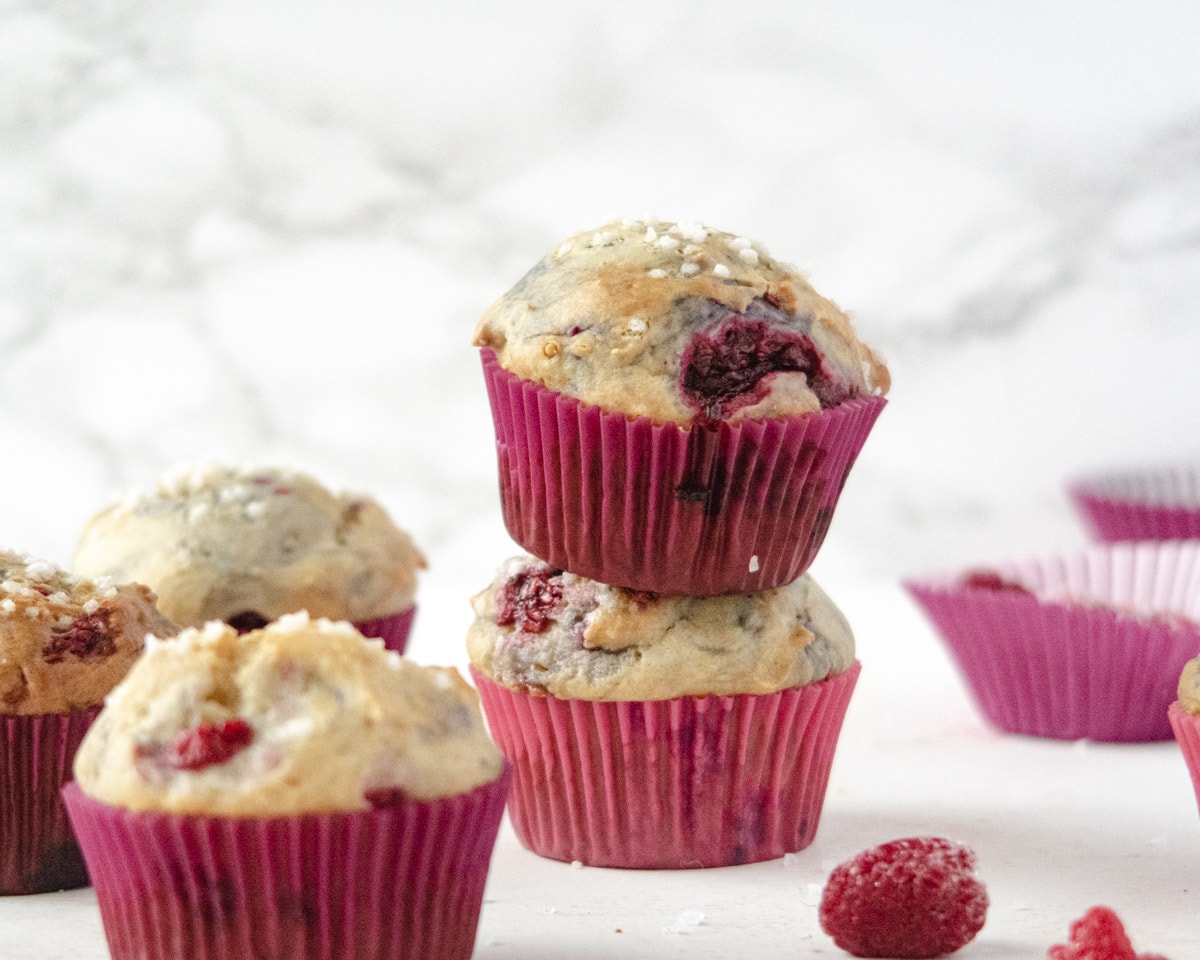 Recipe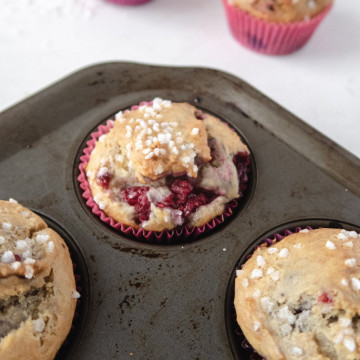 Print
Humble Vegan Raspberry Yogurt Muffins
These moist vegan raspberry muffins are a great snack to bring with you to school or to work.
Ingredients
Wet ingredients
75g

(⅓ cup)

canola oil

, or another light tasting vegetable oil

133g

(⅔ cup)

white granulated sugar

260g

(1 cup)

plant-based yogurt

, I used riviera yogurt

1

teaspoon

vanilla extract

60g

(¼ cup)

plant-based milk
Dry ingredients
180g

(1 ½ cup)

unbleached all-purpose flour

16g

(2 tbsp)

cornstarch

1

teaspoon

baking powder

½

teaspoon

baking soda

½

teaspoon

salt

1 ¼ cup

fresh raspberries cut in half

, or whole frozen raspberries
Garnish
coarse sugar or pearl sugar

, optional
Instructions
Preheat your oven at 350°F, or 180°C

In a large bowl, whisk together all the wet ingredients.

Sift together the flour, cornstarch, baking powder, baking soda and salt. Add the sifted dry ingredients to the wet ingredients and whisk until just incorporated. The batter will be thick.

Quickly fold the raspberries into the batter, trying not to overmix. Try to have the least amount of raspberry juice mixing in with the batter.

With an slightly heaping large ice-cream scoop, divide the batter equally into 12 paper-lined muffin tin. If using, sprinkle coarse sugar on top of each muffins.

Cook for 20 minutes, or until a toothpick inserted into the middle comes out clean.

Let the muffins cool for 5 minutes in the tin before placing on a wire rack to completly cool. Enjoy
Notes
Once cooled, store in an airtight container in the fridge for up to 4 days, or in the freezer for up to 4 months.
If you can't find vegan yogurt, replace it with the same amount of soft tofu blended until smooth and 1 teaspoon of lemon juice.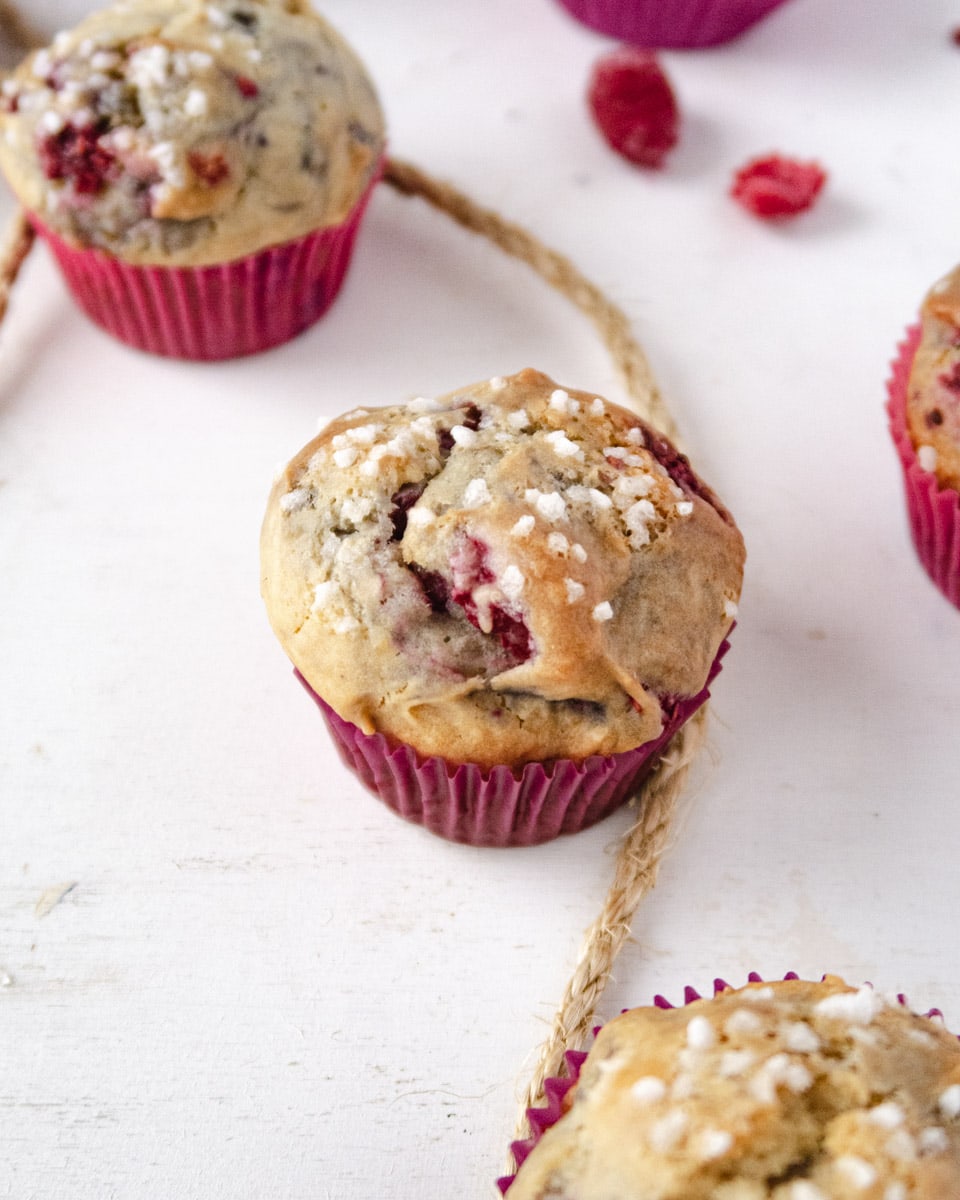 Did you try these berry muffins?
Don't be shy and let me know how it went! Leave me a comment below and share a picture on Instagram !