Make these vegans strawberry crunch cupcakes from scratch and enjoy some flavorful strawberry cake topped with a fun crunchy strawberry crumble topping.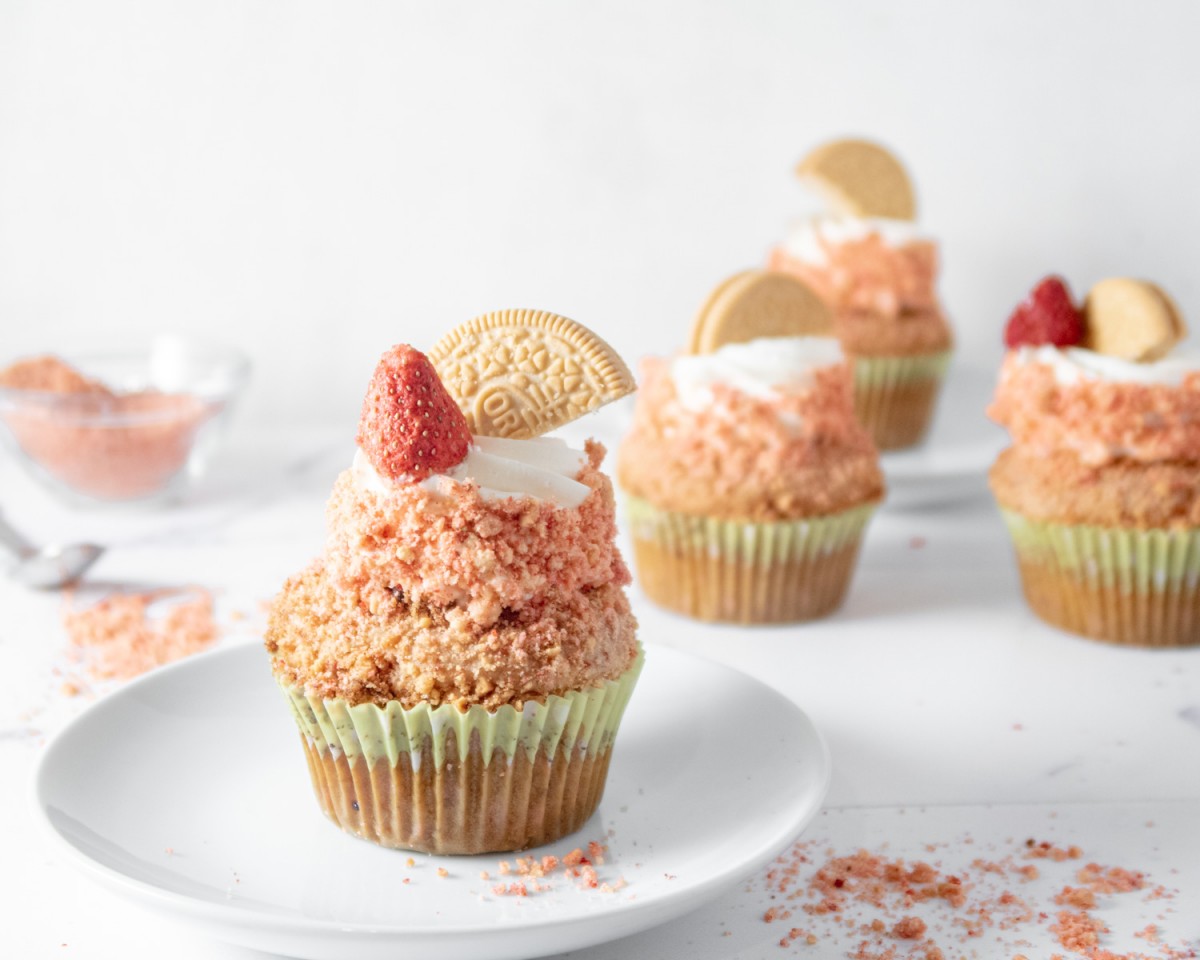 Take a big bite of these strawberry cupcakes, also known as strawberry shortcake cupcakes. They are made of:
Strawberry flavored cakes
Vanilla Swiss meringue buttercream
Topped with crunchy and flavorful strawberry topping
These strawberry crunch cupcakes are great to bring to summer cookouts or potlucks. However, since they are made with freeze-dried strawberries, they can also be made in the dead of winter when strawberries are not in season.
For more vegan cupcake extravaganza, try my peanut butter and jelly cupcakes or my rainbow-swirled cupcakes!
Jump to: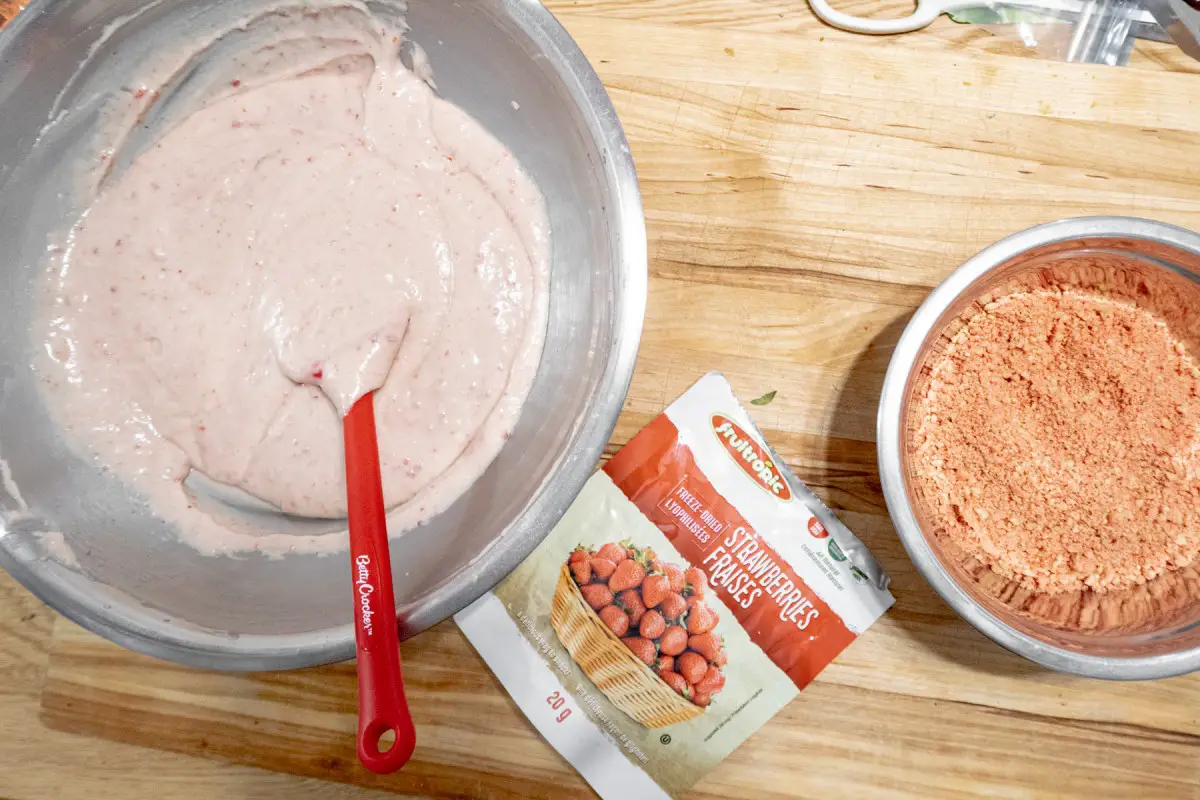 📋 Ingredients + Substitutions
Here is some extra information on some of the ingredients for this strawberry crunch cupcake recipe, to make sure you are successful in your baking adventure. All quantities can be found on the recipe card.
Oil - I use canola but any light-tasting oil will do. Skip the  olive oil this time
Plant-based milk- I use unsweetened original soy milk but any light-flavored vegan milk will do like oat, coconut, almond, and rice.
Silken Tofu -  If you are mixing the wet ingredients with an electric mixer, no need to blend the wet ingredients. The tofu will break down by itself.

Substitution: Any vegan yogurt will do. I've tried coconut, soy, and almond yogurt successfully in this recipe.

Cornstarch is also known as cornflour in the UK and in Australia
Freeze-dried strawberries - Fellow Canadians, I found freeze-dried strawberries at Dollorama, which I then crushed myself.

Unfortunately, there are no substitutions. Dried or dehydrated strawberries are chewy instead of crunchy so switching them would not work.

Strawberry extract: There is a lot of variance between brands of strawberry extract, so I recommend tasting as you go and adjusting to your own preference. Try to use one without color added.

Substitution: Use vanilla extract for a more neutral-tasting cupcake with a hint of strawberries.

Food coloring: My biggest regret while making this recipe was not adding food coloring to make the cupcakes pink. I thought the crushed strawberries would give enough color to the batter but they turned kind of grayish. If you want, add a drop of gel food coloring to the cupcake batter to make your cupcake pop.
Golden Oreo: I used classic golden Oreos for this recipe for the crunch since they are readily available.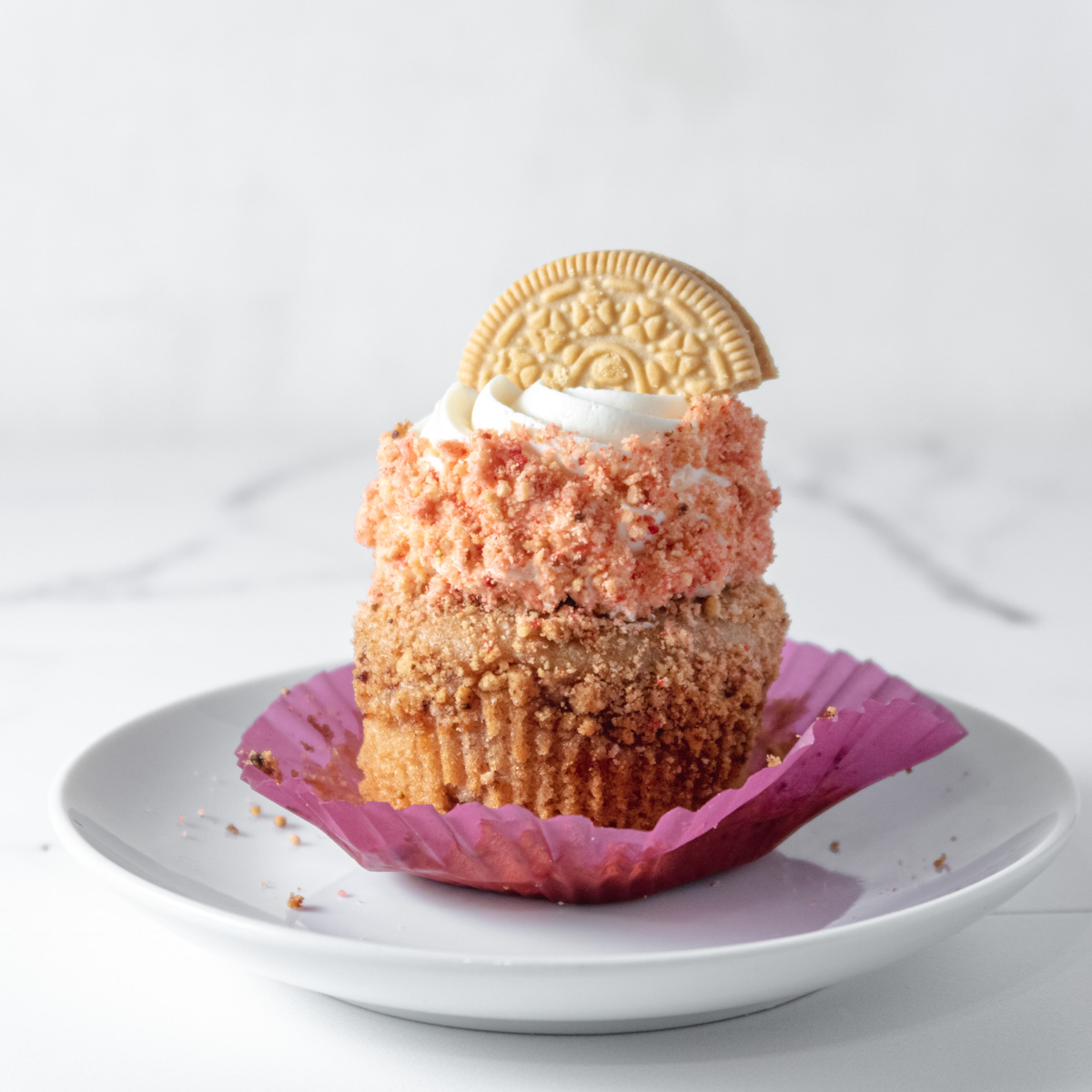 🥣 Instructions
Here is some additional info if you need a bit more help with the recipe instructions. Feel free to let me know in the comments if you need more information or help on a specific part of the recipe.
Strawberry crunch topping
There are 2 ways you can make the strawberry crunch topping:
Place the ingredients in a food processor and use the pulse button.
Place everything in a large freezer plastic bag, remove the air, and roll slowly back and forth with a rolling pin on the bag. From time to time, shake up the bag and continue the process. This is the method I used and as you can see my crumb topping was all the same size so it works well.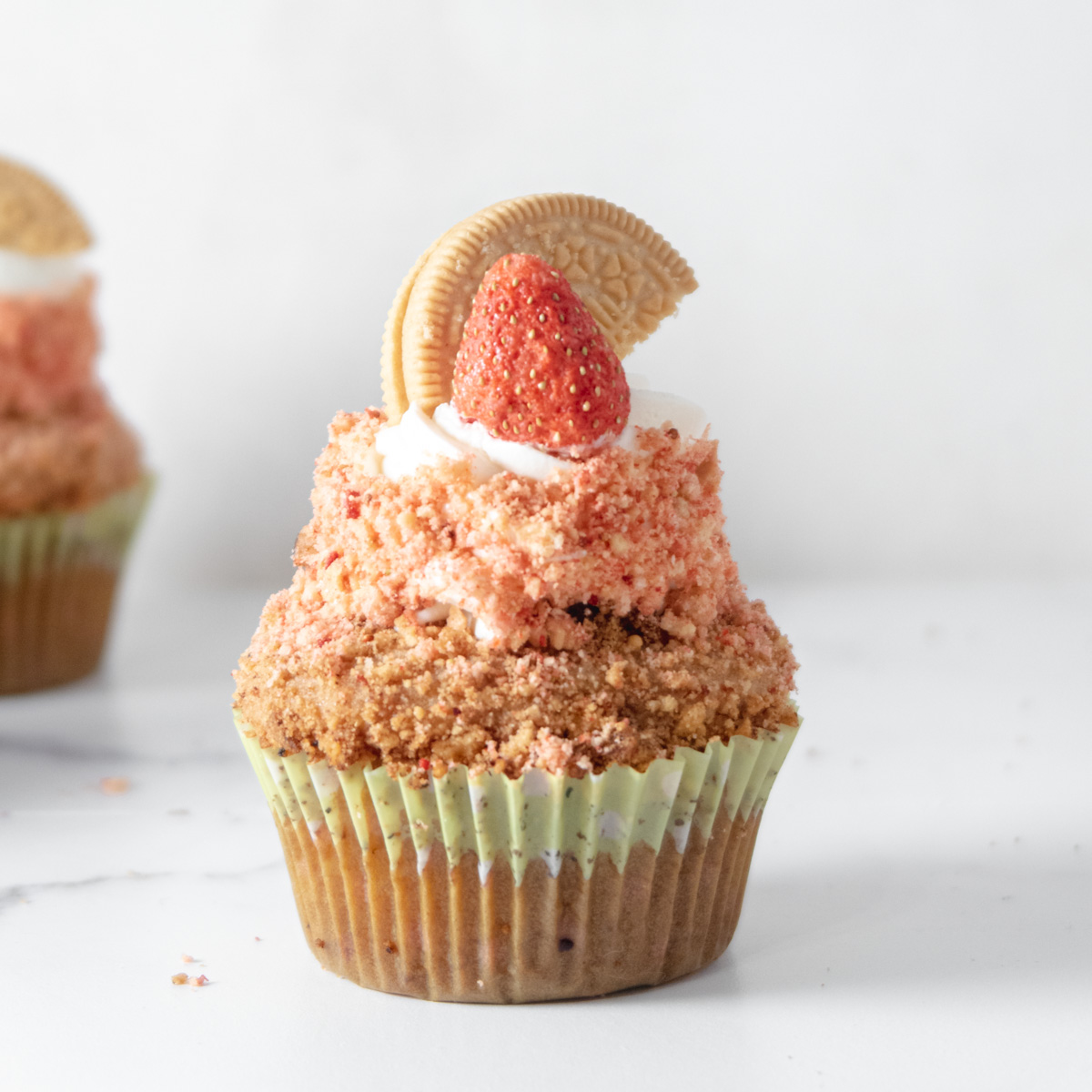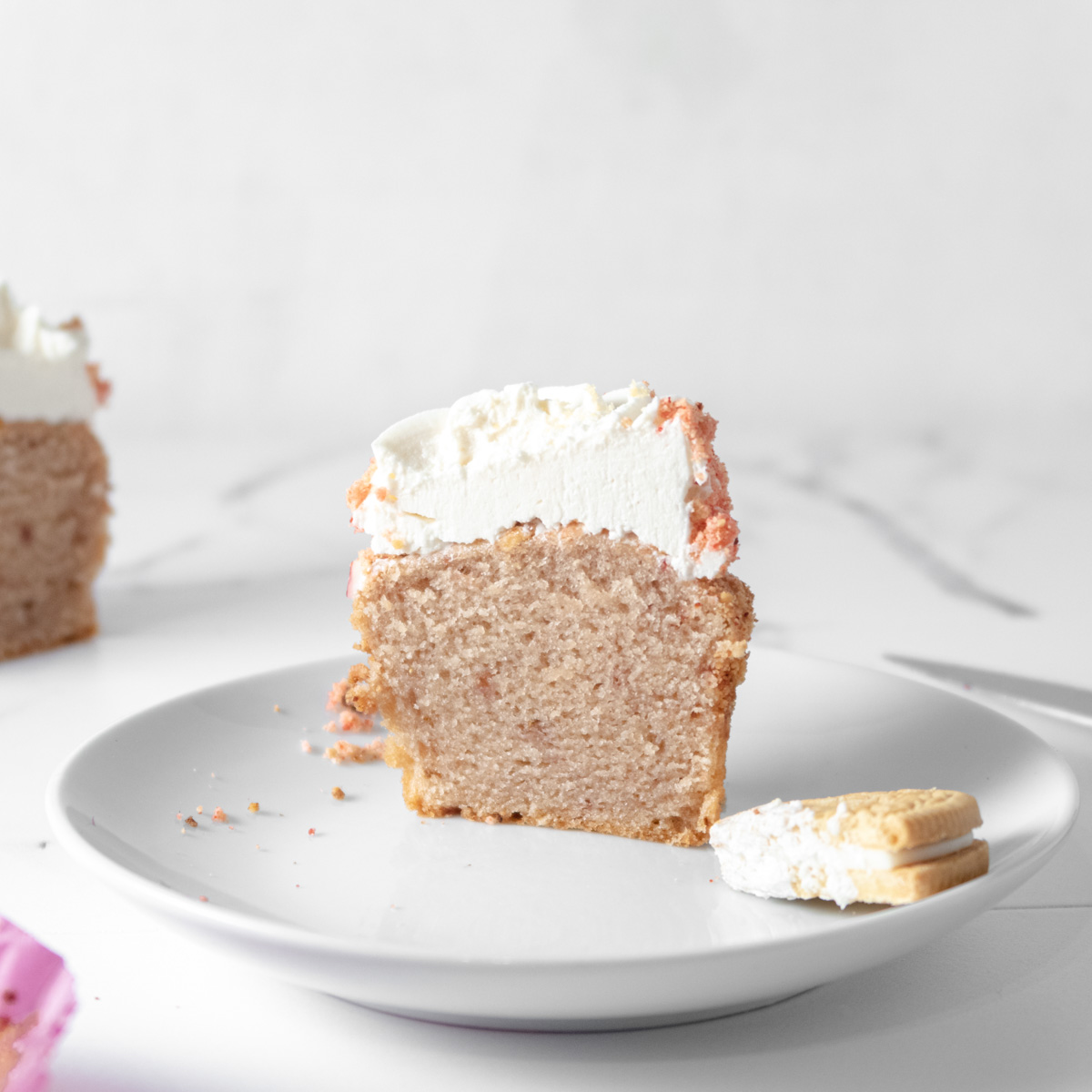 How to cover the bottom of the icing in crumbs
Refrigerate the cupcakes until very cold, pick the cupcake in your left hand and grab a handful of strawberry crunch topping with your right hand. Slowly press in the crumbs into the bottom of the icing while rotating the cupcake with the left hand. Then softly shake off any excess topping. 
Piping-free decoration alternative
If you are unhappy with your piping technique or don't have a piping bag, you can spread the buttercream evenly on the top of the cupcake using an offset spatula. You can even use an ice cream scoop if you want and just plop a scoop on top of each cupcake.
Refrigerate the cupcakes until the buttercream is very firm. Transfer the crunch topping to a bowl and then roll the top of each cupcake completely in the vegan strawberry crunch topping to cover completely the icing.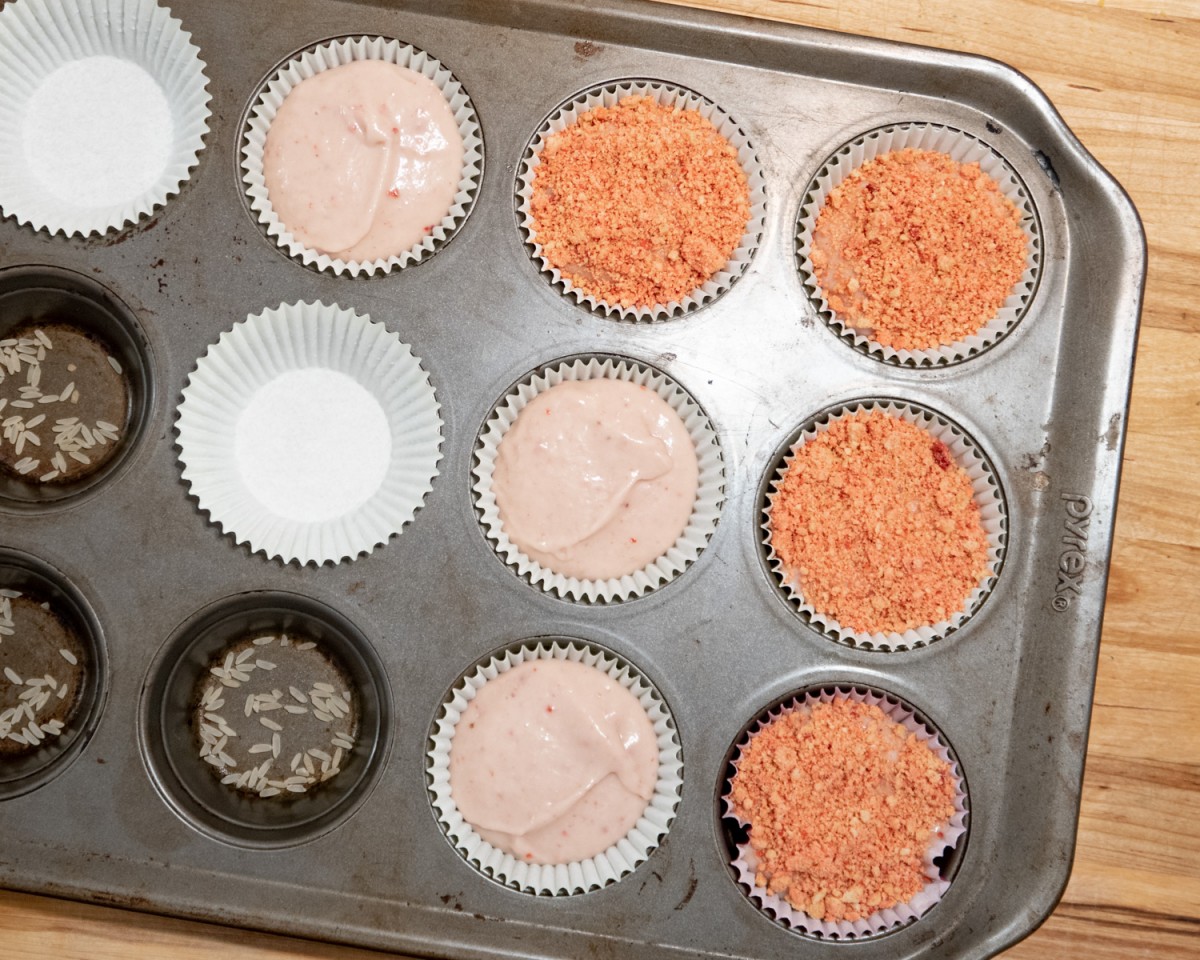 💭 Top tips
Garnish with crumbs right before serving. If not the oreo and freeze-dried strawberries will get soggy in the fridge.
To prevent overcooked and oily cupcake bottoms, drop about a teaspoon of uncooked rice on the bottom of each cavity of your muffin pan. Then place the cupcake liners on top of the rice and fill. The rice will create a small buffer for air to travel and help the cupcakes cook evenly.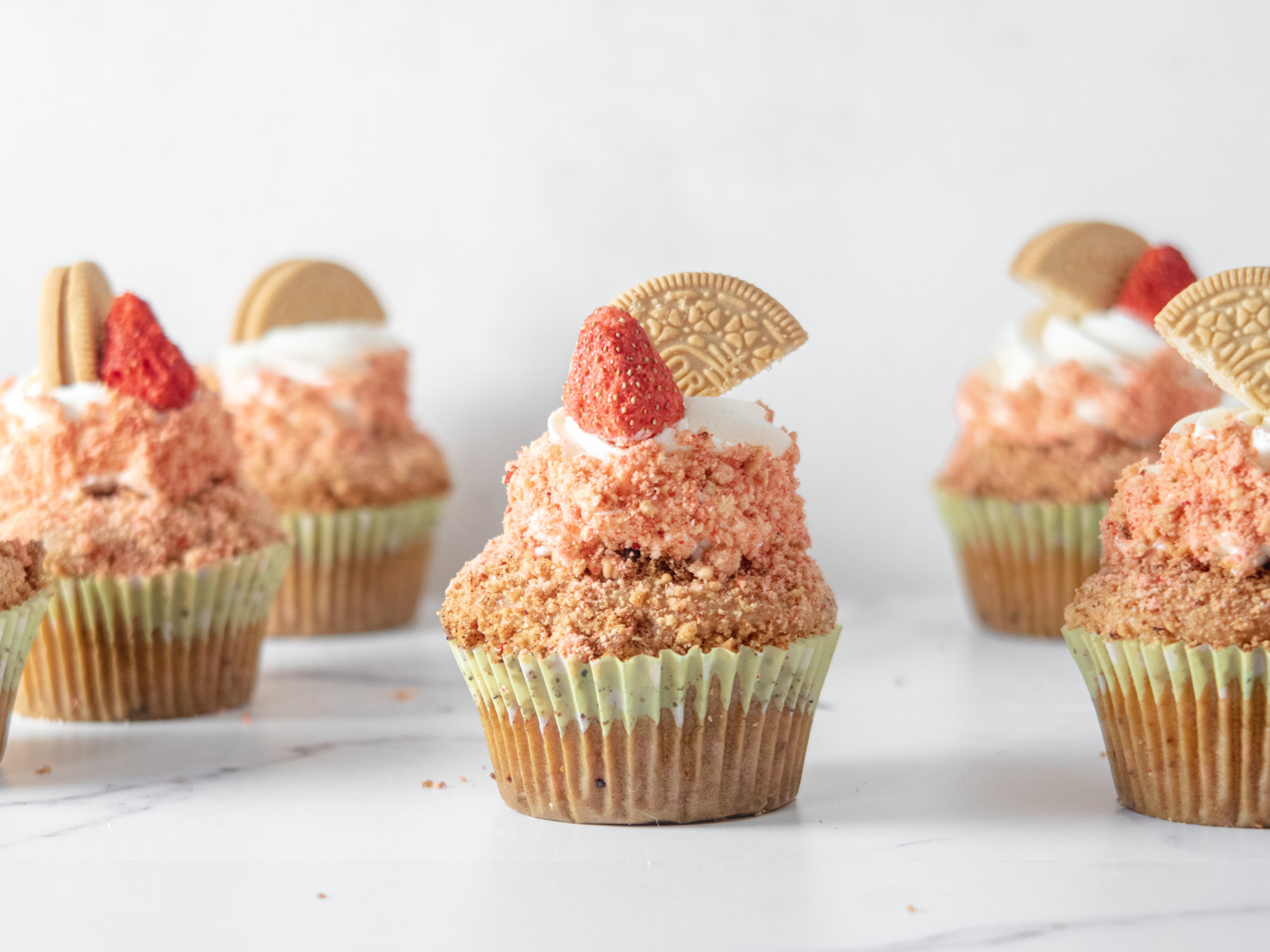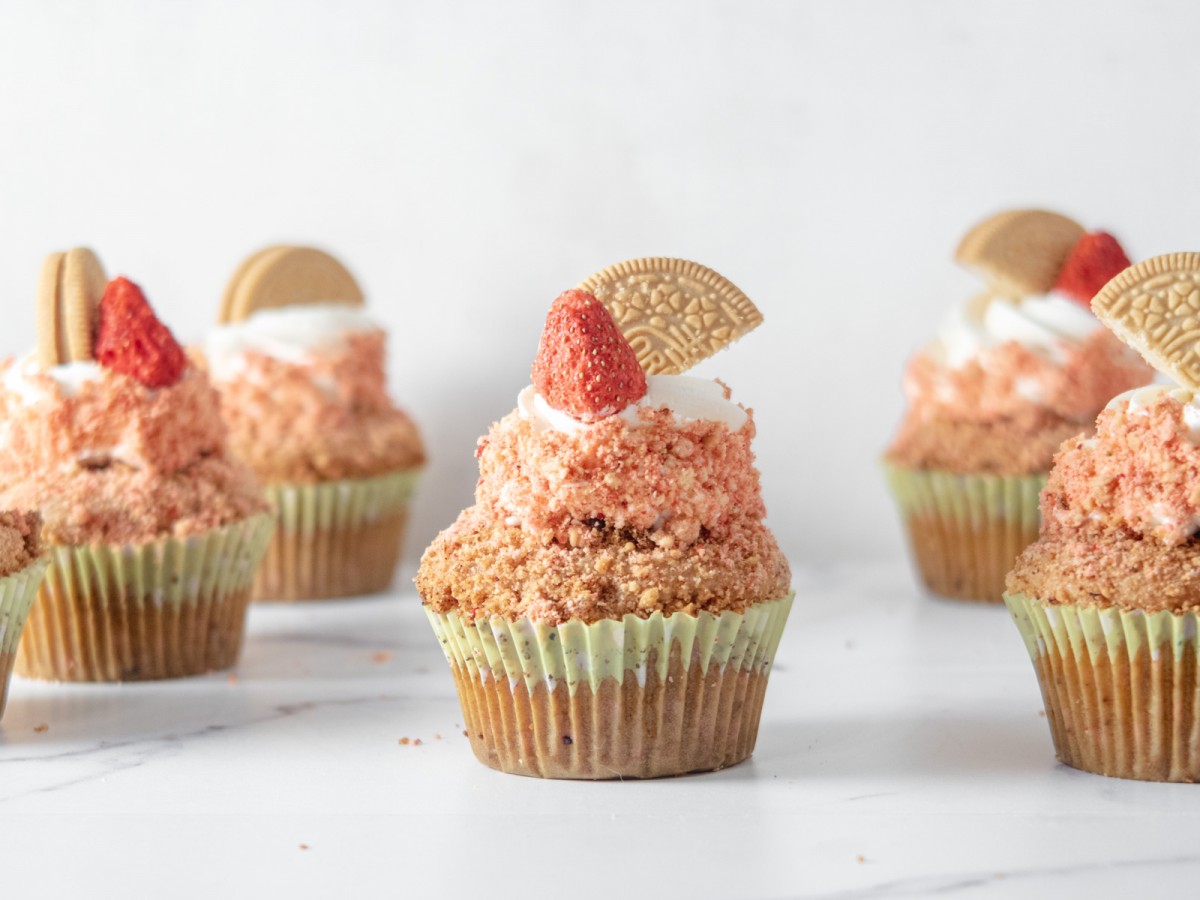 🔪 Equipment
This recipe doesn't use up a lot of equipment. Here is a list of my favorite pick while making this recipe but feel free to use what you have on hand.
Metalic muffin pan for even cooking. I'm not a big fan of silicone pans for cupcakes because of how easy it is to overcook cupcakes in them.
Mixing bowl, whisk, and spatula
Large piping bag with an Ateco 845 piping tip
Blender or electric mixer, for the wet ingredients
Large plastic bag and rolling pin, or a food processor
I highly recommend you use a digital scale and weight measurements when following my recipes as it is more accurate.
🌡️ Storage
The following storage instructions are for cupcakes without the strawberry crunch topping, oreo, and strawberry garnish.
Room temperature: 2 days, in an airtight container
Refrigerator: 4 days, in an airtight container
Freezer: Freeze in an airtight container for up to 2 months
Strawberry crunch topping: Store in an airtight bag, or even doubled baged, at room temperature for up to 2 months. Add a food-grade desiccant packet to the bag if you have some.
Recipe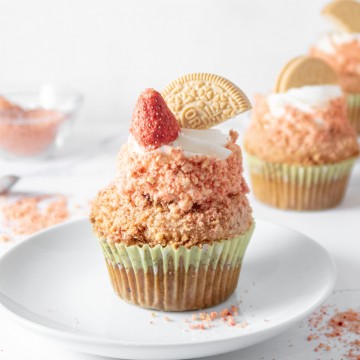 Print
Vegan strawberry crunch cupcakes
Make these vegans strawberry crunch cupcakes from scratch and enjoy some flavorful strawberry cake topped with a fun crunchy strawberry crumble topping.
Ingredients
Strawberry crunch topping
15

whole

golden Oreo cookies

(177 g)

30

g

freeze-dried sliced strawberries

(3 tablespoons, finely crushed)
Dry ingredients
300

g

all-purpose flour

(2 ½ cups)

17

g

cornstarch

( 2 tablespoons)

1 ½

teaspoon

baking powder

(7 g)

½

teaspoon

baking soda

(2.5 g)

½

teaspoon

fine sea salt

(3 g)
Wet ingredients
170

g

light-tasting vegetable oil

(¾ cup)

5

g

apple cider vinegar

(1 teaspoon)

250

g

plant-based milk

(1 cup)

200

g

white granulated sugar

(1 cup)

130

g

soft silken tofu

(½ cup)

8

g

strawberry extract or bakery emulsions

, adjust to taste (2 teaspoons)

30

g

freeze-dried strawberries

(3 tablespoons, crushed)

red or pink gel food colouring

, optional
Swiss meringue buttercream
Garnish
8

golden Oreo cookies

, cut in half

freeze-dried strawberries

, or fresh strawberries cut in half
Instructions
Strawberry crunch cupcakes
Preheat your oven to 325°F (160°C), and place cupcake liners in each cavity of your cupcake pan.

Crush together the golden oreos and freeze-dried strawberries into a coarse crumb.

In a large bowl, whisk together the flour, cornstarch, baking powder, baking soda and sea salt.

Place all the wet ingredients in the container of a blender, and mix on low until smooth. Whisk the wet ingredients into the dry ingredients and scrape the mixing bowl with a silicone spatula as needed.

Finely crush the freeze-dried strawberries and mix them into the batter. Adjsut the amount of strawberry extract to taste. Optional: Add food coloring to reach your favourite shade of pink.

Using a large ice cream scoop, fill each liner ⅔ of the way. Gently tap your cupcake pan against your countertop to remove any air bubbles in the batter. Sprinkle some of the strawberry crunch topping on the top of each of the cupcakes.

Bake for 25 to 30 minutes, or until a toothpick inserted in the middle comes out clean.

Brush off any excess crunch topping before transfering the cupcakes to a wire cooling rack to cool completely.
Decoration
Make a half recipe of Swiss meringue buttercream, or your favorite pipeable icing, and transfer in a pastry bag with a Ateco 845 piping tip, or another large closed star pastry tip

Pipe a buttercream rosette on top of each cupcake and refrigerate until cold and firm.

Right before serving, add some crunch topping on the bottom of the buttercream rosettes and top with a half Oreo and strawberry. Enjoy
Did you try this vegan strawberry cupcake recipe?
Don't be shy and let me know how it went! Leave me a comment below and share a picture on Instagram!