Celebrate Pride month with these gorgeous vegan funfetti cupcakes decorated with a crown of rainbow Swiss meringue buttercream. Use my secret method to make colorful icing swirls to represent all the flags of the LGBTQIA+ community!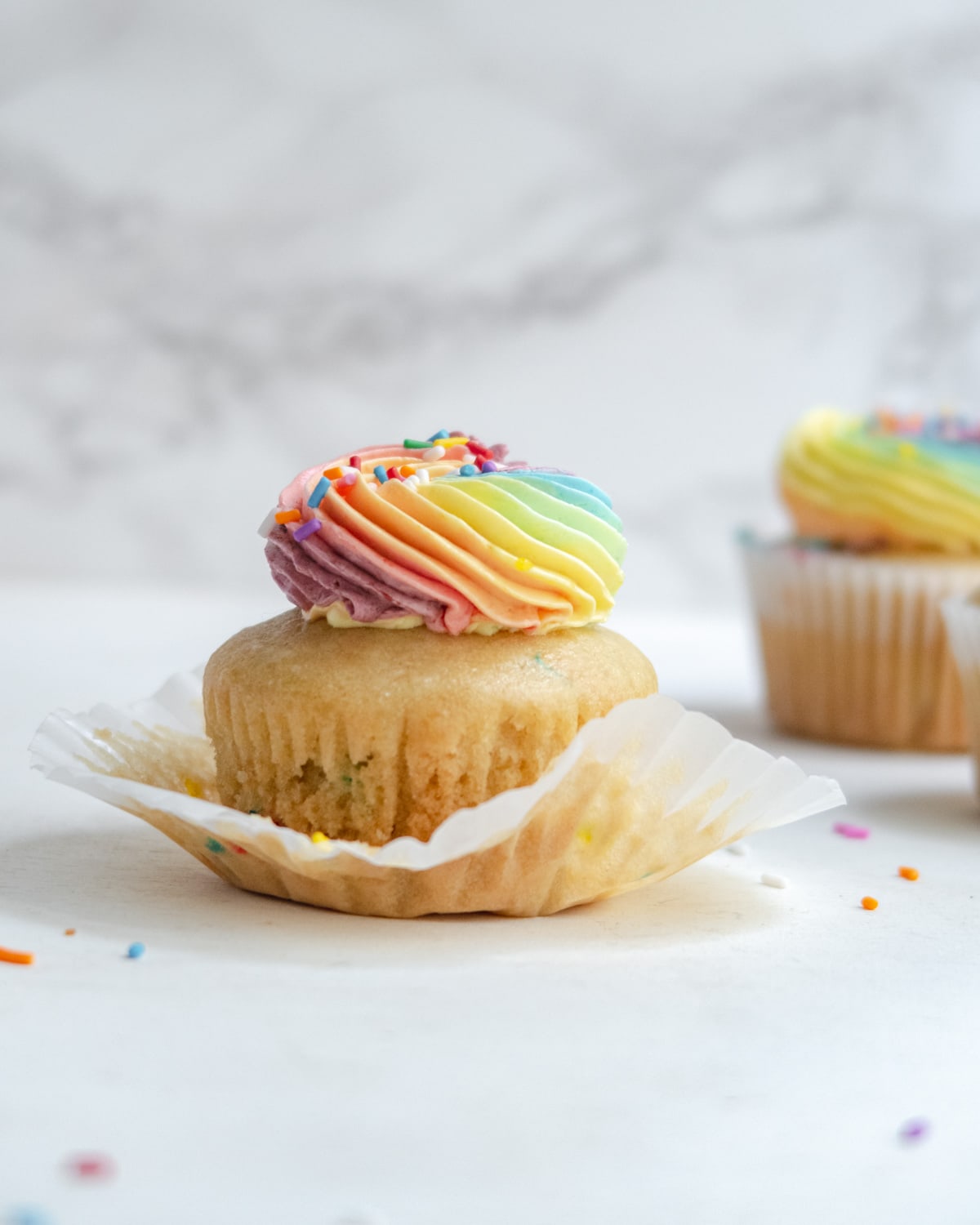 Feel free to skip straight ahead to the recipe if you want but keep in mind that you'd be missing a bunch of tips and tricks on how to perfectly bake cupcakes, and my step-by-step technique on how to make colorful swirled icing (with pictures!) I also keep this blog strictly professional, so any personal stories would be all the way to the end, after the recipe.
---
Pride is a lot of fun(fetti) !
These tender funfetti cupcakes will steal the show at your next pride party. These cupcakes have a moist crumb, colorful sprinkles and are topped with colorful and buttery icing.
They are soooo good.
But don't take my word for it. Make them at home and let them speak for themselves.
---
How to make a rainbow swirl icing
Making cupcakes is pretty straightforward, but making a rainbow-swirled icing might be a little trickier, especially if you want a great color definition. This is why I made you a little guide ( with lots of pictures) on how to achieve this technique.
Icing
Start with making a medium to firm icing that is pipeable. In this case, I used my favorite icing, Swiss meringue buttercream, but you can use American buttercream or any other icing, as long as it is a neutral color, pipeable, and that it gets harder when you refrigerate it.
Colors 
Now you are ready for the fun part. You get to color the icing with your favourite shades. In my case I went with a pastel rainbow palette of colors but you can use your favourite LGBTQ+ flag shades to make inclusive cupcakes for your next Pride party.
To color icing, gel food colors like Wilton, Americolor, or Sugarflair are the best as they won't make your buttercream softer and they are also often more concentrated. A little goes a long way.
Log of icing
Spread each color of the icing in a line side by side over a large piece of plastic wrap, which we will then roll up in a log carefully to not disturb the colors too much. This is where having a stiffer icing becomes important. If your icing becomes too soft and won't hold, slide the piece of plastic wrap on a cutting board and leave the icing in the refrigerator until it is more manageable.
Twist the leftover plastic wrap at each end of the log of icing to make a compact tube. You don't want the icing colors to mingle too much but you also don't want any air bubbles. Be careful so that the plastic wrapt does not open at the seam. 
Refrigerate the tube of icing so that it is firmer;.Then, slice off one extremity of the log and drop it in your prepared pastry bag. You can now pipe with all the colors of the rainbow.
Icing tubes or logs are also a great way to store icing for later. You can refrigerate or even freeze plastic-wrapped leftover icing in this log shape to use at a later date.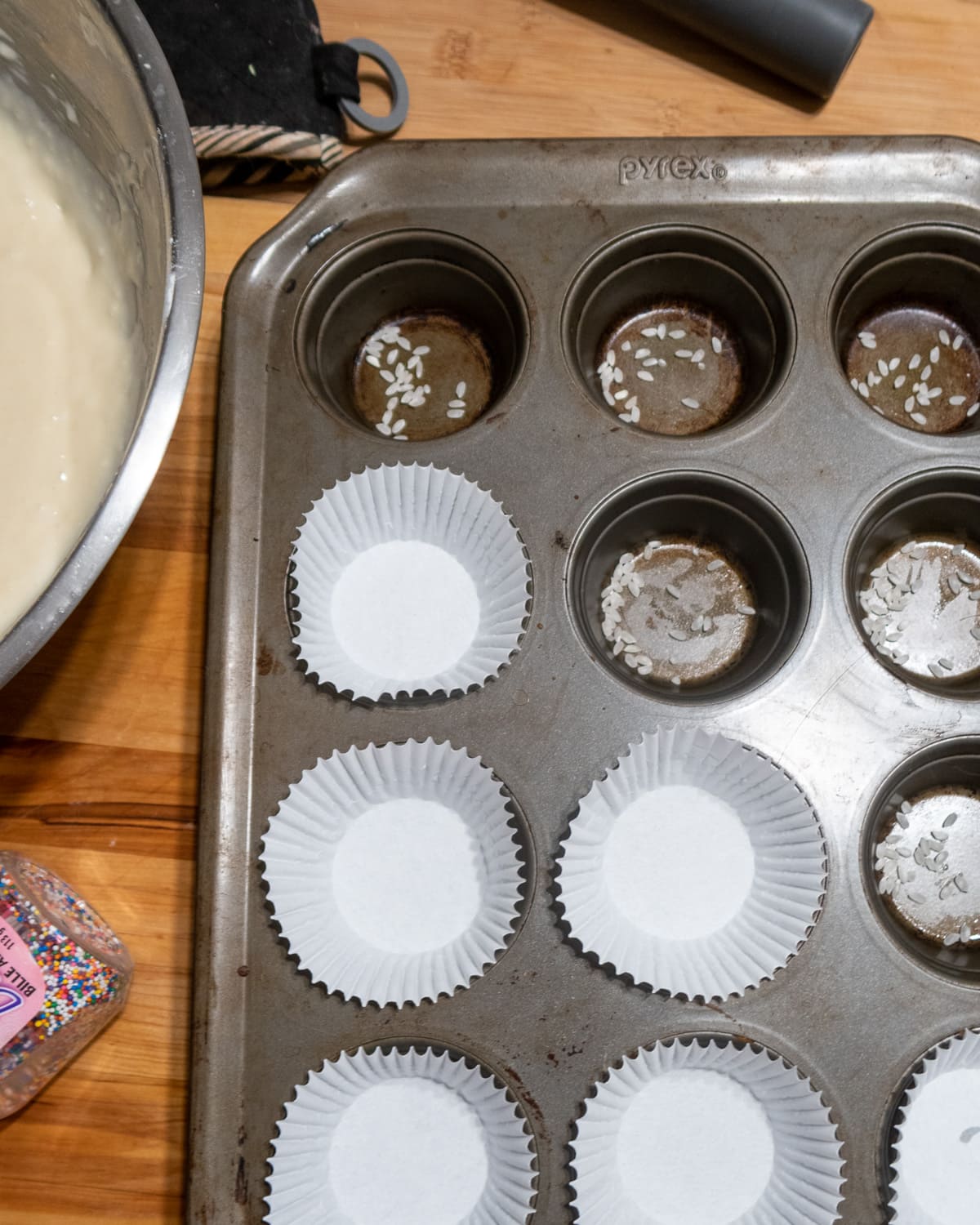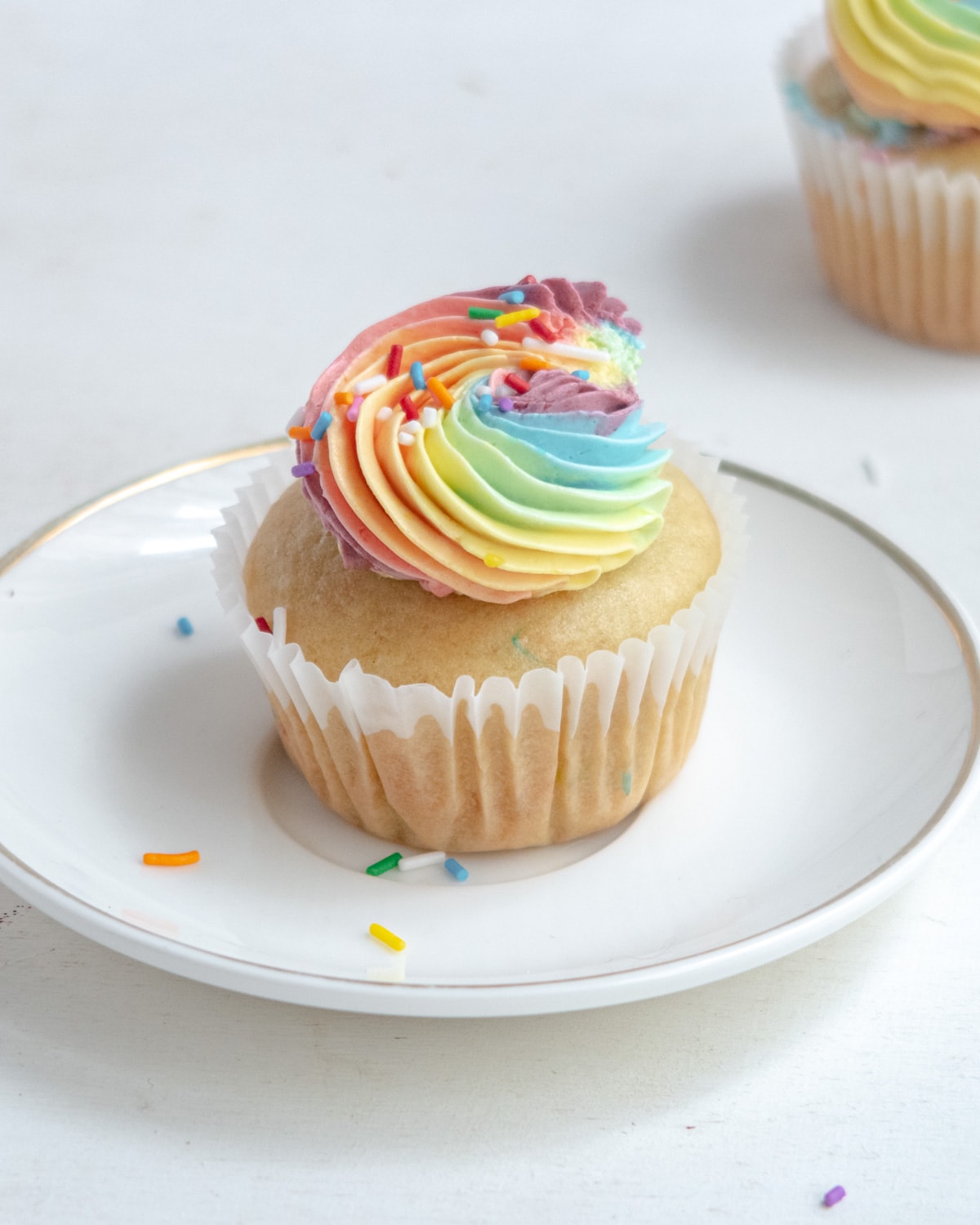 Tips + Tricks from a pro
How to get perfect cupcake bottoms.
You'll see that these cupcakes are baked at a lower temperature than you might expect. This is because if you bake your cupcakes at a lower temperature for a longer period of time, the bottom of your cupcakes won't get too dark and they will release more easily from the liner. As you can see, the bottom of my cupcakes is the same color as the top, just slightly golden and perfectly cooked.
Baking your trays of cupcakes on the middle rack will also help with having cupcakes that bake at the same speed.
How to not have oily cupcake bottoms?
 A tip to not get oily cupcakes on the bottom is to drop a couple of grains of rice  (about a teaspoon) in the bottom of each cupcake cavity before placing your cupcake liners. This will create a gap that will create some airflow underneath each cupcake.
Also, the moment the cupcakes are out of the oven, use a butter knife to pull each cupcake from the pan and place them on a wire cooling rack. This will help your cupcakes cool down quicker and reduce the amount of sweating.
Nothing will prevent this problem 100% from happening. After all, cupcakes are full of oil and paper is very good at absorbing fat, but these tips should help.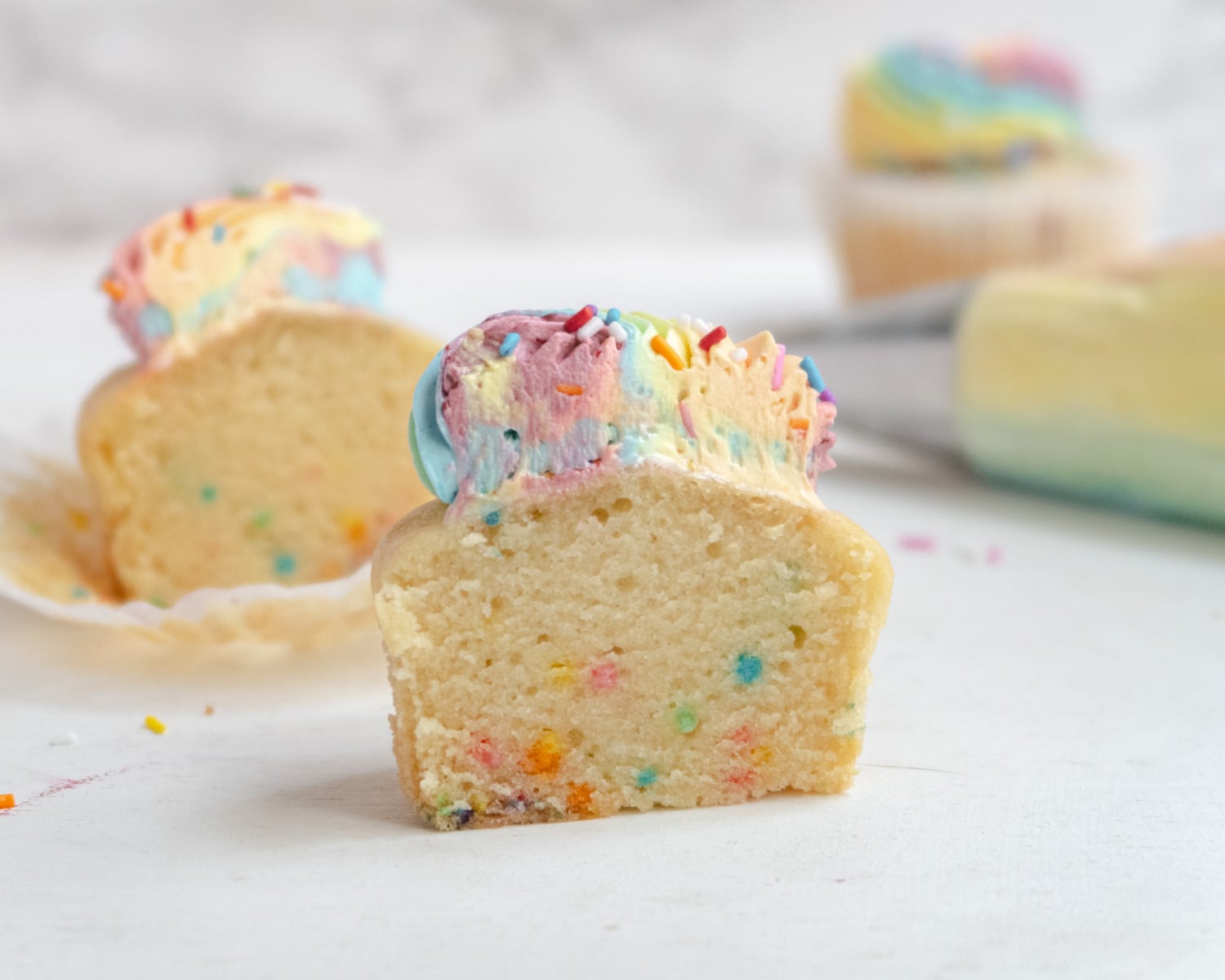 Frequently asked questions
What exactly makes these vegan cupcakes funfetti-flavored? 
Funfetti is a cake flavor that combines colorful sprinkles and white vanilla extract. White vanilla extract has a distinctive taste compared to your natural dark-colored vanilla extract. If you only have only one of them, you can use them interchangeably. However, if you want a true funfetti flavor ( just like the cake box mix from your memory), you'll want to use white vanilla extract.
Are sprinkles vegan?  
Most sprinkles are not vegan because they have confectioner's glaze which is made of crushed beetles, beeswax, or made with food colorants that are animal-based. For a great guide to vegan sprinkle brands that are out there, check out this great vegan sprinkle guide over at  Vegan Dollhouse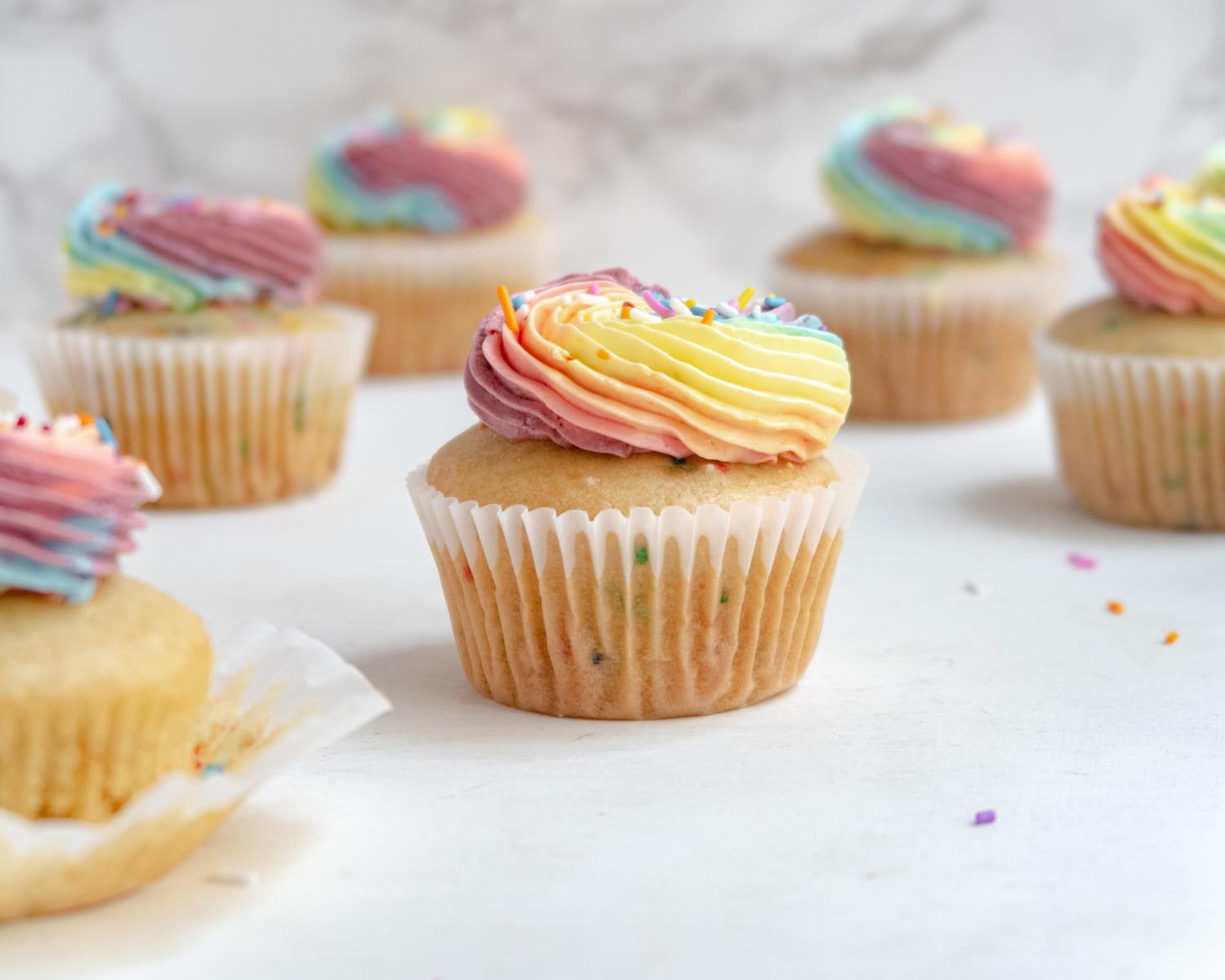 Tools
You will need the following tools to make these delightful vegan funfetti cupcakes and rainbow-swirled icing.
Large mixing bowl
Blender, a food processor, or immersion blender would also work in a pinch.
Whisk
Cupcake pan
Silicone spatula
Small offset spatula, or spoon
Large ice cream scoop
Pastry bag
Wilton 6B pastry tip
Recipe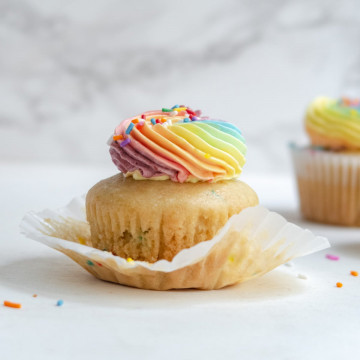 Print
Pride Cupcakes! Vegan Funfetti Cake with Rainbow icing
Celebrate Pride month with these gorgeous vegan funfetti cupcakes decorated with a crown of rainbow Swiss meringue buttercream.
Ingredients
Dry ingredients
300 g

(2 ½ cup)

unbleached all-purpose flour

17 g

(2 tbsp)

cornstarch

7 g

(1 ½ tsp)

baking powder

2.5 g

(½ tsp)

baking soda

3 g

(½ tsp)

fine sea salt
Wet ingredients
177

(¾ cup)

light-tasting vegetable oil

, I use canola oil

5

(1 tsp)

white vinegar

250

(1 cup)

soy milk

, or your favourite vegan milk

200

(1 cup)

white granulated sugar

130

(½ cup)

silken tofu

, or plain vegan yogurt

12

(1 tbsp)

clear vanilla extract

45

(¼ cup)

vegan rainbow sprinkles

, plus extra to decorate
Rainbow Swiss Meringue Buttercream
Instructions
Preheat your oven to 320°F (or 160°C), and place cupcake liners in each cavitiy of your cupcake pan.

In a large bowl, whisk together the flour, corn starch, baking powder, baking soda and sea salt.

Place all the wet ingredients in the container of a blender, and mix on low until smooth.

Make a hole in the middle of the dry ingredients to make a well and add the wet ingredients in the middle. Whisk, incorporating the dry ingredients at the edge of the well a little at a time until you have a smooth and homogenous batter. Scrape the side of the bowl with a silicone spatula to make sure there are no dry ingredients left.

Add the sprinkles to the batter and quickly but gently fold them in with a spatula.

Using a large ice cream scoop, fill each liner ⅔ of the way. Gently tap your cupcake pan against your countertop to remove any air bubbles in the batter.

Bake for 30 to 35 minutes, or until a toothpick inserted in the middle comes out clean.

Allow the cupcakes to cool completely on a wire cooling rack before frosting.
Rainbow icing
Make a half batch of swiss meringue buttercream, or your favourite pipeable icing.

Seperate the icing into 6 containerd and color them into the colors of the rainbow. I like to do pastel shades.

Place a long piece of plastic wrap on your work surface and shape lines of icing with each icing next to each other using a small offset spatula or spoon. Roll up the saran wrap on itself then twist the edges to make a roll of rainbow icing.

Refrigerate the roll of icing for 10 minutes, or until firm enough to manipulate without muddling the colors.

Cut off one end of the rolled up frosting tube and place it, cut side first in a large pastry bag with a Wilton 6B pastry tip.

Pipe rosettes of icing on top of each cupcake before decorating with vegan sprinkles. Enjoy!
Notes
Store in the fridge in an airtight container for up to 3 days, or freeze for up to 3 months.
Cornstarch is also known as cornflour in the UK and Australia.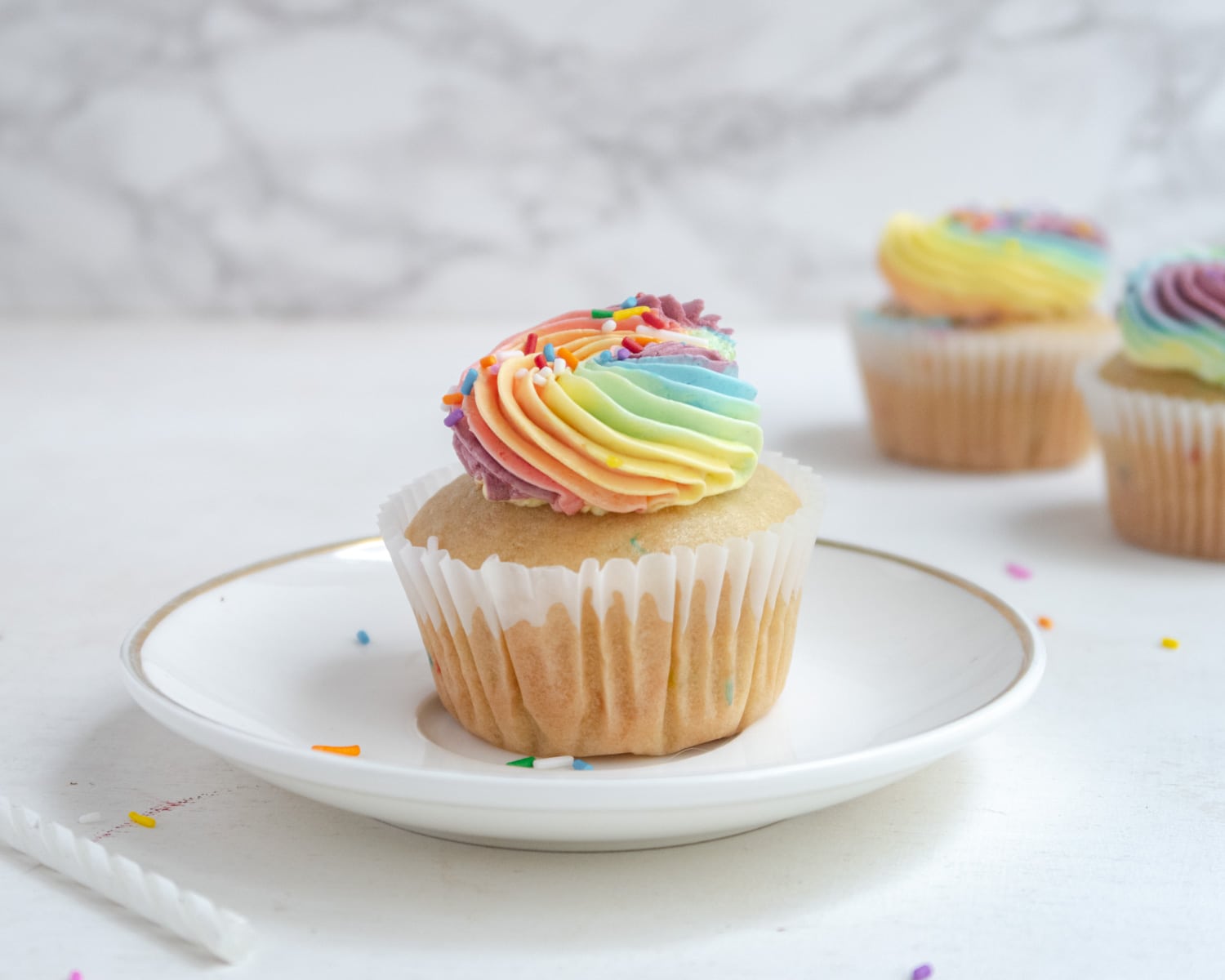 Did you try these colorful Pride cupcakes?
Don't be shy and let me know how it went! Leave me a comment below and share a picture on Instagram !