Bite into deliciously fluffy vegan cupcakes topped with peanut butter frosting and raspberry curd for the ultimate PB + J cupcake experience.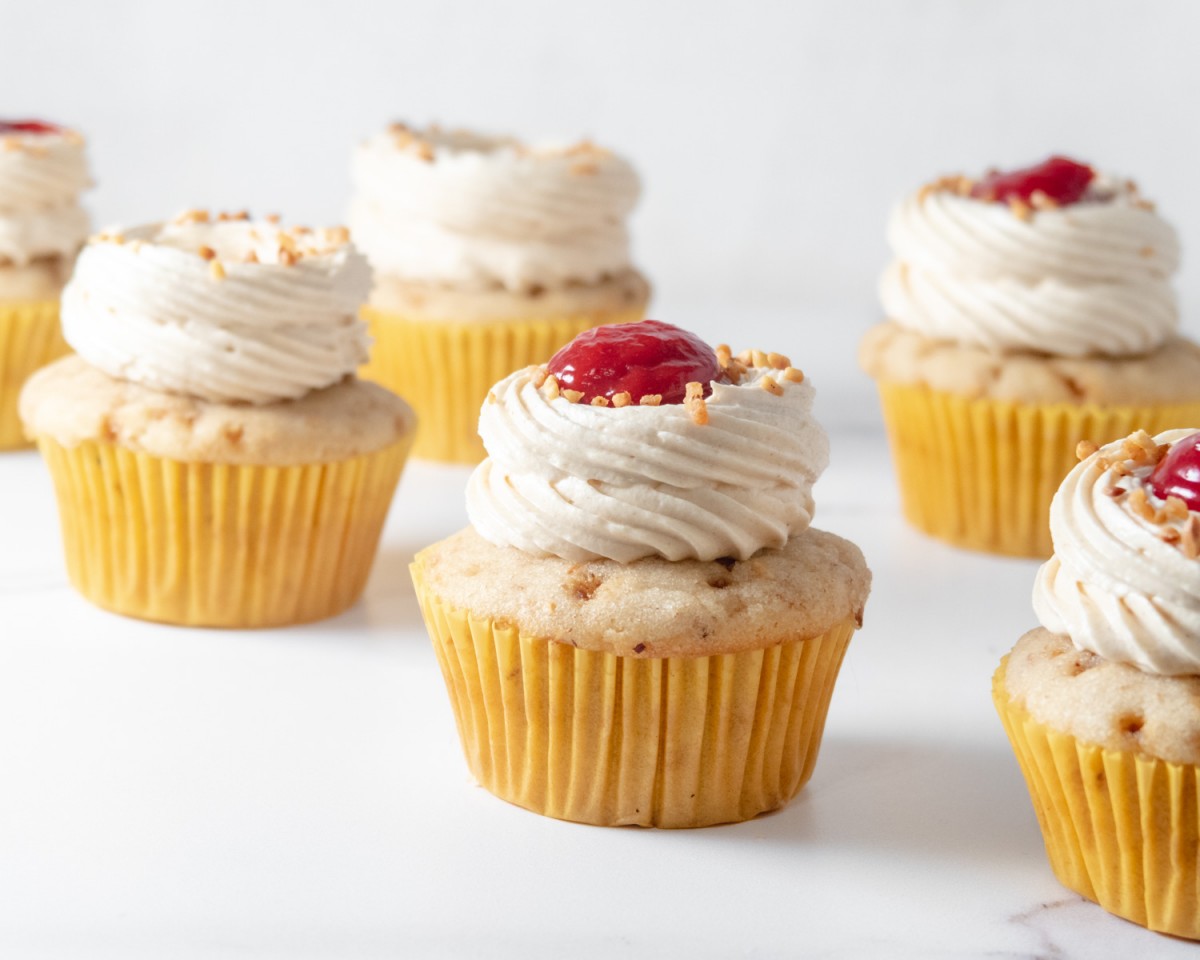 These PB + J cupcakes are made of :
Moist and nutty cupcakes made with praliné grain for some crunch
Peanut butter flavored Swiss meringue buttercream made with aquafaba
Seedless raspberry curd, for a not too sweet punch of fruit flavors
These egg-free and dairy-free cupcakes are fluffy, moist, and have well-balanced sweet and salty flavors. They also look amazing! Enjoy bitting into these flavor bombs.
Jump to:
📋 Ingredients + Substitutions
Praliné cupcakes
Praliné grains- Praliné grains are caramelized hazelnuts or almonds that are chopped finely. Not to be mistaken with praliné paste, which is praliné grain but blended into a fine paste. You can find praliné grain online or in specialized pastry stores. You can also make it at home. 

Substitution:  finely chopped nuts like peanuts or hazelnuts.

Soft silken tofu: This replaced the eggs in the cupcake recipe. 

Substitution: plain vegan yogurts like coconut, almond, or soy.

Oil: Use any light-tasting oil like canola or grapeseed oil. 
Plant-Based milk: Any vegan milk will work. I personally use unsweetened soy milk.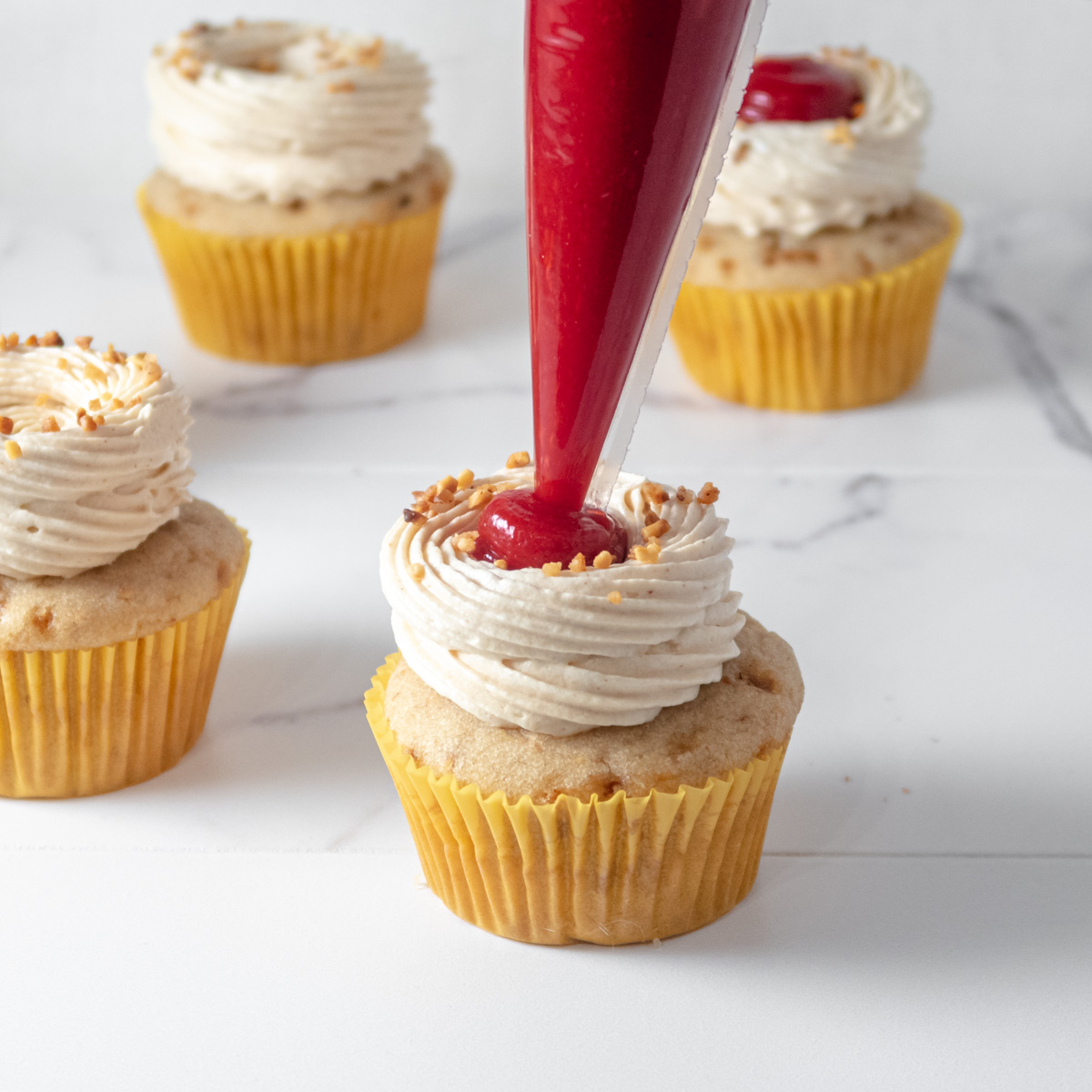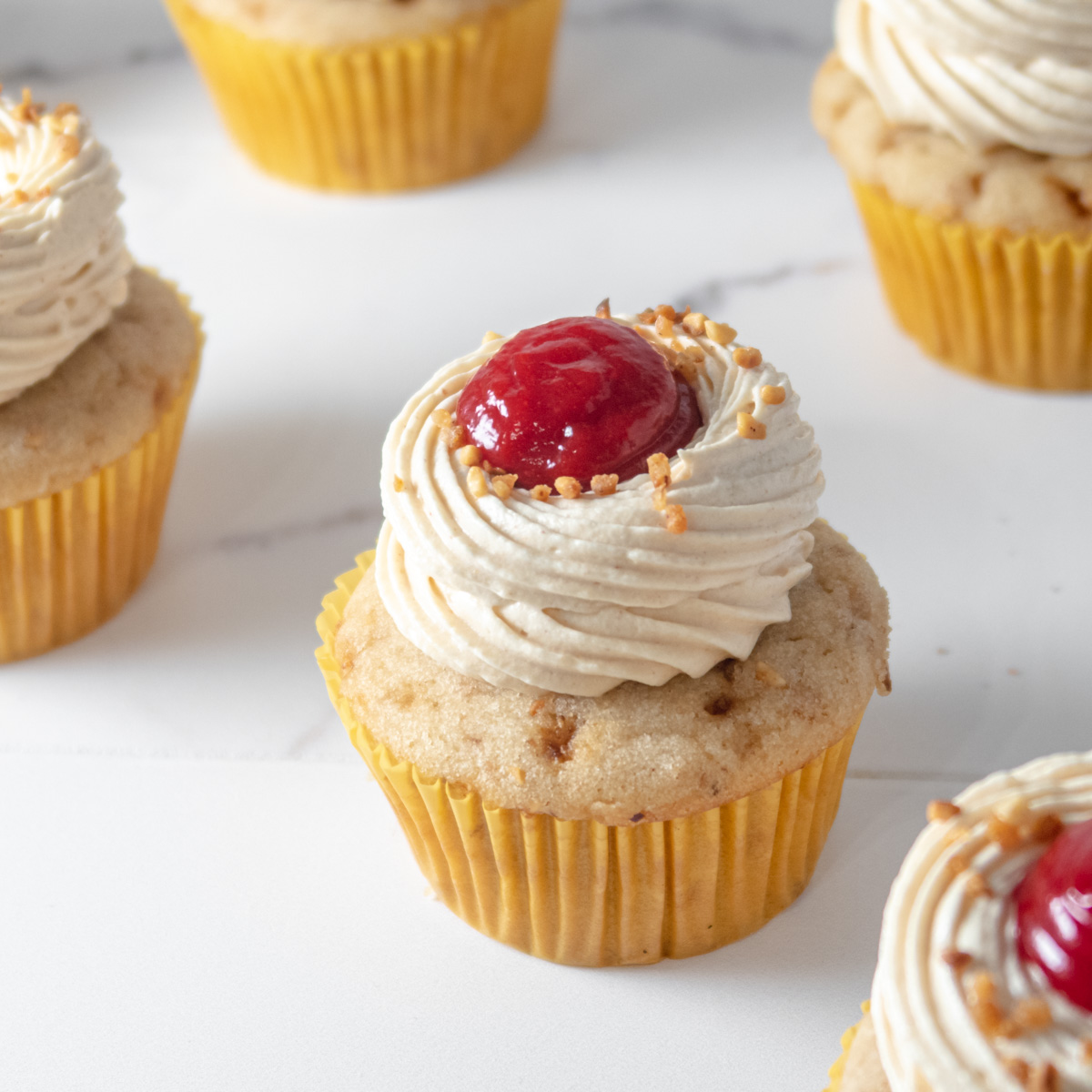 Raspberry curd
Raspberry puree: look for a seedless puree. I use Ravifruit, but Boiron puree is another great option. Both come frozen. And while I haven't tried this brand, Funkin Pro seems to also have a great fruit puree option that is shelf-stable until opened.

Substitution: make your own by cooking frozen raspberries on low until completely broken down and then strain the seeds out.

Cornstarch is also known as cornflour in the UK and Australia
Soft margarine from a tub works well for this recipe. Salted is fine.
Peanut butter Swiss meringue buttercream
Peanut Butter: As a Canadian, I use Kraft peanut butter but Jif or Skippy would also do. Looks for smooth commercial peanut butter, since most natural peanut butter would leave specks in the icing and could make it grainy.
Buttercream: It's easier to make a big batch or half batch of buttercream and then take what you need and store the rest for a later time since whipping 3 tablespoons of aquafaba into a meringue is not always easy.

Substitution: replace the SMBC with the same amount of your favorite buttercream. I recommend Italian meringue buttercream, German buttercream, or Ermine buttercream. American buttercream would be too sweet in this recipe since peanut butter is also sweetened

Aquafaba: My SMBC recipe uses aquafaba to replace egg whites, which is the liquid found in a can of chickpea or white kidney beans.

Substitutions:  you can also use Versawhip 600K mixed with water. Look out for the quantities to use in the

blog post

of my buttercream recipe.
See recipe card for quantities.
For more detailed information on what is Swiss meringue buttercream and how to make it, check out my complete recipe about it.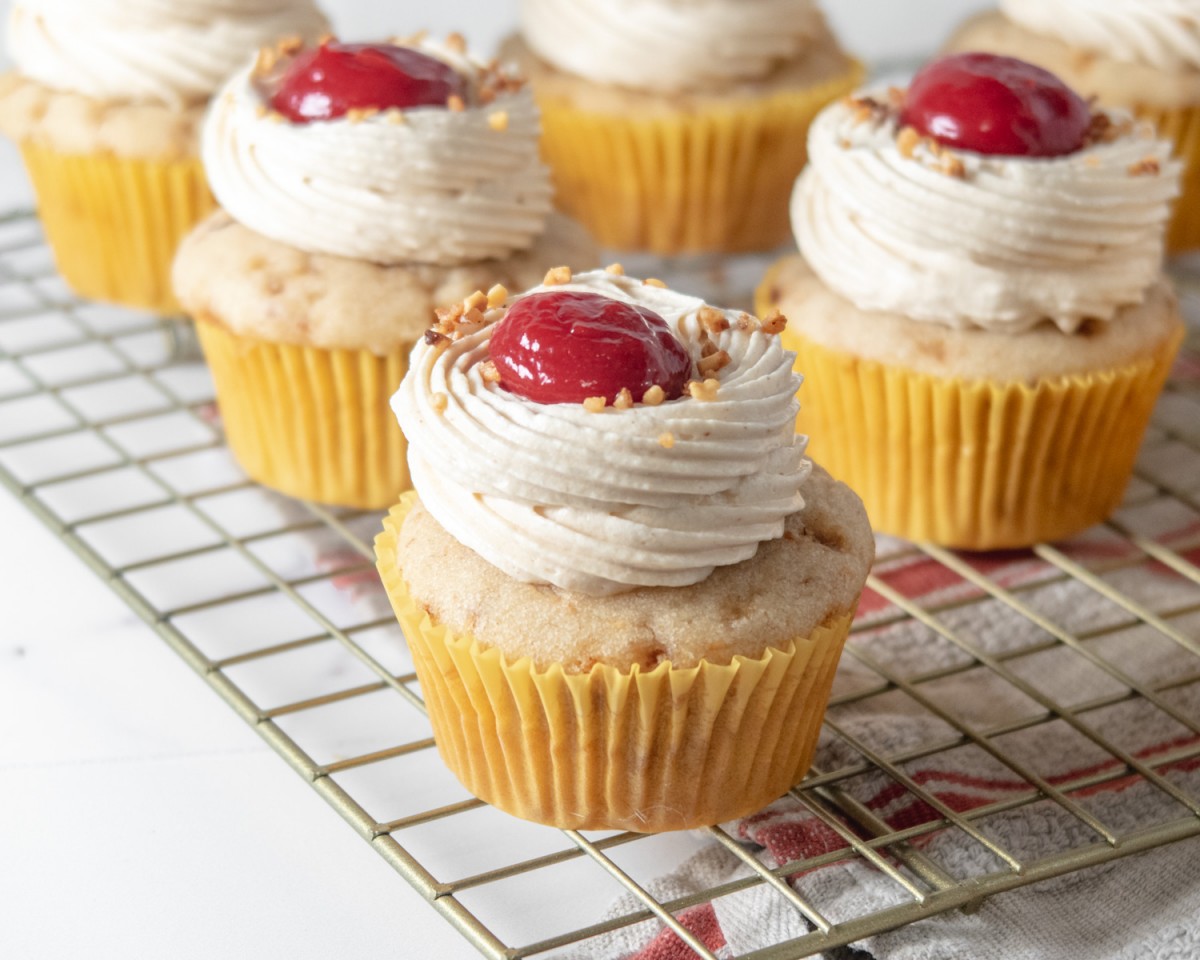 📖 Variations
Stuffed cupcakes - Hide the curd in these peanut butter cupcakes for an extra surprise. Use an apple corer or a sharp pairing knife to remove the center of the cupcake and pipe the curd in the hole instead. Replace the cupcake top and cover with peanut butter buttercream.
Store-bought jam - Replace the curd with any sweet store-bought jams or jelly to save a bit of time. Strawberry or even grape works very well with peanut butter. 
Different look - you can do a Magnolia Bakery-style icing swirl instead of using a pastry bag to decorate the cupcakes.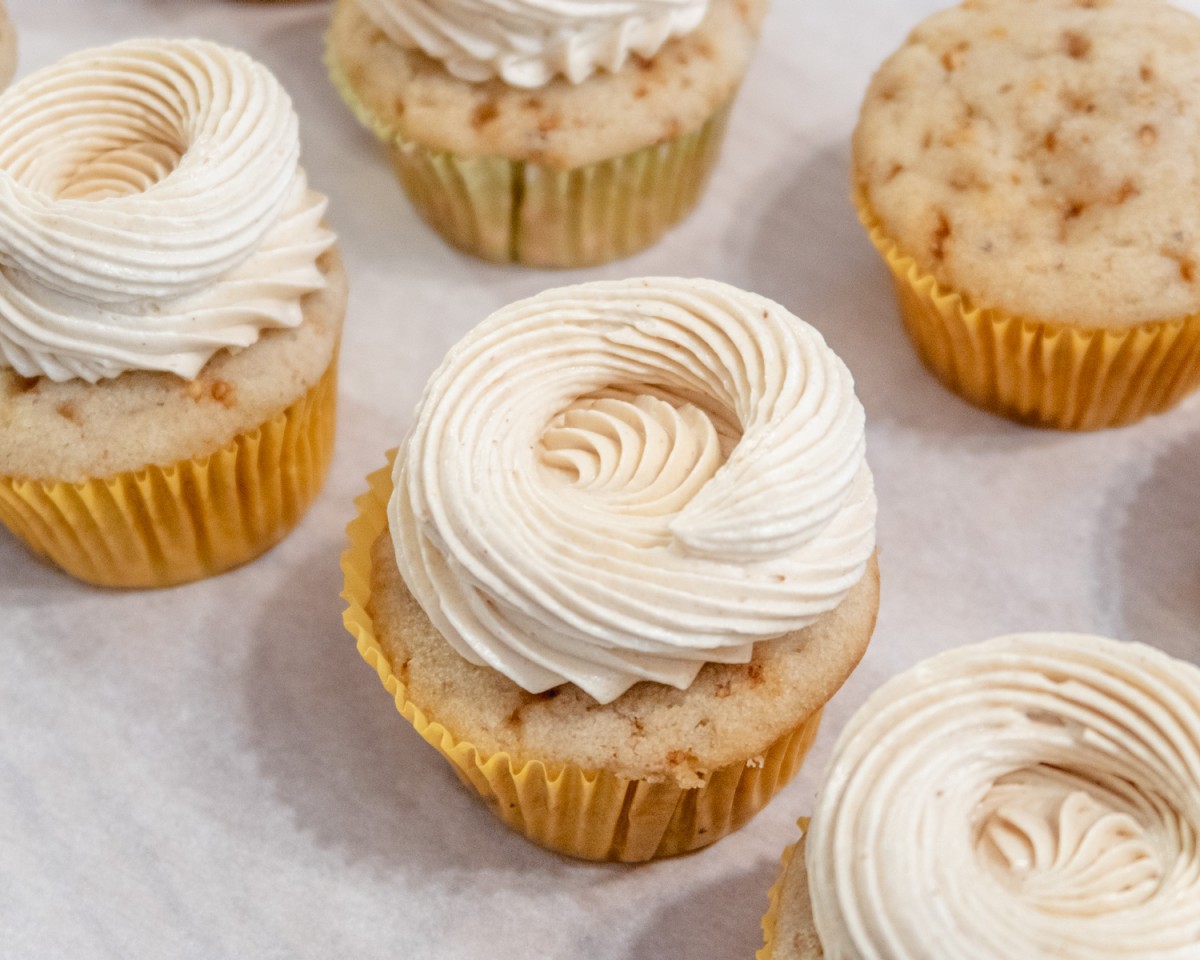 💭 Top tips
Tip 1 - Instead of blending the wet ingredients in a blender, you can also whisk them separately with an electric mixer until smooth before adding them to the dry ingredients.
Tip 2 - When piping the buttercream, try piping high instead of wide, to give some height to the buttercream without reaching the cupcake liners. Holding you piping bag straight up instead of at an angle will help with control.
🔪 Equipment
Electric mixer, preferably a stand mixer but a handheld mixer will do in a pinch. This is to make the buttercream as it is impossible to make by hand.
Large and small pastry bag and a Wilton 6B pastry tip
Small saucepan, whisks, spatula, and bowls
I highly recommend you use a digital scale and weight measurements when following my recipes as it is more accurate. The only exception is with very small quantities where I recommend using teaspoons.
🌡️ Storage
Room temperature: 2 days, in an airtight container
Refrigerator: 4 days, in an airtight container
Freezer: Freeze without the raspberry curd in an airtight container for up to 2 months. The curd doesn't freeze well.
Recipe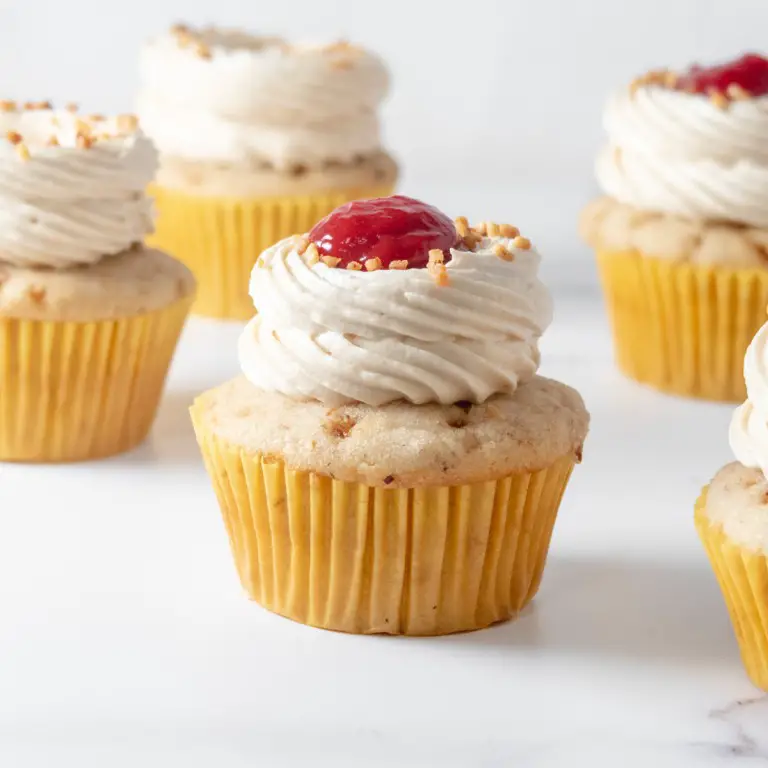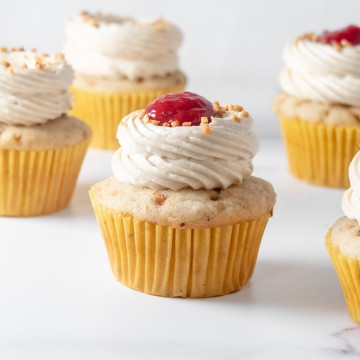 Print
Peanut Butter + Jelly Cupcakes
Bite into deliciously fluffy vegan cupcakes topped with peanut butter frosting and raspberry curd for the ultimate PB + J cupcake experience.
Ingredients
Dry ingredients
300

g

all-purpose flour

(2 ½ cups)

17

g

cornstarch

(2 tablespoons)

1 ½

teaspoon

baking powder

(7 g)

½

teaspoon

baking soda

(2.5 g)

½

teaspoon

fine sea salt

(3 g)
Wet ingredients
177

g

light-tasting vegetable oil

(¾ cup)

5

g

apple cider vinegar

(1 teaspoon)

250

g

plant-based milk

(1 cup)

200

g

white granulated sugar

(1 cup)

130

g

soft silken tofu

(½ cup)

12

g

pure vanilla extract

(1 tablespoon)

60

g

praliné grain

, or finely chopped nuts (½ cup)
Raspberry curd
115

g

raspberry puree

, seedless (½ cup)

50

g

white granulated sugar

(¼ cup)

11

g

cornstarch

(1 tablespoon + 1 teaspoon)

30

g

lemon juice

(2 tablespoons)

15

g

vegan margarine

(1 tablespoon)
Peanut Butter Swiss Meringue Buttercream
Garnish
Praliné grains or finely chopped peanuts
Instructions
Praliné Cupcakes
Preheat your oven to 325°F (160°C), and place cupcake liners in each cavity of your cupcake pan.

In a large bowl, whisk together the flour, cornstarch, baking powder, baking soda and sea salt.

Place all the wet ingredients in the container of a blender, and mix on low until smooth. Whisk the wet ingredients into the dry ingredients until smooth and then stir in the praliné grain. Do not overmix.

Using a large ice cream scoop, fill each liner ⅔ of the way. Gently tap your cupcake pan against your countertop to remove any air bubbles in the batter.

Bake for 25 to 30 minutes on the middle rack, or until a toothpick inserted in the middle comes out clean. Let the cupcakes cool down in the pan for 5 minutes before transferring them to a wire rack to cool completely.
Raspberry curd
In a small saucepan, whisk together the sugar and cornstarch. Whisk in the lemon juice until you get a lump-free slurry. Add the raspberry puree and stir it in.

Cook on medium heat while whisking continuously until it starts to bubble and thicken. Remove from the heat and whisk in the margarine until homogenous.

Cover the mixture with plastic film, making sure that the wrap touches the whole surface of the curd. Once cold, whisk the curd to loosen it and transfer in a small pastry bag with a small opening.
Peanut Butter Swiss Meringue Buttercream
Using the paddle attachment, mix the peanut butter and buttercream together until smooth. Let the mixer run on low for 2 minutes to remove any air bubbles. Transfer into a large piping bag with a Wilton 6B pastry tip.
Assembly
Starting from the center, pipe a shallow rosette of buttercream, and in the same movement, pipe a second layer of buttercream in a donut shape on top of each cupcake. Lightly sprinkle some praliné grain on top of the buttercream.

Fill the middle of the buttercream ring with the raspberry curd. Enjoy!
Notes
Buttercream: Depending on your mixer, you might need to make a half recipe or full recipe of buttercream and then store the excess.
Storytime
This recipe was created for one of my good friends for his surprise birthday and let me tell you, keeping the secret party under wraps for 3 weeks was not pleasant. 
I know my friend is very particular with how he likes his jams (and yogurts) and having seeds, bits or chunks was a no-go. This is why having a seedless curd was necessary for this recipe. 
The cupcakes were a frank success and were the definite winner compared to the other flavor I had brought. This recipe will also definitely stay in my regular rotation for those parties where I'm not quite sure which flavor to go with. What is your favorite flavor in your cupcake shortlist?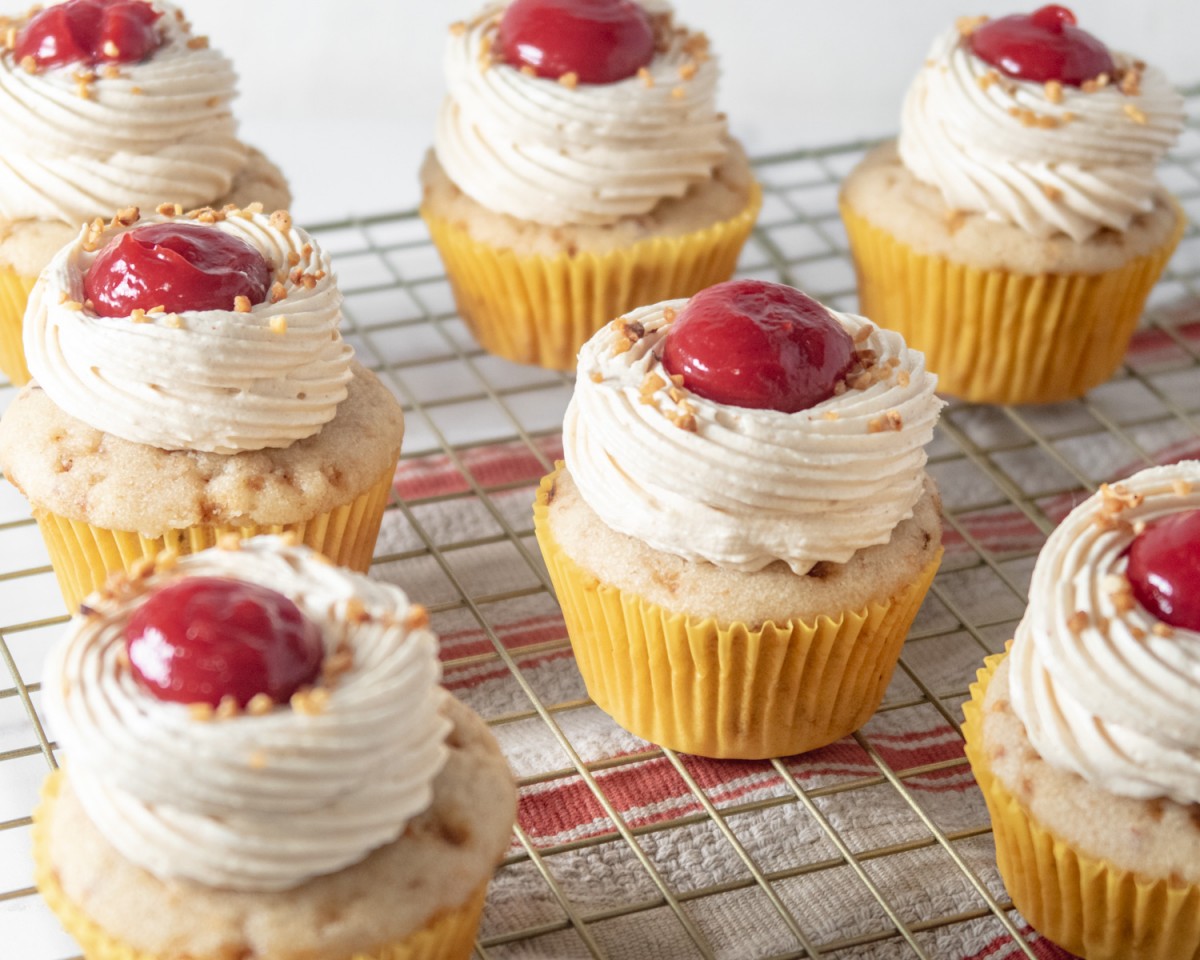 Did you try this peanut butter cupcake recipe?
Don't be shy and let me know how it went! Leave me a comment below and share a picture on Instagram!