Bite into summer with these soft 1-bowl vegan lemon cookies swirled with raspberries and bits of pistachios.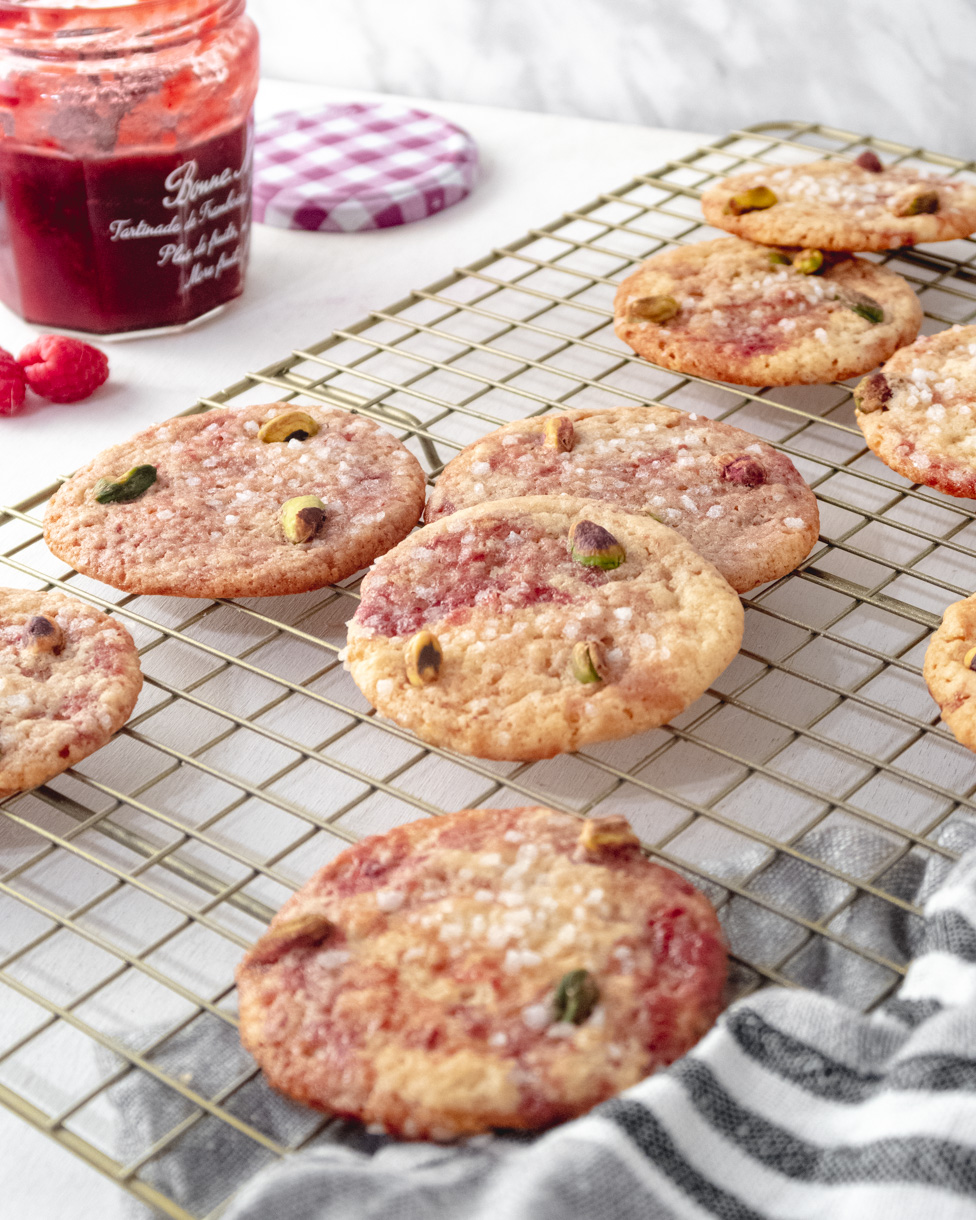 This beginner recipe is very easy, has no rest time, and required minimal clean-up! Expect thin cookies that are soft in the middle and crunchy and caramelized on the edges. These vegan cookies could be in your hand in less than 20 minutes. 
If you are a big fan of the lemon and pistachio combo, I also have a biscotti recipe that you might like!
Jump to: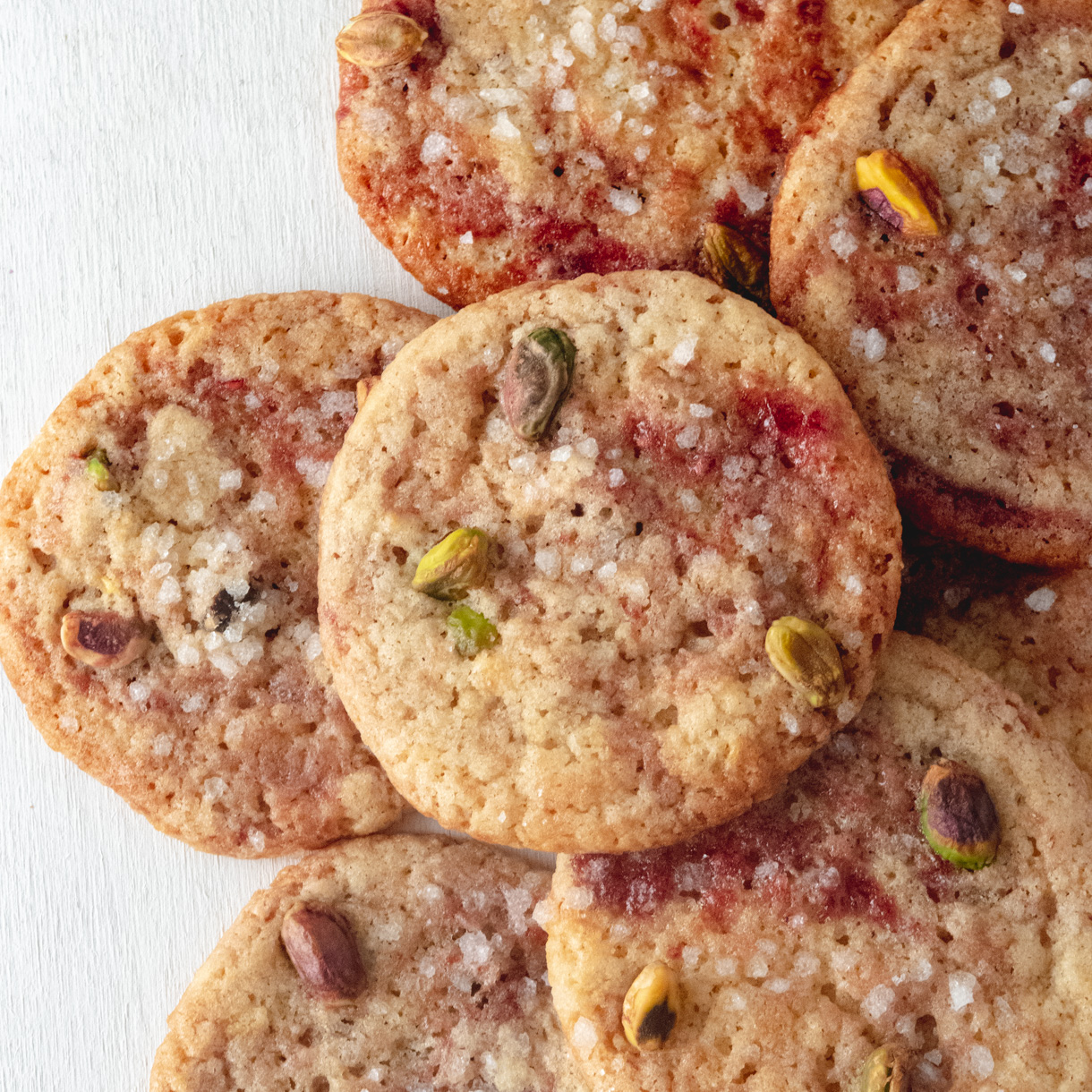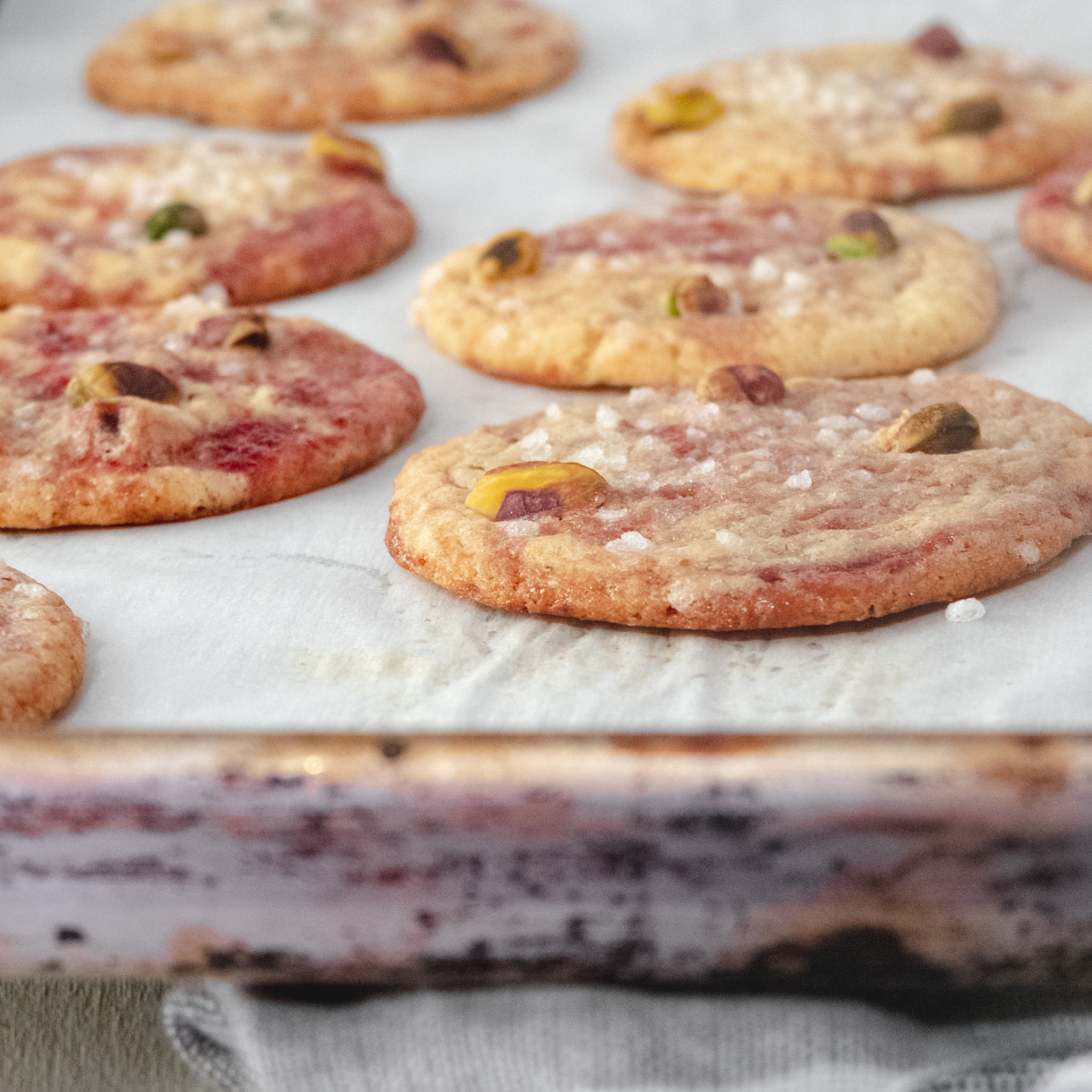 📋 Ingredients
If you have any additional questions about the ingredient list, feel free to ask them in the comment section, and don't forget to add a review while you are down there!
Vegan margarine- use the soft kind from a tub so that you can mix up this recipe by hand without having to soften firm vegan butter. Vegetable shortening like Cristco will also work but it won't be as flavorful.
White granulated sugar- Where I live all sugars are vegan but if you are worried about bone char, try to find vegan-certified, sugar, beet sugar, or organic cane sugar.
Plant-based milk, I use soy milk but any kind will do
Vanilla extract - can be replaced with almond extract
Lemon juice - The juice of your zested lemon will be more than enough.
All-purpose flour or unbleached flour will all work. If you try this recipe with gluten-free flour, let me know!
Cornstarch is also known as cornflour in the UK and Australia. This gives chewiness and softness to the cookies. Can be replaced with ¼ cup of flour in a pinch.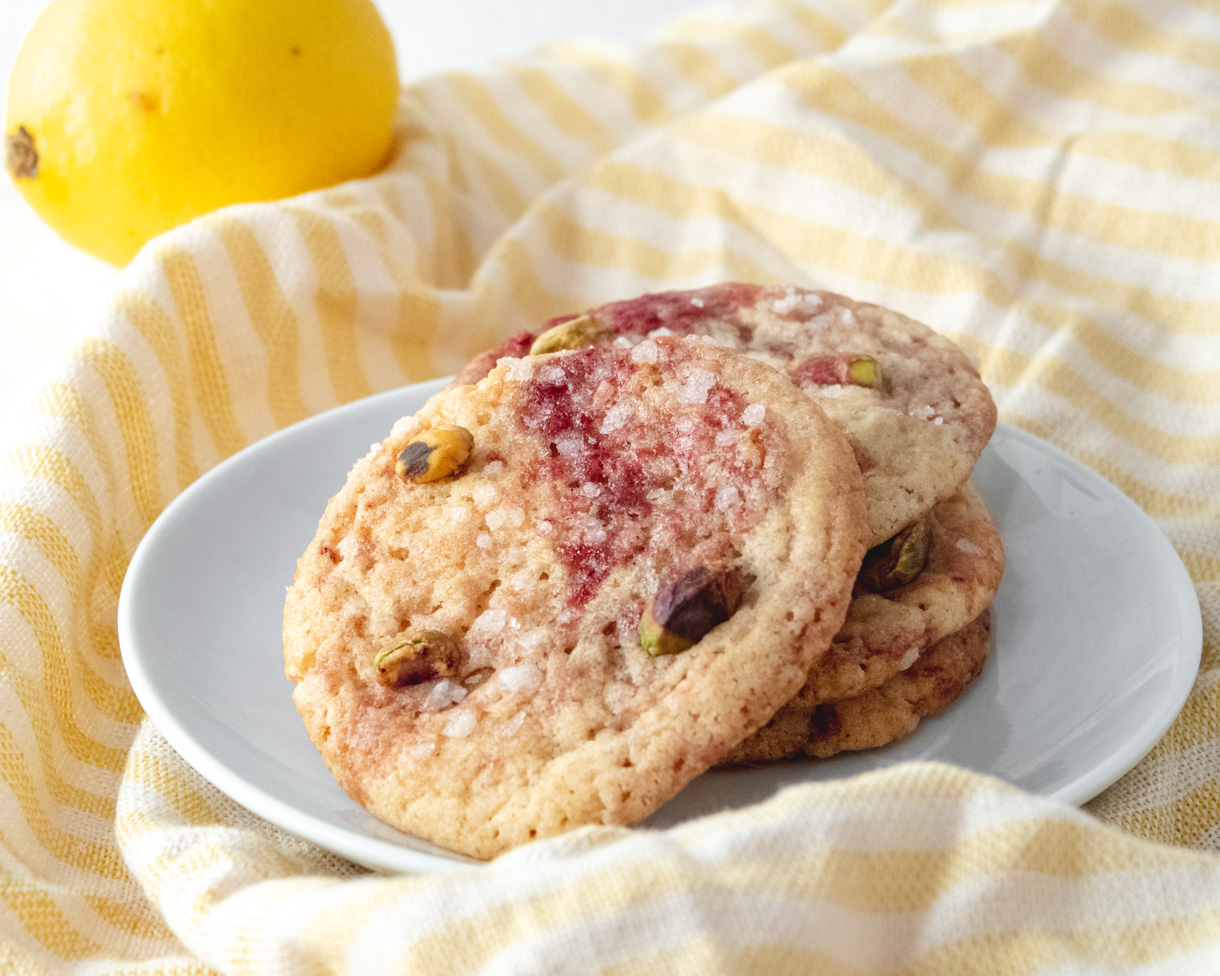 Baking powder and baking soda - Make sure they are fresh!
Fine sea salt to balance out the sweetness. You can use table salt.
Zest of 1 large lemon
Whole shelled pistachios - Make sure to test 1 to double check that they are not rancid. Feel free to add more depending on your pistachio budget and how much of a pistachio lover you are.
Raspberry jam. I love using the raspberry more fruit, less sugar raspberry spread from Bonne Maman. I'm a big fan of the quality of their products, unfortunately, I can't find any information on if they use bone char-free sugar.
Pearl sugar - I used C-15 size pearl sugar but coarse sugar, chopped pistachios, or crushed freeze-dried raspberries can also be used as cookie toppers.
See recipe card for quantities.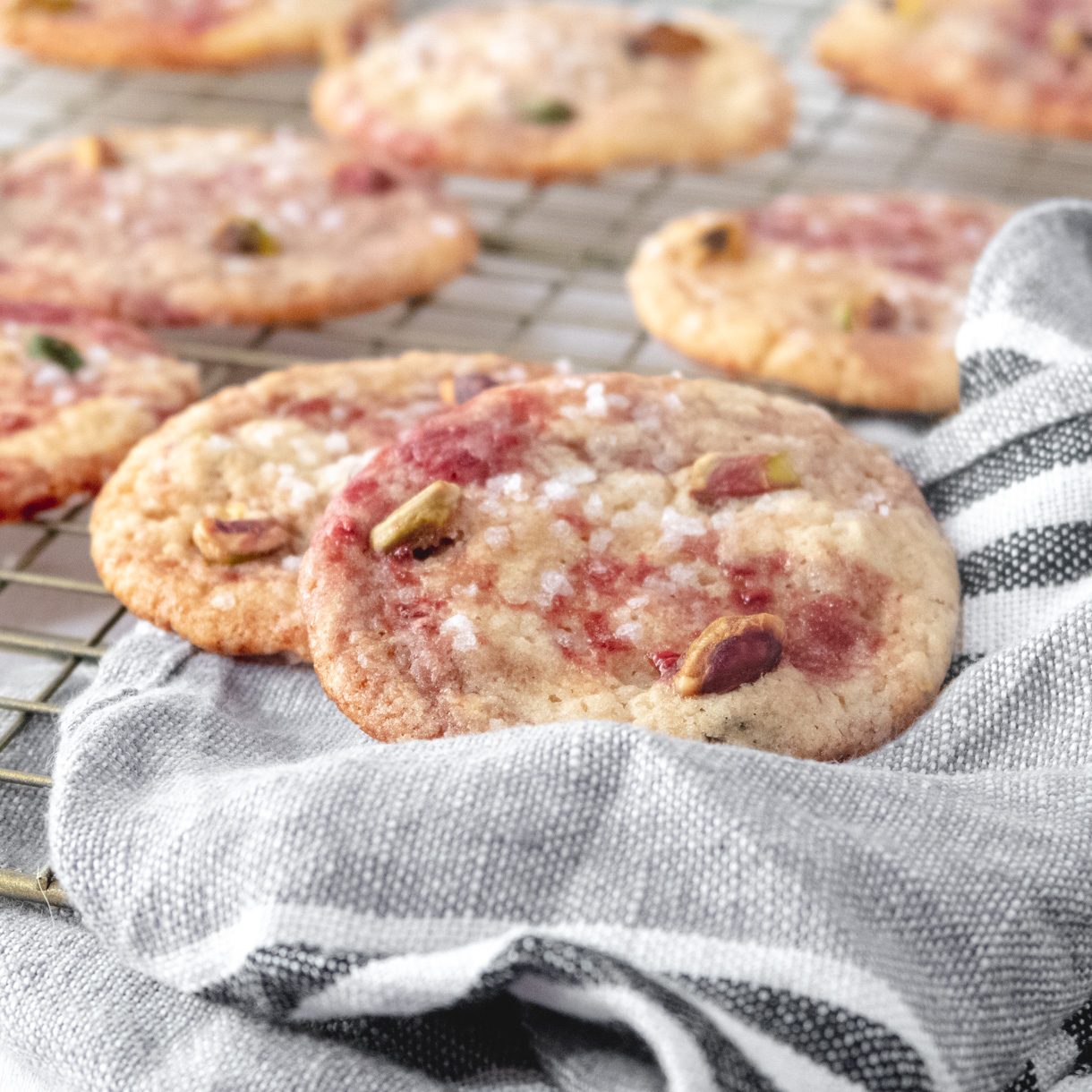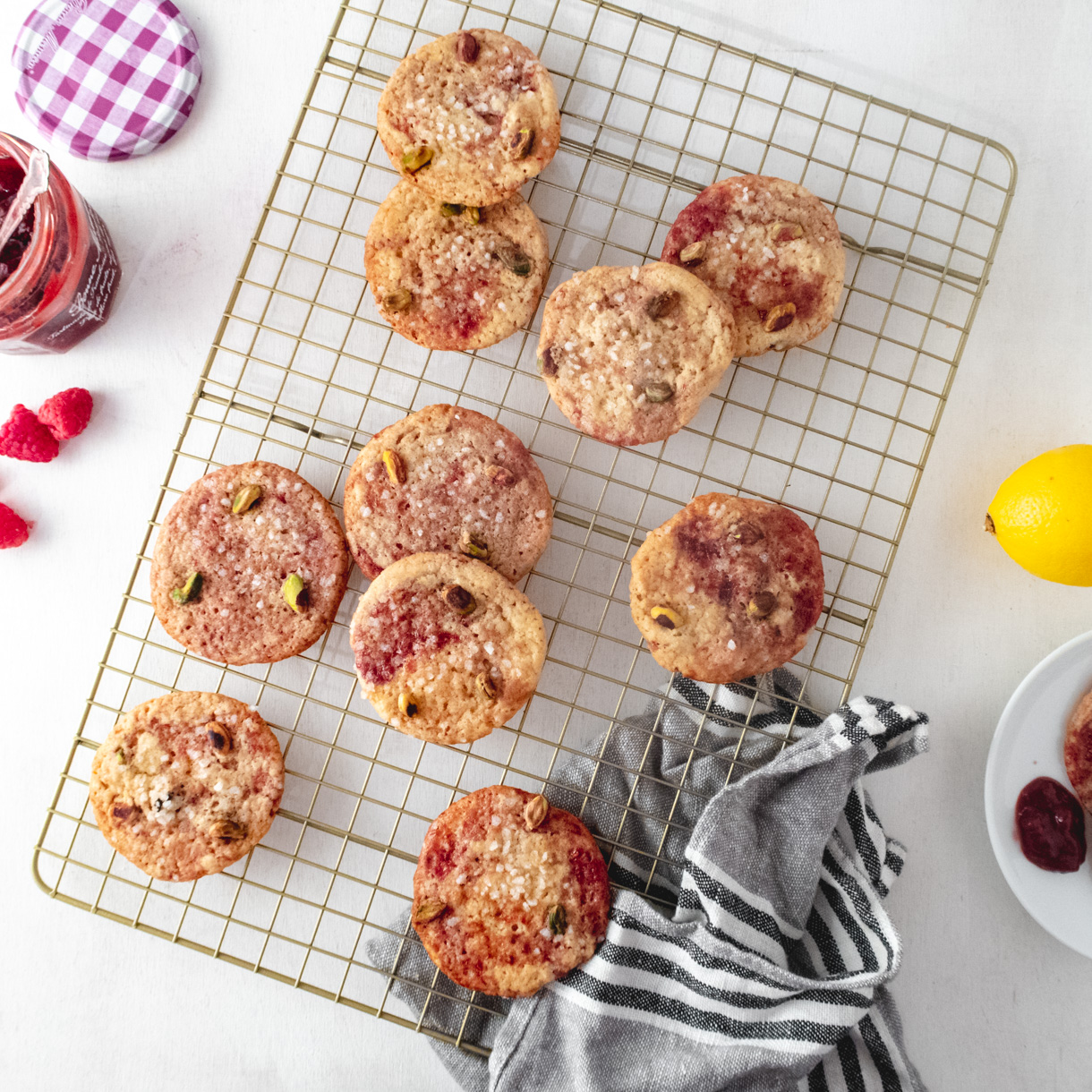 📖 Variations
The beauty of these cookies is that they are easily modified to fit your taste. You can:
Switch up the raspberry jam with strawberry, cherry, or blackberry jam
Use the zest of 2 limes instead of 1 lemon
Replace the pistachios with coconut flakes, chopped almonds, dried cranberies, or vegan white chocolate chips
Replace the vanilla with almond extract
See this spicy version of this recipe on my website! (placeholder for in-content link)
🥣 Instructions
Cookie batter
This recipe could not be easier, it comes down to mixing the wet ingredients together, adding the dry ingredients, and giving those a quick stir before incorporating them into the wet ingredients, mixing in delicately the topping, and then it's time for baking.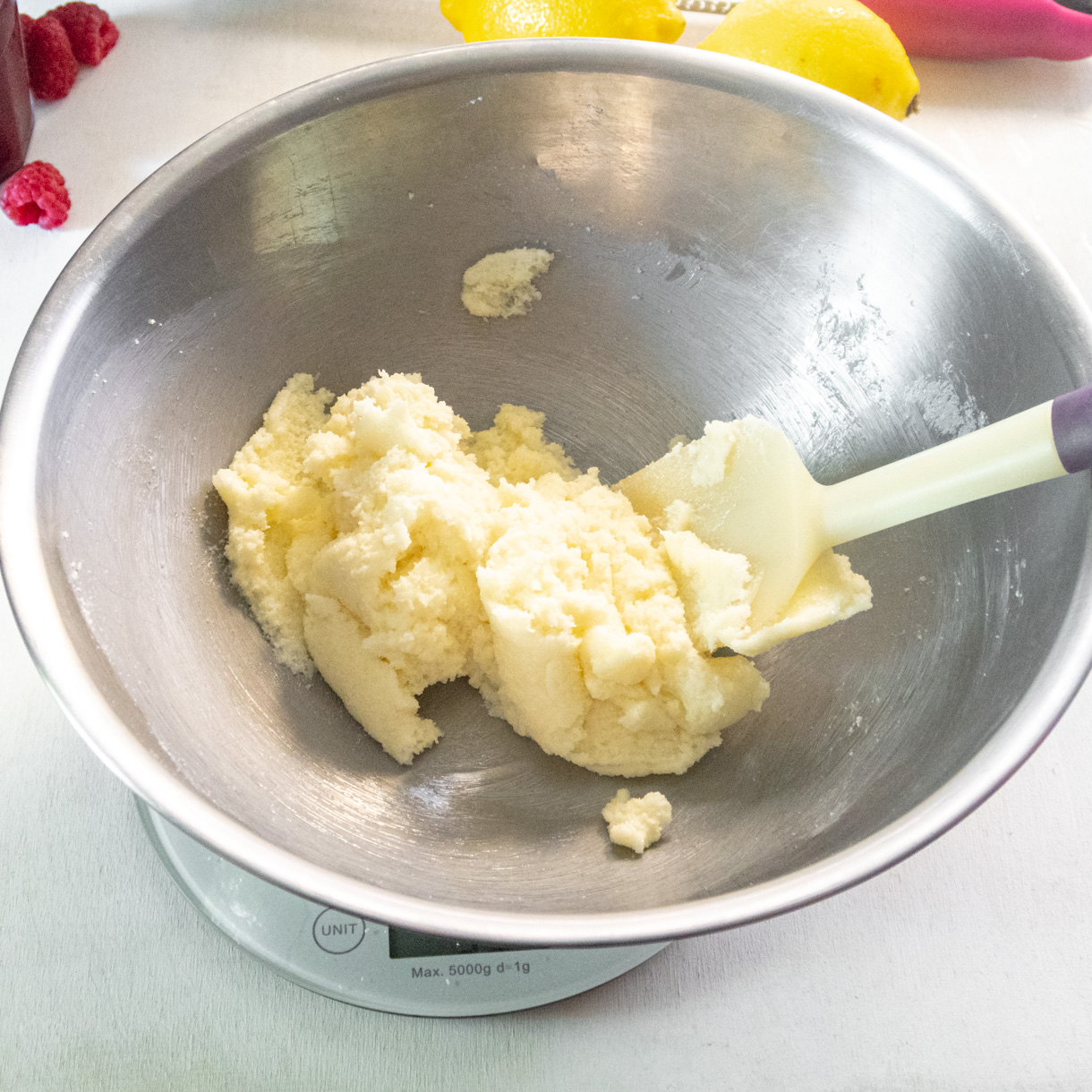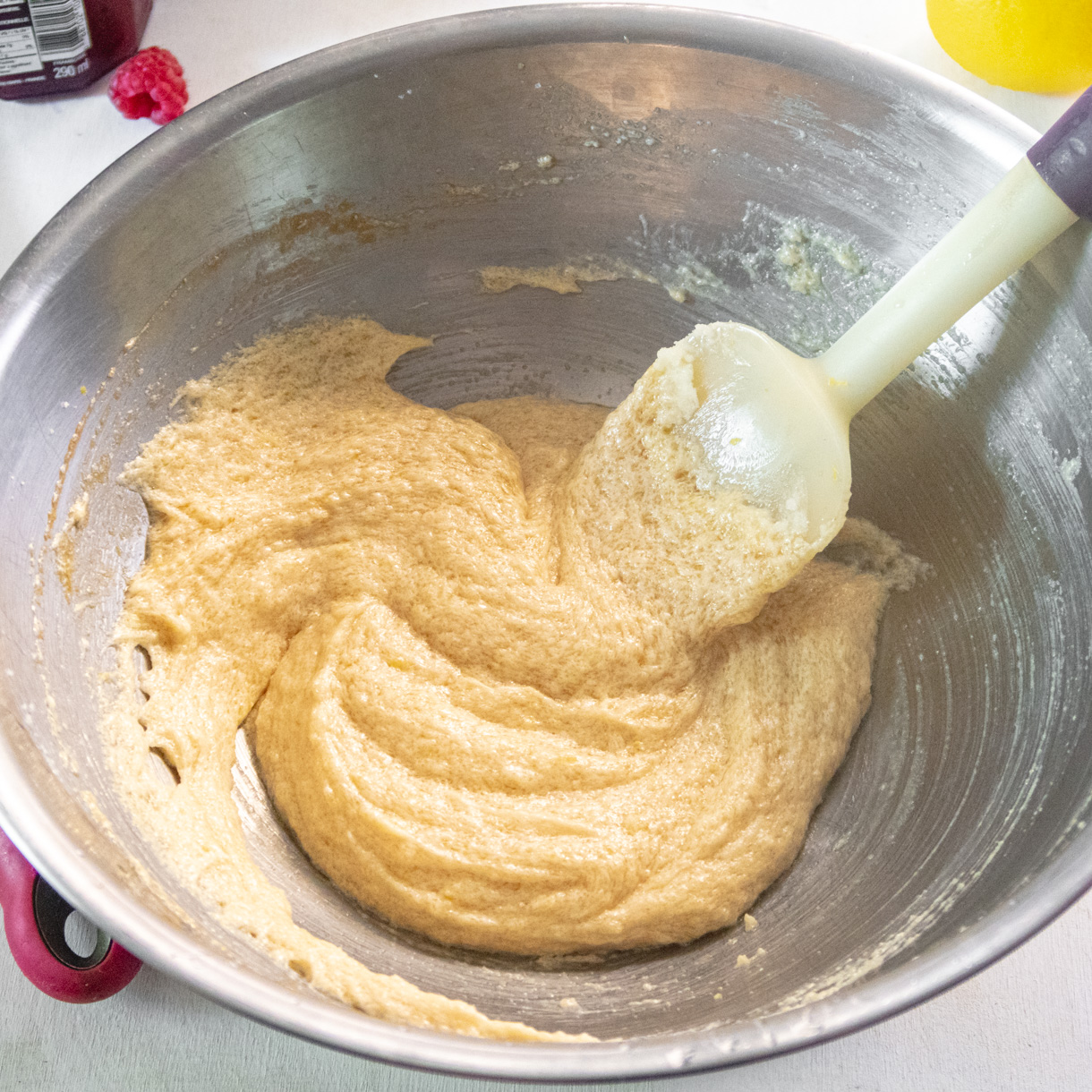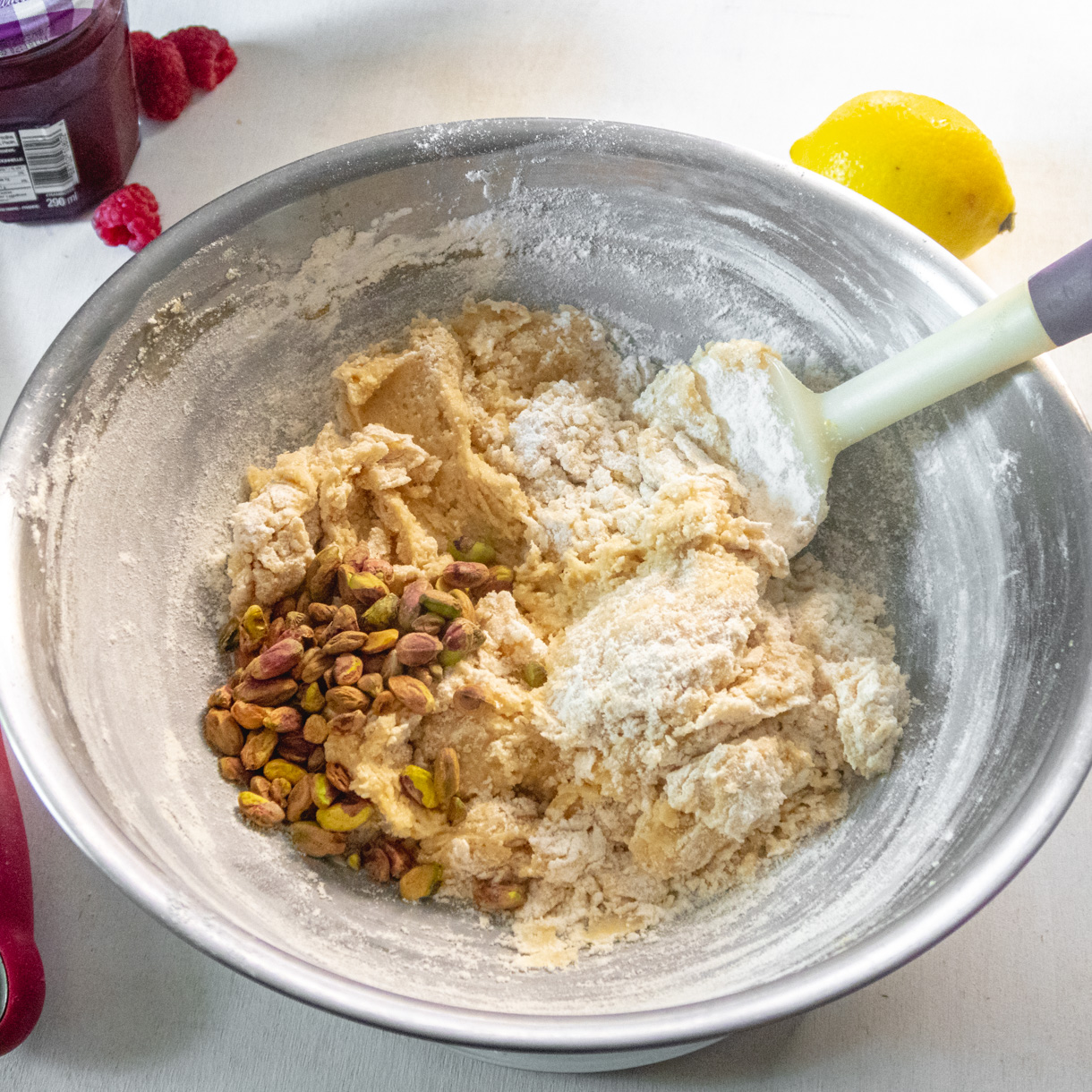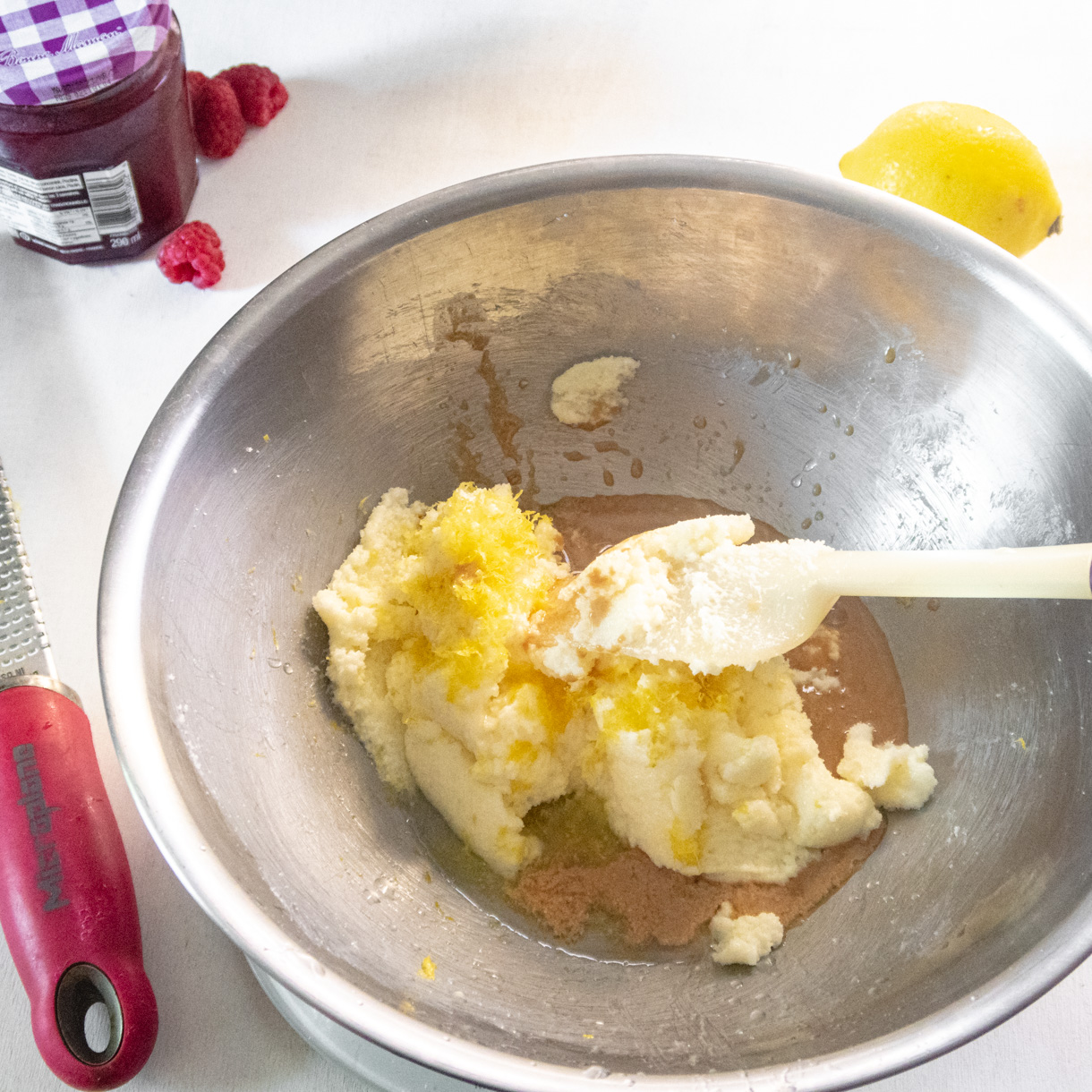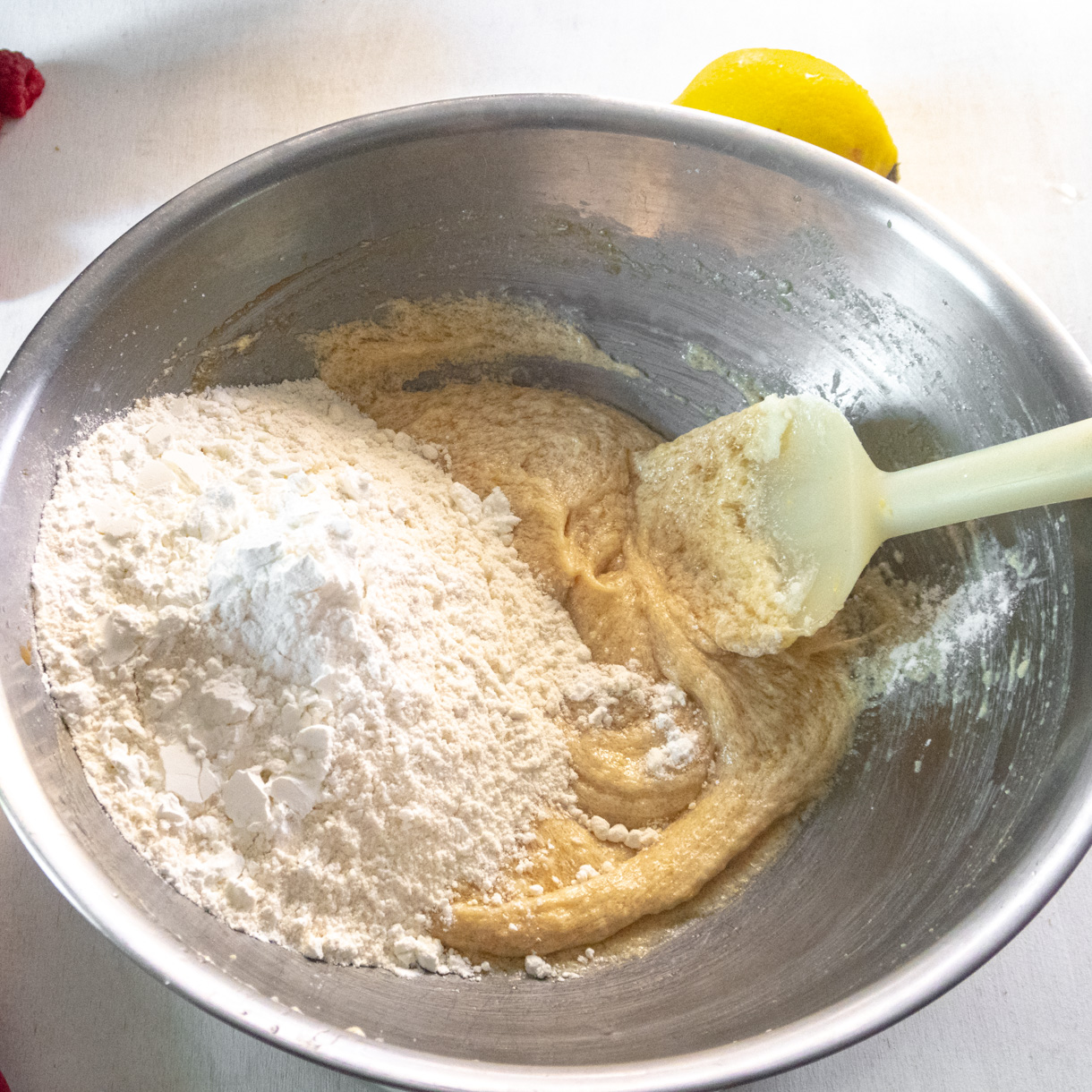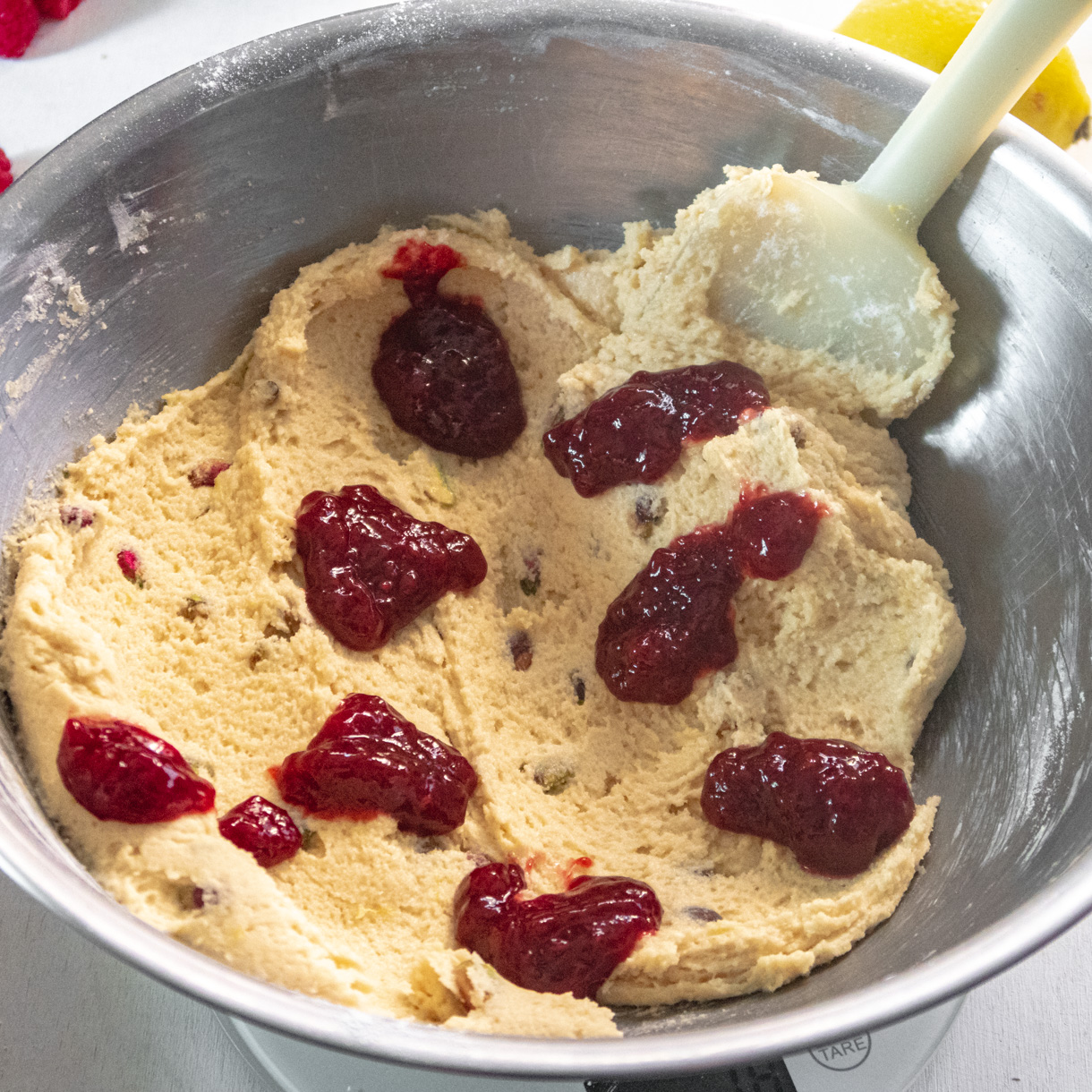 This vegan lemon raspberry cookie recipe is amazing because it does not require fancy equipment. I simply mix everything up with a silicone spatula, no need for an electric mixer.
When mixing the wet ingredients together, make sure there are no sugar clumps before moving on to the next step. For the dry ingredients, the recipe asks you to give a quick stir to the dry ingredients before mixing them into the wet ingredients. This is to disperse the baking soda, baking powder, and salt into the flour so that you don't end up with a bunch in the same bite of cookie by accident. Yuck!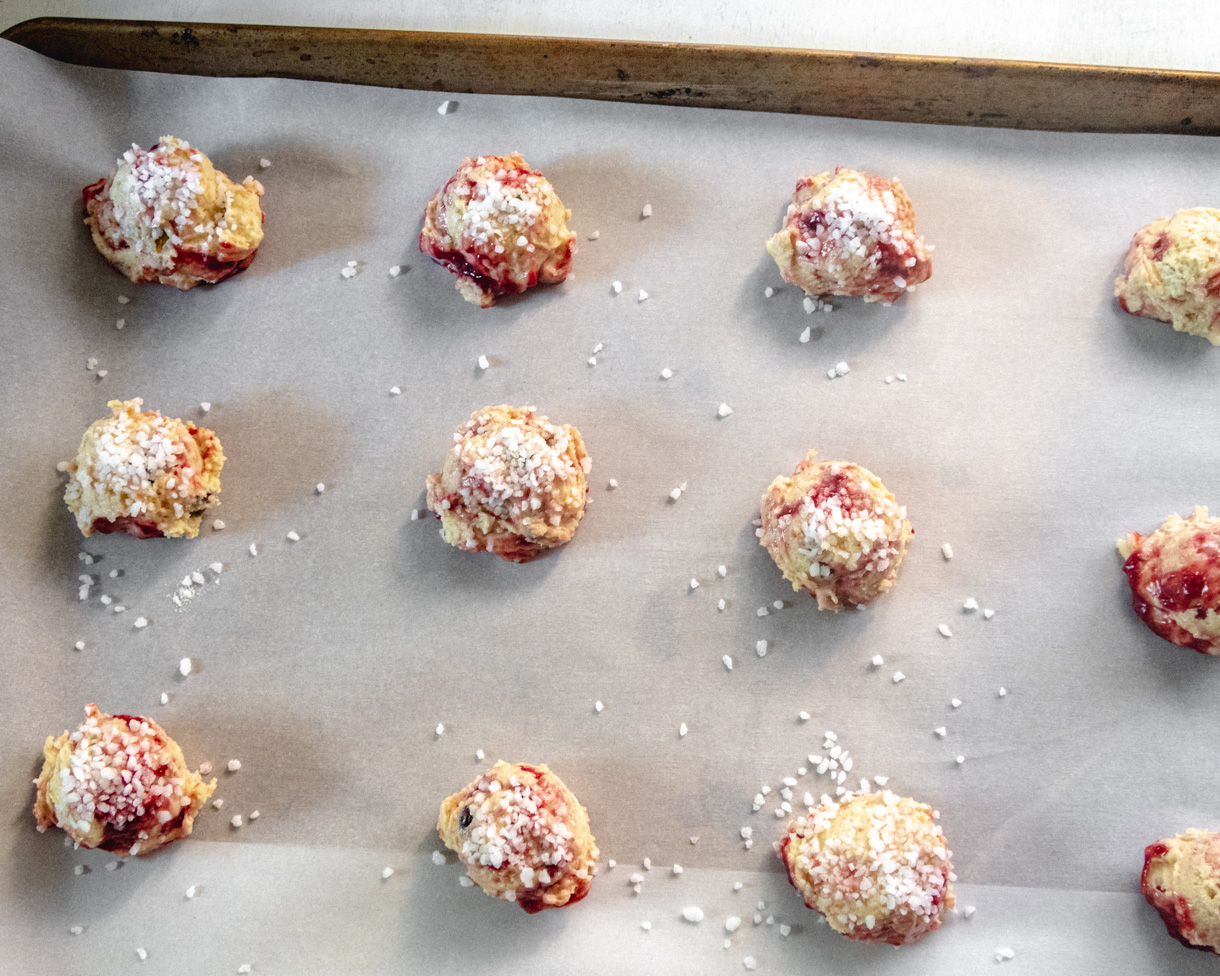 Baking
Most cookies require a resting time in the refrigerator but who got time for that?!? No me! This recipe goes straight from the bowl to the baking tray. The dough will therefore be a bit softer than what you might expect. 
This is why I love using an ice cream or cookie scoop to plop the batter into the parchment paper since the dough will be sticky (and also to keep that nice swirl). Use 2 spoons if you don't have an ice cream scoop but be gentle to keep that swirl intact.
Now last little thing, it is better to undercook these cookies than overbake them as they will become dry. The moment you can slightly lift off the side of one of the cookies with a butter knife, you can pull the tray from the oven. The cookies will continue to cook for a couple of minutes even after benign removal from the oven.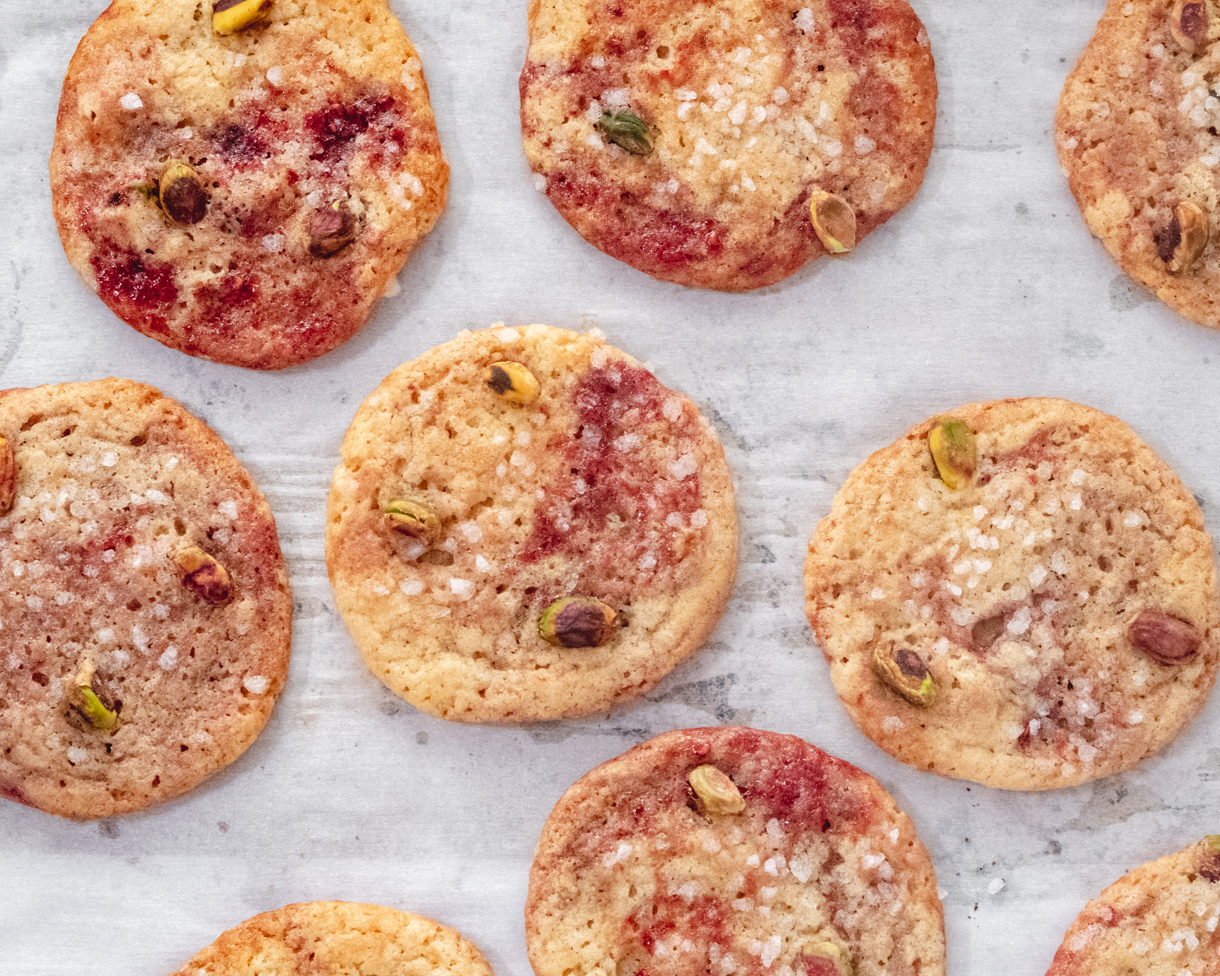 🔪 Equipment
1 large bowl
Silicone spatula, or sturdy wooden spoon
Small or medium ice cream or cookie scoop, or 2 large spoons
Large baking tray, or cookie sheet
Wire rack, or a clean cutting board in a pinch
Digital scale, or measuring cups and spoons
The beauty of working with a scale is that you can measure all your ingredients directly in the bowl without having to dirty measuring cups. Yay for fewer dishes! It's also much more precise and 1 scale will last you multiple years.
Approximate cup measurements are also provided in the recipe.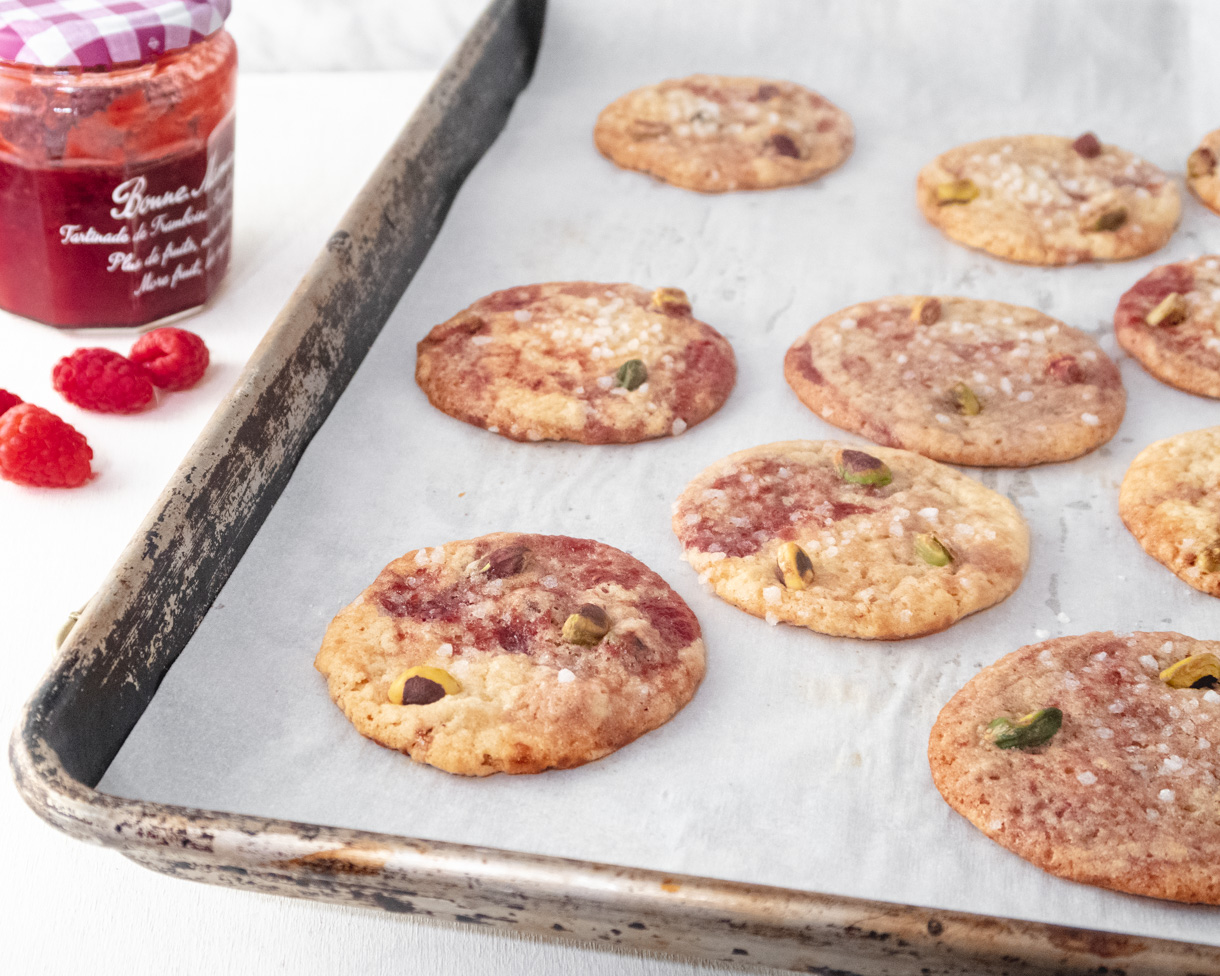 🌡️ Storage
Store these vegan lemon raspberry cookies at room temperature in an airtight container in a dark dry place for up to 4 days or freeze for up to 6 months.
Recipe
Print
One-Bowl Vegan Lemon, Pistachio Raspberry Cookies
Bite into summer with these soft and chewy 1-bowl vegan lemon cookies swirled with raspberries and bits of pistachios. 
Servings
30
medium-sized cookies
Ingredients
Wet ingredients
115

g

vegan margarine

(½ cup)

200

g

white granulated sugar

(1 cup)

30

g

plant-based milk

(2 tablespoons)

4

g

vanilla extract

(1 teaspoon)

15

g

lemon juice

(1 tablespoon)

Zest of 1 large lemon
Dry ingredients
180

g

all-purpose flour

(1 ½ cup)

17

g

cornstarch

(2 tablespoons)

½

teaspoon

baking powder

¼

teaspoon

baking soda

¼

teaspoon

fine sea salt
Garnish
60

g

whole shelled pistachios

(½ cup)

80

g

raspberry jam

(¼ cup)

Pearl sugar

, coarse sugar, chopped pistachios, or crushed freeze-dried raspberries
Instructions
Preheat your oven to 325°F (160°C) and line a baking tray with parchment paper.
Cookie Batter
In a large bowl, mix together the margarine and sugar until combined.

Mix in the milk, vanilla, lemon zest, and lemon juice until homogeneous.

On one side of the bowl, add all the dry ingredients at once, quickly stir them to incorporate the baking soda, baking powder, and salt, and then slowly start mixing the dry ingredients into the wet ingredients.

When the dry ingredients are almost all incorporated, add the pistachios into the cookie mixture and stir them in until all the dry ingredients are incorporated into the batter.
Baking
Drop spoonfuls of jam randomly on top of the cookie batter, and fold the batter 2 to 4 times until the raspberry jam is swirled into the batter. Do not overfold.

Using a small ice scream scoop, scoop flush dollops of cookie batter onto the prepared baking sheet, making sure not to overcrowd them. since they will spread.

Garnish the top of the cookies with pearl sugar or other garnishes.

Bake on the middle rack of the oven for 9 to 12 minutes, or until the middle looks set and the side are barely starting to turn golden. Adjust cooking time depending on the size of the cookies.

Let the cookies rest on the baking tray for 5 minutes before releasing them and leaving them to completely cool on a wire rack. Enjoy!
FAQ
Why did my raspberry cookies turn blue or green?
The acidity from the raspberry when mixed with baking powder that contains aluminum will turn the cookies a blue tint. They are still safe to eat even if they don't look as expected.
This will only happen if you decided to use fresh or frozen strawberries since the raspberry jam is not as acidic.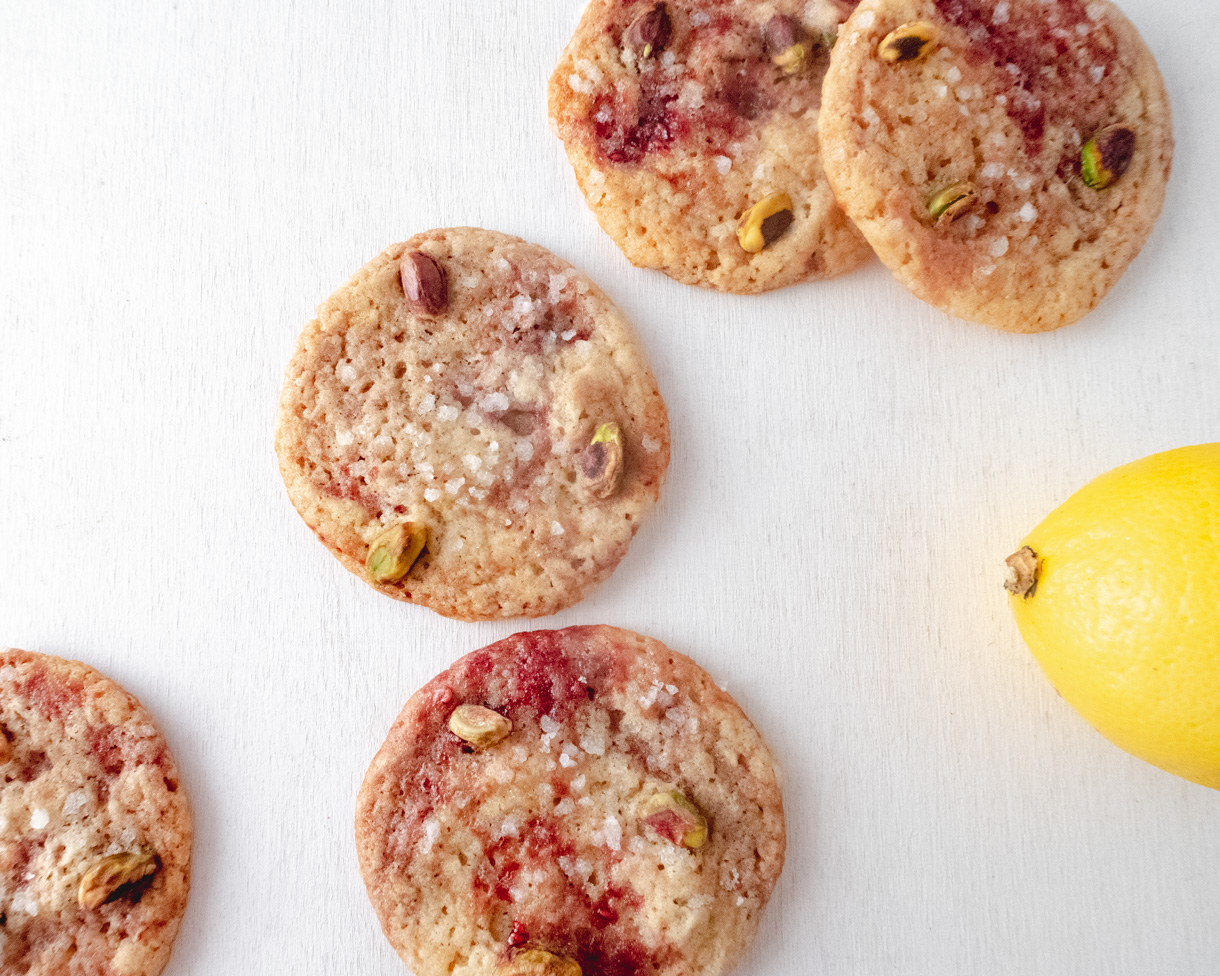 Did you try this lemon raspberry cookie recipe?
Don't be shy and let me know how it went! Leave me a comment below and share a picture on Instagram!