Flaky and tender vegan savory scones, filled with pockets of melted cheese and specks of fresh herbs, are the perfect comfort food and mood booster!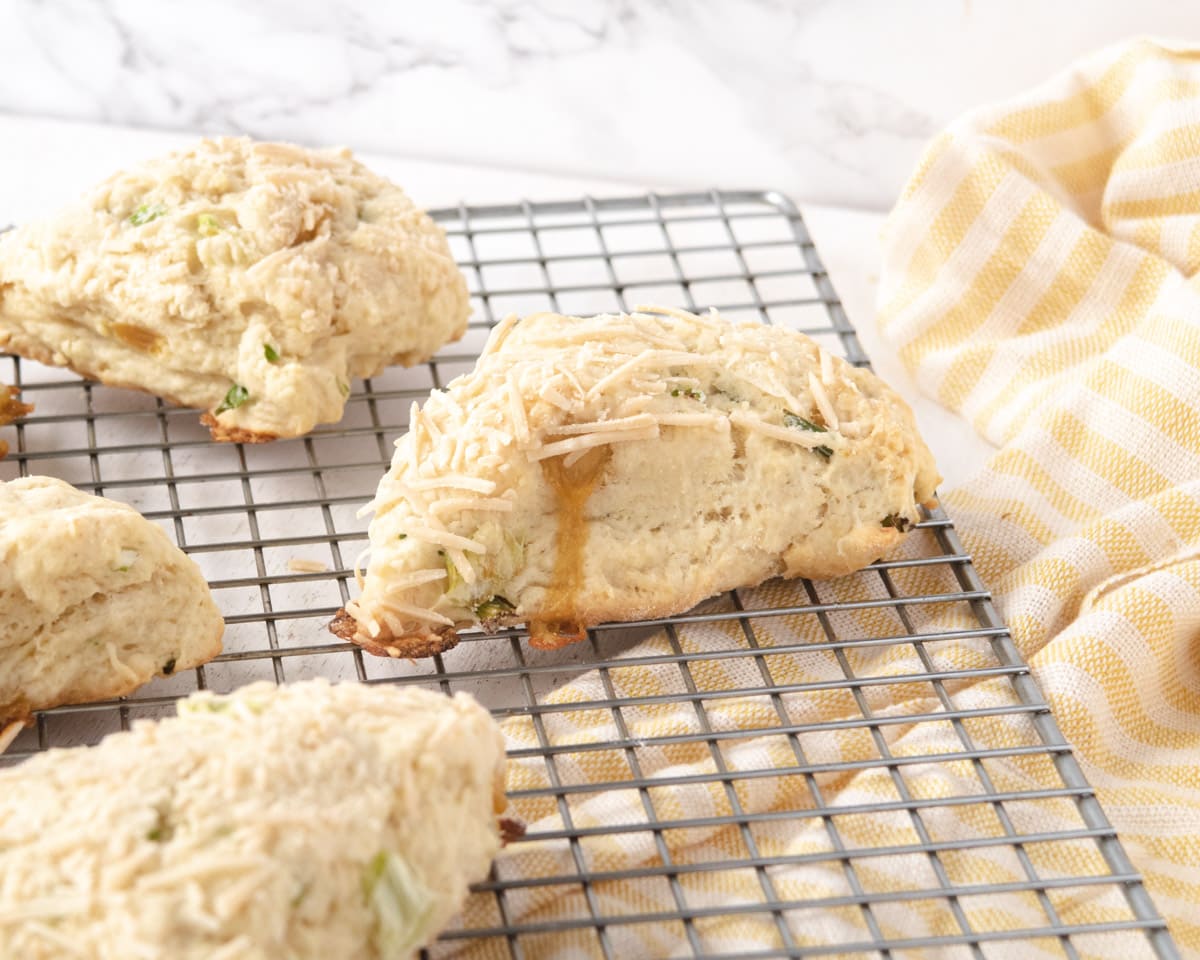 ---
A lil' bit of comfort and a whole lot of "hell yeah!"
These scones are the perfect pick me up when the weather is not on my side and I'm feeling a bit low. But the little pockets of melty cheese and specks of fresh herbs that you can find in these vegan herb and cheddar scones are usually all I need to perk right back up.
Serve these pillowy vegan cheese bombs with a big bowl of comforting soup, or use them to make a dainty sandwich. Simply add some mayo, a touch of pesto, some deli slices or a chickpea omelet, and some lettuce and tomatoes. That is a sandwich that I could eat for breakfast, lunch, AND dinner.
But my favorite way to serve these is still warm from the oven with a pat of butter and some fancy flaked sea salt.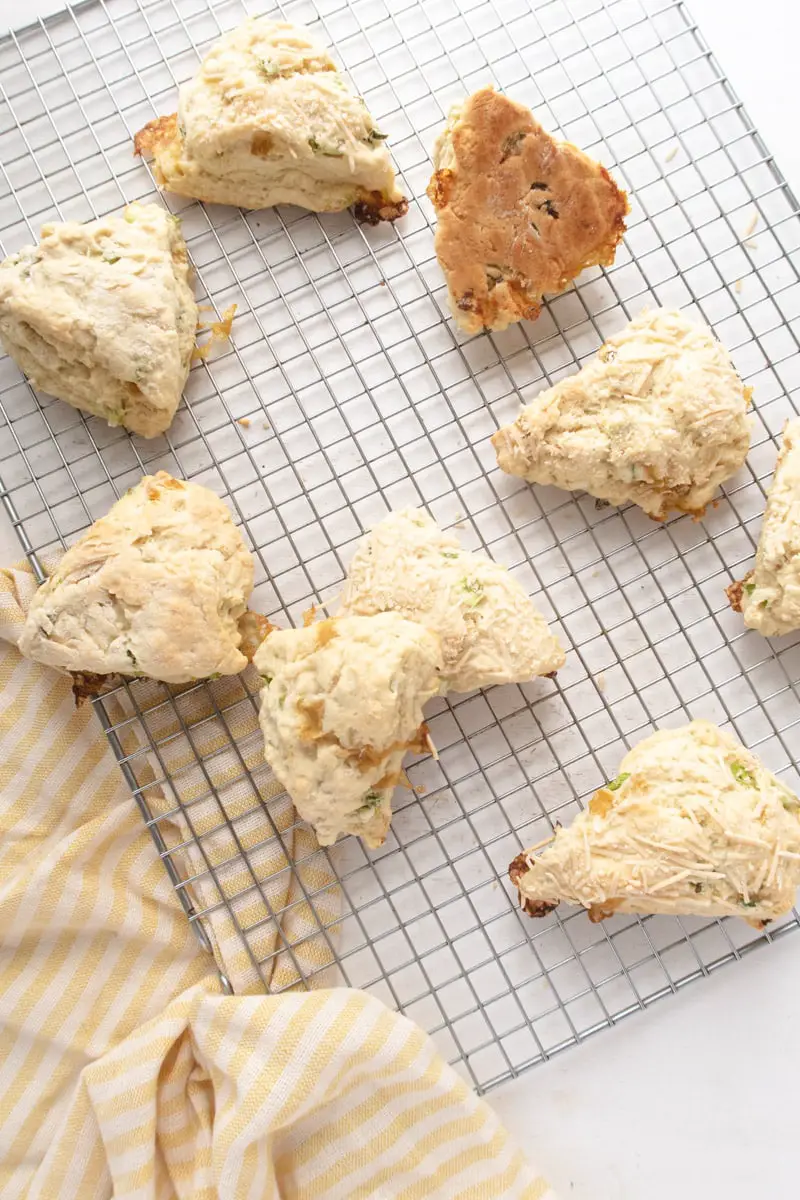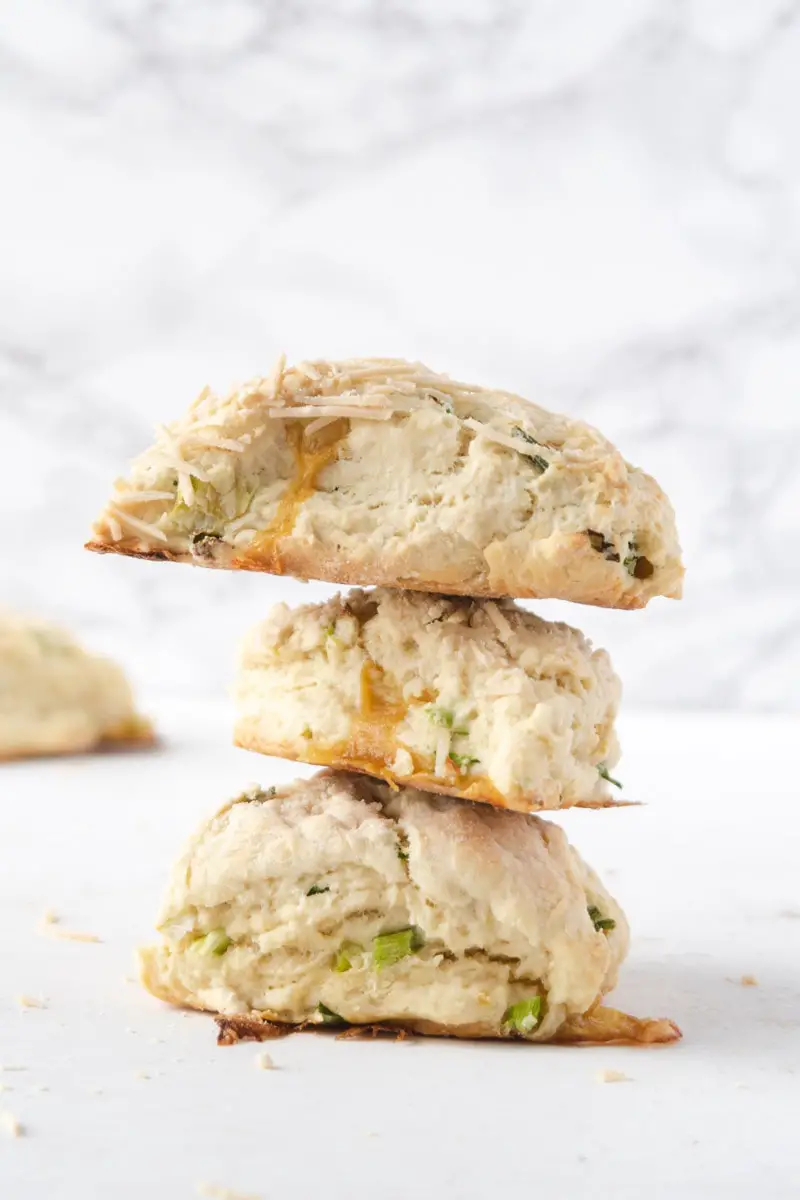 Which vegan cheese is best?
I love to use local vegan cheese when baking savory stuff. This is why I used Gusta's original grating block in this savory scone recipe. It is flavourful and perfectly melty, which means you will be able to spot the bits of vegan cheese when you delicately split these vegans herb and cheddar scones in half. You even get the crunchy crispy stuff that melted and caramelized on the baking tray.
For this type of vegan herb and cheddar scones, you definitely want to use a flavourful cheese that is on the firmer side. Something like aged cheese, a Monterey Jack or even a swiss would be perfect. Unfortunately, a Mozzarella would probably taste too mild for this recipe.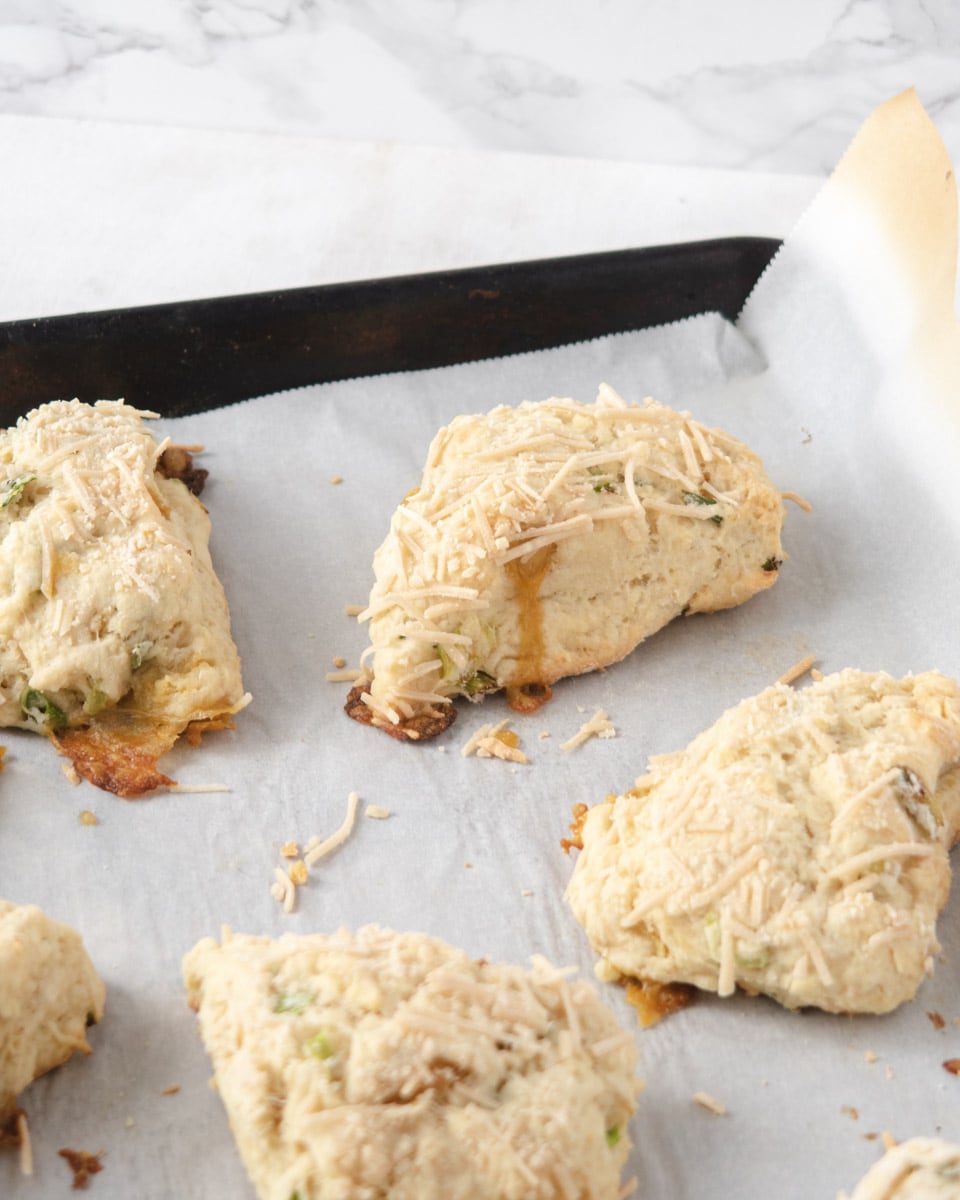 You also want to stay away from softer cheeses like some vegan imitation feta, cream cheese spread, or goat cheese because these types of softer cheeses would disappear into the dough during the mixing, never to be seen again. 
I also love to break my cheese into chunks instead of grating it, so that I get truly cheesy pockets. But if you prefer it (or if it's all you have in your fridge), grated cheese will do.
Traditional shortbreads are another one of my favorite comfort food! Try these gluten-free ones for a little boost of yumm.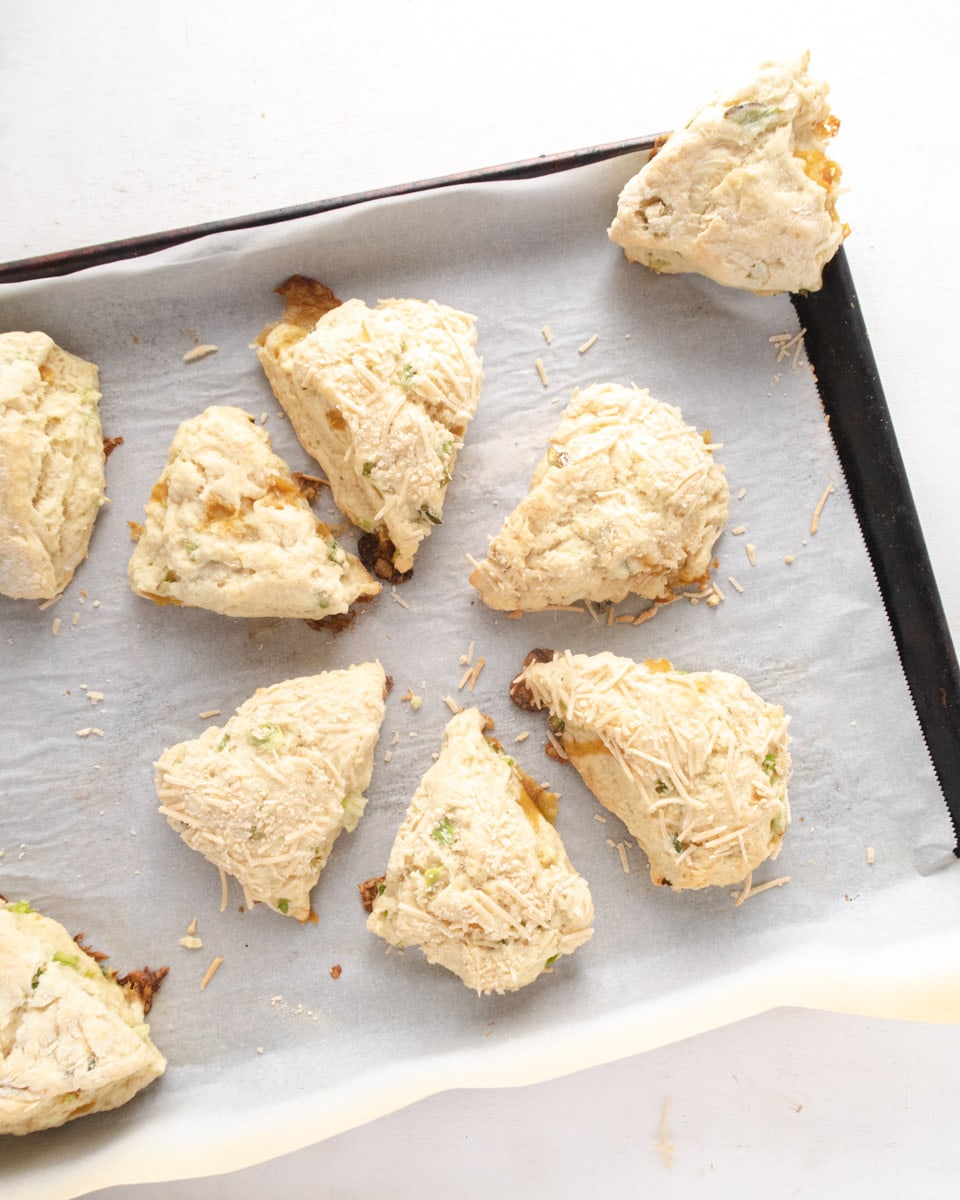 Tips + Tricks
You can use any fresh herbs you have at hand. Wild garlic, chives, rosemary, and thyme are my favorite to use with this vegan savory scones recipe.
When making the dough, it is important that you keep pieces of raw butter throught the dough. This guarantees the creation of puffy pockets of air when the scone bake, which creates flaky and tender layers.
If your scones are older than the recommended 2 days, zap them for a couple of seconds in the microwave to freshen them up. you could also dice them and roast them to make incredible croutons.
If you want to see me make a fool of myself while baking these babies, head over to my youtube channel!
Recipe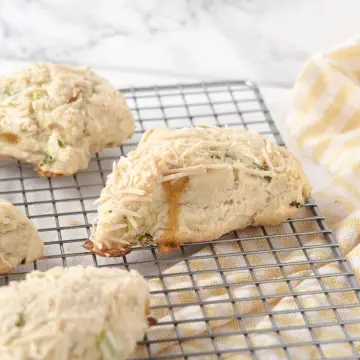 Print
Vegan Savoury Herb + Cheddar Scones
Flaky and tender vegan savory scones, filled with pockets of melted cheese and specks of fresh herbs, are the perfect comfort food and mood booster!
Ingredients
Scone dough
480g

(4 cups)

unbleached all-purpose flour

, plus some extra for flouring your surfaces

50g

(¼ cup)

white granulated sugar

10g

(2 tsp)

fine sea salt

20g

(4 tsp)

baking powder

120g

(½ cup)

cold vegan unsalted butter

, I use Becel plant-based bricks

250g

(1 cup)

your favourite plant-based milk

, I use soy milk
Garnishes
115g

(1 cup)

of your favorite hard vegan cheese

50g

(or half a bunch)

green onions

vegan parmesan cheese

, optional
Instructions
Preheat your oven to 375°F (190°C)

In a large bowl, add the flour, sugar, salt, and baking powder and mix until incorporated.

Roughly dice the cold vegan butter and add to your flour. With the tip of your fingers, break apart the butter pieces and mix with the flour until the butter is approximately pea-sized (some large bits are okay) and the mixture looks like coarse crumbs. You can also use a pastry cutter for this task.

Break apart your vegan cheese into smaller pieces, or roughly grate it. Slice the green onions thinly and add both into your bowl and quickly mix in with the flour.

In the middle of your bowl, make a well with the flour mixture. Add the plant-based milk in the middle all at once. With a sturdy wooden spoon (or your fingers) slowly mix in the flour from the side of the well into the milk until you get a still slightly wet but sturdy dough.

Transfer the dough onto a well-floured surface and divide into two equal balls. Flatten the balls until they make a 20cm (8-inch) diameter disks and cut each disk into 6 equal wedges. If using, dip the top of each scones into grated parmesan.

Transfer each dough wedges onto a parchment paper-lined baking tray and bake for 15 to 20 minutes, or until the scones are golden brown and cooked throughout. Enjoy!
Notes
Best eaten fresh. Can be kept in an airtight container for up to 2 days or frozen for up to 4 months. Can be frozen uncooked but it will result in slightly denser scones.
Omit the salt if you are using a salted vegan butter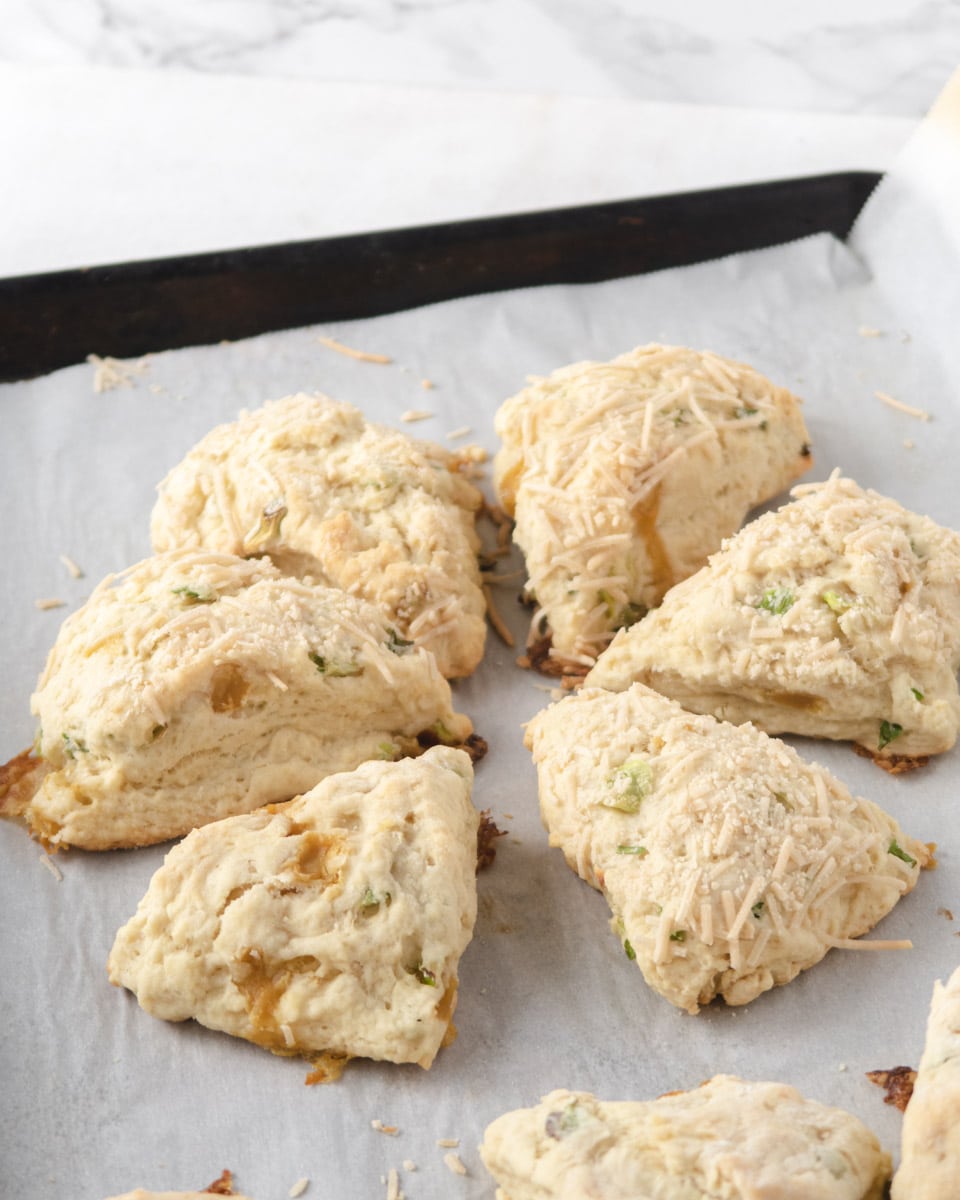 Did you try this cheesy recipe?
Don't be shy and let me know how it went! Leave me a comment below and share a picture on Instagram !