This sticky apple-juice based vegan honey is the perfect cruelty-free replacement in any of your recipes.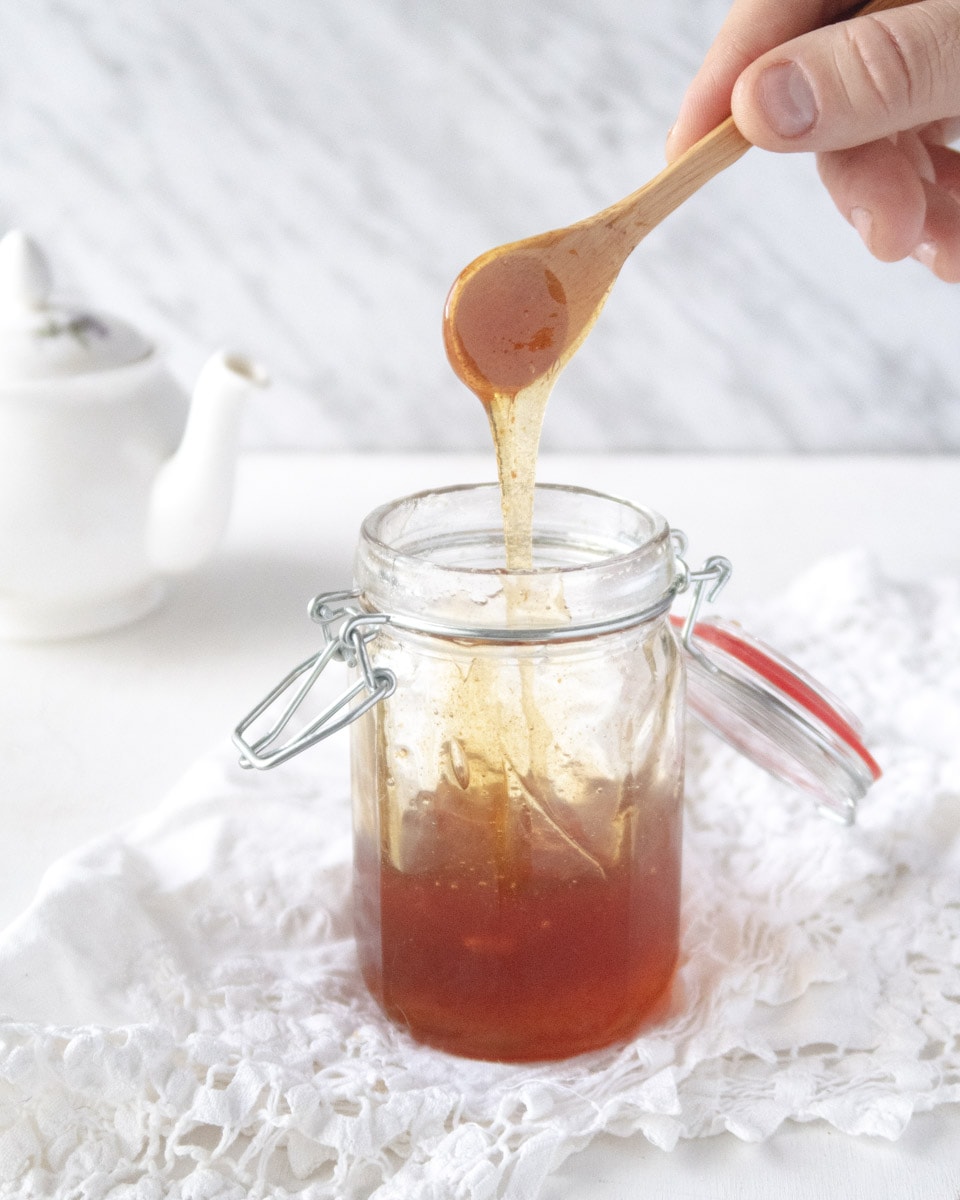 ---
Being a big tea aficionado, honey has always been a staple at my house, even growing up. And while agave nectar is a pretty good replacement in most situations, sometimes all you want is a thick glob of sticky honey. It also has a different flavor profile as agave. 
But this vegan honey is very close in texture and taste to bee-made honey So much that everybody who tried it didn't realize that apple juice was the secret ingredient.
This vegan honey is so similar that I actually call it "Honee" to differentiate it from bee-cultivated honey.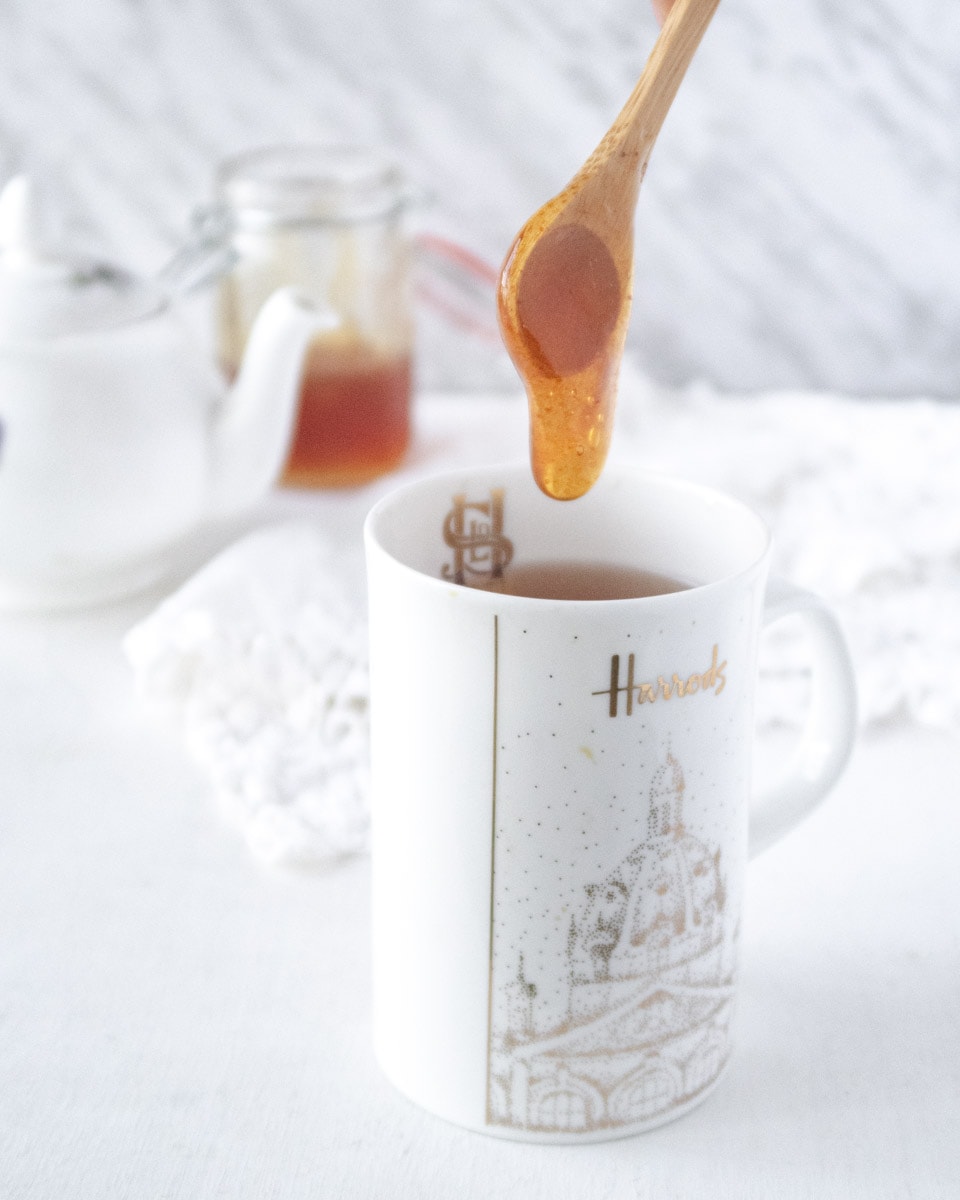 When to use vegan honey?
You can use this recipe to replace regular honey in all recipes that ask for it.
This vegan honey really shines when used: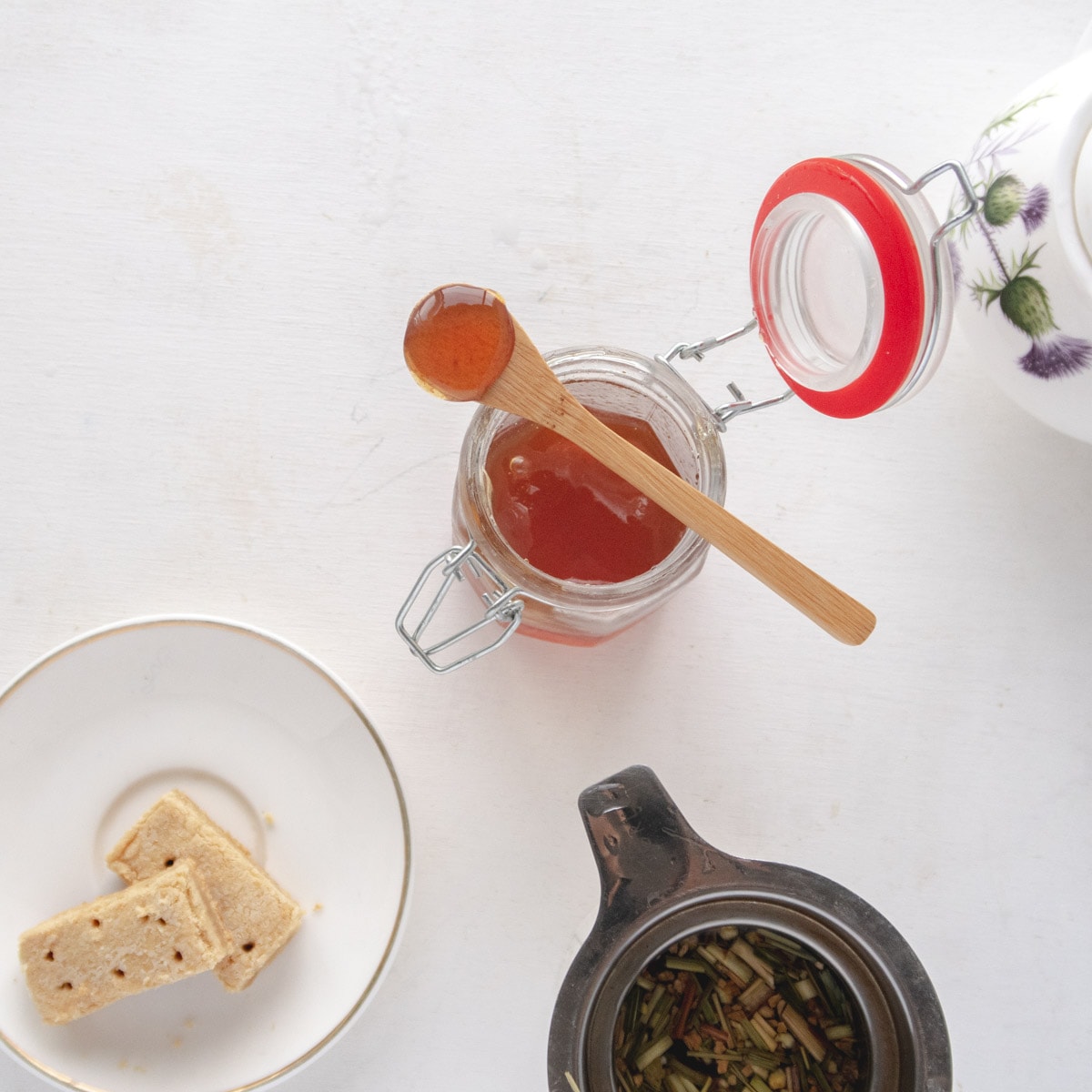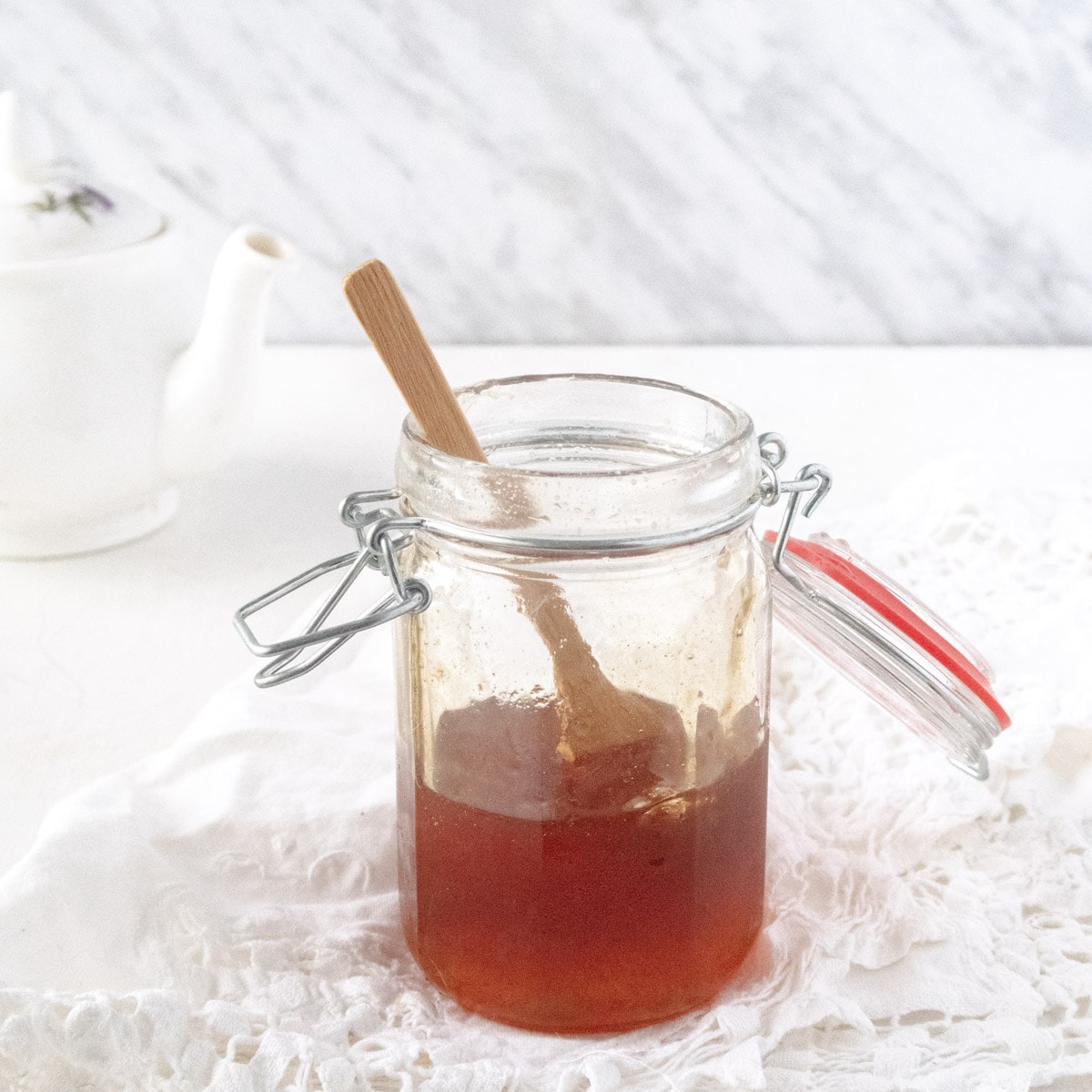 Where to get apple cider?
Apple cider, also known as unfiltered apple cider is a thick dark brown apple juice. I personally can find apple cider at my regular grocery store in the refrigerated section, but if you have no luck, a health food store should have it. You could also make your own if you have a juicer by juicing apples.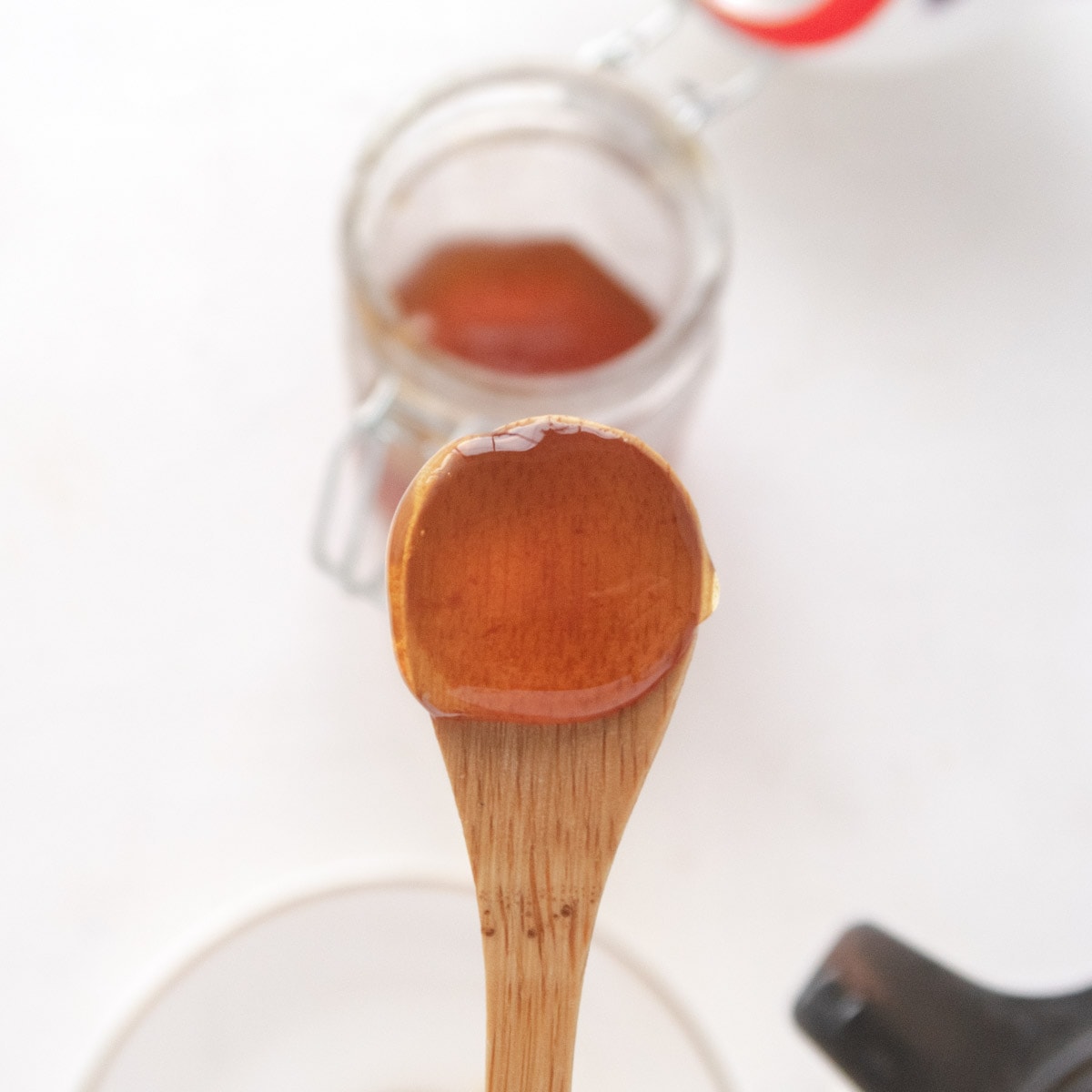 Testing the consistency of the honee
The perfect way to test if your vegan honey has reached the right consistency is by freezing some metal spoons until nicely cold and frosty. 
You then drop a couple of the preparation on the frozen spoon. This will cool down quickly the honey and will show you what texture the cold honee will have. If it is too thin, simply continue to cook until you reach your desired consistency.
I like my honey pretty thick so I use it straight out of the refrigerator. But if you like your honey on the soft-side and drippy like regular honey, leave it at room temperature for about 15 minutes before using it.
One advantage of this bee-free honey recipe is that it never cristalizes on me like actual honey does ( which is a pain in the butt).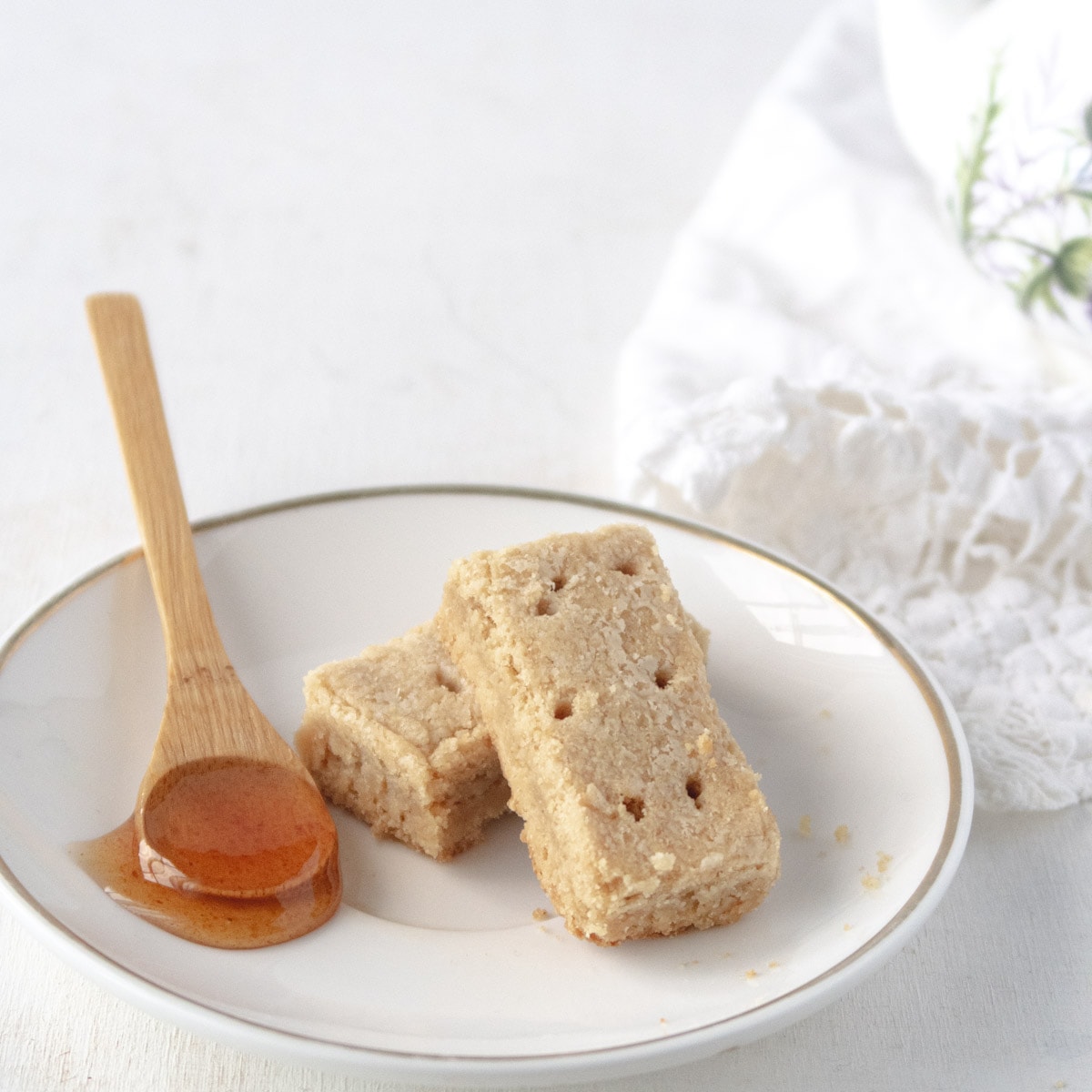 Material
You will need the following tools to make this vegan honey recipe.
Digital scale, or a set of measuring spoons and cups
Medium-sized heavy-bottomed saucepan
Heat resistant silicone spatula
Spoon
Sealable glass containers, like a mason jar or flip lid jar
Recipe
Print
Sticky Vegan Apple Juice "Honee"
This sticky apple-juice based vegan honey is the perfect cruelty-free replacement in any of your recipes.
Ingredients
500g

(2 cups)

apple cider

200g

(1 cup)

white granulated sugar

5g

(1 tsp)

lemon juice
Instructions
Place all the ingredients in a medium-sized heavy-bottomed saucepan and bring to a bowl over medium-high heat while stirring with a heat resistant silicone spatula.

Leave to simmer for 45 minutes, stirring from time to time. If you see scum floating on the top of the honee, remove it with a spoon.

Test the consistency of the honee by placing a couple of drops on a freezer-cold spoon. Once the desired consistency is reached, transfer the honee into a sealable glass container and leave it at room temperature to cool down.

Seal the container and store in the refrigerator until you need it. Enjoy!
Notes
My 1-year-old honee is still doing great. There is no trace of mold or anything.
It would probably be ok at room temperature but I prefer minimizing the risk by keeping it in the refrigerator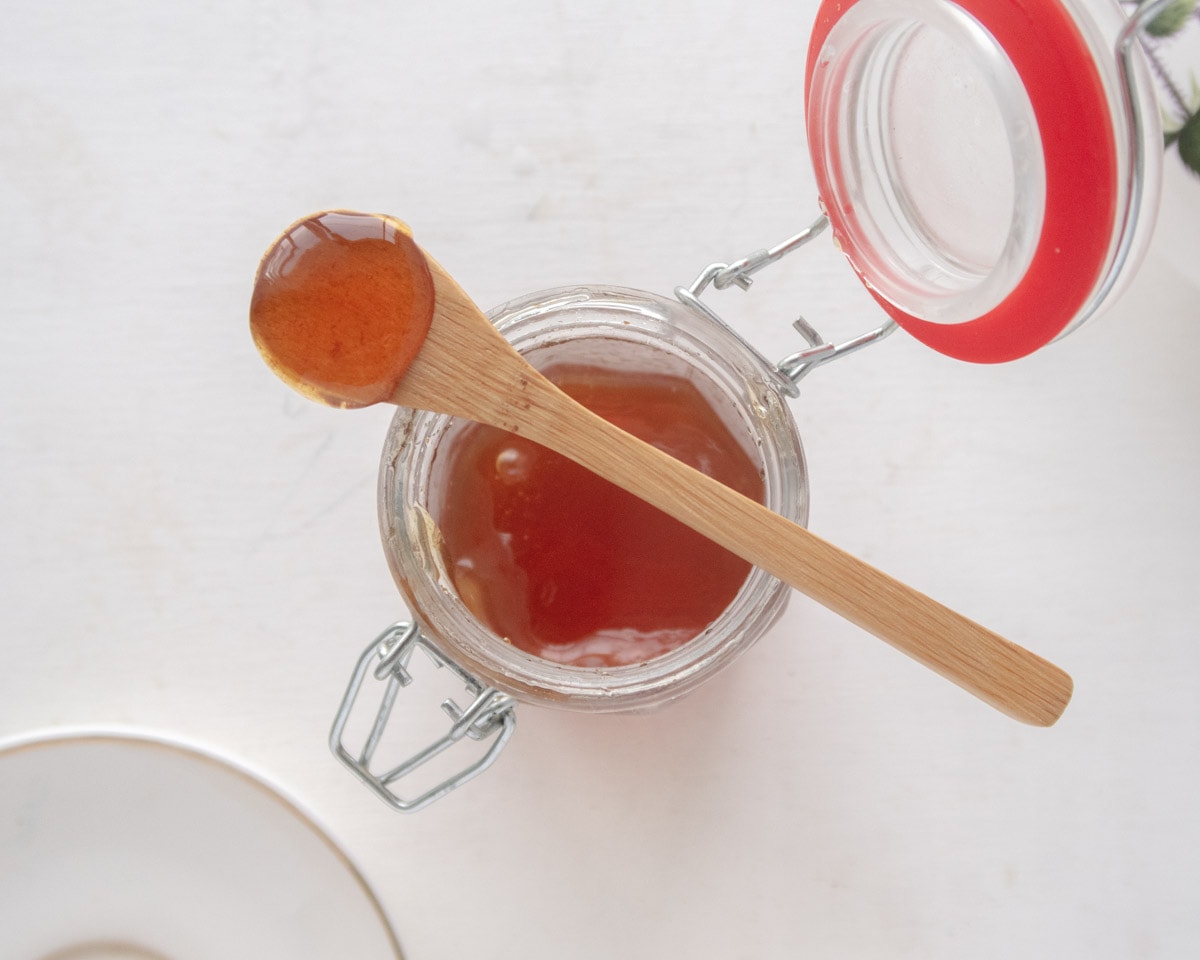 Did you try this honee recipe?
Don't be shy and let me know how it went! Leave me a comment below and share a picture on Instagram !