Garnished with local berries and soft whipped cream, these crunchy vegan mini pavlovas are the perfect recipe to impress.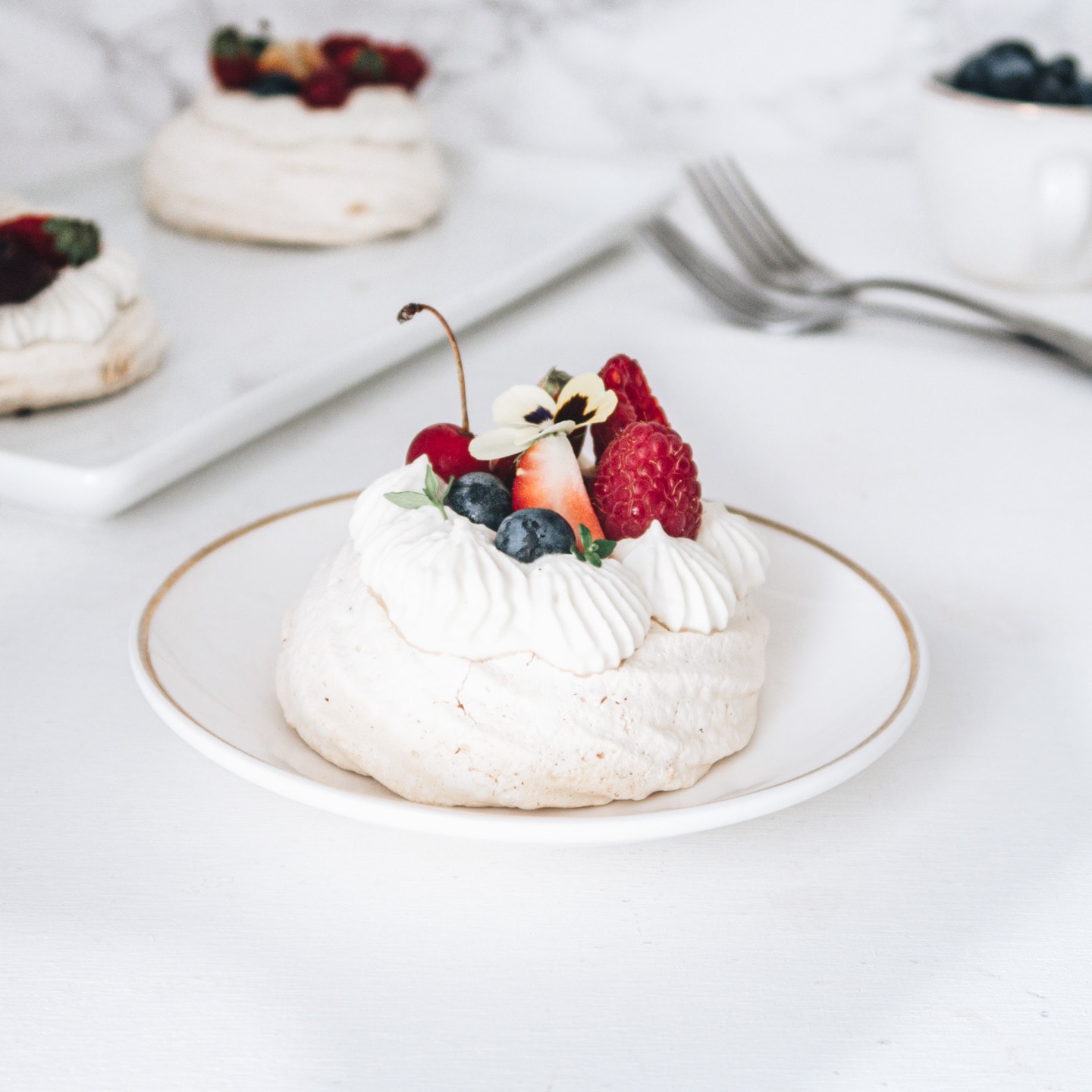 ---
Egg-free summer berry Pavlovas
When cooking, you sometimes end up with wayyyy too much of an ingredient. It's kind of inevitable. But most cooks have their go-to recipes for when that happens.
This is why I knew exactly what to make when I suddenly ended up with 2 liters of aquafaba in my fridge.
(Ok it wasn't that sudden. I was, after all, the one who opened up 6 cans of chickpeas to make my own dehydrated backpacking food, but whatever).
Pavlova is a great way to use up extra aquafaba. Paired with fresh local berries and luscious vegan whipped cream, it is one of those simple but always impressive desserts.
Crown of berries
Here are some great topping ideas for theses pavlovas. Feel free to go off-road and use other ingredients you can find in-season around you as garnishes.
Summer berries ( raspberries, strawberries, blueberries, blackberries, gooseberries, fresh currants, etc.)
Passion fruit
Diced mangoes
Fresh herbs from the garden ( basil, mint, thyme, cilantro
Cacao nibs
Fill the cavity with fruit curd, vanilla pastry cream, or a thin layer of jam.
RELATED : Go crazy and try this *special* raspberry curd!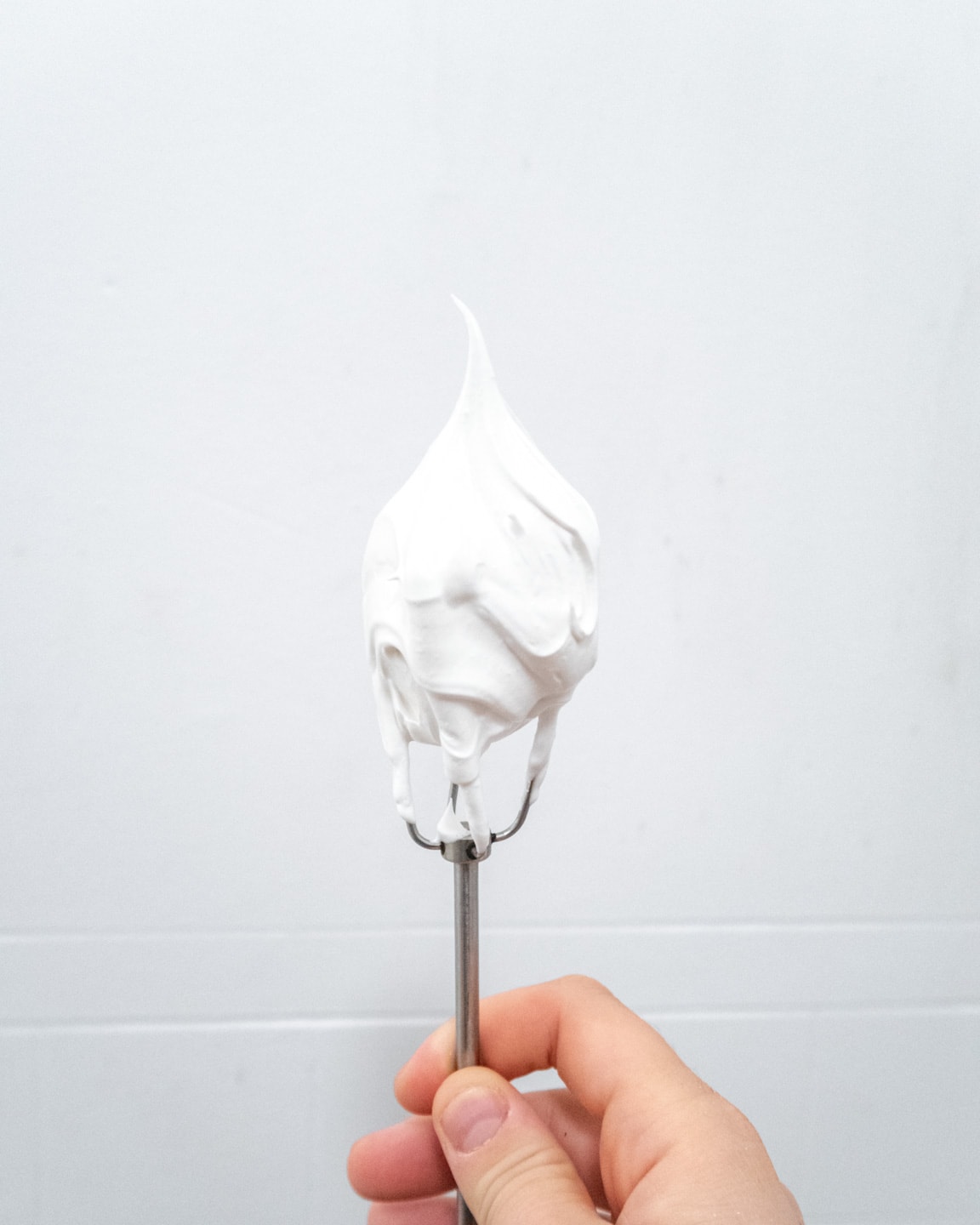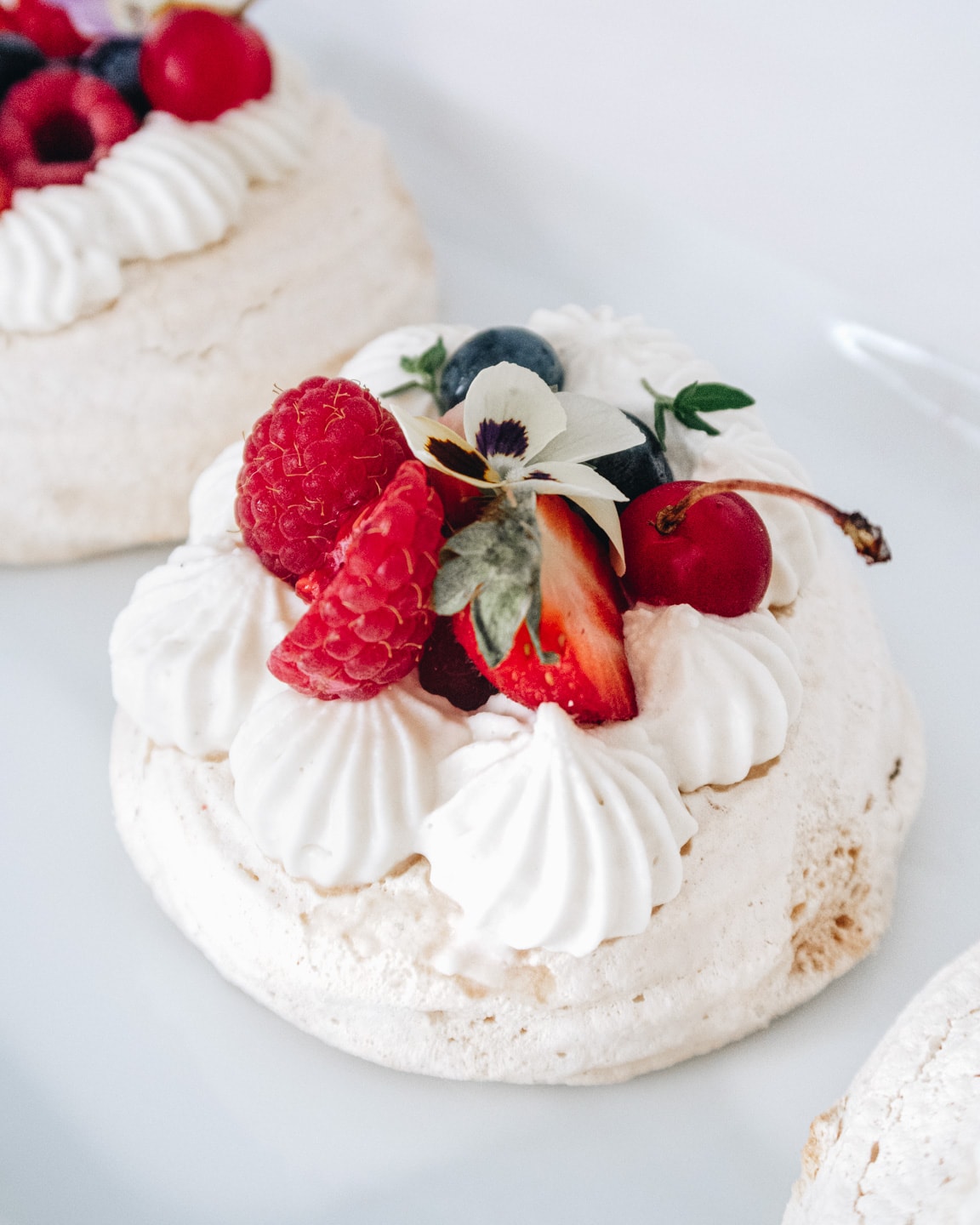 Pavlova: great for all seasons
Pavlovas are most often paired with summer fruits like berries and stone fruits but here are other topping ideas for year-round pavlovas.
Fall: Pair fresh figs or sliced plums, with pomegranate arils, and red wine or Port syrup.
Winter: Pair the pavlova base with a citrus and grand Marnier curd and topped with candied cranberries, and orange supremes or segments.
Spring:  Try a maple syrup sweetened meringue with some diced caramelized apples! You could also make a rhubarb and frozen strawberry Pavlova.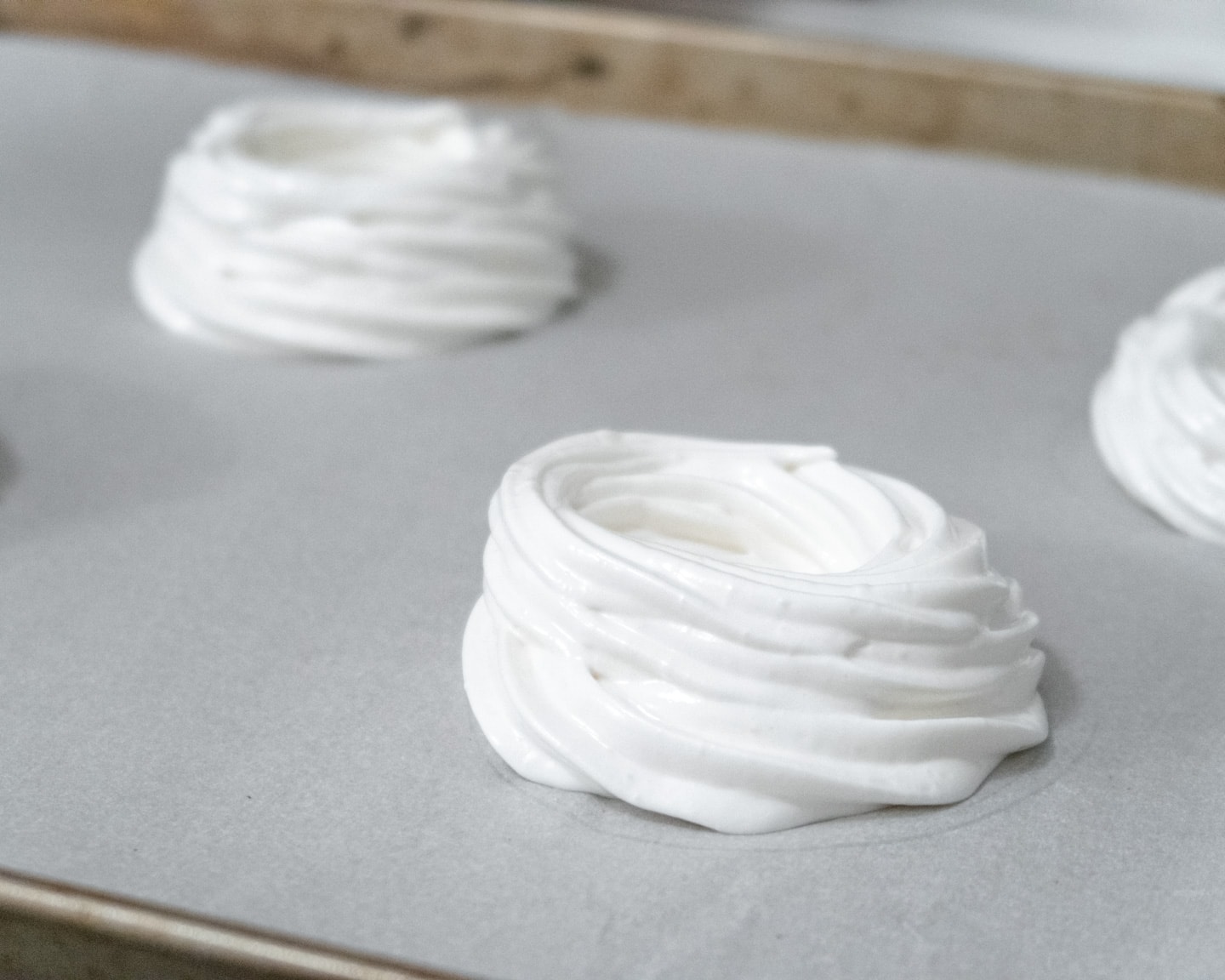 Why cornstarch in meringue?
Since pavlovas are bigger than your traditional meringue cookies, they have a tendency to spread and lose some of their heights. Cornstarch gives a bit more stability and structures the meringue nests.
If you are in the UK, look for cornflour instead of cornstarch! It has a different name but it's the same stuff.
However, cornstarch is not great when you try to add volume to your meringue. This is why we add it at the end by folding it in with a silicone spatula.
RELATED: Discover the secrets of vegan aquafaba-based meringue right here!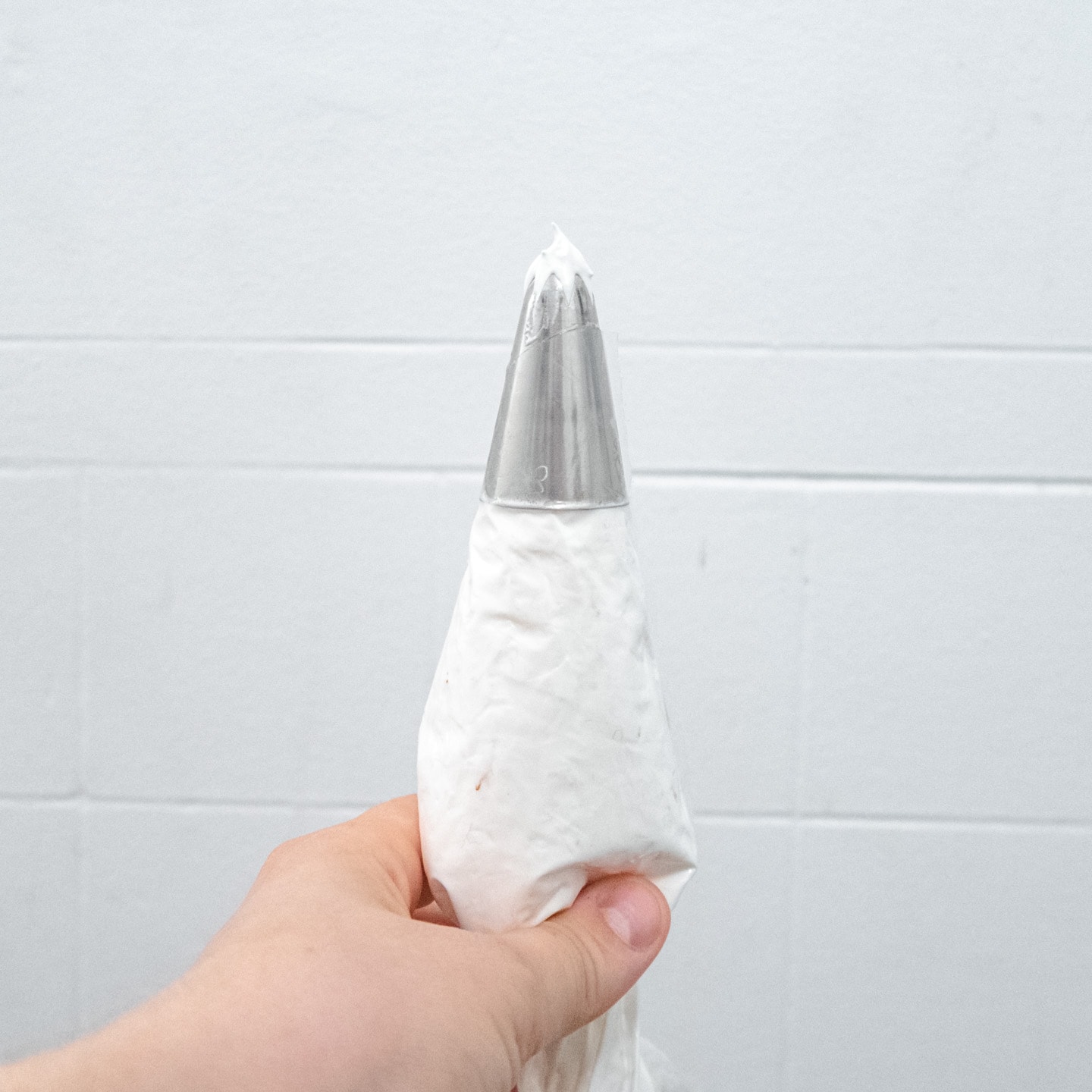 Tips and tricks for piping meringue nests
I love the look of pipped vegan mini pavlovas, mostly because it is so much easier to make meringue nests that are all the same size and have some height to them. Here are a couple of tips to make this task more manageable.
Make yourself guides by tracing the circumference of a mason jar top with a pencil on your parchment paper, before flipping the paper over.
Use a piping tip with large teeth like the Wilton 1M will make the piping pattern more visible since the meringue does expand while cooking.
The meringue expands while cooking co pipe your pavlovas a smaller size than your desired end result.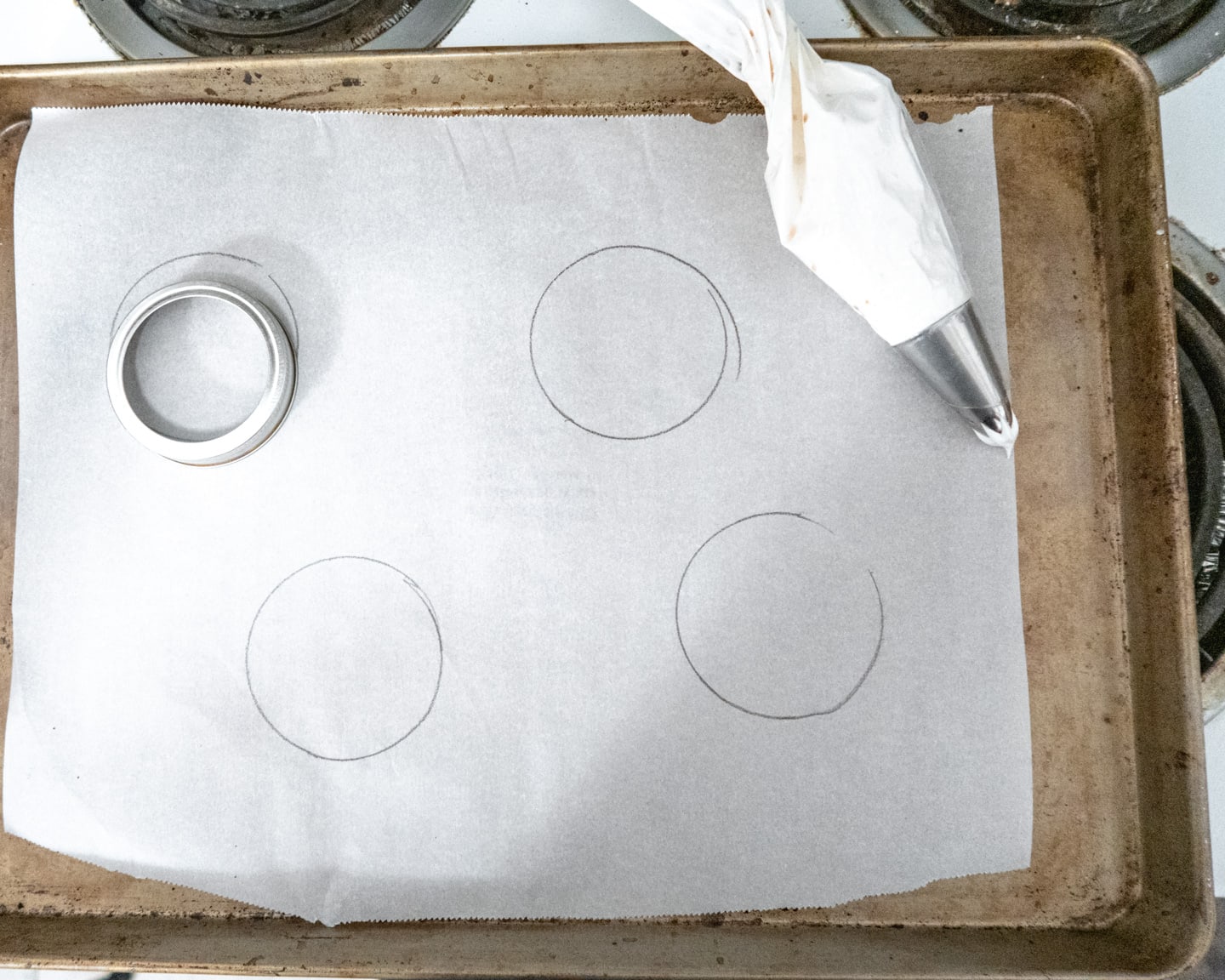 For people who don't have a piping bag, you can use a large freezer-friendly ziplock bag with one of the corners cut off.
If piping is not your thing, you can place mounds of meringue on the baking tray and smooth off the sides with a small off-set spatula. If you want you can even make a small indent with the back of a spoon in the middle to make some space for different fillings.
Tools needed to make vegan mini pavlovas
Here are all the tools you will need to make this recipe:
Stand mixer with a whisk attachment or 1 large bowl with a hand mixer.
1 flexible silicone spatula
1 pastry bag and pastry tip, I used the Ateco #845, but a Wilton 1M is also a great option.
1 baking tray and parchment paper 
1 pairing knife and cutting board
Material to make your whipped cream recipe
If you are looking for a vegan whipped cream recipe, you can find mine right after the Pavlova recipe. But I still recommend you go check out the full no-coconut milk vegan whipped cream recipe right here for extra tips and tricks on how to make it.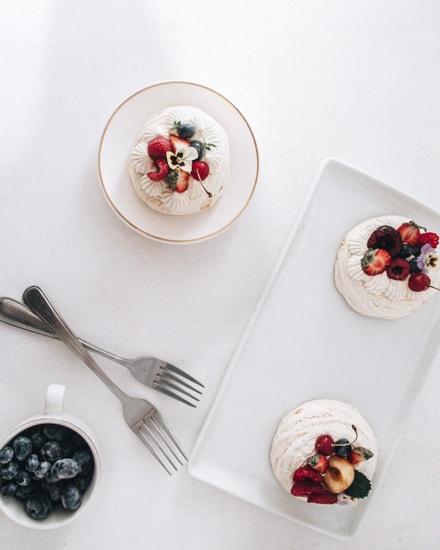 Recipe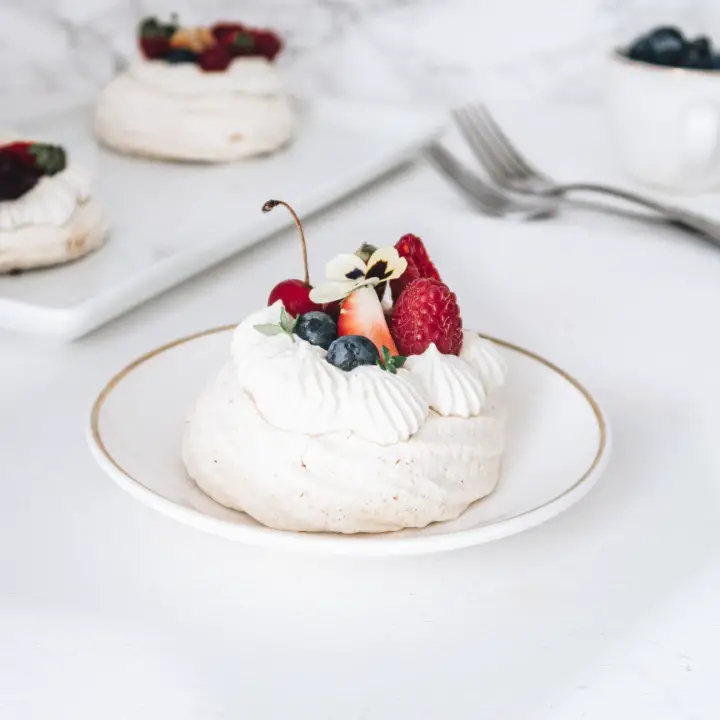 Print
Aquafaba Mini Berry Pavlovas
Pavlova is a great way to use up extra aquafaba. Paired with fresh local berries and luscious vegan whipped cream, it is one of those simple but always impressive desserts.
Servings
6
mini pavlovas or 1 large
Ingredients
Meringue Nests
135g

(½ cup)

aquafaba

, reduced

¼ tso

cream of tartar

150g

(¾ cup)

white sugar

10 g

(1 tbsp)

cornstarch

, optional
Garnishes
1

cup

vegan whipped cream

1

cup

of your favorite fresh berries

Fresh herbs
Instructions
Meringue Nests
Preheat your oven to 200F (100C) and line 1 large baking trays with parchment paper.

In a stand mixer with the whisk attachment, or large bowl with a hand mixer, whip the cool reduced aquafaba and cream of tartar until it reaches medium to stiff peaks.

Slowly add the sugar one spoonful at a time to the meringue while continuing to whisk until the meringue is thick and glossy.

If using, fold in the corn starch with a silicone spatula.

Transfer the meringue into a piping bag with your favorite pastry tip. Pipe onto the prepared baking tray. Start in the middle and pipe around until you have a solid meringue circle. Pipe a second layer of meringue on the circumference of the circle to make a nest.

Cook for 1 to 1 1 ½ hours or until the meringue feels solid enough and dry on the outside but still gooey in the middle. Leave in the closed oven to cool completely. Store in an airtight container until ready to use.

Right before serving, make your favorite whipped cream and garnish the top of your cold meringue nest with the help of a piping bag or the back of a spoon.

Garnish with your favourite local fresh berries and fresh herbs.

Enjoy!
Notes
The meringue nests can be kept for up to 1 week in an airtight container place in a cool, dark, and dry place.
Recipe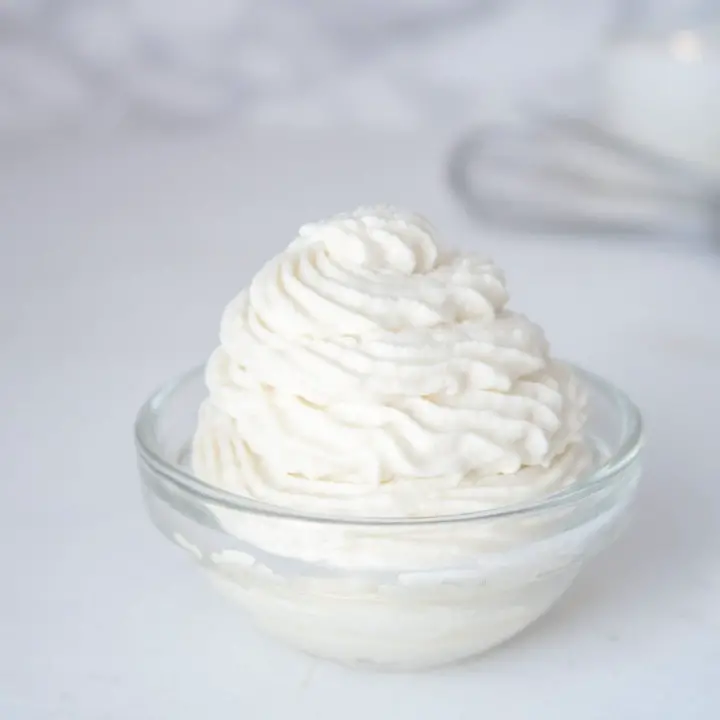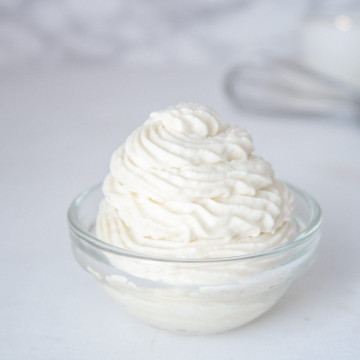 Print
Amazing Vegan Whipped Cream ( Crème Chantilly)
This coconut milk free vegan whipped cream is perfect with lots of classic French desserts.
Servings
600
ml of heavy cream for whipping
Ingredients
375g

(1 ½ cup)

unsweetened soy milk

50g

(¼ cup)

white caster sugar

, adjust to taste and recipe requirements

1

vanilla pod

110g

(½ cup)

deodorized cacao butter

, finely chopped or in small disk form

76g

(⅓ cup)

coconut oil

⅛

teaspoon

xanthan gum

, optional but recommended
Instructions
Simmer 250g (or 1 cup) of soy milk, sugar, vanilla bean pod sliced in half, and the vanilla seeds scraped from the pod for 10 minutes to infuse. Remove the pod from the hot milk.

In a blender, place the coconut oil and cacao butter and pour the simmering soy milk over it.

Let the oils melt for 1 minute and then run the blender at a high speed for 2 minutes.

Add the rest of the soy milk and blend until incorporated.

Refrigerate until very cold, between 2 and 6 hours.

If using xanthan gums,sprinkle on the cream before whipping.

Whip the cold preparation with a handheld mixer, or stand mixer, on medium speed until the whisks leave traces in the preparation and the cream becomes light and airy. Do not overwhip.

Serve spooned next to a desert, or pipe with a pastry bag.

Enjoy!
Notes
The vanilla pod can be replaced with ½ teaspoon of vanilla bean paste or 1 teaspoon of vanilla extract.
The heavy (unwhipped) cream can be kept in the fridge for up to 5 days. Do not freeze.
Use deodorized cocoa butter and refined coconut oil for a neutral-tasting whipped cream.
Add 100g of pastry cream for more stable cream that will last longer.
This makes A LOT of whipped cream so feel free to divide the recipe by half.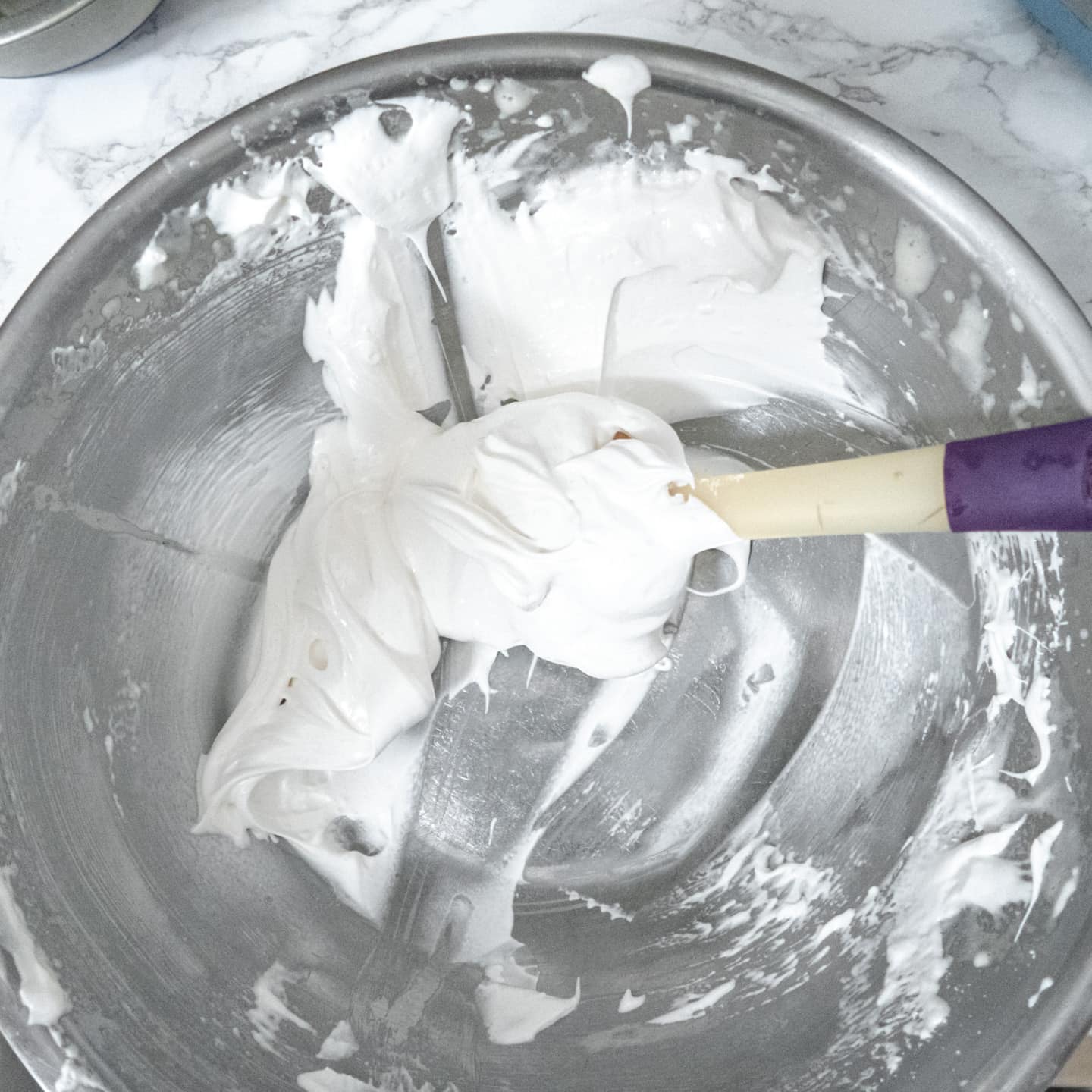 Did you try this aquafaba Pavlova?
Don't be shy and let me know how it went! Leave me a comment below and share a picture on Instagram !