Try this vegan clementine upside-down cake flavored with olive oil and Aperitivo to take full advantage of the citrus season.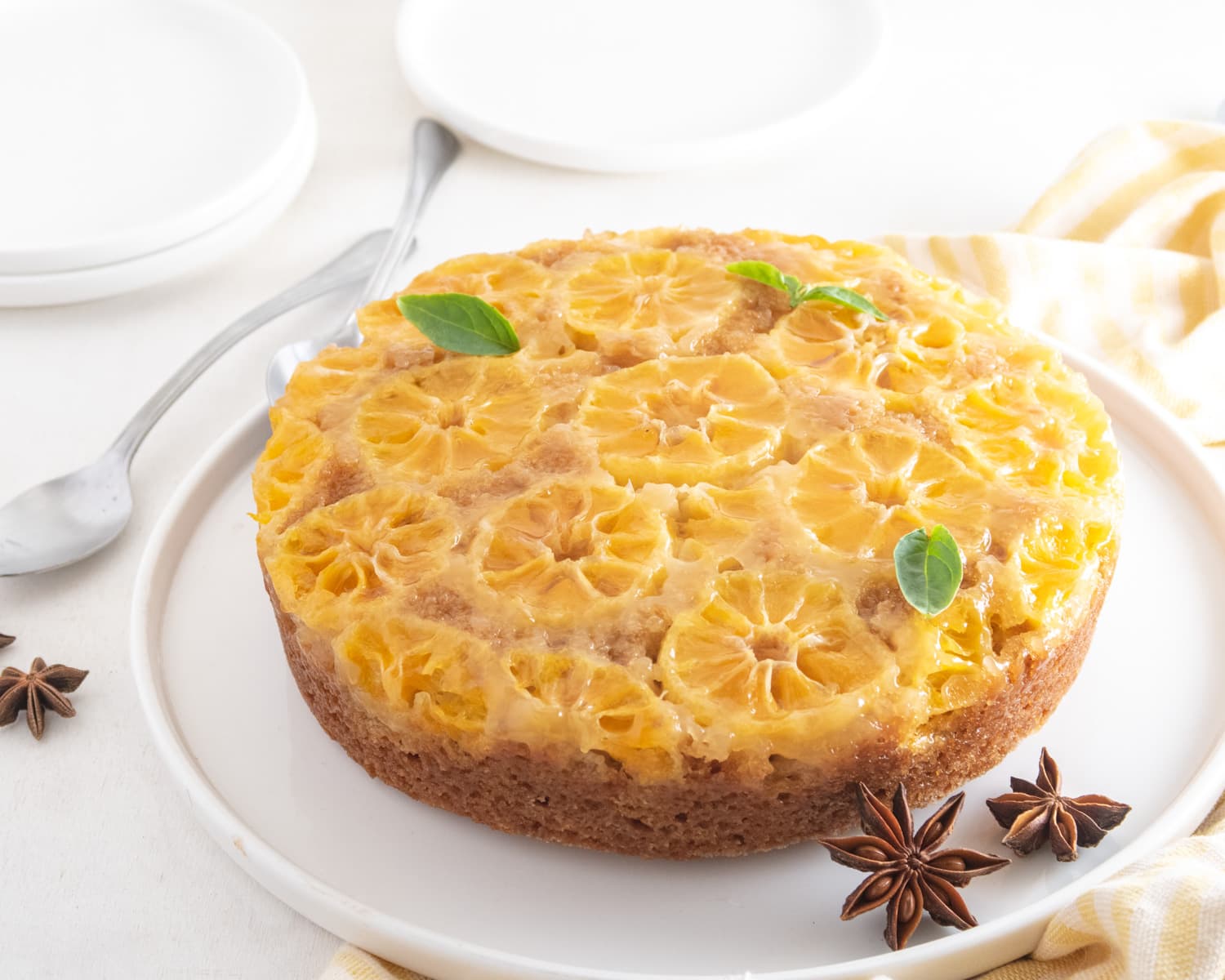 Feel free to skip straight ahead to the recipe since this cake is extremely easy. I also keep this blog strictly professional, so don't expect personal stories. ;P
---
Vegan citrus olive oil cake
Looking for a vegan cake with both great looks and taste? Look no more, you have found it. This clementine upside-down cake flavored with olive oil and aperitivo has it all.
Extremely easy to make. No fancy equipment or ingredients needed.
Looks effortlessly beautiful
Not overly sweet and with great adult flavours
Great for winter baking when citrus is at its peak and fresh fruit is rare
One bite will make you travel to Italy without leaving your house.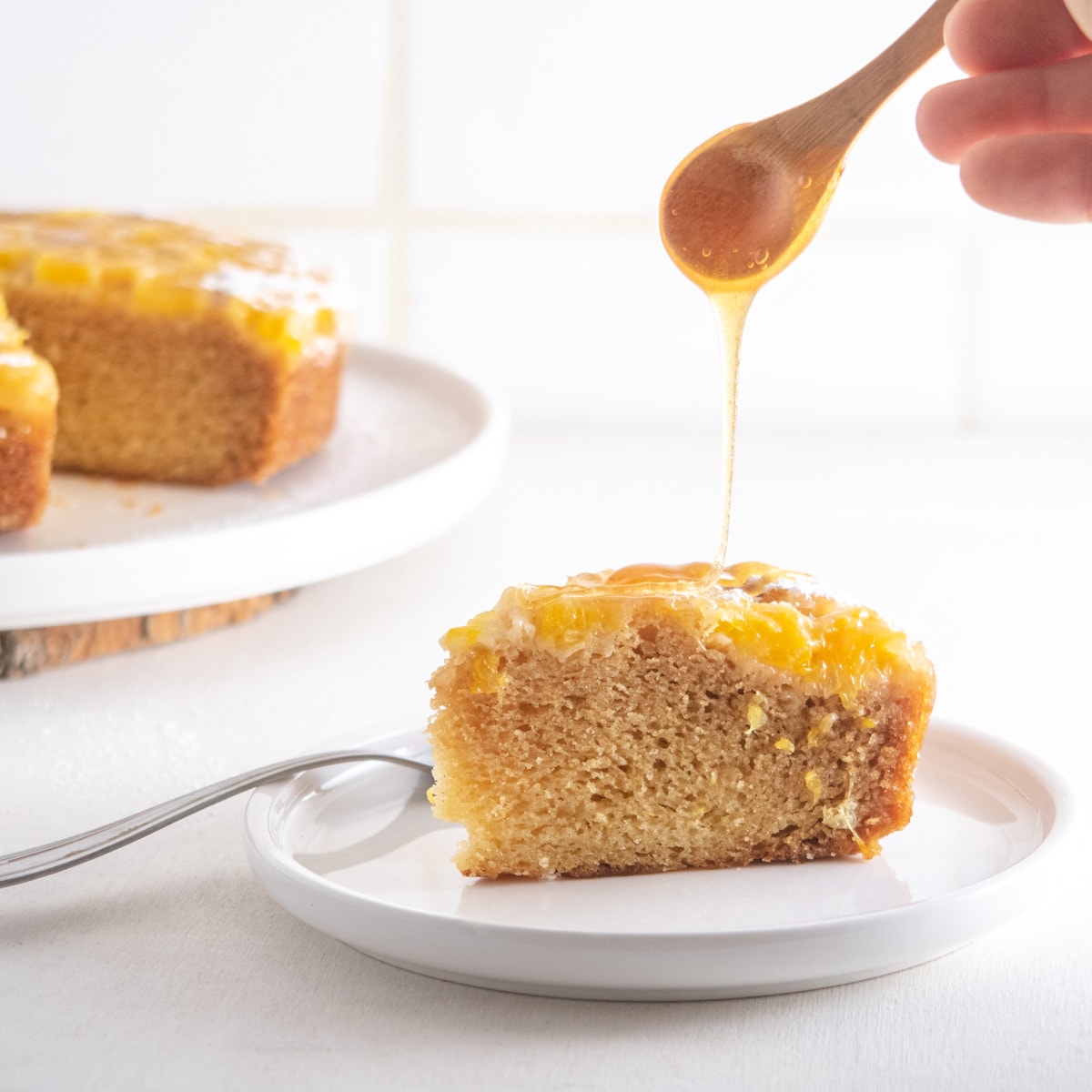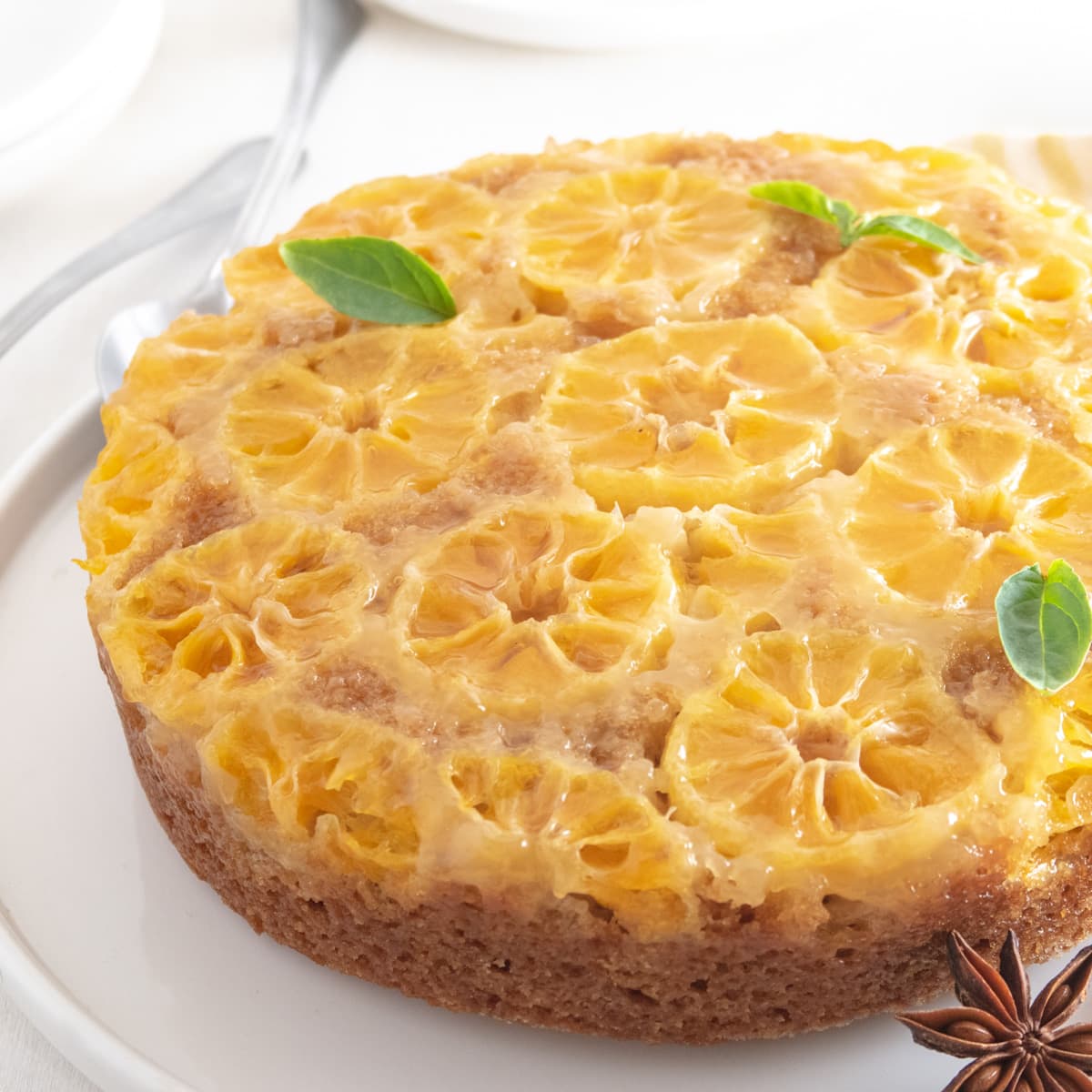 Give this olive oil and citrus cake a try and let me know if it makes it into your regular rotation. Feel free to also explore with other citruses like blood orange, tangerine, grapefruit, or even a combination of other citruses.
For a little more oompf, serve this cake with a drizzle of homemade vegan honee, a dollop of coconut-free whipped cream, or a big scoop of dairy-free ice cream.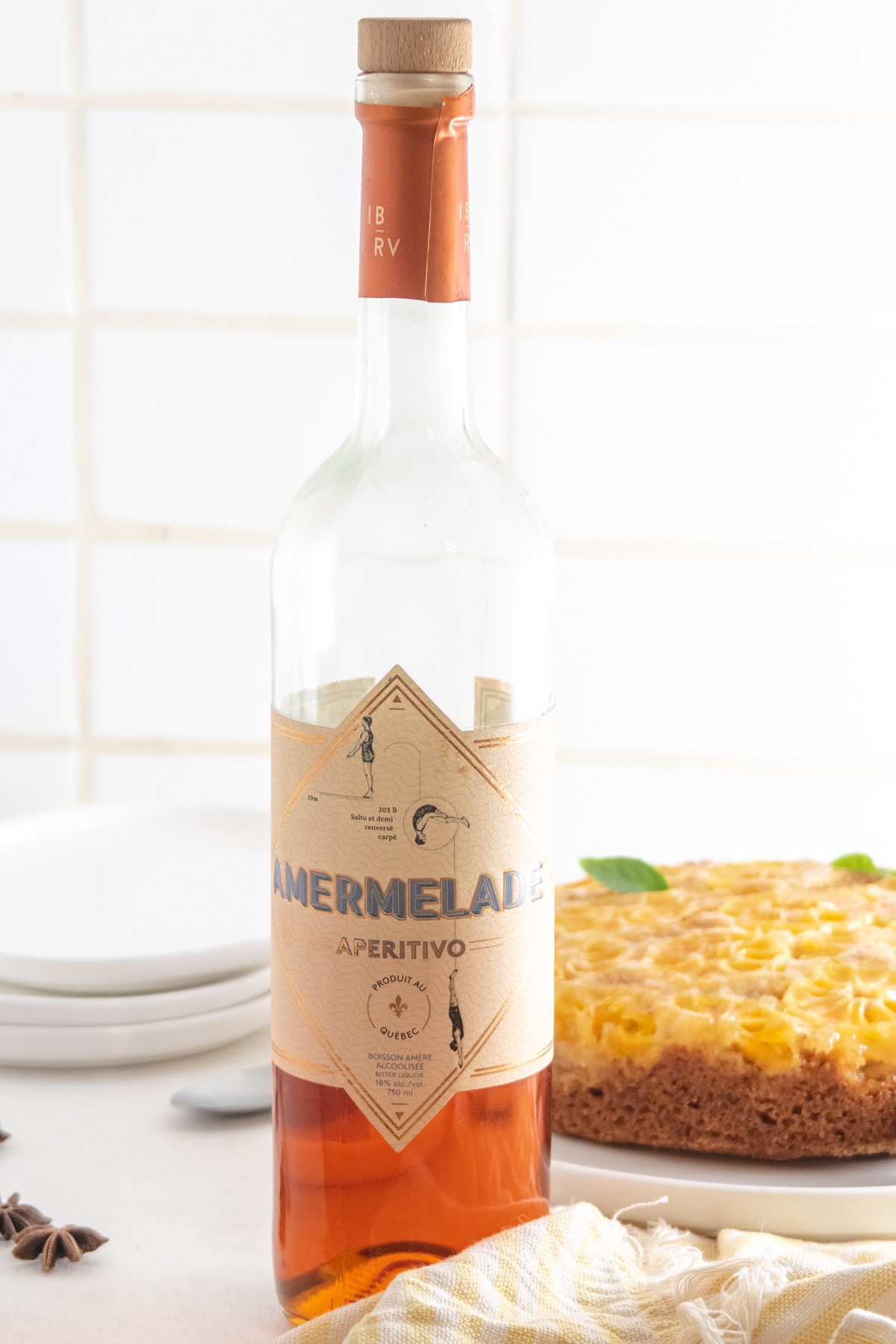 Are aperitivo liqueur vegan?
Aperitivo is a type of liqueur that has a lower ABV and a balance of citrus and bitter flavors. They also have a distinctive orange or red color and are used to make pre-dinner cocktails like Spritz or Negroni to open up the appetite. Not all aperitivo are vegan due to the filtration process and food colorings that can be animal-based. 
I used Amermelade in this cake recipe since it is my favorite vegan aperitivo, and I give it bonus points for being local! You could also use Aperol or Luxardo Aperitivo, which according to Barnivore are both vegan friendly.
Unfortunately, you'll have to pass on Campari since gelatine is used in the filtering process.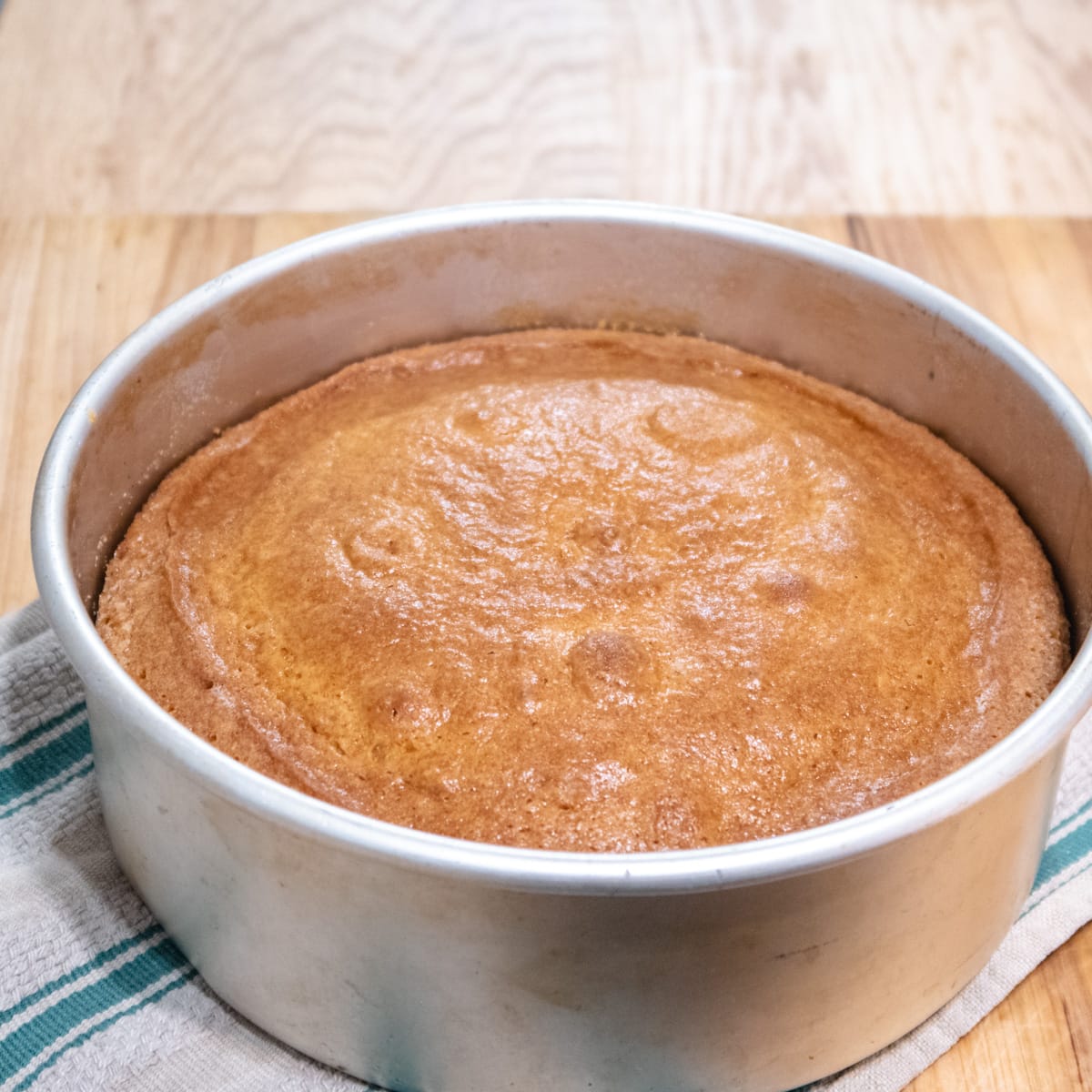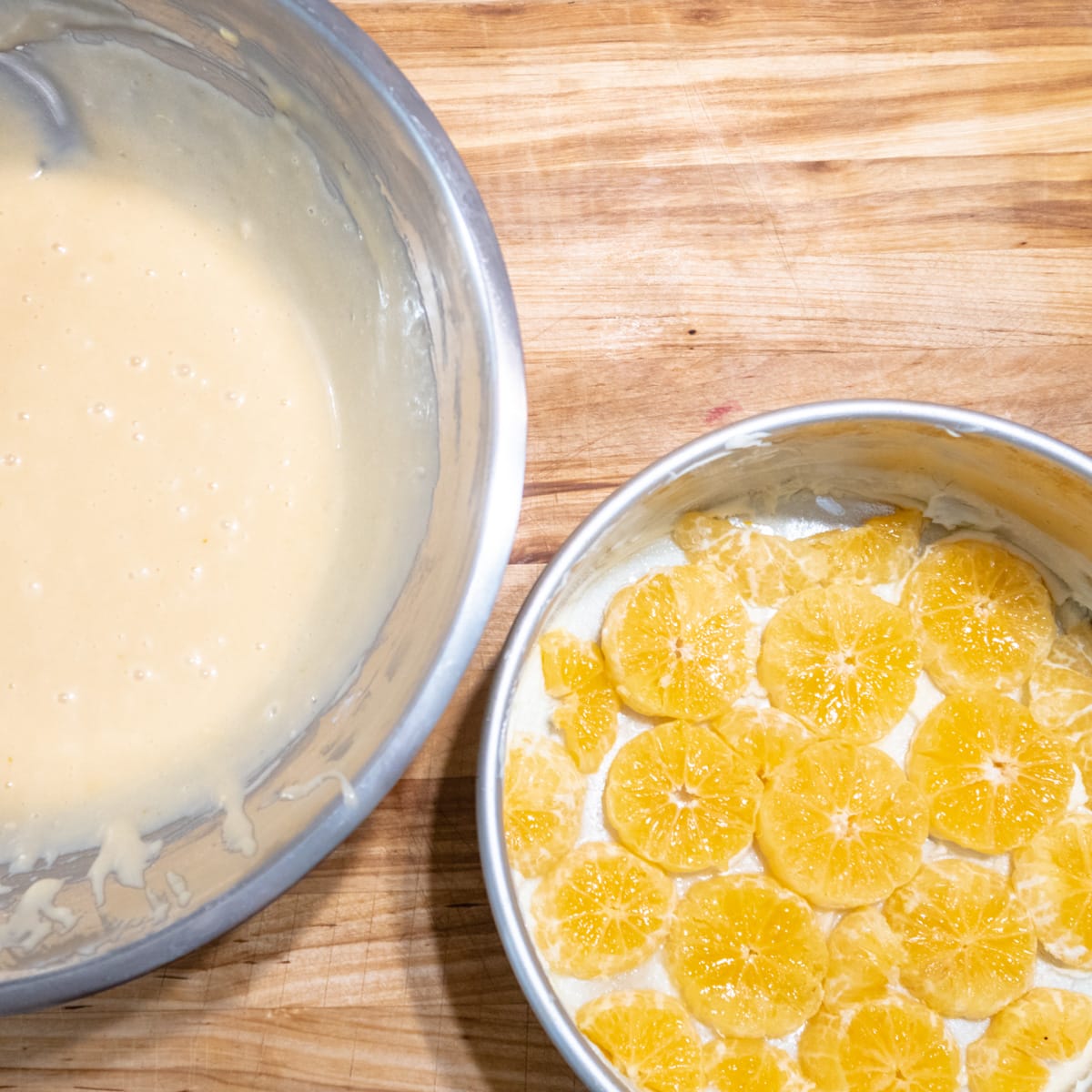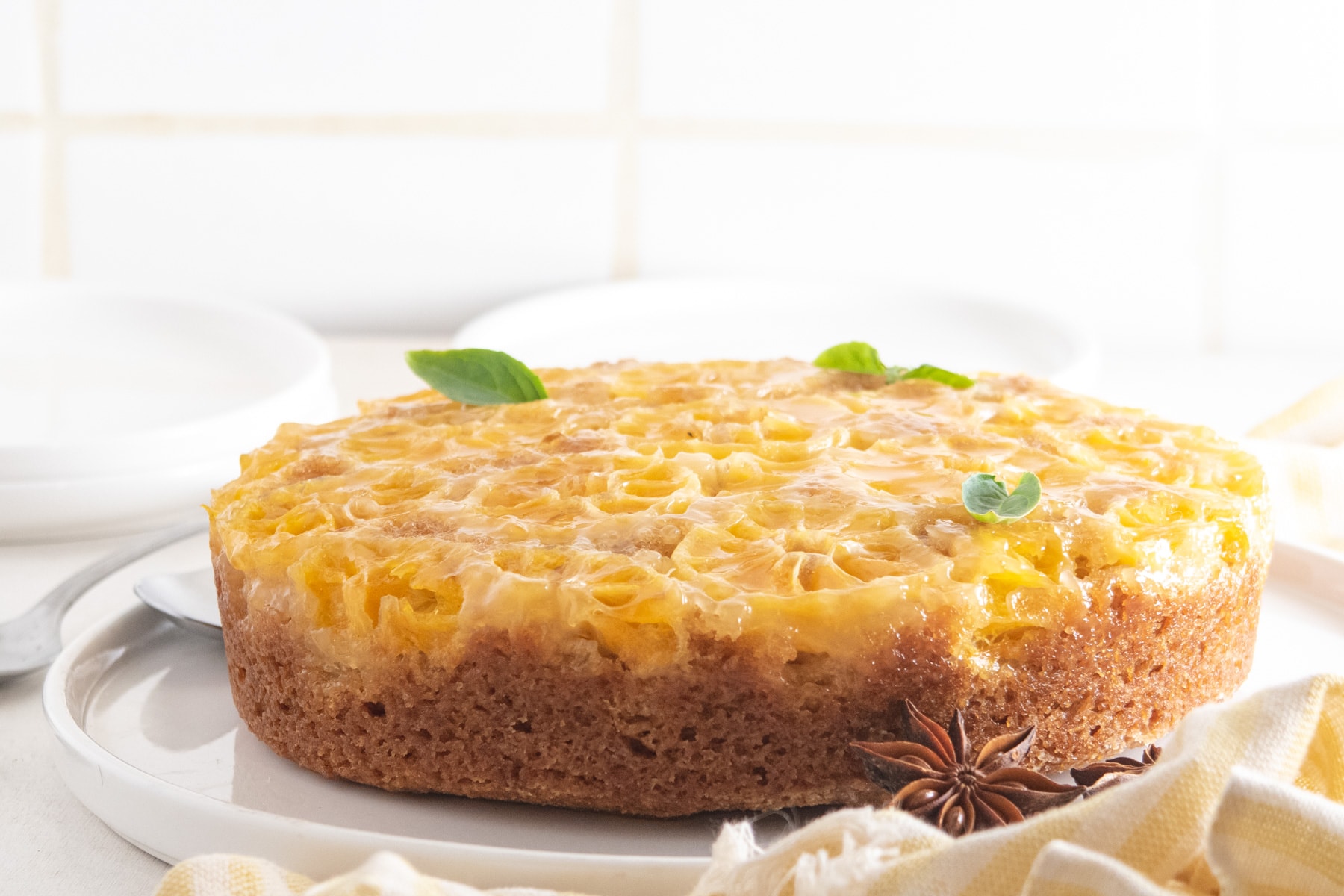 Tools
You'll need the following tools to make this clementine upside-down cake but don't worry, you won't need anything fancy.
8-Inch round cake pan. A cake pan that is made of a single piece is preferred over a springform pan to prevent leakage. I love using my Wilton cake pan  for upside-down cakes. 
A large bowl and medium bowl
Whisk
Knife and cutting board. If you have trouble making clean clementine slices, try using a serrated knife
Microplane. A fine grater will also work perfectly
RELATED: This cake was actually inspired by my almond and plum upside-down cake that you can find on my other, for adults only, blog (18+) The Loud Bowl.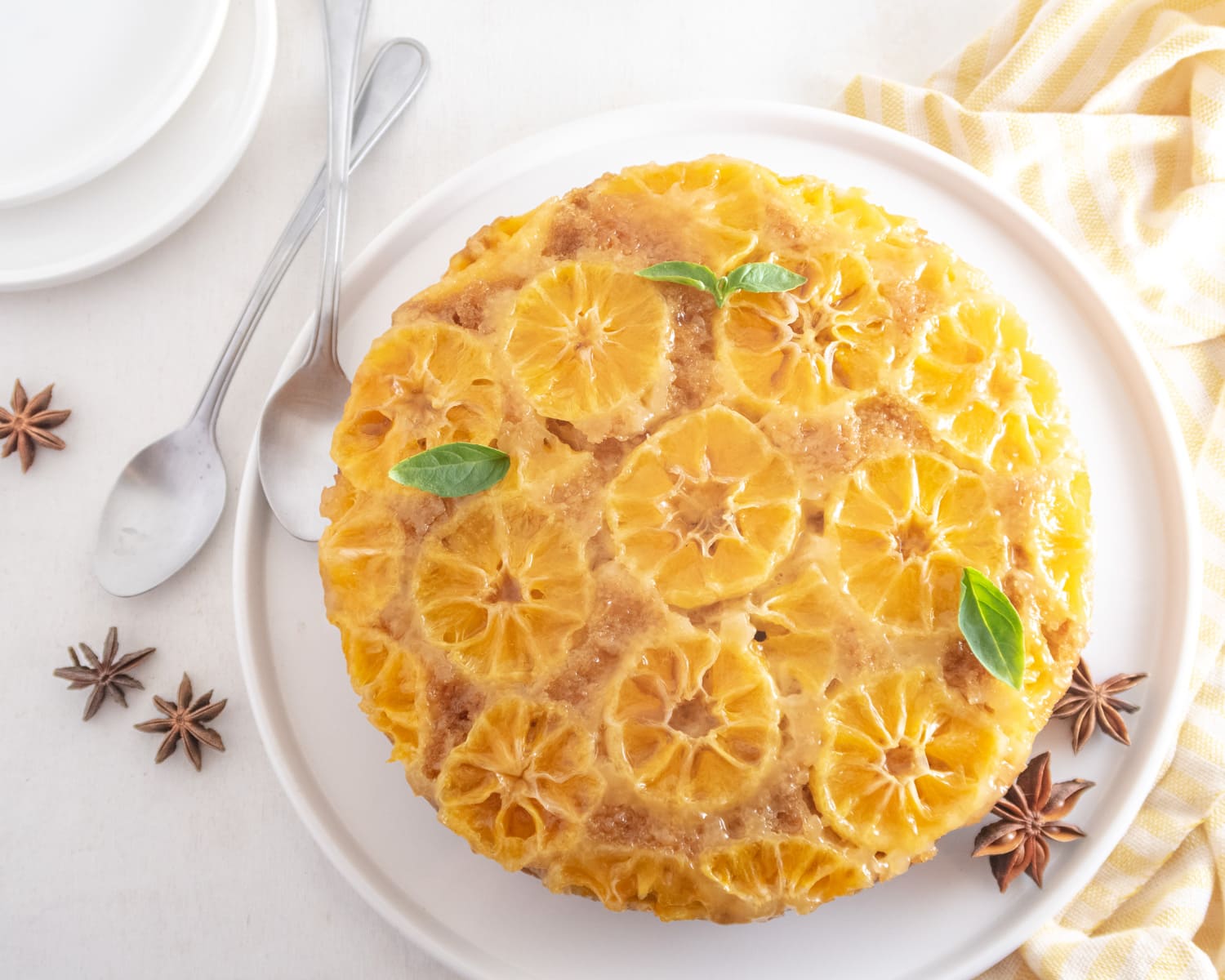 I highly recommend you use a digital scale and weight measurements when following my recipes as it is more accurate. The only exception is with very small quantities where I recommend using teaspoons. While I have provided the cup measurements for this recipe, measuring cups are unreliable and they vary in volume worldwide.
Recipe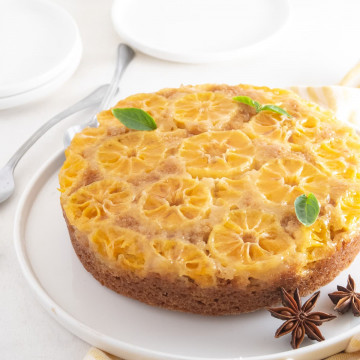 Print
Vegan Clementine , Olive Oil and Aperitivo Upside-Down Cake
Try this vegan clementine upside-down cake flavoured with olive oil and Aperitivo to take full advantage of the citrus season.
Ingredients
Clementine Layer and Glaze
30

g

vegan margarine

(2 tablespoons or 30 ml)

25

g

white granulated sugar

(2 tablespoons or 30 ml)

5 to 6

whole clementines
Wet Ingredients
110

g

good quality olive oil

(½ cup)

200

g

white granulated sugar

(1 cup)

125

g

plant-based milk

,I use unsweetened soy milk (½ cup)

75

g

aperitivo liqueur like Aperol

,see notes (⅓ cup)

1

tablespoon

finely grated clementine zest

, adjust to taste (15 ml)
Dry ingredients
240

g

all-purpose flour

(2 cups)

8

g

cornstarch*

(1 tablespoon or 15 ml)

6

g

baking powder

(1 ½ teaspoon or 7.5 ml)

2.5

g

baking soda

(½ teaspoon or 2.5ml)

6

g

fine sea salt

(1 teaspoon or 5 ml)
Glaze
40

g

apricot jam, marmalade or neutral glaze

(2 tablespoons or 30 ml)

15

g

water

(1 tablespoon or 15 ml)
Instructions
Preheat your oven to 350°F (180°C).
Clementine Layer
Finely grate the clementine zest and set aside for later. Peel the clementines skin and cut ½ inch thick (1.25 cm) clementine slices. Remove any seeds and place the slices on paper towels to absorb any juice.

Spread the margarine on the bottom and side of an 8-inch (20 cm) round cake pan, and then sprinkle the white granulated on the bottom only. Place the clementine slices cut side down on the bottom of the cake pan and set aside while you make the cake batter.
Olive Oil and Aperitivo Cake Batter
Combine all the wet ingredients together in a medium-sized bowl.

Add all the dry ingredients into a large mixing bowl and whisk until combined. Slowly whisk the wet ingredients into the dry ingredients. Do not overmix.

Pour the cake batter into the prepared cake pan and smooth out the top. Tap the cake pan lightly on your work surface a couple of times to release any large air bubbles.

Bake for approximately 35 minutes, or until a toothpick inserted into the middle comes out clean.

Let the cake cool in the pan for 15 minutes. Release the side of the cake by sliding a knife all around between the cake and the pan before flipping it over onto a plate. Leave to cool completely
Glaze
Heat the apricot jam, marmalade, or neutral glaze and water while stirring lightly until slightly warm and fluid. Strain as needed.

Brush the glaze on top of the clementines to glaze the top of the cake and prevent the fruits from drying. Decorate with a light sprinkle of powdered sugar or mint leaves. Enjoy!
Notes
Citrus Aperitivo
: I use a local product called Amermelade but you can use any vegan citrus-based aperitivo like Aperol or Luxardo aperitivo.
Cornstarch
is also known as cornflour in the UK and Australia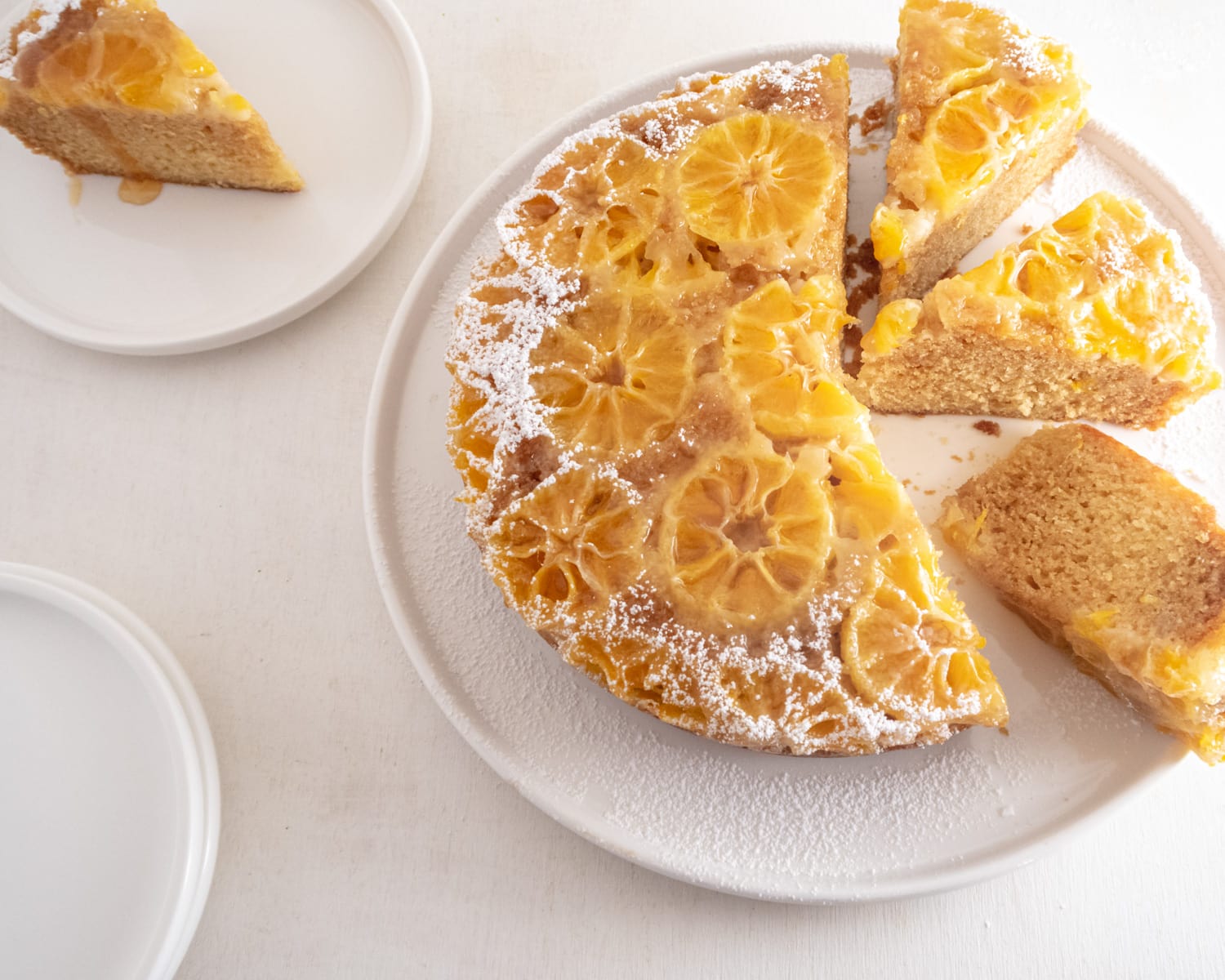 Did you try this vegan olive oil cake recipe?
Don't be shy and let me know how it went! Leave me a comment below and share a picture on Instagram !