This 5-ingredient, easy and crispy, no-bake, vegan Speculoos or Biscoff cookie crust is perfectly spiced to elevate your next pie or cheesecake.
---
No hassle pie crust
I love this no-bake vegan cookie crust because it takes very little time to make, it is hella flavorful and works as a free-standing crust.
It is also super easy to work with and saves me from having to pull out my rolling pin from the darkest void of my pantry...
Just kidding!
My rolling pin is always accessible. I just hate to clean up after rolling out dough. 😉
Biscoff cookie crust everywhere!
Use this vegan speculoos cookies crust to spice up a bunch of delectable desserts like:
Cheesecake!  Use this crust as the base for an incredible New-York style cheesecake
Make mini tartlets or full-size pies and tarts, especially no-bake desserts
As a base for squares of all kinds
Bake in a baking tray and sprinkle on top of cooked fruits to make a quick crumble
RELATED: For a more traditional sweet pastry dough crust, check out my pâte sucrée recipe!
Ingredients basics
Biscoff cookies
Speculoos cookies are crisp spiced shortbread cookies with a caramelized flavor. Lotus is the most well-known and most recognizable brand that makes these cookies.  
In France, Netherland, and Belgium they are known as  Speculoos cookies but they are soon going to be renamed Biscoff cookies which is what they are being marketed as all around the world. 
These cookies are accidentally vegan and are the secret flavor behind the deliciously spoonable cookie butter you can find at the grocery stores.
Vegan butter
I like to use firm vegan butter like the Becel plant-based bricks because I find the end result is sturdier than when using soft margarine from a tub. However, you can use soft margarine or even coconut oil in a pinch but you will want to keep your pie or tartlets out of the heat.
Also, while unsalted butter is what I used the most in my kitchen, I actually prefer to use the salted option for this recipe since it balances out the sugar from the cookies.
How to make this Biscoff crust without a food processor
You can still make this no-bake vegan cookie crust if you don't have a food processor. Simply place all the cookies in a plastic bag and smash them up with a rolling pin or the underside of a sturdy (unbreakable) glass.
You could also use a large mortar and pestle or a metal bowl but you might have a couple of stray pieces flying around. 
Then you only need to place the cookies in a bowl and stir un the rest of the ingredients.
How to remove this cookie crust from the tin
To be able to remove this crust from fluted tart or tartlet pans, you will need to have pans that have a removable bottom. If your crust is cold enough, the vegan butter should hold everything together when you push the crust up slowly from the bottom. This is not recommended if you are using soft margarine or coconut oil.
Recipe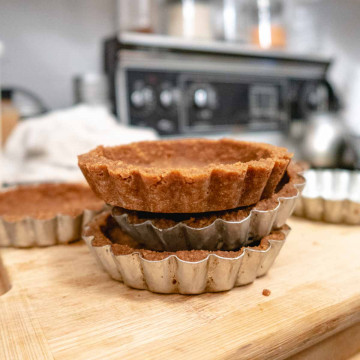 Print
Hella Easy Speculoos Cookie Crust
This 5 ingredient, easy and crispy, no-bake, vegan Speculoos or Biscoff cookie crust is perfectly spiced to elevate your next pie or cheesecake.
Servings
6
tartlets or 1 8-inch tart
Ingredients
200g

(2 cups crushed)

Speculoos or Biscoff cookies

, about 26 cookies

25g

(2 tablespoon packed)

light brown sugar

½

teaspoon

ground ginger

½

teaspoon

ground cinnamon

113g

(½ cup)

vegan salted butter

I use Becel salted plant-Based sticks
Instructions
Add all the ingredients except the vegan butter in the food processor and pulse until you reach a coarse crumb consistency.

Melt the butter in the microwave in 30 seconds intervals. While the processor is running, add the butter and mix until you reach a coarse sand consistency. Take a sample of the crust and press it with your fingers into the palm of your hand to see how it clumps.

Divide the crust evenly into 6 tartlets pan which is about 3 tablespoon of crust per tartlet pan. You can also use a large tart or pie pan.

First, press some of the crust evenly onto the sides of your pan, compressing it so that it sticks to the side of the pan without crumbling. Press the rest of the crust into the bottom of the pan. You can use the bottom of a flat glass or a measuring cup to make sure the crust is even and well compressed.

Place in the refrigerator for 1h to set. Enjoy!
Did you try this easy pie crust recipe?
Don't be shy and let me know how it went! Leave me a comment below and share a picture on Instagram !