This savory curried chickpea pie spiced with flavourful garam masala and coconut milk is a great veggie-filled weeknight dinner.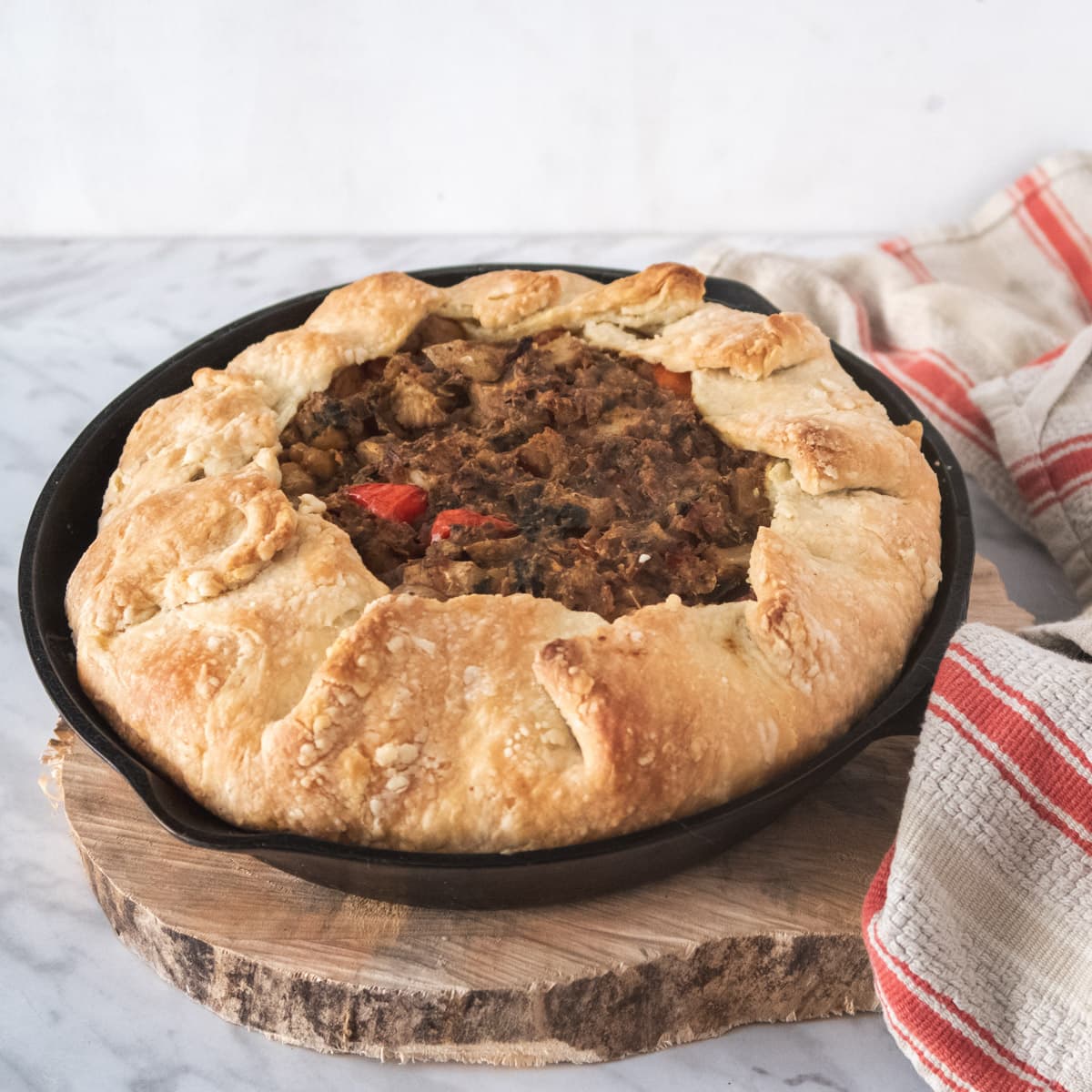 ---
Too many chickpeas, too little aquafaba
If you regularly make vegan pastries, you are probably in the same spot as me. I always end up using more aquafaba than I use chickpeas. At this point, after making strawberry rhubarb meringue tart and other sweet vegan pastries, I now have chickpeas coming out of my ears.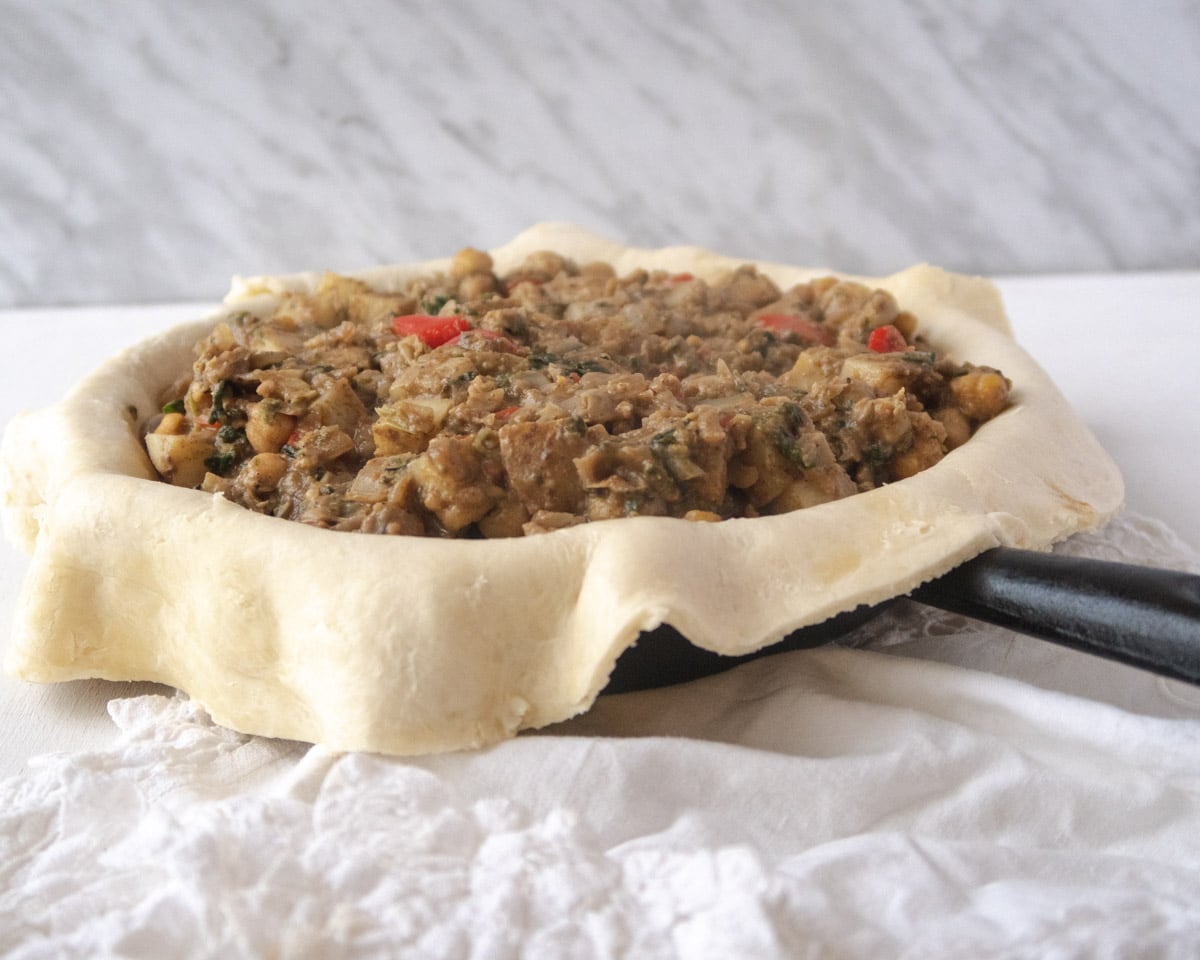 So I created this savory vegan rustic vegetable and chickpea pie to use up all those extra legumes that are crowding my fridge. This recipe is also extra easy to make if you keep a spare vegan pâte brisé dough in your freezer, which I highly recommend for convenience.
You could even use store-bought vegan dough in a pinch! In addition, this recipe was soooo easy to make that my friends were surprised it took so little time to make and stuff in the oven. 
RELATED : Try our wonderful bourbon pumpkin bread with cream cheese icing for dessert. 😉
Which curry to use
I love to use Garam Masala in this recipe because I love the warm and comfy way it makes me feel. It is one of those spice mixes that I simply can't get enough
However, feel free to replace the Garam Masala with your favorite curry powder. Some curry paste could even be used in a pinch! Simply fry the paste with the onions to disperse it.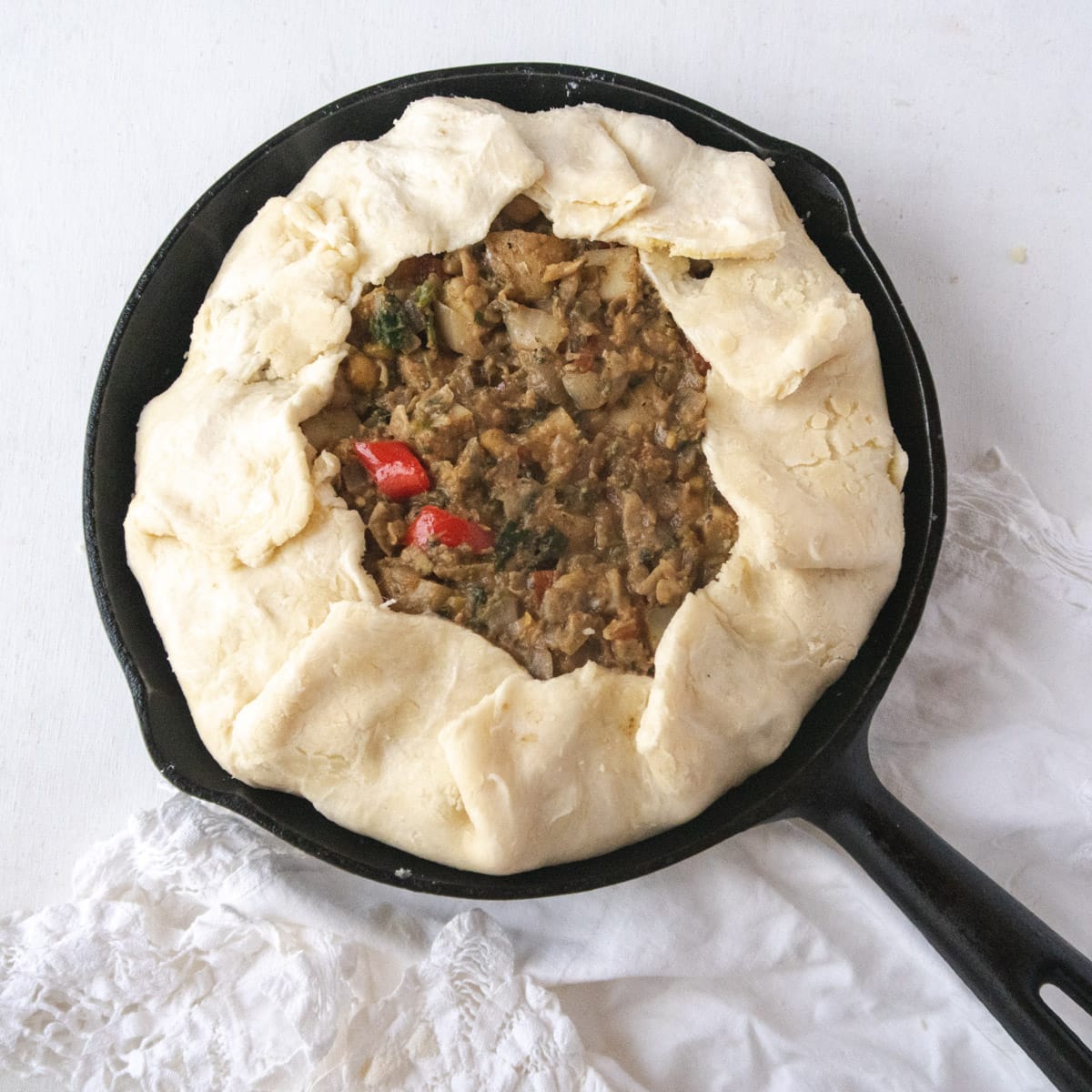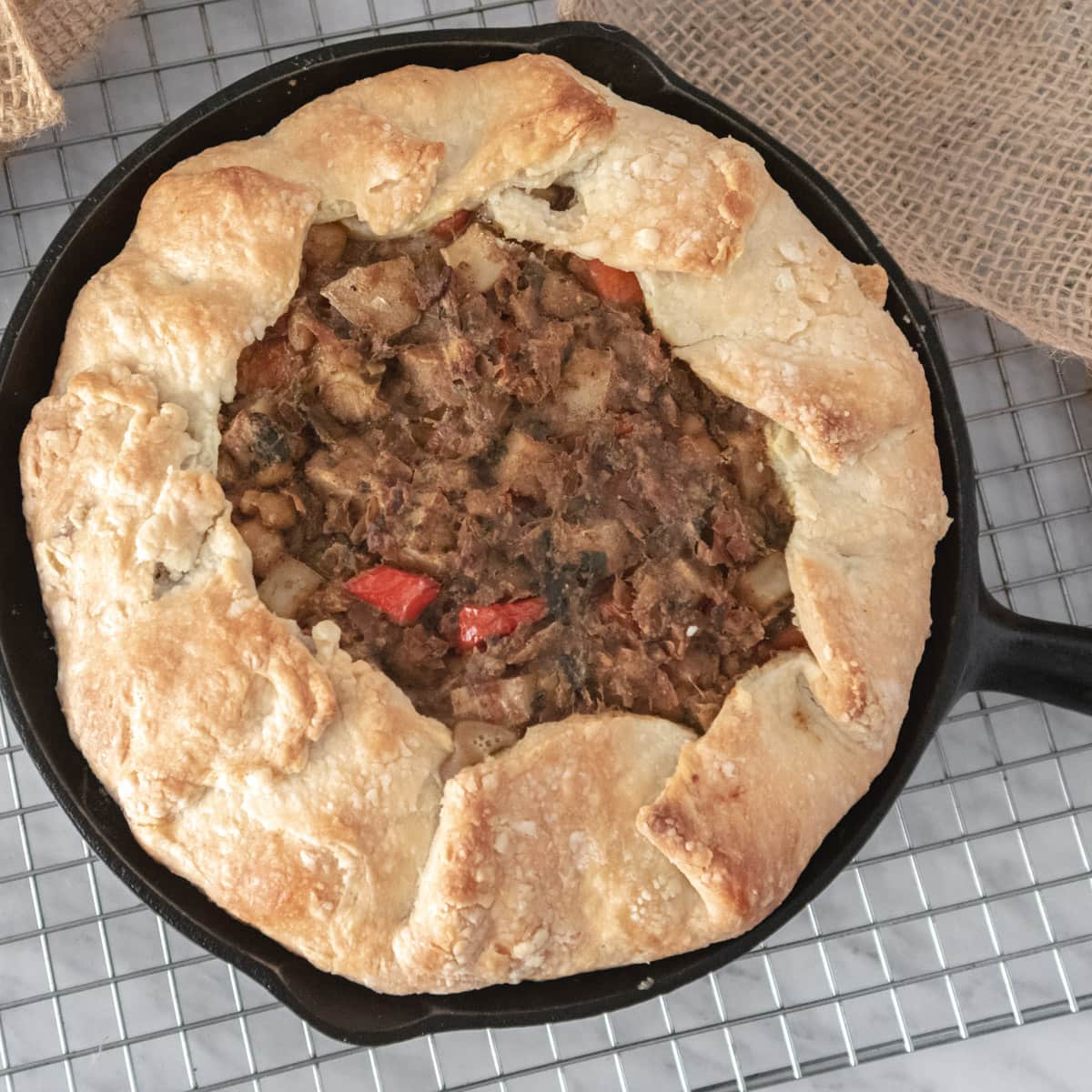 Tools
You will need the following tools to make this vegan curried chickpea pie.
1 non-stick skillet and a wooden spoon
9-inch (23cm) cast-iron skillet
1 rolling pin
1 can opener
A cutting board and chef's knife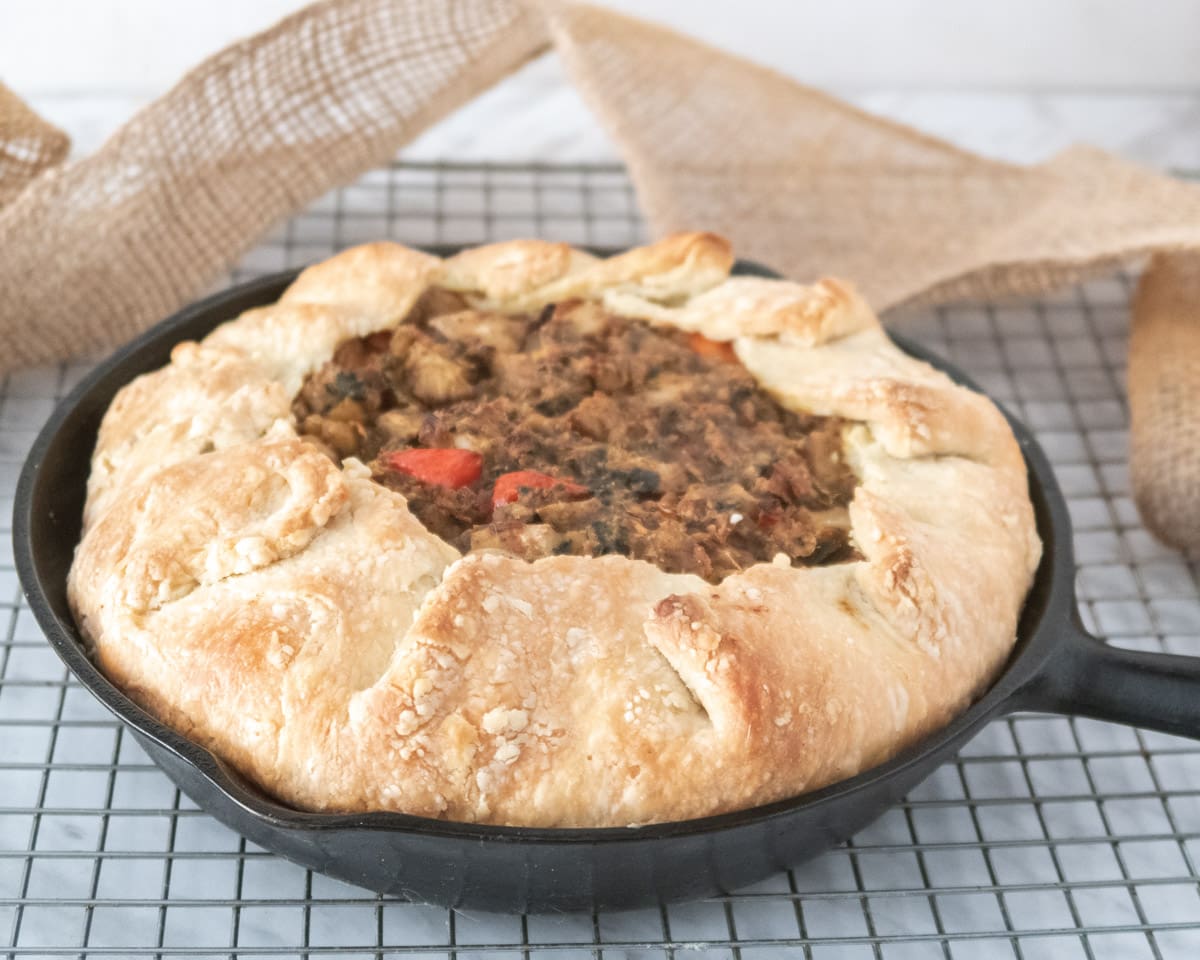 Recipe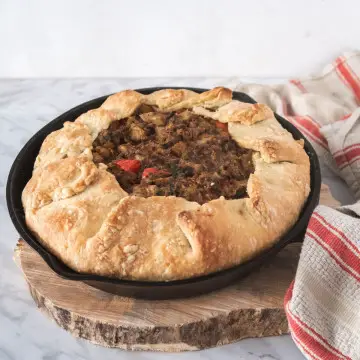 Print
Vegan Savoury Curried Chickpea Pie
This savory curried chickpea pie spiced with flavorful garam masala and coconut milk is a great weeknight dinner.
Servings
4
large portions
Ingredients
Filling
2 tsp

oil

1

medium white onion, finely diced

3 cloves

of garlic

, minced

1

red bell pepper

, dices

¼ cup

frozen spinach

, thawed

3 tbsp

garam masala

1 tsp

cumin

1 tsp

ground cinnamon

2 cups

of canned chickpeas

1 ½ cup

white potatoes

, 1-cm diced

¾ cup

(135g)

canned coconut milk

1 tbsp

maple syrup

2

tablespoon

lemon juice

Salt, pepper, and sambal oelek to taste
Instructions
In a skillet, sweat the onion and oil until translucent. Add the garlic and continue to cook until soft.

Sprinkle the spices over the onions and cook until fragrant.

Add the diced pepper and tawed and drained spinach and saute until softened.

Roughly mash half of the chickpeas and add to the skillet.

Add all the rest of the filling's ingredients and cook until the potatoes are starting to get soft. Adjust the seasoning to your taste.

Preheat your oven to 350°F ( 180°C)

Roll out the pastry between two sheets of parchment paper to a 3mm (⅛-inch) thickness. Cut a large circle of dough with an approximate 40 to 45cm (15.5 to 17.5 inches) diameter.

Place the dough in a 23cm (9-inch) cast iron skillet, draping it until it reaches the bottom of the pan. The dough should have a 3 to 5 cm overhang over the edge of the cast-iron skillet.

Fill with the chickpea filling and fold the dough overhang on top of the pie, draping it in an aestheticaly pleasing manner.

Place into the preheated oven and cook for 45min to 1h, or until the pastry is thoroughly cooked.

Serve and enjoy!
Notes
Can be kept in the refrigerator for up to 5 days or frozen unbaked for up to 6 months.
If freezing unbakes, assemble the pie in a single-use pie dish.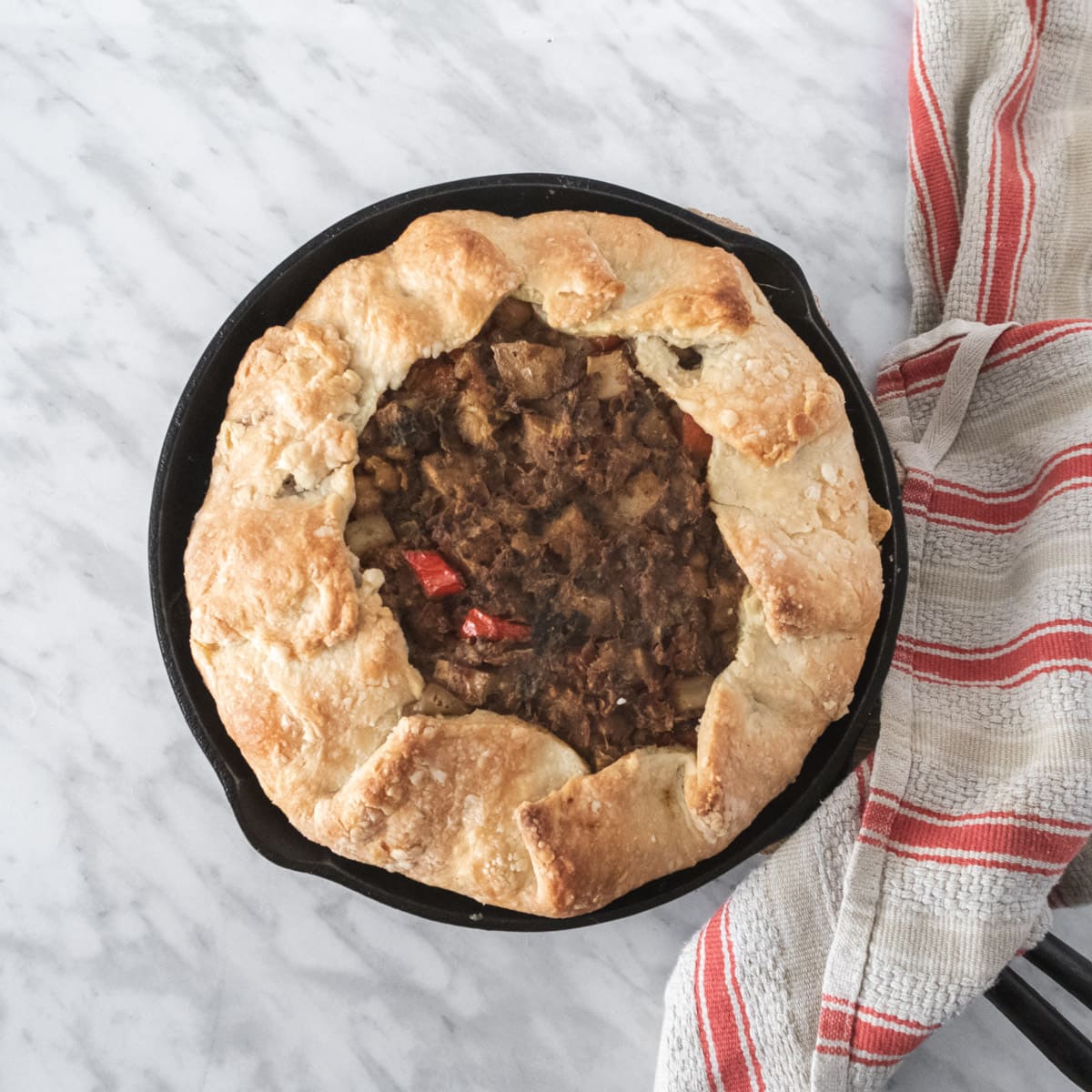 Did you try this curried chickpea pie?
Don't be shy and let me know how it went! Leave me a comment below and share a picture on Instagram !